Looking for a unique New Year's Day tradition? Try our New Year's Day Huevos Ranchos!
I was first introduced to Huevos Rancheros years ago – in Iowa, of all places. My young family and I were visiting my older brother and his family for holidays and, as was their family tradition, my sister-in-law, Connie, served Huevos Rancheros for Christmas breakfast. I loved both the meal and the tradition and immediately decided to steal adopt them as my own.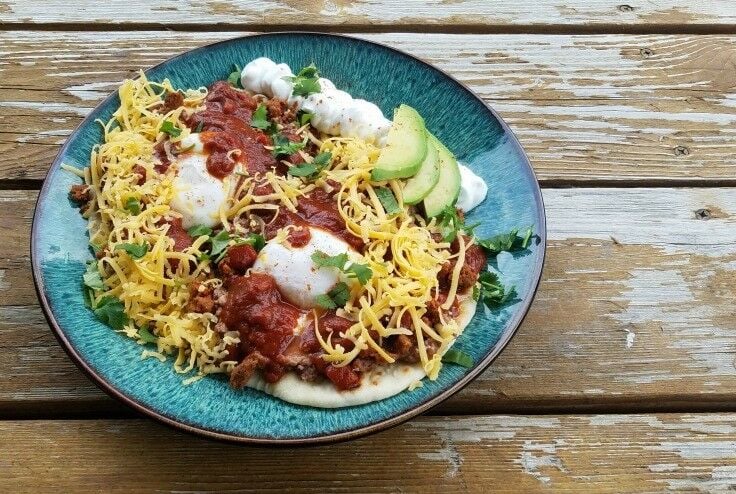 However, the timing of this celebratory meal presented a problem: as you might imagine, in a house packed with preschoolers, any breakfast that takes more than five minutes to prepare on Christmas morning is simply out of the question.
The solution came with New Years Day – a traditionally slow, lazy morning in our home. And that, my friends, is the very brief story of how Huevos Rancheros became our way of welcoming the New Year. Here's my version, adapted from Connie's original recipe – I hope you enjoy them as much as we do!
UPDATE: For the past few years, I've made these with my Homemade Flour Tortilla and Slow Cooker Enchilada Sauce, which makes the whole dish exponentially even better! (And that's saying something, because they were amazing to begin with.) Seriously, give it a try – you'll never look back!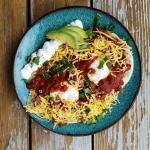 Huevos Rancheros (Rancher's Eggs)
Print Recipe
Pin Recipe
Ingredients
1

tablespoon

olive oil

1

bunch of green onions

chopped

2

oz

mild green chilies

chopped

3

cloves

garlic

minced

2

cups

tomato sauce

2

cups

enchilada sauce

homemade or canned

8-12

flour or corn tortillas

14

oz

refried beans

we prefer refried black beans

12

eggs
Toppings: (Pick your favorites!)
grated cheddar cheese

sliced olives

sliced jalapenos

sliced avocados

sour cream

guacamole

salsa

chopped cilantro

cooked chorizo
Instructions
Ingredient Prep
SAUCE: In a large skillet, saute the chopped green onions and green chilis in olive oil for about 3 minutes. Add garlic and saute one more minute, then add tomato sauce and enchilada sauce and bring to a simmer. Simmer on low for 15 minutes. [See Alternate Directions in "Recipe Notes"]

While sauce is simmering, warm tortillas and heat refried beans in a small saucepan or in the microwave.

EGGS: There are two approaches to preparing the eggs: (1) Fry them in a separate pan. I do this when there aren't very many people to feed becasue it allows me to cook the eggs to suite personal tastes. (2) Poach the eggs directly in the sauce. To do this, heat the skillet full of sauce over very low heat, and carefully break the eggs directly into the hot sauce. Cover the pan immediately and cook for 8-11 minutes. This works well for large crowds, but you have to be careful or the eggs will overcook. Unless you like your eggs cooked hard, in which case, no problem. .
Assemble Huevos Rancheros
Layer on plate in this order: Tortilla, beans, sauce and eggs.

Top with grated cheddar, sour cream, olives, avocado slices, peppers, salsa, or whatever suites your fancy.
For meat-eaters only:
Toss on some cooked chorizo!
Notes
Try these related recipes from The Good Hearted Woman:
• Homemade Flour Tortillas
• Slow Cooker Enchilada Sauce - If you use homemade sauce (and you definitely should!), skip step 1, put 3-4 cups of sauce in the bottom of a heavy skillet, and stir in about 1 cup of water. Heat until the mixture simmers, and continue on to step 2.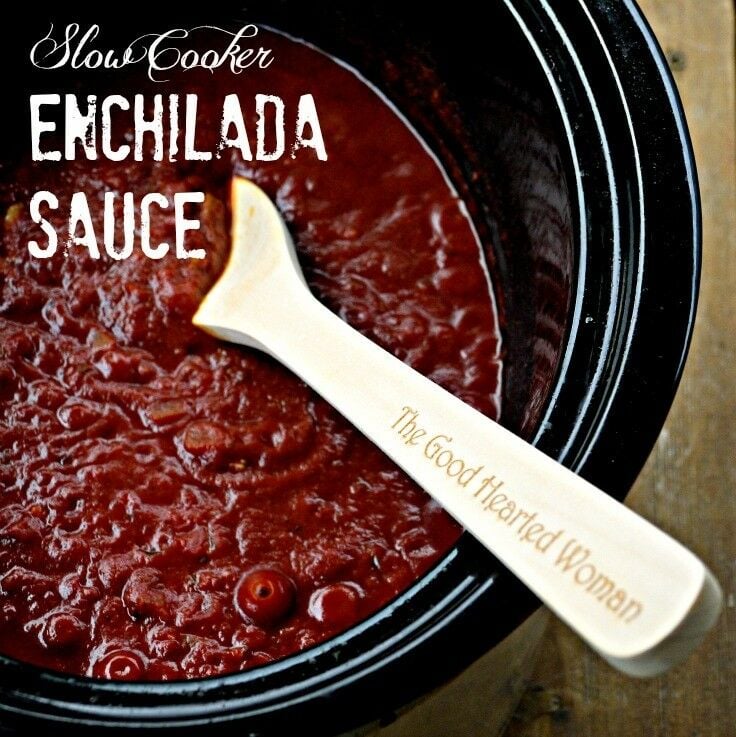 Slow Cooker Enchilada Sauce
A mild enchilada sauce with a smoky, slightly sweet finish. You will never use canned sauce again.
Print Recipe
Pin Recipe
Ingredients
1

tablespoon

butter or coconut oil

1

medium onion

chopped

2

cloves

garlic

minced

2

cups

vegetable stock

or 1 14-ounce can

1 14-

ounce

can crushed tomatoes

1 12-

ounce

can tomato paste

1 8-

ounce

can tomato sauce

1

tablespoons

ground pasilla pepper**

2

teaspoons

ground New Mexico chili pepper**

1

teaspoon

ground chipotle pepper**

1

teaspoon

dried oregano

1

teaspoon

cumin

1

tablespoon

packed brown sugar

1

teaspoon

Kosher salt

2

tablespoons

lemon juice
Instructions
Heat butter or coconut oil in a medium skillet over medium heat. Add chopped onion and saute until it turns golden brown. Add minced garlic and saute 30 seconds more.

Put sauteed onion and garlic mixture along with all the remaining ingredients into a slow cooker and cook on high for 2 hours or low for 4-6 hours. Sauce is ready to use immediately.

OPTIONAL STEP: If you prefer your enchilada sauce smooth, simply use an immersion blender to puree it right in the slow cooker. (You can also just pour everything into a stand blender.)
Notes
**Substitution: Omit all 3 dried ground peppers, and add 2 tablespoons of regular chili powder. The flavor will be slightly less complex, but delicious just the same.
*This recipe freezes well, but it can also be canned in a pressure canner. Use 10 lbs. for 50 minutes for pints and 60 minutes for quarts.
---
---
Thank you so much for being a faithful reader and supporter of The Good Hearted Woman.

❤

Be sure to Pin and Print this recipe!
What are you New Years Day traditions? Did you change or add anything this year? Let us know in the comments below!