Light & Easy Spanakopita (Greek Spinach Pie) is a rich, savory phyllo pastry layered with spinach, onions, feta, lemon, and herbs – with all of the flavor and half the fat of the original!
This post may contain affiliate links, but don't worry – they won't bite.
Spanakopita (or Greek Spinach Pie) is easily on one of our favorite all-around meals. You can dress it up and serve it warm for dining in, slice and serve for an easy lunch, or eat it cold for a fast meal on the go. It's one of the most versatile foods around!
Traditional spanakopita, as you may know, is usually high in fat, and often very heavy as well. However, after making just a few simple changes, I was able to reduce the fat in this Light & Easy Spanakopita recipe to half that of my original recipe. The outcome is a more tender, flakey pie, which Mr B and I much prefer over heavier versions.
Greek Spinach Pie can be served as a main course or as a hearty side. The lemony undertones go well with chicken or fish. (It probably pairs well with lamb too; but since I don't eat lamb, I can't say for sure.) Mr B and I find that a simple meal of spanakopita and table grapes is very satisfying.
Leftover spinach pie makes a delicious lunch or brunch entry. One of our favorite things to do with cold leftover spanakopita is slice it into Lincoln-log size pieces (about 1″x1″x4″), and then fry the spana-links in a skillet like sausages and serve them up with eggs for a lovely breakfast!
Tips for Perfect Spanakopita
Drain the Spinach
Start with frozen spinach. (Yes, you can use fresh, but I have had much better results using frozen.)
First, defrost the spinach in the microwave, and allow it to cool until it is safe to handle. Then squeeze the crud out of it. I mean, really, really squeeze it. With your hands!
You can use a sieve or colander if you want, but you are going to have to get your hands wet at some point, so it will save you some time if you just dive right in. A pound of frozen spinach will squeeze down to about the size of an orange; somewhere between a baseball- and a softball-sized.
Go Easy on the Butter
This is one area where I was able to cut a lot of fat from my original recipe. You simply do not need to slather every layer in butter.
For each phyllo dough layer, dip the tip of a soft-bristle pastry brush into the melted butter 1/2″ or less: you don't want to overload it. Brush each layer of phyllo dough with a few strokes of butter and then place the next layer.
Do not dip the brush in the butter more than once – you don't need to completely cover each pastry sheet with butter. I usually do about two sheets with one brush dip, with the exception of the top sheet, which I paint lightly but completely.
How to be a Phyllo Boss
I used to be a little intimidated by phyllo dough. It is so fragile, and many recipes warn of its fragile nature and dramatically demand that you keep it covered at all times like a sickly newborn.
Well, I am here to tell you, don't worry! Phyllo dough is very forgiving, and if you follow a few simple guidelines, you are sure to succeed.
Thawing Phyllo Dough
Thaw phyllo dough overnight in the refrigerator. If you forget, you can put it out on the counter for four or five hours (or all day if you are at work), but the results won't be as even. Keep the package closed while you are thawing it. Do not thaw phyllo dough in the microwave.
You can keep unopened, thawed phyllo in the fridge for up to a month.
Assembling the Spanakopita
Prepare all your ingredients and have EVERYTHING ready to go before you open the phyllo dough package!
Make sure your hands are dry when you handle the dough.
When you unroll phyllo, cover it with wax paper or kitchen cloth. You can put a damp cloth over the wax paper or cloth, but don't put it directly on the phyllo dough. (I never use a damp cloth, and everything always works out fine.)
Work fast when it is uncovered, and don't get distracted. (Phyllo dough doesn't care about your phone.)
If you tear a piece, just patch it – no worries. Unless it is the top sheet, no one will ever know.
If you have sheets left over, just roll them back up and cover them tightly with plastic wrap. They will keep in the fridge for at least a week.
Post Updated May 30, 2019 (Originally published January 21, 2014)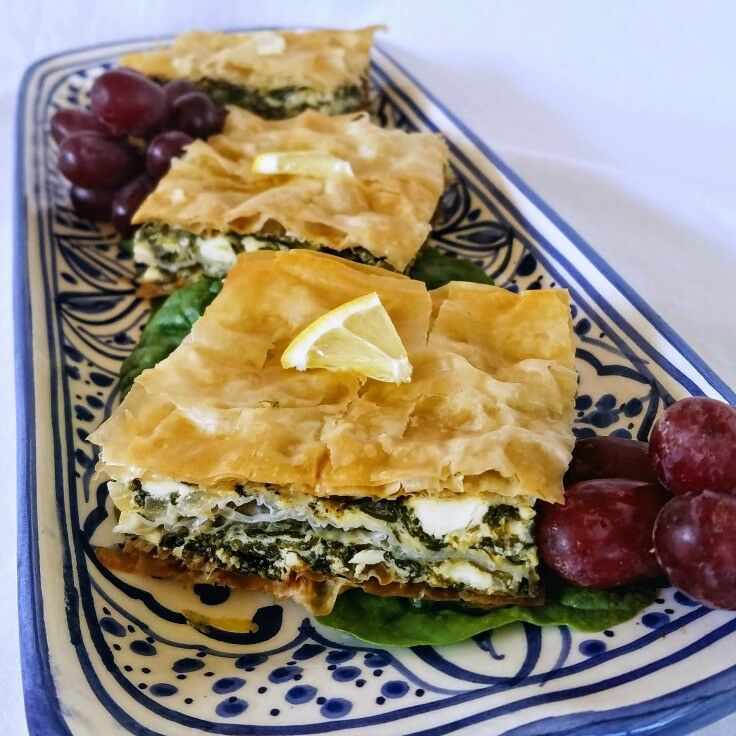 Light & Easy Spanakopita (Greek Spinach Pie)
Light & Easy Spanakopita (Greek Spinach Pie) is a rich, savory pastry layered with spinach, onions, feta, lemon, and herbs - with all of the flavor and half the fat of the original!
Print Recipe
Pin Recipe
Servings:
8
large servings
Ingredients
2

tablespoons

vegetable oil

1

large

onion

chopped

2

cloves

garlic

minced

1

pound

frozen spinach

thawed & thoroughly drained

2

tablespoons

fresh dill

chopped (or 1 Tbls. dried dill)

2

tablespoons

flour

I use Wondra

8

ounces

feta cheese

crumbled

1

medium

lemon

4

large

eggs

lightly beaten

1

teaspoons

Cavender's Greek Seasoning

or Salt & Pepper, to taste

15

sheets

phyllo dough

Olive oil or butter flavored Pam

3

tablespoons

butter

melted
Instructions
Preheat oven to 350° [175°C].

Heat vegetable oil in a large saucepan over medium heat.

Slowly cook and stir onions until softened.

Add minced garlic and cook one minute more.

Mix in the thoroughly drained spinach and dill.

Sprinkle flour over the top and stir to combine.

Cook approximately 5 minutes, or until most of the moisture has been absorbed.

Remove from heat.

Zest the lemon and add zest to the spinach mixture.

Squeeze the juice from the zested lemon halves into the mixture as well.

In a separate bowl, mix feta, eggs, and seasonings.

Add the feta mixture to the warm spinach mixture and stir to combine.

Spray the bottom of a 9 x 13-inch baking dish with cooking spray.

Lay one sheet of phyllo dough flat in pan.

Dip a pastry brush 1/2" or less into the melted butter: you don't want to overload it.

Brush the single sheet of phyllo dough at the bottom of the baking dish with a little butter.

Do not dip the brush in the butter more than once - you don't need to completely cover each pastry sheet with butter. (I can usually do at least two sheets with one brush dip.)

Add another sheet and repeat until you have five sheets total.

Spread 1/2 of spinach mixture over the buttered phyllo dough layers.

Layer on 5 more sheets of phyllo, buttering lightly in between each layer.

Spread on remaining spinach mixture.

Top with the last 5 sheets of phyllo, buttering lightly between each layer.

Bake in the preheated oven 45-50 minutes, or until golden brown.
Nutrition
Serving:
1
serving
|
Calories:
321
kcal
|
Carbohydrates:
27
g
|
Protein:
12
g
|
Fat:
19
g
|
Saturated Fat:
11
g
|
Trans Fat:
1
g
|
Cholesterol:
130
mg
|
Sodium:
605
mg
|
Potassium:
328
mg
|
Fiber:
3
g
|
Sugar:
3
g
|
Vitamin A:
7045
IU
|
Vitamin C:
12
mg
|
Calcium:
242
mg
|
Iron:
3
mg
This website provides approximate nutrition information for convenience and as a courtesy only. You are solely responsible for ensuring that any nutritional information provided is accurate, complete, and useful.
Looking for more cozy, vegetarian main dish recipes? Try our Portobello Mushroom Stroganoff or Sun-dried Tomato Carbonara. Both are quick, easy, delicious meals that will satisfy the whole family!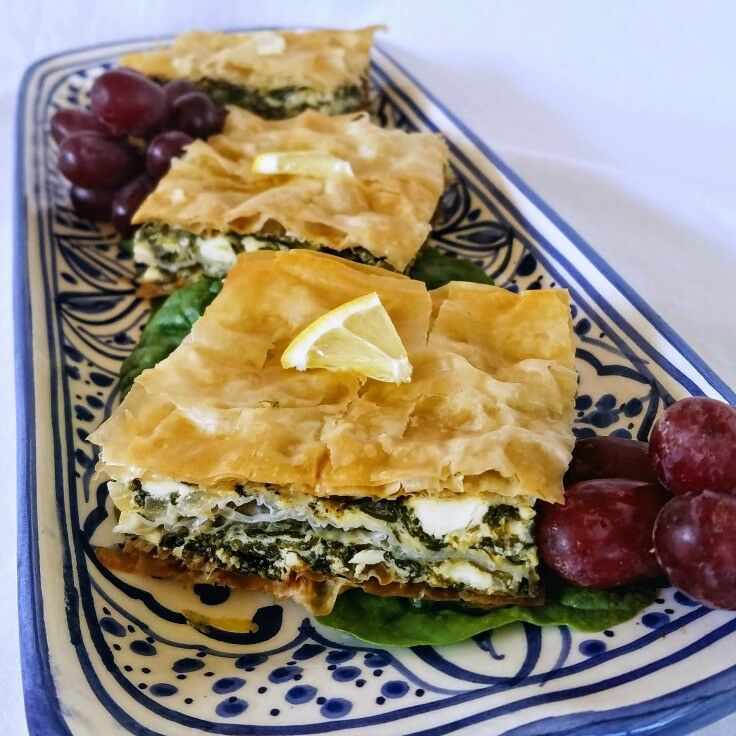 THANK YOU so much for being a faithful reader and supporter
of The Good Hearted Woman. • Be sure to PIN this post!
Disclosure: This post may contain affiliate links, including Amazon affiliate links, which means we may receive a commission if you click a link and purchase something that we have recommended. While clicking these links won't cost you any extra money, they do help keep this site up and running. As always, all opinions and images are my own. Please check out our disclosure policy for more details. Thank you for your support!