Our Greek Turkey Burgers are big on savory Mediterranean flavors! Topped with fresh veggies, feta, and our delicious homemade tzadiki sauce, these light, juicy burgers are perfect anytime you want a healthy, satisfying meal.
Greek Turkey Burgers have become one of our favorite go-to meals; not only do they check all the flavor boxes, but they're also budget-friendly and take only a few minutes to put together.
Start to finish, you can be biting into these tasty Mediterranean-inspired burgers in less than 30 minutes. Even better, the burger patties and tzadiki sauce can be prepped ahead of time, in which case dinner can be on the table in the time it takes to broil the burgers!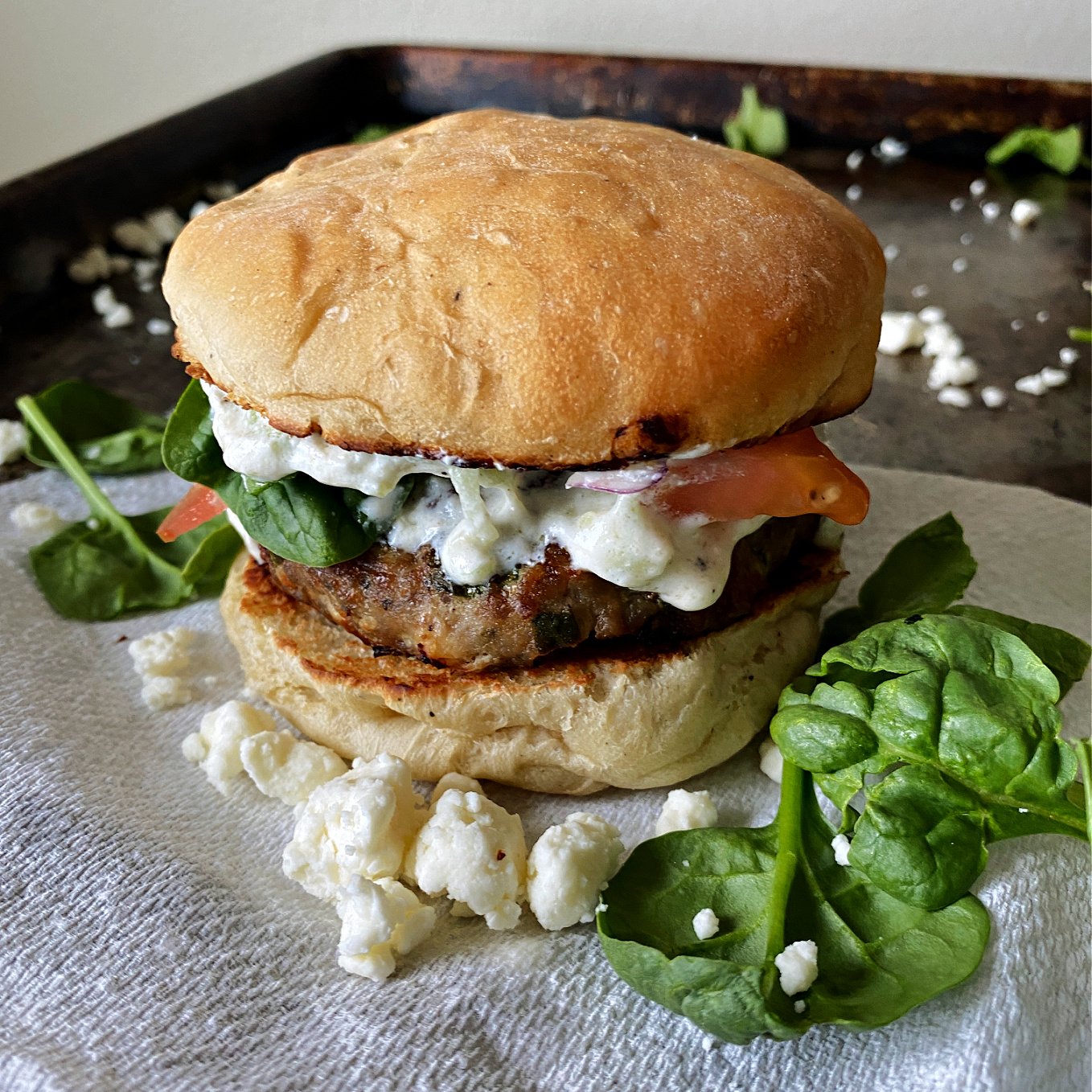 This post may contain affiliate links, but don't worry – they won't bite.
How to Make Greek Turkey Burgers (

with Creamy Tzadiki Sauce!)
Start by making the tzadiki sauce. This will give the sauce ingredients the maximum amount of time to meld and marry.
Tzatziki (Greek Cucumber Yogurt Sauce) is a creamy traditional Greek sauce made with cucumbers, fresh garlic, and fresh mint (or dill). Served on the side with many Mediterranean dishes, tzadiki also makes a delicious vegetable dip.
To make tzadiki, first peel, seed, and coarsely grate the cucumber. Collect the grated cucumber in your hands and squeeze out as much of the water as you can.
You can also lay the grated cucumber between paper towels and press the moisture out. It is important to remove as much water possible so you don't end up with weepy cucumber sauce.
Once the cucumber is squeezed out, put it in a medium bowl with the rest of the tzadiki ingredients: plain yogurt, olive oil, lemon juice, garlic, and seasonings. Stir gently to thoroughly combine the sauce ingredients.
Cover and refrigerate until you are ready to serve the turkey burgers.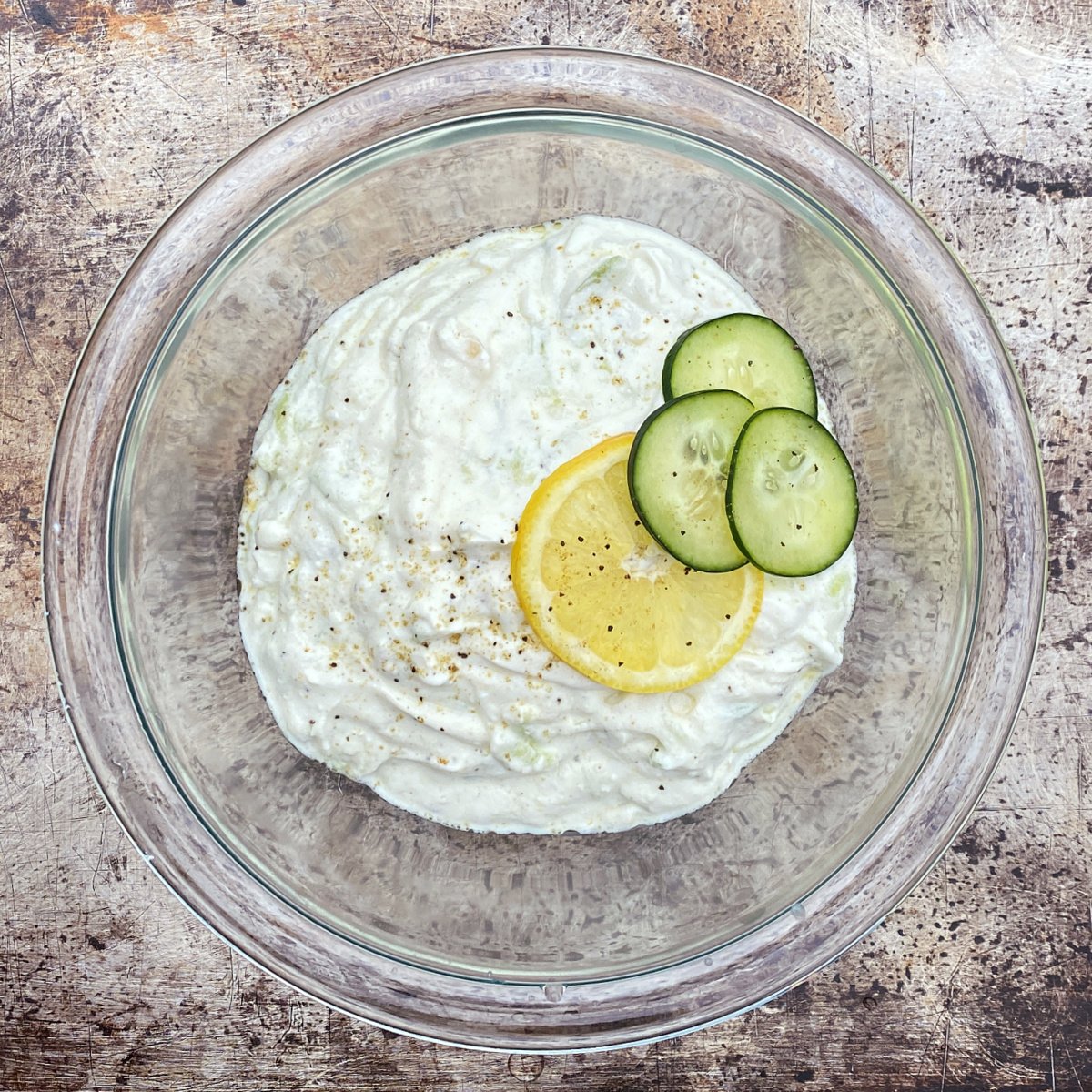 To make the turkey burgers, first gather and prep all of the burger ingredients, as listed in the recipe below.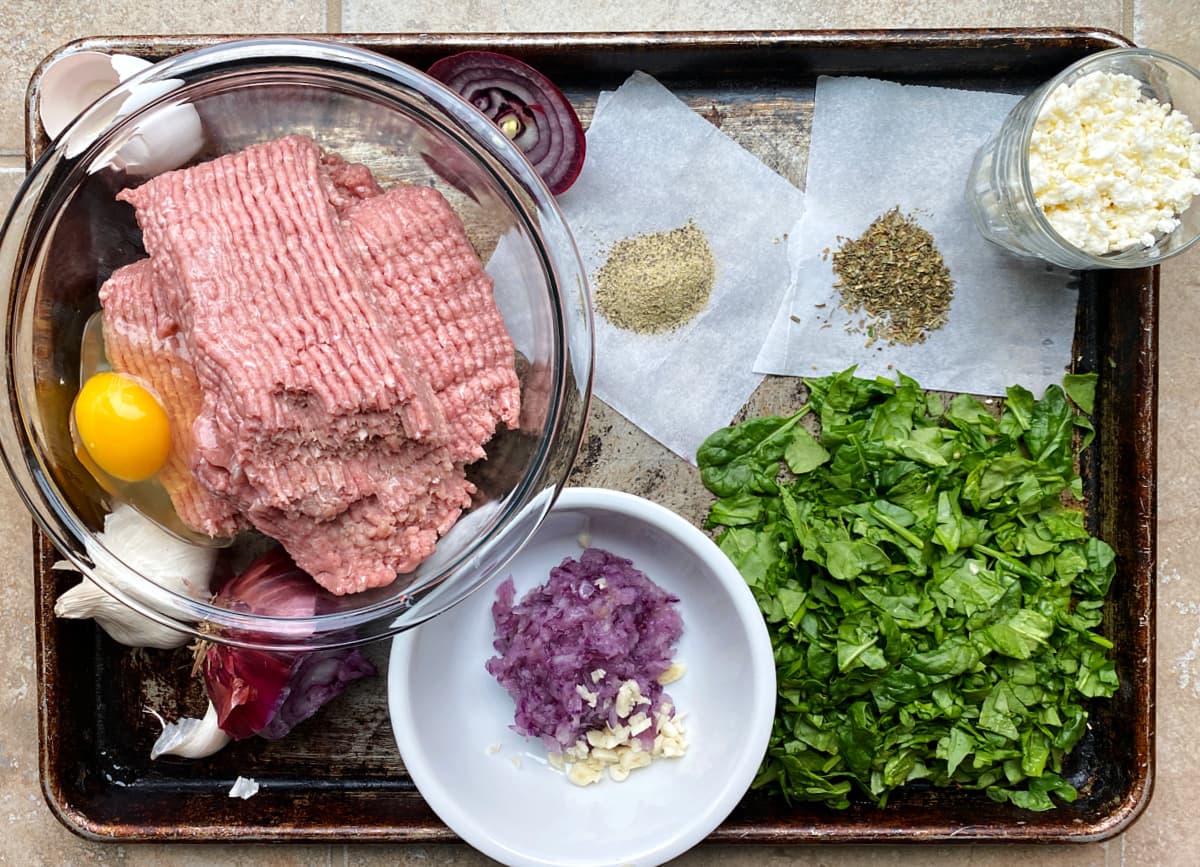 What kind of ground turkey works best for Greek Turkey Burgers?
This recipe calls for 85% ground turkey, which means the turkey contains 15% fat. You can use a lighter ground turkey (i.e., 93%), but your burgers won't be as flavorful, and they won't hold together as well.
You can also substitute in ground chicken or ground beef for this turkey burger recipe; just pay attention to the fat content. If the meat you use is less than 10% fat, add a tablespoon of olive oil and an additional egg to the mix.
Quality Matters
In any case, after making these burgers with a variety of ground meats, we highly suggest using store-ground over the kind that comes in the round prepackaged chubs. (Yes, that is really what you call those plastic sleeve rolls stuffed with ground meat.)
The store-ground has more air in it, which will result in a lighter, airier burger. Moreover, we have found that meat packed in chubs is generally of lesser quality, which also directly affects the flavor of the burgers.
Can I use frozen spinach?
You can use frozen spinach. Just defrost it first, and squeeze out the moisture.
Do I have to grate the onions?
Yep! The onion juice released with grating is an important ingredient in the burger mixture. No amount of chopping will give you the same result. (DO NOT drain the grated onion before adding it to the turkey burger mix!)
How to Make & Form Burgers
Place turkey burger, chopped spinach, egg, grated onion, chopped garlic, feta crumbles, and seasonings in a large bowl and use your hands to quickly combine, as you would a meatloaf. Mix only until everything is evenly mixed.
TIP: It is important to keep burger ingredients cold until you are ready to cook them. This especially applies to the ground turkey. If the meat starts at room temperature, the heat of your hands will melt the fat as you are working with it, which may result in a dense, dry burger.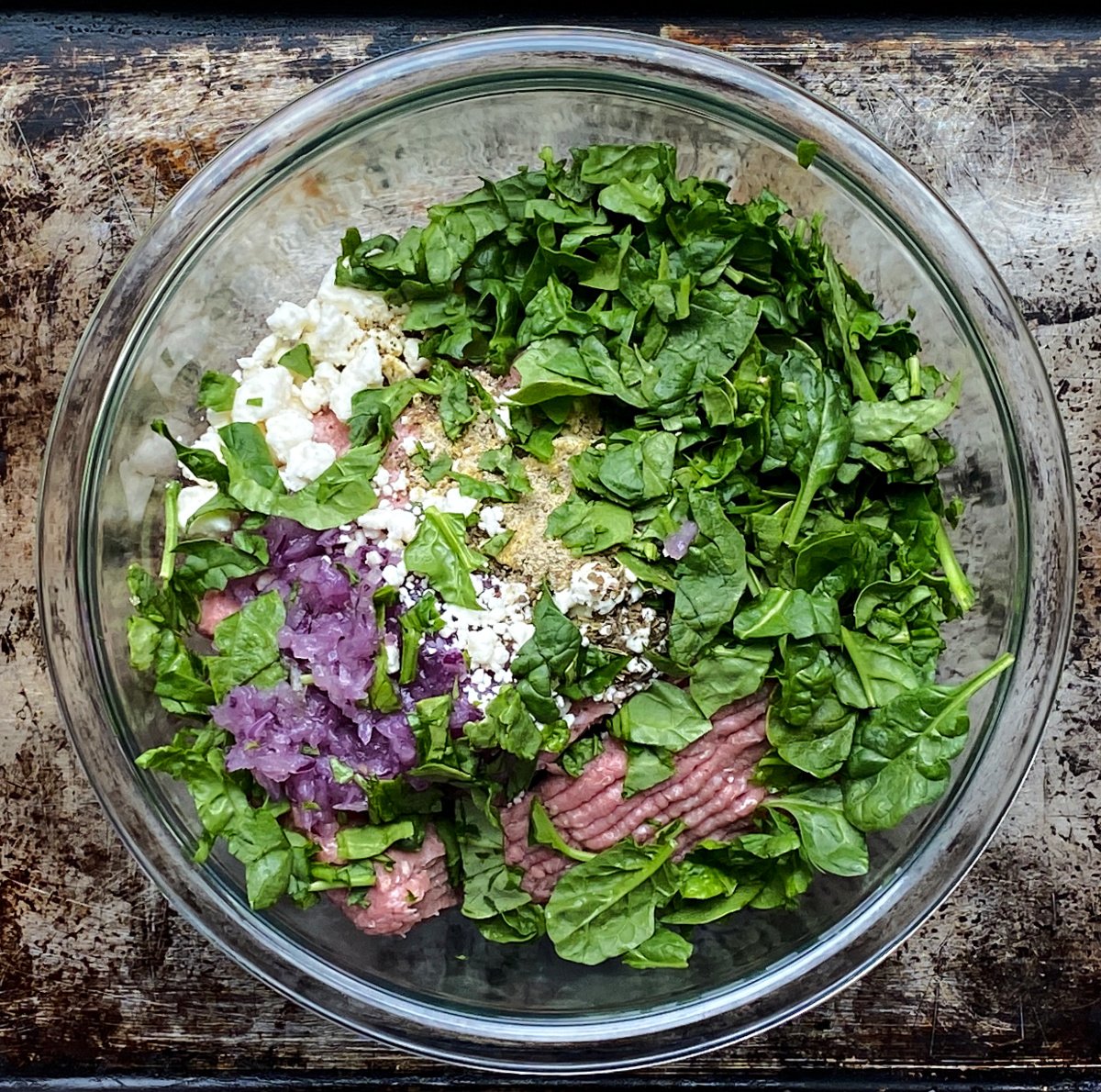 Divide and form the turkey burger mixture into patties about 1/2-inch thick. This turkey burger recipe will make eight regular-size burgers (about 5 ounces each), or 16 slider-size burgers (about 2½ ounces each).
We use a nifty little burger press to make our turkey burger patties, and it makes the process so easy! Not only does it form perfect, round burgers, but it also adds circular impressions that help keep the burgers from shrinking too much or doming up in the middle. (If you don't have a burger press, use this easy dimpling trick to keep your burgers in shape.)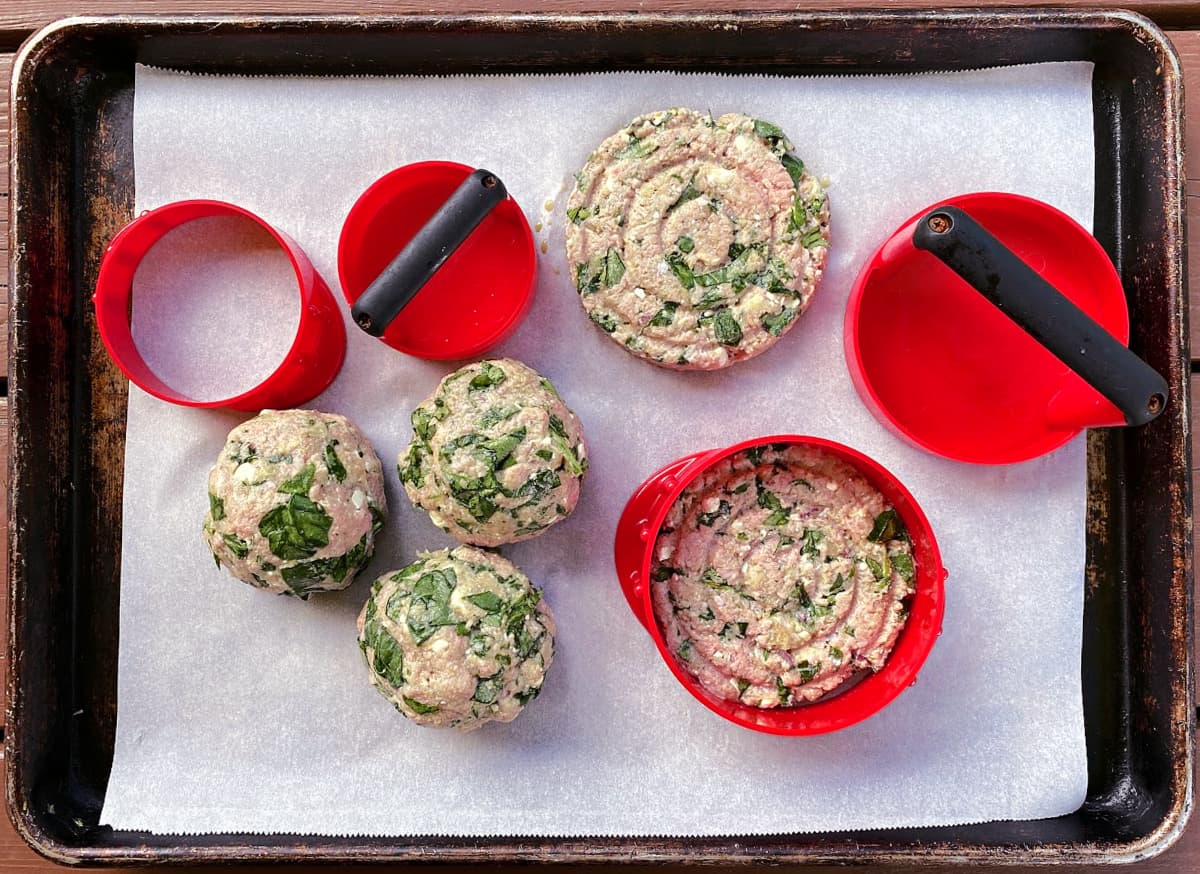 Turkey burger patties tend to shrink by about 20-25% when cooked. Make them slightly bigger than the buns you want to use so that burger-and-bun will fit together nicely when they are cooked.
What is the best way to cook turkey burgers?
Greek Turkey Burgers can be skillet-fried on the stovetop, grilled on the barbecue, or broiled in the oven. After much experimenting, we found that broiling is the best way to cook these burgers, with grilling coming in a distant second.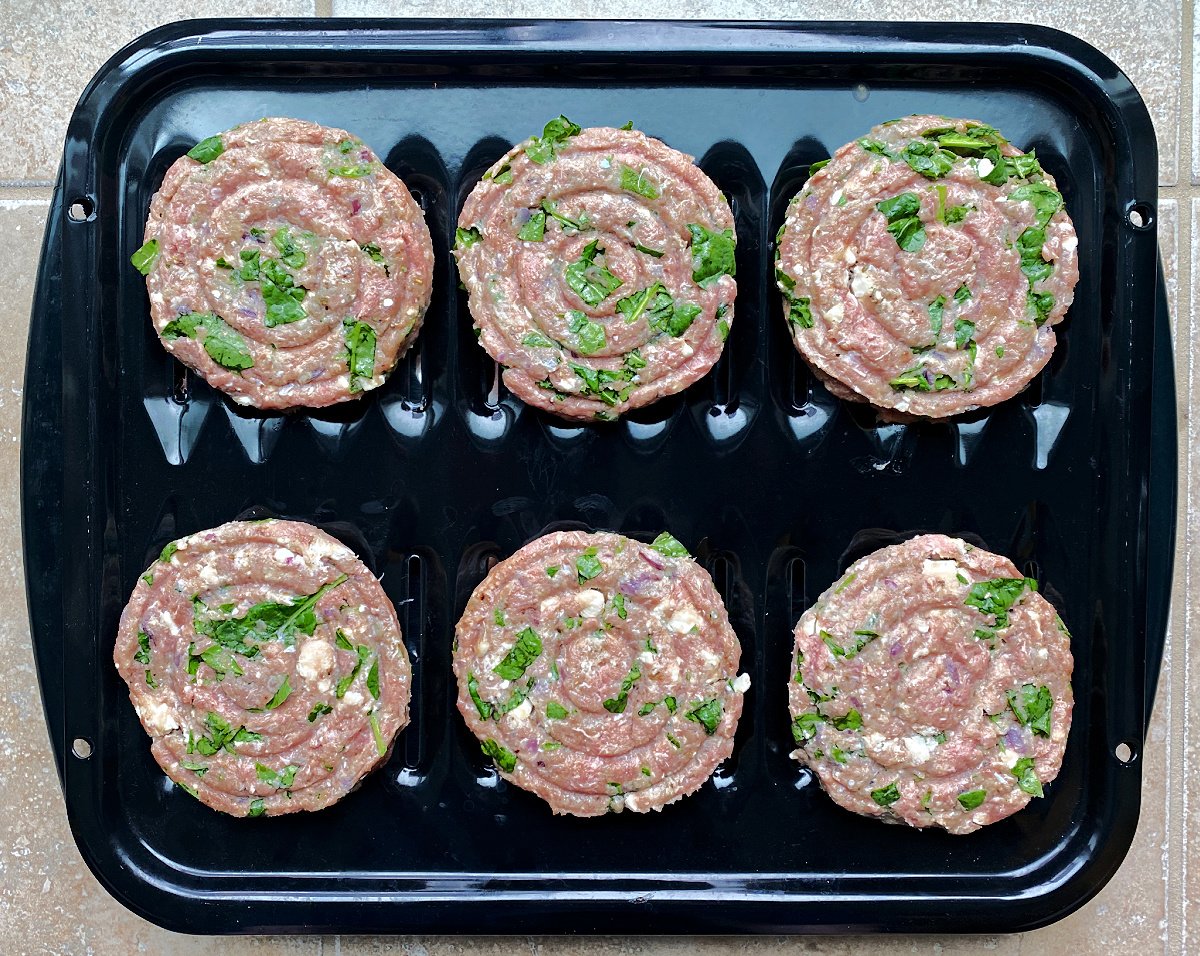 How to Broil Turkey Burgers in the Oven (Preferred Method)
Preheat broiler for 5 minutes.
Place burgers on broiling pan. Sprinkle lightly with Cavendar's Greek Seasoning, or kosher salt and pepper.
Place pan in preheated oven 4-5 inches below heat. Broil 5-6 minutes on one side.
Remove burgers from the oven and use a spatula or tongs to carefully flip the burgers over. Sprinkle lightly with Cavendar's Greek Seasoning, or kosher salt and pepper.
Return burgers to the oven and broil for an additional 5-7 minutes, or until the tops are richly browned and the internal temperature has reached 165° [74 °C].
Alternate Cooking Methods
Grill on Barbecue
Grill turkey burgers on your outdoor BBQ as you would any other burger, about 5-6 minutes per side.
TIP: Turkey is a lean meat, so be sure to oil your grill thoroughly before slapping on the burgers.
Fry on Stovetop
In a large, heavy skillet, fry turkey burgers on the stovetop over medium heat for 5-6 minutes on each side, flipping once. If burgers aren't done enough in the middle, you can finish them by placing them in 400° oven for 3-4 minutes.
In all cases, use a meat thermometer to check for doneness. Burgers are done when they reach an internal temperature of 165° [74 °C].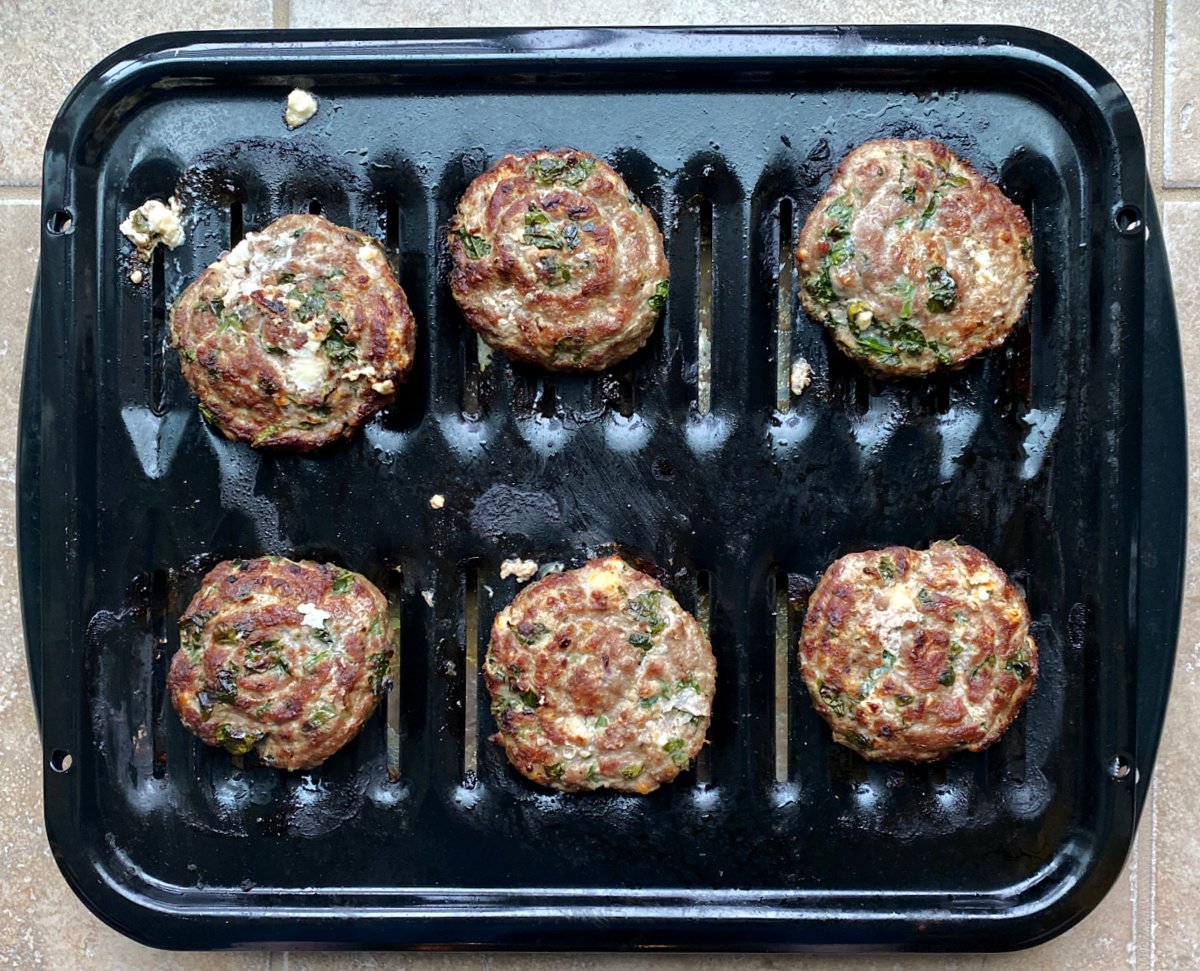 The only thing left to do is assemble your turkey burgers!
First, toast your buns. (We like to use homemade buns seasoned with roasted garlic and Cavenders All-purpose Greek Seasoning.) Toasting helps prevent the burger juices from making the bun soggy.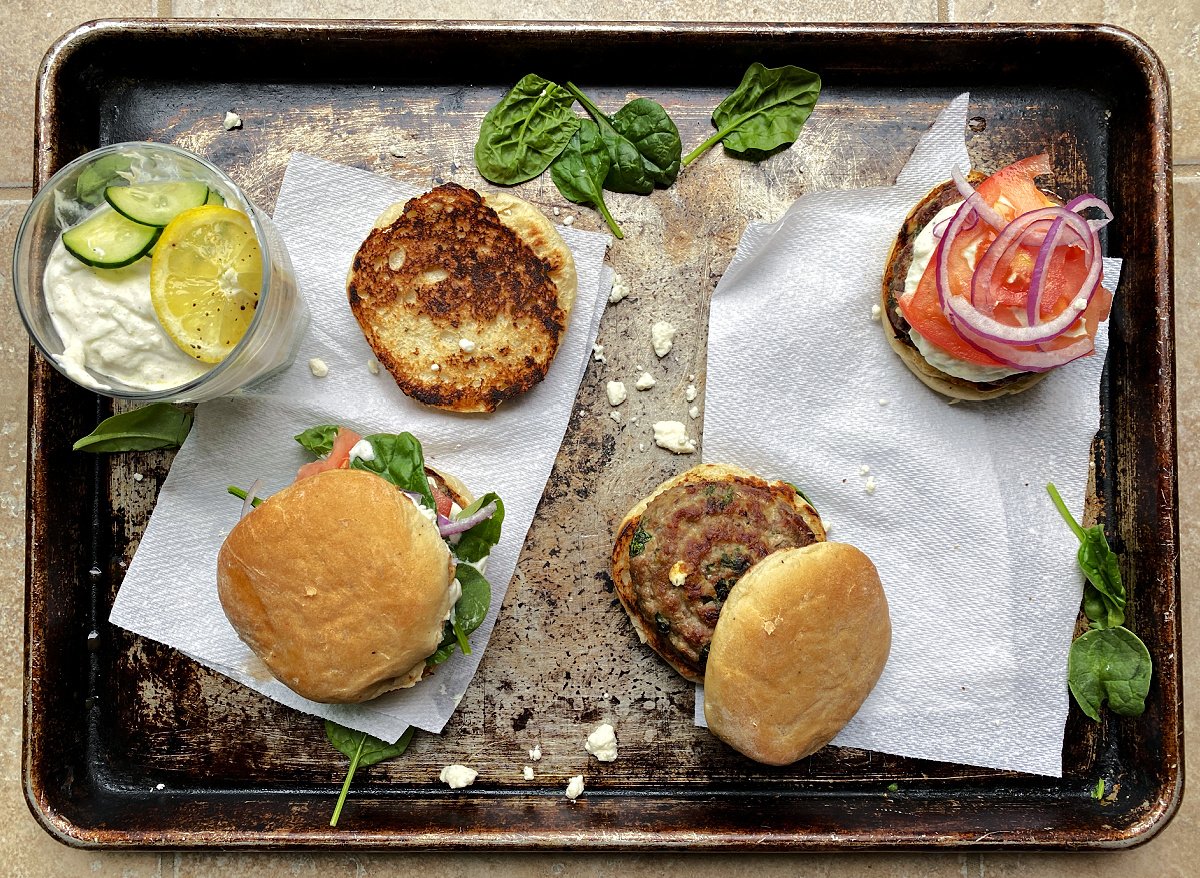 Layer onto thinly sliced red onion, sliced tomatoes, fresh spinach, and fresh feta crumbles, then top it all off with a generous dollop of creamy tzadiki sauce.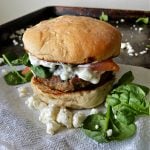 Greek Turkey Burgers with Spinach, Feta & Tzadiki
Print Recipe
Pin Recipe
Ingredients
Serving & Garnish
8

hamburger buns

spinach or lettuce

tomato slices

red onion slices

feta cheese crumbles
Instructions
Grate cucumber, and then squeeze and drain in colander.

To make tzadiki sauce, combine grated cucumber with the remaining Tzadiki ingredients: yogurt,salt, pepper, lemon juice and olive oil. Set aside.

For burgers, combine ground turkey, seasonings and feta in a medium bowl and mix (with your hands!).

Divide turkey mixture into six even balls and flatten. Using wet hands to do this makes the job much easier!

Fry burgers in a medium skillet over medium heat, or grill on barbeque.

Assemble burgers on bun with tzadiki, lettuce, tomato, onion. Enjoy!
Notes
Nutrition information includes only values for actual turkey burger. Nutrition information does not include values for hamburger buns or toppings.
Nutrition
Serving:
1
burger
|
Calories:
175
kcal
|
Carbohydrates:
4
g
|
Protein:
24
g
|
Fat:
7
g
|
Saturated Fat:
3
g
|
Trans Fat:
1
g
|
Cholesterol:
77
mg
|
Sodium:
800
mg
|
Potassium:
343
mg
|
Fiber:
1
g
|
Sugar:
3
g
|
Vitamin A:
137
IU
|
Vitamin C:
2
mg
|
Calcium:
134
mg
|
Iron:
1
mg
This website provides approximate nutrition information for convenience and as a courtesy only. You are solely responsible for ensuring that any nutritional information provided is accurate, complete, and useful.
5-Minute Easy Greek Side Salad
If you have any leftover cucumber, tomato, onion, and feta after you make your burgers, you have the makings of a quick, easy Greek side salad!
To do this, simply chop and combine the veggies and toss with a drizzles of extra virgin olive oil and balsamic vinegar. Sprinkle crumbled feta on top. Voilà!
Do you crave Greek flavors? Be sure to try our Light & Easy Spanakopita (Greek Spinach Pie)!

THANK YOU so much for being a faithful reader and supporter
of The Good Hearted Woman. • Be sure to PIN this post!
Disclosure: This post may contain affiliate links, including Amazon affiliate links, which means we may receive a commission if you click a link and purchase something that we have recommended. While clicking these links won't cost you any extra money, they do help keep this site up and running. As always, all opinions and images are my own. Please check out our disclosure policy for more details. Thank you for your support!