Every spring, you can find some of the most beautiful and unique instruments being made in the Pacific Northwest at the NW Handmade Musical Instrument Exhibit.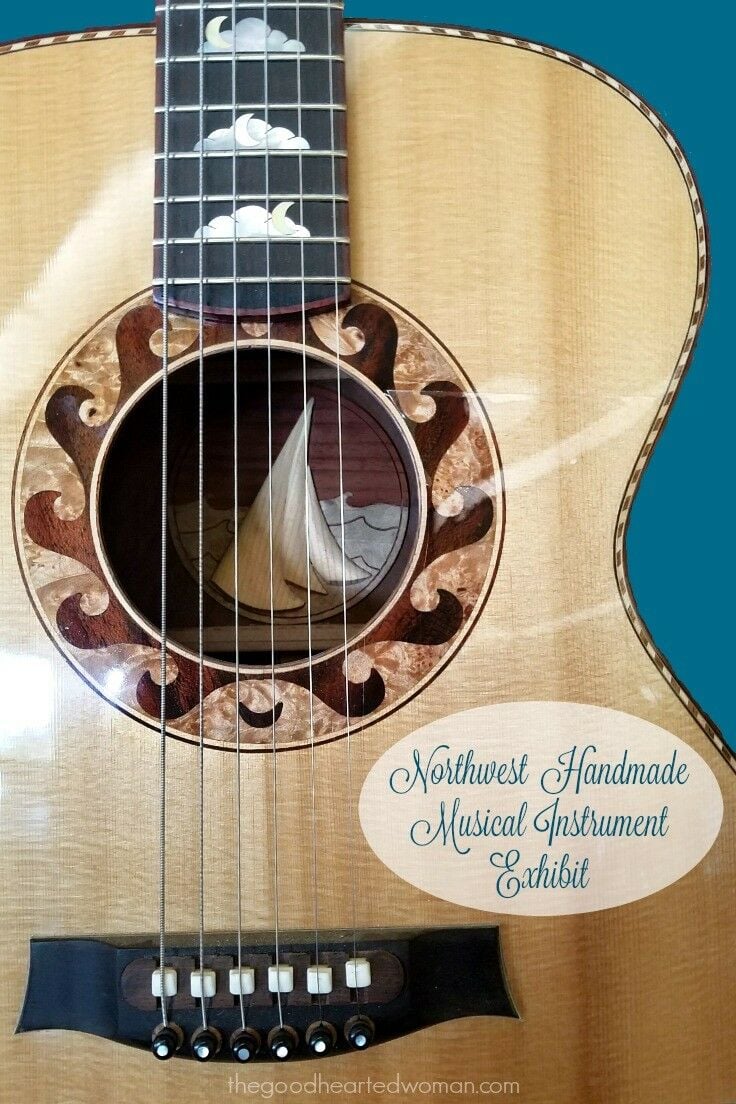 Music and music-making is a huge part of life in our home, and Mr B and I both have a great appreciation for fine instruments and the people who create them. Last week, we took the opportunity to see some of the most beautiful instruments currently being made in our little corner of the world - at the 43rd annual NW Handmade Musical Instrument Exhibit, held on the campus of Marylhurst University in Lake Oswego, Oregon.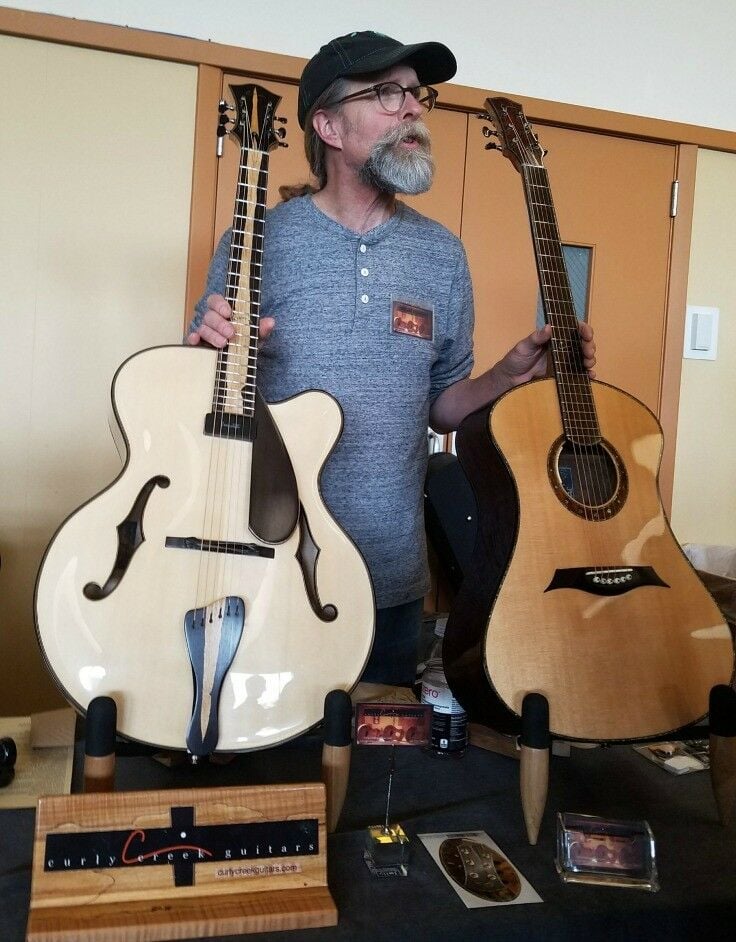 At this year's annual event, more than 80 artisans from across the Pacific Northwest gathered to showcase handmade guitars (everything from steel string to cigar box), violins, archtop instruments, bouzoukis, octave mandolins, banjos, ukuleles, Hardanger fiddles, alternately shaped violins, classical and steel string guitars, flamenco guitars, and even historical and ancient instruments. There were also dozens of performances by local professional musicians (playing on instruments provided by the exhibitors!), as well as craftsman demonstrations, luthier information and supplies, and displays of instruments under construction.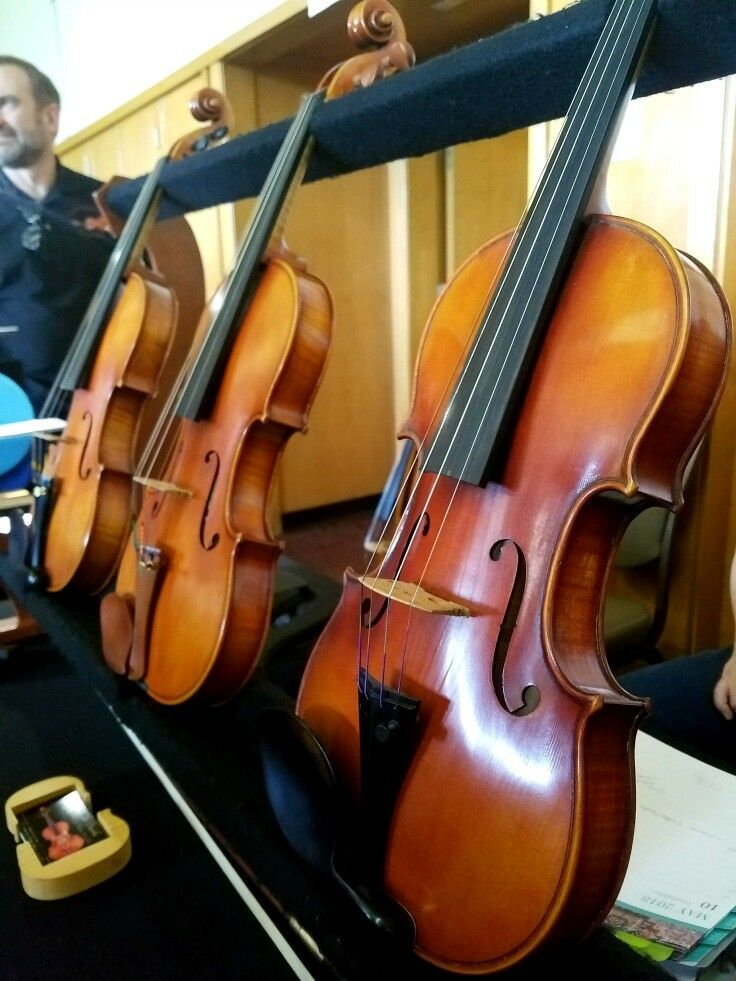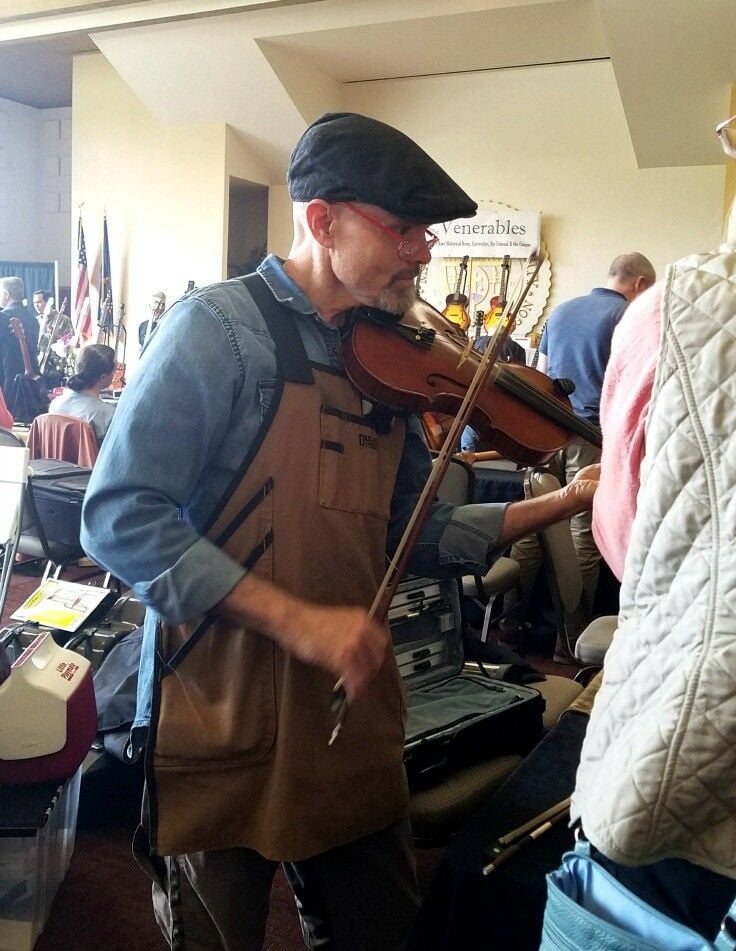 The "sailing under the moon" guitar below - by Jay Dickinson [Portland Guitar Co.] - was one of my absolute favorites from the whole exhibit, and considering all of the amazing instruments on display, that's say a lot. The workmanship on this piece was outstanding.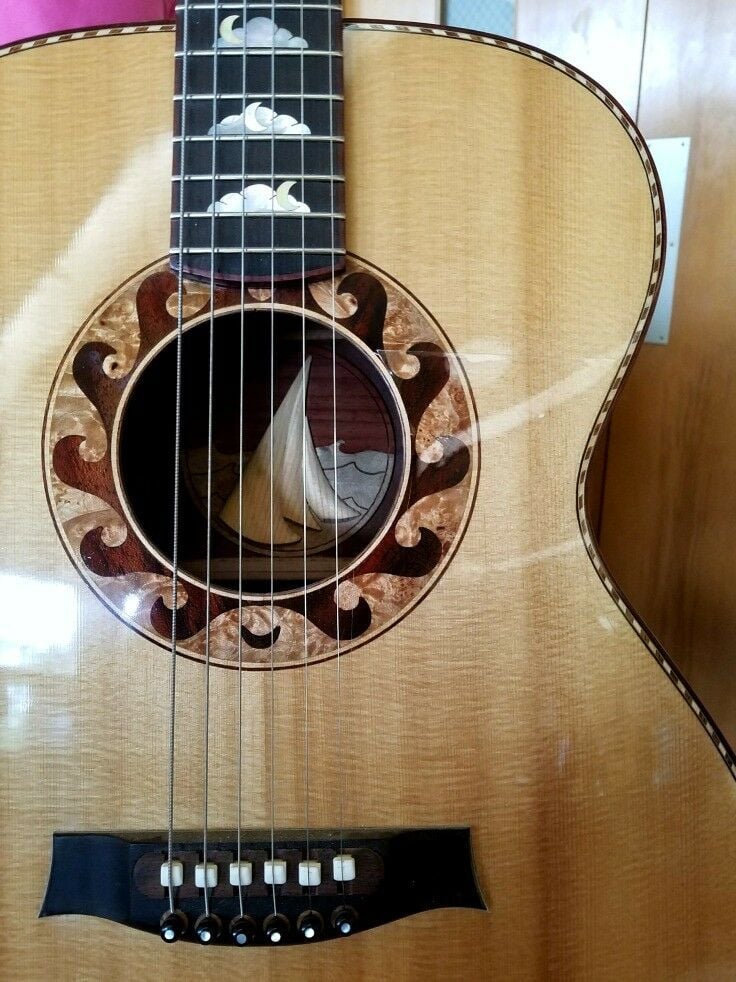 Note the inlaid Mother-of-Pearl moons progressing down the neck. (If you'd like to see how this guitar was made, check out these process photos on Jay's website that walk you through the entire painstaking process.)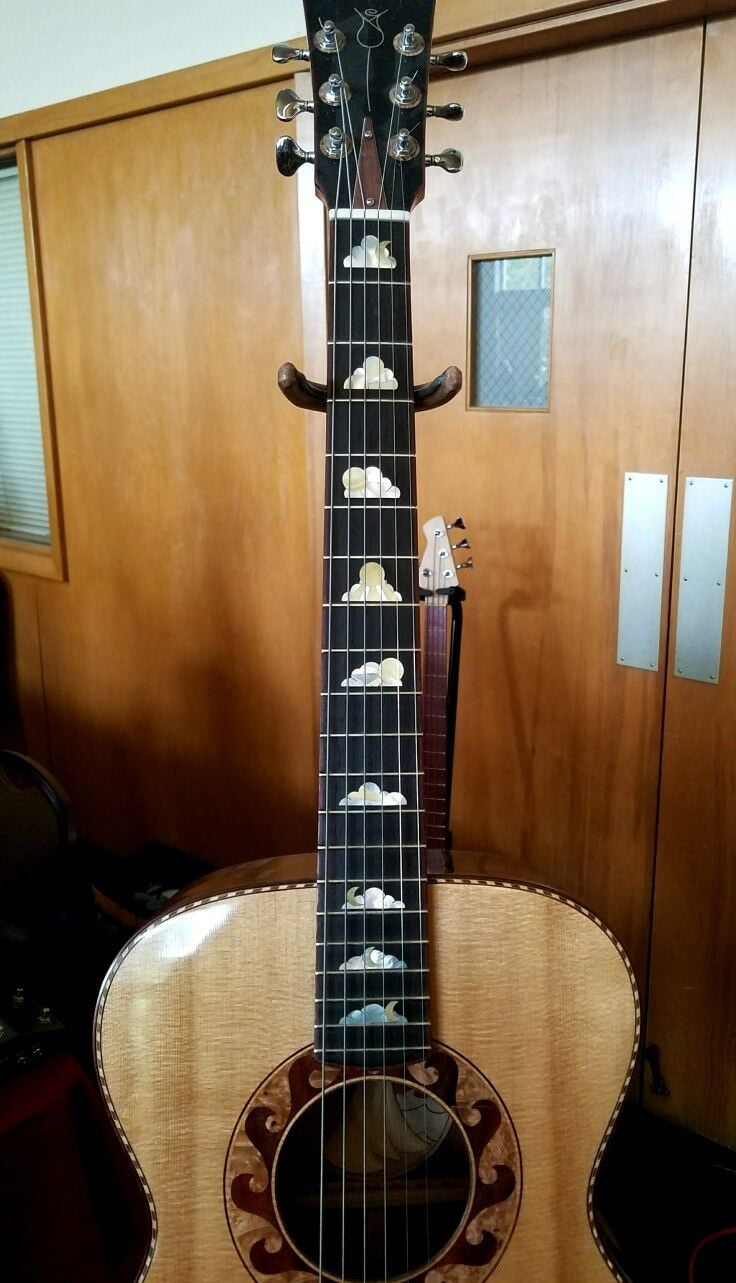 It seemed that everywhere we looked, we saw beautiful examples of fine inlay and carving work, like that on these flutes from Kyle Jeremy Neidig.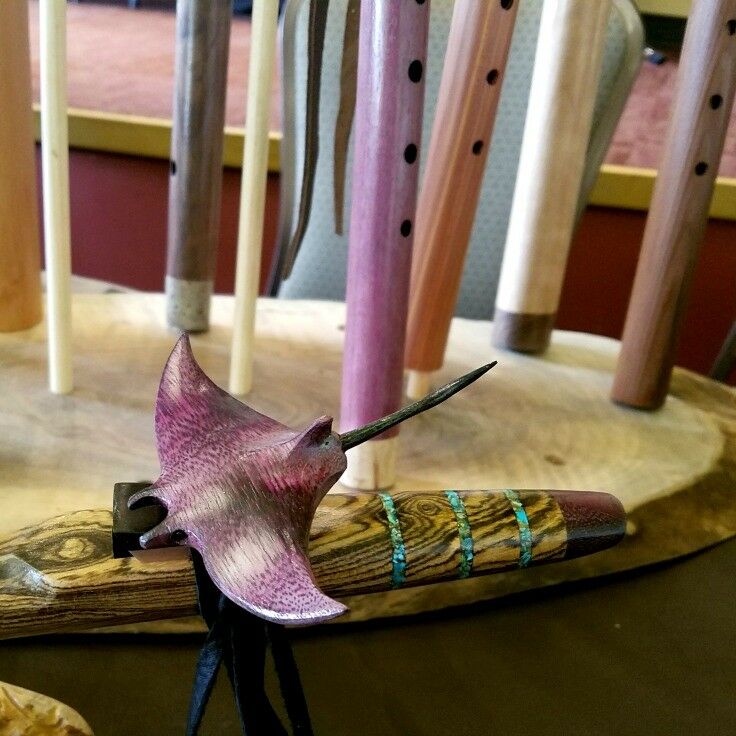 I have always been intrigued with inlay work of any kind, and really appreciated this display about how the meticulous, painstaking process of inlaying Mother-of-Pearl comes together.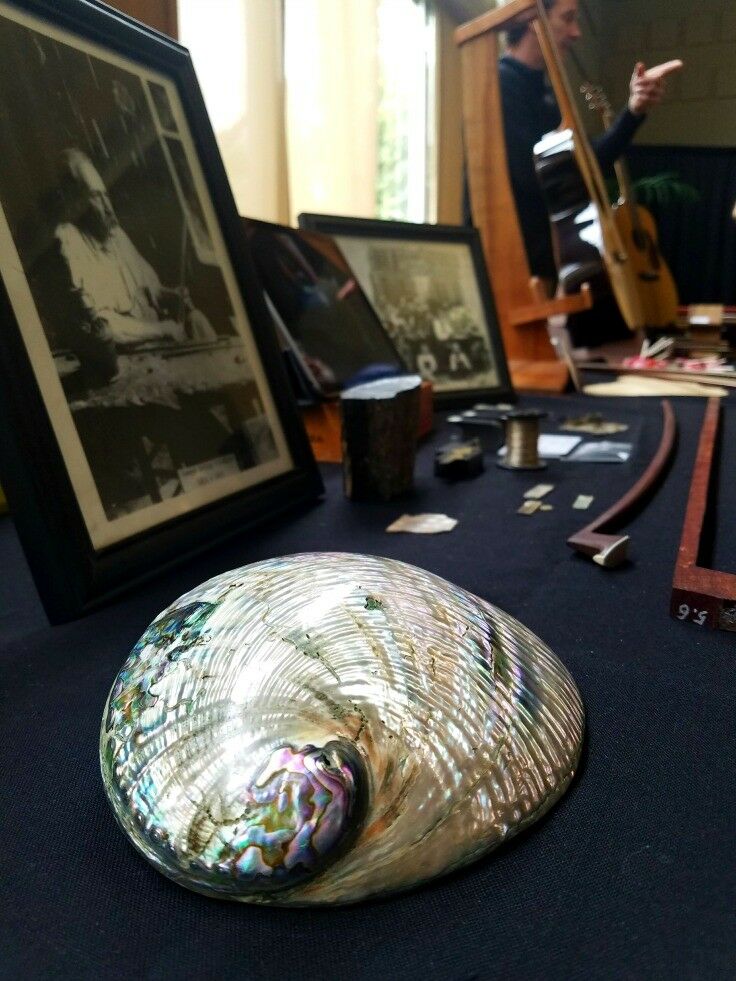 The intricacy some of the carved pieces on display was amazing, as is illustrated in the sound hole below by Portland luthier Eric Shull of Harmonia Lutherie.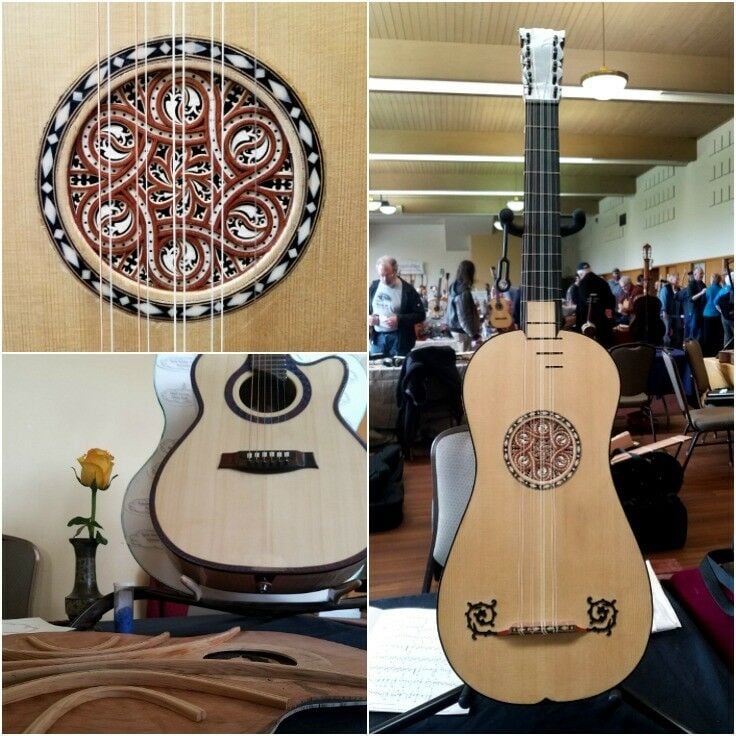 There were a number of unique and historical instruments on display as well. Need an historically accurate double reeded renaissance instrument? Phil & Gayle Nueman can hook you up. They can even teach you how to play it!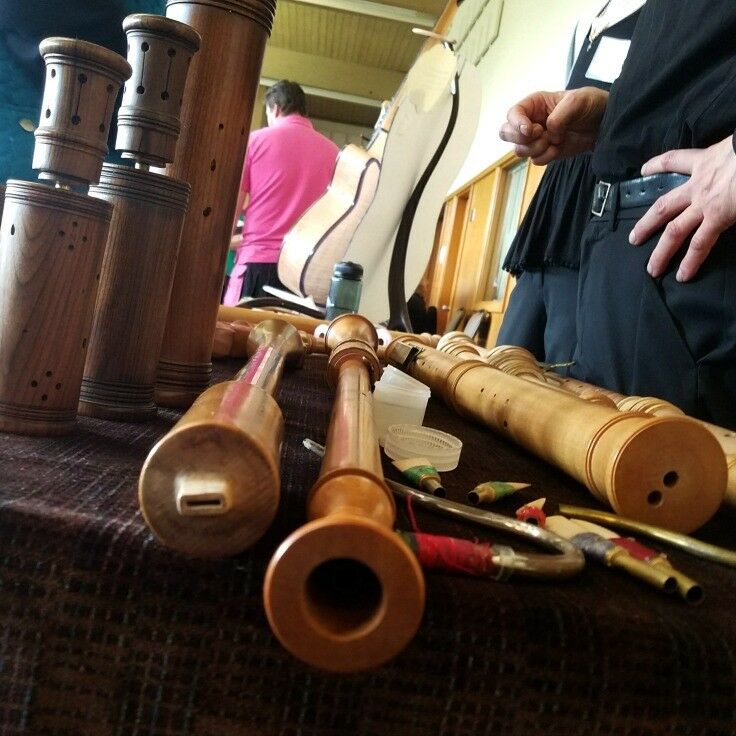 "The Venerables" display of historical instruments included a left-handed viola dating to 1859, a 1937 8-string, a hurdy-gurdy, double-necked steel guitar, and a couple of historic Gibsons from the 60's.
I loved the reclaimed, hands-across-time vibe of these electric cigar-box guitars by Del Puckett. (How perfect a name is that for a cigar-box guitar maker!)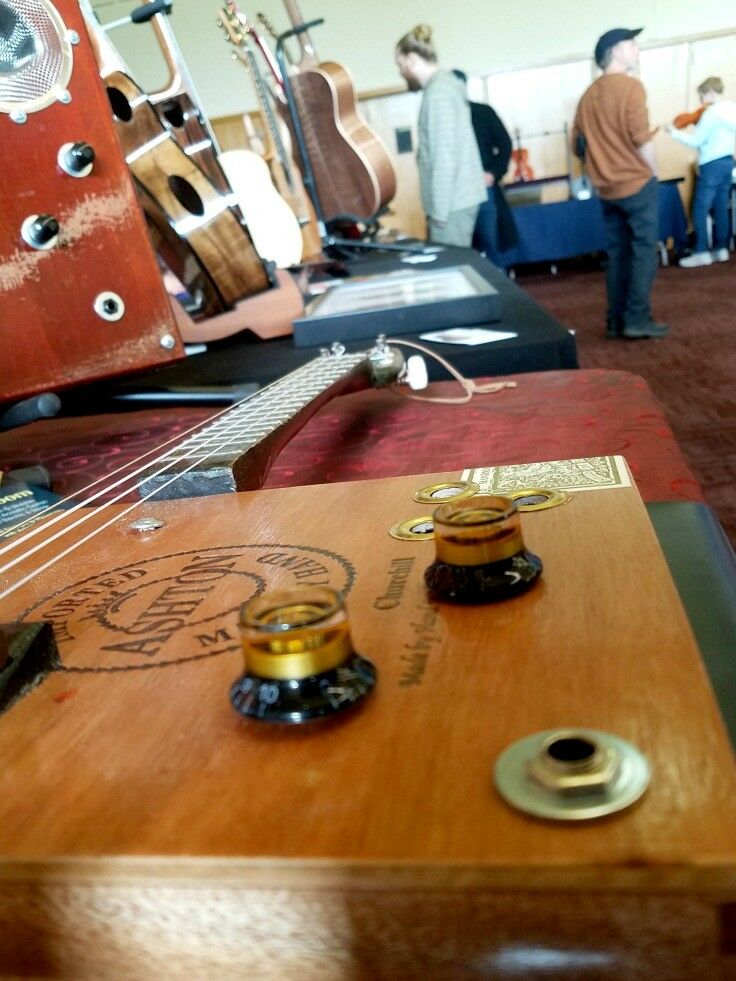 After talking with a number of the luthiers (from the French word luth, meaning lute) at the NW Handmade Musical Instrument Exhibit, I noted a couple of common threads. First, the crowd was decidedly male. Many, if not most, began making stringed instruments after first making their living in another field: woodworkers, cabinet makers, teachers, and jewelers seem to dominate my small sample group. All had a life-long passion for creating music and beautiful things. Most also appeared to have both an affinity for facial hair and an AARP card.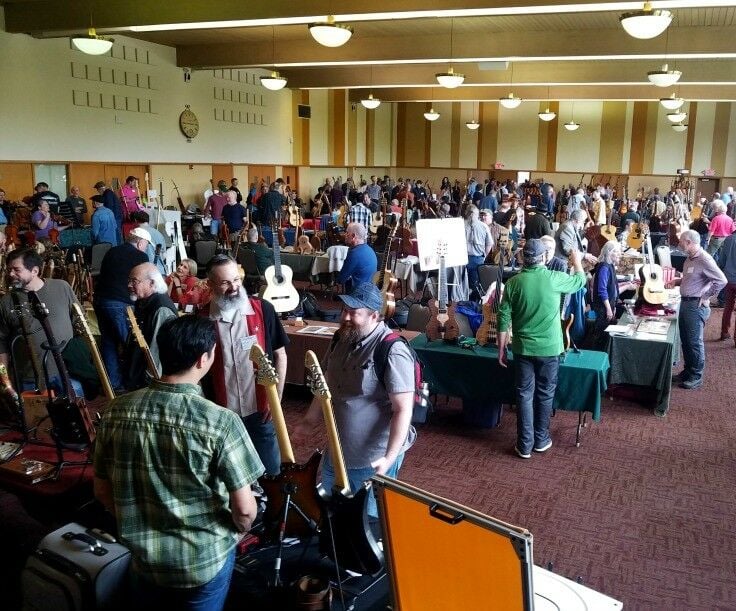 While the crowd at the NW Handmade Musical Instrument Exhibit was decidedly heavy on Seeger followers, Zepplin contemporaries, and Boomer wisdom, there were enough representatives of younger generations to give us all hope for the future.
One such youthful example is Adam Mendal, founder of Joyner Instruments [previously Riverbend Instruments]. Relatively new to instrument building, Adam's was inspired to follow his long-time dream of making stringed instruments after guiding 70-some of his high school students in the building of cajons and cookie tin banjos. He completed his first electric uke in the fall of 2016, just in time to pull on his chuztpah pants and let Jake Shimabokuro take a look at it after a concert. (Seriously - how gutsy is that!) After getting some encouraging words from the reigning uke-king, Adam was ready to make the leap.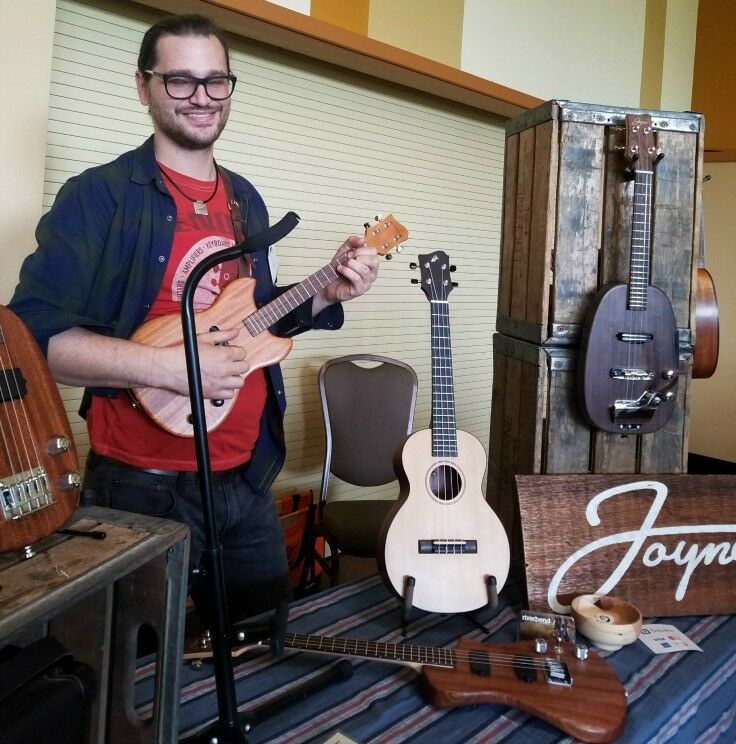 Our flagship instrument, the solid body electric ukulele was created not only as a way to push the instrument into new territory, but as a way to bring a new tool to singer songwriters and musicians. (Adam Mendel, Joyner Instruments)
Some of the most bold, innovative instruments we saw at the NW Handmade Musical Instrument Exhibit were made by Thomas Oliver Simensen of Fat Cat Fiddles, out of Kalispell, Montana. Many of Thomas's instruments transcend the form and take it into the realm of high-art.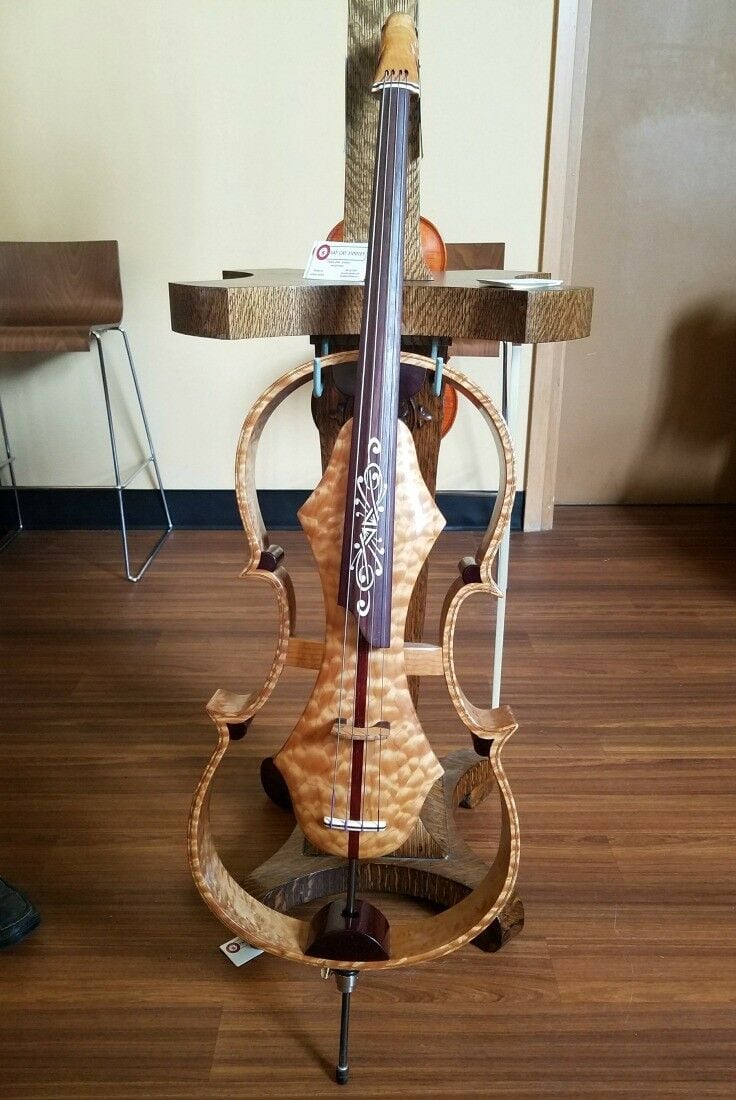 "I have veered off the path of the strict and formal classical violin making traditions... [and] enjoy the freedom to experiment with different woods, body shapes and embellishments, that make each and every instrument that I make totally unique. I do, however, follow most of the time tested construction methods, such as the graduation of the plates, certain proven dimensions, and a proper final set up." (Thomas Oliver Simensen, Fat Cat Fiddles)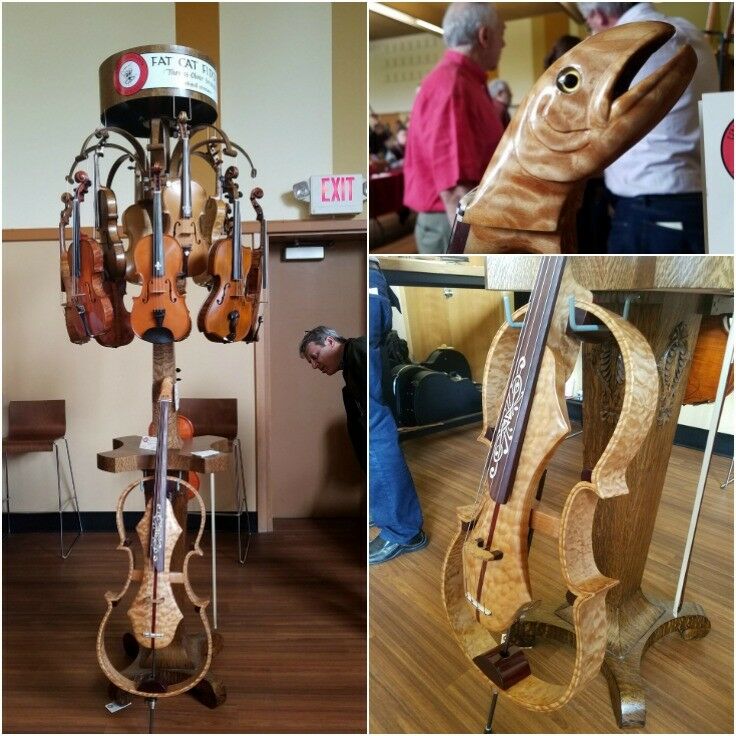 To fully appreciate this "Freedom Fiddle," take a moment to watch it make a full rotation. (Also, note the stand, made to match)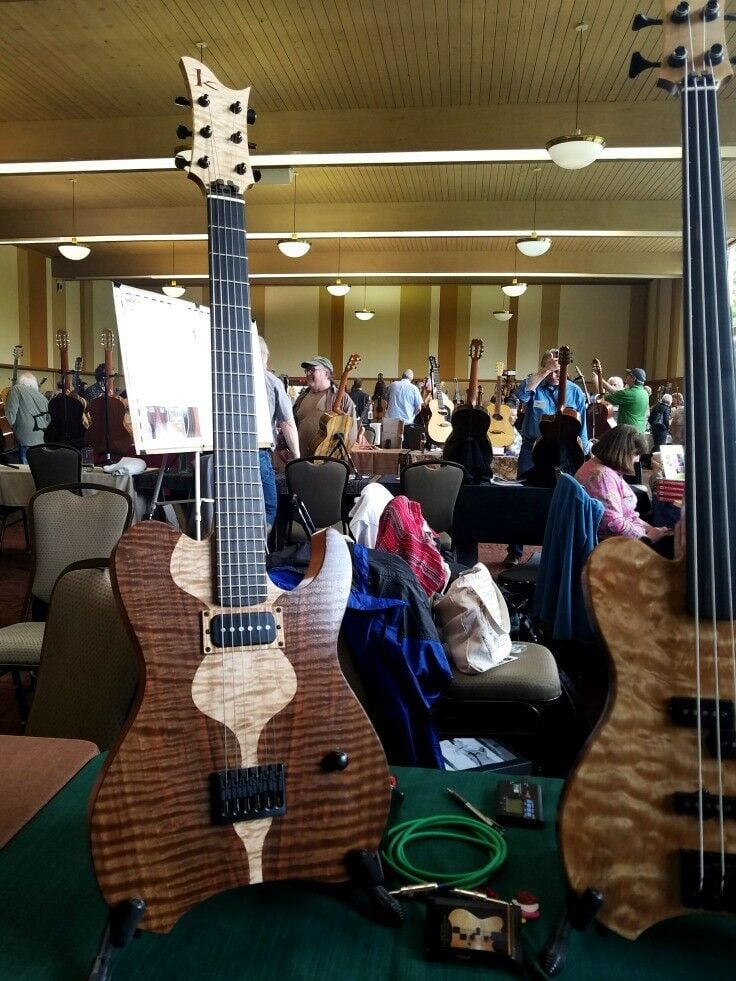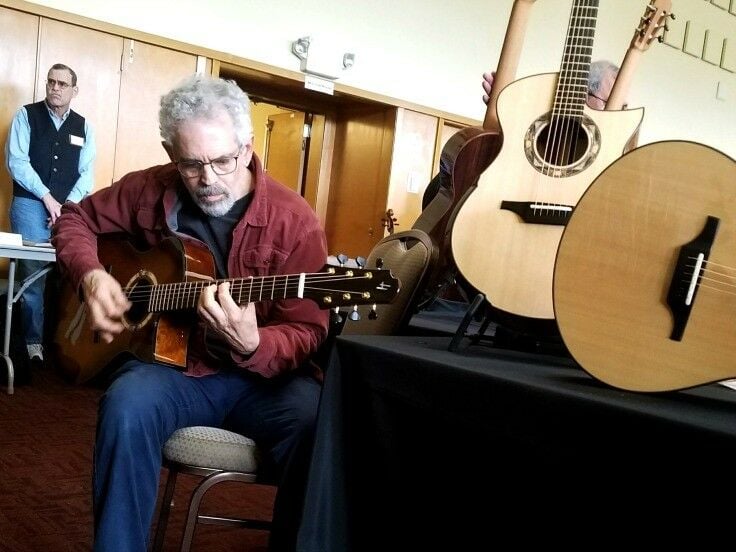 If you get a chance to attend future gatherings of the NW Handmade Musical Instrument Exhibit, be sure to take some time to enjoy some of the many performances and demonstrations next door in the Wiegand Performance Hall, located in the BP John building at Marylhurst University. The music itself is mesmerizing, and the acoustics in the space are extraordinary. Mr Ba and I were sitting near the back of the hall, and could easily hear the clean, delicately nuanced tones of the performances, without any kind of external amplification.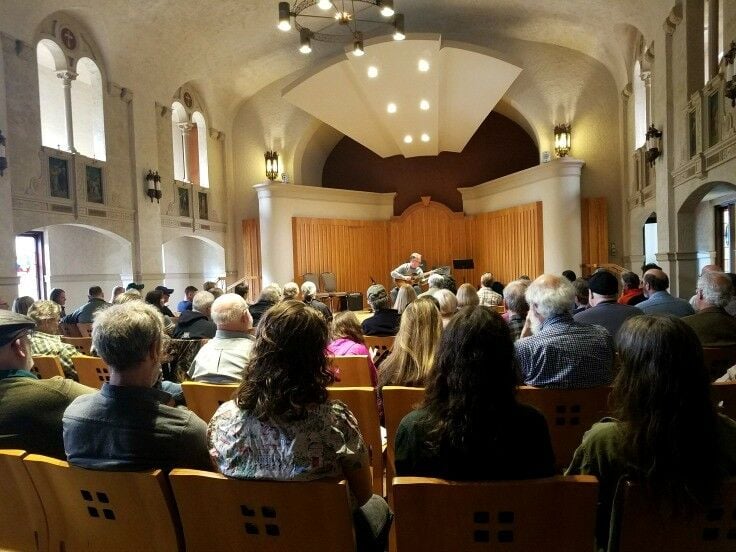 If you are a Pacific NW resident and love beautiful music and fine craftsmanship as much as Mr B and I do, I highly recommend that you mark your calendar for the last weekend in April next year to attend. For more information about future events, visit the NW Handmade Instrument Show website.