Music lovers, here's our list of eight iconic, must-see, don't-even-think-of-skipping sites in Music City, along with a few tips that will make your life a little easier along the way.
This post may contain affiliate links, but don't worry – they won't bite.
Tips for Nashville Visitors
1. Parking downtown costs a ton. Budget for it.
This was the most shocking traveler issue we ran into on our trip: the parking fees in downtown Nashville are exorbitant, and they can take a significant bite out of your budget. Daily rates run around $20, and in one location, it cost us $16 to park for two hours. There are a couple of less expensive parking options, which were unfortunately filled up at the time of our visit. (It probably didn't help that we were there during the Stanley Cup finals!)
2. Everyone needs a valid ID to purchase alcohol in Tennessee.
In 2007, Tennessee became the first U.S. state to make universal carding mandatory. Clerks are held responsible and face huge fines and other penalties for not requiring ID, so no matter how many crow's feet you have, you will need to have a valid driver's license or other official form of ID to buy a drink. No exceptions.
3. Do NOT plan to stick to your vegan/paleo/vegetarian/points diet.
It's just not happening. (To clarify, I'm sure that Tennessee residents can and often do eat a very healthy diet: this is strictly from a visitor's point of view.) Granted, Mr B and I were eating at some rather touristy establishments; nonetheless, every menu we looked at consisted of three big, colorful columns filled with delicious-sounding descriptions of succulent, smokey meats and deep fried proteins (and I don't mean tofu) and carb heavy sides.
Do you have any vegetables, Tennessee?

Why sure, honey. See here on the menu? We got green beans and bacon, collard greens and bacon, baked beans and bacon…

How 'bout a salad?

Down there in lower right corner. Under the sides and beverages. See that little box green box? No, lift up your thumb up. There it is! See, we have two salads – a House and a Caesar. Both come with cheese grits on the side. Y'all got all kinda options, honey.
All kidding aside, just embrace and enjoy the local cuisine, because it is so so so good. You can climb back onto your kombucha and kale chip wagon when you get home, if that's your jam.
Speaking of which, you have got to try the Nashville Hot Chicken! Seriiously. Just do it. (I have a whole post coming up in a few weeks on this crispy, spicy, oh-so-addictive chicken.) Best thing we ate in Tennessee, hands down. It's fabulous, and totally worth the line you're probably going to have to wait in.
Must-See Nashville Music Sites
When you're planning your Nashville itinerary, be sure to include these eight spots.
(NOTE: If there's a star* after it, that means we will be adding a detailed post on the blog soon!)
Originally built in 1892 at the Union Gospel Tabernacle, the Ryman Auditorium was home to the Grand Ole Opry from 1943 until 1974. Due in part to its religious roots as a house of worship, and in part to its place in American music history, the Ryman is known even today as "The Mother Church of Country Music."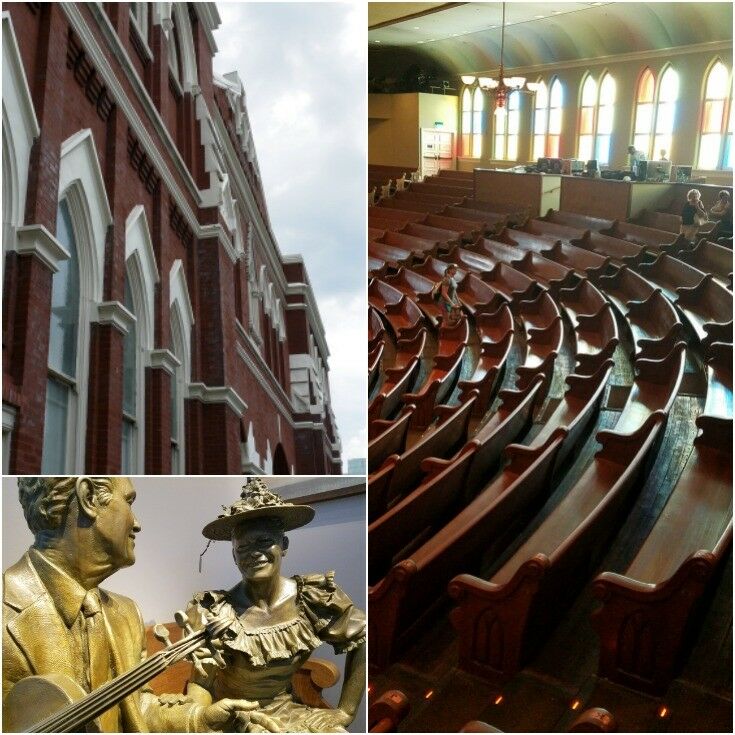 From the time its first stage was built, the Ryman has served as a venue for a wide variety of events, including religious revivals, jazz recitals, operas, ballets, political debates and Broadyway musicals. Mr B and I were both awestruck by the musical history the building holds. If you go, take the Backstage Tour. It is more than worth it.
This is the place where I finally started to internalize the profound impact and influence Nashville has had on the evolution of American music. The Country Music Hall of Fame and Museum in Nashville, Tennessee is one of the world's largest museums and research centers dedicated to the preservation and interpretation of American music, and houses the world's largest collection of country music and artifacts.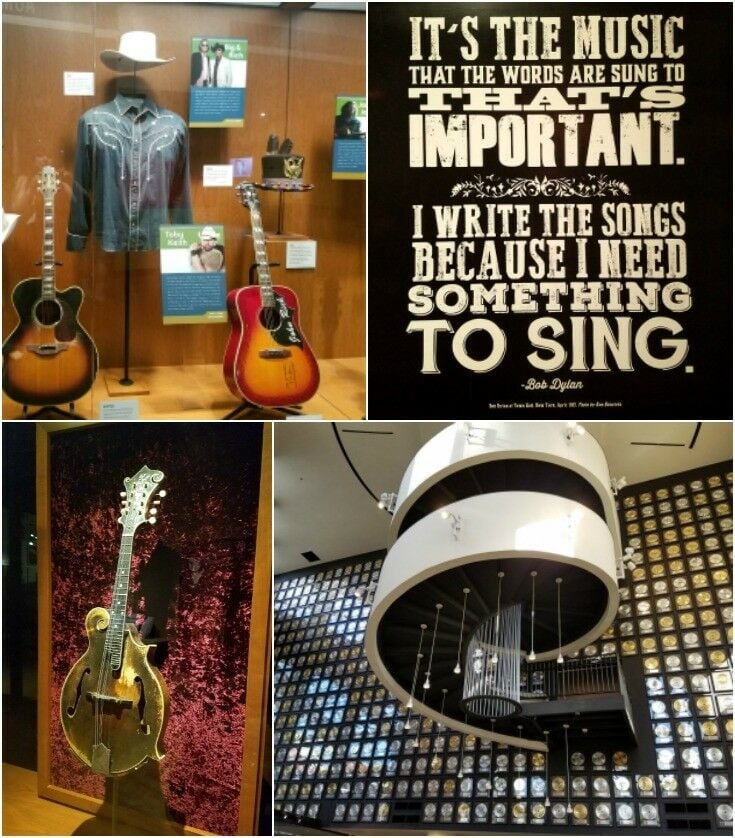 The historic RCA Studio B, Nashville's oldest surviving recording studio, is birthplace to more than 35,000 songs, and more than 1,000 hits. This is where the Everly Brothers recorded "All I Have to Do is Dream" (a signature song for Mr B and me), Roy Orbison recorded "Only the Lonely," and Dolly Parton set the tracks for her classic "Coat of Many Colors." For anyone with musical roots, standing in this space is moving beyond words.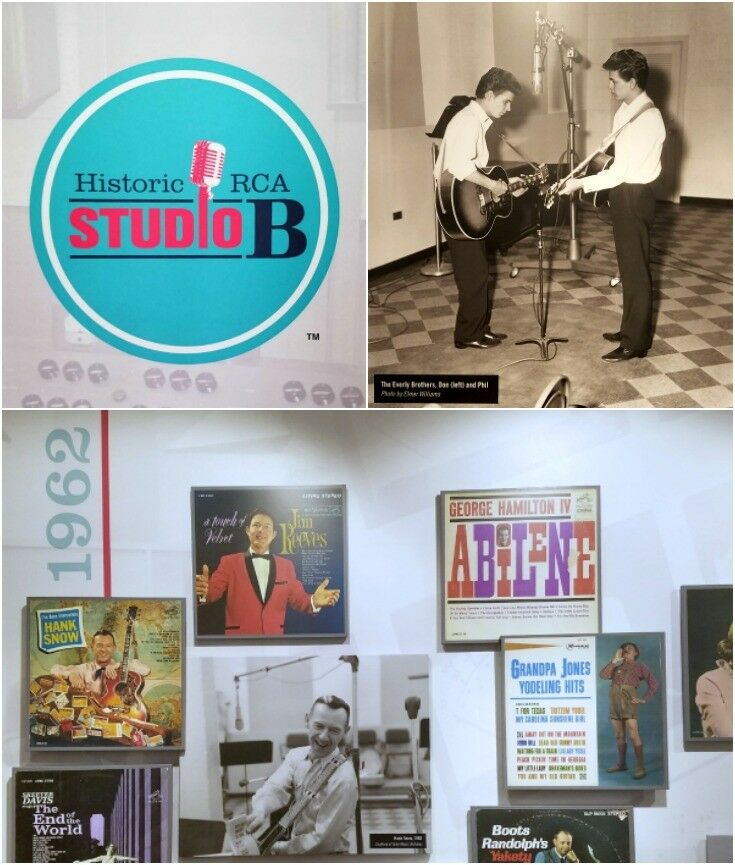 Hatch Show Print is one of the oldest working letterpress print shops in the U.S. Our tour of the print shop ended up being one of the biggest surprises of our trip, in a very good way. We'll share more in a more in-depth post, but for now, suffice it now to say that this should not be missed. Such an extraordinary piece of music history.
Take a walk down Lower Broadway in Nashville and you're sure to hear music pouring out of honky tonks up and down the street at all hours of the day and night. (Well, almost all hours. Folks have to sleep sometime, you know. They are, however, open from 10am until 3am the next day. Every. Single. Day. 365.) There's no cover charge (or at least I didn't see any place that had one), so you can wander in and out of places until you find your heart's desire.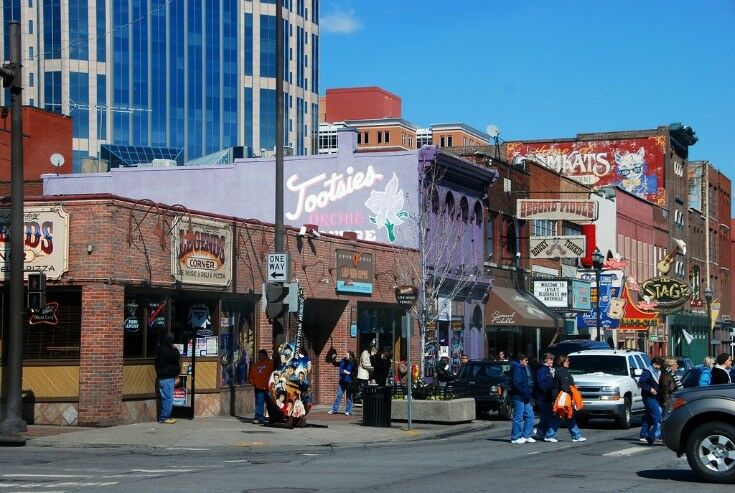 The coolest part, aside from all the history and local color, is that you just never know who you'll be listening to. Country music legends like Willie Nelson, Gretchen Wilson, and Deirks Bentley, along with so many others, all began their careers singing in the honky tonks along this famous street.
You know what that means, don't you? You could wander into The Second Fiddle one night and listen to country's newest rising star – before anyone even knows they're on the horizon – all for the price of a beer.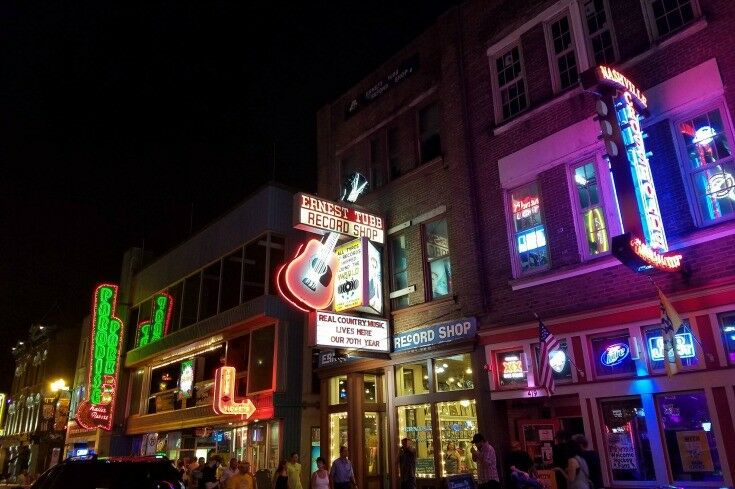 It may be tucked between the honky tonks on Nashville's Lower Broadway, but this cool little store gets its own line item. Why? Well, let's start with the fact that it has a copy of virtually any country music recording ever made, from classic country to bluegrass to post-punk hillbilly.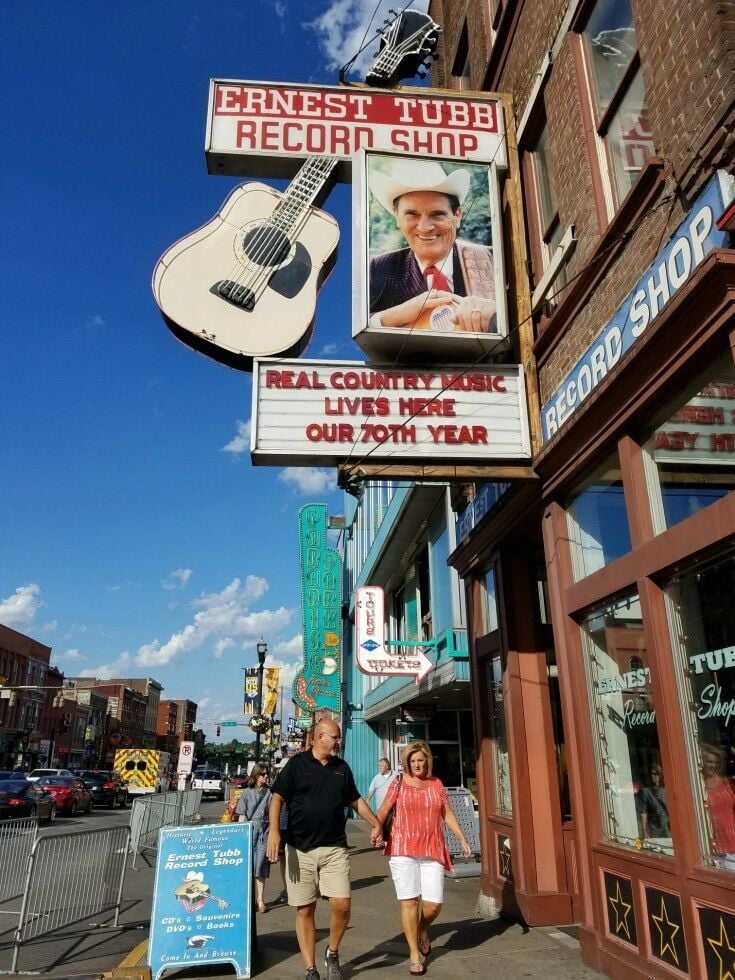 Founded by Grand Ole Opry star Ernest Tubb in 1947, the staff is amazingly friendly – and boy-howdy, do they know their country music! While Mr B picked up a few Patsy Cline CD's for his mama, the man we spoke with (who I believe was the current owner) chatted with him about the old-timers, easily moving back and forth between past and present singing greats with the ease of someone who lives for the music.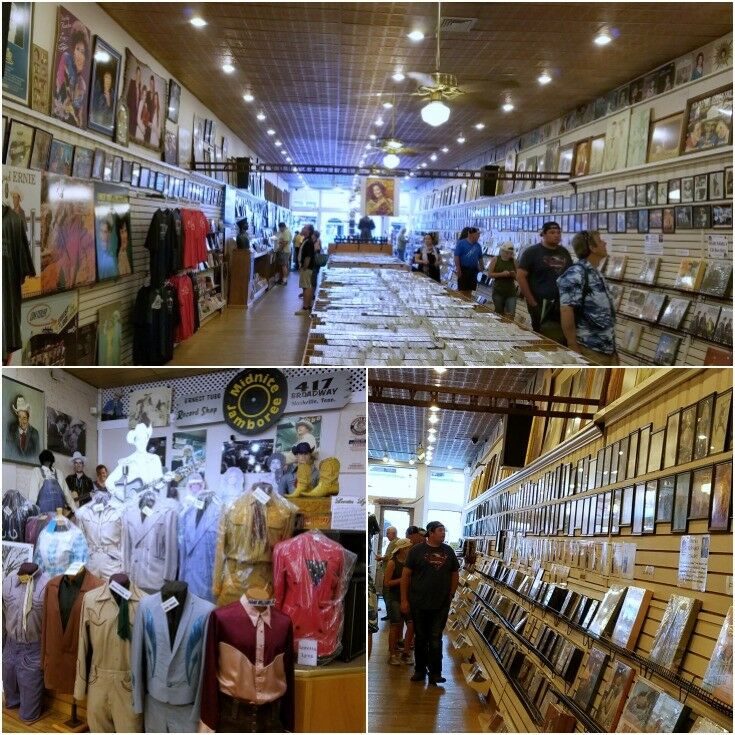 If you are a musician of any skill level, or have ever even held a guitar in your hands long enough to figure out a G-chord, then you need to make time to stop in at Carter Vintage Guitars.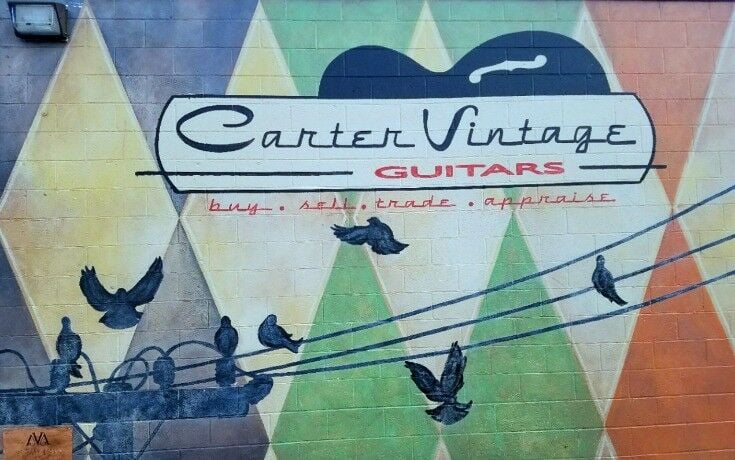 Founded in 2012 by Christie and Walter Carter (I have no idea if they are related to the famous Carter family or not), this guitar shop aims to provide "a comfortable place for fine fretted instruments and the people who appreciate them."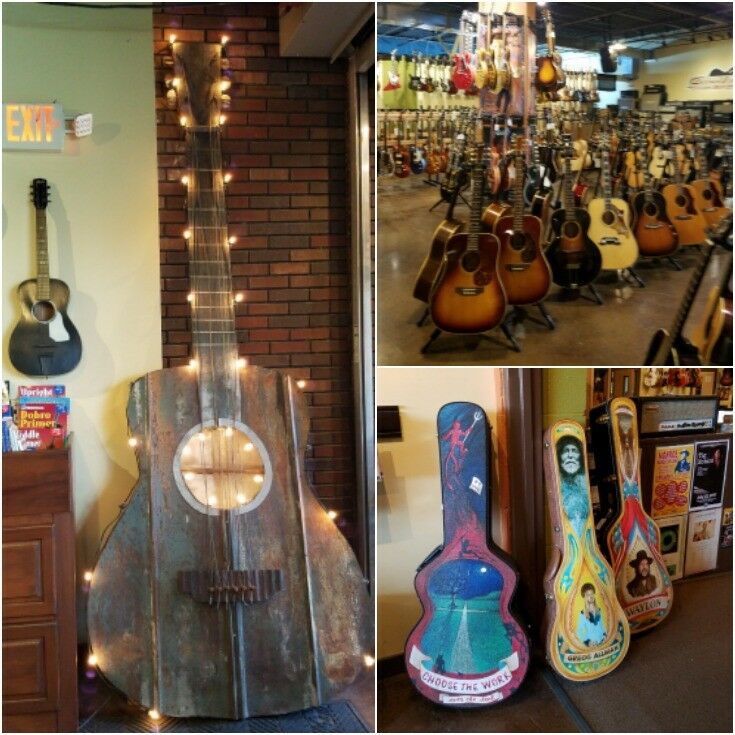 The place is filled with beautiful instruments at every price point, but even if you aren't in the market for a new guitar, you're sure to find something fun to play a few licks on. (Mr B tried out a very nice 12-string while we were there.) If none of that appeals, the mural on the outside wall is worth the trip all by itself.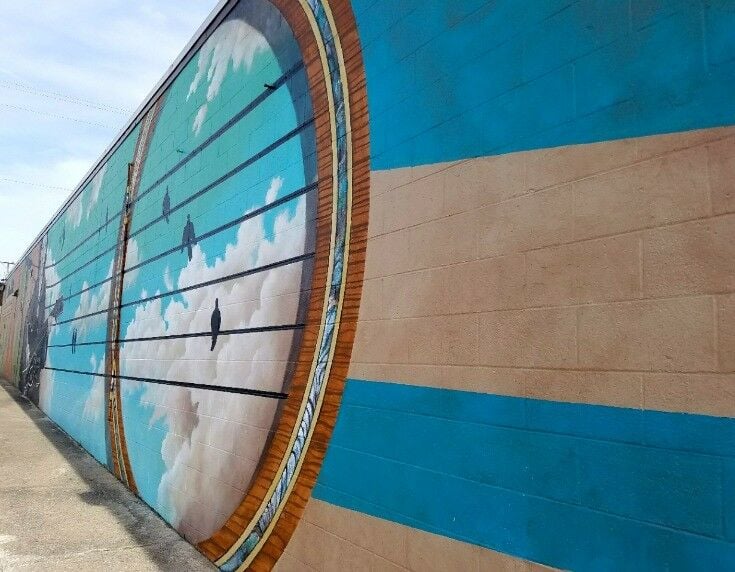 This ain't your great-grandma's Grand Ole Opry (but she'd still feel right at home). The Grand Ole Opry was founded on November 28, 1925, by George D. Hay as a one-hour radio "barn dance" on WSM.
Currently, Grand Ole Opry is the longest-running radio broadcast in US history. Dedicated to honoring country music and its history, the Opry showcases an eclectic mix of famous singers, old-timers, and contemporary chart-toppers. Live performances include a little bit of everything: country, bluegrass, folk, gospel, and even comedy.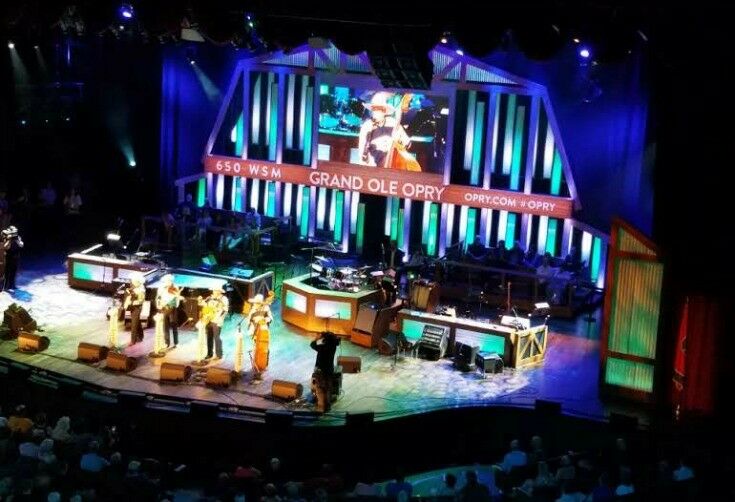 With a seating capacity of 4,400, the Grand Ole Opry House is considered the largest broadcasting studio in the world, but it is nevertheless still surprisingly intimate. There really isn't a bad seat in the house, but if you plan to attend the Grand Ole Opry, order you tickets in advance for the best seats. Mr B and I went on our last night in Tennessee, and it was the perfect way to end our vacation.
Disclosure: This post may contain affiliate links, which means we may receive a commission if you click a link and purchase something that we have recommended. While clicking these links won't cost you any extra money, they will help us keep this site up and running – and (relatively) ad-free!! Please check out our disclosure policy for more details. As always, all opinions, as well as all photos (except as noted), are our own.
Remember to Pin this post!