Elvis Presley's Memphis Entertainment Complex is vast, eye-opening, and humbling - and a must for music lovers of all kinds.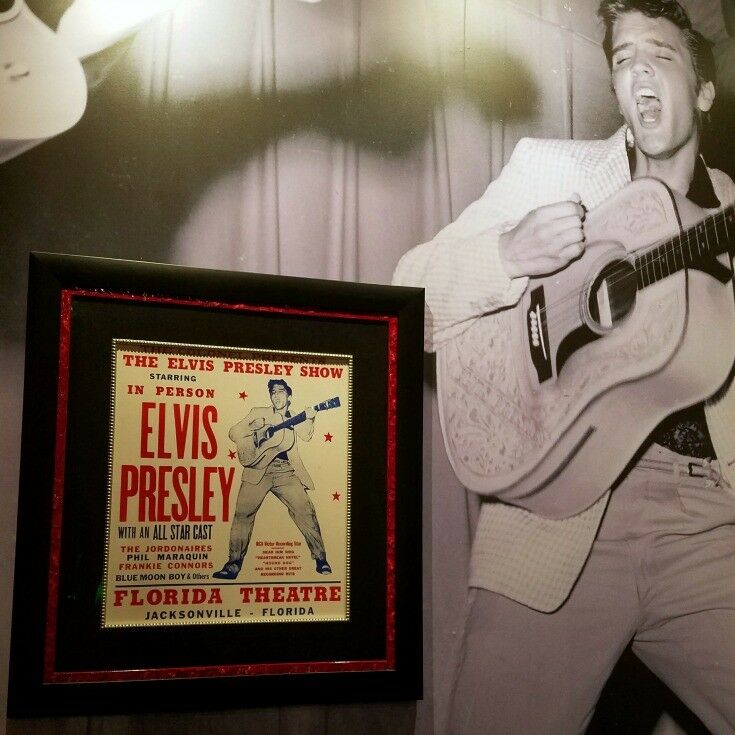 Many thanks to Graceland and Elvis Presley's Memphis Entertainment Complex for hosting our visit. All images are mine, taken and used with permission from Graceland/Elvis Presley Enterprises, Inc. for use on this website only.
Celebrating Elvis' Unique Role in American Music
During the week of August 16th each year, Elvis Week is held in Memphis to celebrate the life and music of Elvis Presley. I have to admit, until recently I just didn't get it. I could not understand why this man - an exceptionally talented entertainer to be sure, but still, just a man - caused so much hype and celebration. I mean, it's not like he's the only singer who's ever touched hearts and made young girls cry, right?
But I learned a few things in Tennessee. We visited Studio B and Sun Studios where we experienced Elvis' beginnings. The first glimmers began to spark as I understood more about the critical, pivotal role he played in breaking the color barrier in the music world - no small feat in the mid-1950's.
Still, others have broken down social barriers, and they don't have millions of adoring fans embarking on pilgrimages forty years after they die just to visit their graves. (Jim Morrison notwithstanding.)
It wasn't until we visited the newly opened Elvis Presley's Memphis Entertainment Complex that things fully clicked. All the hype. All the glorification. All the adoration and idolization. I get it now.
Because it isn't just about Elvis the Man, or Elvis the Entertainer, or even Elvis the Icon. It's about something far bigger than that. It's about how he changed the Music.
Below, Elvis is the boy in overalls standing in the second row, far right.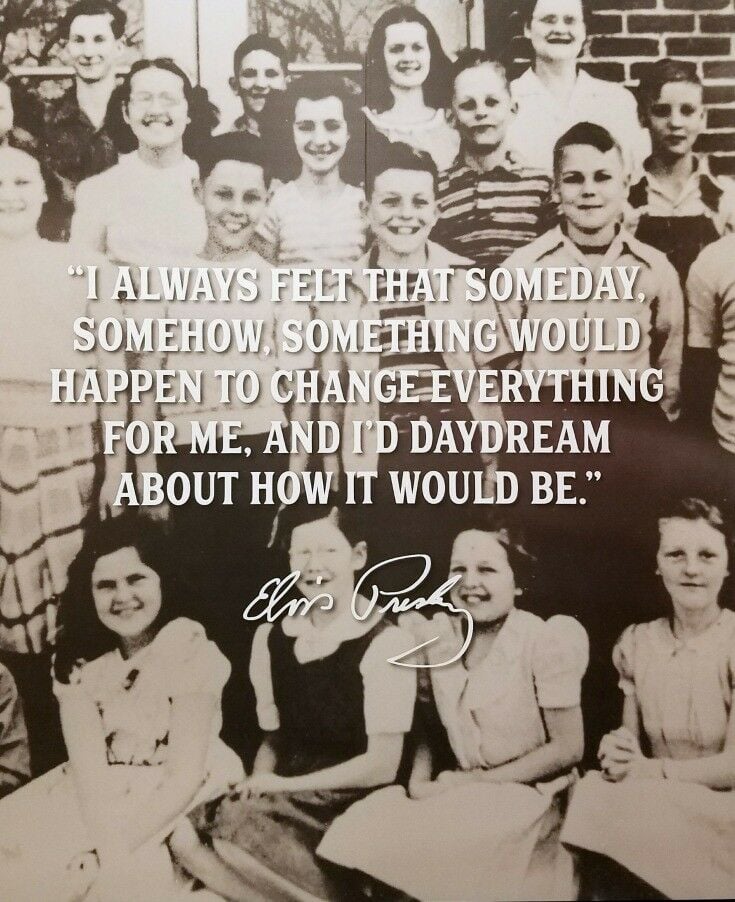 Memphis Entertainment Complex
The EPM Entertainment Complex opened to the public in March 2017: a 200,000-square-foot, $45 million project across from Presley's Graceland Mansion. The Complex features fifteen exhibits highlighting the many facets of Elvis' life, including his early life, his career, his army stint, his cars, his airplanes, and countless items from the family's personal archives. It also holds two restaurants, retail stores, and a working soundstage. It is an amazing facility, and visitors can easily spend more than a day exploring.
It was at one of the exhibits - ICONS: The Influence of Elvis Presley - that I gained a completely new perspective on why Elvis is known as The King of Rock 'n' Roll. However, before I go on more about the ICONS exhibit and what we took away from it, let me share a few other highlights from Elvis Presley's Memphis.
Elvis the Entertainer Career Museum
The Elvis the Entertainer Career Museum at the EPM Entertainment Complex gives visitors the opportunity to become completely immersed in Elvis' career, through hundreds of artifacts, memorabilia, and of course, jumpsuits. (You knew there would be jumpsuits, right?)
Once again - this museum is Vast: I can barely scrap the surface here.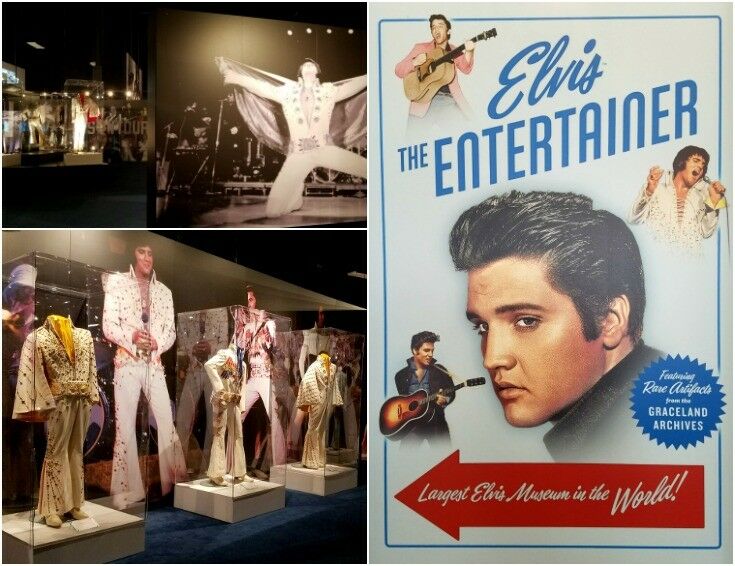 Fun facts
Elvis received his first guitar on his 11th birthday, on on January 8, 1946. It was purchased from Tupelo Hardware Company in Tupelo, Mississippi.
Elvis cut his first recording, "That's All Right," at Sun Studio in Memphis on July 5, 1954.
Between 1954 to 1978, Elvis released 108 singles, 30 extended-play singles, 70 albums on RCA Records, four albums on the Pickwick budget label, and five singles on the Sun Records label.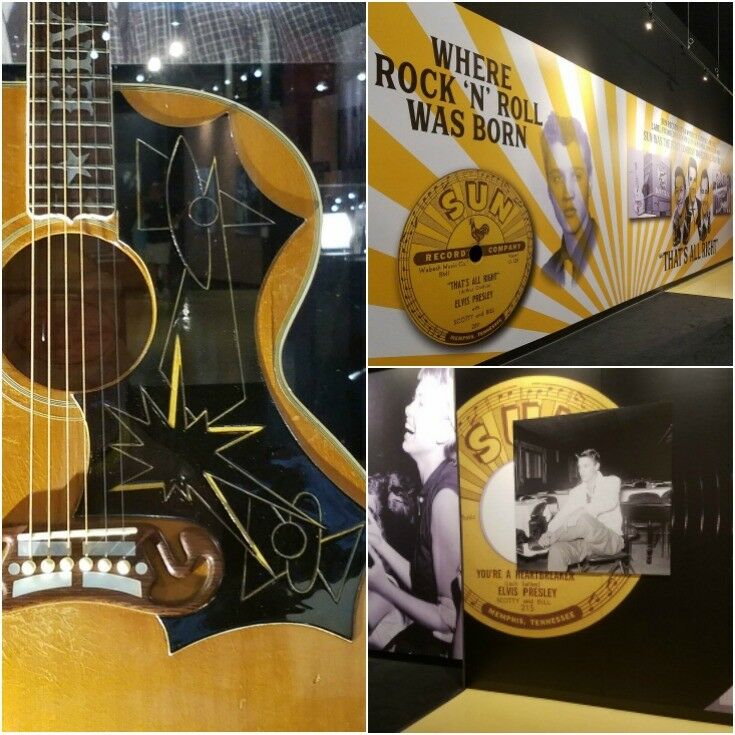 Of his recordings, 150 different albums and singles have been certified gold, platinum or multi-platinum by the Recording Industry Association of America. (Look closely at the image below and you can see some of them hanging on the wall behind the line of white jumpsuits.) He had fourteen Grammy nominations, with three wins - all for gospel recordings.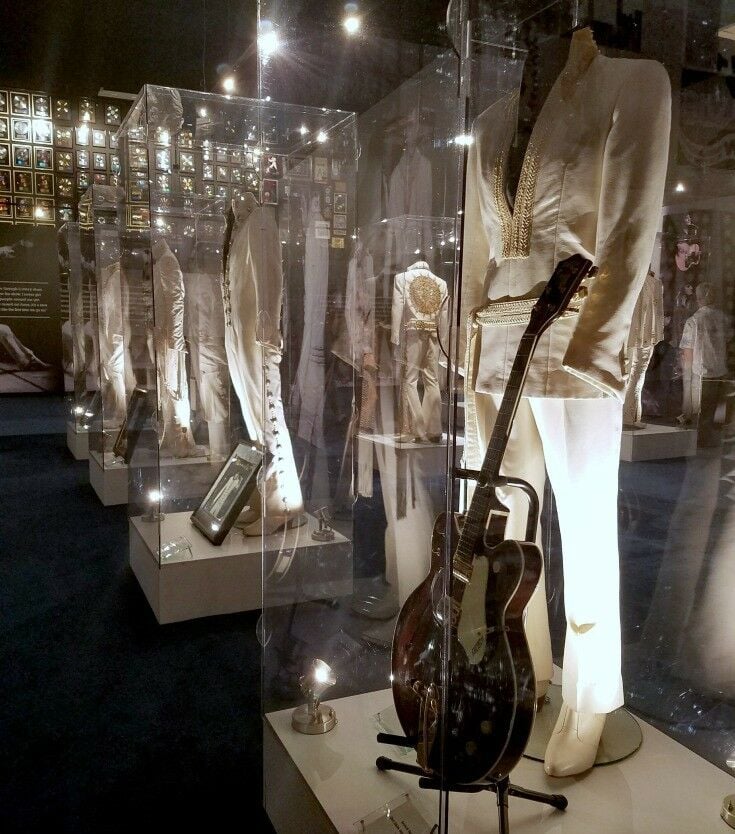 In addition to recording, Elvis also made thirty-one movies, arguably the most successful of which were Blue Hawaii, Clambake, King Creole, Jail House Rock, and Viva Las Vegas.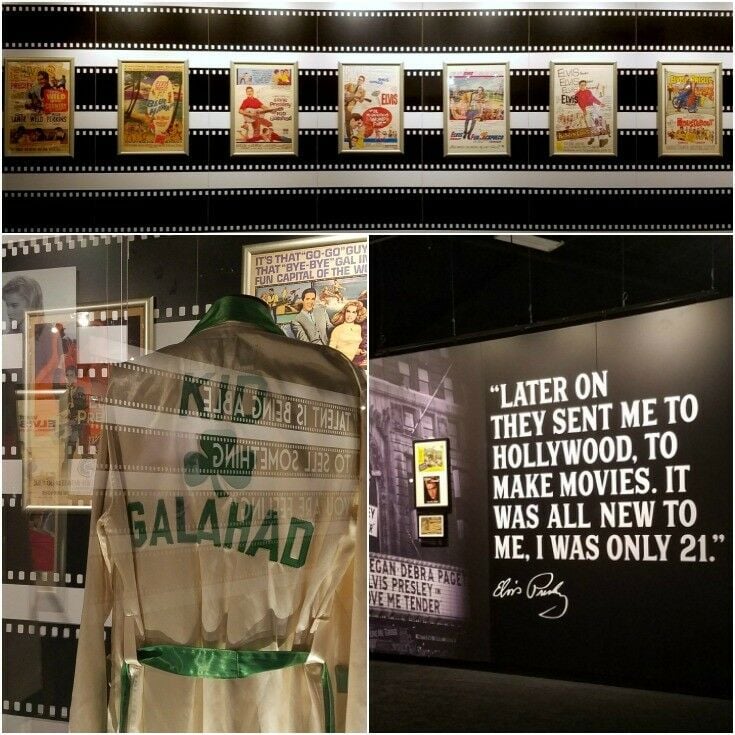 In reflection: "Talent is being able to sell something you are feeling."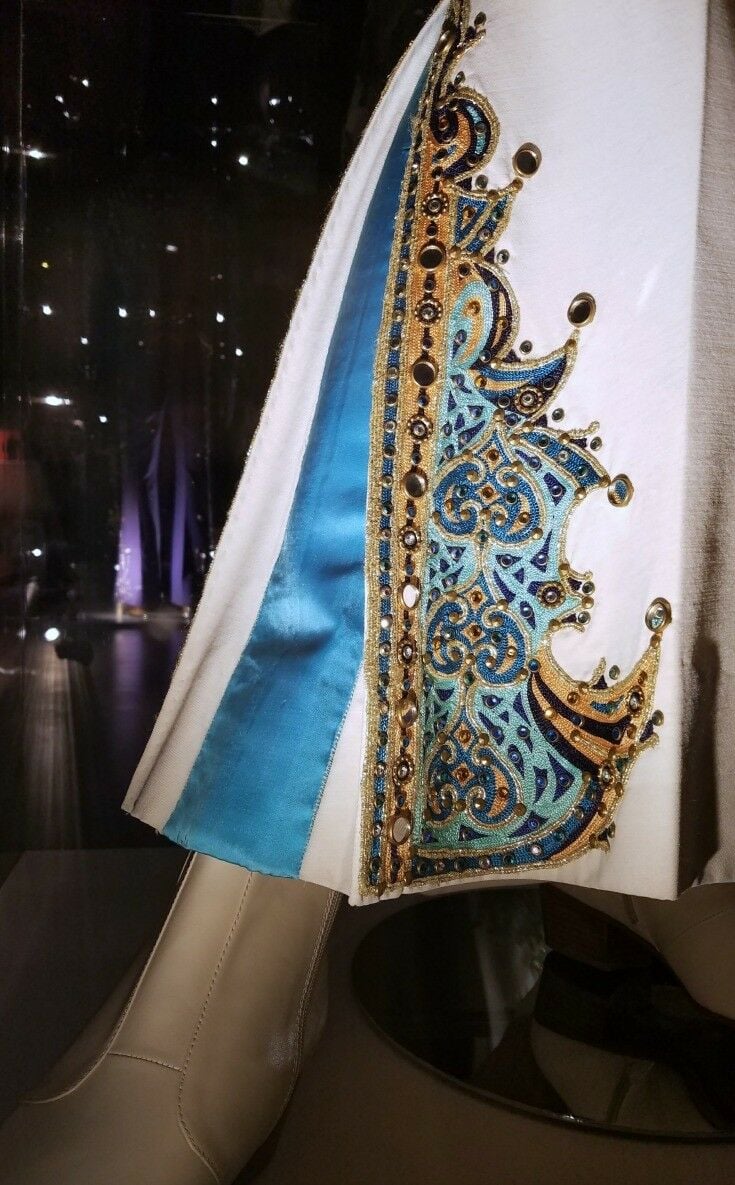 Ever wonder where Paul Stanley and Gene Simmons got their inspiration for all that glam? Hmmm...
Elvis is King. Period.

Gene Simmons, KISS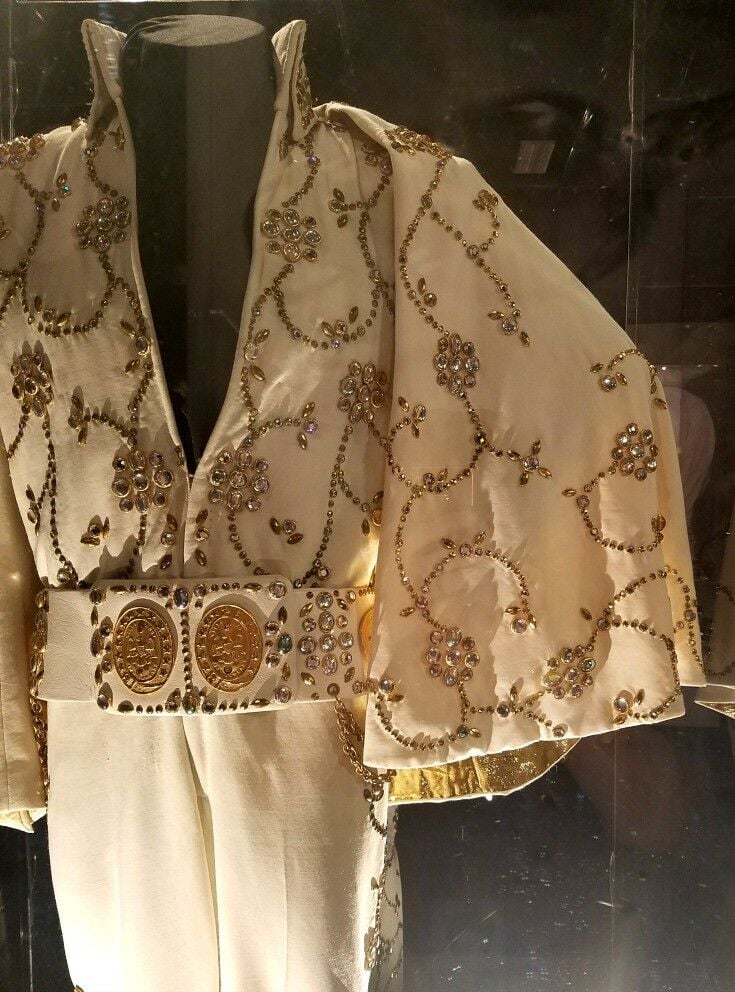 Presley Motors Automobile Exhibit
Elvis had an extensive, impressive car and motorcycle collection, many of which are on display at the EPM Entertainment Complex. This pink Caddy is my favorite.
There's nowhere else in the world where you can go from driving a truck to a Cadillac overnight.

Elvis Presley
This 1956 Cadillac Eldorado was originally white. When he bought it, Elvis had the car painted purple and customized the interior.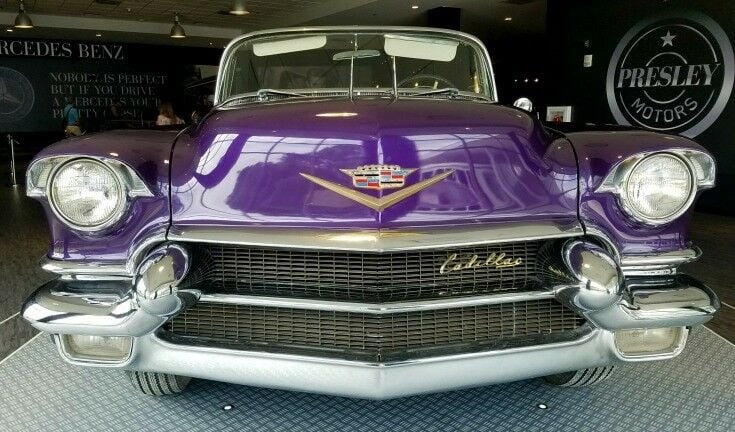 This 1956 Lincoln Continental Mark II came with a price tag of $10,000 when it was introduced in 1955, much more than the average $4000 luxury car of the time.
The first car I bought was the most beautiful car I've ever seen. It was second hand, but I parked it outside of my hotel the day I got it. I sat up all night, just looking at it.

Elvis Presley
This 1960 MG was used by Elvis in Blue Hawaii, and became part of his personal collection.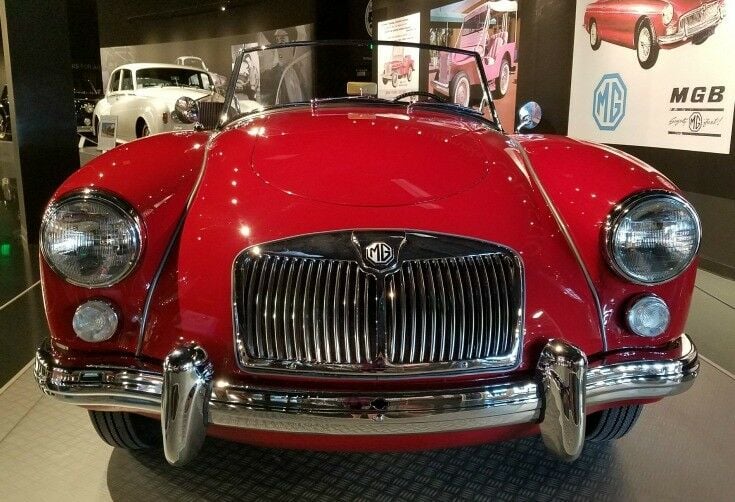 VIP Exhibit & Lounge
As part of our Elvis Presley's Memphis Celebration Package, we received two Elvis Entourage VIP Passes, which gave Mr B and I access to the VIP Exhibit and Lounge. (It also gave us front-of-the-line at access at Graceland Mansion (kind of like a Disney FastPass), access to a special VIP Only exhibit at Graceland Mansion, an extra day pass, and a Keepsake Backstage Pass.)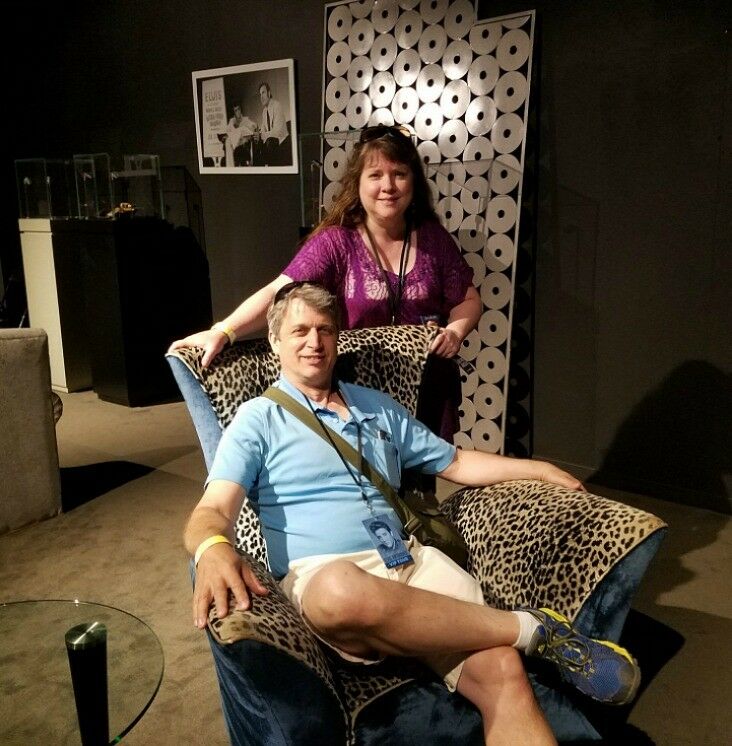 The VIP area displays some interesting personal items, including Elvis' sheriff's badge and ID, his gold Social Security card, and his wallet with a picture of baby Lisa Marie.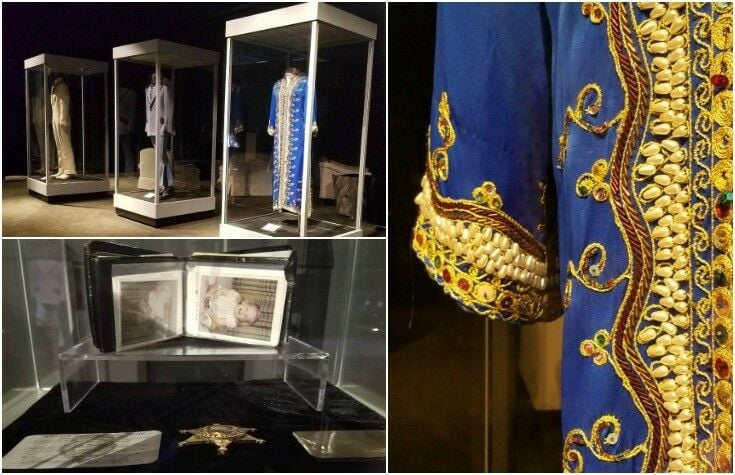 Yeah, that's me, hanging out on a purple velvet chaise lounge with Elvis. No biggie.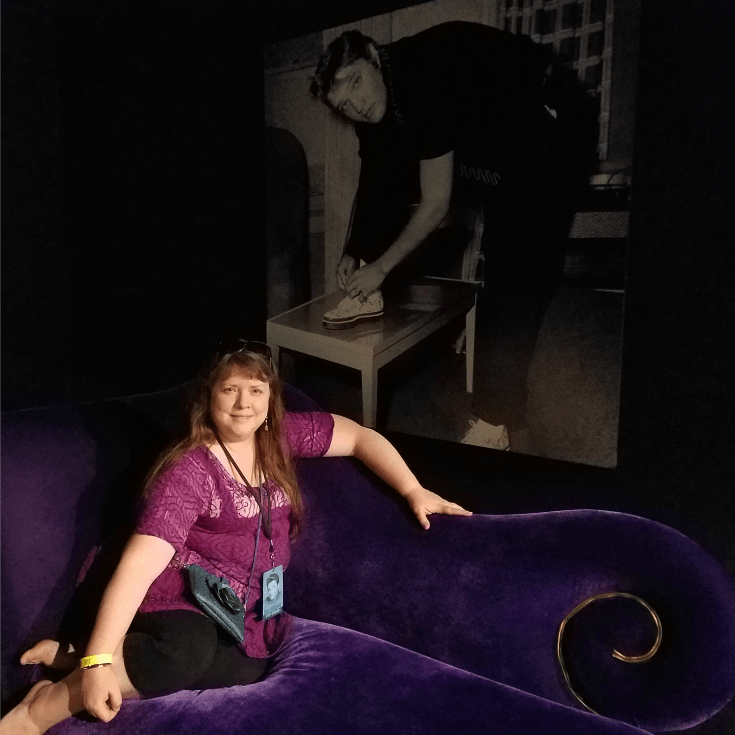 In addition to the exhibits we've touched on here, there are displays highlighting Elvis' early years (Elvis' Tupelo), military service (Private Elvis), how country music influenced rock 'n roll, and much more.
ICONS: The Influence of Elvis
This was exhibit was my absolute favorite part of the EPM Entertainment Complex exhibits, for many reasons.
I guess until recently, I've tended to look at the development of music in a relatively linear way; one genre evolving and expanding, with new styles emerging from old and moving forward to form some unique sound that eventually comes into its own.
However, our trip to Tennessee gave me a much different mental picture. After visiting the Country Music Hall of Fame & Museum and the Elvis Complex, I began to see the progression of American music as more of a web of influence; and like a spider's web, in which one fine silk thread, placed just so, can shake the entire system to its core.
If there hadn't been an Elvis, there wouldn't have been the Beatles.

John Lennon
Elvis was, and continues to be, a single gossamer thread to which so many others are anchored. The ICONS exhibit clarified this idea beautifully.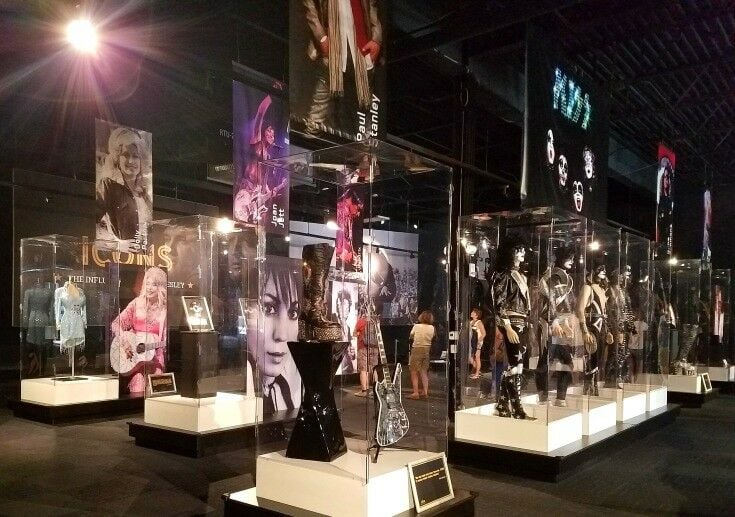 Some of the performers who paid tribute to Elvis in the ICONS exhibit were obvious (Bruce Springsteen immediately comes to mind) , but both Mr B and I were genuinely surprised by others.
The first Elvis song I heard was 'Hound Dog.' I just heard this voice and it was absolutely, totally in its own place. The voice was confident, insinuating and taking no prisoners. He had those great whoop and diving moments, those sustains that swoop down to the note like a bird of prey. I took all that in. You can hear that all over Led Zeppelin.

Robert Plant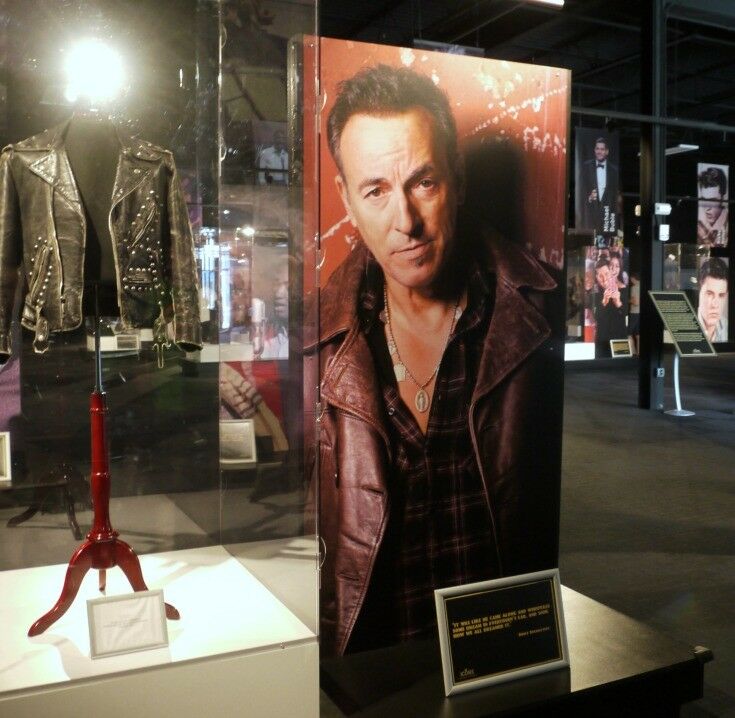 It was like he came along and whispered some dream in everybody's ear, and somehow we all dreamed it.

Bruce Springsteen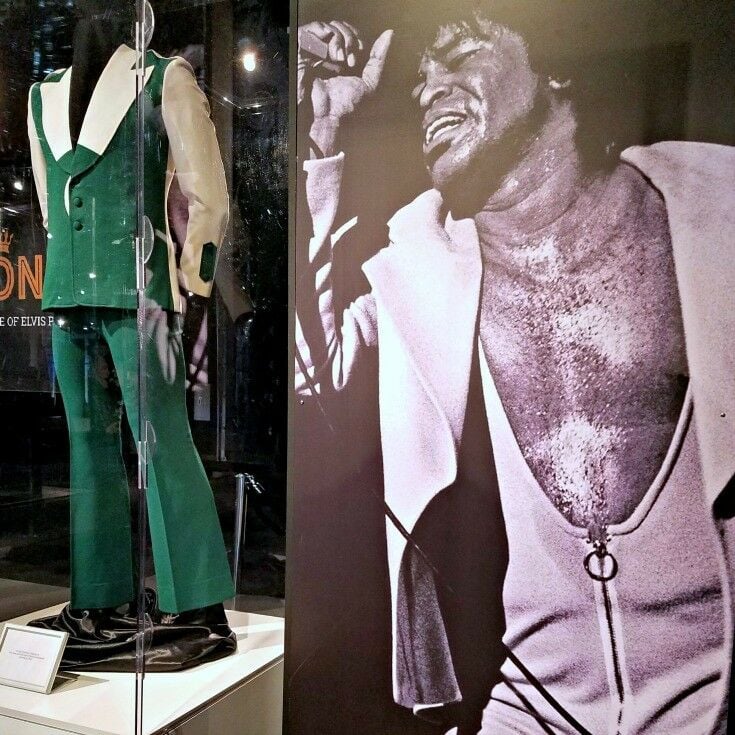 I wasn't just a fan, I was his brother. He said I was good and I said he was good. We Never argued about that. Elvis was a hard worker, dedicated, and God loved him. I love him and hope to see him again. There'll never be another like him that soul brother.

James Brown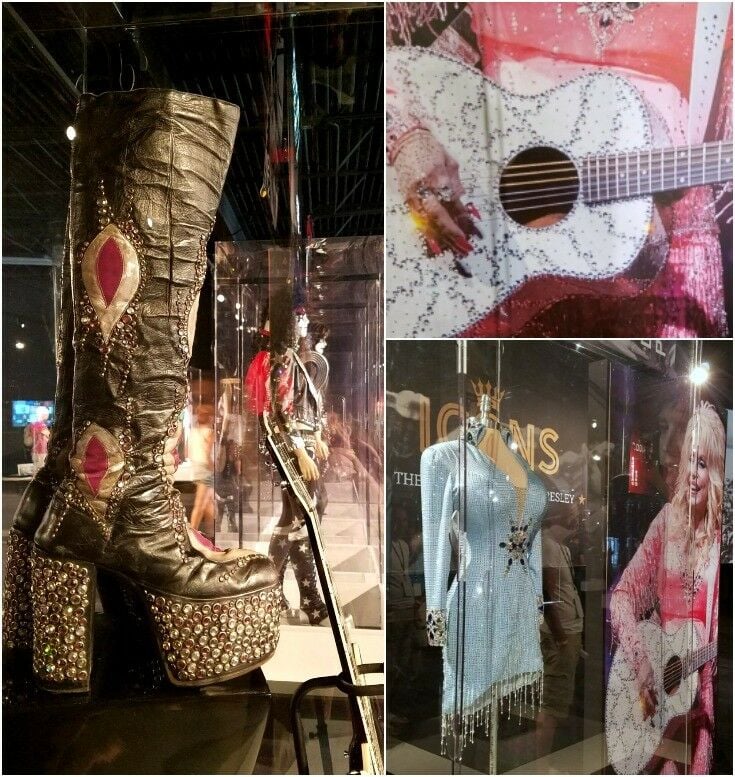 If your actions create a legacy that inspires others to dream more, learn more, do more, and become more, then you have accomplished something. Elvis did that and more for me and so many others.

Dolly Parton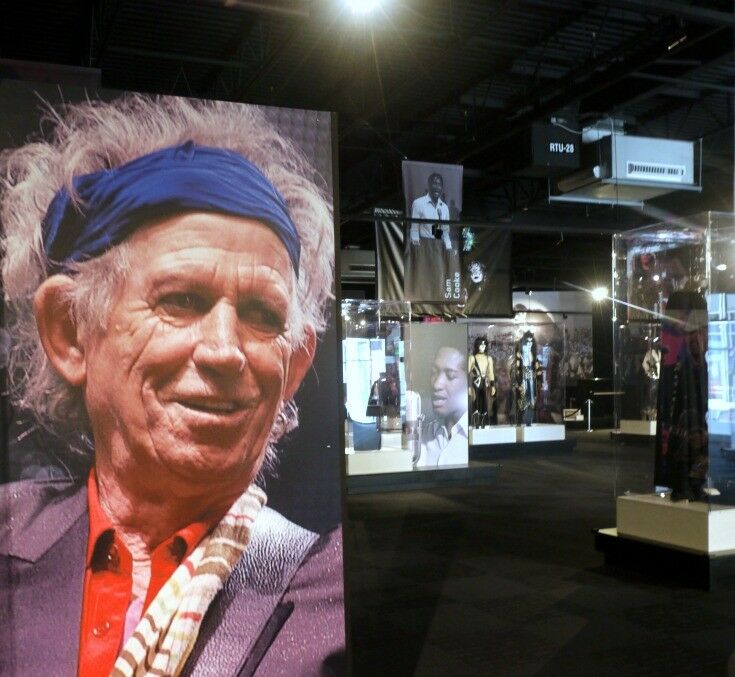 Before Elvis, everything was in black and white. Then came Elvis…. Zoom, glorious technicolor.

Keith Richards
And yes, even adorable Memphis native JT chimed in...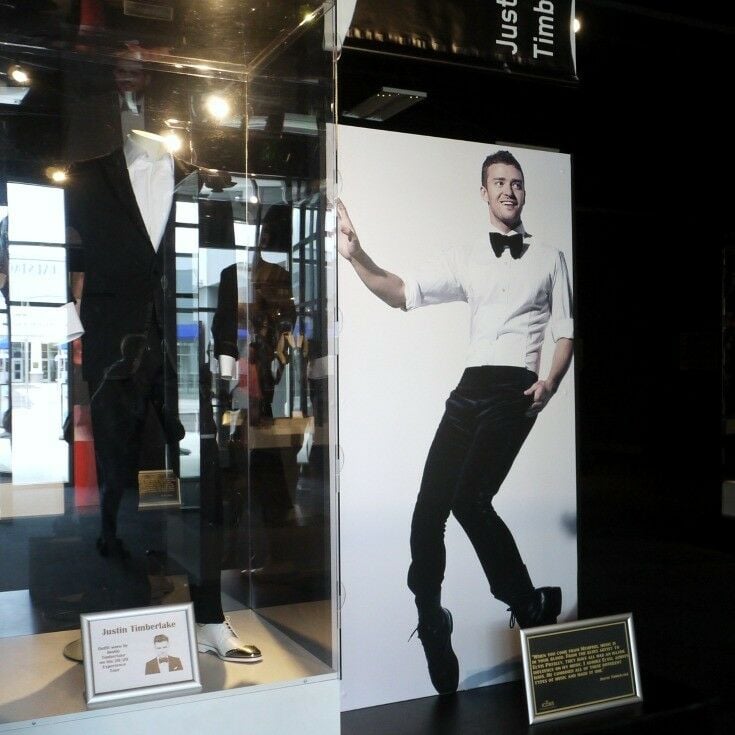 When you come from Memphis, music is in your blood. From the blues artist to Elvis Presley, they have had a major influence on my music. I admire Elvis, always have. He combined all of these different types of music and made it one.

Justin Timberlake
Whether you are a fan or just a music lover, a day at the Elvis Presley's Memphis Entertainment Complex is definitely worth your time. Even if you are a lifelong fan like Mr B, you will come away with a new appreciation for Elvis' life and contributions; and if you are simply a music lover like me, it will likely change your perspective on The King of Rock 'n' Roll and his place in music history forever.
No one name says more than his… Elvis. It roars while others whisper.

Paul Stanley
More Tennessee Travel
Southern Cooking & Recipes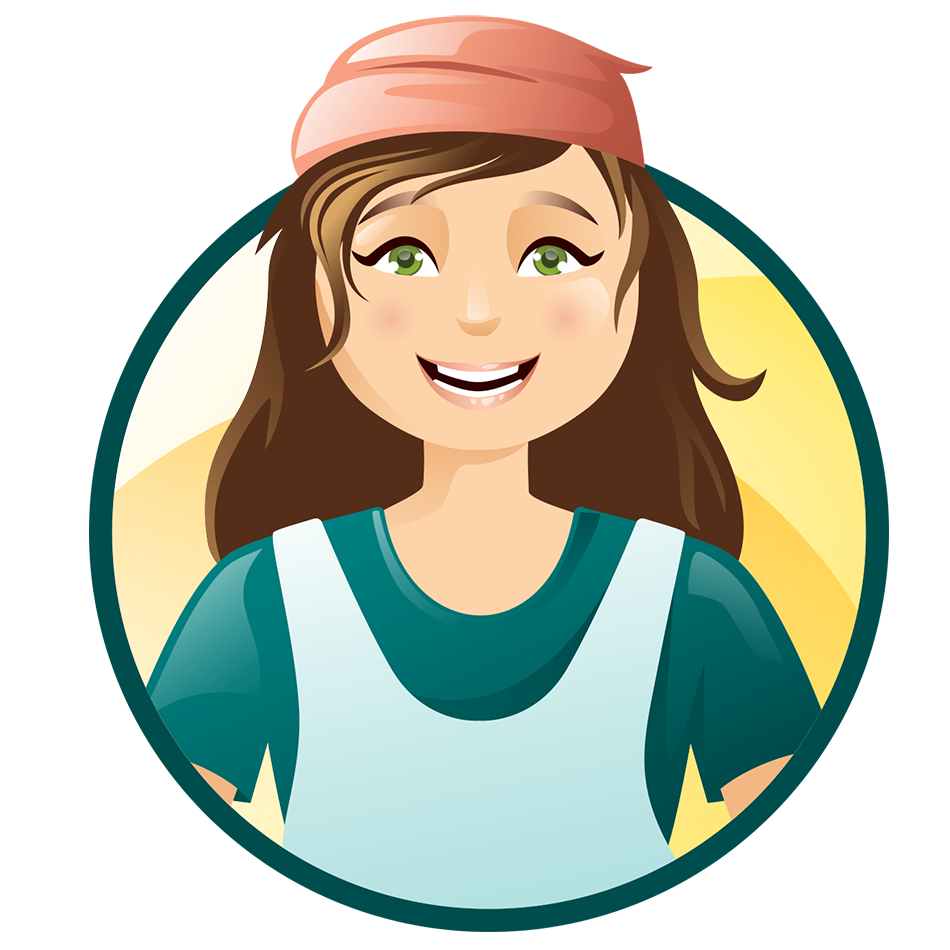 Thank you for visiting the Good Hearted Woman. Remember to bookmark this site, and come back soon!