The Oneonta Gorge Hike in the Columbia River Gorge creates an indelible memory for those who brave the trail to get there.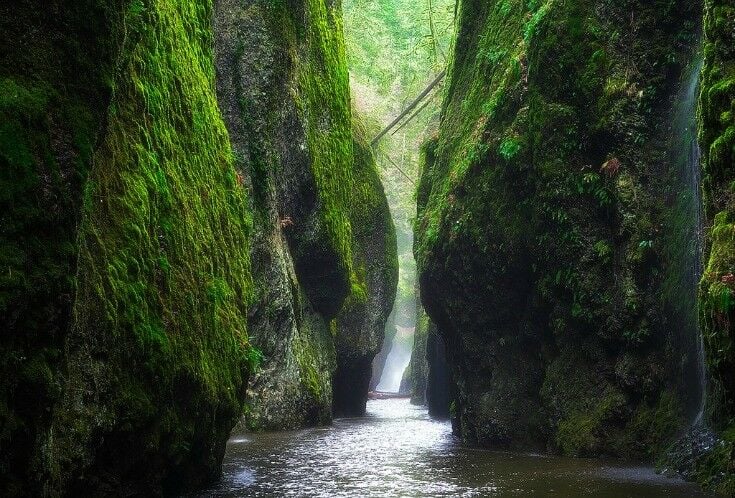 NOTICE: Many of our posts about hikes in the Columbia Gorge were written before the 2017 Eagle Creek Fires, which burned over 50,000 acres of forest. While the majority of trails have reopened, Oneonta Gorge remains closed as land managers consider public safety and the ecological impact going forward.
This notice will be updated when/if the Oneonta trail is reopened.
---
Oneonta Gorge is an amazing, invigorating, hot-weather hike; and one of the most memorable hikes Mr B, Em, and I have ever taken.
Arriving at the far end of Oneonta Gorge is totally worth the effort it takes to get there. When you stand at the end of that pristine fissure in the earth and feel the spray from Lower Oneonta Falls falling all around you, it is an incredible, indelible moment.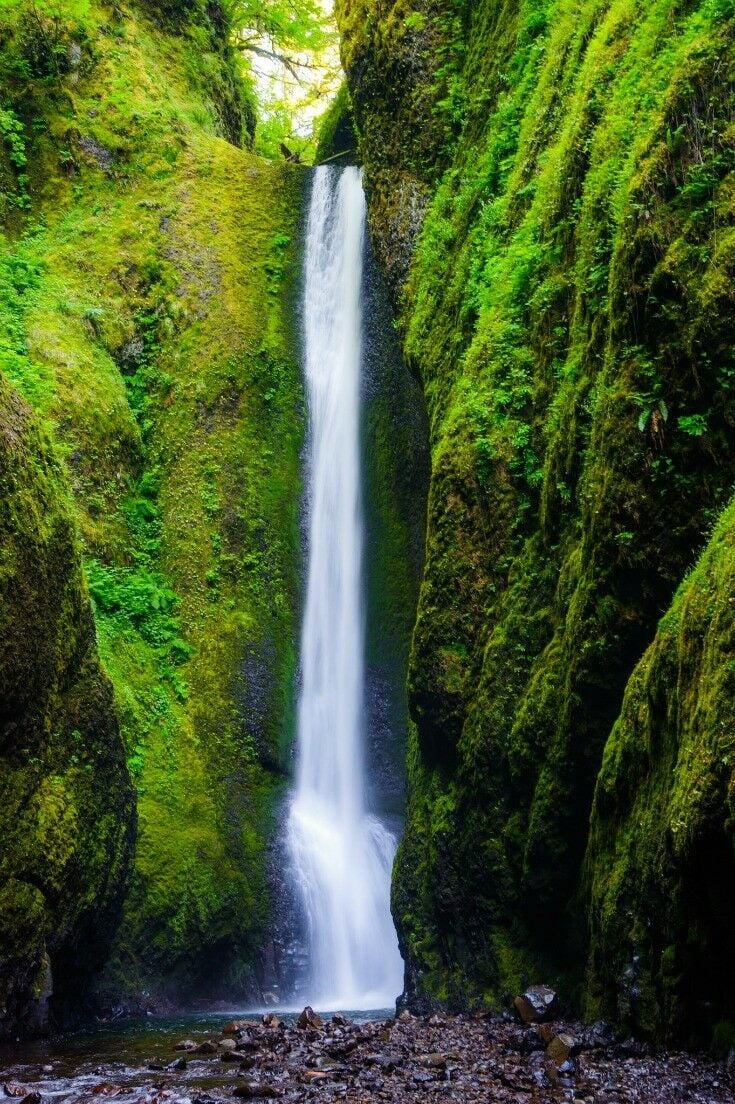 Just down the road from Oregon's famous Multnomah Falls, the Oneonta Gorge "trail" is not a trail at all: you hike the creek bed. The hike itself is quite short - just over a mile round-trip.
The challenge comes in the form of a GIANT log jam completely blocking the route into the Gorge. The only way through the log jam is to climb over it. It is very doable as long as you are reasonably flexible and keep a clear head; however, it requires some patience.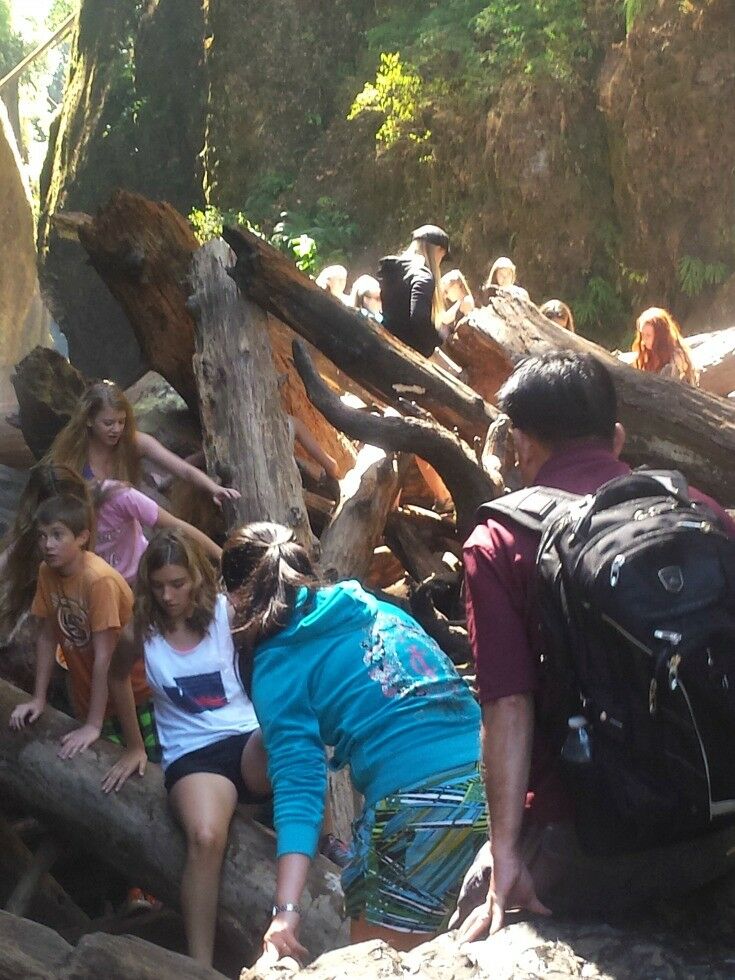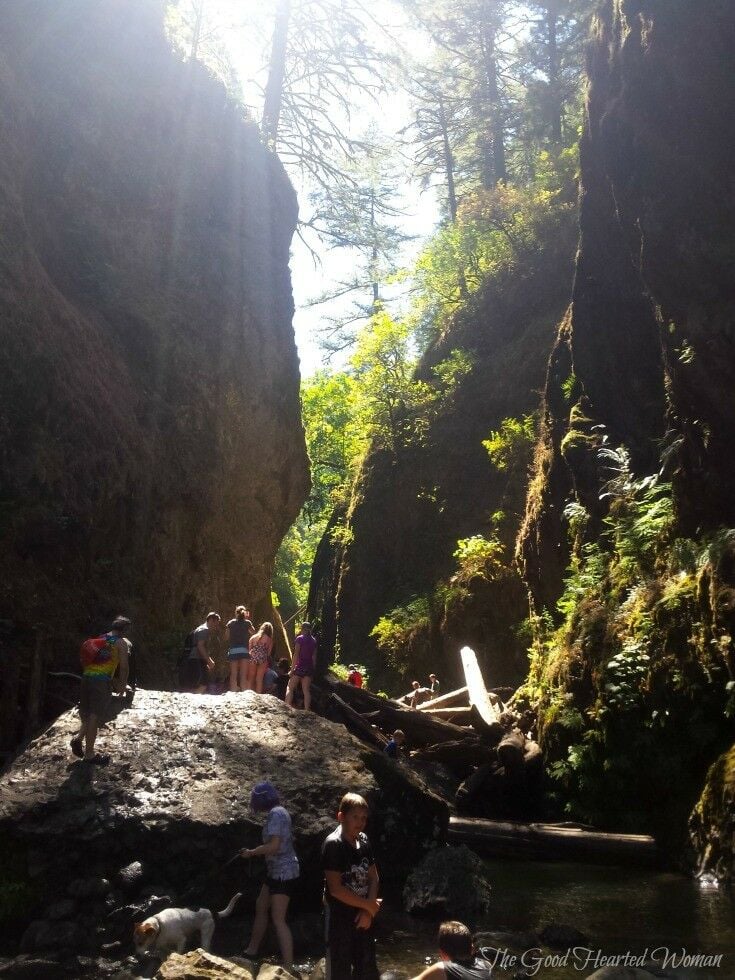 After the long jam, as you continue walking the river bed, the water gets very deep at one point. It came up past my waist (I'm 5'3"), and considering we were there in August, I imagine that the water can be much deeper earlier in the year.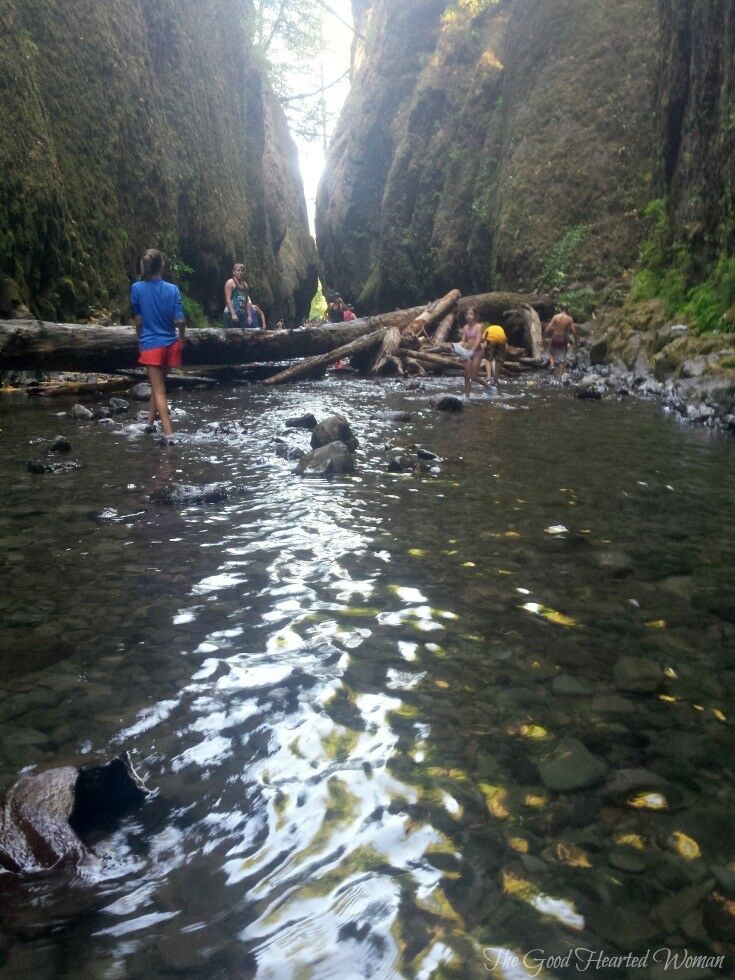 The payoff at the end of the trail is the basin of Lower Oneonta Falls, a place that lends the feeling of standing in a world apart.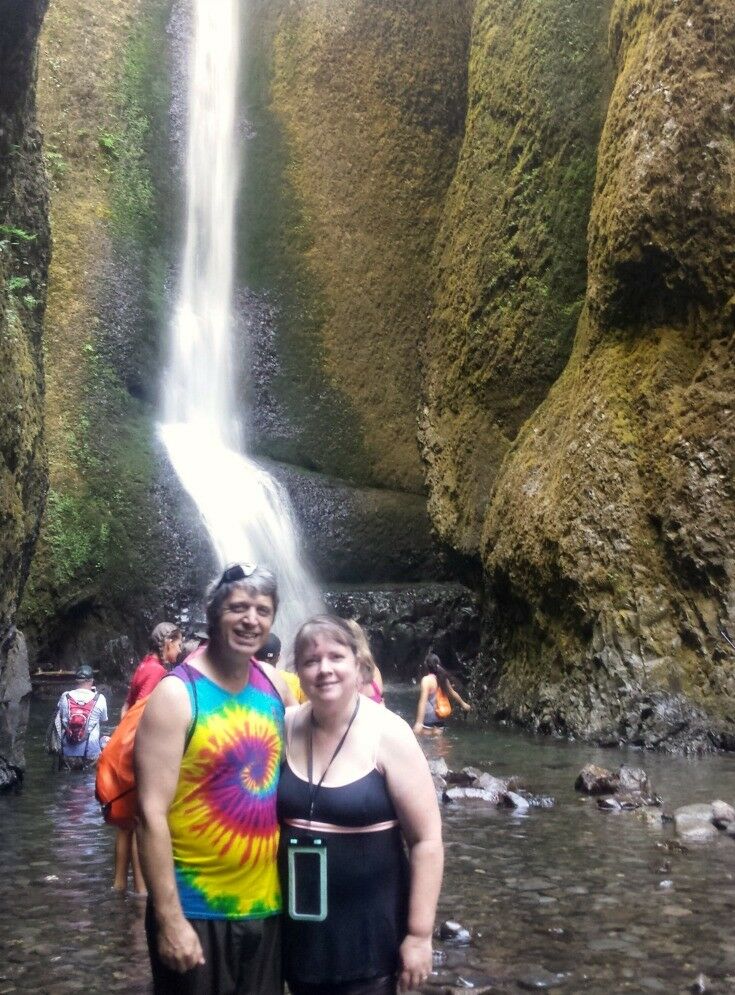 I highly recommend taking this hike; however, there are a few important things you need to know before you go.
Oneonta Gorge Hiking Tips
Prepare to get wet.
Wear a swimsuit, or a wetsuit, or whatever kind of suit you have that you don't mind getting wet. And while you're at it, wear some shorts or pants or something on the bottom, because we are all going to be climbing over that log jam shoulder to shoulder and thigh to thigh, and when you are taking a big step above me or around me because I am going slower then you, I don't want your special parts waving hello to me as they brush by. (I'm talking to you, Mr. Red Speedo.)
Yes, of course you can wear your old tennis shoes... as long as the tread on the bottom is still solid. All I'm saying is, this is a very slippery hike, and you do not want to fall. I cannot emphasize strongly this point strongly enough.Case in point: Let's just say that I am not known for my sure-footedness.
Anyway, on our return trip, I lost my footing in the log jam [because I had not read an awesome blog post like this one that advised me to wear shoes with good tread], and fell about six feet down into the log jam. I missed impaling myself on a vertical log by that much, and the whole experience was extremely traumatic, to say the least.)
Do not go barefoot, wear flip-flops, or shoes with no tread.
Hike when the sun shines.
We took the Oneonta Gorge Hike in early August during a heat wave. At that time, it was refreshingly brisk in Oneonta Gorge, and yet the logs in the log jam were still very slick and slippery. Imagine how cold and wet it might be during one of our infamous PNW torrential downpours.
Prepare to get up close with other hikers.
As an Oregon hikers, we are used to having the trail pretty much to ourselves, but there were TONS of people the day we went (a Thursday), and it can get especially up-close and personal while everyone is moving in different directions as they get over the log jam.
Do not bring your baby or your puppy.
This might go without saying, but I'll put it out there anyway: this hike is only for able-bodied folks.
This is not meant to be exclusionary, discriminatory, or ableist in any way; but we saw so many people (and animals) really struggling on this hike. I don't mean that they were just out of shape (I am definitely out of shape, and I made it.) I mean they should not have been there in the first place.
For example, we saw a man about a quarter of the way into the log jam trying to coax his hysterical two-year old over a log. A crowd was patiently waiting, all balancing on slippery logs at least eight feet off the ground at the time, while we watched this poor kid, petrified and screaming at the top of his lungs. His dad was so intent on getting on with the hike that, though a few people gently mentioned to him that maybe he should try another day, he would hear neither friendly suggestions nor his own child's pleas.
Take-away: Sometimes you just need to Parent Up, turn around and go home.
We also saw an adorable puppy shivering with cold and fear, legs wobbly in frigid water up past his chest. His people had tried to come prepared: the puppy had a canine flotation vest on with a handle, and they were hefting him over the logs, but he was clearly scared.
When we saw the puppy later up the creek bed, he was trying desperately to stay above water and shivering like a kitten in a snowstorm. I am certain that many people have done this hike successfully with both pets and kids, but honestly, I just don't think it is worth the risk or the emotional toll.
Hike sober.
Seriously, Oregon, don't play innocent with me. I know that at least a few of you are in the habit of enhancing your hiking vibe. Normally, I'd say you be you. But in this case, you really do need your wits completely on for this one. Stay straight and stay safe, folks.
→ Read what others have to say about Oneonta Gorge on TripAdvisor.
How to Get There
From I-84, take Exit #35/Ainsworth and head west on the Historic Columbia River Highway for approximately 1.5 miles. Just east of the Oneonta Tunnel on your left/south is the Oneonta Gorge. Parking is limited.
Start point: Oneonta Gorge Trailhead
End Point: Lower Oneonta Falls
Distance: 1.0 miles
Elevation gain: 0 feet
Moderately-Difficulty: Difficult (due to climbing over logs and deep wading)
Best time to hike: Aug - Oct
Kid or Pet-Friendly: No
Fun fact: It was a miner '49er named Carleton Eugene Watkins, originally on the West Coast for the California gold rush, who first photographed the area, and it was he who gave the gorge its unusual name - "Oneonta" after his hometown of Oneonta, New York.
More Family-friendly Hikes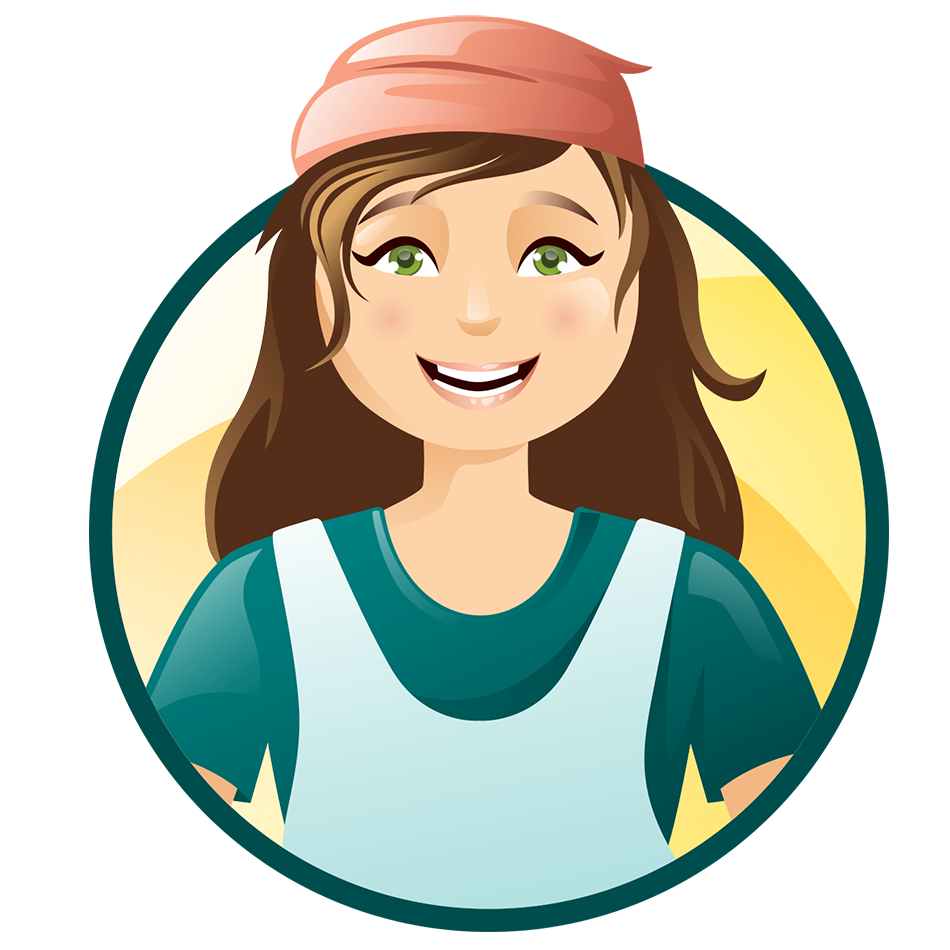 Thank you for visiting the Good Hearted Woman. Remember to bookmark this site, and come back soon!