Knowing what to expect and being prepared will make all the difference when you attend the Newport Seafood & Wine Festival.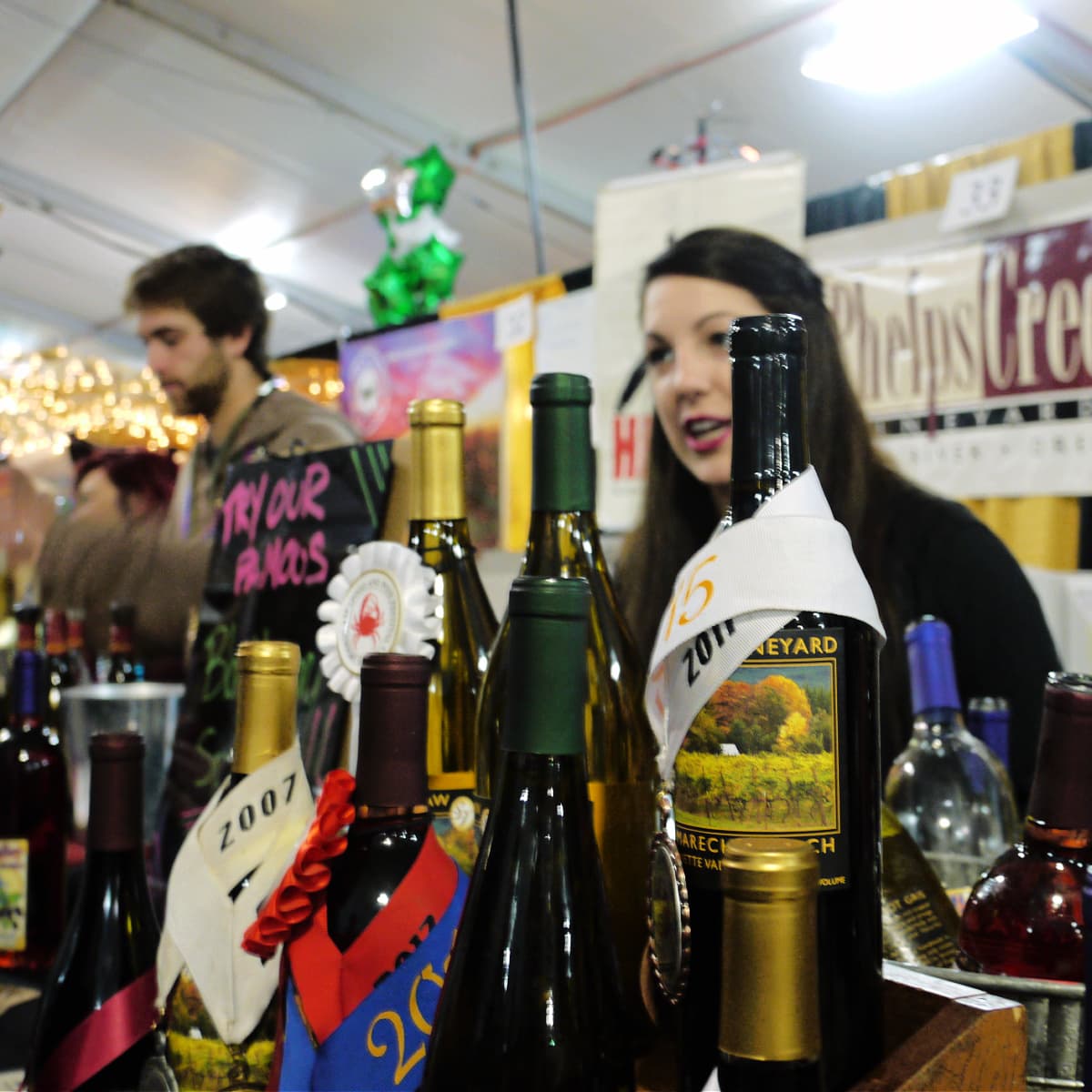 Held annually on the 4th weekend of February, the Newport Seafood & Wine Festival in Newport, Oregon has been attracting visitors from around the world since 1978. 
At the Festival, Pacific Northwest wineries pour their finest wines, culinary professionals serve up delectable seafood creations, and local artists and craftsmen showcase a variety of fine art, sculptures, photography, pottery, and jewelry. Knowing what to expect and being prepared will make all the difference in your experience.
Jump to:
My first trip to the Newport Seafood & Wine Fest started out like an adventure waiting to happen. My BFF Jenny and I packed up the car for some much needed girltime at the beach, where we planned to spend the weekend tasting some of the best wines around and eating piles of delicious seafood.
Well, we definitely made a memory - no question about that - but we also got a clear-cut reminder that, like Disneyland on a hot August afternoon, expectation and reality are not always the same thing.
Jenny and I met these enthusiastic ladies while waiting in the shuttle line. They attend the Festival every year together to celebrate their friend's birthday.
What we learned (the hard way) is that the Newport Seafood & Wine Festival is one event that you will enjoy far more if you are prepared for it. This post will give you the information you need so that, when you go, you can have a great time, and hopefully avoid any unwelcome surprises along the way.
In other words, this is the post I wish I could have read before I went.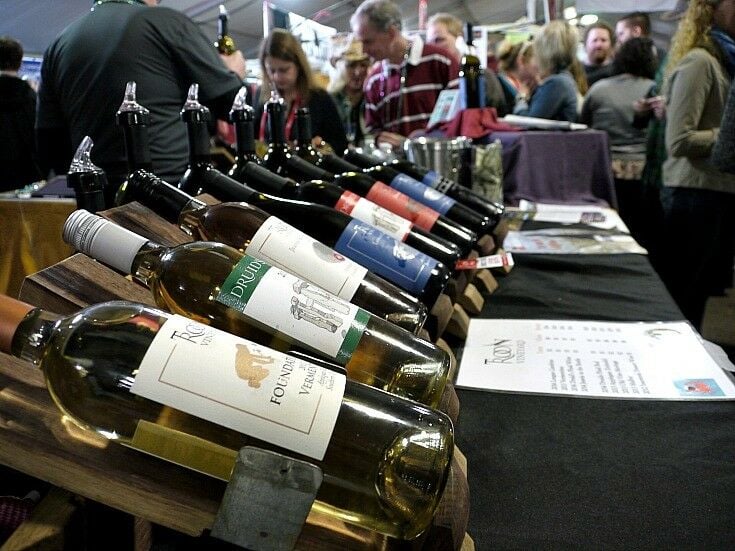 Book Accommodations Early
Each year, the Festival draws some 25,000 additional people to this coastal community of 10,000, making overnight options scarce, so if you want to stay in town, be sure to plan ahead.
Better yet, plan your overnight stay in one of the many nearby coastal towns. Maybe it's just my imagination, but Newport overnight accommodations during the Festival seem significantly more pricey than they are other times of the year. (Whaaa?!?!) You may find a better deal by staying 20 or 30 minutes north or south of Newport.
Note that the Newport Seafood & Wine Festival is an over-21 event. Children are not allowed, nor are pets unless they are a service animal.
You can save between 10% and 20% by purchasing your tickets for the Festival online. Note that Saturday entrance is by E-Ticket only. There is NO GENERAL ADMISSION on Saturday. Standby may be available after 1pm depending on capacity; however, standby tickets are considerably more expensive.
Eat Before You Go
This is just common sense, especially if you plan to do a lot of wine tasting. You probably want to avoid spicy or heavily seasoned food in order to keep your taste buds neutral, but it's a good idea to have something in your stomach.
Speaking of food, I think that the single biggest disappointment about the Festival for me was due wholly to my incorrect perception that because title of the Festival was Seafood & Wine, that there would be a balance of, well, seafood and wine. Logically, what followed in my mind was that I would have many luscious seafood options from which to choose for a midday meal.
The reality was, not so much. From my perspective, this Festival is all about the Wine: the seafood is just a nice opening act, and an overpriced one at that. With that said, the food vendor list for this year's festival seems to have been significantly expanded over past years, so it might be a bit more balanced now.
Use the Shuttles
The Newport Seafood & Wine Festival provides a FREE bus shuttle to all patrons of the Festival. The shuttle stops at many of the local hotels, motels and popular Newport neighborhoods. Shuttles stop running 1 hour after the closing of the Festival. On Saturday the hours are extended for service to area restaurants.
Even if you are staying a ways out of town, I suggest parking at one of the shuttle stops and taking the shuttle bus to the actual event location, as parking there can be a significant challenge much of the time.
There are also many private groups that obtain a license to operate as a temporary cab service through the City of Newport. These cab services are available throughout the Festival weekend in addition to the regular cab companies in Newport.
Note that there is parking near the festival grounds, but it is quite limited, especially relative to the festival attendance. Parking at these lots is $5 per day.
Go Early, Leave Early
At peak times of the day (particularly on Saturday) there can be a bit of a wait to get in, so be prepared to chill in line for a little while. (And "chill" you will! Remember, this is the Oregon Coast in February, folks.) The upside to this is that you will have the opportunity to meet some truly interesting characters.
The best days to go to avoid the college partiers are Thursday night or Sunday, the later being the most "adult" day of the Festival. Sunday is also a good day for finding deals, as vendors don't want to tote all that wine back with them.
Do Not Drink All the Wine
Or as my Dad used to say: Don't be a jackass.
At one point while Jenny and I were threading our way through the crowds, it seemed as though wine glasses were falling to the ground around us like plates at a Greek wedding, due mostly to the fact that their owners had lost the ability to hold onto a glass properly.
Each time a glass popped and shattered on the asphalt floor, individuals in the nearby crowd expressed one of two distinct reactions: (1) clapping, cheering, and general appreciation for the glass owner's achievement of apparent inebriation, or (2) head-shaking and eye-rolling at the glass owner's achievement of apparent inebriation.
Personally, and at risk of sounding old and judgy, the truth is, if you drink all the wine, you will end up looking like a jackass to at least half the crowd. If you're cool with that, great. Just don't say I didn't warn you.
Mulled blueberry wine, made from a novelty wine from Springbank Farm in Lebanon, Oregon was one of my favorite things at the Festival. It was especially welcome on a crisp February afternoon.
Vendors are People Too
Vendors can get cranky after a weekend of dealing with drunken revelers and college carousers wine tasters, so if they seem a bit frustrated at times, try to offer a little compassion and a kind word. (You might even get a free tasting out of it ?)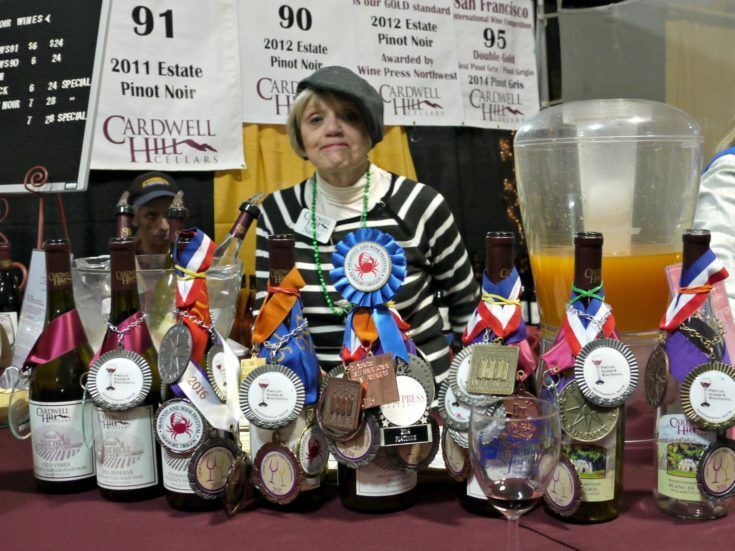 This Cardwell Hill Cellars vendor was very friendly, and such a good sport for posing for my "exhausted vendor" pic.
Spare Your Non-drinking Friends
I have a number of friends who don't consume alcohol under any circumstances. I also attend many food events at which alcohol is served to which I would feel completely comfortable taking them.
This ain't one of 'em.
The focus of the Newport Seafood & Wine Festival is on Wine first and foremost, and as someone who abstained for much of my adult life, I can tell you: this event just isn't geared for the non-imbibing demographic; not at all.
In addition to wine and seafood, there are a number of artisan & crafter booths at the Festival, and this was one of my favorites! Mugwump designs & creates handbags, wallets, & other fashion accessories using reclaimed/recycled materials.
Tastings NOT Included
If this is your first large-scale wine tasting event, it may come as a surprise to you that the actual wine tastings are not included in the price of your ticket.
If you plan to do a lot of tasting, come prepared with a pocket full of small bills.
Everyone Wins
Based on what we saw, wine awards are (apparently) like soccer trophies: everyone gets one. However, (and I'm just guessing here) not all awards are created equal.
Now, I'm no wine expert by any stretch, especially when it comes to wine awards. All I can tell you is that practically every bottle I saw on display had some kind of ribbon or medal hanging around its neck.
The Newport Seafood & Wine Festival hands out Gold, Silver, Bronze and Best-In-Show awards, but beyond that there are tons of wine awards on display from countless other competitions.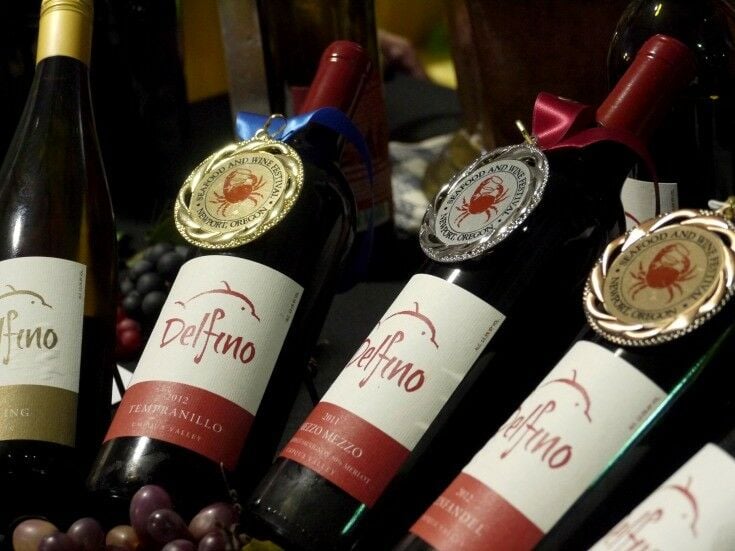 Prepare for Big Crowds
There will be at least four times more people there than you imagine. If you are someone who find crowds a little intimidating (or downright terrifying), I strongly urge you to avoid going on Saturday at all.
Saturday is the busiest day of the Festival (followed closely by Friday evening) and the one that attracts the most revelers as well.
The best time for crowd-shy folks is Thursday night (which is also the media night), or early in the day on Friday or Sunday.
More Cozy Oregon Travel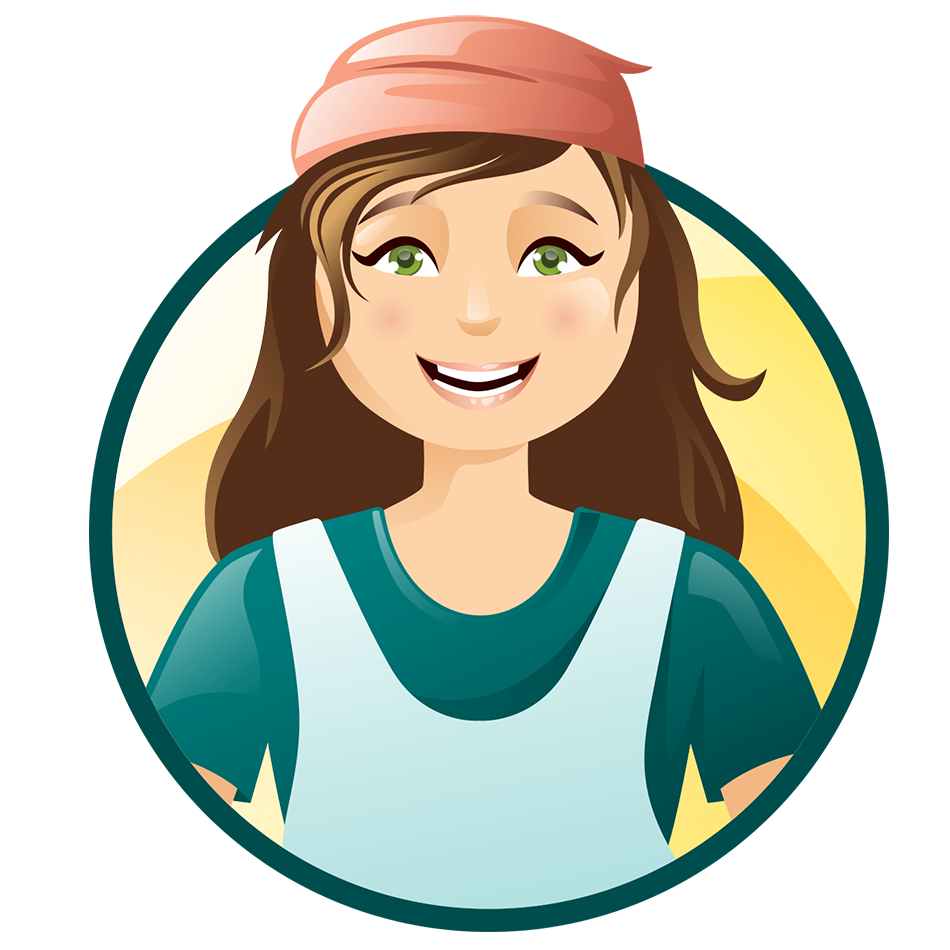 Thank you for visiting the Good Hearted Woman. Remember to bookmark this site, and come back soon!