The Westport Winery Garden Resort in coastal Washington State is a harmonious collaboration of the Westport Winery, Ocean's Daughter Distillery, Sea Glass Grill, and the place that initially kindled our curiosity: the International Mermaid Museum.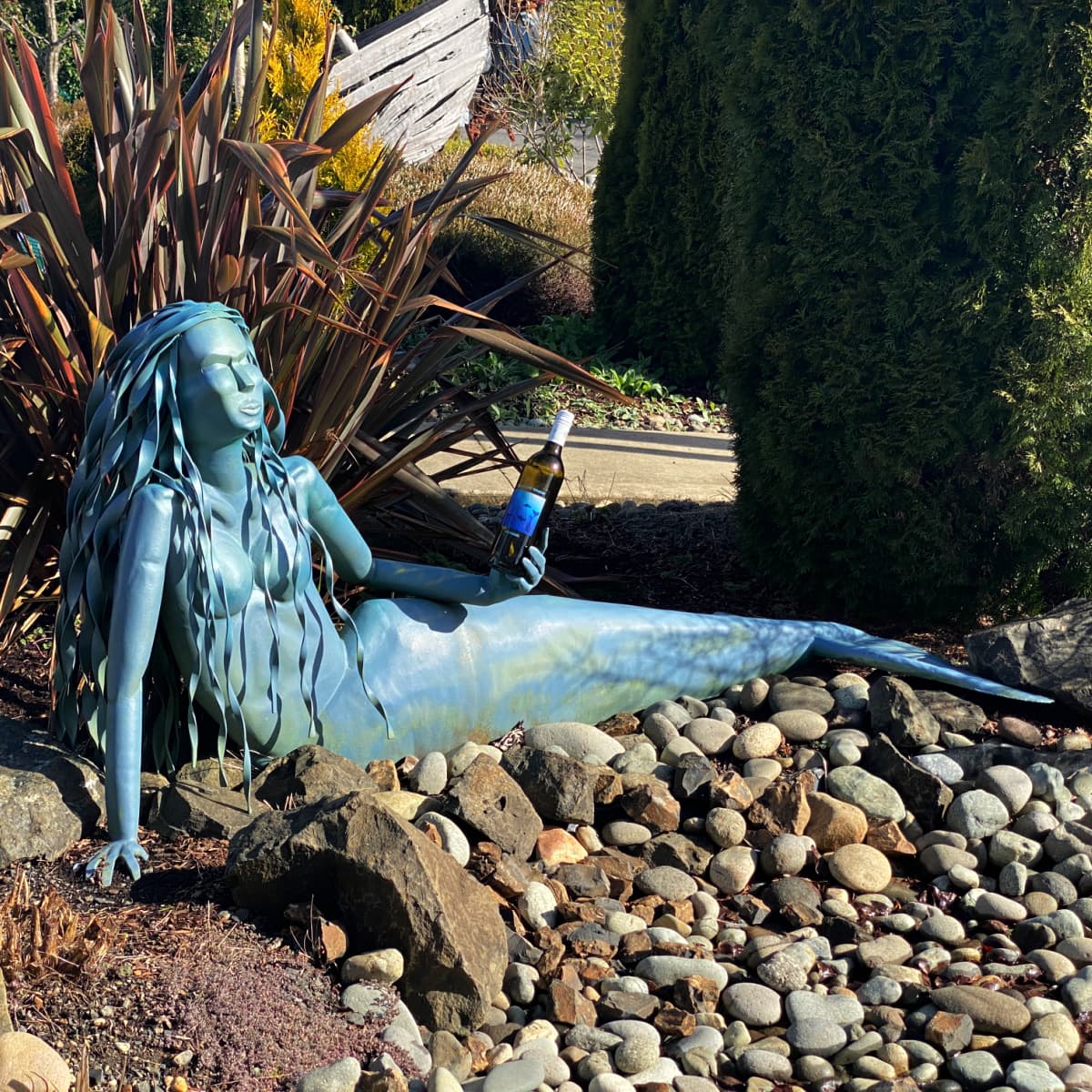 We would have never even known about the Mermaid Museum if not for the large road sign posted on the south end of Aberdeen. Mr B and I were returning home from an off-grid weekend getaway on Puget Sound, and were traveling south down Washington's coastal route when I spotted it.
A mermaid museum? Heck yeah!
As we enthusiastically set off toward the museum, I think each of us was expecting something along the lines of the weird and wonderful Marsh's Free Museum, located farther down the coast in Long Beach. That ancient, oddity-filled curiosity shop is home to, among other things; Jake, the Alligator Man, an eight-legged lamb, a taxidermied Morris the Cat (the 1970's 9-Lives mascot), and generations of childhood nightmares.
When we reached the Mermaid Museum, however, instead of a macabre collection of kitsch, we found a beautiful, sprawling seaside oasis. As we pulled into the large parking lot, we discovered that the Mermaid Museum is part of a larger, collaborative enterprise - the Westport Winery Garden Resort.
Jump to:
Westport Winery Garden Resort
Located halfway between Aberdeen and Westport on Washington's Grays Harbor, the Garden Resort includes the Westport Winery for which it is named, plus a distillery, a dual wine and spirits tasting room, a gift shop, a restaurant and bar, and of course, the International Mermaid Museum. Surrounding the buildings, walking paths weave through 15 beautiful acres of seasonal display and sculpture gardens.
Mr B and I ended up spending a few hours wandering the grounds and enjoying a wonderful, relaxing afternoon. If you are in the area, we highly recommend a stop at this family-friendly traveler's destination.
International Mermaid Museum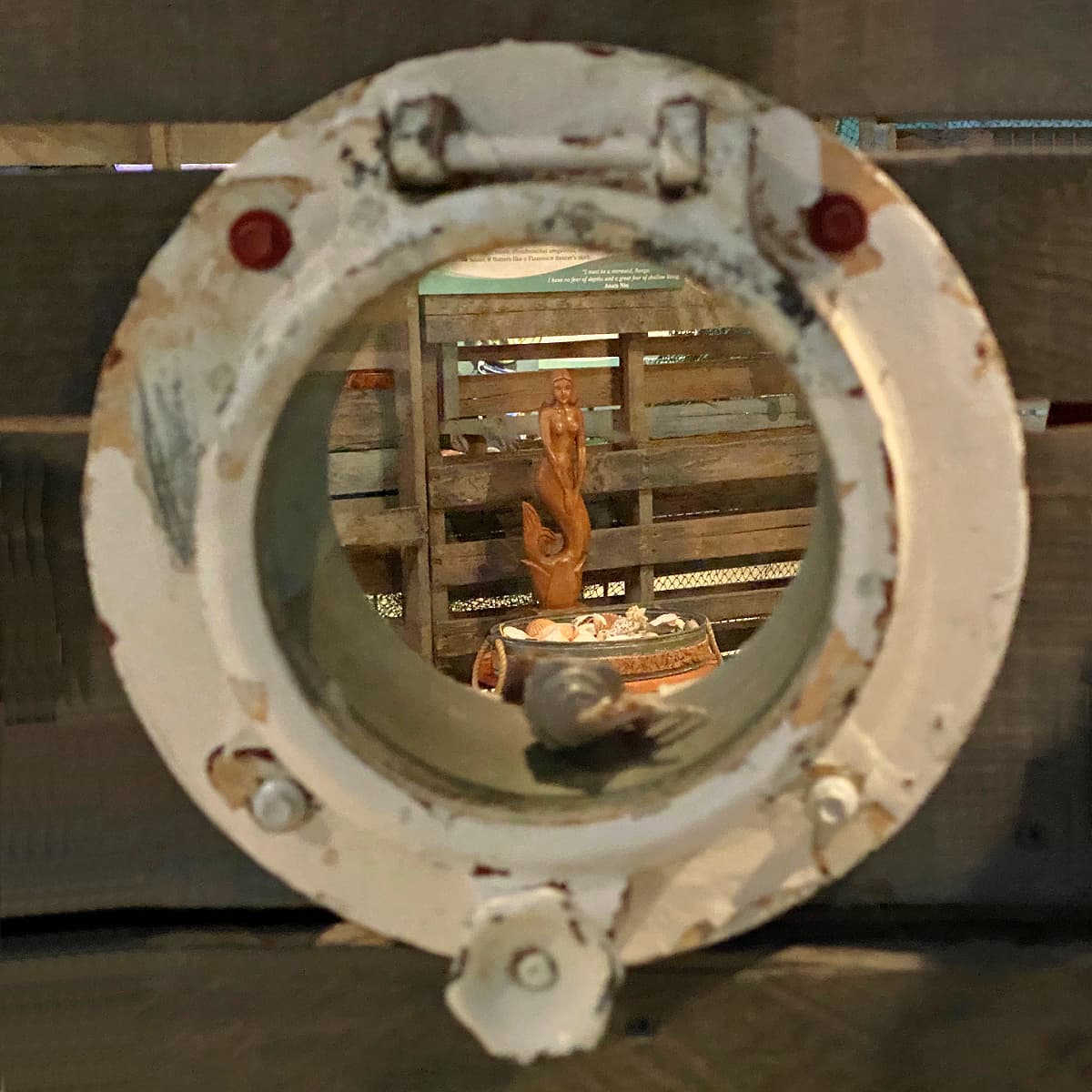 The Mermaid Museum was what initially drew us to the Westport Resort, and it was well worth the trip. The museum is both entertaining and educational, with a mission to teach ocean ecology "from seashore to sea floor" through the lens of global mermaid mythology.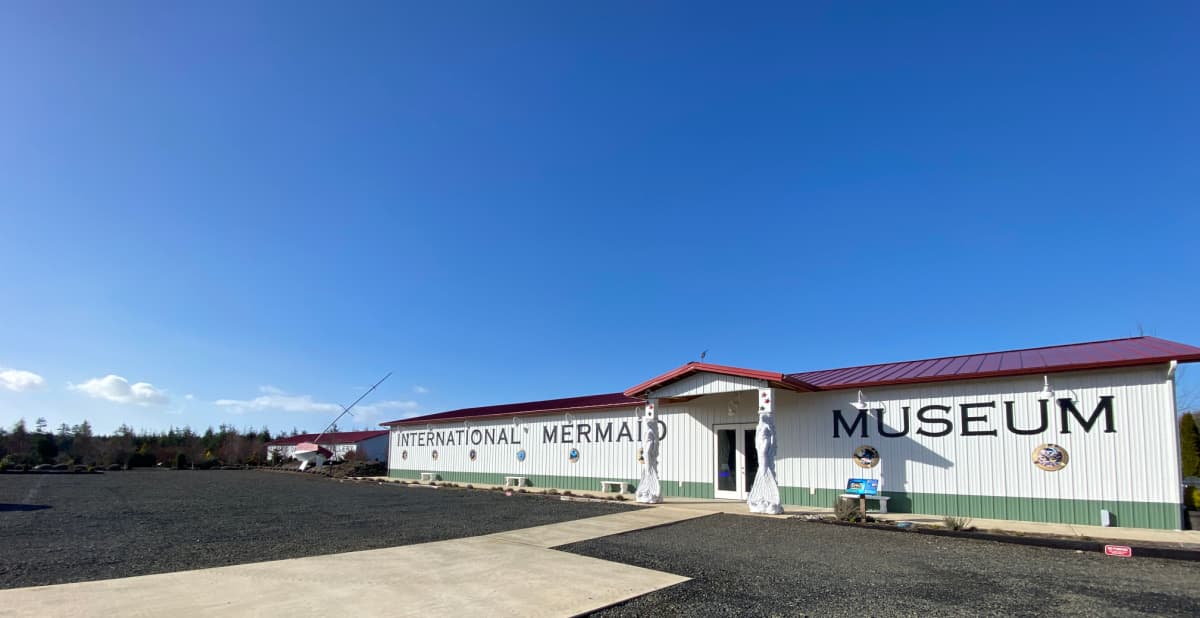 Porcelina, a large, bright-eyed mermaid, greets visitors as they arrive.
I see Porcelina as a strong water spirit. I utilized the symbolism of delicate blue willow porcelain to allude to the fragile balance of our marine ecology. Mermaids represent where humanity and the sea intersect.

- Jasmine Becket-Griffith, Artist
As Mr B and I wandered from exhibit to exhibit, we appreciated all the unique artifacts related to mermaid mythology around the world.
Wall placards dotted the museum walls, citing interesting ocean facts, mermaid history and hoaxes, and how mermaids connect continents and cultures.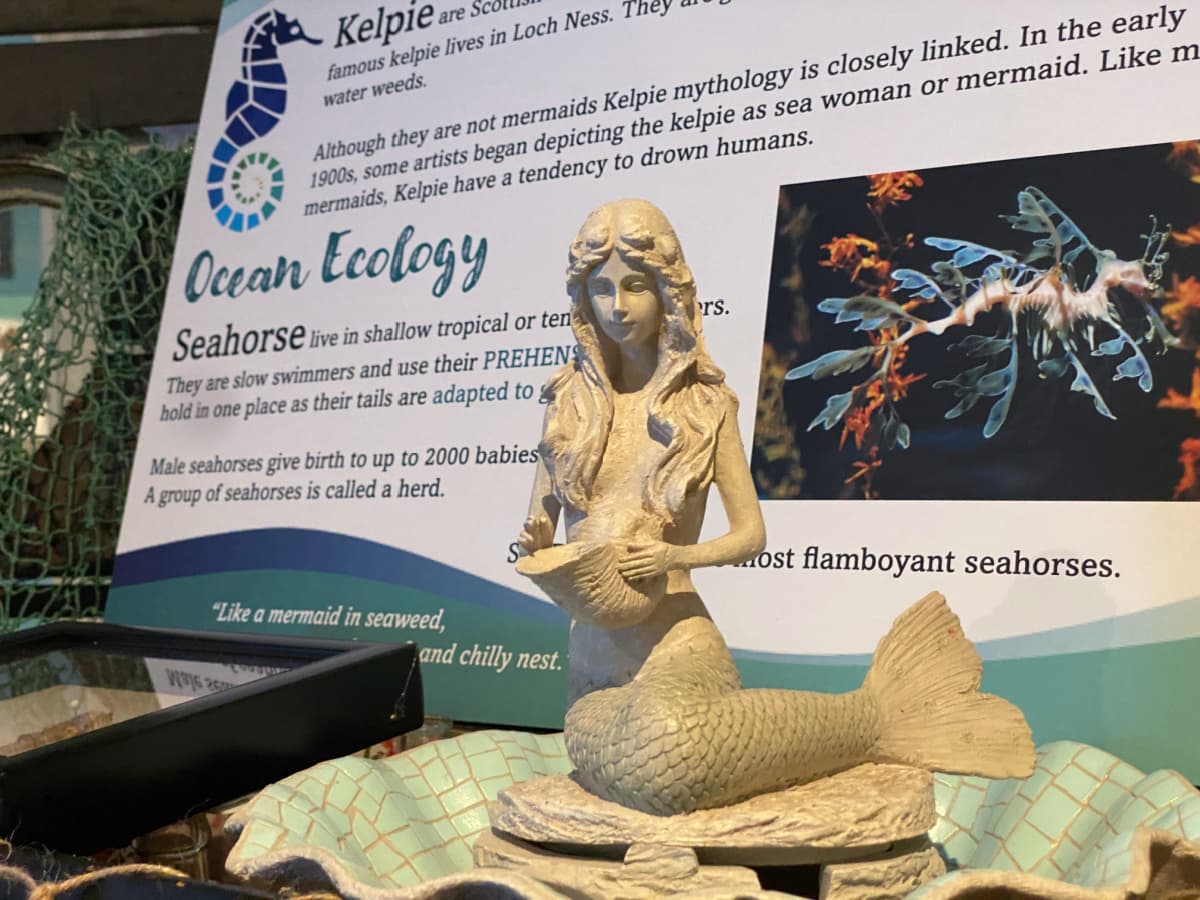 Sequin-studded mermaid mannequins and carvings swam everywhere above our heads, and from one corner exhibit, you can hear Ariel singing on an infinite loop.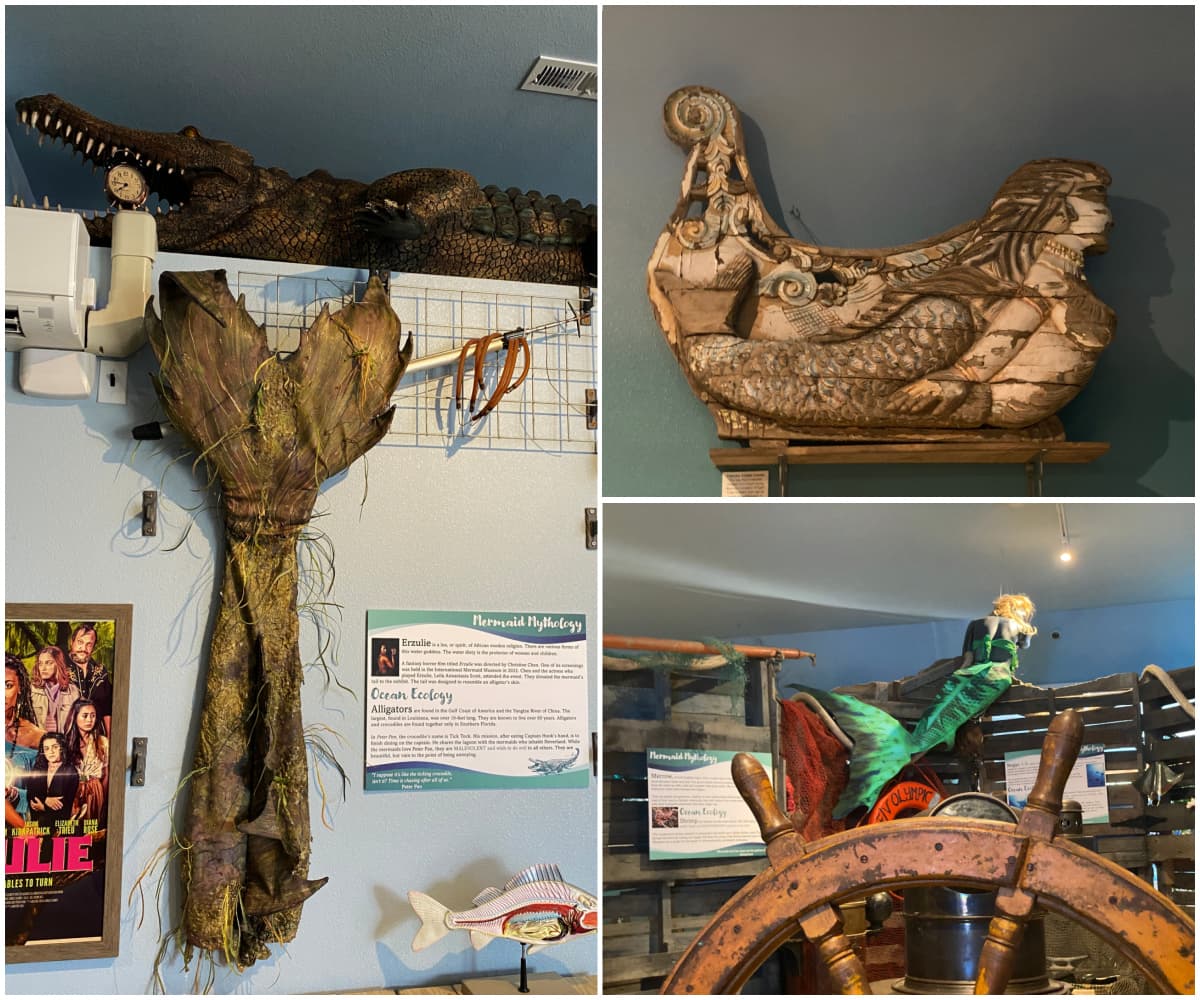 I was so intrigued with these portals that were placed between exhibit walls throughout the museum.
The price of admission is nominal: $3.00 for adults, and free to children 5 and under.
The International Mermaid Museum is holding its 2023 Mermaid Festival from Saturday, April 1 through Sunday, April 9. During this nine-day event it is free to visit the museum from 11am to 6pm and to enjoy the festival from noon to 5pm.
For more information, visit the Mermaid Museum.
Ocean's Daughter Distillery
Ocean's Daughter is the spirits arm of Westport Winery, and produces craft vodka, gin, whiskey, agave spirits, liqueurs, and rum.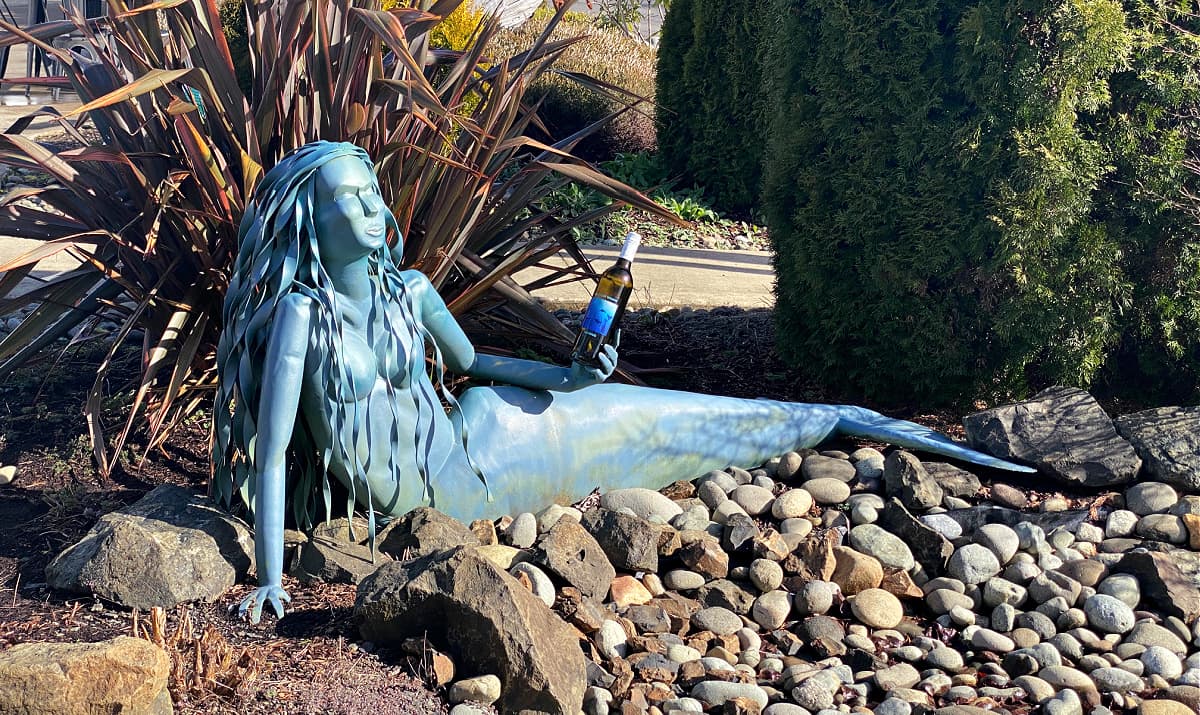 All of the Ocean's Daughter's bright, colorful label art is created by Kim Roberts, one of the distillery founders, and all feature whimsical undersea fantasies.
Ocean's Daughter spirits are named based on the country of origin of that spirit. For example, in the case of Undine Peach Schnapps; schnapps is a German spirit, and Undine is a mermaid fairytale from Germany.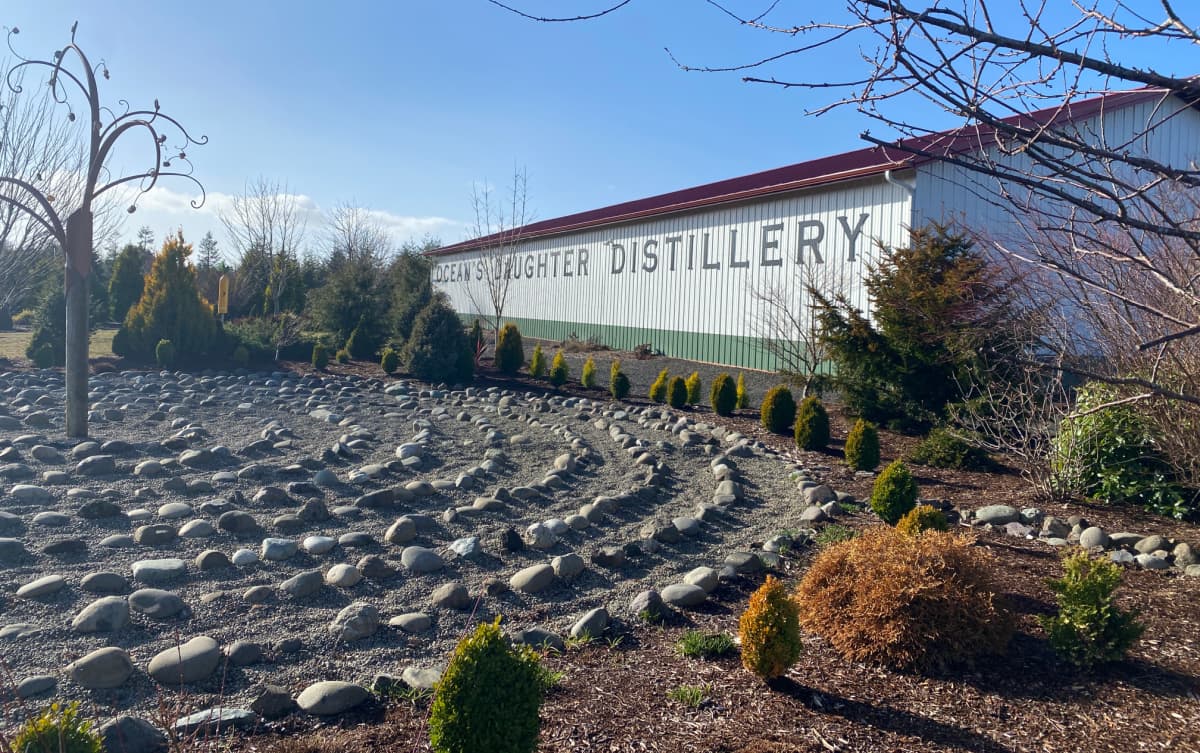 TIP: Ocean's Daughter cream liqueurs are luscious! We ended up purchasing a bottle of Jaioren Coconut Cream, and used it to create some decadent, party-perfect Coconut Cream Pudding Shots (Oh, my - so good!).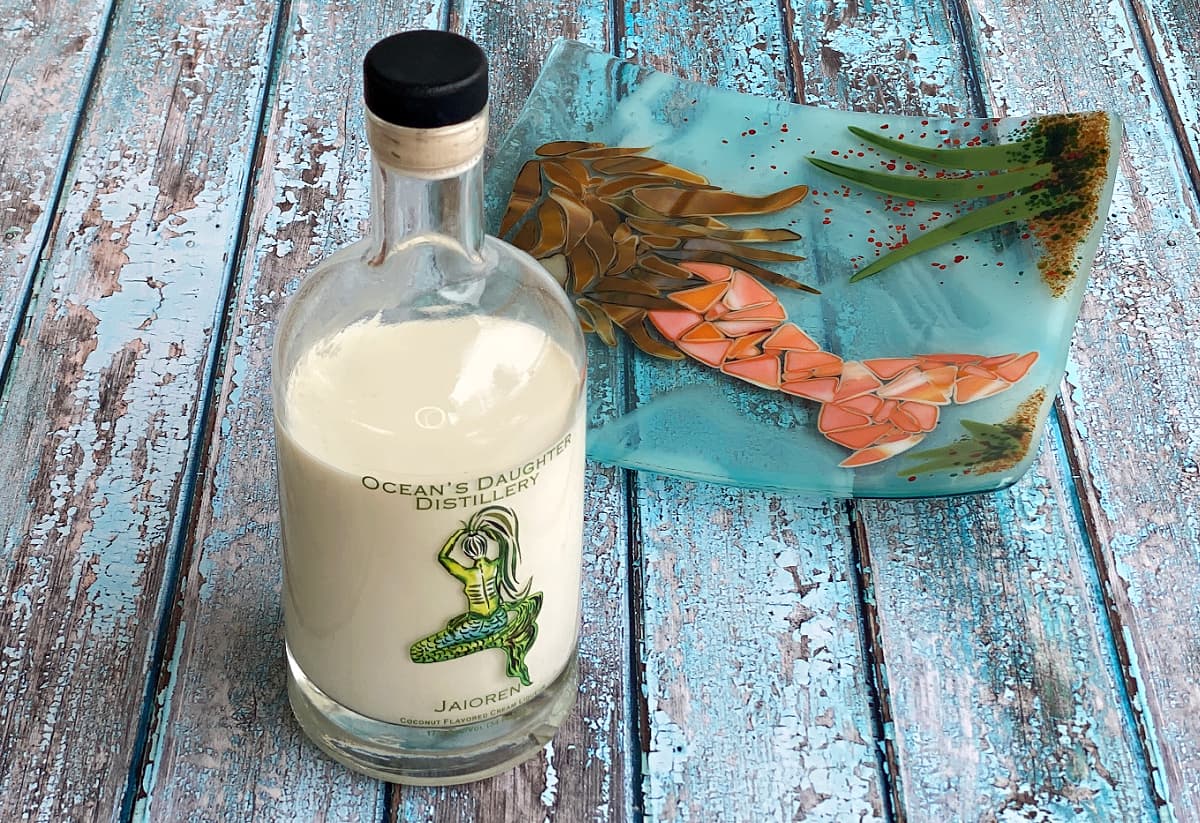 Sea Glass Grill
The Sea Glass Grill offers a robust brunch and dinner menu as well as a full bar, with hand-crafted cocktails created using Ocean's Daughter Distillery spirits. Mr B and I stopped in for a late lunch, and ended up splitting a tasty but unremarkable open-faced crab and shrimp sandwich as our main course.
The highlight of our meal was the appetizer; a house specialty called Mermaids on Horseback. These rich, succulent bacon-wrapped prawns came skewered for easy noshing, and topped with a sweet pineapple-horseradish glaze. Absolutely delicious!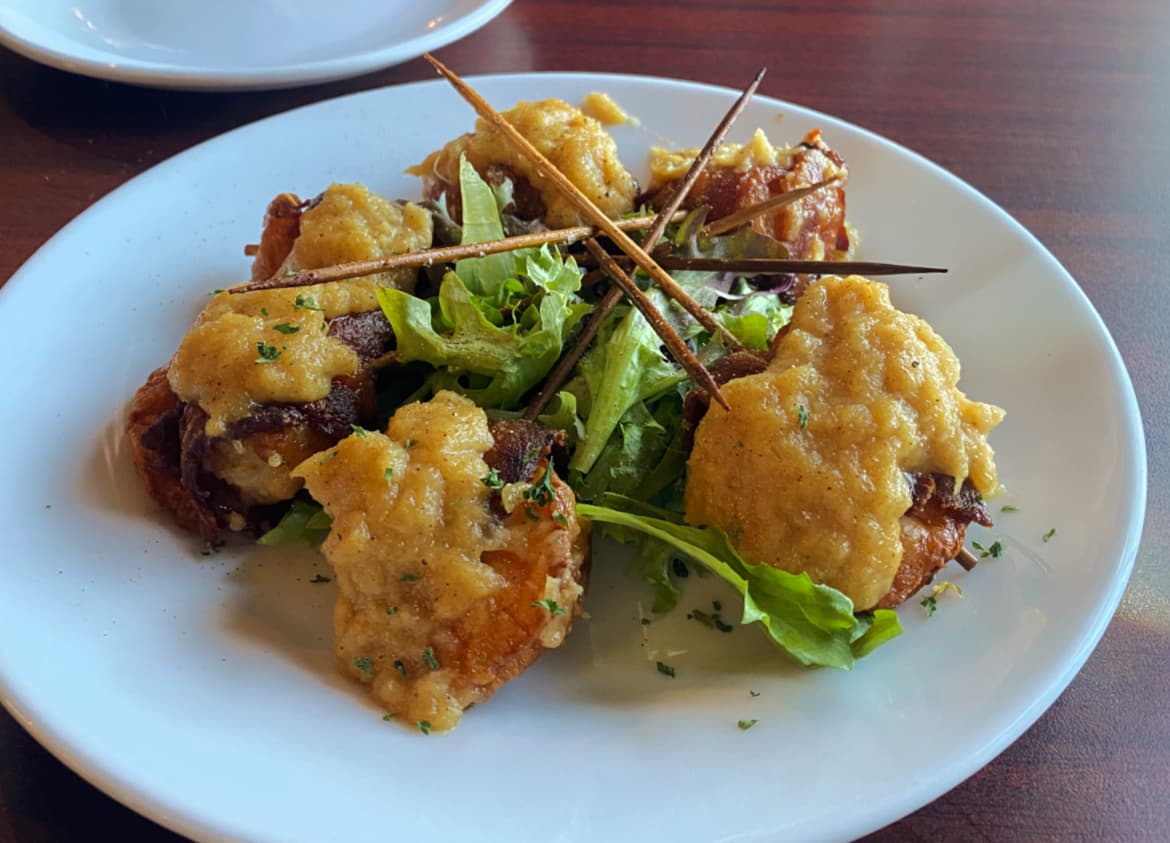 I couldn't resist trying a Swamp Panda, just for the name alone. A huckleberry vodka martini with lemonade and a huckleberry gummy bear; it was quite sweet, but very tasty!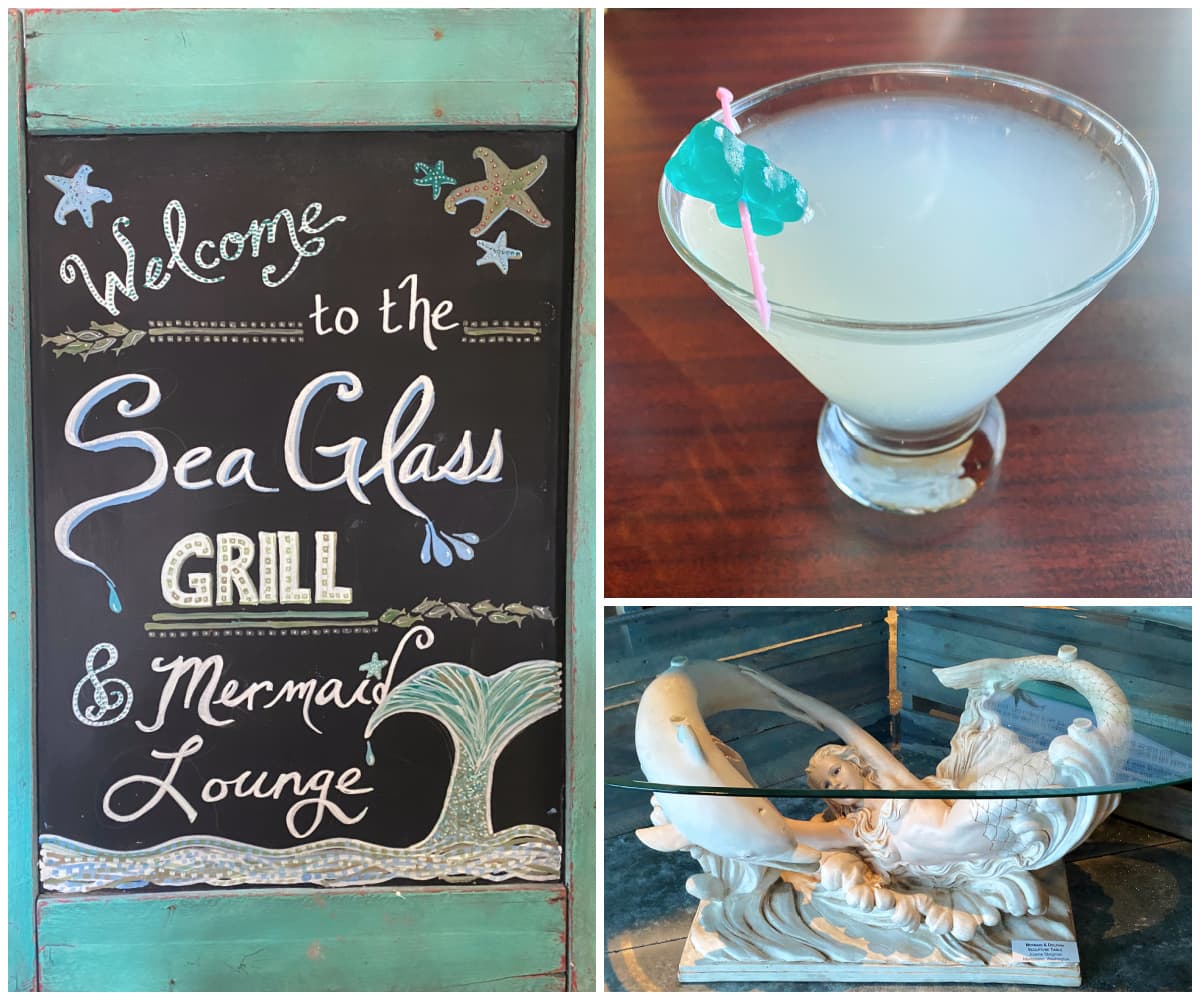 Fun Fact: The Sea Glass Grill was twice voted one of the top five winery restaurants in the nation by USA Today, most recently in 2017.
Westport Winery Gardens
It may have been the Mermaid Museum that drew us here, but Mr B and I both thought the Gardens were the real show-stopper. And keep in mind, our visit fell during the lean end of winter - I'd love to return when the gardens are blooming!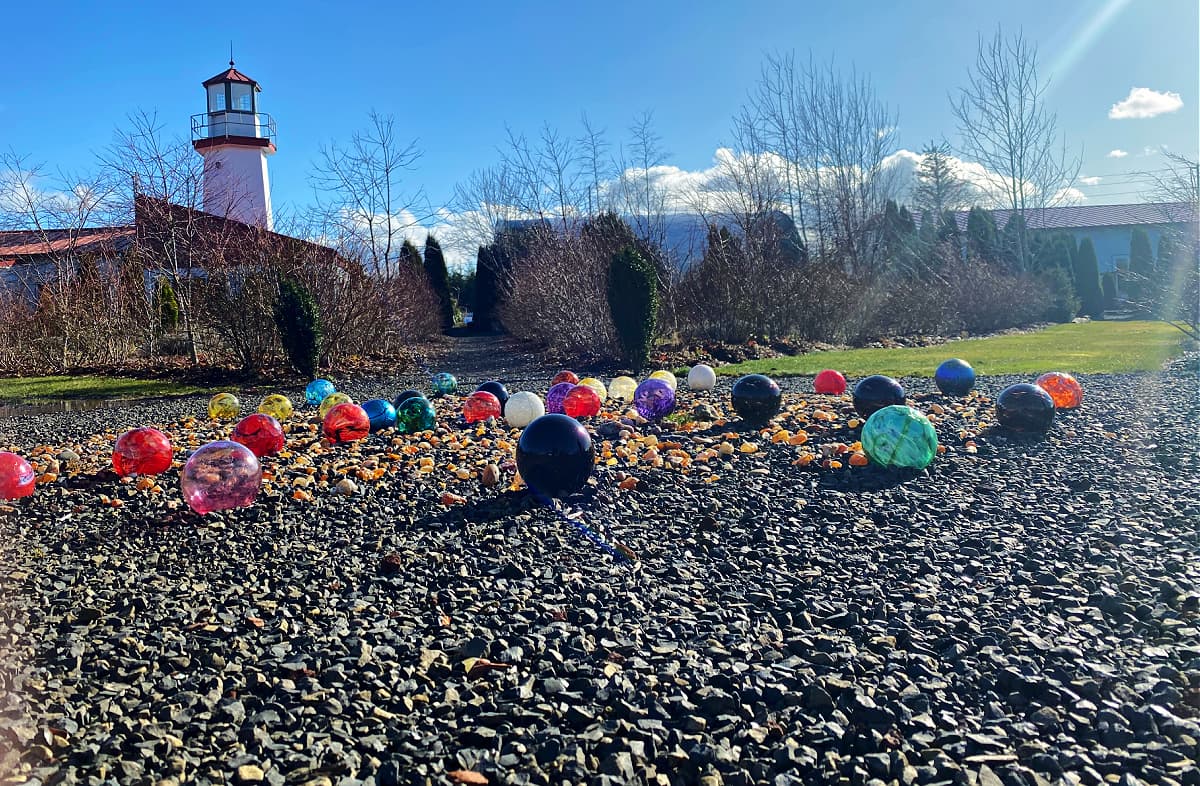 Beyond the museum, restaurant, and distillery buildings, you will find fifteen acres of flat, graveled paths wind through a vast array of native seasonal plants and gardens, and displaying more than 80 sculptures created by local artists.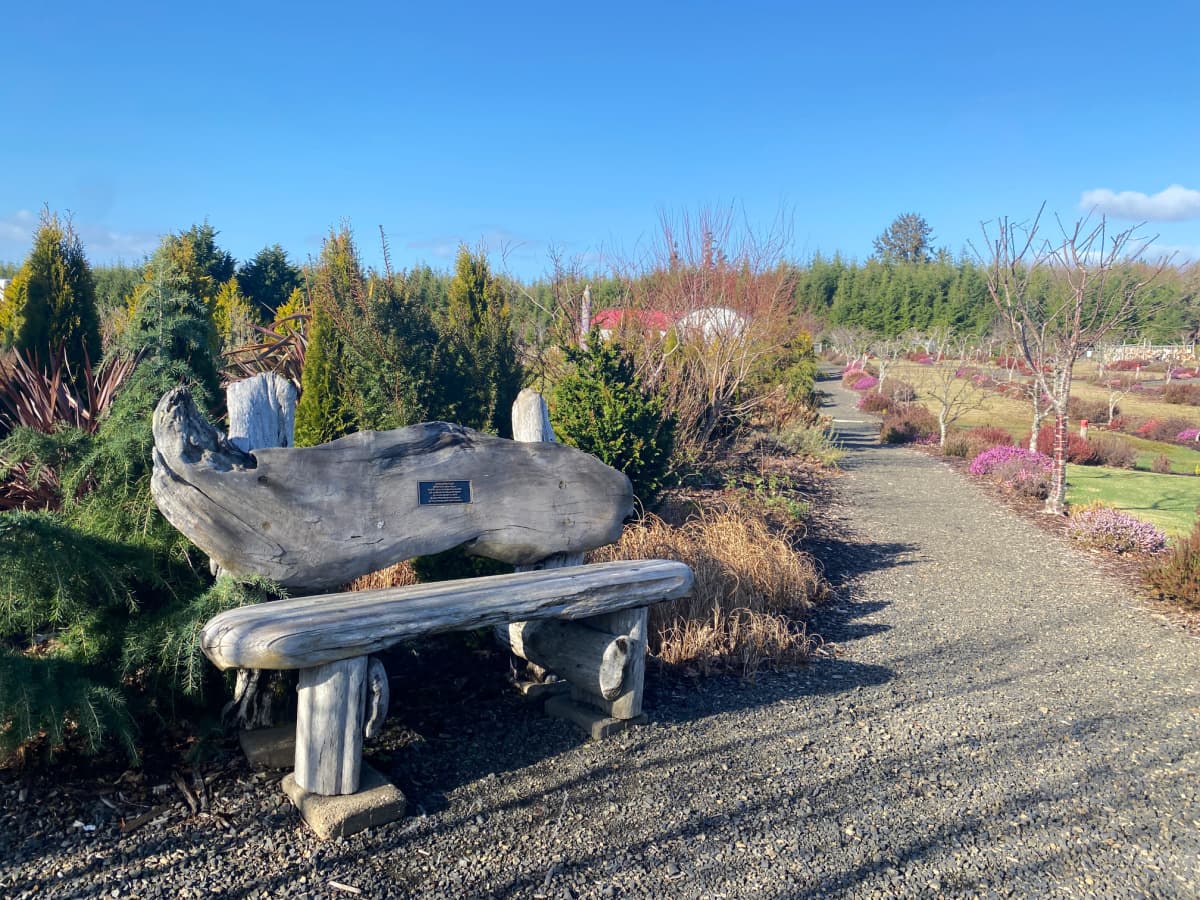 Themed gardens include English, French, Italian, and Japanese gardens, as well as a wedding venue, and a meditation garden.
A medicine wheel that stands in the center of the gardens was blessed by Cowlitz Chief Itswoot Wawa Hyiu in 2014. The glass pieces were created by local artists at Opal Art Glass.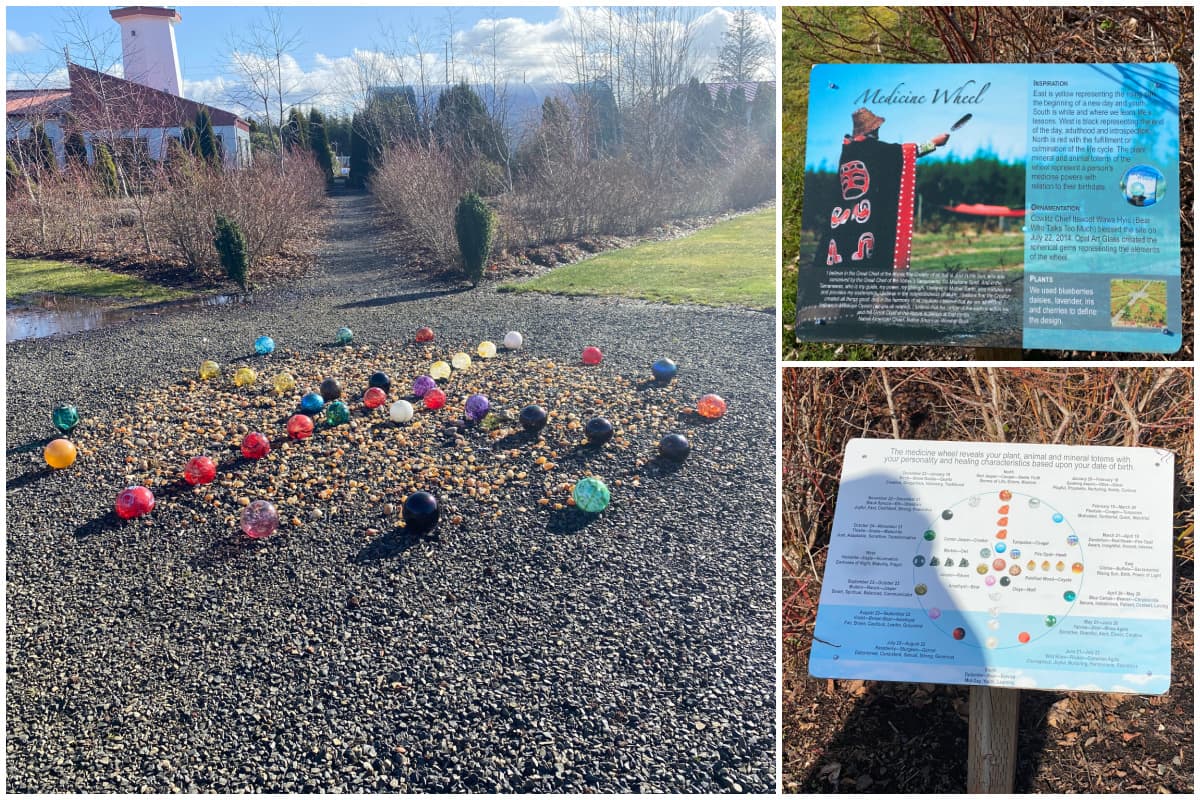 We saw so much beautiful glass art, including a bouquet of six-foot tall glass iris.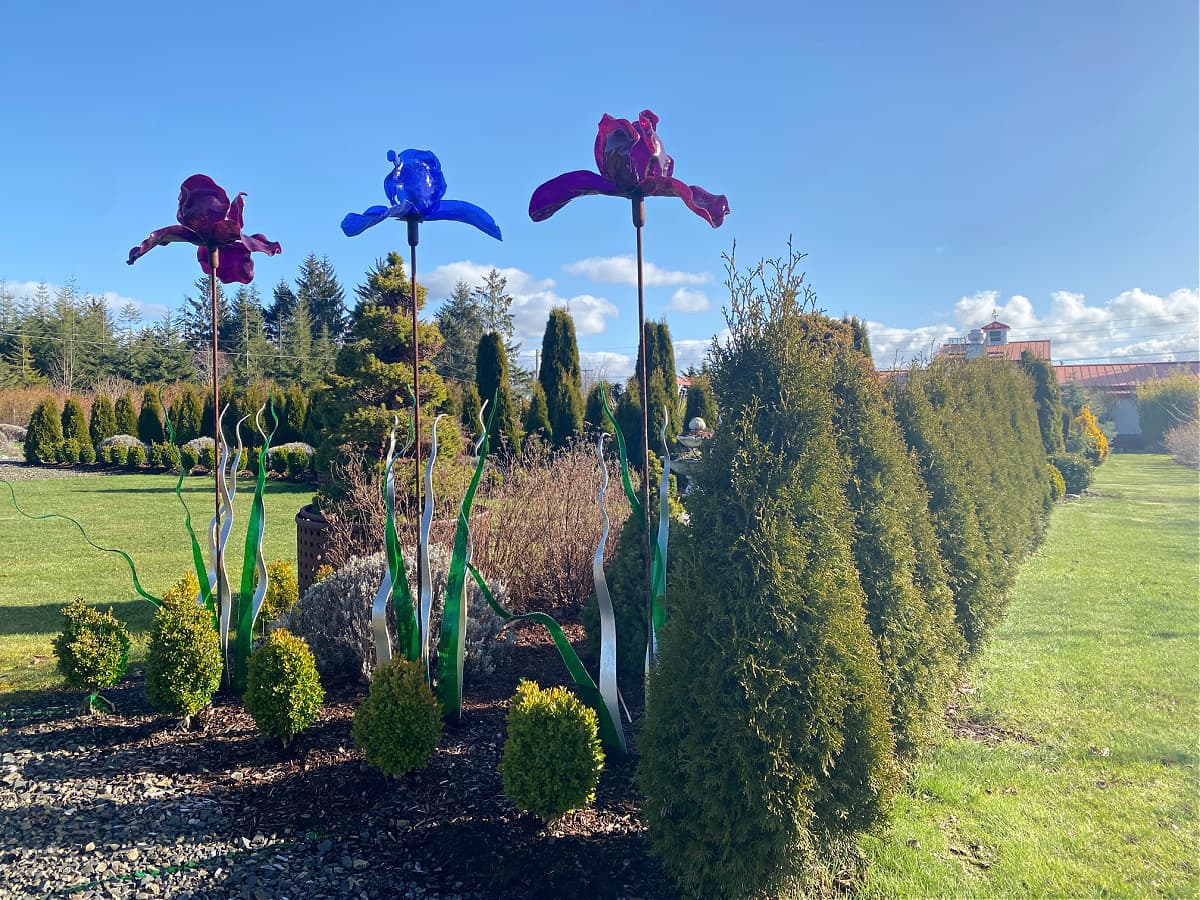 Visitors to the gardens can also play Scrabble on a giant board, play miniature golf, pitch horse-shoes, or play a game of chess, among many other activities.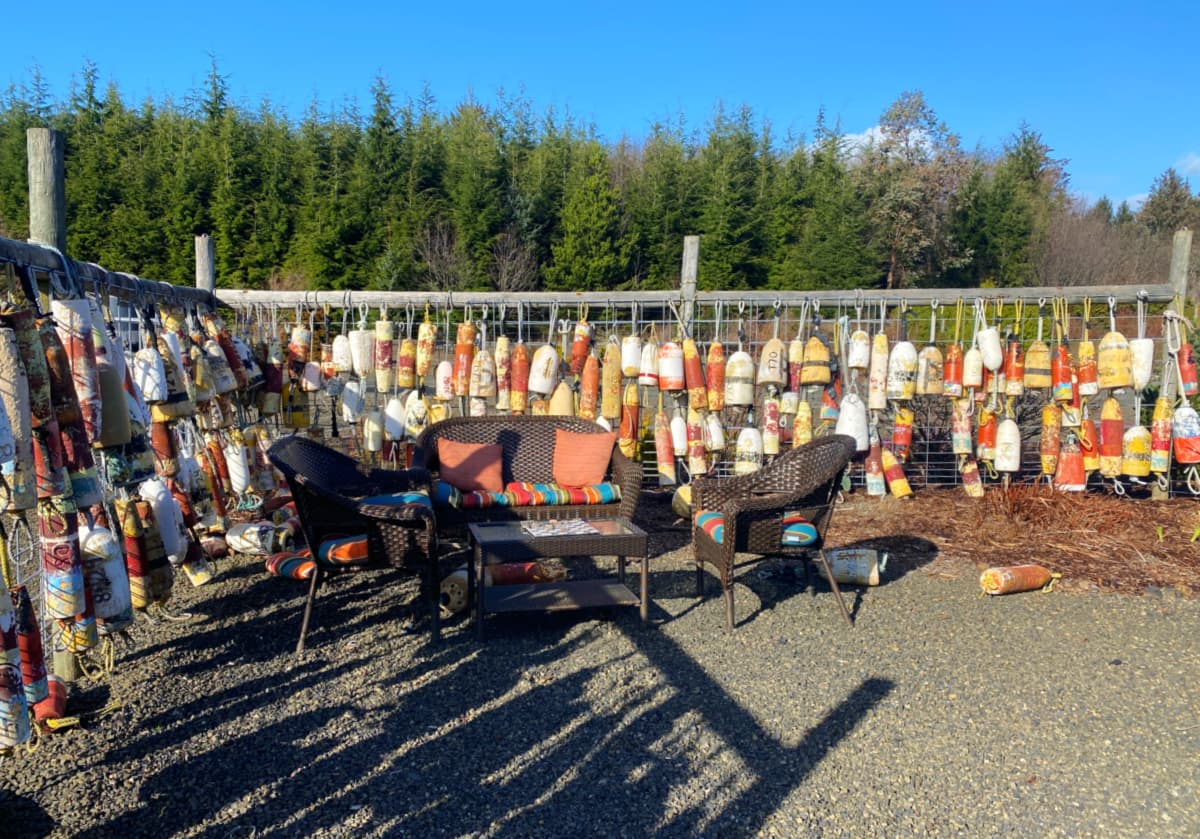 Travel Tip
Be sure to stop and snap a memory outside the Mermaid Museum!
More Cozy Road Trips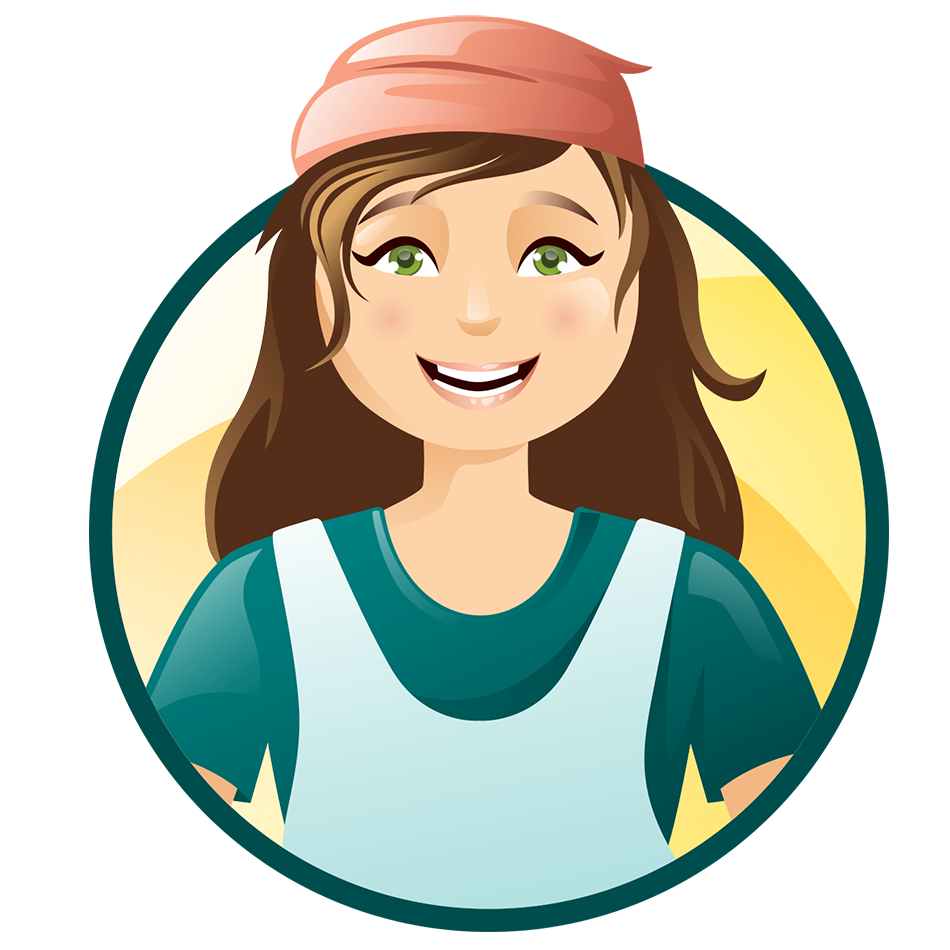 Thank you for visiting the Good Hearted Woman. Remember to bookmark this site, and come back soon!