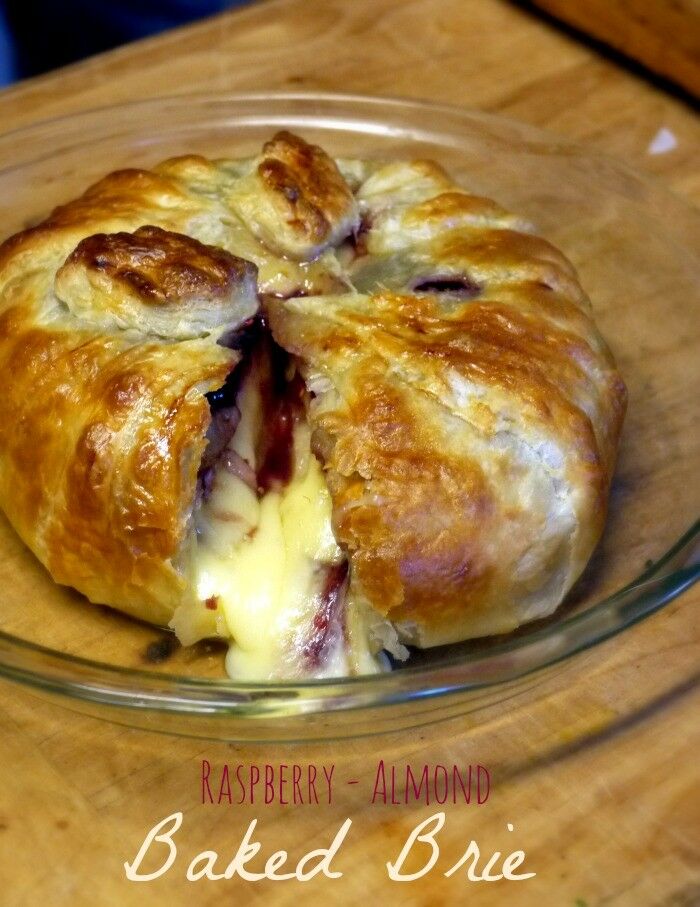 Raspberry-Almond Baked Brie is one of my favorite holiday party go-tos. It's easy to make, holds up well if it needs to be transported, and brings just the right amount of "fancy" to practically any occasion. Serve it with apple slices or crisp crackers. (Try Lesley Stowes Cranberry-Hazelnut Raincoast Crisps. Yum!)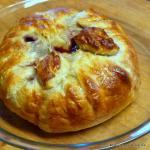 Raspberry-Almond Baked Brie
Ingredients
1

wheel of brie

1

sheet of puff pastry

I use Pepperidge Farm

3 - 4

ounces

of almond paste

See Note

1/4 - 1/3

cup

raspberry jam

1

egg white

gently whisked
Instructions
Preheat oven to 350°.

Defrost puff pastry according to direction. Lay one sheet evenly in the bottom of a glass pie plate.

Slice the brie wheel horizontally as shown. Separate the layers.

Roll the almond paste into a circle slightly larger than the brie wheel and about 1/8-inch thick.

Use the brie container to cut a round of almond paste. (Or just use the brie as a guide and cut around it with a knife.)

Layer the almond paste circle in between the two brie circles.

Spread the raspberry jam evenly on top.

Using a pastry brush, apply a thin layer of egg white wash to the inside edges of the puff pastry. This will help to seal it together when you gather the edges.

Gather the puff pastry together at the top of the brie wheel and twist gently to seal.

Carefully slice off the big knot of pastry on the top. Use the extra pastry to create decorative shapes for the top if you wish.

Apply an egg white wash to the entire pastry.

Bake in preheated oven for 40-50 minutes, or until pastry is golden brown.

Allow to cool for 5-10 minutes before serving.

Serve with crackers or sliced apples.
Recipe Notes
You can find almond paste in the baking section of your grocery store, usually near the canned pie fillings. You can also make it from scratch, but I'll save that for another time. 🙂