Nestled into the Columbia River Gorge against a stunning scenic backdrop, Hood River, Oregon offers visitors a perfect romantic getaway.
Every year for Valentine's Day, Mr B and I take a little romantic getaway. It doesn't matter if the holiday falls in the middle of the week or on a weekend - we always take at least one day off and head for a quiet destination, usually close to home. This year, as we are wont to do, we headed for the Columbia Gorge.
We left for our getaway after work on a Tuesday afternoon, and drove up to the historic Columbia Gorge Hotel in Hood River, arriving well after dark. Stepping into the lobby, we were promptly greeted by an amazingly friendly, enthusiastic hotel employee named Rick, who would act as our concierge, bell-hop, elevator operator, ice-bucket filler, doorman, and hotel historian during our stay.
The Columbia Gorge Hotel – once known as the "Waldorf of the West" – was built by Portland businessman and philanthropist Simon Benson in 1921. The elegant hotel has a rich history (complete with lots of ghost stories!), and at one time hosted such early film icons as Clara Bow, Rudolph Valentino, and Shirley Temple, as well as dignitaries like Presidents Roosevelt and Coolidge.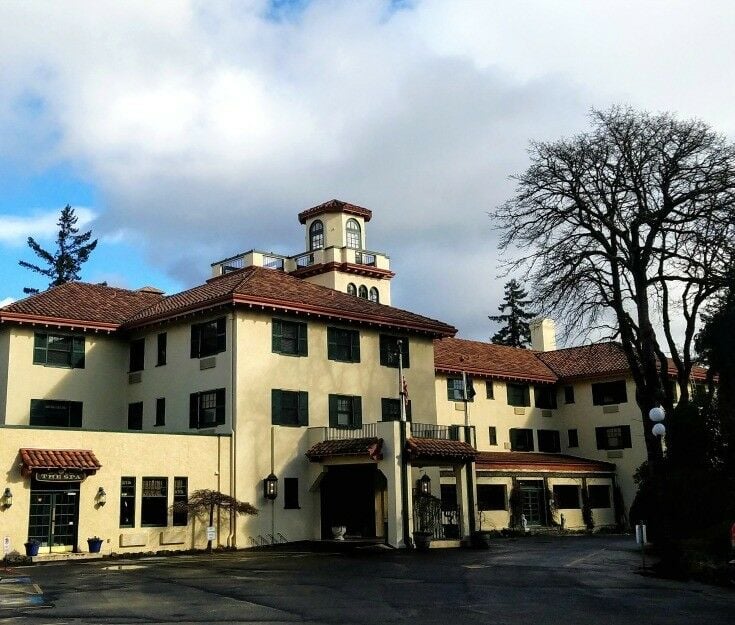 Our third floor King room was lovely, with a 180° view of the Columbia River, a large bathroom (by 1921 standards), and a little electric fireplace. Having stayed in a standard room at the Columbia Gorge Hotel the distant past, I can tell you with confidence that our King room was far superior to a standard room. Most notably, it was about twice as big: the space allotted for a standard in 1921 is what realtors like to call "charming" and "cozy." The King room we stayed was about the same size as a contemporary standard mid-range hotel room.

The next morning when room service delivered our breakfast, we discovered that we had ordered twice as much food as we needed! Our breakfast croissants were huge, and each one came with a generous serving of O'Brien potatoes and an adorable little airplane-size bottle of ketchup. Everything arrived fresh, warm, and delicious. No worries about leftovers, either - after we finished eating, we popped our leftovers into the little room fridge to save for a midnight snack and set out to plan our day.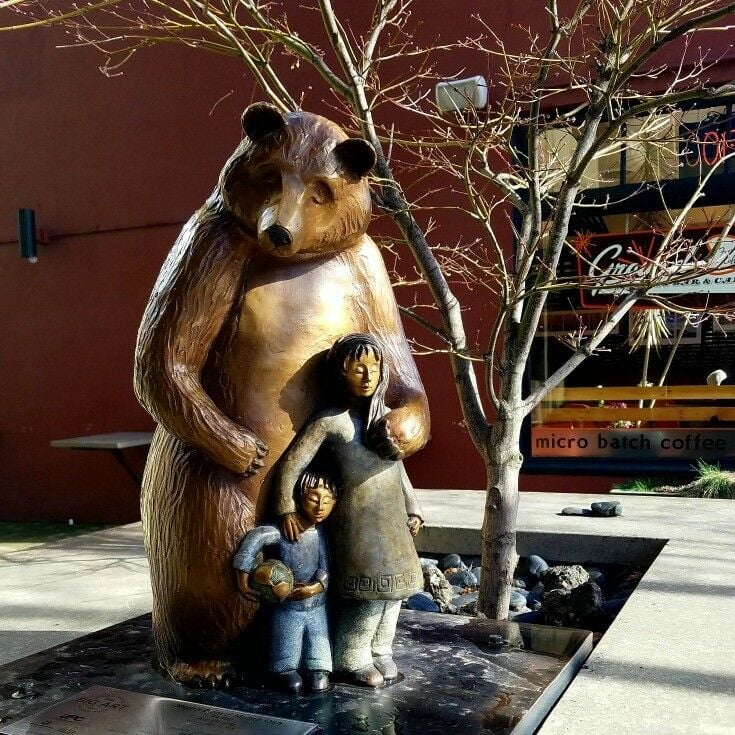 We had a loose plan to spend the day touring and tasting at a few of the nearby wineries, so we started our tour in downtown Hood River Oregon, where we stopped in at a cool little espresso bar called Ground to enjoy a warm beverage while charted out our route. Being there on a Wednesday in the middle of winter made our choices very easy - only three of the fifteen or so wineries around the city of Hood River were open for us to visit.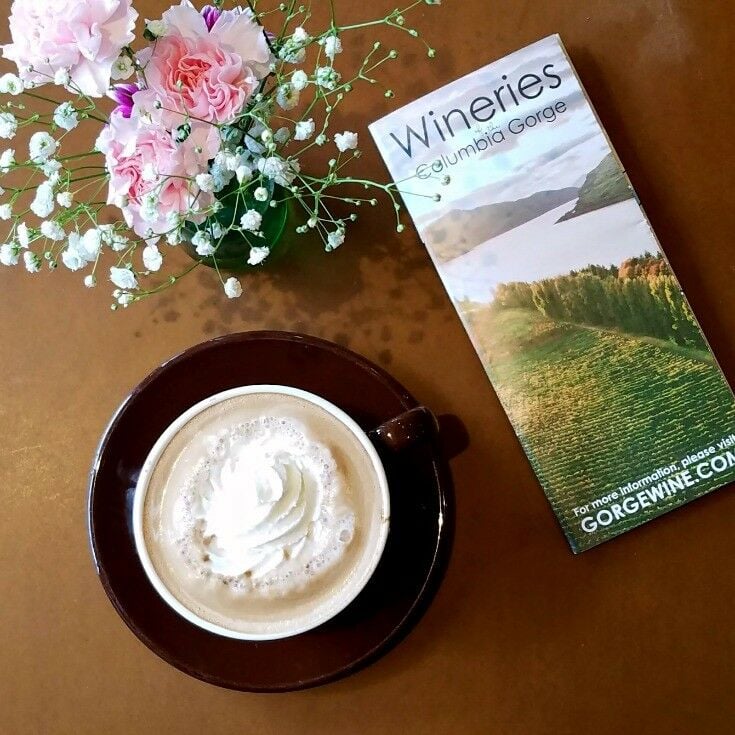 Our first stop was Cathedral Ridge Winery, one of the only vineyards in Hood River with tasting room hours every day of the week year-round. The winery is located high above the Columbia on the west end of Hood River, with sweeping views of Mt. Adams to the north and Mt. Hood to the south west. We spent the better part of an hour in the Cathedral Ridge tasting room, where we were greeted warmly and treated like old friends. Pours for our tasting were generous, and extra varieties were introduced as we discussed our preferences with our attentive and knowledgeable host.
After we finished our tasting and purchased a few bottles to take home, we wandered outside to enjoy a walk around the grounds, where wooden benches and outdoor tables set up for picnickers dot the property. The middle of February was a little too chilly for a picnic though, so we instead opted for a quick selfie before we got back in the car.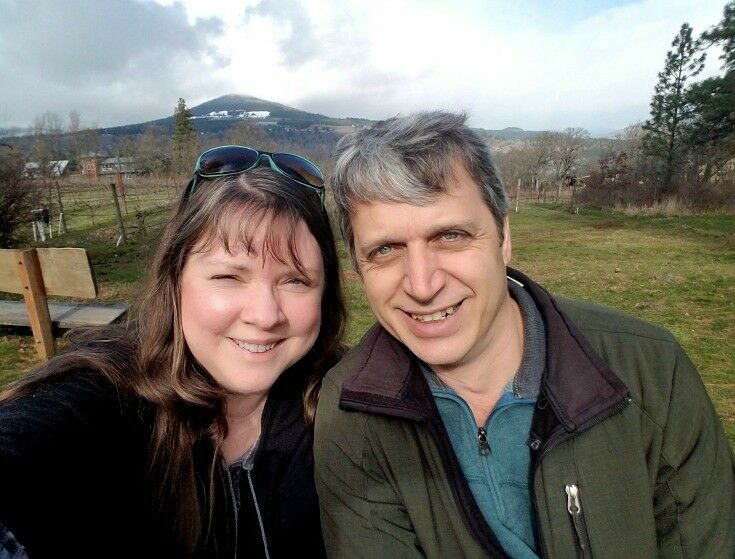 We next ventured a little farther out into the country, where we found the Phelps Creek tasting room, which like Cathedral Ridge is open daily and year-round. The tasting room is located on the beautiful Hood River Golf Course, the features wines produced from nearby Estate-grown grapes. This small boutique winery focuses on estate grown Pinot Noir and Chardonnay; annually producing 5,000 cases total of all varietals.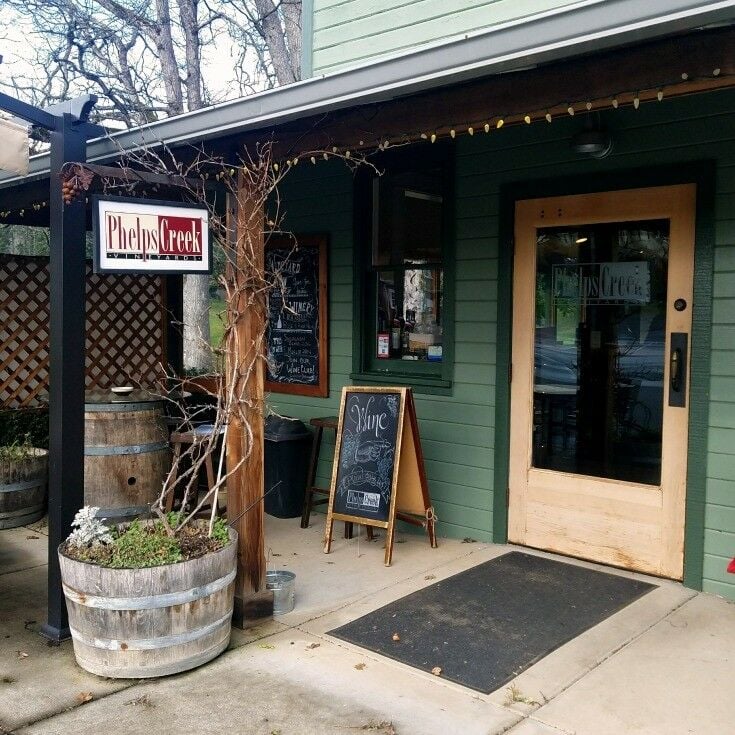 One of the things Mr B and I like best about going out with just a tissue-paper plan is you just never know who or what will happen to surprise you. While we were visiting with the host at Phelps Creek, tasting room associate and sports photographer Brian Robb walked in, sat down at the bar and introduced himself. We were in no hurry, so we spent the next half hour chatting with Brian about some of the events he has shot around the world; in particular his experiences photographing World Skiing Racing Championships and the Olympic Winter Games. We thoroughly enjoyed both the company and the conversation at Phelps Creek.
(I have always to laugh at myself when I meet "action" photographers - I can barely get food to hold still for a good shot. Moving targets are usually way beyond my photography skillset.)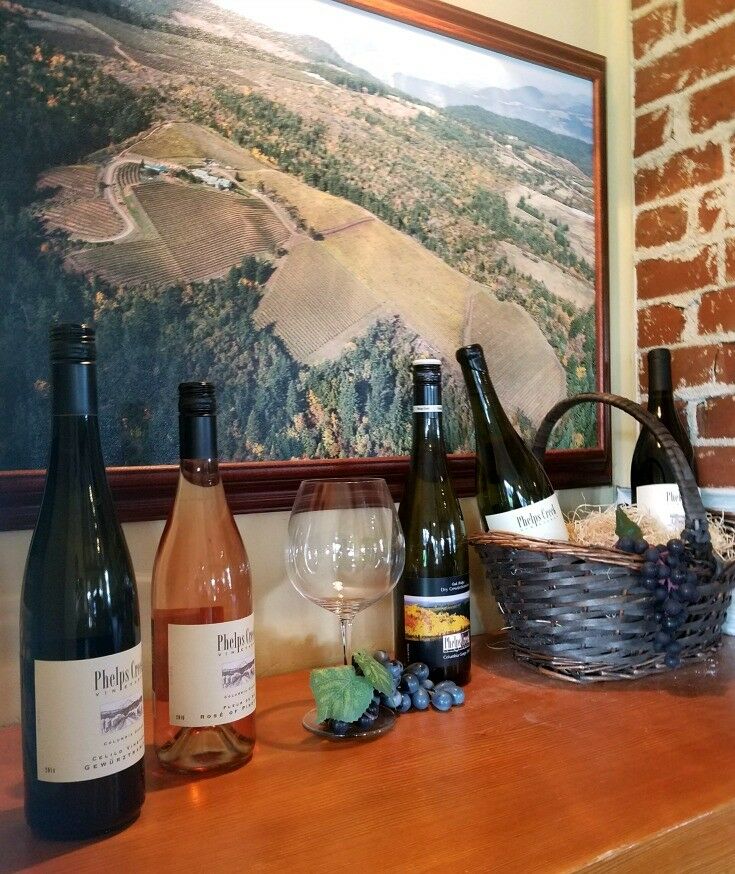 After finishing at Phelps Creek, we made the short drive back into town and grabbed a late lunch at The Trillium Cafe in downtown Hood River before stopping at our last tasting room - Stave & Stone.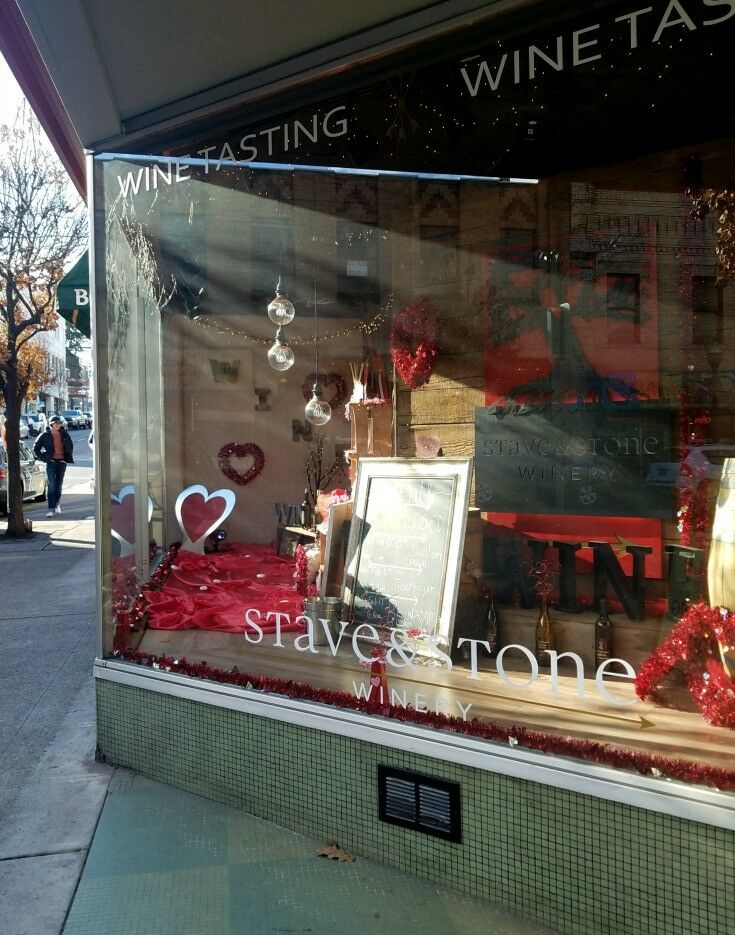 Esthetically, Stave & Stone is the poshest of the three tasting rooms we visited, and the newest as well. The space itself is large and open, with lots of warm hues, subdued lighting, and naturally finished woods all lending a cozy feel. Besides the tasting bar, there are plenty of small gathering spots, too - comfy chairs, cozy booths, cafe tables, and a couch or two.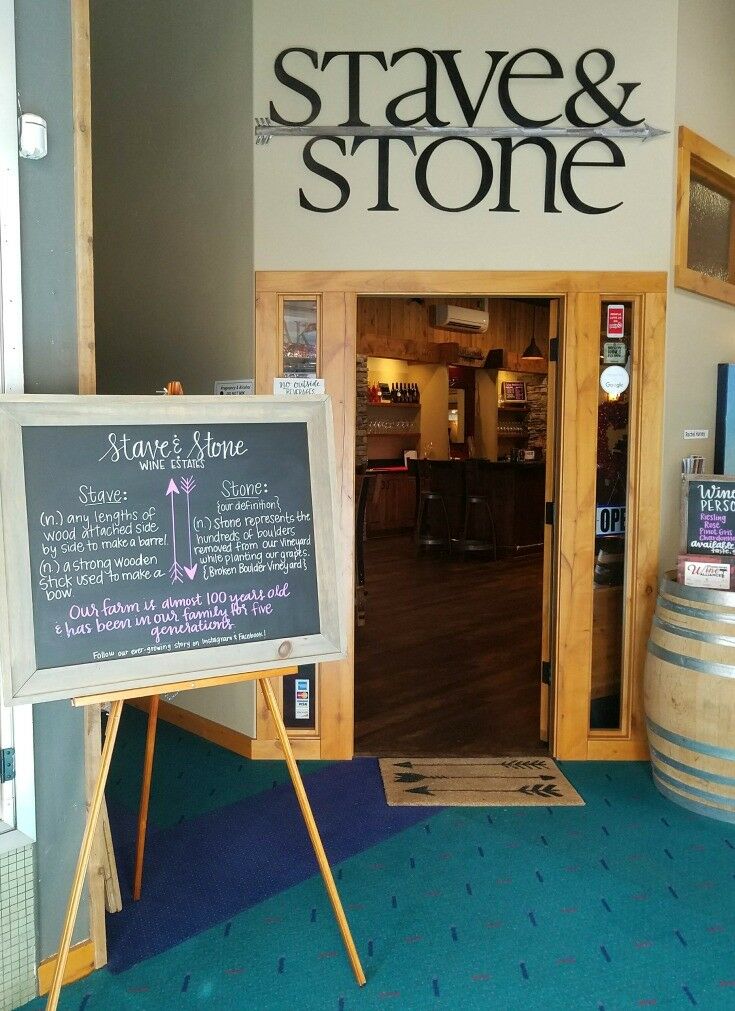 Our tasting room host was upbeat, friendly, and knowledgeable. As she poured our tastings, she enthusiastically shared a little of the history of this five generation winery with us - including the story of "The Old Man" - the last orchard apple tree standing on the family farm. The tree has been immortalized by local artist Kelly Phipps immortalized in an intricate metal sculpture that now hangs on the tasting room wall.
[This Gravenstein tree] symbolizes five generations of Fletchers, a touchstone of the legacy that began with apples and pears. The orchard has been transitioning into a vineyard for awhile now, but we're keeping this ancient fellow. It is so old, it is nearly hollowed out inside, yet it still manages to produce blossoms and fruit every year. ~ Stave & Stone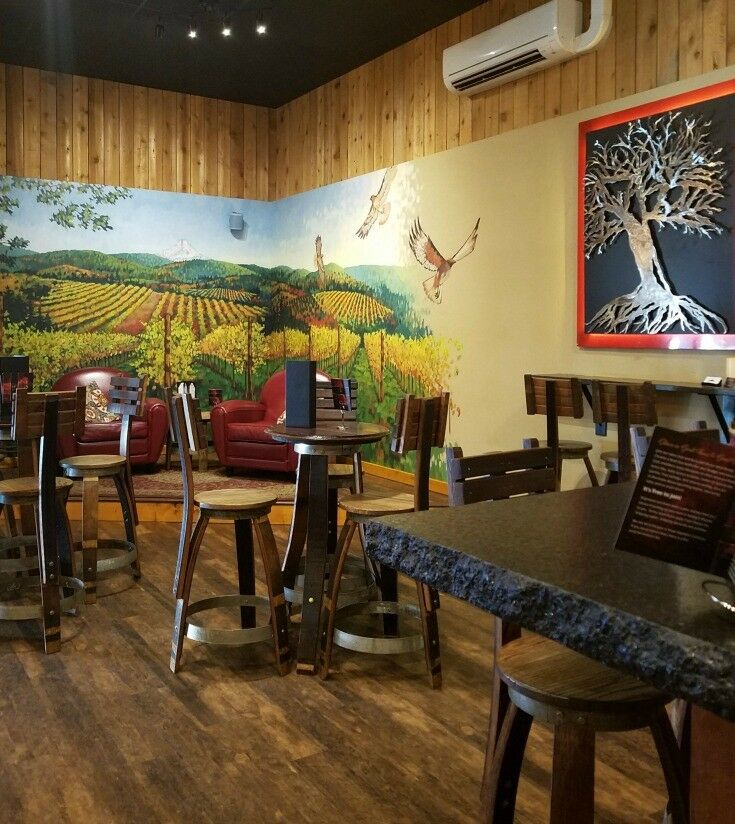 There was still plenty of daylight left when we left Stave & Stone, so we drove back to the hotel and took a stroll around the grounds, first exploring the south side in the front of the hotel.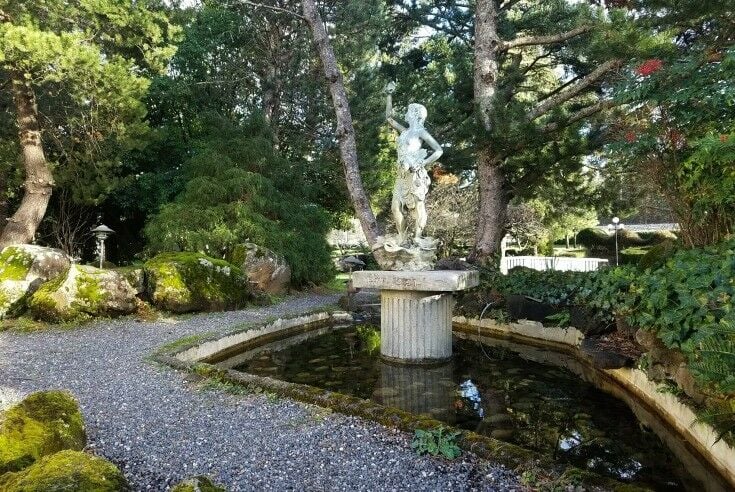 The Columbia Gorge Hotel maintains seven acres of beautifully manicured gardens. Phelps Creek (for which the aforementioned winery is named) runs through the property, and natural water features dominate the landscape.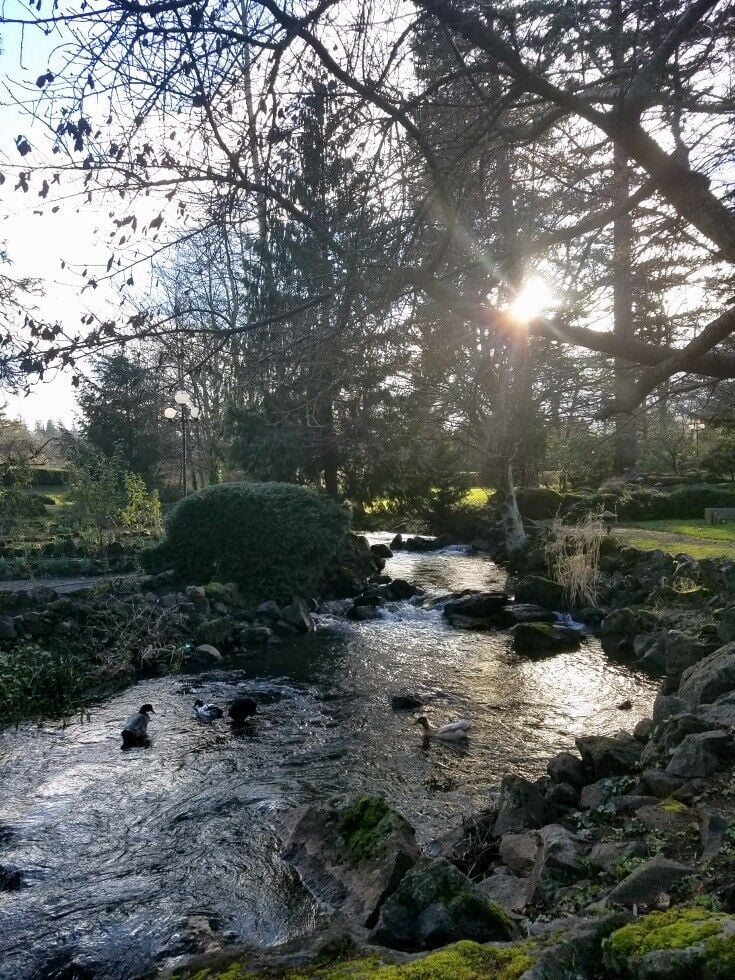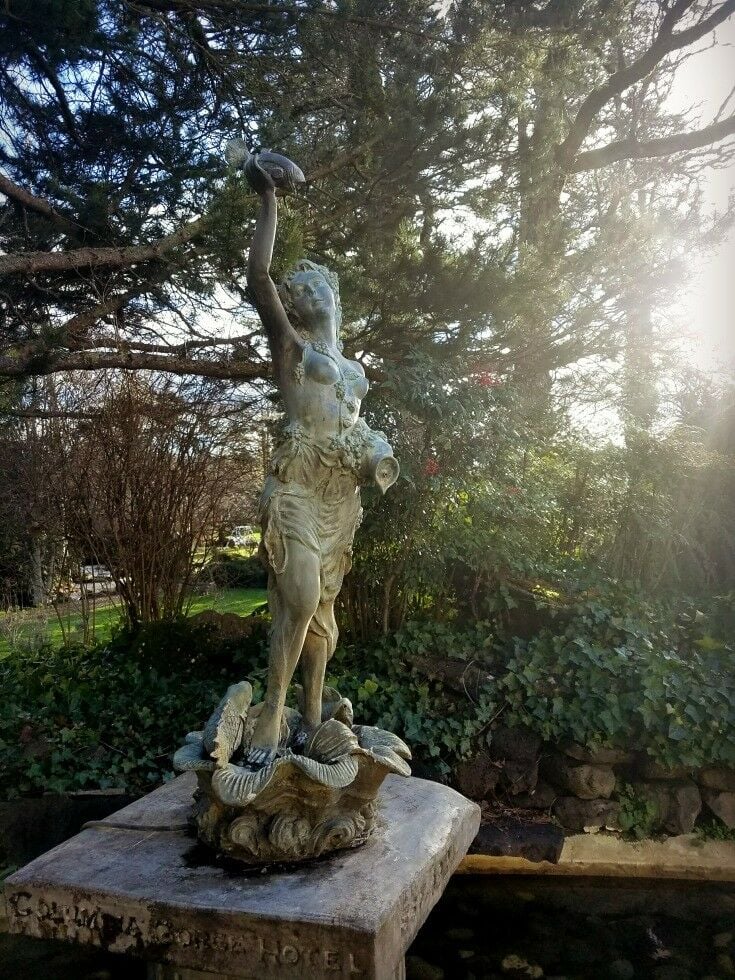 On the river-side of the Columbia Gorge Hotel, you will find Wah Gwin Gwin Falls, where Phelps Creek flows and falls 207 feet into the Columbia. Once known as Lullaby Falls (apparently for the sleep-inducing properties that its soothing water sounds have on hotel guests) Wah Gwin Gwin now takes its name from a Chinook term meaning "rushing waters."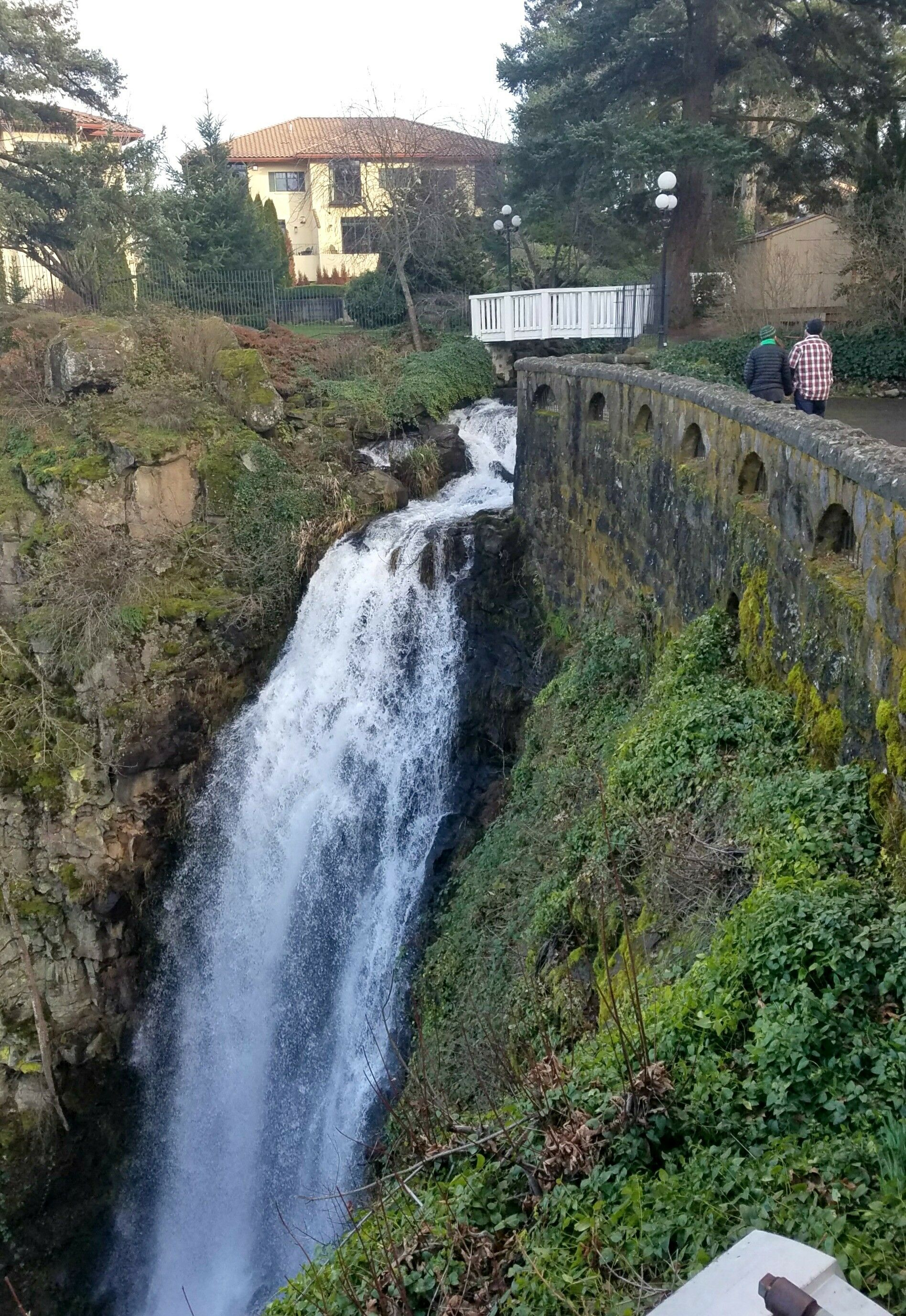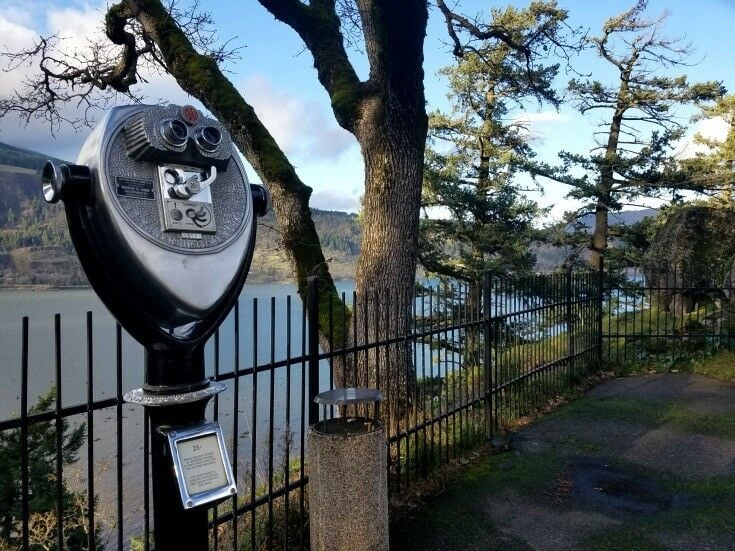 Most people on a romantic getaway like ours would probably choose to dine on a fancy dinner in the hotel's posh restaurant, Simon's Cliffhouse and Valentino Bar. However, Mr B and I have along-standing tradition of homemade Shepherd's Pie on our Valentine's getaway, no matter where we are. Sometimes it takes a little creativity to pull it off, but so far, we've always managed to make it happen. This year, our room had a nice refrigerator to keep things cold, but no microwave to warm it up. Our buddy Rick-the-Awesome-Hotel-Guy saved the day by heating it up for us.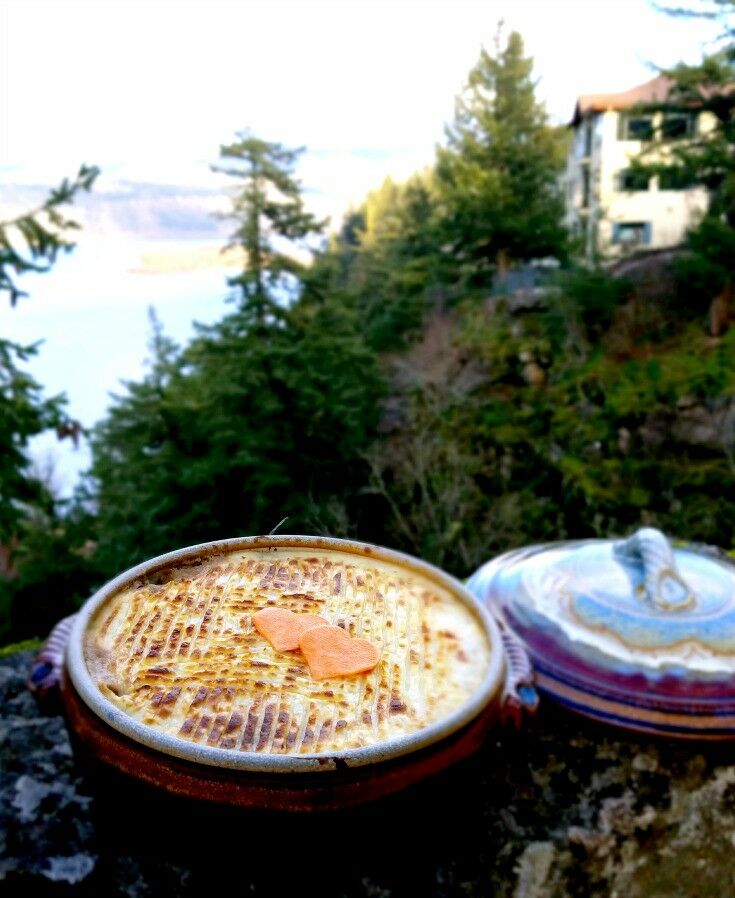 The next morning, we packed up and hopped in the car to make our way back to Portland. Which brings me to this - the first time I've seen the Gorge in the daylight with my own eyes since "the fire.
Top Tip
Weekday rates at the Columbia Gorge Hotel are often literally half that of weekend rates. If you can find the time during the week, it's quite a deal!
Columbia Gorge Recovery: Eagle Creek Fire
UPDATE 2018
If you've read this far, I'm hoping you'll stay with me, because I need to turn a corner and get serious for a moment. I was more than a little anxious about going to the Gorge at all this year. In fact, I've consciously avoided driving through it in the daylight ever since September 2, 2017, when a carelessly set wildfire took off and eventually burned 48,831 acres in the heart of the Gorge, changing its landscape for generations.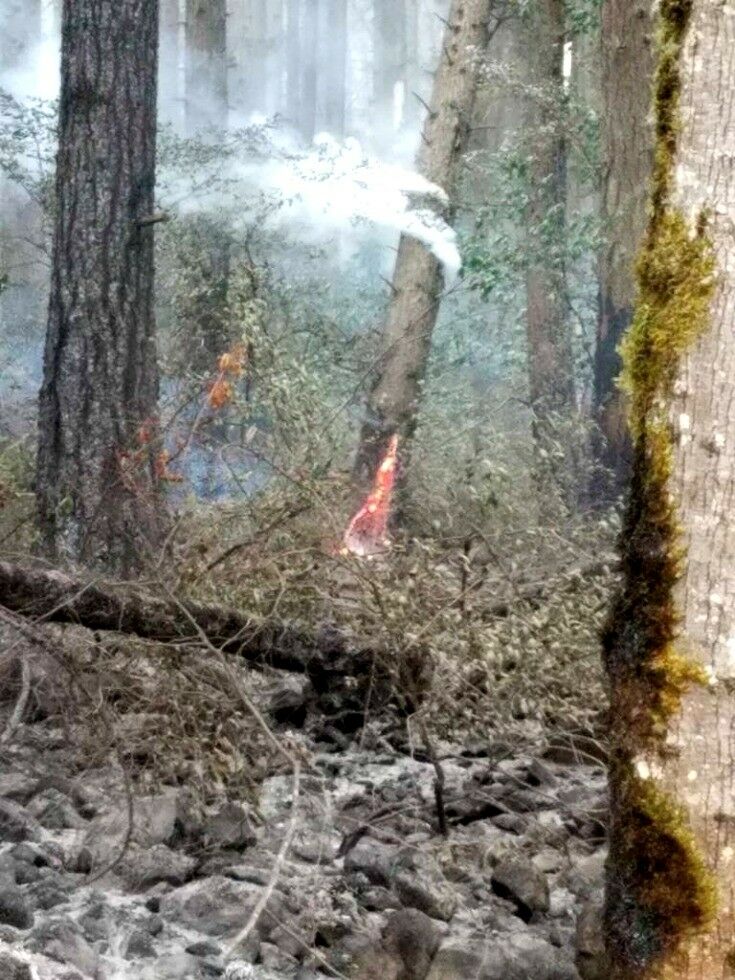 I wish I had taken some pictures while we were driving home that would illustrate the both the devastation and hope. Unfortunately, when Mr B and I were driving through, I was too busy crying to take any pictures. Many thanks to Staci W. [Crafty Staci] for sharing these images of the fire with us. They were taken on her phone from a moving sheriff's car shortly after the fire started.
If you don't live in the Pacific Northwest, you may not understand, but for many of us here, the Columbia River Gorge is far more than just the pretty place we keep our waterfalls. The Gorge is where we root our feet to the earth, and where we search our souls, and where we find our solace. When the Eagle Creek fire rushed through in the fall of 2017, it was as if someone had come in the dark of night and burned down our church. Our synagogue. Our mosque. Our sacred ground.
So, I'm here to report to my PNW brothers and sisters who have not yet visited: what I saw from the highway gave me hope. Now, I know that most of the burn can't be seen from the road, and we really won't get a good feel for the whole of the loss until much later, but I did see more trees than I expected still standing tall. The high ridges, particularly on the west end of the Gorge, are lined with blackened evergreen skeletons, but there is far more life happening on the slopes than I imagined, even in the middle of winter. I may not ever see the Gorge in its full majesty again in my lifetime, but my grandchildren might, and that gives me hope.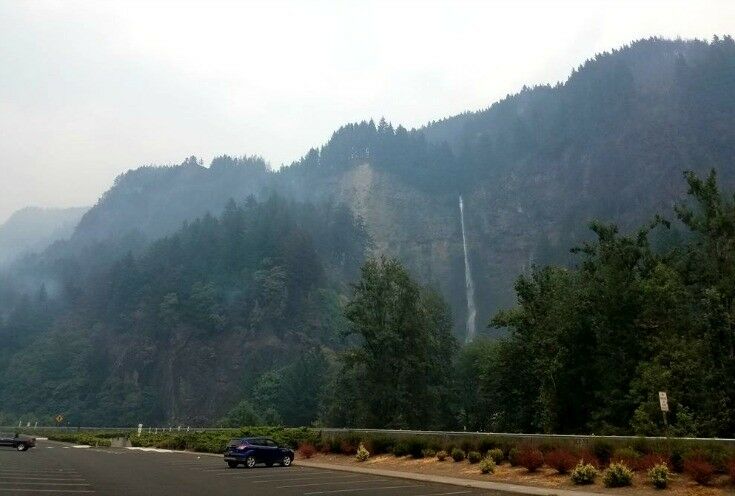 Businesses in the Gorge are waiting for people to return. They need us. If you are thinking of taking a getaway and you live in the Pacific Northwest, consider spending some time in the Gorge. It's still there, waiting for you.
More Pacific NW Destinations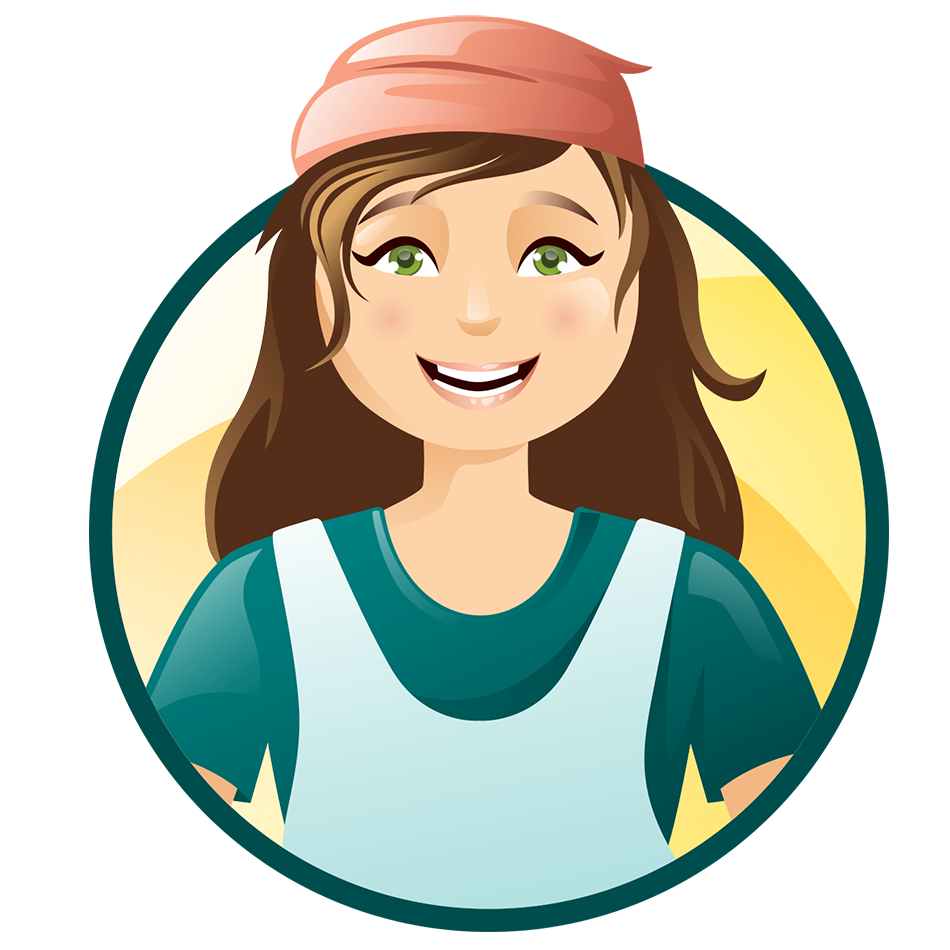 Thank you for visiting the Good Hearted Woman. Remember to bookmark this site, and come back soon!