Homemade chocolate cake from scratch is one of life's true pleasures. Baked with love, a scratch cake has a depth of flavor that is difficult to duplicate with a dry mix. This collection of chocolate cake recipes range from light and fluffy to dense and fudgy, but they do have one thing in common: they are all better baked with love.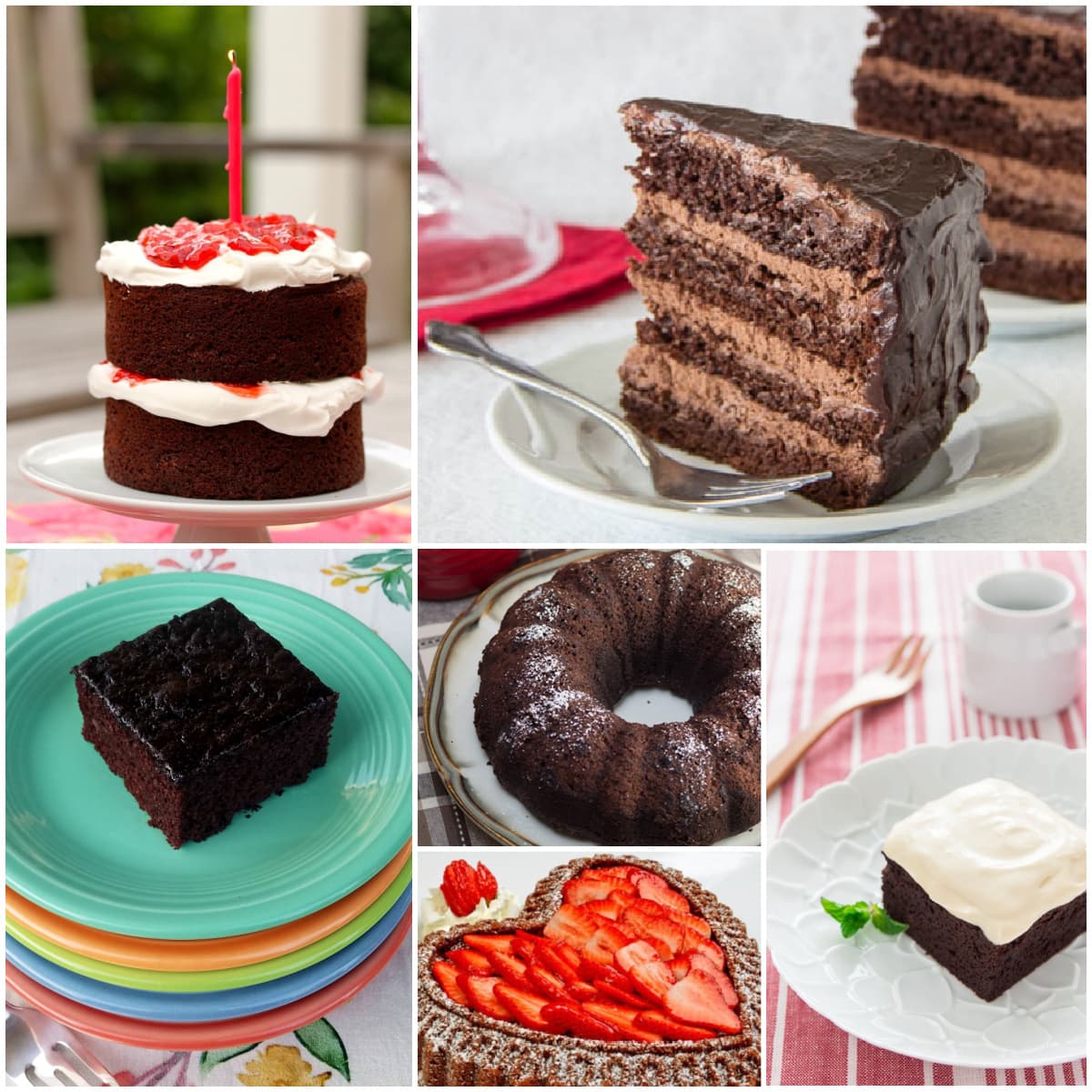 Tips for a Moist, Tender Scratch Cake
Follow the recipe. Use the ingredients, pan sizes, oven temp, etc., as outlined in the recipe, especially if you haven't made the recipe before.
Start with everything at room temperature. That includes butter, shortening, eggs, flour, sugar: everything.
Use cake flour.
Measure everything correctly. Even if you are a pinch and throw cook (I am!), you need to be a meticulous measurer when it comes to baking cakes. Flour is probably the worst culprit when it comes to mis-measuring. When measuring flour, use a spoon level method, in which you spoon the flour from the container into the measuring cup, and then level it off. Do not dip the flour directly out of the bin with your measuring cup, as that can cause the flour to compact, and will dramatically throw off the measurement. (We actually weigh most ingredients now, instead of using a measuring cup. Doing so makes baking more accurate, and cuts down on dishes! A cup of all-purpose flour weighs 120 gm. )
Add eggs one at a time.
Do not over-mix the batter. Once you add the dry ingredients, do not mix the cake more than necessary or you may over-activate the gluten in the flour, which in turn will cause your cake to be too dense.
Carefully prepare the cake pans before filling. No one wants to go through the trouble of making a delicious scratch cake, only to have it stick to the pan. For best results, grease the pan with shortening and then line it with parchment paper.
Use a kitchen scale to measure even layers.
Always preheat the oven. Cake is not one of those things you can just put in a cold oven and let it come up to temperature. Part of the magic happens because you are putting the relatively cold cake batter into the hot oven.
Do not open the oven door to check until roughly 85% of the cooking time has passed. (So for a cake that bakes for an hour, do not check it until it has baked at least 50 minutes.)
Chocolate Cake Holidays (U.S.)
Throughout the year, there are dozens of Food Holidays dedicated to chocolate. These five are devoted to exclusively to chocolate cakes!
January 27 - Chocolate Cake Day
March 28 - National Black Forest Cake Day
May 19 - National Devil's Food Cake Day
June 11 - National German Chocolate Cake Day
October 18 - National Chocolate Cupcake Day
Chocolate Cake Recipes from Scratch
Disclosure: This post may contain affiliate links, including Amazon affiliate links, which means we may receive a commission if you click a link and purchase something that we have recommended. While clicking these links won't cost you any extra money, they do help keep this site up and running. As always, all opinions and images are my own. Please check out our disclosure policy for more details. Thank you for your support!
Recipe Updated March 7, 2022 (Originally published January 27, 2015)