So when Mr. B and I started planning our recent Hawaiian vacation, sun protection was at the top of my list, and I knew a simple sunscreen wasn't going to cut it. I needed a plan.
A Practical Plan & Solid Sun Protection
Knowing that I would be spending an inordinate amount of time in direct sunlight, I knew I needed something that went above and beyond to avoid sunburn.
Then I saw a silver lining: the closet eccentric in me has been dying for an excuse to get a parasol for years! (Because every girl needs a parasol some time, right?)
But when I started looking, all I could find were lacy, Gothic-inspired (or better yet, Hello Kitty) umbrellas, or drab "UV-protectant sunshades." Blech. I wanted something age-appropriate, functional, and pretty.
That's when I found Annie O'Connor Hughes of Umbrellas Hawaii.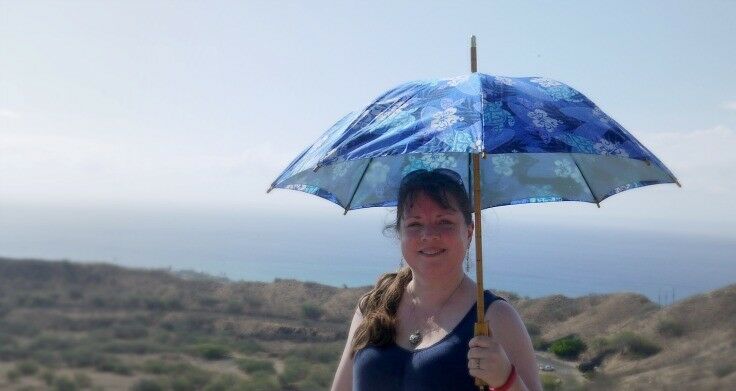 After exchanging a few emails, Annie and I made a date to meet up in Honolulu on the first day of our vacation.
A long-time Oahu resident and artist, Annie shared with me how she founded Umbrellas Hawaii in 2006, after searching out a UV-safe solution for her fair skin (much as I did) and finding nothing that met her needs.
Through our conversation, I learned that Annie is as passionate about the quality of her products as she is about health benefits they provided. Umbrellas Hawaii offers what is basically a high-tech parasol, with island-style designs that offer serious skin protection in a beautiful, tropically inspired product.
Every Umbrellas Hawaii umbrella is lined with Ultra Violet Protective Factor (UPF) fabric that has been tested and certified to block 95%-97% of Ultra Violet (UV) radiation.
When I got my "sun-brella" (as I like to call it), I really didn't anticipate how much of an impact it would have.
I honestly believe my modern-day parasol saved our vacation.
Hawaii was very hot and humid the entire ten days of our trip, and without my self-propelled shade, no amount of sunscreen would have saved me from being burnt to a crisp.
Even if you are like Mr. B and have never had a real sunburn, have you ever had to endure a trip with someone who is badly sunburnt? Does the term "cranky" ring a bell? A sunburn for one can ruin a trip for everyone.
I took my sun-brella everywhere, with the obvious exceptions of snorkeling and kayaking. Needless to say, it is now a permanent fixture on my vacation packing list. (I keep one in my car at all times, too!)
Tips for Choosing a Good Sunbrella
A good sunbrella will have UPF certified fabrics that block 95%-97% of UV radiation.
The seams should be tight and smooth.
Look for fiberglass rods for light weight and optimal strength.
Test the open/close mechanism. On the day we visited to Pearl Harbor, I must a have opened and closed my sunbrella fifty times in one day. My Umbrellas Hawaii sunbrella opens and closes so smoothly that it's easier than opening my purse. I never once had a problem or pinched a finger.
The little pieces at the ends of the struts should be covered and rounded. You don't want to have to worry about poking anyone's eye out with them.
It should be light enough to comfortably carry for long spaces of time.
The handle itself should be comfortable to hold and easy to grip.
It should have good, durable water repellency. I mean, it is an umbrella, right?
In closing, I wish I could fully explain how grateful I am to be sitting here at my computer typing away, just two days after my vacation, and not suffering from post-vacation sunburn and all that goes along with it.
Finally, an umbrella I can use!

THANK YOU so much for being a faithful reader and supporter
of The Good Hearted Woman. • Be sure to PIN this post!
Disclosure: I received my Umbrellas Hawaii sun-brella free to test drive, with no strings attached. This post may contain affiliate links, including Amazon affiliate links, which means we may receive a commission if you click a link and purchase something that we have recommended. While clicking these links won't cost you any extra money, they do help keep this site up and running. As always, all opinions and images are my own. Please check out our disclosure policy for more details. Thank you for your support!