Thin, delicate, and buttery, our easy Basic Vanilla Crepes are perfect for your sweet fillings and toppings. This tried and true basic crepe recipe can be made in a regular skillet, and requires just seven simple ingredients.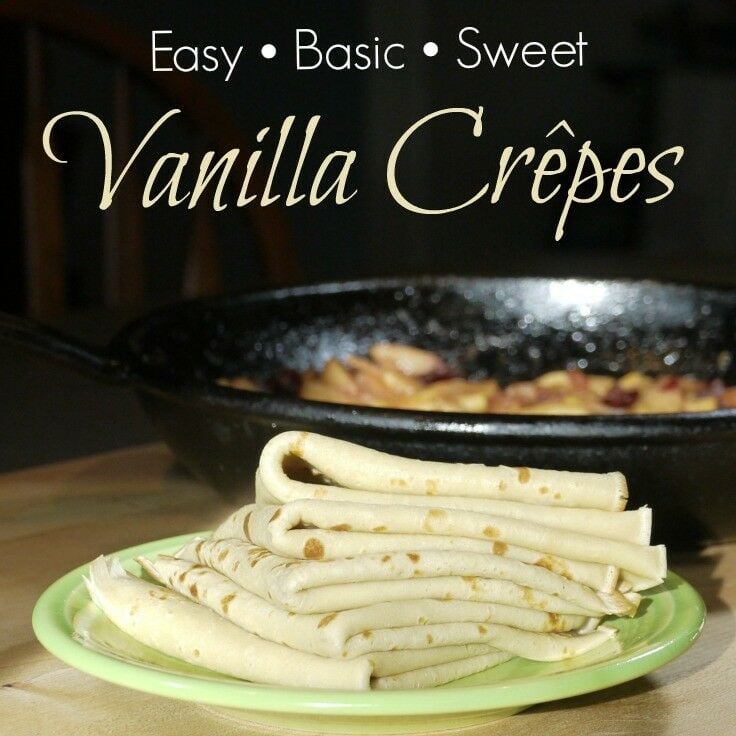 This post may contain affiliate links, but don't worry - they won't bite.
If you can make a pancakes, you can make this basic crêpes recipe. Before you get started though, here are a few tips that will make the process even easier:
Crêpe Batter
Crêpe batter should be thinner and smoother than pancake batter - just thick enough to thoroughly coat a wooden spoon. If your batter seems too thick when you take it out of the refrigerator, add additional milk 1-2 tablespoons at a time until it reaches the desired consistency.
Crêpe batter can be made the night before and left in the refrigerator until you are ready to make them.
When pouring crepe batter into the pan, I pour with my my left hand and simultaneously swirl the the pan with my right hand. (I'm mostly right-handed.) The batter sets up very quickly, and this allows me to distribute it around the pan before it sets.
Flipping Crêpes
Crêpes are ready to flip when the edges start showing the slightest color brown and the center is no longer glossy.
I don't actually use a spatula to "flip" my crêpes. Instead, I use the spatula to gently lift the edge up enough so that I can get hold of it, and then I flip it quickly using my fingers. I cannot, however, encourage you to do this because it may lead to burnt fingers, and I will not be responsible for that. So whatever you do, don't flip your crêpes with your fingers. 😉
Filling Crêpes
The are two basic methods for filling crêpes: the Roll and the Quarter-fold (or Cone). For most applications, I personally prefer the Roll method, but that's just me. However, the Quarter-fold method makes a better presentation for unfilled crepes that just have toppings.
Serving Crêpes
Sweet Vanilla Crêpes can be served plain with just a dusting of powdered sugar and a sprinkle of lemon juice, or filled with your favorite sweet filling.
I prefer to serve my crepes with the second side out: I think it is more interesting to look at. Nevertheless, this is in direct conflict with common practice, which is to hide the second side. It's all just a matter of personal taste as far as I'm concerned, but I thought you should know... just in case you are planning to host a group of snooty French gastronomes for brunch, because then you will probably want to put the browned, first side out.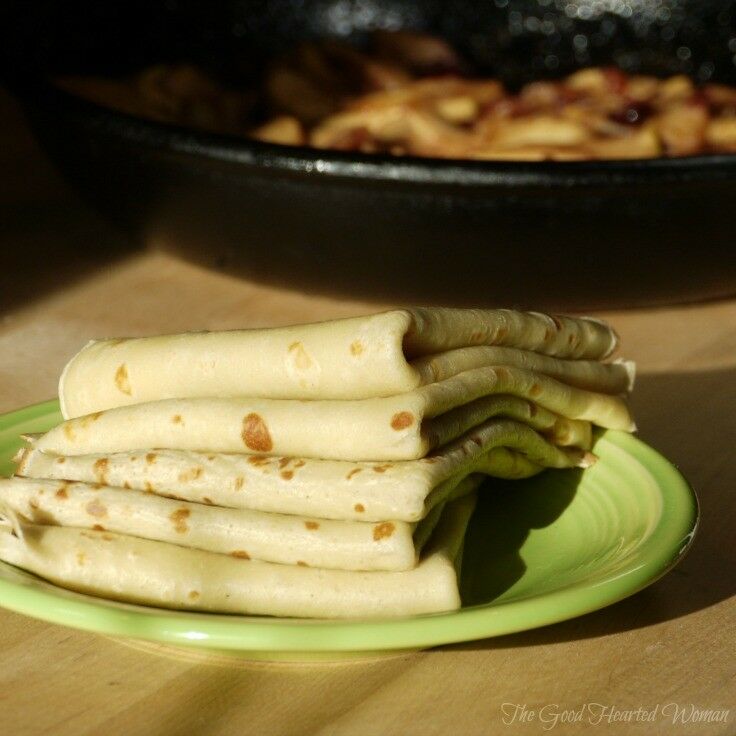 Basic Sweet Vanilla Crêpes (Recipe)
This versatile sweet vanilla crepe recipe is perfect for all your dessert crepes ideas!
Print Recipe
Pin Recipe
Ingredients
Simple fillings or toppings for sweet crêpes include:
A dusting of powdered sugar and a sprinkling of fresh lemon juice

Fresh fruits or berries

Whipped cream

Jam or jelly
Instructions
Put milk, eggs, melted butter, sugar, and salt in blender and process to combine. Add flour and process until smooth.

Allow crepe mixture to sit in the refrigerator for at least an hour before using.
Prepare Crepes
Heat a crêpe pan (or an 8- or 9-inch non-stick sauté pan) over medium-low heat. It is important to find the right temperature for crêpes. When done, crêpes should be very lightly golden.

Start your pan on medium low and work from there.

If you are worried about your crêpes sticking, rub a little coconut oil or extra-virgin olive oil over the surface with a paper towel. Remove any visible oil before proceeding.

Pour ¼ to ⅓ cup crêpe batter into the middle of the heated pan. Immediately swirl it around to create a thin flat crepe that reaches just slightly up the sides of the pan.

(I usually lift it off the burner for this step: it makes it much easier to manipulate the pan.)

Cook for about 1 minute.

The crêpe is ready to flip when the edges are just beginning to turn brown and the batter in the middle is no longer glossy or wet looking.

Using a large, thin rubber spatula, loosen the edges, and then gently flip the crepe. Allow it to cook an additional 30 seconds to a minute.

If you are making another crêpe, don't let the pan set empty on the burner for more than a few seconds or it will get too hot.

Carefully lift edge of crepe with a spatula to test for doneness. The crepe is ready to turn when it can be shaken loose from the pan and the underside is lightly browned. Turn crepe over; cook 30 seconds on other side.
Notes
Flipping Crepes
I usually don't use the spatula to do the actual flipping. I flip the crepe by lifting the edges with the spatula, then I peel it up carefully with my fingers and I flip it over in one fluid motion. If you use this method, be sure to keep you fingers off the hot pan!
Refrigerating Crepe Batter
DO NOT SKIP the refrigeration step. 
Refrigerating the batter after it's been mixed relaxes the gluten, resulting in light, airy crêpes.
Refrigerating and/or Freezing Cooked Crepes
If you wish to store your crepes in the refrigerator, place a stack of cooked, cooled crepes

 inside a heavy-duty zip-top plastic bag.

Crepes may be refrigerated for up to a week, and can be frozen for up to two months.

To defrost frozen crepes, place them in the refrigerator.

Reheat single crepes in a hot, dry pan for a few seconds, or reheat stacks of defrosted crepes in the microwave at 15 seconds intervals.
Nutrition
Serving:
1
crepe
|
Calories:
137
kcal
|
Carbohydrates:
16.7
g
|
Protein:
4
g
|
Fat:
5.7
g
|
Saturated Fat:
3.2
g
|
Cholesterol:
54
mg
|
Sodium:
154
mg
|
Potassium:
52
mg
|
Fiber:
0.4
g
|
Sugar:
4.7
g
|
Calcium:
46
mg
|
Iron:
1
mg
This website provides approximate nutrition information for convenience and as a courtesy only. You are solely responsible for ensuring that any nutritional information provided is accurate, complete, and useful.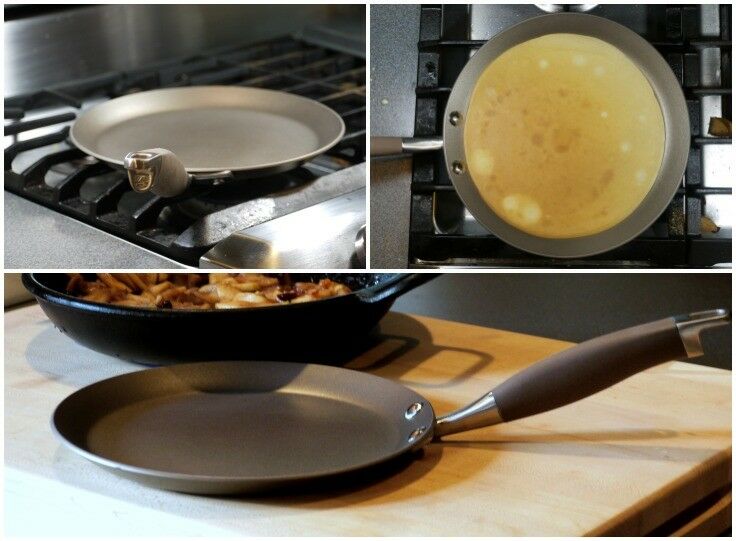 "Hey - that's a pretty groovy little crepe pan you have there! Where'd you get it?"
Well, yes it is, and thank you for asking! Besides being the perfect size and shape to create beautiful crepes, our Anolon non-stick crepe pan has a hard-anodized PFOA-free non-stick coating that is (drum-roll, please) safe for Metal Utensils and guaranteed for life. So cool. So far, I am loving it.
---
THANK YOU so much for being a faithful reader and supporter
of The Good Hearted Woman. • Be sure to PIN this post!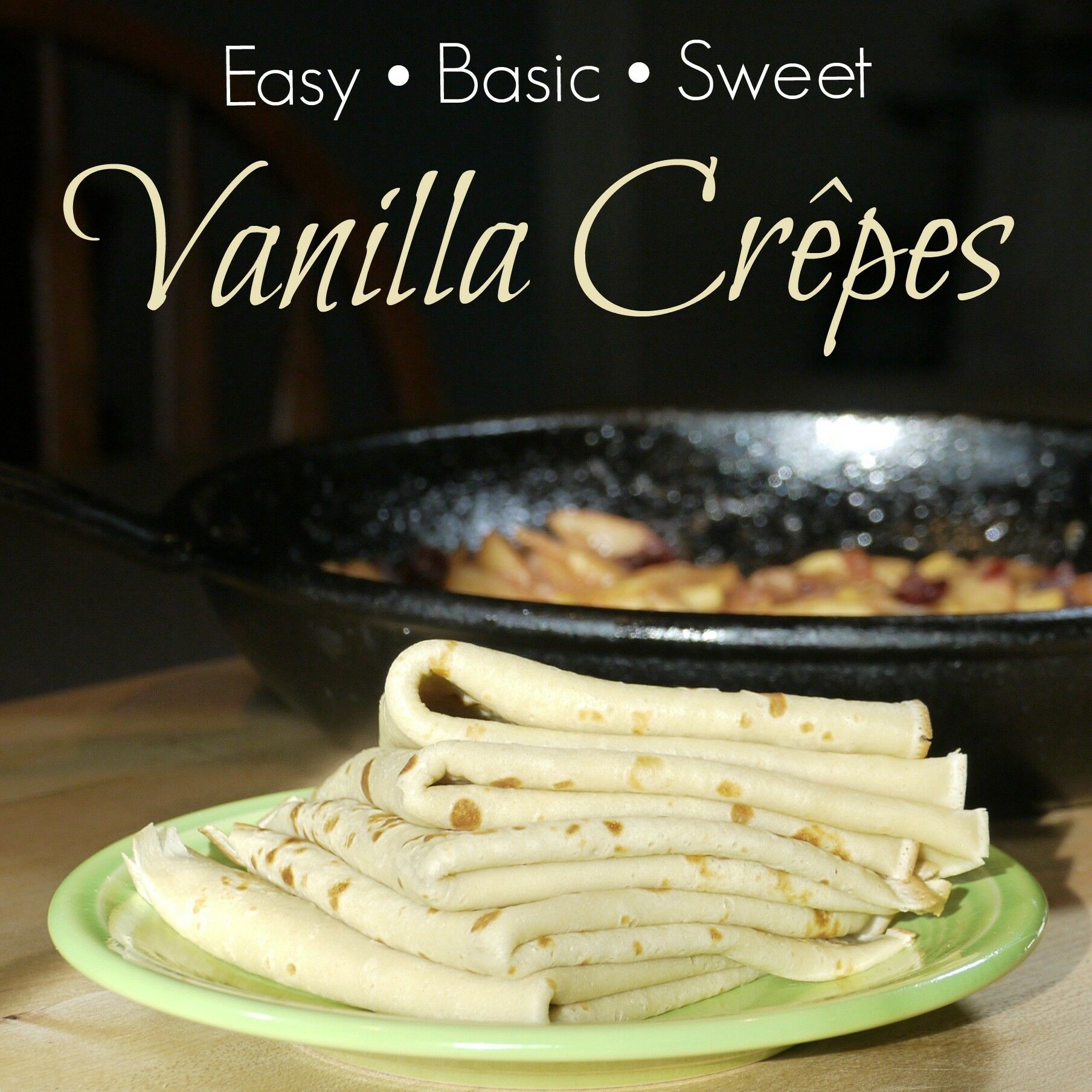 Disclosure: This post may contain affiliate links, including Amazon affiliate links, which means we may receive a commission if you click a link and purchase something that we have recommended. While clicking these links won't cost you any extra money, they do help keep this site up and running. As always, all opinions and images are my own. Please check out our disclosure policy for more details. Thank you for your support!