This is my Mom's recipe for Sourdough Hotcakes. Crisp, light, and slightly tangy, these delicious Sourdough Pancakes make an easy breakfast or brunch.
One of the things that often surprises people when they first try sourdough pancakes is how light and fluffy they are. They have a slightly sweet, mildly tangy flavor, and are so worth the effort. Plus, not only are these hotcakes tender and delicious, but they are a perfect way to use up your sourdough discard too!
This post may contain affiliate links, but don't worry - they won't bite.
I guess I was around four the first time I remember having sourdough pancakes.
We were staying up at Mister and Missus Houston's vacation place up on the mountain between Rhododendron and ZigZag. When you stepped into their little cabin, the first thing you saw was the stone fireplace and the main room, about half the size of our living room at home. From the main room, you could go straight through into the kitchen and eating area, and then turn a corner to the Houston's bedroom, and the extra bedroom beyond, where my parents slept; or you could go left and up the sturdy wooden staircase that led to the loft, where Karen and I stayed.
Karen was the Houston's daughter. She was about six or eight years older than me, but since I was the only other kid there, we got thrown in together.
If I remember right, the cabin had been in Missus Houston's family for many years; generations, even. It was old and snug, and I loved being there. Whenever I hear the song Grandma's Feather Bed, the big feather bed that Karen and I shared up in the loft is the one I think of.
The Houston's cabin had no electricity or central heat, but Missus Houston had one of those big, old-timey wood cooking stoves, and she kept a fire going in it all the time. She would let it die down at night, and stoke it up in the morning. On crisp mountain mornings, the spot right by the stove was always the warmest place in the cabin.
I can remember smelling the sourdough pancakes long before I tasted them, their scent mingling with maple and sausage and strong black coffee as it wafted up the stairs to us. Karen and I followed the breakfast smells down to find our mothers in the kitchen, pouring pancake batter into a huge cast iron skillet and stacking thick, lace-edged pancakes on a big plate that set on the stove's sideboard.
When I sat down to the table, and my mom gave me a plate stacked with three thick pancakes the size of my palm. Silver Dollar Hot Cakes, she called them. Then she turned her fork on its side and cut them into neat little triangles for me. Missus Houston asked if I wanted maple syrup or Marion berry, and like any good Oregonian, I chose Marion berry. There was so much to take in: the mountain and breakfast smells, the giant blue-speckled coffee pot percolating on the stove, the sounds of pancakes sizzling in the skillet and my mother laughing with her friend.
My fork speared one of the little pancake triangle stacks and then the next, and I ate silently, pausing between bites only for a swallow of milk to wash it all down.
When my mother died a few years ago, My mother died recently, I ran across a stack of hand-written recipes while sorting through some of her things. There are a handful of them that I hope to eventually share with you, but her Sourdough Hotcake recipe comes first. Mostly, because I needed to make them.
Mama standing by the woodstove in her housecoat, spatula in hand, and the smell of sourdough hitting hot oil on cast iron, and the steam rising off the fresh stacks... one bite of these pancakes brings it all back like it was yesterday.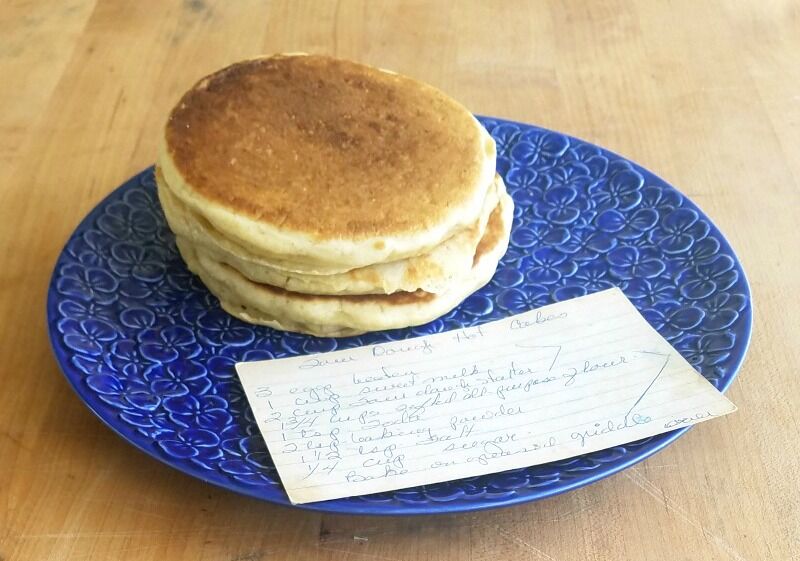 I've reduced Mom's recipe so that it makes about ten 5-inch pancakes instead of twenty. I did this for couple of reasons; mainly, because I rarely have two extra cups of sourdough starter; and also because (these days) we just don't need to make twenty or so pancakes at one time.
However, if you decide to double the recipe, you can add an extra egg if you want to. (Also, if you're keeping track, there are further directions on the back of the card about adding butter, etc.)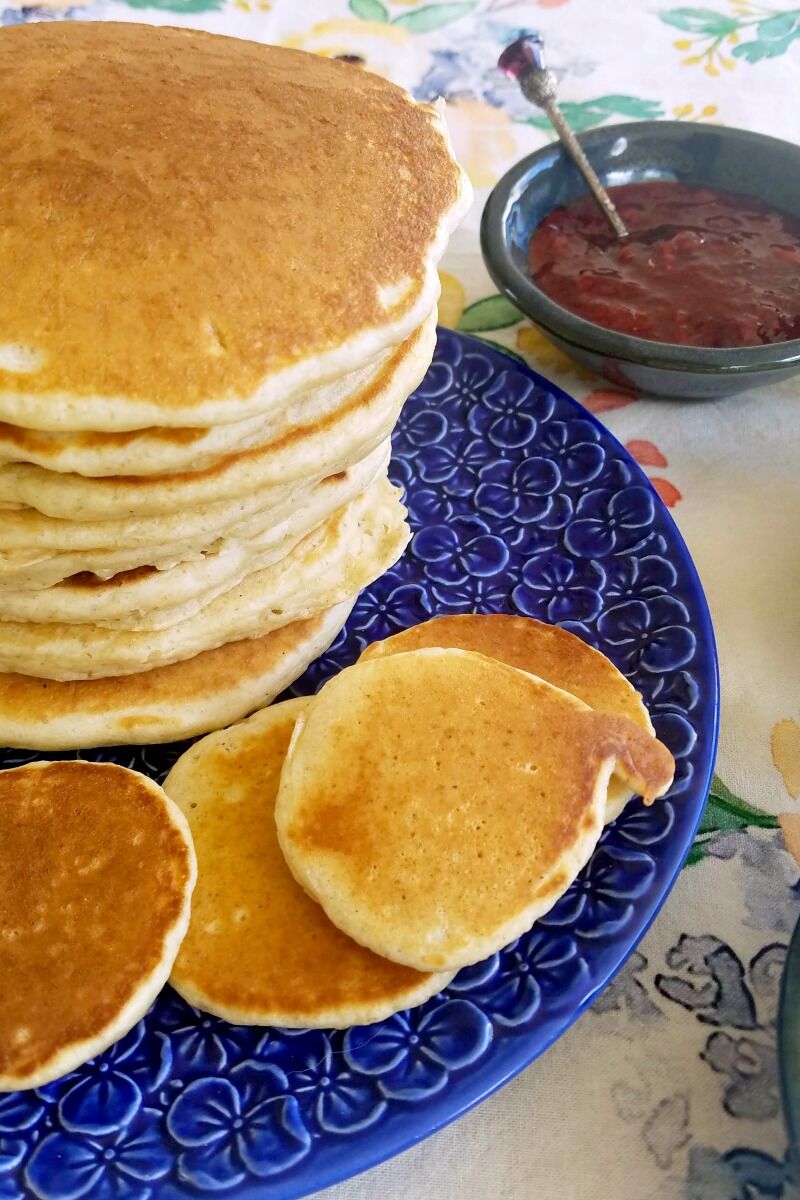 More delicious sourdough recipes: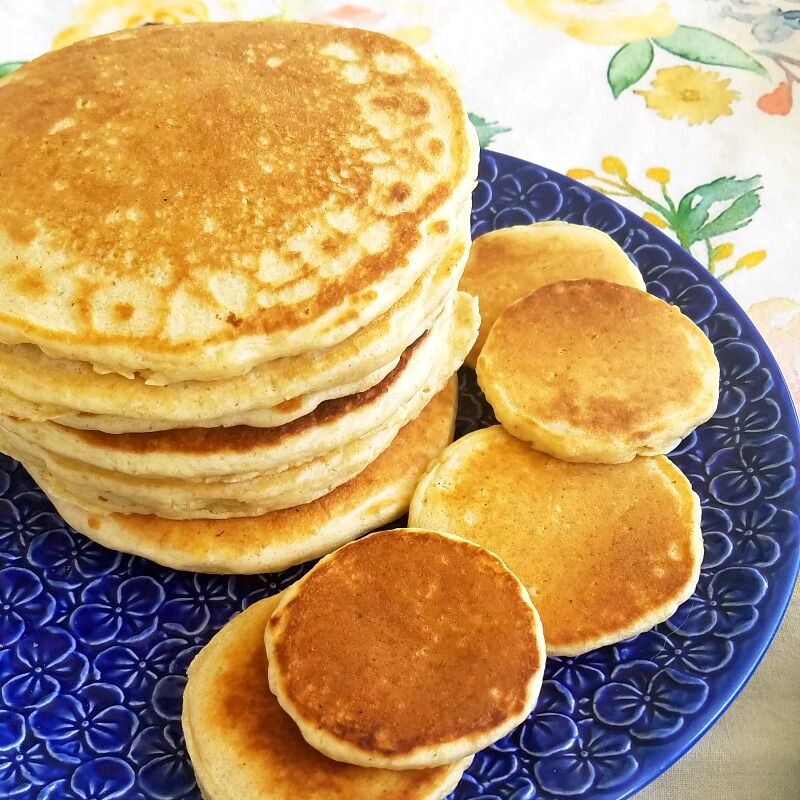 Sourdough Pancakes
Crisp, light, and slightly tangy, these delicious Sourdough Pancakes make a delicious breakfast or brunch. (They're also an easy, practical way to use your leftover sourdough starter!)
Print Recipe
Pin Recipe
Instructions
Start with leftover starter [Discard] or Unfed Starter. Starter should be healthy, but should not have been fed in the last 12 hours.

This recipe is very forgiving. Use one cup, more or less.

Sift dry ingredients (flour, sugar, baking powder, salt, and baking soda) together into a medium bowl.

Add wet ingredients (e.g., sourdough starter, milk, egg, and melted butter) to dry ingredients.

Whisk to thoroughly combine. The mixture should begin to bubble almost immediately.

Preheat griddle or skillet to 325°-350° F. When griddle is hot, spray it with cooking spray or lightly oil it with a neutral oil. (I use extra light olive oil.)

Pour ¼ cup of pancake batter onto the preheated, oiled griddle or skillet.

Flip pancakes over when the top begins to bubble and the bubbles do not fill in.

Cook pancakes for an additional 1-2 minutes, or until they cooked through.
Nutrition
Calories:
101
kcal
|
Carbohydrates:
15
g
|
Protein:
3
g
|
Fat:
3
g
|
Saturated Fat:
2
g
|
Polyunsaturated Fat:
1
g
|
Monounsaturated Fat:
1
g
|
Trans Fat:
1
g
|
Cholesterol:
26
mg
|
Sodium:
308
mg
|
Potassium:
40
mg
|
Fiber:
1
g
|
Sugar:
3
g
|
Vitamin A:
117
IU
|
Vitamin C:
1
mg
|
Calcium:
42
mg
|
Iron:
2
mg
This website provides approximate nutrition information for convenience and as a courtesy only. You are solely responsible for ensuring that any nutritional information provided is accurate, complete, and useful.
What's the difference between Hotcakes and Pancakes?
Pancakes, by broad definition, include any flat, pan-fried cake that is flipped in order to complete cooking. They are nearly always round (unless you're into fancy pancake art) and are cooked on an oiled griddle or frying pan. Pancakes may be leavened or unleavened, and can be sweet or savory; a list which includes everything from potato latkes to french crepes.
Hotcakes are a specific type of pancake; however, from what I can tell, what you call your hotcakes depends a lot upon where you're from. In many parts of the United States, the terms pancakes, flapjacks, griddlecakes, and hotcakes are used interchangeably.
American hotcakes (or breakfast pancakes) usually include milk, eggs, flour, and fat (i.e., butter, oil, etc.), and they also always includes a leavening agent, making them rise and puff up when cooked. In contrast, when I was researching this, I learned that British pancakes are often unleavened and resemble a crêpe.
All that said, my mother was from Missouri, and was particular about things like this. She would tell you that the recipe shared here is for Hot Cakes [two words] and they look and taste nothing like their flat, thin pancake cousins.
Frankly, you can call them whatever you want; because whatever they are called, they're always delicious!
Stages of a Healthy Sourdough Starter
Use Discard or Unfed Starter for this recipe.
Fed Starter – Fed Starter is active, healthy starter that has been fed within about 2 hours. By hour 2, it will be producing little bubbles on the surface.
Active Starter – Starter is Active about 5 hours after feeding. By hour 5, you should be able to watch large bubbles actively rising through the Starter and making their way to surface.
Ripe Starter – Starter is considered Ripe about 8 hours after feeding. The volume has doubled, and the top is just beginning to show signs of sagging under its own weight.
Unfed Starter – Unfed Starter is healthy, vigorous Starter that has not been fed for 12 hours or more. By hour 12, it collapsed after Ripening, and is ready to be fed again or put in the fridge until next time. (Note that this is NOT neglected Starter that hasn't been fed in days.)
Discard – Sourdough discard is the portion of your sourdough starter that you get rid of when you do a feeding. It should be healthy and vigorous, with some small bubbling activity.
Sourdough Starter: If you do not yet have a sourdough starter, there are a number of ways to get one; including making a rye sourdough starter [ready to use in 5-7 days] or starting one from dried starter flakes [ready to use in 10+ days].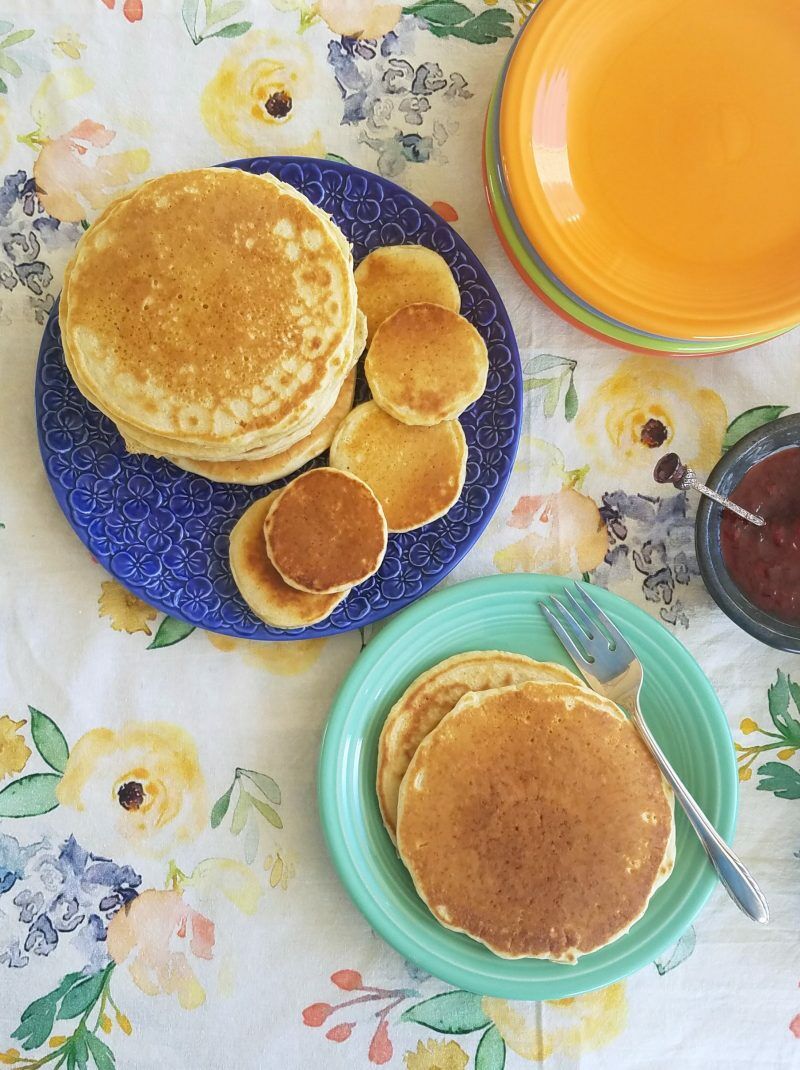 THANK YOU so much for being a faithful reader and supporter
of The Good Hearted Woman. • Be sure to PIN this post!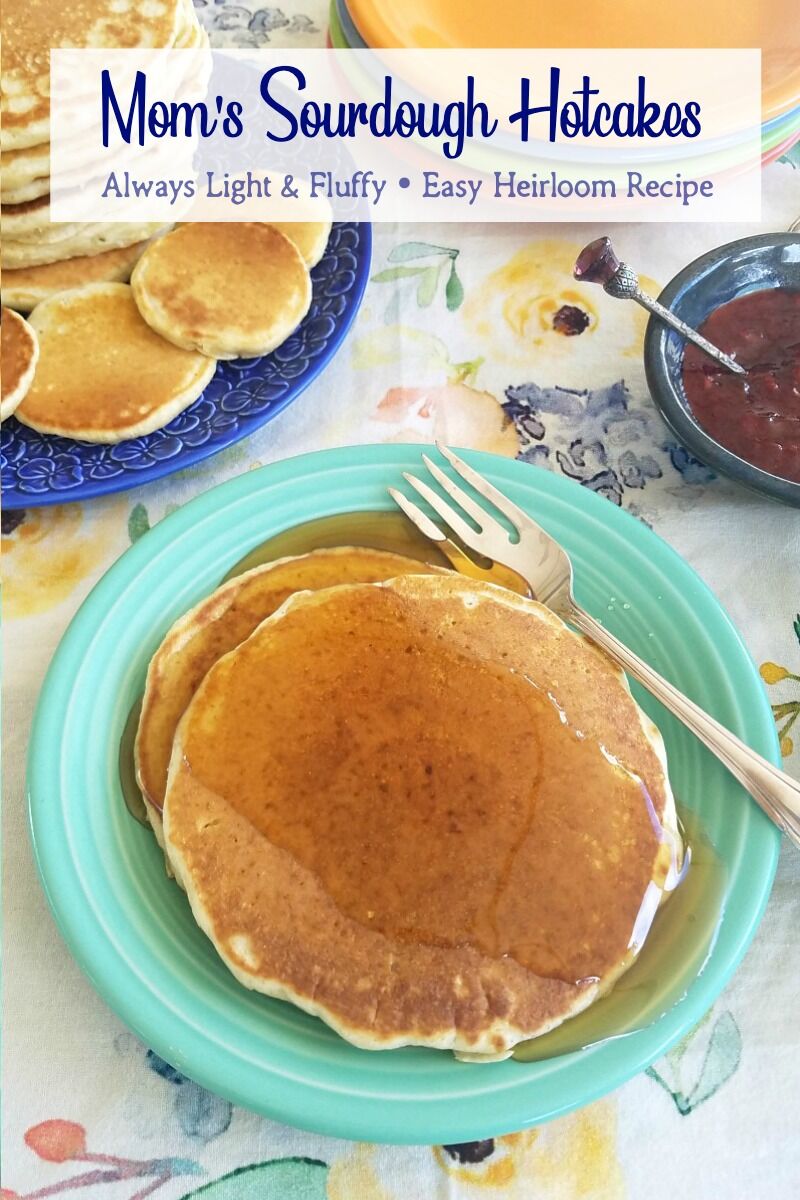 Disclosure: This post may contain affiliate links, including Amazon affiliate links, which means we may receive a commission if you click a link and purchase something that we have recommended. While clicking these links won't cost you any extra money, they do help keep this site up and running. As always, all opinions and images are my own. Please check out our disclosure policy for more details. Thank you for your support!