Our easy Homemade Fortune Cookie recipe provides an easy, step-by-step directions. Add a DIY Takeout Box and personalized fortunes for an extra-special touch!

This post may contain affiliate links, but don't worry - they won't bite.
No matter how old you are, the moment when you crack open a fortune cookie still holds a little magic, and personalized fortune cookies are a great way to say I Love You! (Or Happy St. Patrick's Day, or Joyous Arbor Day, or whatever day you want to celebrate.)
This post included everything you need to create personalized homemade fortune cookies, and deliver them in an adorable, easy-to-make Takeout Box!
Chinese Takeout Box DIY

Printable Valentine's Day Fortunes

Homemade Fortune Cookie Recipe & Instructions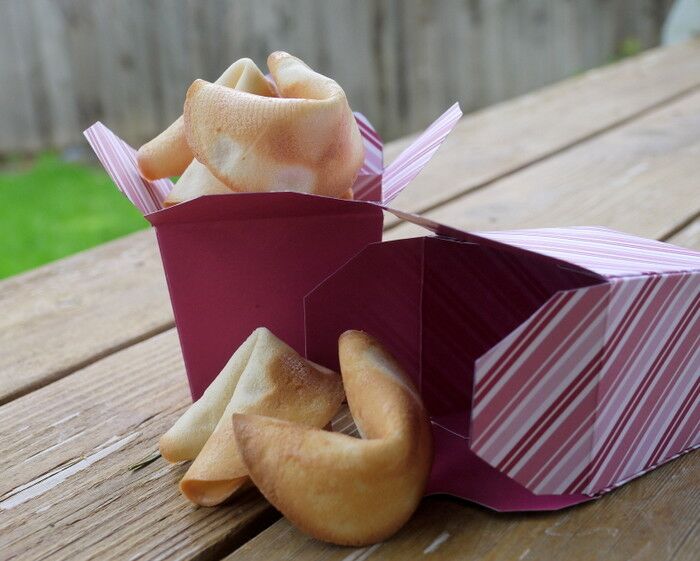 Post Updated January 30, 2020 (Originally published February 12, 2015)

How to Make a Chinese Takeout Box
Just print out the handy Chinese Takeout Box Pattern [PDF] and follow the easy instructions.
One box will take the seasoned crafter about 5 minutes (and those with four thumbs about 15 minutes).
Yield: 1 Takeout Box
Chinese Take-out Box DIY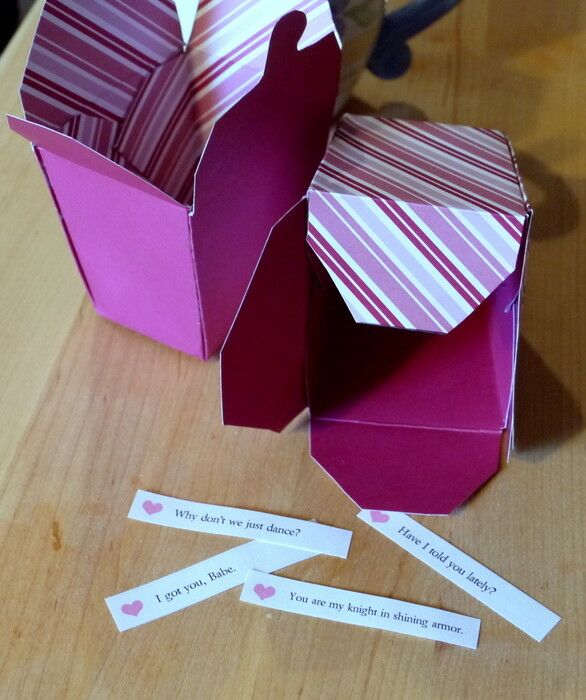 Printable pattern and instructions for an easy-to-make folded Chinese Takeout Box, perfect for gift-giving!
Instructions
Print out the Chinese Takeout Box pattern. Be sure to hit "fit for page" before you print.
Trace the pattern onto the back of a piece of heavy scrapbooking paper or cardstock.
Use scissors to cut along the SOLID BLACK lines.
Valley fold along the DOTTED BLUE lines. - In a valley fold, the crease is at the bottom and the paper is folded forward into itself. The paper should form a "V" when you unfold.
Mountain fold along the SOLID ORANGE lines. A mountain fold is the opposite of a valley fold. The paper folds to the opposite side.

Printable Personalized Fortune Cookie Fortunes
Personalized fortune cookies are perfect for kids, friends, family, teachers, and anyone else you want to surprise!
Here are plenty of printable fortunes for your sweetheart, plus a page full of blanks for you to personalize!
TIP: Look to your favorite songs for fast fortune-writing.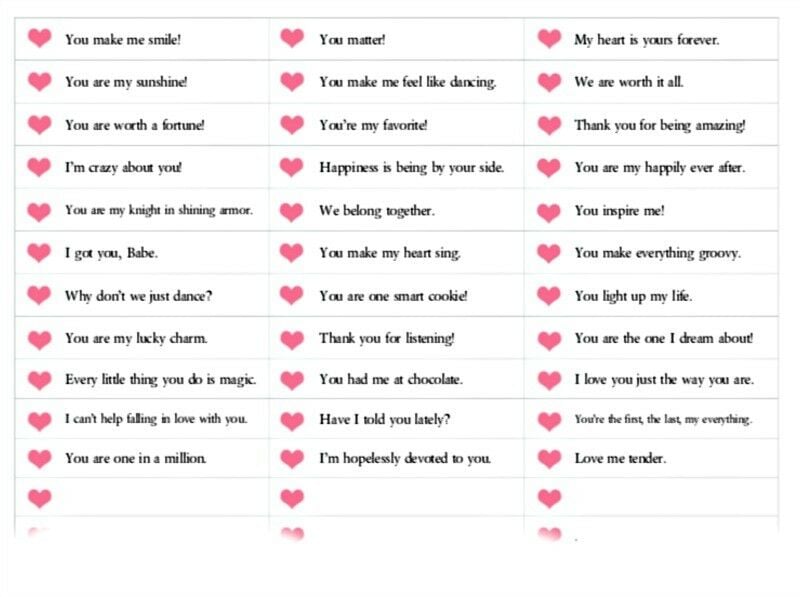 Fortune Cookie Recipe & Instructions
Following the fortune cookie recipe below, it will take about 40 minutes to make 24 cookies. (Add about 15 minutes plus cooling time if you want to dip them in chocolate.)
Homemade Fortune Cookies
Personalized homemade fortune cookies are a great way to say I Love You!
Print Recipe
Pin Recipe
Equipment
Cookie Sheet

Standard Muffin Tin
Ingredients
Optional:
Dipping Chocolate

Sprinkles
Instructions
Before you make the first cookie:
Preheat oven to 375°.

Gather your materials: you will need a cutting board, a coffee mug and a muffin tin.

Print out and cut fortunes.

Be sure to do this before you bake the cookies. You will not have time to do it when they come out of the oven!
Mixing the batter:
In a blender or mixer, combine egg whites and sugar.

Beat for about a minute, and then add flour and salt and beat another 30 seconds. (I do this all in my blender.)

Add melted butter, heavy cream, and vanilla and almond extracts and beat until mixed.
Making the cookies:
Spoon 1 tablespoon of dough onto silicone baking sheet or parchment paper. (I use a Silpat sheet.)

Spread batter with the back of a spoon into a thin 4-5 inch circle.

Start by making 2 circles at a time. (I don't ever do more than 3 at a time.)

Bake for 5-6 minutes, or until the edges are lightly browned.

Remove from the oven.

Immediately take one cookie and place it on a wooden cutting board.

Keep bottom (the side that was "down" while cooking) down.

Place a fortune in the middle of the cookie and fold in half.

Place the middle of the flat side over the edge of a coffee mug.

Pull the corners down to shape.

Repeat process until all the batter has been used.
Notes
No matter how crafty you are, plan on a few broken cookies.  They are going to happen – accept it.  It's OK though – just dip them in chocolate and enjoy.
Be sure to have everything ready before you put the first cookie in the oven. I know I already said this. I'm saying it again.
Cookies are HOT when the come out of the oven. (Can a get a "Duh"?) You can wear non-cotton gloves if you want, but I find that very cumbersome. Instead, I use my fingernail to peel the cookie off the Silpat sheet, and then handle them gingerly with the tips of my fingers.  Either way, you have been warned.
DO NOT try to make more than 3 or 4 cookies at a time, no matter how awesome you are. It won't work. Really.
If your cookies cool too fast, 15-30 seconds back in the oven will soften them… a little.
Wait until the cookies are completely cool before attempting to dip them. This just makes sense, but some people try to rush the process. Don't be one of them.
There are many recipes for fortune cookies out there, but in my experience, this is the best one. (It has 25% less sugar than most and the cookies are still plenty sweet, just so you know.)
Nutrition
Serving:
1
cookie
|
Calories:
74
kcal
|
Carbohydrates:
10
g
|
Protein:
1
g
|
Fat:
3
g
|
Saturated Fat:
2
g
|
Cholesterol:
9
mg
|
Sodium:
42
mg
|
Potassium:
14
mg
|
Fiber:
1
g
|
Sugar:
6
g
|
Vitamin A:
100
IU
|
Calcium:
3
mg
|
Iron:
1
mg
This website provides approximate nutrition information for convenience and as a courtesy only. You are solely responsible for ensuring that any nutritional information provided is accurate, complete, and useful.
How to Form a Fortune Cookie - A Closer Look
Place a fortune in the middle of a warm cookie and fold in half.
Place the middle of the flat side over the edge of a coffee mug.
Pull the corners down to shape.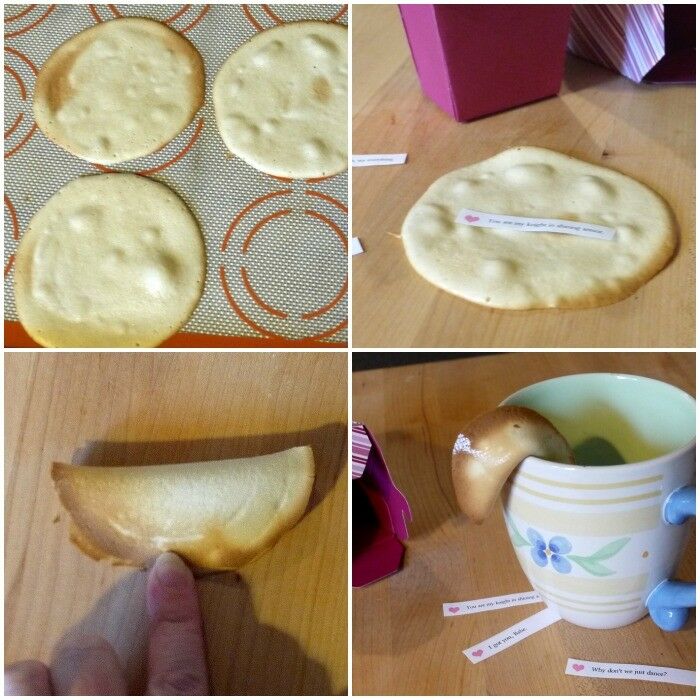 Immediately place the formed fortune cookie into a muffin cup and allow it to cool completely.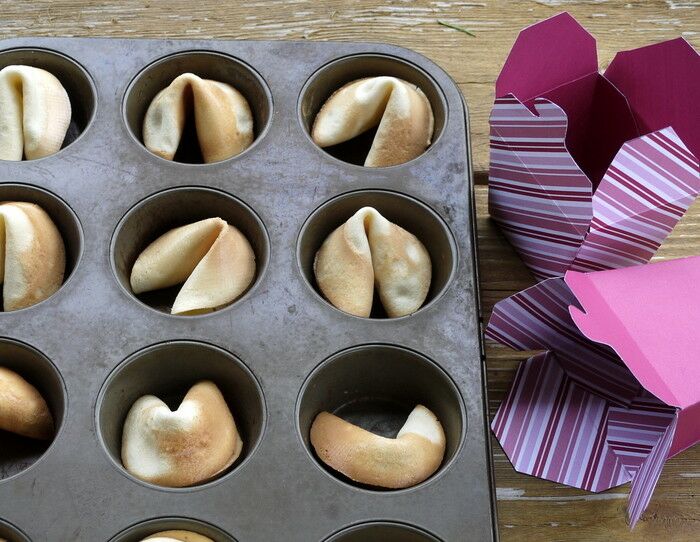 PRO TIP:

Color code your homemade fortune cookies!
If you choose to dip-n-sprinkle your cookies, you can avoid fortune-awkwardness (like giving your daughter a fortune that says "You are my Knight in Shining Armor"). Just use different sprinkle combinations for your Sweetheart, kids, friends, etc. (If you choose to leave them plain, you're on your own.)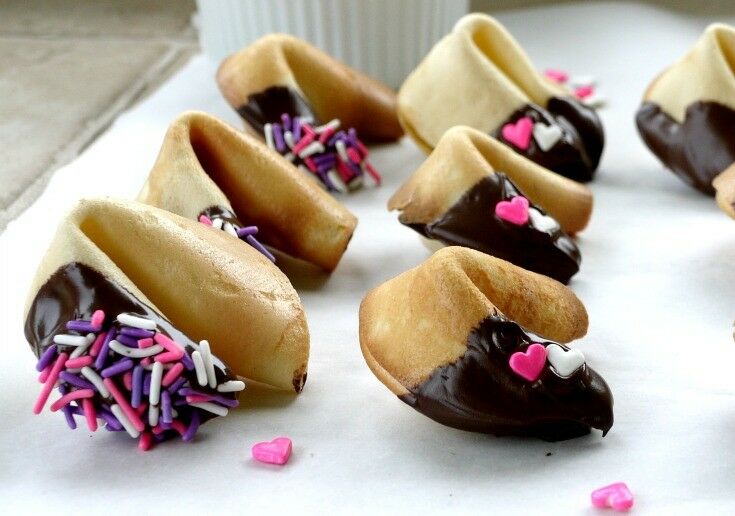 Valentine's Day Dinner Idea:
Looking for a dinner recipe that says, "I love you"? Shepherd's Pie is a Valentine's Day tradition at our house. The epitome of comfort food, it is one way to show the people who mean the most in this world how much they are loved.
Check out this post from the DIY Network for more cute and easy Valentine's crafts!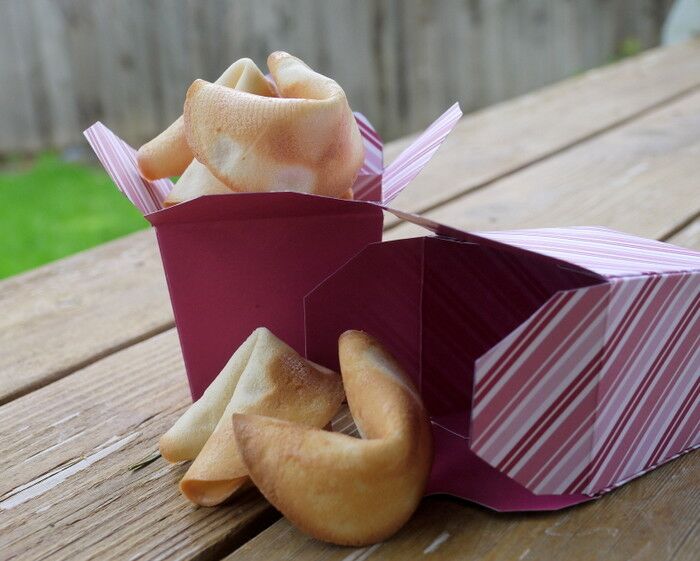 THANK YOU so much for being a faithful reader and supporter
of The Good Hearted Woman. • Be sure to PIN this post!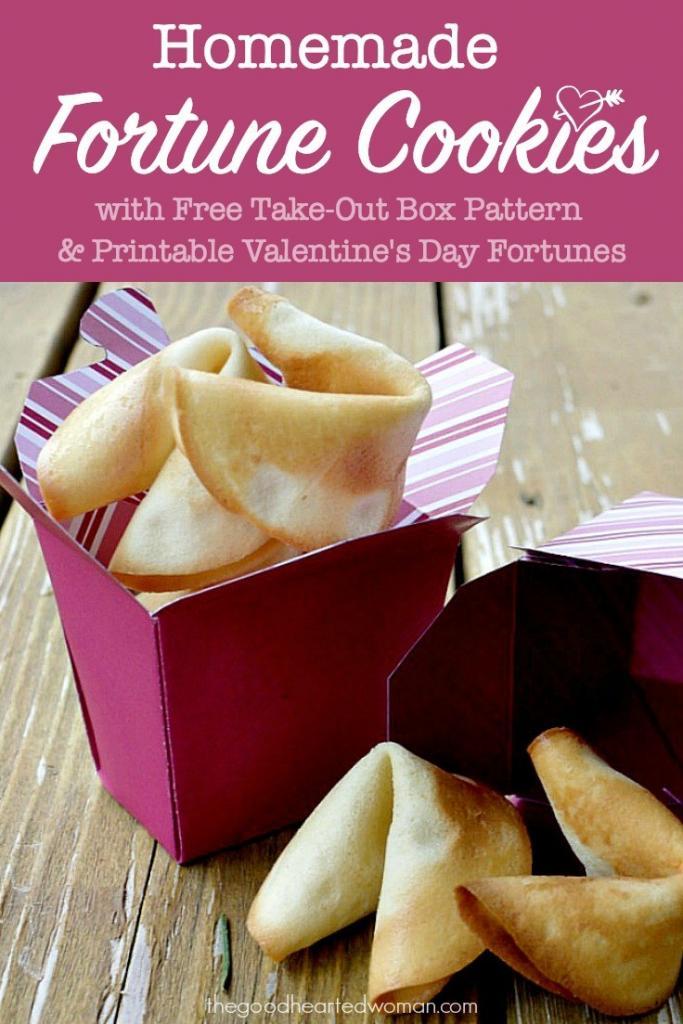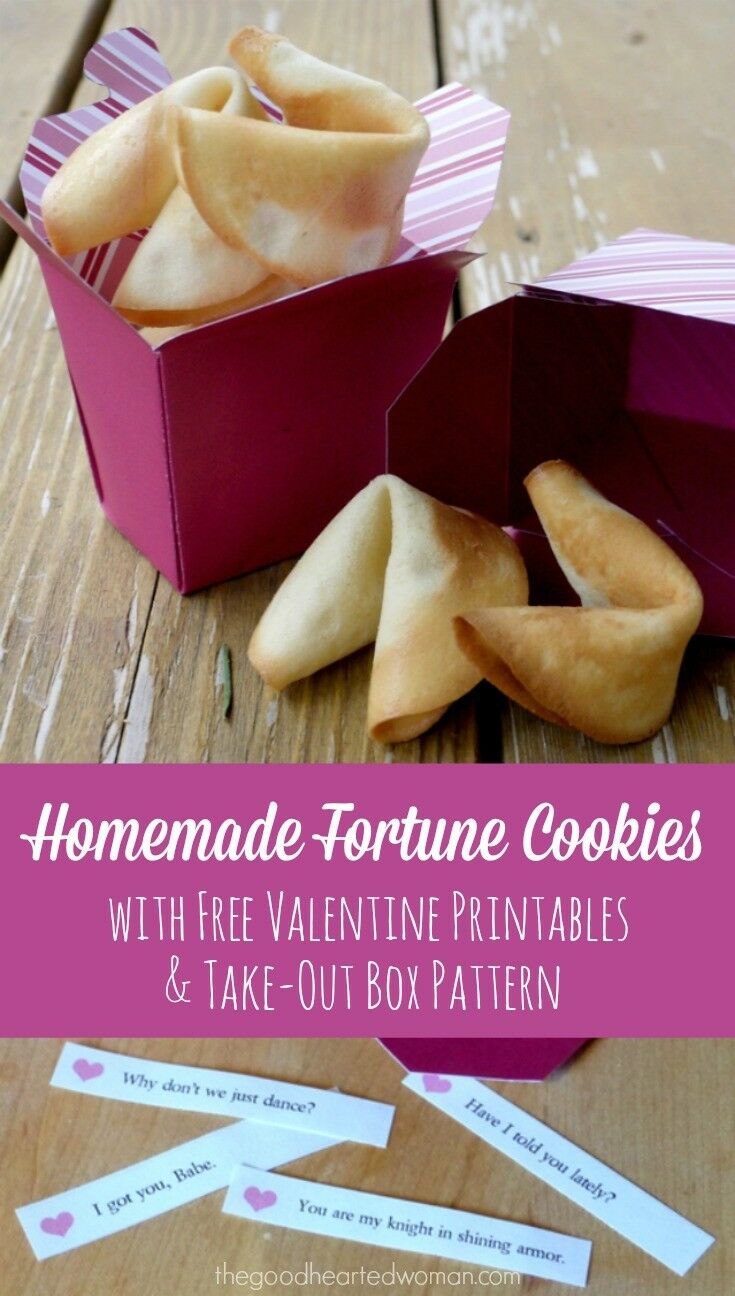 Disclosure: This post may contain affiliate links, including Amazon affiliate links, which means we may receive a commission if you click a link and purchase something that we have recommended. While clicking these links won't cost you any extra money, they do help keep this site up and running. As always, all opinions and images are my own. Please check out our disclosure policy for more details. Thank you for your support!