In which Mr B and I attend a cooking demonstration class with Chef Andrew Garrison, get to be "beta-diners," and learn how to make dinner-party-worthy Pan-seared Sturgeon.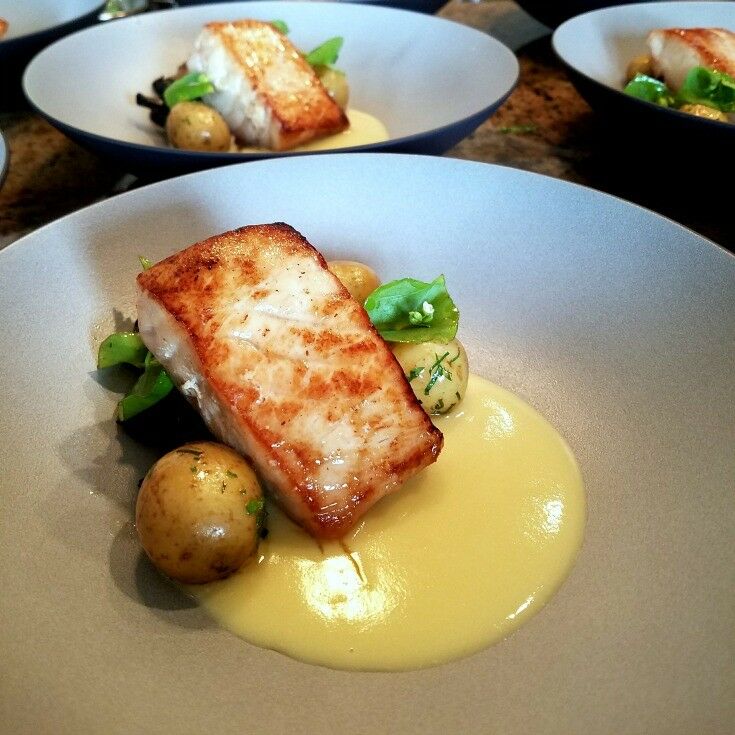 Many thanks to the Headlands Coastal Lodge & Spa for hosting our stay and for providing our cooking class with Chef Andrew. This post may contain affiliate links, but don't worry - they won't bite.
One of the unique features of the new Headlands Coastal Lodge in Pacific City, Oregon is the culture of adventure they seek to offer guests. Erstwhile concierges, known as "Adventure Coaches," organize and guide Lodge guests in a large number of activities, including dory boat tours, crabbing, kayaking, and cooking. The day Mr B and I spent with the Headlands Adventures Coaches was wet and blustery, so we chose a cooking class over kayaking. Our instructor for the day was none other than Meridian's Executive Chef Andrew Garrison.
[Meridian is the Headlands Coastal Lodge in-house restaurant. Read our profile of Meridian here.]
Chef Andrew, until recently the executive chef of Salishan Lodge & Golf Resort, is a Minnesota native and a graduate of Le Cordon Bleu College of Culinary Arts of Minneapolis/St. Paul. He specializes in wine and food pairings, foraging, whole-beast butchery, charcuterie and gluten-free cooking, and developing seasonal menus; the latter a skill already clearly reflected in Meridian's constantly changing seasonally-focused menu.
When we arrived for our class, held in one of the condos-cottages adjacent to Headland's, Chef Andrew informed our group that he would be preparing a dish he was planning to add to the menu - "Pan-Seared Sturgeon with Sautéed Chanterelles and Baby Yukons" - and we were to be his guinea pigs. (Or, as one of our group quipped, "beta-diners.")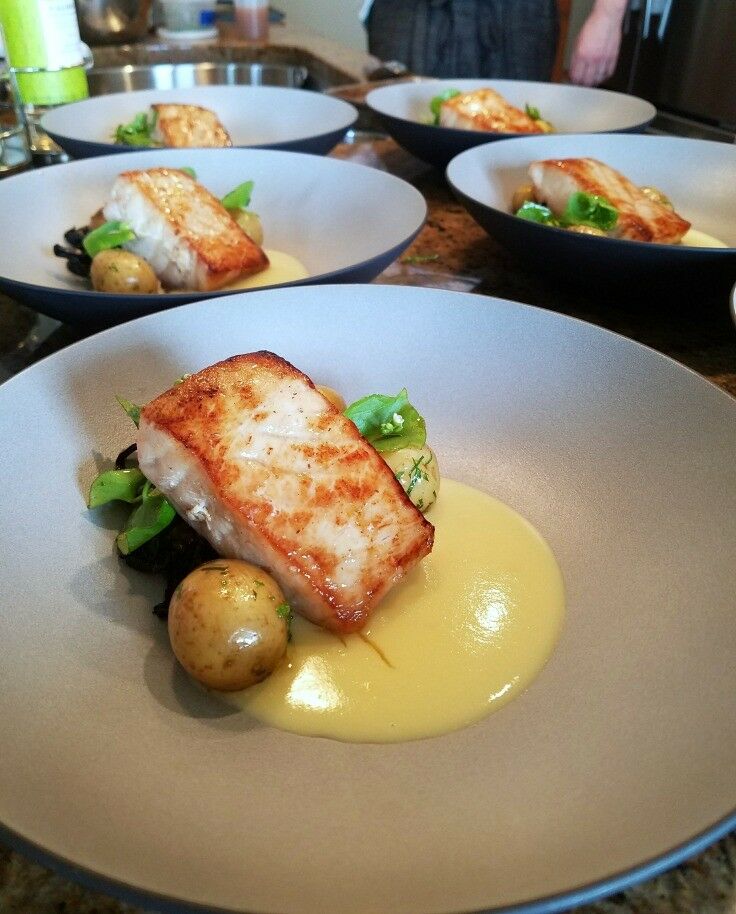 Before he started the cooking demonstration, Chef Andrew shared with us a little about his cooking philosophy and approach.
"We don't really work off any recipes [in our kitchen]. We try to do what we call "intuitive cooking," where you understand the process and the method behind the recipes, and then expand them to other dishes. It teaches you how to actually cook instead of just following a recipe."
It is in this spirit that this post is written.
Cook a man a fish: feed him for a day. Teach a man to cook a fish: he can cook himself a fish any time he wants.
NOTE: What follows is not a traditional recipe, with weights and measures and exact cooking times. However, if you are a relatively experienced cook, the completed dish should be fairly easy to execute. The following instructions are transcribed almost verbatim from Chef Andrews remarks, and are presented as such.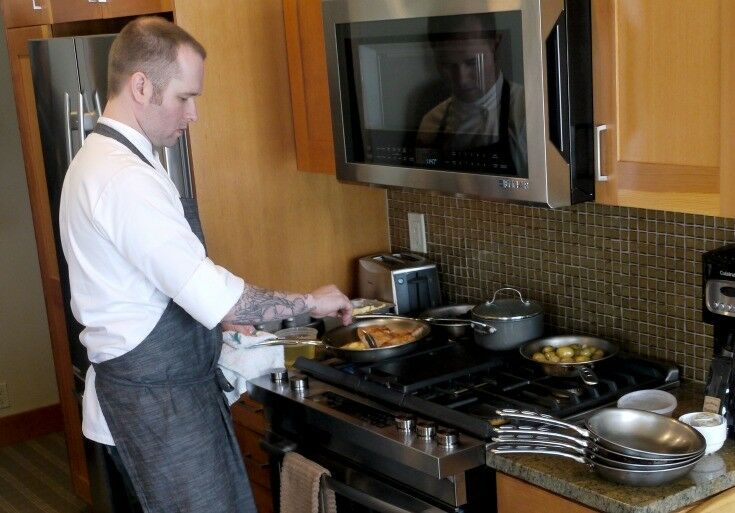 Pan-Seared Sturgeon with Chanterelles and Baby Yukons
Sautéed Chanterelles
Add oil to pan and heat pan on stove to the smoke point. Add mushrooms and sear them. Once they are seared, finish by sautéing in a little butter with fresh garlic, thyme sprigs, and rosemary sprigs [GTR] thrown in. Set aside.
Always use a neutral oil like canola oil. It has a higher smoke point than olive oil and imparts less flavor.
You want the mushrooms to be dry, and you don't want to move them much once they're in the pan. You want them to sear.
Don't add salt to the mushrooms until you are done cooking, or you will end up with a pan of soggy mushrooms.
Baby Yukon Gold Potatoes
Put the precooked baby potatoes in a pan and make a little hole in the middle. Throw in a couple knobs* of butter and few cloves of garlic. Bring the butter to a foaming point and then add some GTR. Glaze the potatoes with the garlic-herb-infused butter, then season with a little kosher salt. Set aside.
The potatoes were precooked: poached in duck fat. (If you are short on duck fat at home, you can simply parboil them.)
When you add the herbs to the foaming butter, you'll hear the herbs frying and popping, and that's the sound you want. Then you're shallow frying, and the aromatic compounds in the herbs infuse into the butter a little better.
* A "knob" of butter is about 1 ½ - 2 tablespoons - about the size of a knob on a kitchen drawer.
Pan-Seared Sturgeon
Optional step: Brine the sturgeon for ½ hour before cooking.
Just as you did with the mushrooms, add oil to an oven-safe frying pan and heat on stove to the smoke point. Lay the fish in the hot pan, presentation side down. Sear the fish on one side, and then put it in a preheated oven (425° F) until it is done medium well. [An internal temperature of 140°F in fish is medium well.] It will continue to cook after you remove it from the heat, and will be well done by the time you plate it up.
"Proteins, with the exception of steak, I always just cook it on one side. The idea is to keep as much of the flesh as tender as possible."
Once the fish is done, take it out of the oven, flip it over, add some butter and GTR to the pan and baste it. You want the butter to be frothing when you do this to really get all those aromatics going well. If it's just [non-frothing] melted butter, you're just going to make the fish soggy. You want the basting to be a fairly quick process. You don't want to cook the fish more; you just want to glaze it.
For this demonstration, Chef Andrew used cold-smoked white sturgeon, farmed out of Idaho.
Brining seasons the fish all the way through and actually firms the flesh a little bit. It also gets rid of that white albumen that often comes out when you cook it.
If you are using fish that has been brined and/or smoked for this dish, don't salt it before you pan-fry it.
Each piece of fish has two sides: the presentation side and the other, non presentation, side. The bloodline side is always the side you want facing down on the plate. In a fillet, the "inside" is always the presentation side. The skin side always goes down. (Unless you are doing skin-on fish.)
Chef Andrew likes to cook sturgeon to about medium well and then let it carry over to well. It's not really a fish you want to eat rare.
"Kosher salt is my primary seasoning. I don't put pepper on proteins before I cook them. Especially fish, because at high heat, you end up burning the pepper. I'd rather just have a crack of pepper at the end."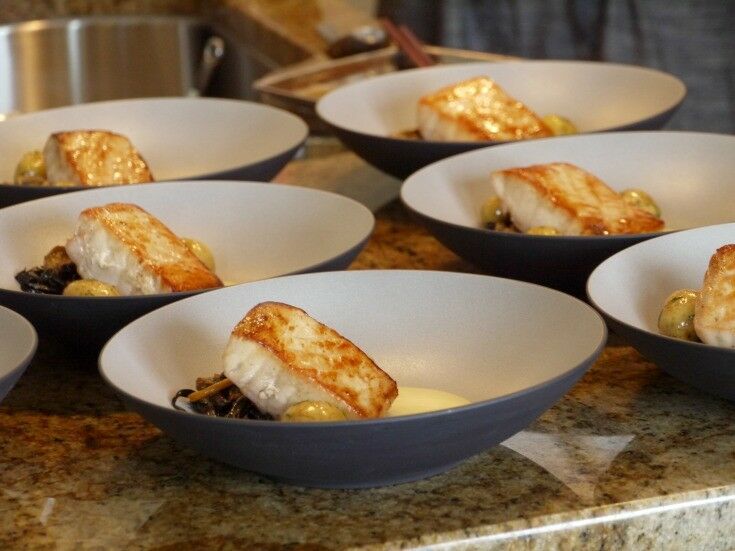 "My approach to cooking is based on magnifying natural flavors. I use vinegar or citrus in just about everything. Salt… seasoning is really important, but acidity is another thing that really opens up and magnifies the natural flavors."
Green Garlic Soup [Sauce]
Pureed soups make good sauces, and the soup used for this dish is basically a variation on vichyssoise, or potato leek soup: Yukon Golds, yellow onion, garlic, leeks, and a bunch of green garlic. (Green garlic looks like a small leek, and appears in the spring, about the same time as garlic scapes.) Then finish the soup with some cream, a whole bunch of kosher salt, and a little bit of cider vinegar to adjust the acidity.
Always try to use Yukon Gold when you make a smooth pureed soup. Avoid using russet potatoes for smooth, pureed soups: the starch in them is far too grainy.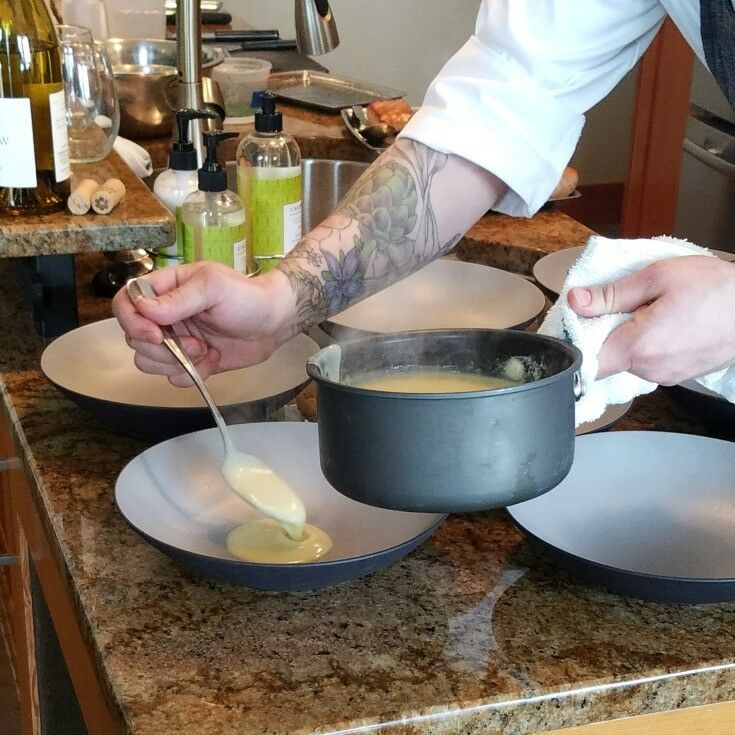 Pan Sauce
Warm up the potatoes up in the pan with a little chicken stock. Once the stock is warm and potatoes are warm, reduce the stock a bit and throw a couple of nobs of butter in the pan, along with some aromatics [GTR]. As the stock reduces, keep the pan moving; swirl it around for a bit to keep things emulsified and make a pan sauce. Baste the potatoes in the pan sauce just before plating.
Rewarm the sautéed chanterelles at this time, too.
Foraged greens
For this dish, Chef Andrew used miner's lettuce, which is plentiful all over the Pacific Northwest throughout the spring. (If foraging isn't your thing, you can usually find it at farmers' markets this time of year as well.) Alternatively, a handful of any fresh, tender greens will work.
Before I wrap this up, let me just say, Chef Andrew is personable, dedicated to his craft, and he made our cooking class "adventure" a pleasure to attend. Oh, and he is also adorable - I mean, how cute is this: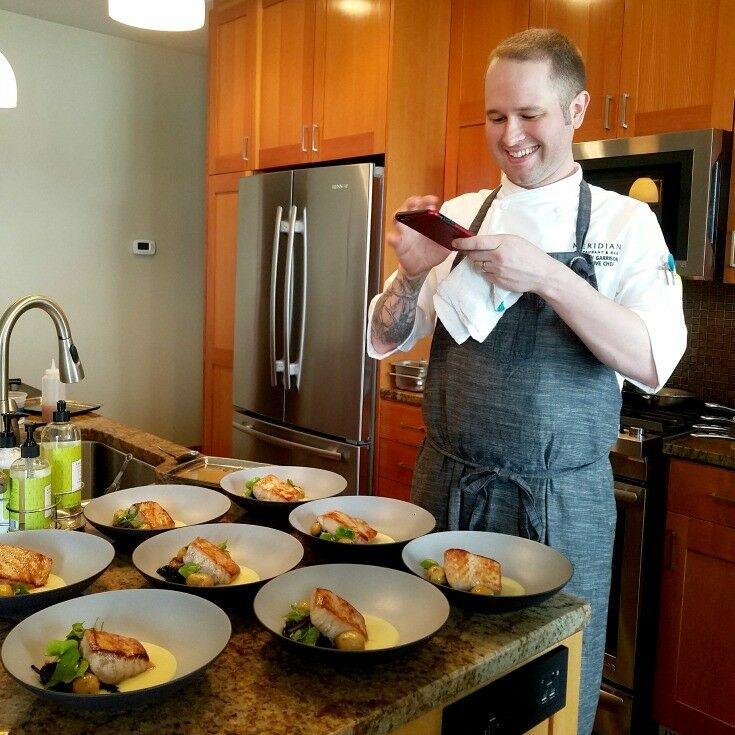 Which all goes to show that even the pros get excited when they get it right - and that's a lesson for us all: Take pride when you put something wonderful on the table!
Disclosure: Our thanks to the Headlands Coastal Lodge & Spa for hosting our stay and for providing our complimentary cooking class with Chef Andrew. This post may contain affiliate links, which means we may receive a commission if you click a link and purchase something that we have recommended. While clicking these links won't cost you any extra money, they do help keep this site up and running. As always, all opinions and images are my own. Please check out our disclosure policy for more details. Thank you for your support!