Our tender, flaky Herb Pie Crust is the perfect wrapping for all your savory pies and pastries, and the herbs can easily be customized to complement any dish.
This post may contain affiliate links, but don't worry - they won't bite.
The foods we prepare for the people we love stays with them long after we are gone. My mother will always be remembered for her fruit pies and her spaghetti sauce and her chili mac. Simple, dependable, and delicious. When I remember Mr B's Great-Granny (who I first met when we were 15), I always think of her homemade egg noodles; and the smell of fried bologna always reminds me of my Grandma Lucy.
So what will you be remembered for? For me, my classic Italian lasagna is for sure in the running, as is Mr B's personal favorite; my Shepherd's Pie. (I have a few fans.) But just as likely, I will be remembered for my Chicken Pot Pie, made with homemade chicken stock and oven roasted vegetables. (Recipe coming next week!)
The crowning touch on this most ultimate of comfort foods is a tender, flaky, golden crust infused with herbs specially chosen to complement the savory, creamy chicken filling.
A Tender, Flaky, Golden Crust Infused with Herbs
This tender, flaky Herb Pie Crust is the perfect wrapping for all your savory pies and pastries, and the herbs can easily be customized to complement any dish.

There are plenty of tips and tricks out there to help you achieve that perfect pie crust; however, in my experience, following these three basic rules will keep you on the road to tender, flaky, pie perfection every time!
Secrets to Perfect Pie Crust
Mom taught me three simple rules for making pie crust.
Keep everything COLD. – The colder you can keep things, the more successful your crust will be. Refrigerate or freeze everything you are using to make your pastry dough, including your mixing bowl! If your dough starts feeling melty or too soft to work with, immediately put everything back in the fridge or freezer for a few minutes. You will never ruin your crust by taking some extra chill time.
Incorporate fats by hand. – One of the leading causes of tough crust is that bits of fat in it are too small. (This is why I avoid using a food processor for making pastry crust.) I do, however, often coarsely grate my butter. (I usually chill it, along with the shortening, for at least an hour.) I find that this allows me to distribute it quicker, therein keeping everything colder.
Do not overmix. – Gluten formation in pastry dough results a tough, chewy crust, and is to be avoided whenever possible. Gluten strands are formed the more you mix the dough. This is why you want to avoid over-mixing or kneading pastry dough once the liquid has been added.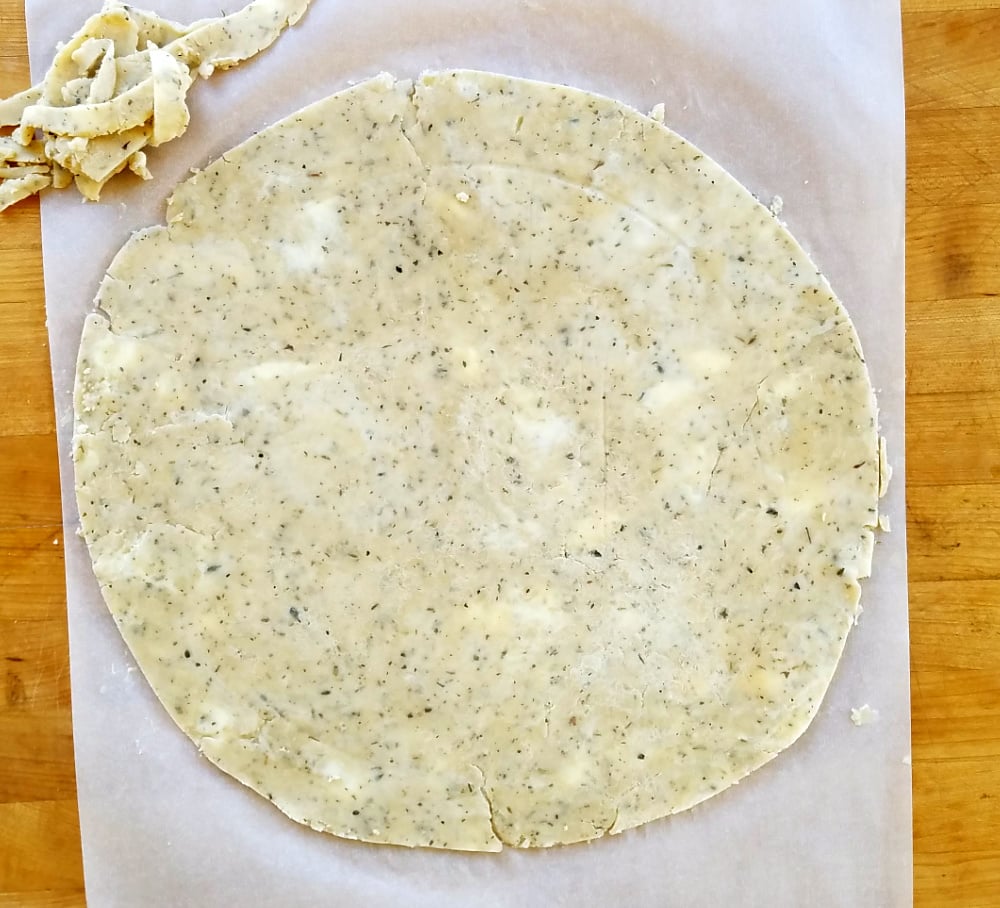 Use Two Pieces of Parchment Paper to Make Rolling Easier
This dough can be rolled out on a floured surface; however, I find that sandwiching dough between two parchment sheets allows me to roll it out smoothly without adding too much additional flour while dusting. It also allows me to turn it over easily to roll the opposite side.
To do this:
Place your refrigerated dough disk between two sheets of parchment, dusting both sides lightly with flour before placing the top sheet. (Wax paper also works.)
Beginning in the center of the disk, roll away from you, then spin the dough about a quarter turn.
Repeat this motion, rolling from the center and turning a quarter turn, applying pressure evenly as you go.
Flip the entire thing over and repeat on the opposite side, rolling until you achieve the desired thickness.
Chill the dough for a few minutes if it becomes too soft or sticky.
Post Updated October 13, 2020 (Originally published November 1, 2012)
Savory Herb Pie Crust
This easy pie crust recipe can be made plain, or seasoned with dry herbs to complement any savory filling. Makes enough for one standard double-crust pie, two standard single-crust pies, or ten 6-inch hand-pies.
Print Recipe
Pin Recipe
Servings:
1
standard double-crust pie
Ingredients
½

cup

shortening

chilled for one hour

½

cup

butter

chilled for one hour; coarsely grated or cut into ¼" pieces

3

cups

all-purpose flour

or more, as needed

1

teaspoon

Herbes de Provence

or ½ tsp. dried sage + ½ tsp. dried thyme; or 1 teaspoon dried herbs of your choice

½

cup

ice water

½

teaspoon

table salt
Instructions
In a medium bowl, whisk flour, dried herbs, and salt together with a fork.

Using a pastry cutter, fork, or your fingers (my personal choice) work the cold shortening into the flour mixture until the texture resembles that of strudel crumble.

Add coarsely grated (or cut) ice-cold butter to flour mixture.

Work butter in using a pastry cutter, fork, or your fingers.

It's OK to leave large pieces of butter (balls up to the size of a lima bean): this is what makes your pie crust flakey!

[Optional] Cool flour mixture in freezer 5 minutes before proceeding.

[Optional] If you are using vodka, mix ice water and vodka together.

Sprinkle ½ cup ice cold liquid (ice water, or ice water+vodka) over the top of the flour mixture and stir with a wooden spoon until a ball begins to form. IMPORTANT: Do not pour liquid onto flour mixture: sprinkle it.

Turn dough out onto counter.

Press together into a large ball or disk.

Divide dough in half. (This will make it easier to work with later.)

Press each half into a disk. (Do not overwork the dough. Just press it together.)

Wrap each disk tightly in plastic wrap.

Refrigerate prepared dough for at least one hour, and up to two days.

Roll out and bake according to directions for whatever you are making.

TIP: I like to roll pastry dough out between sheets of parchment. It allows me to flip the dough easily, and place it without concerns over tearing.
Notes
Standard Pastry Baking Times
Single Crust Pie [Filled] • 400 - 425 °F [205-218 °C] • 35-55 minutes
Pie Shell Only [Unfilled] • 450 °F [232 °C] • 12-15 minutes
Double-Crust [Uncooked Filling] • 400 - 425 °F [205-218 °C] • 45-55 minutes
Double-Crust [Cooked Filling] • 425 - 450 °F [205-232 °C] • 30-45 minutes
Nutrition
Serving:
1
batch
|
Calories:
3363
kcal
|
Carbohydrates:
322
g
|
Protein:
40
g
|
Fat:
198
g
|
Saturated Fat:
84
g
|
Cholesterol:
244
mg
|
Sodium:
1989
mg
|
Potassium:
401
mg
|
Fiber:
10
g
|
Sugar:
37
g
|
Vitamin A:
2836
IU
|
Calcium:
83
mg
|
Iron:
17
mg
This website provides approximate nutrition information for convenience and as a courtesy only. You are solely responsible for ensuring that any nutritional information provided is accurate, complete, and useful.
This herb pie crust is super-tasty with our Tuna Hand Pies! (For Herbs, use ½ teaspoon dried dill and ½ teaspoon onion powder.)

Did You Know? Every Brand of Flour Hydrates Differently!
Different types and brands of flour have fundamental differences between them, hydration being one of the most critical. That's why water measurements in a pie ingredient list are often listed as estimates (i.e., add more as needed.) If you're unsure if you need to add a bit more flour, allow the dough to rest in the fridge for an hour to give the flour a chance to absorb some of the liquid. If the dough still too soft, dust it with some extra flour as you roll it out.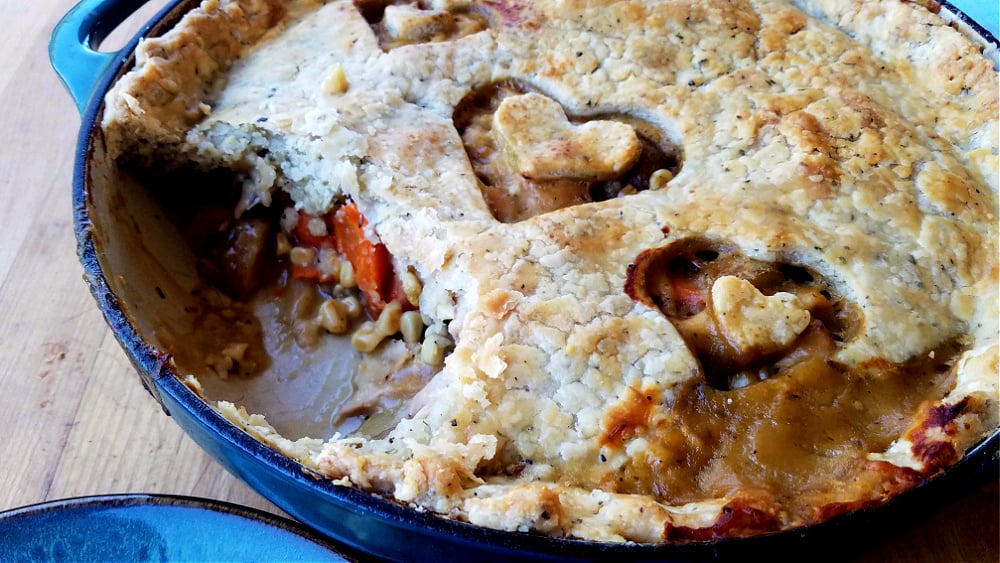 THANK YOU so much for being a faithful reader and supporter
of The Good Hearted Woman. ? Be sure to PIN this post!

Our Sweet & Easy Homemade Pie Crust is perfect for all your sweet baking. Try it with our Classic Blueberry Pie for the freshest, most delicious blueberry pie you've ever made!
Disclosure: This post may contain affiliate links, including Amazon affiliate links, which means we may receive a commission if you click a link and purchase something that we have recommended. While clicking these links won't cost you any extra money, they do help keep this site up and running. As always, all opinions and images are my own. Please check out our disclosure policy for more details. Thank you for your support!