Our Naked Original Kentucky Fried Chicken (KFC copycat recipe) is buttermilk soaked, cast-iron fried, and oven-finished; resulting in the most tender, amazing skinless fried chicken you've ever bit into.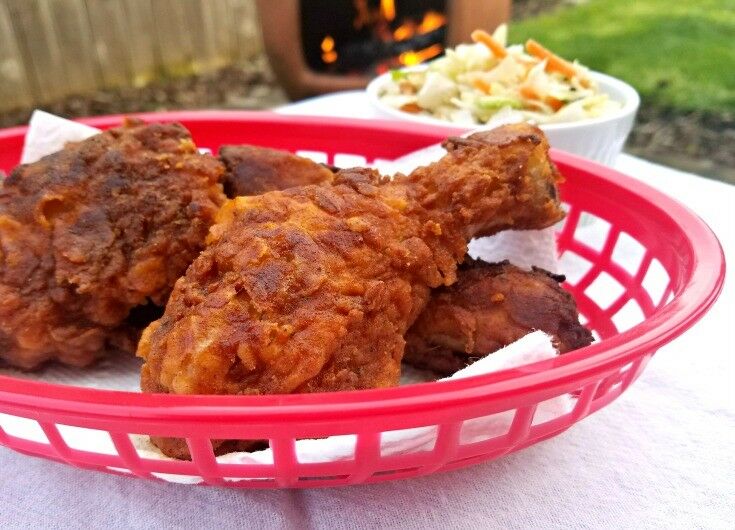 This post may contain affiliate links, but don't worry - they won't bite.
Back when I was a kid, I remember driving out to "The Speck" in southeast Portland with my Pop to pick up Kentucky fried chicken for our Sunday family dinner.
We mostly went in summer, when temperatures soared and no one wanted to cook. I'd wait outside in the car while he went inside and ordered; six-year old me melting in Pop's giant forest green Plymouth quicker than a snowcone in the sun.
Just as I thought I was certain to die in the sweltering heat, Pop would come back with a big red and white bucket of chicken, obligatory mashed potatoes, containers of brown gravy and coleslaw, and an order of gizzards (which I would not touch).
We'd get home, and I would immediately lay claim to one of the legs: my favorite chicken piece, by virtue of its handle. I just loved that Original Recipe chicken.
The only thing I didn't like about it was the chicken skin. Can't stand chicken skin: never have, never will.
(I won't go into the reasons. You either get it or you don't.)
With my chicken leg laying on my plate, I would carefully remove all the delicious peppery golden coating seton my plate at the foot of my mashed potato hill. Then I would turn my head sideways and pull off the chicken skin and roll it up in a paper napkin so I didn't have to look at it ever again.
Then I'd take a bite of chicken and a little bit of coating and eat them together for full effect. Perfection.
These days, I don't eat a lot of take-out chicken, but when I do, yeah - I still do that.
Needless to say, when I was working through this fried chicken recipe and technique, I decided that I would make it skinless by default.
However, if you love the skin on your fried chicken, fear not - this recipe will work for you, too! Just... wait for it... use chicken with the skin still on it instead of skinless. (!)
Serve with coleslaw and a fluffy buttermilk biscuit for the full effect!
Naked Original Kentucky Fried Chicken (KFC Copycat Recipe)
Buttermilk soaked, cast-iron fried, an oven-finished; this skinless KFC copycat of the Colonel's Original Recipe Fried Chicken is moist, tender, and Amazing.
Print Recipe
Pin Recipe
Ingredients
10

chicken pieces

One cut chicken, or the equivalent, skinned

Vegetable oil for frying
Buttermilk Presoak
1

cup

buttermilk

1

teaspoon

Sriracha

optional
Chicken Dip
1

cup

buttermilk

1

large

egg

lightly beaten
Instructions
Buttermilk Pre-Soak
Combine 1 cup buttermilk and 1 teaspoon Sriracha. The Sriracha it totally optional, but I think it adds another subtle layer of heat to the chicken.

Soak skinless chicken pieces in buttermilk mixture for at least 4 hours, or preferably overnight.
"Chicken Mix"
Combine the dry herbs, spices, and brown sugar in the jar of a small food processor (or clean coffee grinder) and pulverize until uniform in texture. 

In a large self-sealing plastic bag or medium bowl, combine flour and pulverized spice mix. Set aside.
Chicken Prep
In a large bowl, combine egg and the second cup of buttermilk. Set aside.

Remove chicken from buttermilk pre-soak. Discard any remaining buttermilk mixture from the Soak.

Dip each piece of chicken in the egg and buttermilk mixture and shake once to remove excess.

Drop into bag or bowl of Chicken Mix and dredge to coat.

Remove with tongs and rest on wire rack while you complete dredging the rest of the chicken pieces. 

Allow chicken to rest at least 10 minutes on rack. [See Notes]
Chicken Fry-n-Bake
Preheat oven to 350°F. Line a heavy sheet pan with foil and set aside. (I like to spray the foil with a little cooking spray to alleviate sticking)

Pour ⅓-1/2 inch of oil into a deep cast iron or other heavy skillet. Heat skillet over medium heat until the oil reaches a temperature of 350°- 360° F. 

You can also use an electric skillet for this step. In this case, set the temperature to 325°F.

Fry chicken in batches for 2-3 minutes on each side, or until golden brown. Remove from oil and set on wire rack while you finish the rest of the chicken.

Allow oil to come back up to temperature between batches.

Place the fried chicken on the prepared sheet pan and place in preheated oven. Bake for 20-30 minutes, or until chicken is done and juices run clear.

Breasts will take 30-40 minutes, legs and thighs 20-25, and wings 10-15 minutes.

Remove chicken to a clean wire rack and allow it to rest for at 10 minutes before serving.
Notes
Allowing the chicken to rest after dredging, even a short time, dramatically improves how well the coating adheres to the chicken when you go on to the frying steps.
If time allows, you can stop there and put the chicken, rack and all, into the fridge for an hour or two. You can even dredge the chicken the day before and leave it overnight. 
Nutrition
Serving:
1
piece
|
Calories:
404
kcal
|
Carbohydrates:
27
g
|
Protein:
27
g
|
Fat:
20
g
|
Saturated Fat:
6
g
|
Cholesterol:
111
mg
|
Sodium:
2478
mg
|
Potassium:
393
mg
|
Fiber:
2
g
|
Sugar:
5
g
|
Vitamin A:
1313
IU
|
Vitamin C:
3
mg
|
Calcium:
101
mg
|
Iron:
4
mg
This website provides approximate nutrition information for convenience and as a courtesy only. You are solely responsible for ensuring that any nutritional information provided is accurate, complete, and useful.
It Takes a Village to Fry a Chicken
The foundation for my Naked Colonel's Original Recipe Fried Chicken recipe is, of course, based on the recently released, culturally iconic "11 Secret Herbs & Spices" recipe from the original "Kentucky Fried Chicken" restaurants, allegedly discovered in the personal affects of Colonel Harland Sanders' nephew, as reported in the Chicago Tribune in 2016. (Thanks, Trib!)
However, giving credit where it is due, my recipe was also heavily influenced by this wonderful Original Recipe Chicken (KFC Copycat) version from Dinner then Dessert - both she and I unabashedly tinkered with the amounts and types spices, and her tip about pulverizing the herbs and spices is brilliant!
Speaking of tips, the little gem about letting the chicken sit after dredging to allow the coating to better adhere - even more critical when the chicken is skinless - comes straight from Chef Chef Michael Symon. Finally, it leans hard on my own chicken frying experience, as passed down from Grandma B and my own mother, and my personal tastes. So, apparently it takes a village to fry a chicken.

Reminder: Hot oil can be very DANGEROUS! Please take all precautions necessary to ensure the safety of yourself and those around you.
Can't I just fry the chicken in the skillet until it's done?
Well, of course you can - you can do anything you want! Just so you know, KFC finishes their Original Recipe fried chicken in a pressure cooker (or at least they did when I was a kid). I like to take the extra step and finish it in the oven.
Chicken needs a lot of room to fry, and you should never crowd pieces in your skillet. Finishing chicken in the oven allows you to give the it the room it needs and still get a lot of chicken done all at the same time. Moreover, it gets done to the bone. This means you won't have any pink chicken surprises when you sit down to eat.
On a personal note, I like the texture of the coating better after baking versus doing a full fry. It's totally up to you, though.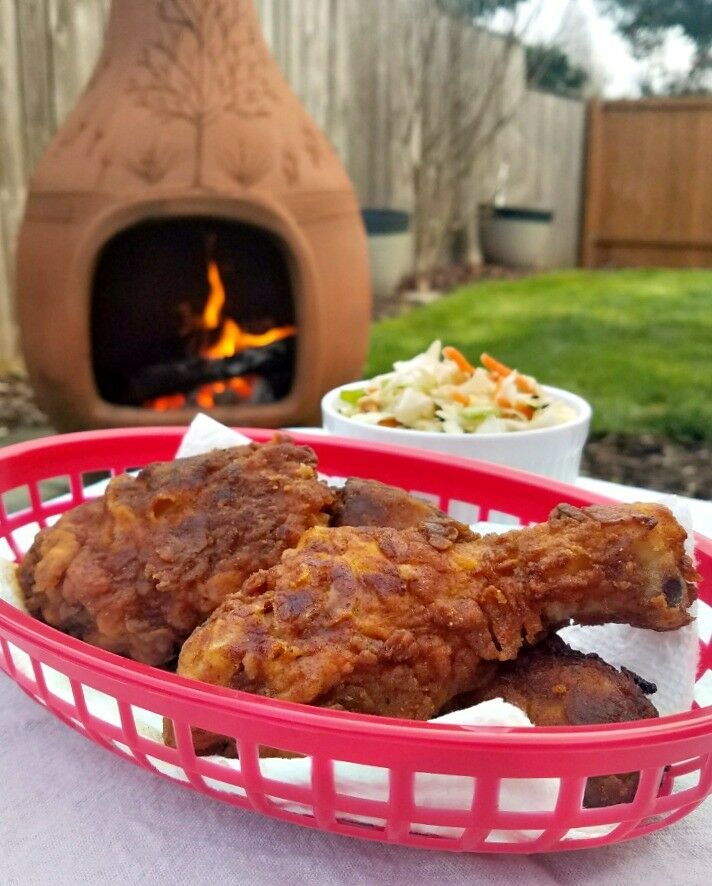 If you like your chicken spicy, be sure to checkout our recipe for Nashville Hot Chicken! It'll knock your socks off!

THANK YOU so much for being a faithful reader and supporter
of The Good Hearted Woman. ? Be sure to PIN this post!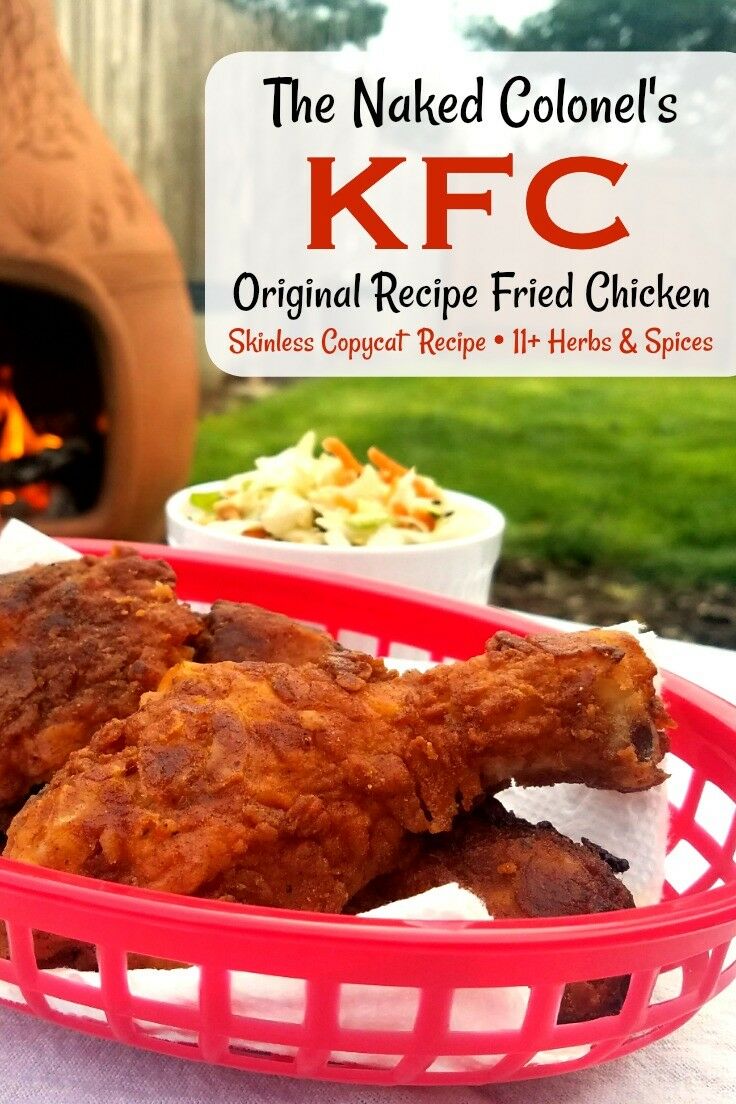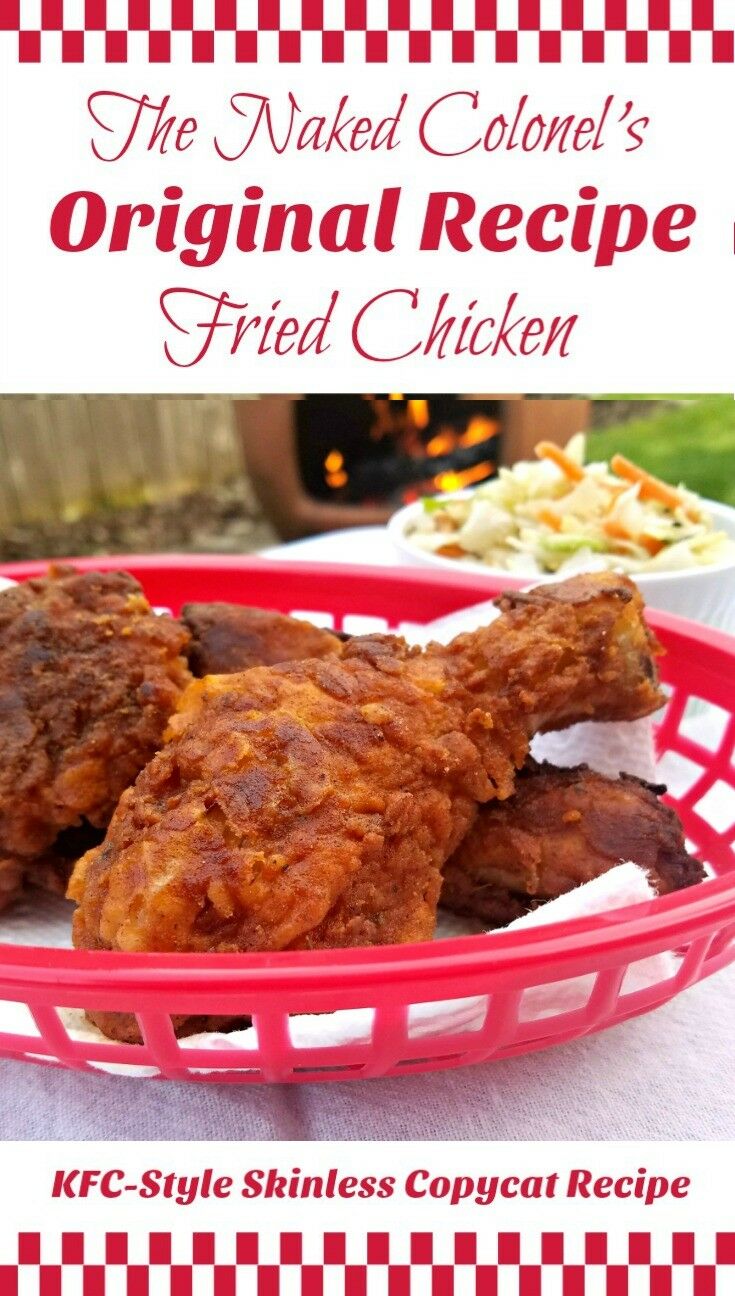 Disclosure: This post may contain affiliate links, including Amazon affiliate links, which means we may receive a commission if you click a link and purchase something that we have recommended. While clicking these links won't cost you any extra money, they do help keep this site up and running. As always, all opinions and images are my own. Please check out our disclosure policy for more details. Thank you for your support!