Our Perfect Buttermilk Biscuits are soft, buttery, light, and tender – in a word: heavenly. Serve them up with butter, homemade jam, sausage gravy and eggs, or (if you want some real South in your mouth) chocolate gravy!
When we were first married, Mr. B wasn't very big on bread at meals, and biscuits in particular were a head-shaker for him. He explained once that almost every biscuit he'd ever eaten was "too hard or too soft, too dry, too bland, too salty, too sweet, too floury, too, too... too biscuity."
That is, until I made him these amazing, pillowy buttermilk biscuits - the same light and airy biscuits my mother taught me to make so long ago.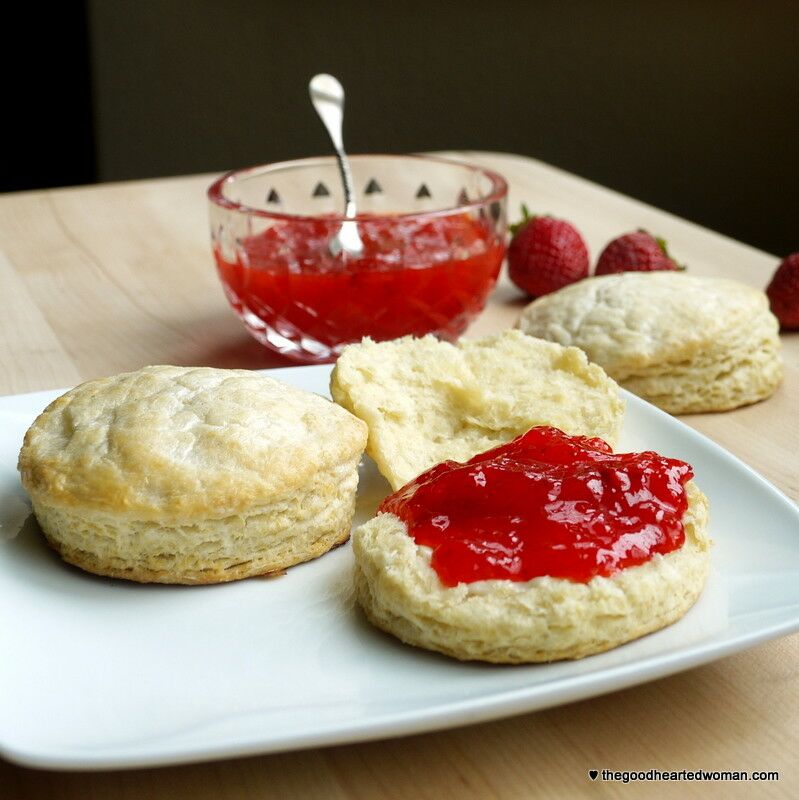 This post may contain affiliate links, but don't worry - they won't bite.
A few bites into his first homemade buttermilk biscuit, Mr B was nodding enthusiastically, exclaiming, "Weese roar reawwy rood!" Swallowing, he repeated for emphasis, "These are really good!" I think even he was surprised that he liked them.
That first biscuit-baking night, Mr B and I ate them with fresh strawberry freezer jam for dessert. Then we ate them again with butter, cinnamon, and sugar for a late night snack.
We finished them off in the morning with our eggs, and a little more of that fabulous Hood Strawberry Jam.
Since then, I've baked countless batches of biscuits, and Mom's biscuit recipe has become like an old friend: light, delicious, and always dependable.
This biscuit recipe, like all of the recipes on this blog, has been thoroughly tried-and-tested.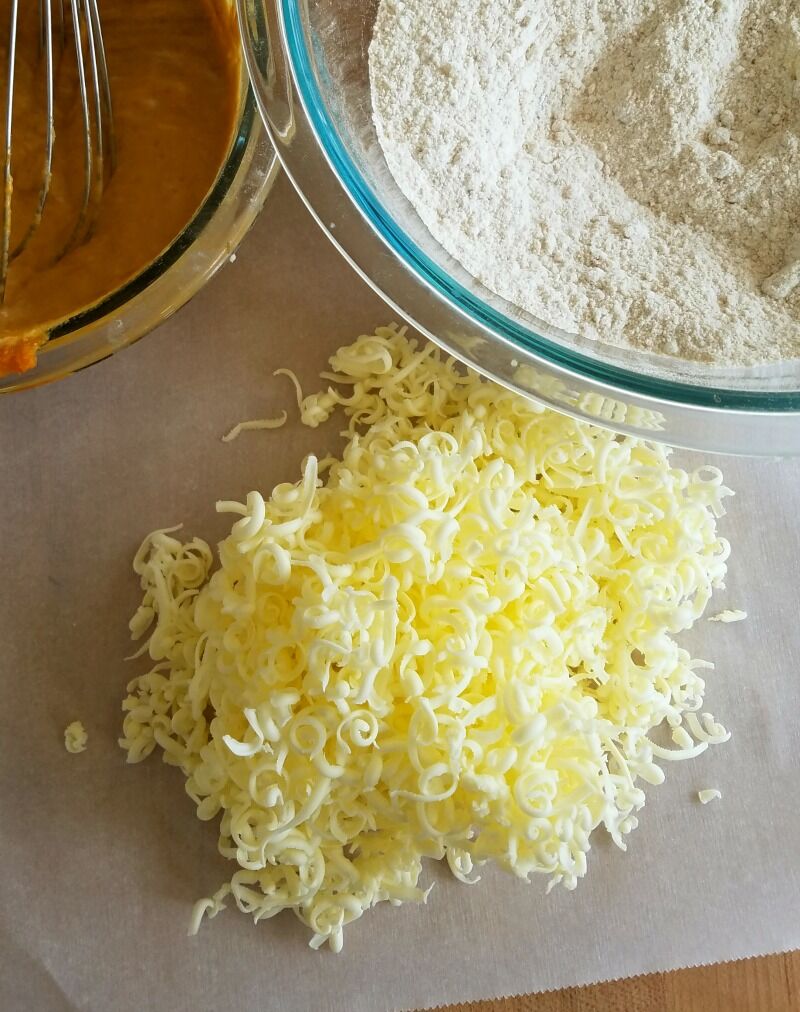 Ten Tips for Light, Tender Biscuits Every Time
This really is an amazing buttermilk biscuit recipe - the lightest, tenderest buttermilk biscuits ever! And that's your bonus baking tip, because the first thing you need to do is start with a great biscuit recipe. After that:
Keep everything COLD. – Refrigerate or freeze everything you are using to make your biscuit dough; especially your butter! The colder you can keep things, the more successful your biscuits will be.
Use fresh ingredients. That means everything from butter to baking powder! (Did you know that baking powder has an expiration date? You can test the freshness by mixing a small spoonful of baking powder with ¼ cup of hot water. If it is viable, it will bubble vigorously. No bubbles? Replace it!)
Freeze, then grate the butter. I almost always grate my butter: I find that this allows me to distribute it quicker, therein keeping everything colder. To do this, first chill butter in the freezer for about an hour.
Incorporate fats by hand. – I am not a fan of pastry cutters. They have just never worked for me. Instead, I prefer to incorporate fats by hand. This allows you to keep the bits of shortening and butter bigger, up to the size of a cooked butter bean. One of the leading causes of tough baked goods is that bits of fat in it are too small. (This is why I avoid using a food processor for making dough.) The trick, though, is to do it quickly so as not to warm up the dough ingredients.
Use the well technique for combining dry and wet ingredients. When mixing the buttermilk (or other wet ingredients) into the butter and dough mixture, use a well technique. This is done by making a well in the center of the butter-flour mixture and pouring the buttermilk in the center, then stirring with a wooden spoon just enough to combine.
Use a gentle hand. The more you mix the dough, the more gluten strands are formed. Gluten formation in pastry dough results a tough, chewy crust, and is to be avoided whenever possible. Do not, under any circumstances, knead your biscuit dough beyond the initial mixing.
Work on a cold surface. (See Tip #1) Roll dough only as much as needed to cut it.
Fold your dough. Rolling dough out and then folding it before cutting will give you light, beautiful layers. I usually fold it a minimum of two times, and a maximum of three.
Cut down, and don't twist. When cutting your biscuits, press the cutter straight down, and do not twist. Dip the cutter in flour between each cut to keep it from sticking.
Be aware of the weather. You may need to add a little more flour on humid days, and a little less on arid days.
Recipe Updated May 7, 2021 (Originally published May 29, 2014)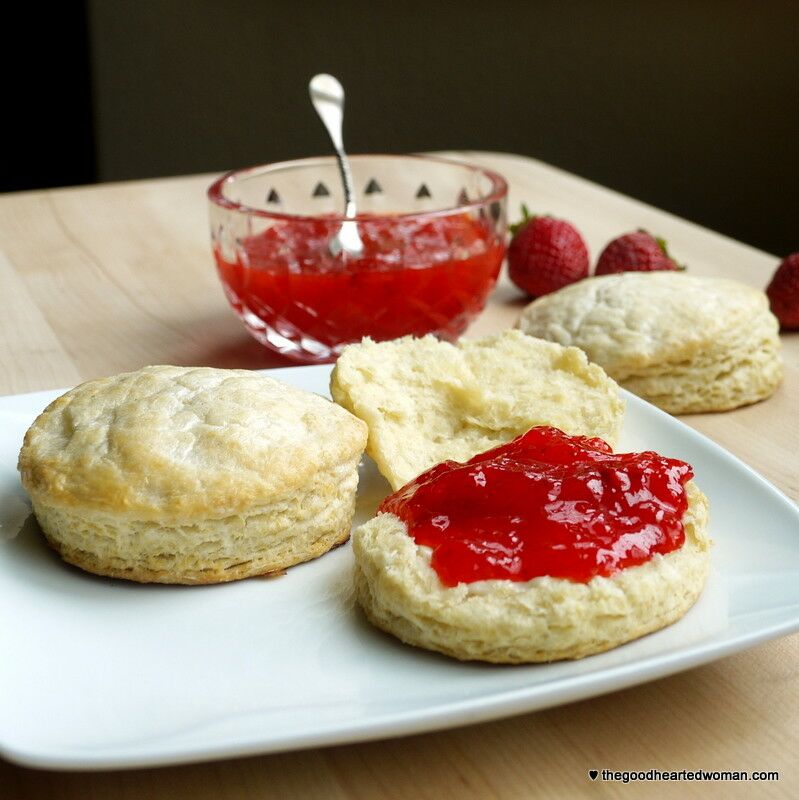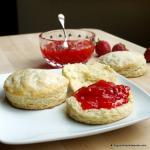 Perfect Buttermilk Biscuits
Print Recipe
Pin Recipe
Ingredients
2

cups

all-purpose flour

2

teaspoons

baking powder

1

teaspoon

kosher salt

or ½ teaspoon if you use salted butter

½

teaspoon

baking soda

1

teaspoon

sugar

7

tablespoons

butter

chilled in freezer

¾

cup

buttermilk

A little extra buttermilk for brushing on the tops
Instructions
Preheat oven to 425°F (220° C).

Sift flour, baking powder, salt, baking soda and sugar into a large bowl.

Grate frozen butter and work it into the flour mixture until it resembles coarse crumbs.

Make a well in the center of the butter-flour mixture and pour the buttermilk into it. Stir just enough to combine.

Turn the dough onto a floured surface and pat it down.

Roll the dough ½ inch thick and fold in half.

Roll it out again to ½ inch thick.

Using a round biscuit cutter or the top of a drink glass, cut biscuits out.

Transfer the biscuits to a parchment-lined baking sheet.

Brush the tops of the biscuits with additional buttermilk.

Bake in preheated oven for 14-15 minutes, or until lightly browned.
Nutrition
Serving:
1
biscuit
|
Calories:
145
kcal
|
Carbohydrates:
17
g
|
Protein:
3
g
|
Fat:
7
g
|
Saturated Fat:
5
g
|
Trans Fat:
1
g
|
Cholesterol:
19
mg
|
Sodium:
385
mg
|
Potassium:
45
mg
|
Fiber:
1
g
|
Sugar:
1
g
|
Vitamin A:
229
IU
|
Calcium:
62
mg
|
Iron:
1
mg
This website provides approximate nutrition information for convenience and as a courtesy only. You are solely responsible for ensuring that any nutritional information provided is accurate, complete, and useful.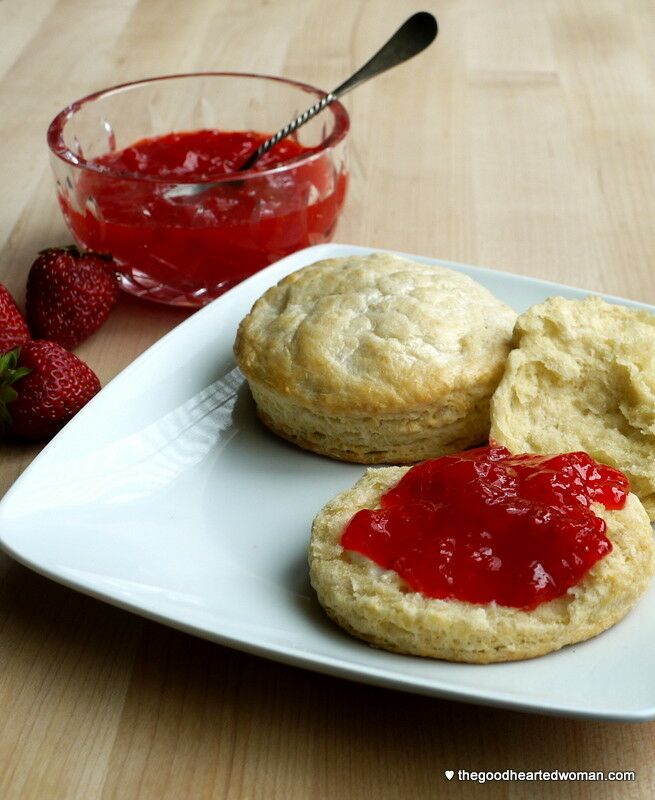 Did you know that before the invention of baking powder, buttermilk was a necessary staple in the home baker's kitchen? Baking soda needed an acidic ingredient to do its leavening magic (i.e., produce carbon dioxide), and buttermilk fit the bill perfectly!
We love baking and cooking with buttermilk. Here are a few of our favorite "Buttermilk" recipes:
---
THANK YOU so much for being a faithful reader and supporter
of The Good Hearted Woman. • Be sure to PIN this post!
Disclosure: This post may contain affiliate links, including Amazon affiliate links, which means we may receive a commission if you click a link and purchase something that we have recommended. While clicking these links won't cost you any extra money, they do help keep this site up and running. As always, all opinions and images are my own. Please check out our disclosure policy for more details. Thank you for your support!