Apricot Chicken Tagine with Ginger & Mint is an exotic, warmly spiced stew that is easy to prepare, family-friendly, and oh so delicious!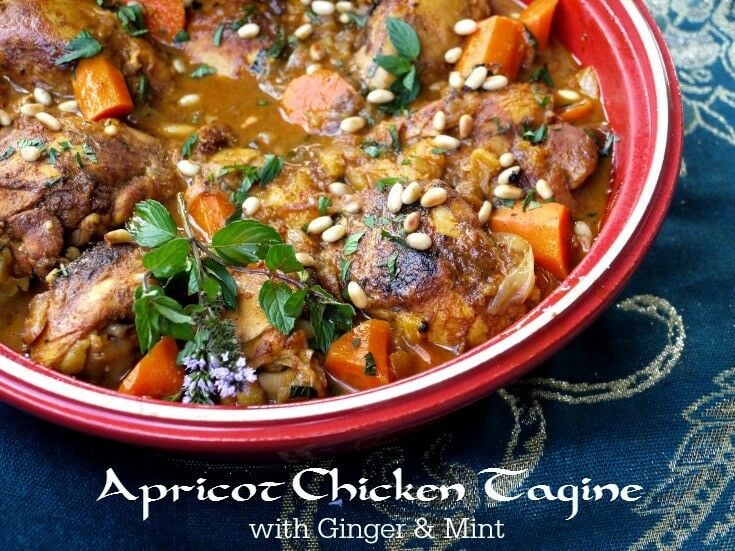 This post may contain affiliate links, but don't worry – they won't bite.
Ever since Mr B and I took our French-Moroccan cooking class last spring, I have been intrigued with tagine cooking. A North African stew made in a distinctive clay-pot slow cooker of the same name, tagine is an easy to prepare, family-friendly medley of warm spices, tender meats, fresh vegetables, and dried fruits. Moreover, tagine (the stew, not the clay pot) falls squarely into what I like to call the New Comfort Food.
Mr B and I have been blogging here for almost four years now (can you believe it!?) and in that time, GHW has experienced a lot of changes as we've refined our niche. However, if there is one thing that has been constant on GHW from the get-go, it is our focus on clean, mindfully prepared comfort food.
For us, comfort food doesn't need to be the heavy, fatty and gravy-laden fare of our great-grandma's time. (No offense to great-grandmas anywhere – your food was awesome!) This new generation of comfort food is about nourishing body and soul – with delicious food that is both good for us and environmentally responsible.
Fresh, healthy ingredients are the cornerstone of our New Comfort Food, and this tagine is chock-full of them. It's a dish that I feel good about eating and feeding to my family.
Speaking of family – I think that's what comfort food is really all about. It isn't the carb count or the gravy on top – its family and friends and the memories we make with them around the table. That's another thing I love about this meal: tagines are traditionally eaten communally, with diners gathered around the tagine eating by hand, using pieces of bread to scoop up meat, veggies and sauce. As far as I'm concerned, a family meal doesn't get much better than that.
Guess what! You don't need a fancy Tagine dish to cook a Tagine recipe! It can also be easily prepared in a cast iron skillet, Dutch oven, or even a humble covered casserole dish with excellent results! 🌻 #moroccantagine #taginerecipe
Click To Tweet
Apricot Chicken Tagine with Ginger & Mint
Print Recipe
Pin Recipe
Ingredients
Spice-rub for Chicken:
1

teaspoon

kosher salt

1

teaspoon

harissa

dry spice

1

teaspoon

ground cumin

1

teaspoon

turmeric

1

teaspoon

cinnamon
Tagine:
1

tablespoon

olive oil

1

large onion

halved and thinly sliced lengthwise

1 ½

tablespoon

minced fresh ginger

2

cloves

garlic

minced

6 - 8

Chicken thighs and/or drumsticks

skin removed

2/3

cup

dried apricots

coarsely chopped

1/4

cup

golden raisins

4

medium carrots

peeled and cut into ½" inch pieces

1 1/2

cups

chicken broth

2

tablespoons

honey

2

tablespoons

tomato paste

2

tablespoons

fresh lemon juice

1

teaspoons

ground cumin

1

teaspoon

cinnamon

1

teaspoon

harissa

dry spice

¼

cup

loosely packed chopped fresh mint

2

tablespoons

toasted pine nuts

optional
Instructions
PREP (20-25 minutes)
Chicken: Combine spice rub ingredients in a medium bowl. With hands, rub mixture all over chicken, thoroughly covering all surfaces. Use all of the rub.

Heat 2 tablespoons oil in a stovetop safe tagine, Dutch oven, or cast iron skillet over medium heat. Add chicken and cook until lightly browned on all sides; about 3-4 minutes on each side. Remove to a plate and let rest.

Onions: Into the same cooking vessel you used for the chicken, add sliced onions, reduce heat to medium and cook, stirring occasionally, until they are tender and just beginning to brown; about 10 minutes. Add minced ginger and garlic and saute for another 2 minutes. Transfer the prepared onions to a bowl and set aside.
TAGINE (1-2-3 & Done!)
Arrange browned chicken into the bottom of tagine, then layer on top (in order): carrots, chopped apricots and raisins, and prepared onions.

Whisk together chicken broth, honey, tomato paste, lemon juice, cumin, cinnamon, and harissa in a medium bowl. Pour broth mixture evenly over the top of your little chicken mountain.

Bring to a simmer, then reduce heat to low (just hot enough to keep it simmering), cover and cook until chicken is very tender; 35-60 minutes.(You can do this on the stove-top, but I prefer to cook it in a 325° F oven.)
SERVE
Remove from oven. Remove lid, fold in half of the fresh mint, and allow to cool for 15 minutes so that the mint infuses into the dish and the juices thicken a bit. Season to taste. Garnish with remaining fresh mint and toasted pine nuts (optional). Serve with warm bread or couscous.
Notes
Note that you do not need to have an official clay tagine to make this dish: it can also be easily prepared in a cast iron skillet, Dutch oven, slow cooker, or even a humble covered casserole dish with excellent results.
Short on time? With one small adaptation, this dish can go from stove-top to table in under an hour! Just substitute in boneless, skinless thigh fillets and cook it for it for just 25 minutes [Tagine – Step 3].
Extra time on your hands? I prefer to complete the cooking of my tagine in the oven. For crushingly melty-delicious, fall-apart tender meat, heat your oven to 300° F and cook in covered tagine for 2 – 2 1/2 hours.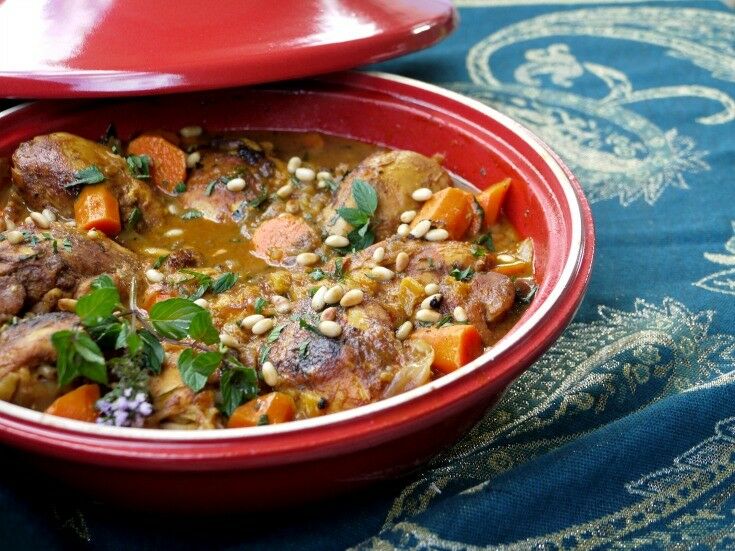 Prep Notes
Browning the chicken
Because my tagine has a ceramic base, I brown the chicken in my cast-iron skillet and then transfer the browned chicken to the tagine. If your tagine has a steel-clad or cast-iron base (or you are making it in a Dutch oven or other metal-based vessel) you can brown it on the stovetop right in the tagine.
Harissa
If you're unfamiliar with harissa, it's a North African spice blend made up of hot chili peppers and other spices, including coriander, cumin, and garlic. Harissa comes in a wet paste or a dry powder, with varying degrees of spiciness, and has a deep, roasted pepper flavor with just a hint of sweetness. I've chosen to use the dry spice for this recipe, but you can substitute the spice paste if that's what you have on hand.

THANK YOU so much for being a faithful reader and supporter of The Good Hearted Woman.

🌻

Be sure to PIN and Print this recipe!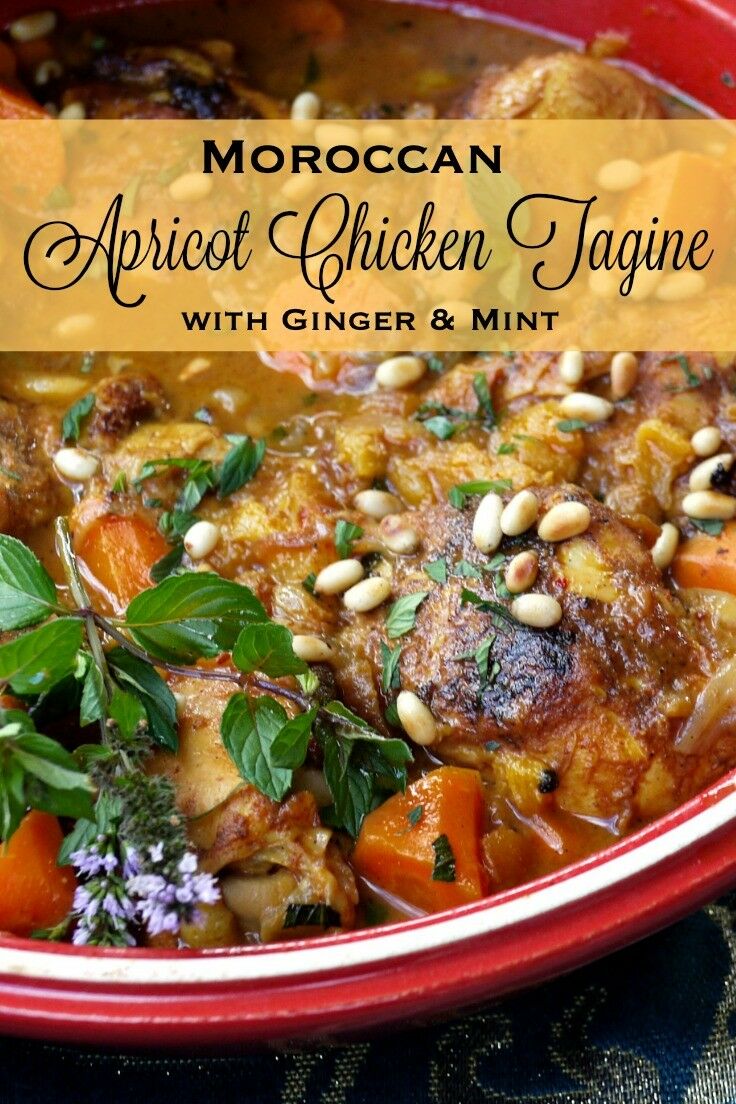 So what is comfort food to you? Do you have any "new" comfort food traditions?
We'd love to hear about them in the comments below!
Disclosure: This post may contain affiliate links, which means we may receive a commission if you click a link and purchase something that we have recommended. While clicking these links won't cost you any extra money, they do help keep this site up and running. As always, all opinions and images are my own. Please check out our disclosure policy for more details. Thank you for your support!