Mom and Dad both worked when I was little, so after school I often went to the home of one of our neighbors until one of them got home. Usually I went to our across-street-neighbor Mrs. Clement's house. Mrs. Clement was tiny and very sweet, and her house was always perfectly clean. I was sometimes nervous to go to the bathroom there because everything was so perfect.
When Mrs. Clement wasn't available, my mother would ask Mrs. Obinger, who lived kitty-corner from us. Mrs. Obinger was a little older than Mrs. Clement, and she had grown daughter named Georgianne who lived at home. Georgianne was paralyzed from the neck down. (If I remember the story right, she was injured when she was a teenager out on the Oregon Dunes.) Anyway, Georgianne was the first person I ever knew who was intelligent and capable and also had a severe physical disability. I learned a lot from both her and her mother.
Mrs Obinger made great after-school snacks, including a couple of my all-time favorites – Garlic Cheerios and Coconut Cookies. More often than not, when I arrived, she was already getting out the ingredients for one or the other. "Roll up your sleeves," she'd say, and them we'd spend the next half hour in the kitchen together.
I loved making Coconut Cookies with Mrs Obinger because after she put the ingredients into the bowl, I could mix them up all by myself. I can still see myself, standing on a chair and buried up to my elbows, oatmeal and shortening and all sorts of yumminess squishing between my fingers. Is there anything better when you are six than squishing things? Especially if all that squishiness ends up being delicious cookies?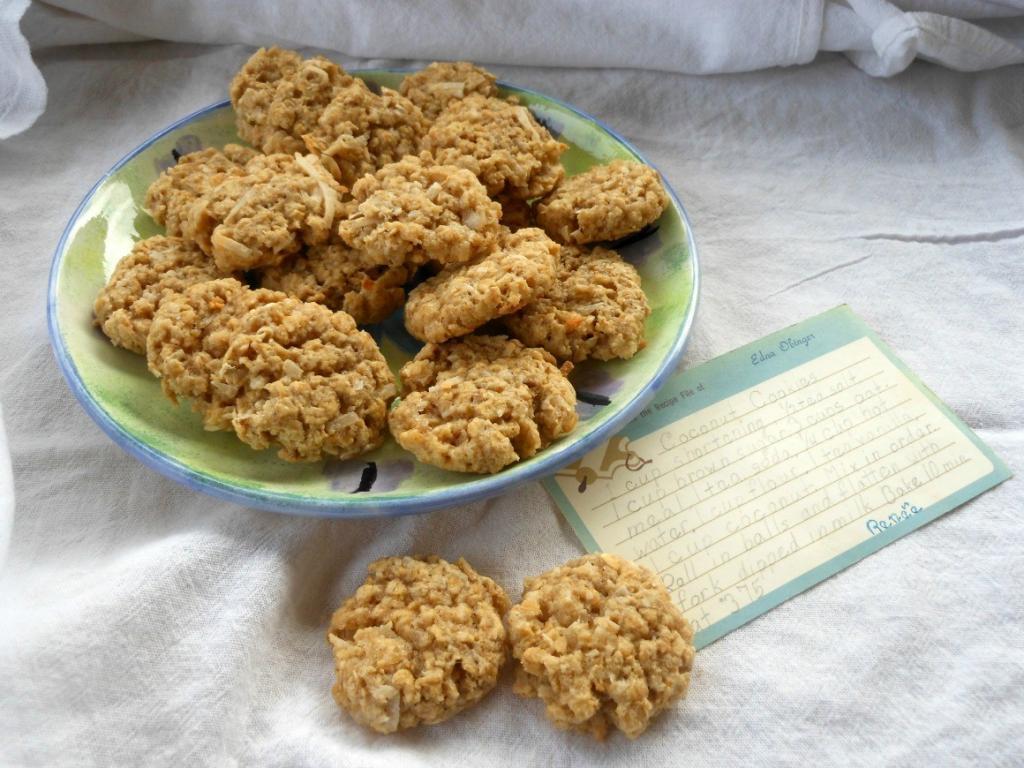 When I was in the fourth grade, I made a special trip over to Mrs. Obinger's house and carefully wrote out the recipe on one of her special recipe cards as she dictated it to me, so that I could have it for always. I still have the card. I've made a few changes to the original, mostly to cut down the fat content, but they are still the same crispy-chewy coconut wonders I remember.
I encourage you to make a batch of these with your favorite child very soon. And if you don't have a child of your own to make them with, invite the neighbor kid (and his mom) over to make some: you may even make a memory or two before you're done – if you're lucky.
Mrs. Obinger's Coconut Cookies
Making cookies with kids? Let them mix these cookies up by hand and have some fun!
Print Recipe
Pin Recipe
Ingredients
3

cups

old-fashioned oats

1

cup

raw sugar

or brown sugar

1

cup

flour

1

cup

grated coconut

1 1/2

tsp

baking powder

1/2

tsp

kosher salt

1/2

cup

coconut oil or very soft butter

1/2

cup

vanilla almond milk

or 1% milk

1-2

tsp

vanilla
Instructions
Combine oats, sugar, flour, coconut, baking powder, and salt in a large bowl.

Add soften butter, almond milk, and vanilla and mix. (I do this with my hands.)

Roll into 1" balls and flatten with a fork dipped in almond milk.

Bake 10-12 minutes at 375°.
Weight Watchers:
One cookie = 2 PointsPlus.
This website provides approximate nutrition information for convenience and as a courtesy only. You are solely responsible for ensuring that any nutritional information provided is accurate, complete, and useful.