Every year, the National Basque Festival brings together Basque communities across North America to celebrate and share their heritage and culture.
This post may contain affiliate links, but don't worry - they won't bite.
The only real connection to the North American Basque community that I personally have is an impossibly thin thread that runs from me through the amazing woman who taught me to ride horses to the Basque man she was married to for many years.
Rena was a former Miss Rodeo Oregon and beautiful beyond words. I was nine. She taught me to races barrels and jump hay bales and ride faster than the wind. She later married a man from the Nevada Basque community, and once while traveling with my parents to Arizona, we took a side trip to see her. One thing that still stands out to me about our visit - besides seeing Rena and her new baby - was the vast, arid landscape of the Nevada range and the half an hour we had to wait on the dusty dirt road while the largest herd of sheep I have ever seen passed across in front of us.
Ever since that long-ago visit, I've had a mild fascination with the unique, mysterious Basque community. So when Mr B and I motored into Buffalo, Wyoming last summer for lunch and saw the "North American Basque Festival" banners hanging across Main Street, I was intrigued and excited to see what was happening.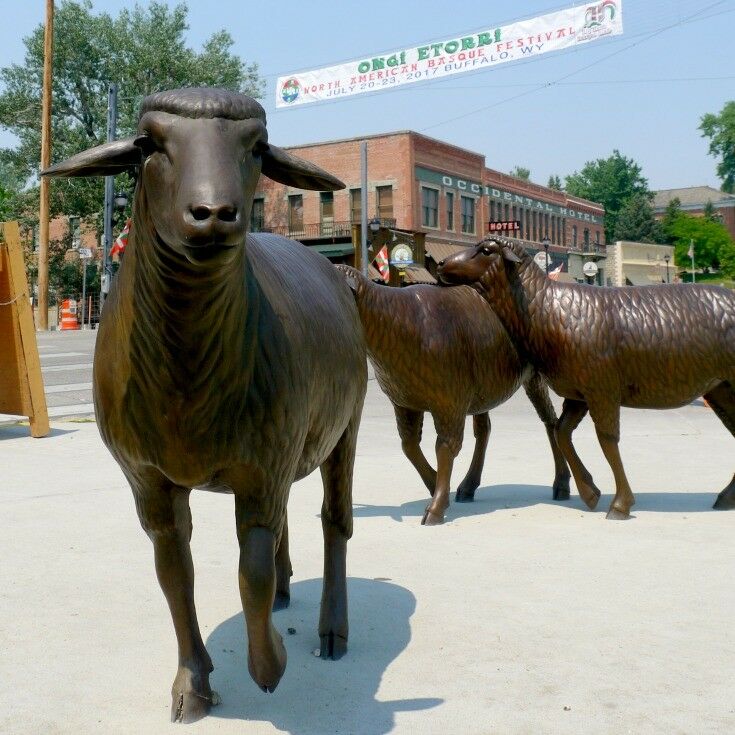 Basque - a People, a Place & a Language
Basques are an "indigenous ethnic group," unique unto themselves, and may be the oldest ethnic group in Europe. Neither French nor Spanish, their homeland lies between the base of the Pyrenees Mountains and the Bay of Biscay, comprised of seven traditional provinces that bridge the border between Spain and France. Likewise, their unique language - which they call Euskara - is like no other language spoken in Europe - or the world.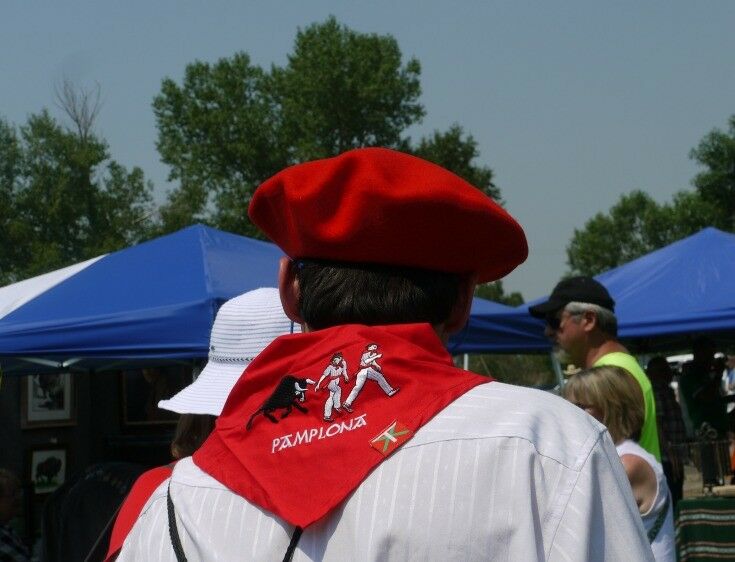 When I was doing research for this post, I tried to find out how approximately how many people of Basque heritage now live in North America, but reported numbers varied wildly - from less than 100,000 to over a million. What I can tell you is most Basques in North America are descended from 19th century emigrants, and large Basque communities can be found across the western United States and in some Canadian provinces.
Basques began moving to Wyoming in the early 1900s to herd sheep, and the Buffalo continues to celebrate its long history with the Basque community. A small flock of bronze sheep and a bronze herding dog on Main Street remind visitors of Buffalo's long history with the Basque community. As the plaque that accompanies the bronzes reads:
The heritage of the Basque people runs deep in the history of Johnson County [Wyoming]. Coming from a mountainous, agrarian culture in the area of the Pyrenees Mountains between France and Spain, they took to the open range of Wyoming, bringing colorful traditions and a knowledge of raising sheep. They depended on their dogs, often Border Collies as companions and helper to protect and herd the sheep. The Basque farmers remain influential throughout this community to the present day.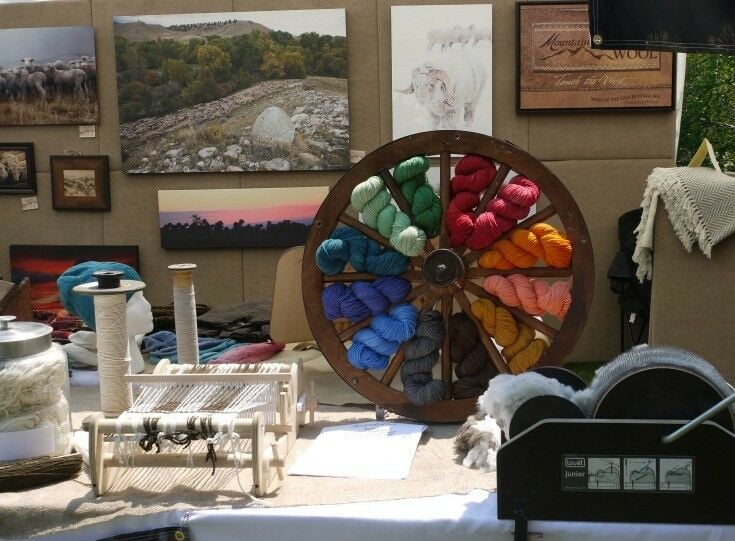 Basques in the North America have embraced their new home, even as they continue to honor their unique heritage. One of the ways they do this is through the many gatherings and festivals that are held in small towns across "Basque country."
The North American Basque Festival, sponsored by the North American Basque Organization [NABO], has been held annually since 1979, with the location rotating each year. The three-day festival includes traditional food, music, and dancing; and featured artisans and vendors all celebrating the Basque culture.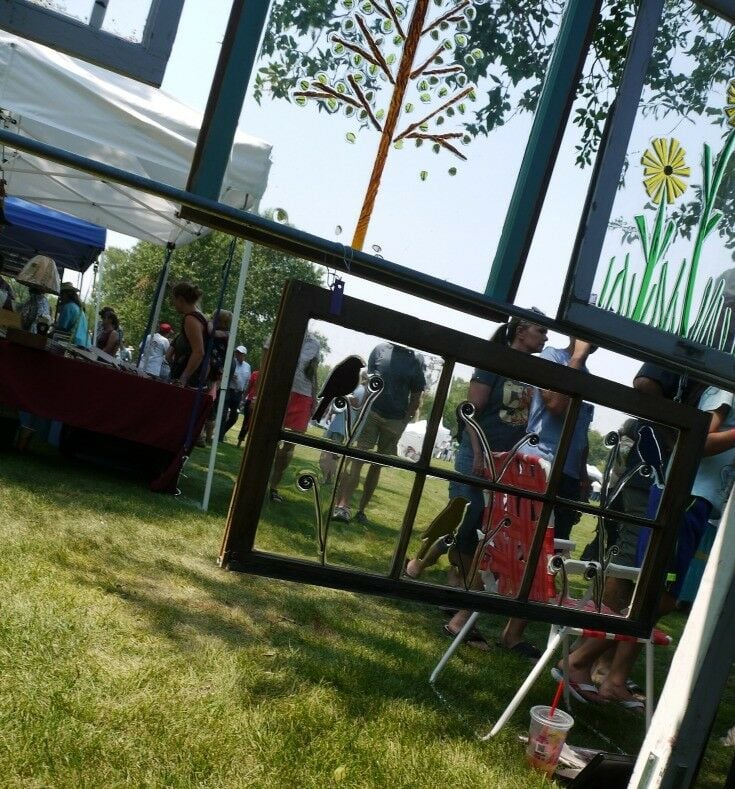 If you happen to be a knitter, crocheter, or spinner, you will love attending a Basque Festival! There were skeins and skeins of wool roving and beautiful, hand-dyed yarns for purchase everywhere!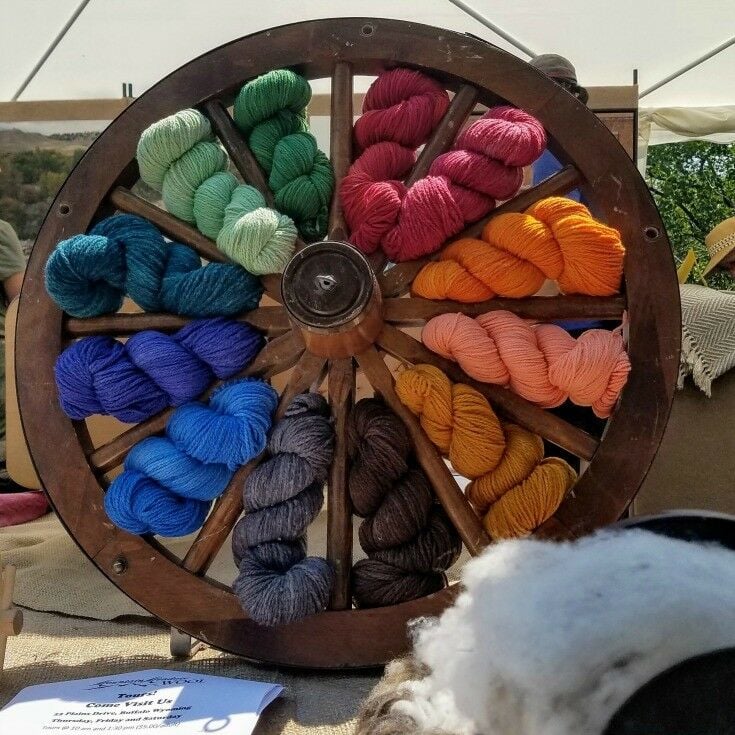 The line for barbecued lamb was ridiculous, stretching for well over a block, to the great disappointment to Mr B. (I don't eat lamb, so no tears here. It did smell delicious though.)
(Hungry for a traditional Basque meal? Try out this recipe for Basque Braised Chicken With Peppers [Chicken Basquaise].)
Everywhere we turned we saw lauburu motifs. The lauburu (or Basque cross) is a symbol of the Basque Country and the unity of the Basque people.
Karro Kampos (Basque Sheep Wagons)
The coolest thing we saw at the Festival was the collection of "Karro kampos,' or traditional Basque sheep wagons. Basque sheep wagons, which we learned are an invention of the American West, reached their height of popularity in the 1910's. They continue to be used by some sheep herders, particularly in Idaho, even today.
(These wagons reminded me a lot of the tiny homes at Tiny Digs (hotel of tiny houses) that we once stayed at in Portland.)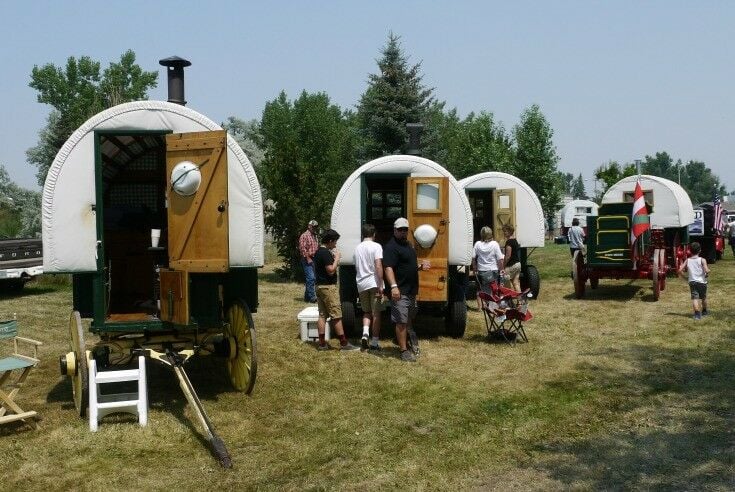 No two wagons that we saw were exactly the same; however, as we peeked into each one, we noticed certain consistencies. For example, the door was always at the front of the wagon, and the bed was always at the back. Most vintage wagons (like the one below) had a wash-pan hanging on the door, a wood stove to the left of the door (going in), and a stove pipe coming out the top.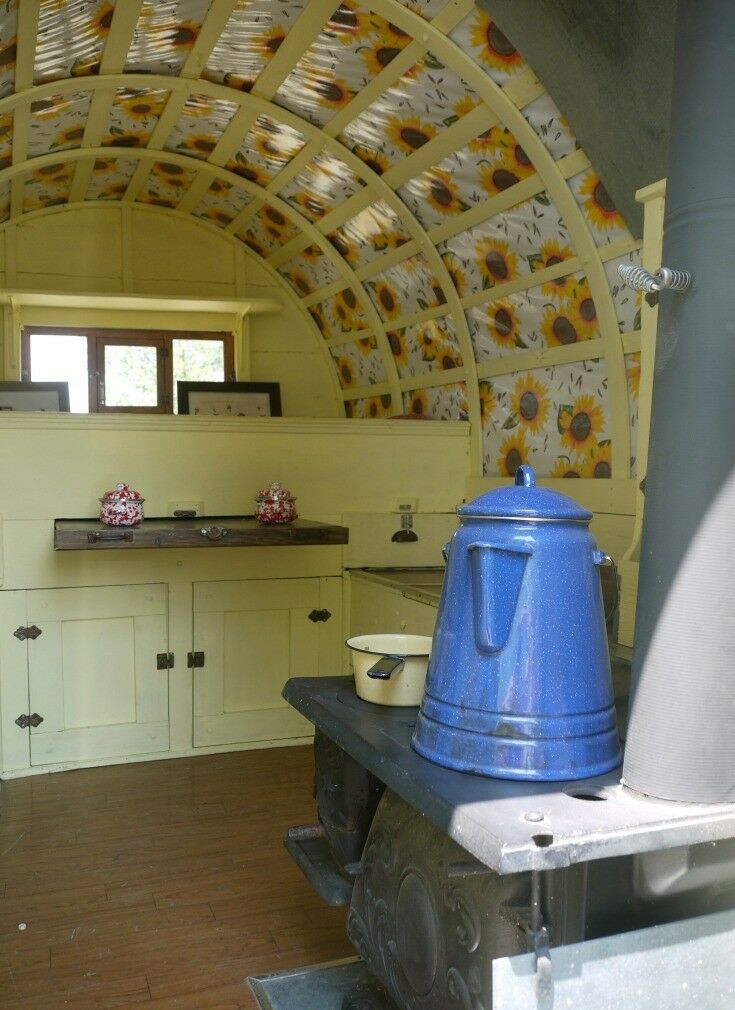 I love the detailing on this little cast iron wood stove. This wagon has a stove-pipe popping out the top.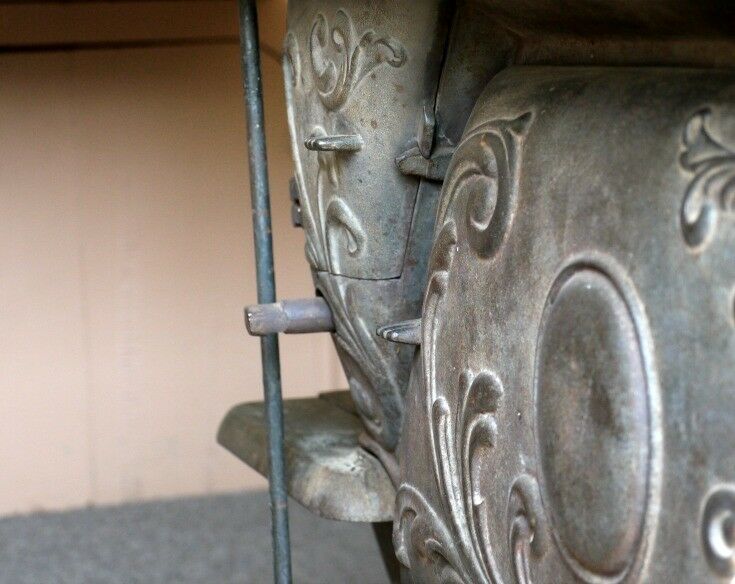 Other wagons had more contemporary interiors, with gas stoves, up-to-date cabinetry, and tiled floors.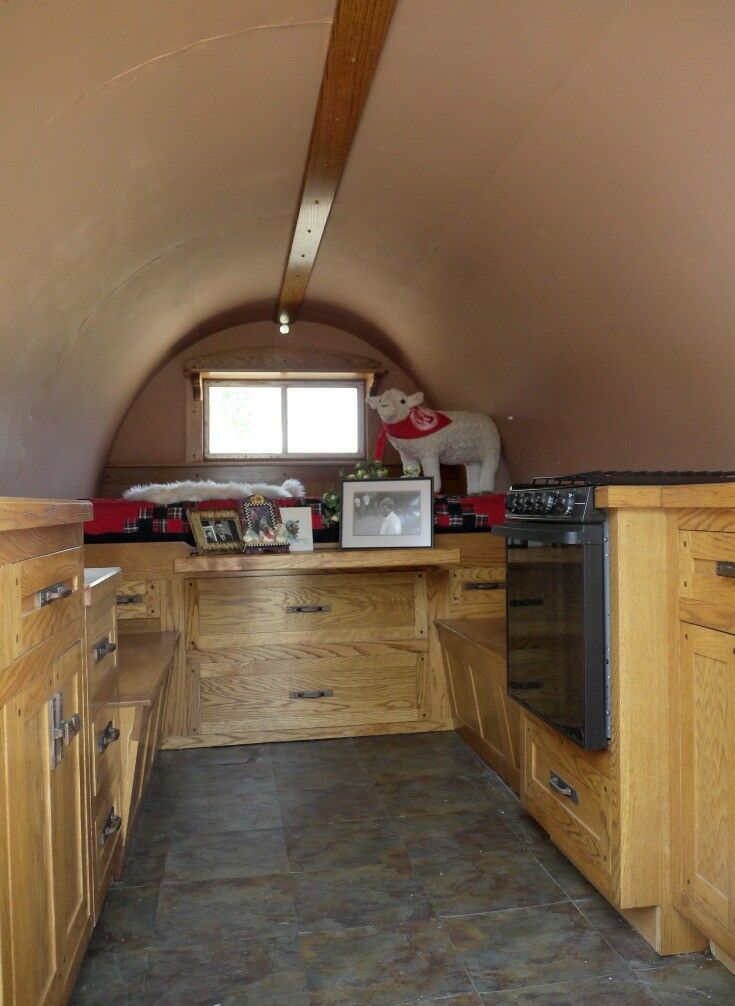 This wagon - proudly displayed by the 4th generation Basque family of George Etchemenoy - was a work of art. The attention to detail and fine craftsmanship on the wagon, along with the matching child-sized wagon and wooden tractor, was outstanding.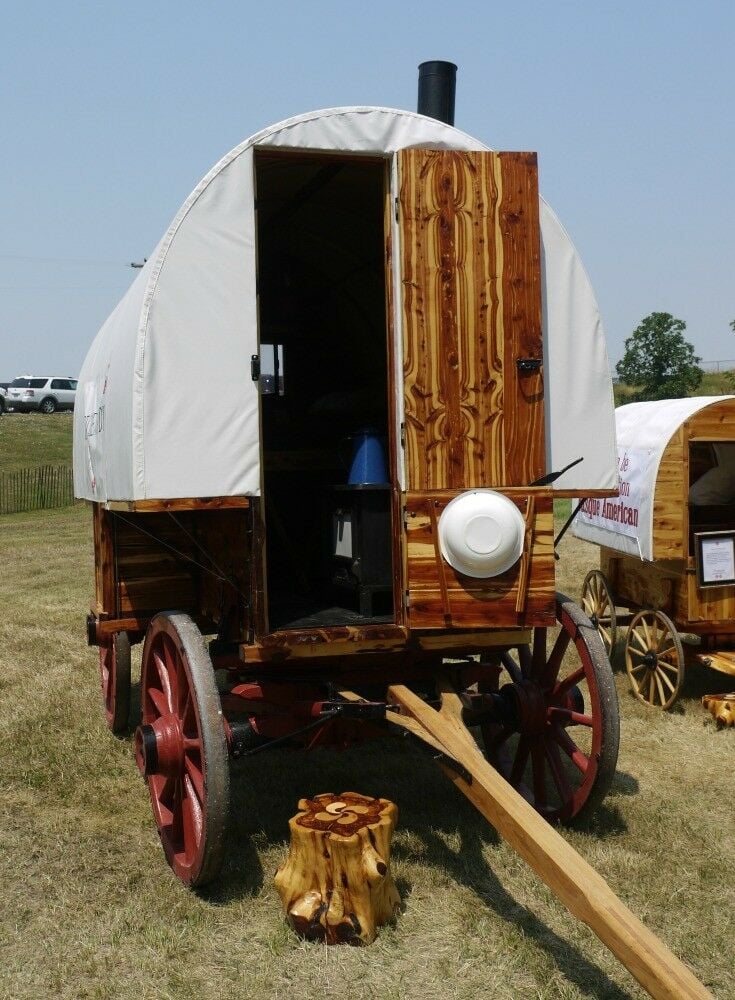 Check out the turquoise inlay on the front of the wooden tractor.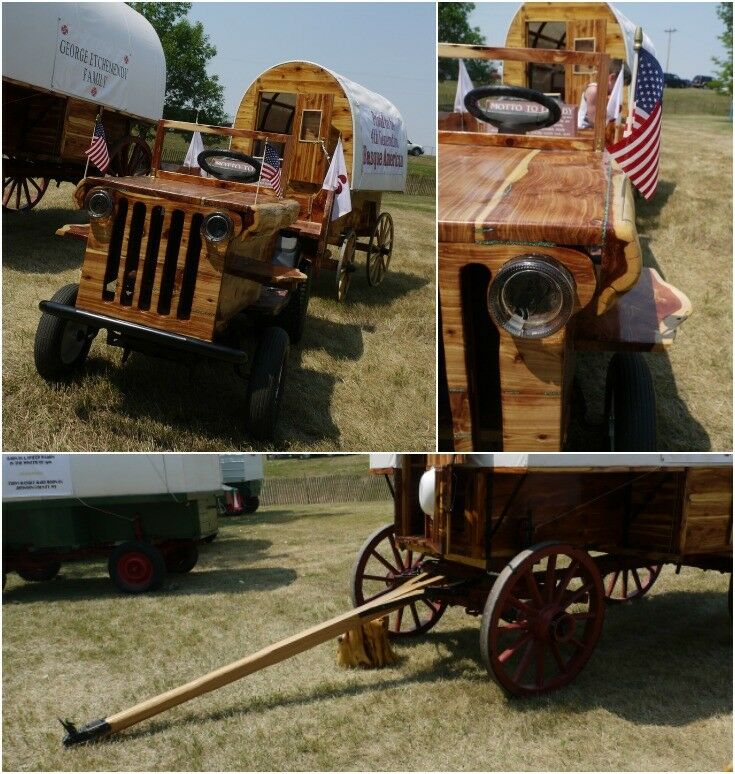 If you have the opportunity to attend a Basque festival, we enthusiastically encourage you to go - you will have a great time and probably learn something in the process! Visit the North American Basque Organization website to learn more.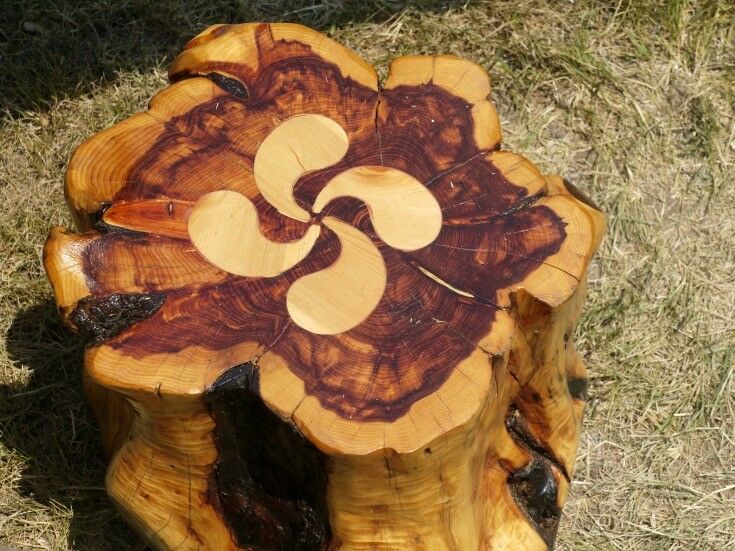 THANK YOU so much for being a faithful reader and supporter
of The Good Hearted Woman. • Be sure to PIN this post!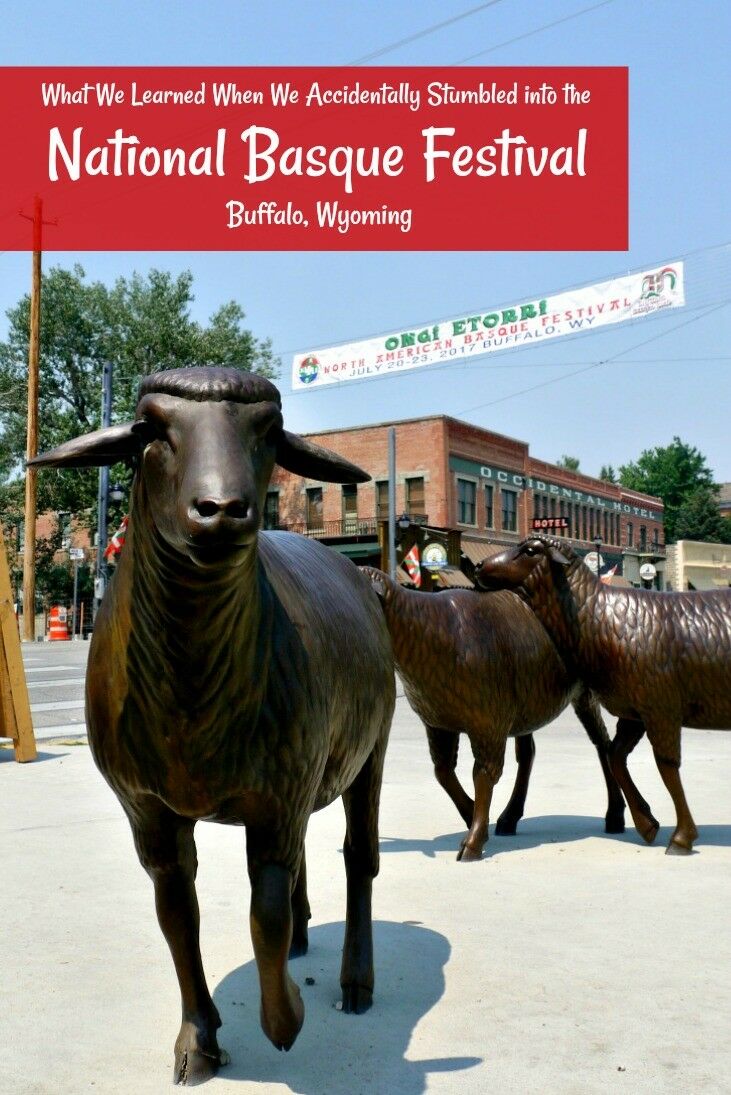 Disclosure: This post may contain affiliate links, including Amazon affiliate links, which means we may receive a commission if you click a link and purchase something that we have recommended. While clicking these links won't cost you any extra money, they do help keep this site up and running. As always, all opinions and images are my own. Please check out our disclosure policy for more details. Thank you for your support!