Named for the founder of Twin Falls, the Perrine Memorial Bridge spans the beautiful Snake River Canyon, and offers visitors breathtaking views of the Snake River.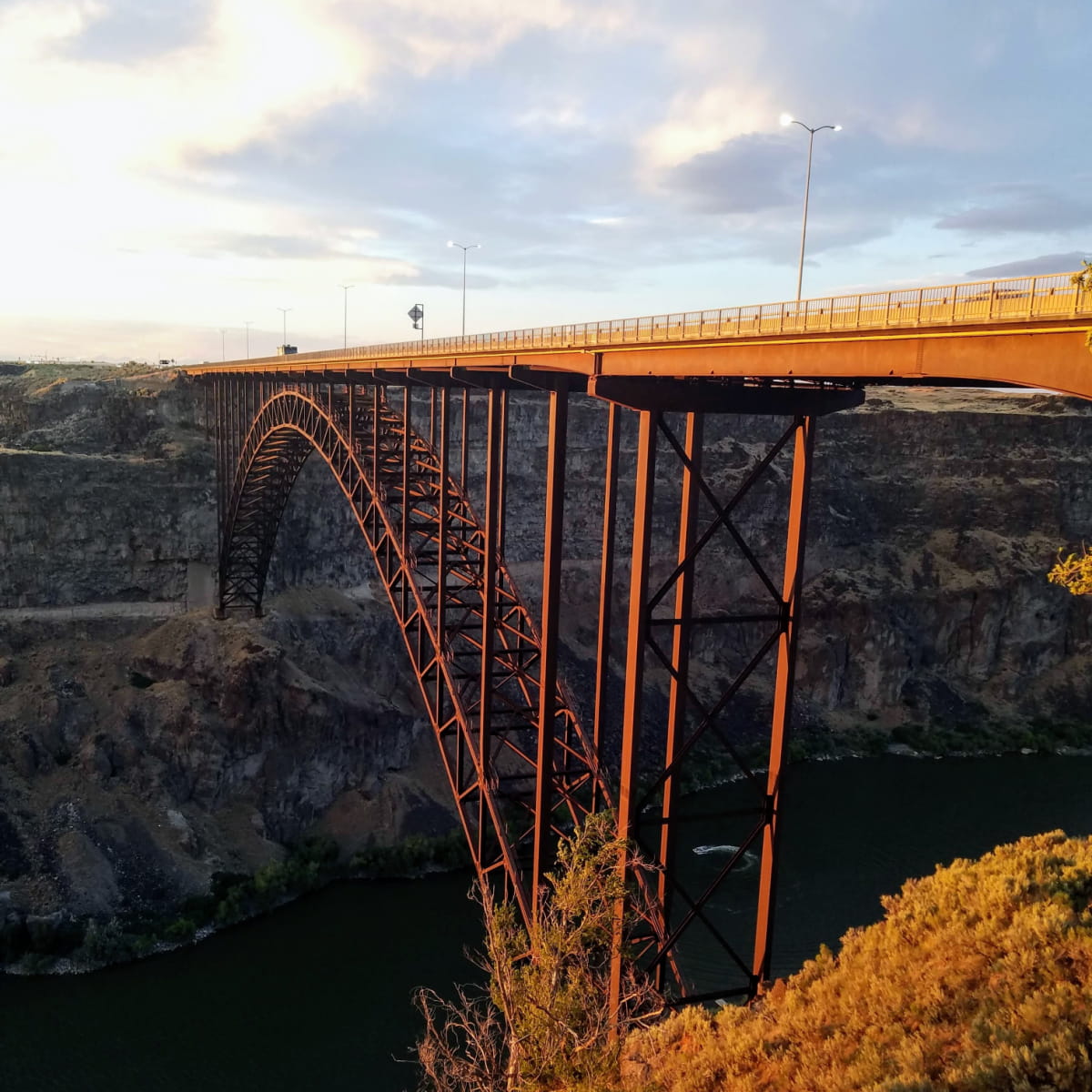 Perrine Bridge is an approximately 1,500 feet long truss arch bridge that spans the Snake River Canyon on the northern edge of Twin Falls, Idaho. The bridge deck sets 486 feet above the Snake River, making it the eighth highest bridge in the United States, and the 4th highest arch bridge in North America.
The pedestrian walkways across and around the bridge offer visitors access to majestic panoramas, with expansive views of the river, canyon cliffs, the Blue Lakes, and waterfalls, a park, and two golf courses.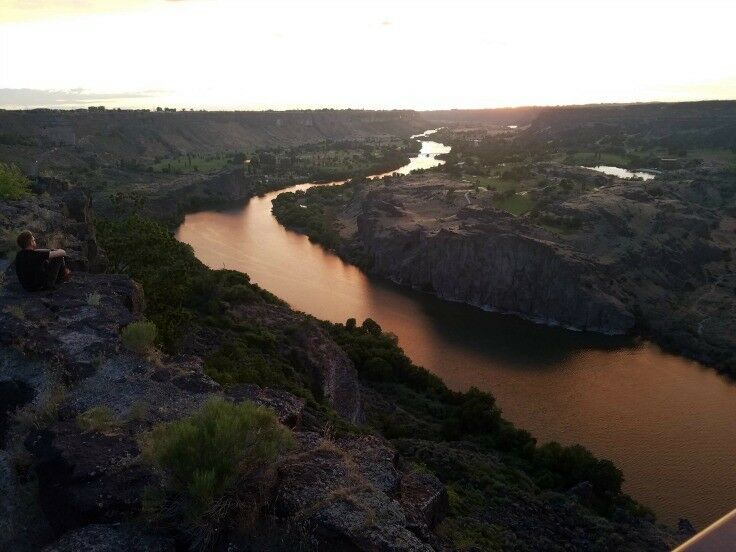 Perrine Bridge • Spectacular Sunset Views
At sunset, the view from the bridge was simply breathtaking. For a few brief moments, the Snake River looked like molten copper.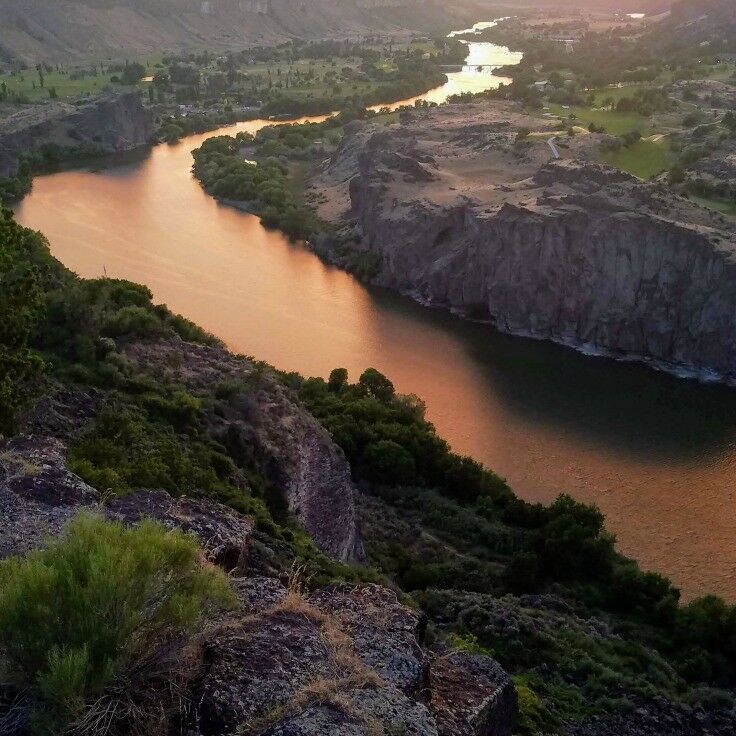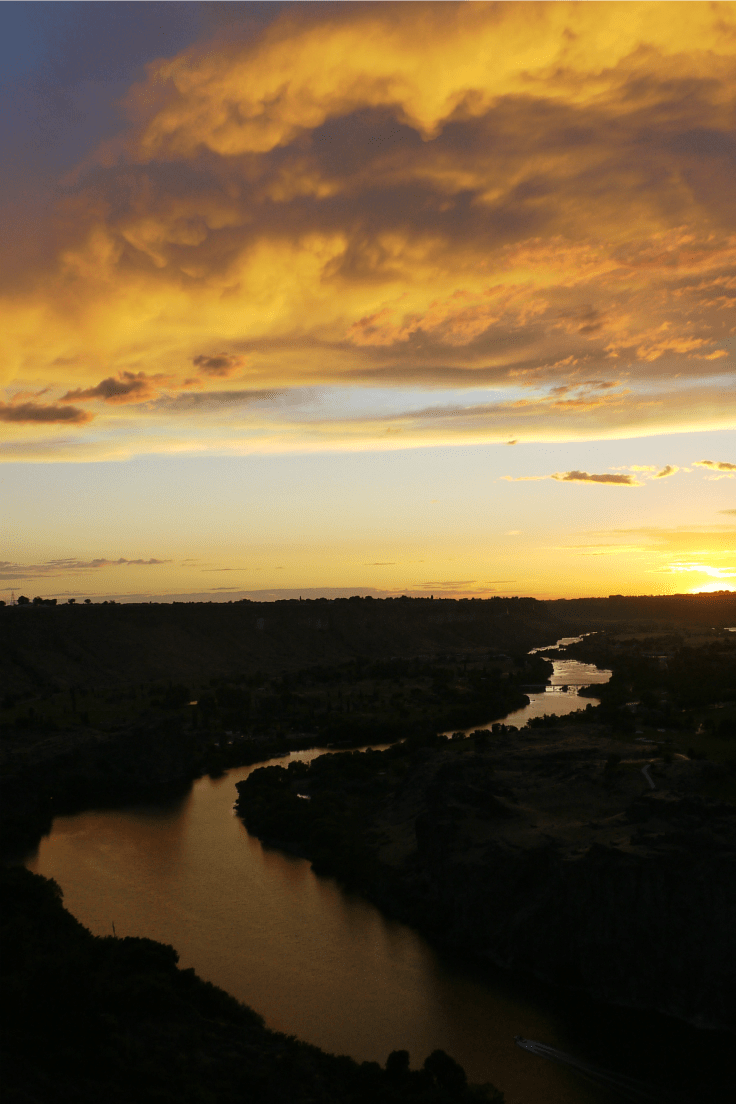 Perrine Bridge was named for I.B. Perrine (1861–1943) is credited as being the primary founder of Twin Falls. A statue of him can be found near the Visitors Center at the south end of the bridge.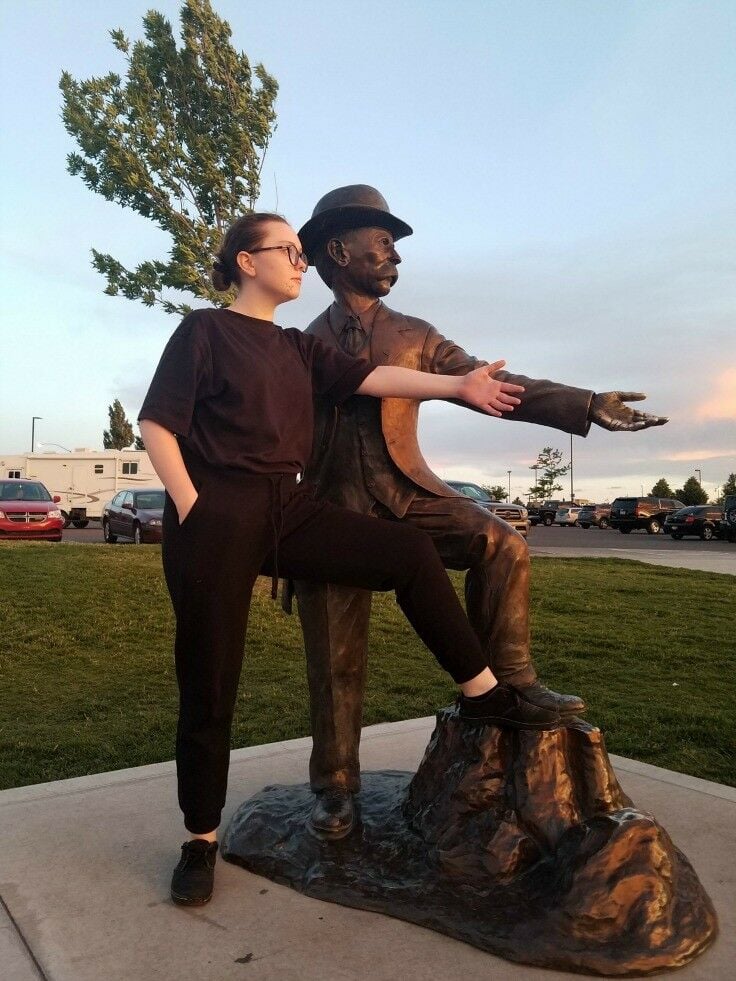 Today, Perrine Bridge is not only the most famous bridge in Idaho, but it has become a BASE jumping mecca as well: jumpers use it year-round as a launch point for parachuting to the canyon floor.
As of the time of our visit, Perrine Bridge is the only bridge in the U.S. where BASE jumping is legal year round without a permit.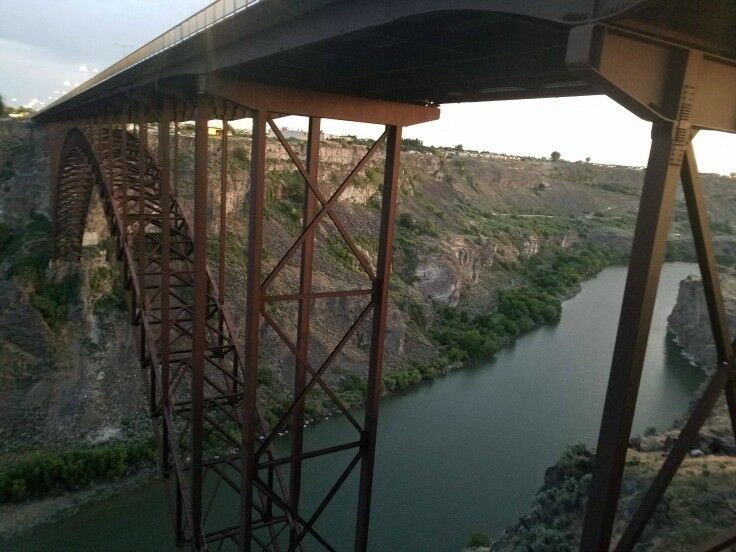 Perrine Memorial Bridge Visitor Information
Parking: Located on the south end of the bridge next to the Twin Falls Visitors Center. You will find a small park and access to the canyon rim trails there as well.
Walking: The current 4-lane structure has two 7-foot wide sidewalks on either side of the bridge, as well as walking paths under the approach spans.
Click here for more information about Perrine Bridge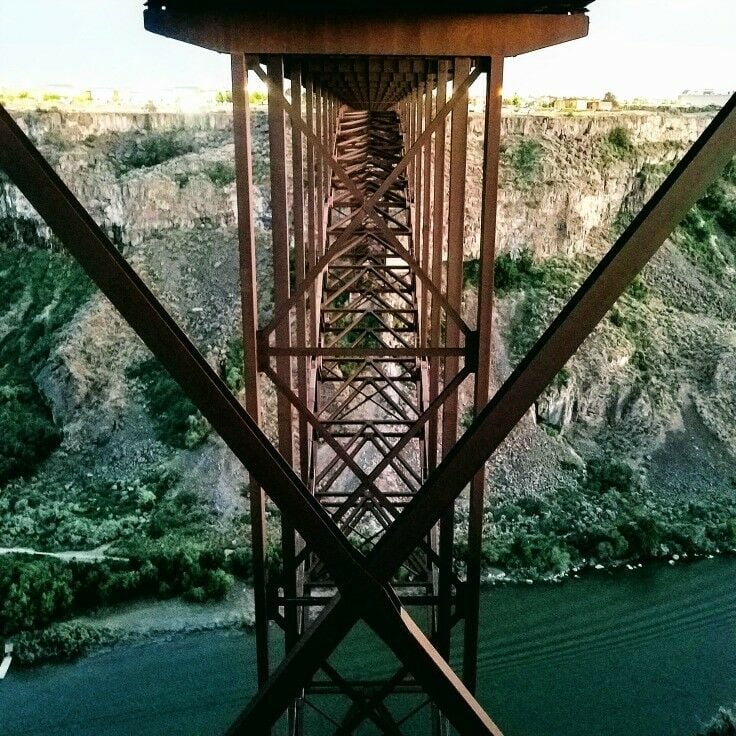 One of the things we love about traveling is the chance it give us to appreciate the beauty of our world, and both Shoshone Falls and Perrine Bridge more than delivered! If you are traveling through Twin Falls, take the time and give them a chance to dazzle you, too.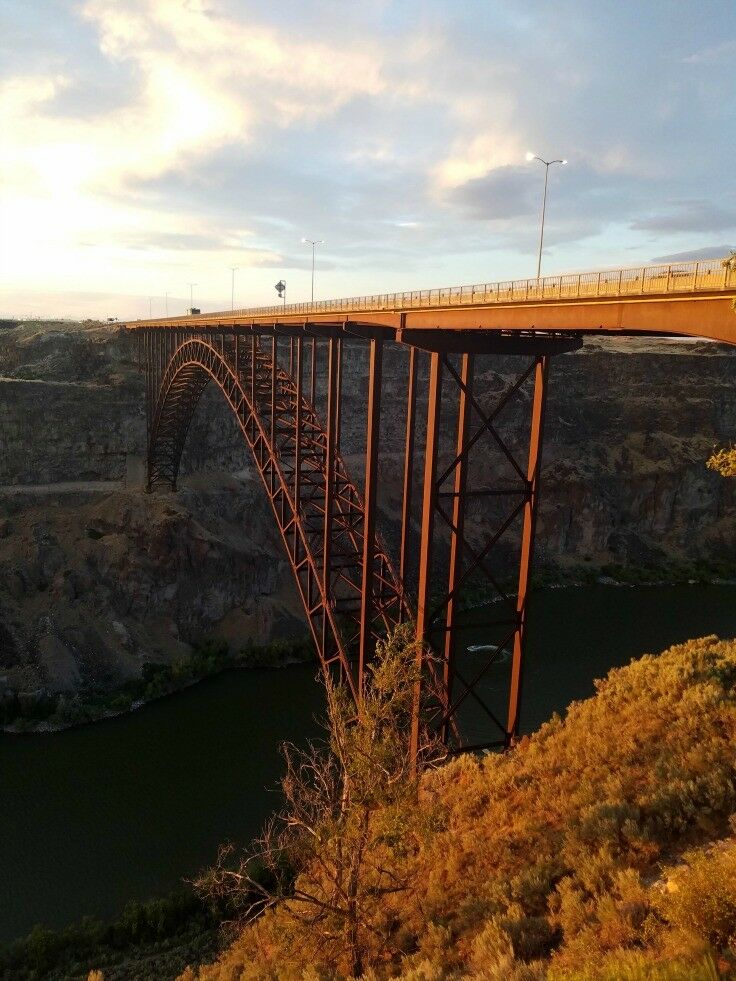 Rocky Mountain Travel
Twin Falls Travelers: Be sure to check out Shoshone Falls (the Niagara of the West), too!
If you find find yourself in eastern Idaho looking something out of this world, be sure to check out the Craters of the Moon National Monument!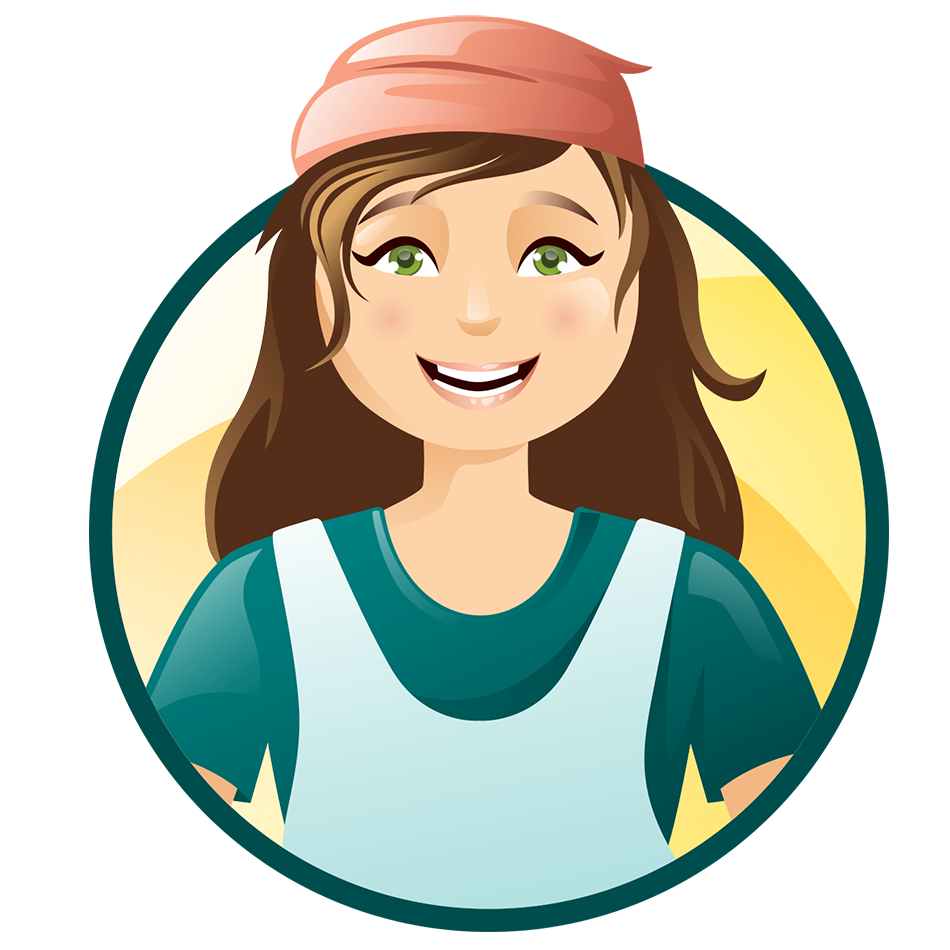 Thank you for visiting the Good Hearted Woman. Remember to bookmark this site, and come back soon!