If you find yourself traveling through Wyoming and feeling those hunger pangs, be sure to check out these small town restaurants! (Buffalo, Casper, Gillette & Sheridan)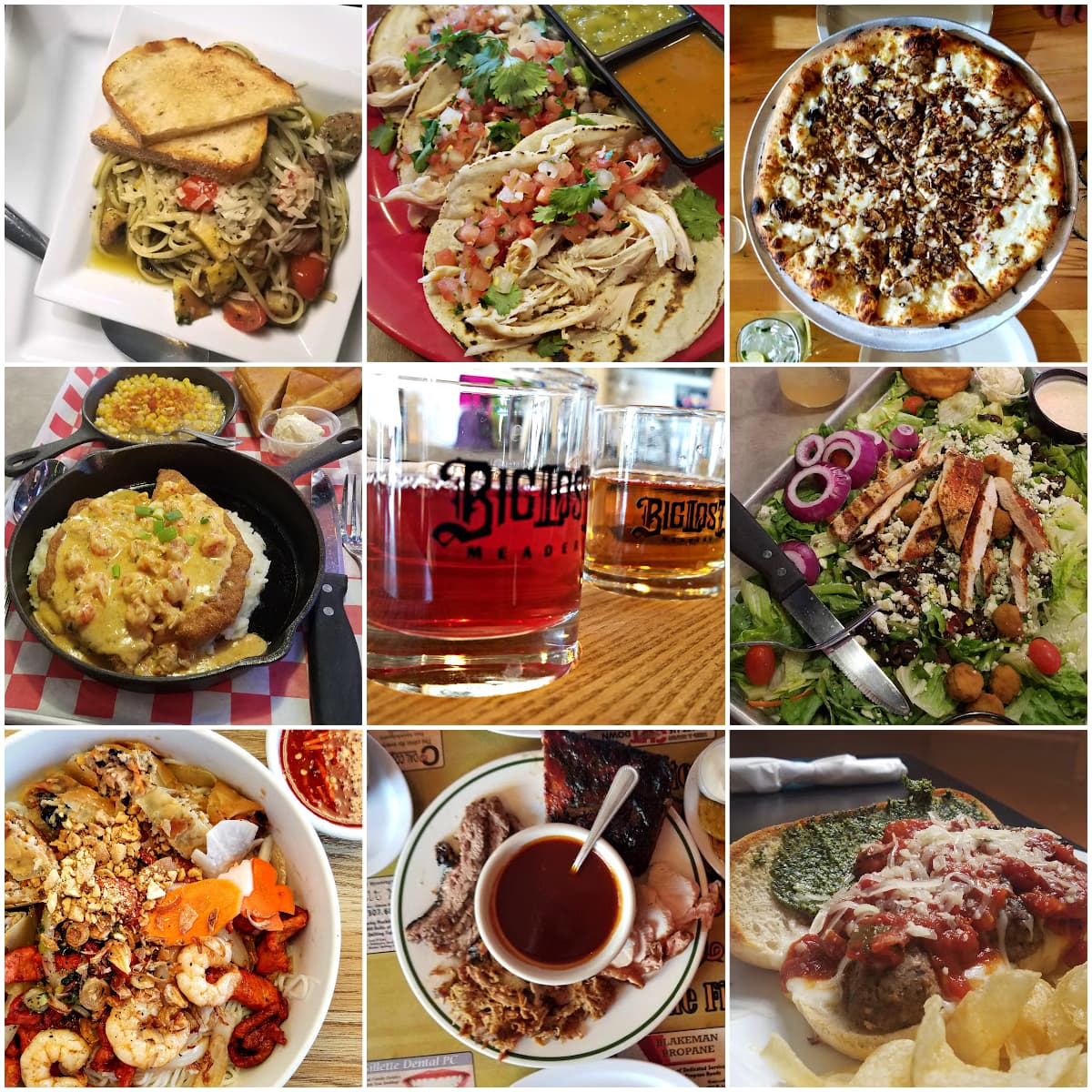 Whenever Mr B and I go on a road trip, we make it a point of tracking down the best small town eats we can find. The smaller the town, the more Mom-n-Pop a place feels, the more the locals rave, the faster we come running. We make a week-long run through Wyoming every year: here's a roundup of our favorite small town Wyoming restaurants!
Buffalo
Pop. 4,584*
Southside Grill - Diner and neighborhood bar with a menu strong on comfort classics.
Dash Inn - Retro-style diner; where the locals eat.
Pie Zanos - Locally sourced, scratch made; traditional and new takes on Italian classics.
Occidental Saloon - Old West tourist spot great for lunch and a cold drink.
Buffalo is at the top of our list of favorite Wyoming small towns: there seems to always be something wonderful happening whenever we stop in! One year it was the National Basque Convention, another it was a Longmire Days (Longmire author Craig Johnson is a local celeb). Who knows what the next year will bring?!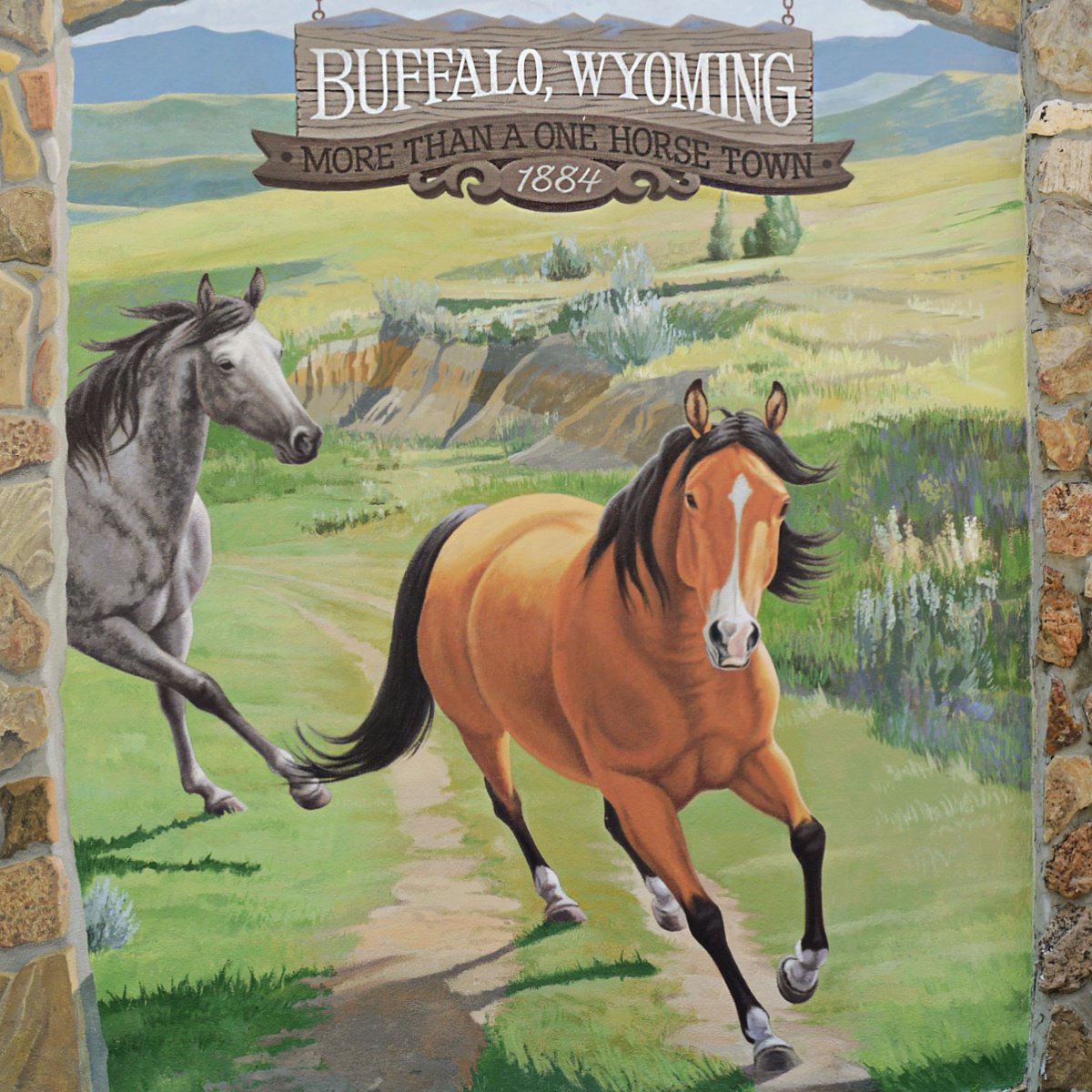 With all those festivals and community celebrations come some delicious smelling food carts to the town square, but these tasty, mostly barbecued offerings are available sporadically at best. There are surprisingly few sit-down restaurants in Buffalo, but we've found a couple of places that serve travelers an excellent meal.
Tip: Click thru to read more about where to eat, stay, and play in Buffalo.
Southside Grill
The Southside Grill is our new favorite hangout in Buffalo! On a recent visit, we spent a few hours there, noshing on fried green tomatoes and enjoying a couple glasses of draft Cold Smoke (Mr B's all-time favorite beer).
Southside's menu is strong on comfort classics like chicken fried steak and jambalaya, as well as thick, meaty sandwiches, hearty entree salads, and house smoked brisket.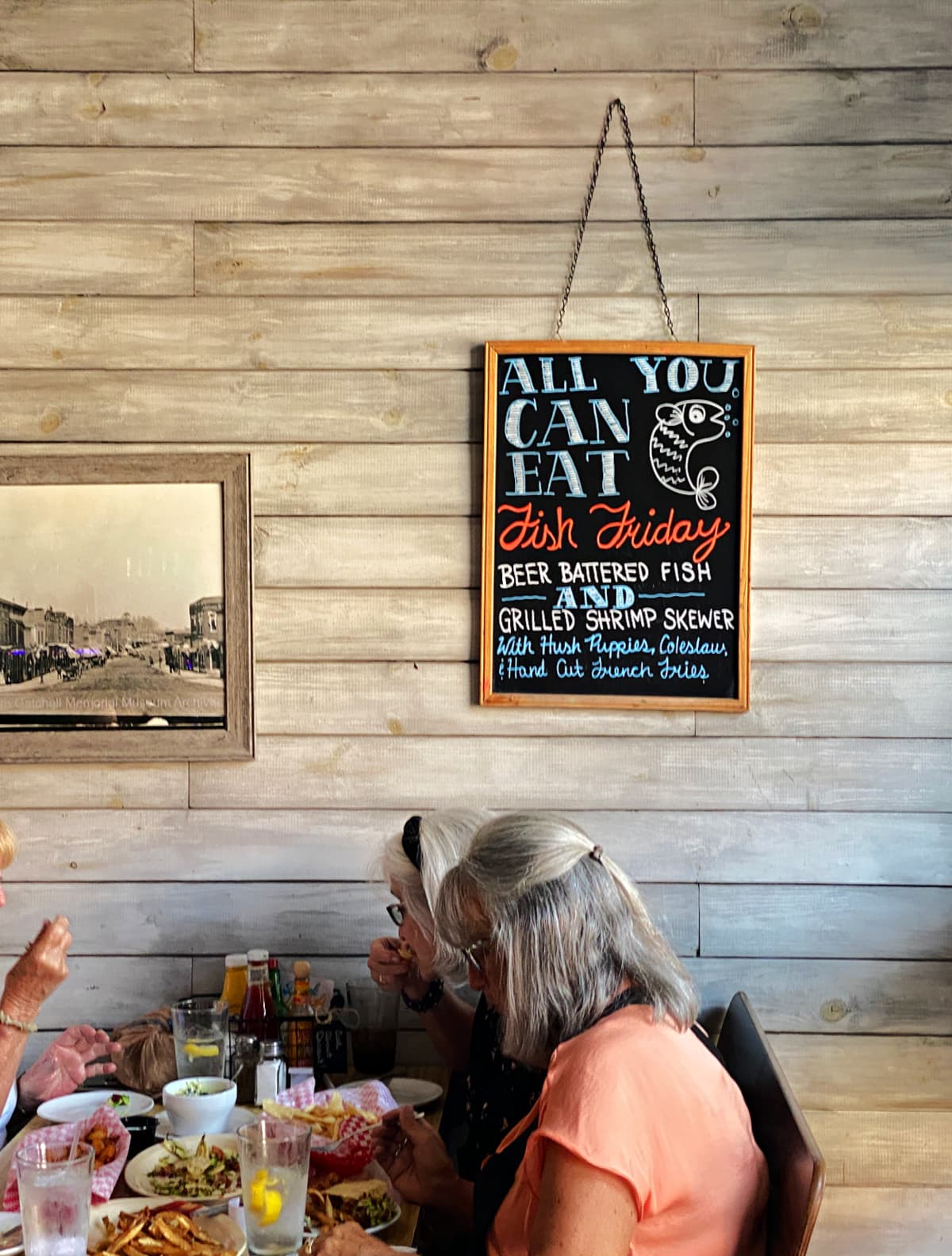 The wait-staff at the Southside Grill were efficient, friendly, and attentive, and while we were there, we enjoyed a wonderful conversation with a bright young bartender named Nicole. (Go knock on that door, Nicole!)
Dash Inn ("Where the Locals Eat")
Dash Inn bills itself as the place where the locals eat, and from what we saw, it's true. We stopped in about 1pm on a Friday afternoon, and it was packed; mostly with hot, work-weary Buffalonians, plus a few straggling tourists like us.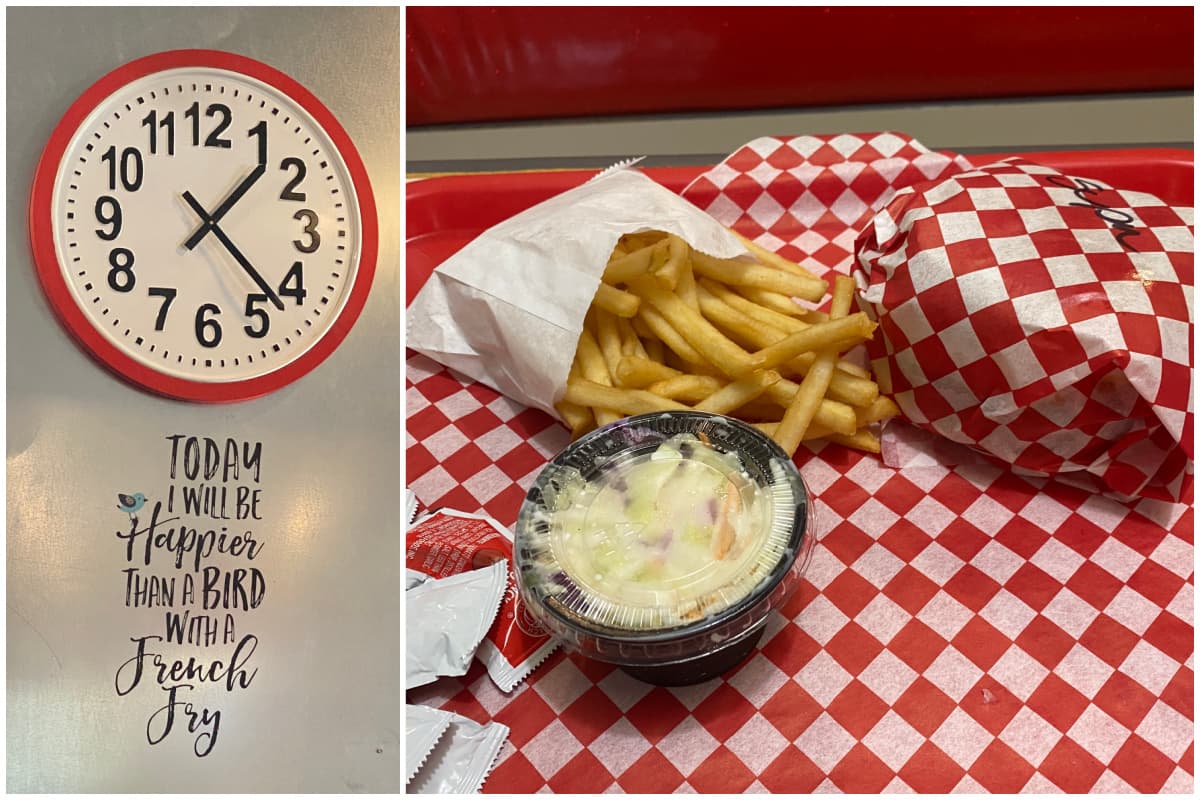 The retro-style diner features dine-in, drive-thru, and takeout service, and serves up a wide variety of classic diner fare: burgers, sandwiches, fried chicken, smoked ribs, Mexican food, and ice cream treats.
The service at the Dash Inn is friendly, the food good, and the prices reasonable - exactly what you'd expect from a popular hometown diner. We topped our meal off with a creamy butterscotch malt: you really can't go wrong with a malt on a hot day!
Pie Zanos
Pie Zanos is currently our favorite place to eat in Buffalo. Speaking as one who actively seeks out cozy destinations, this place virtually breathes buffalo plaid and boot leather. Some of the kitsch that fills the cabinets may be a bit cringy, but overall, the "cowboy tourist" meets "attic-cleaning baby-boomer" vibe seems to be working for them.
Pie Zanos' menu offers scratch-made traditional dishes and new spins on Italian classics. Meats and produce are locally sourced, and the menu leans heavily on seasonal produce. There were a couple of good options for vegetarians, but it might tough to get a great vegan meal here (as is the case in most of Wyoming). Service was friendly and efficient, and the low sound level made it was easy to hold a conversation in the space.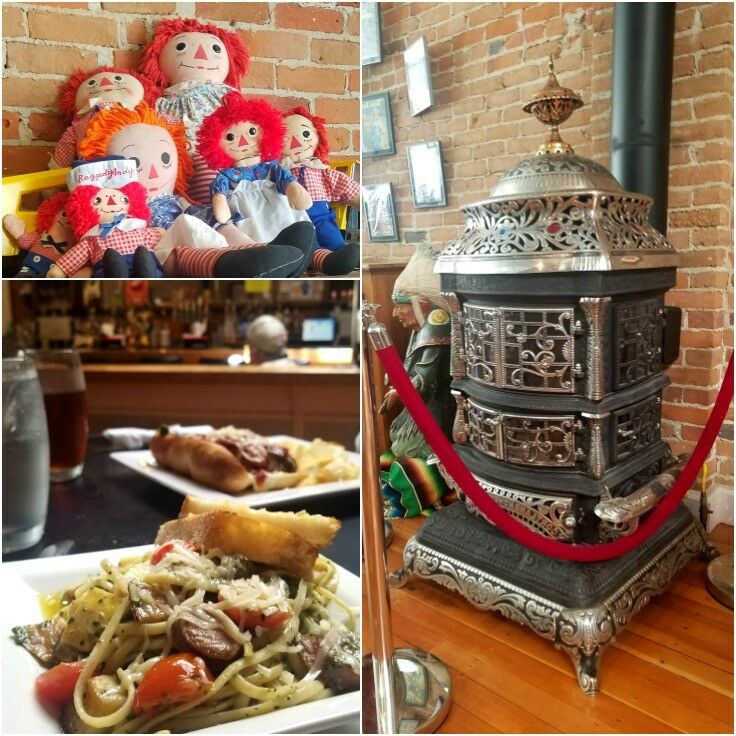 I ordered the Pasta Primavera with Italian sausage because I was jonesing for veggies, and the fresh tomatoes and zucchini in the menu description sounded delicious. When it arrived, I noted that the vegetable to pasta ratio seemed a bit low, but other than that, it made for a quite satisfying meal. The dish as a whole was excellent, and the grilled marinated veggies were especially tasty.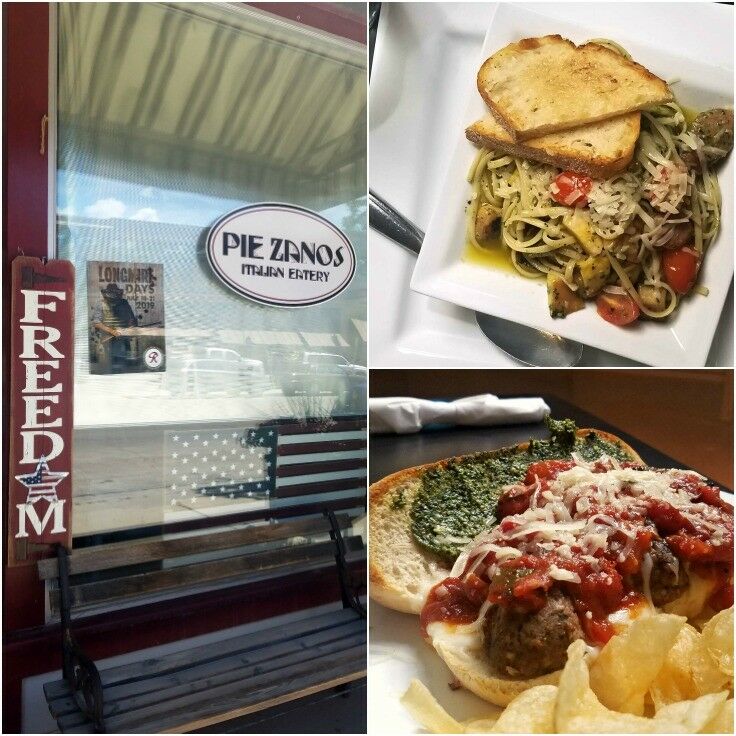 Mr B ordered the meatball sandwich, which he described as "average to a little better than average. I'd give it a B, give or take." (Mr B fancies himself to be a Meatball Connoisseur, which apparently roughly aligns to being a Master Sommelier, only with meatballs instead of wine.)
The house-made meatballs themselves had a pleasant flavor and solid texture (as opposed to being spongy). The marinara sauce that topped the sandwich was thick, tasty, and nicely balanced with the meatballs. However, the best part about the meatball sandwich was - by far - the roll that it was built upon. It was Outstanding! If that roll is any indication of quality that their in-house bakery produces, we will be back next year with bells on!
We did note that Everything we ordered was in desperate need of salt, pepper, and any other tableside seasoning we could find. We run into this "blandness/lack of seasoning" often when we eat out in Wyoming, and it has us thinking that maybe Wyomingites as a whole prefer their food a little on the "less-seasoned" side.
FYI: Pie Zanos also has a wood fire pizza oven, and while Mr Band I didn't order a pizza this time, the pizzas we saw going by our table during our visit looked and smelled delicious!
Occidental Saloon
Founded in 1880, Buffalo's Occidental Hotel has a long and colorful history. In its early years, it hosted such notable figures as Teddy Roosevelt, Buffalo Bill Cody, and Calamity Jane, as well as outlaws Butch Cassidy and The Sundance Kid, and famous cattle detective (yes, that's a thing) Tom Horn.
The saloon, located on the first floor of the hotel, became a bustling gathering place that stands as testament of the times to this day. In other words, it's everything you'd expect of an Old West-themed tourist stop.
Mr B and I have stopped into the Occidental Saloon a number of times over the years, but it's usually more for the air conditioning and the ambiance than the food. We've learned that it's an excellent place to get a cold drink and cool off when the weather in town is too hot and muggy. (I've visited Buffalo about five or six times now; always in July, when it is always too hot and muggy.)
The service at the Occidental is always friendly and courteous, although on occasion, it is slower than dust settling on a breezy day. (But remember, folks - this is Buffalo! If you're in a big hurry, you should probably go somewhere else anyway. Like Not Wyoming.)
When you mosey up to the 25-foot bar, you will be standing in the exact spot where cowboys, sheriffs, desperados and cattle barons gathered. You may almost hear them arguing and making deals. In your imagination, you might even hear shots ring out - and if you look around you and up at the ceiling, you can still count numerous original bullet holes!

- The Occidental Saloon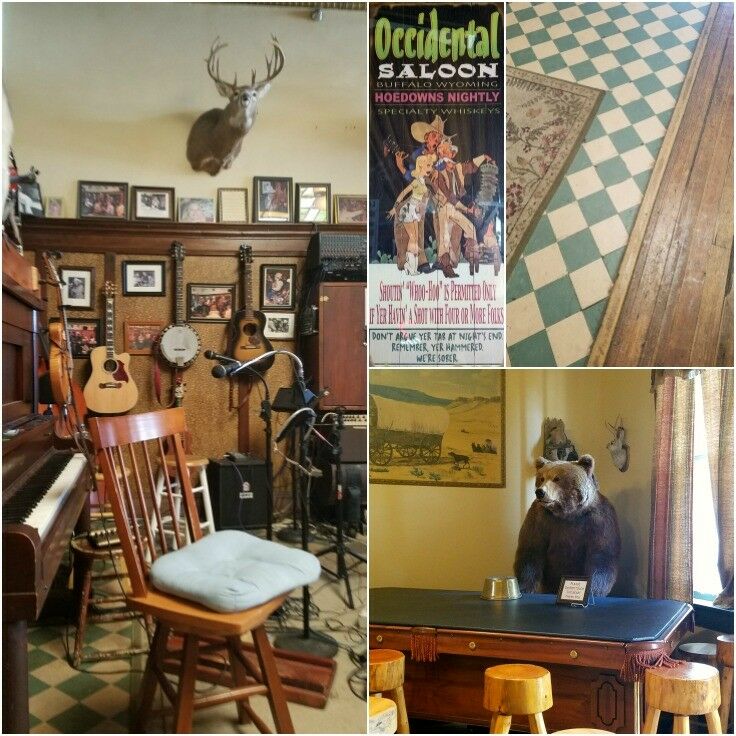 Menu offerings at the saloon tend to run toward heavy comfort food, and include items like chicken fried steak, french dip sandwiches, bison burgers, and assorted deep fried fare. We've always been happy with the food we order here: it's never anything I feel compelled to search out the chef about, but we've never left hungry or dissatisfied.
Casper
Pop. 57,814*
Pho Saigon - Thai food that will make you swoon.
Sanford's - Monster-size portions in a cool, vintage theme restaurant.
HQ Southern BBQ - Some mighty fine BBQ.
Pho Saigon
Before we go any farther, I need to apologize.
I'm sorry, Casper. I totally underestimated you.
Portland, my lifelong home, currently boasts more than two-dozen Vietnamese restaurants. I came of age at the same time Portland's incredible Southeast Asian restaurant scene was beginning to gain momentum, and after eating my way through a couple decades of varied Asian cuisines, I guess I think of myself as something of a connoisseur. As it turns out, I'm apparently a bit of a food-snob, too: I really wasn't expecting to find this level of quality in Casper, Wyoming.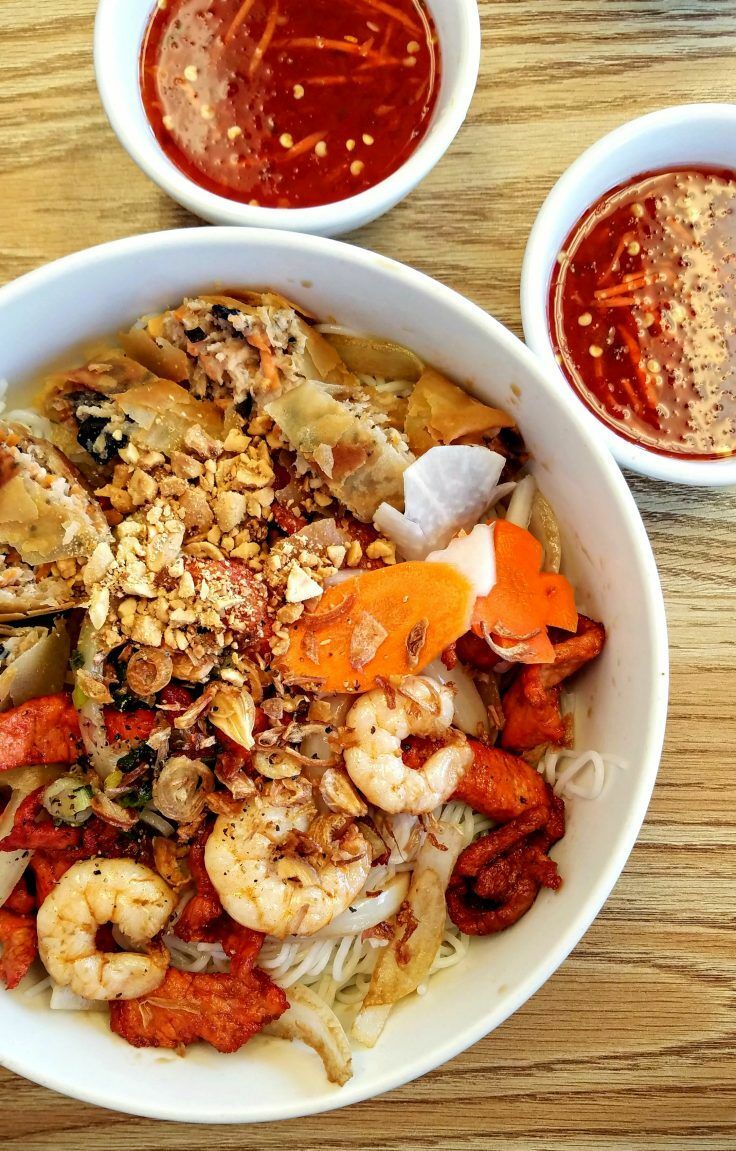 I know this is a "pho" place, so we probably should have checked out the pho, but I went for my favorite: a combo cold vermicelli bowl with a spring roll. Mr B skipped his usual pho bowl and ordered one for himself as well. Wyoming Julys are simply too hot for eating steaming bowls of beef noodle soup.
Flavors were all spot on, and the lemongrass chicken, grilled shrimp, and rice noodles were all perfectly cooked. The spring roll was crispy and the seasonings felt familiar in all the right ways. The only thing it was missing was the fresh cilantro, bean sprouts, and fresh basil that are usually served on my vermicelli bowls back home, but this may be a regional garnish.
Prices are reasonable at Pho Saigon, but be forewarned: portions are huge! Mr B and I could have easily split one vermicelli bowl... if I had been inclined to share mine with anyone. Which I wasn't because it was so freaking delicious!!
Sanford's Grub & Pub
If you are visiting Casper, Sanford's is one of those places you really should visit at least once, if only for the experience. That experience starts long before you walk through the front door! A herd of dinosaurs greet you as you swing into the parking lot, and a 20-foot tall Bugs Bunny and equally towering Daffy Duck stand sentry to the entrance.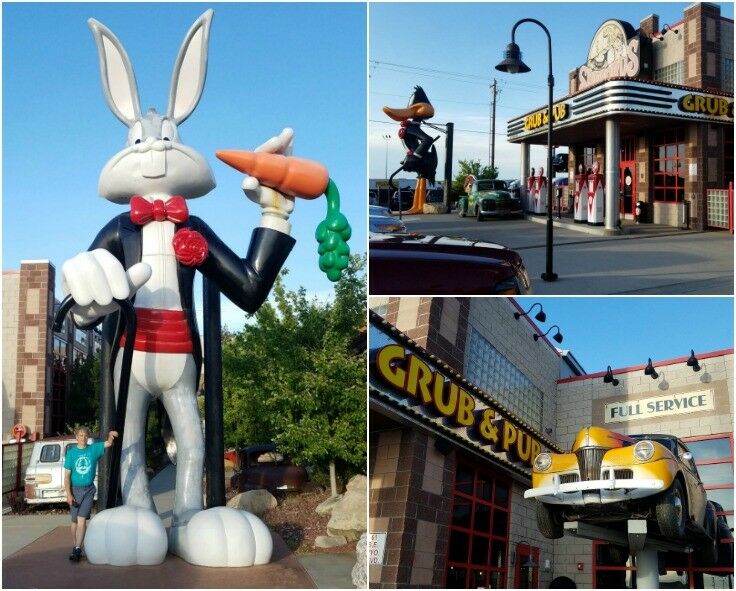 Sanford's interior, with its cool, vintage gas station theme, reminded us a lot of Sparky's Garage in Butte. (Think Red Robin meets Midwest BBQ.) And like Sparky's, the menu is a balance of meaty "man-food" and deep-fried comfort, all served up in gut-busting portions.
Mr B ordered the Southern Fried Catfish with Crawdaddy Cream Sauce, while I chose to go with one of the lightest menu items I could find: a sheet pan-sized Southern Cajun Chicken Cobb Salad. The food was tasty and satisfying - not great, but a solid good - and needless to say, we had enough leftovers to last us for a couple of meals and then some.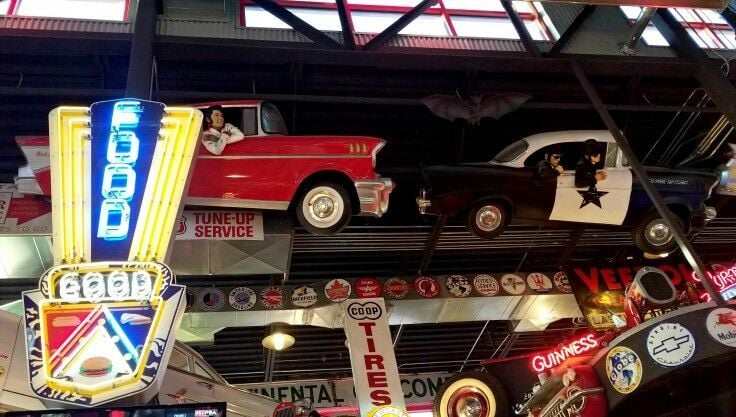 While we waited for our food to arrive, we took the opportunity to check out the rest of the place, which is chock from bottom to top with memorabilia: classic cars and motorcycles, old gas pumps, and loads of colorful old advertising kitsch. So much fun!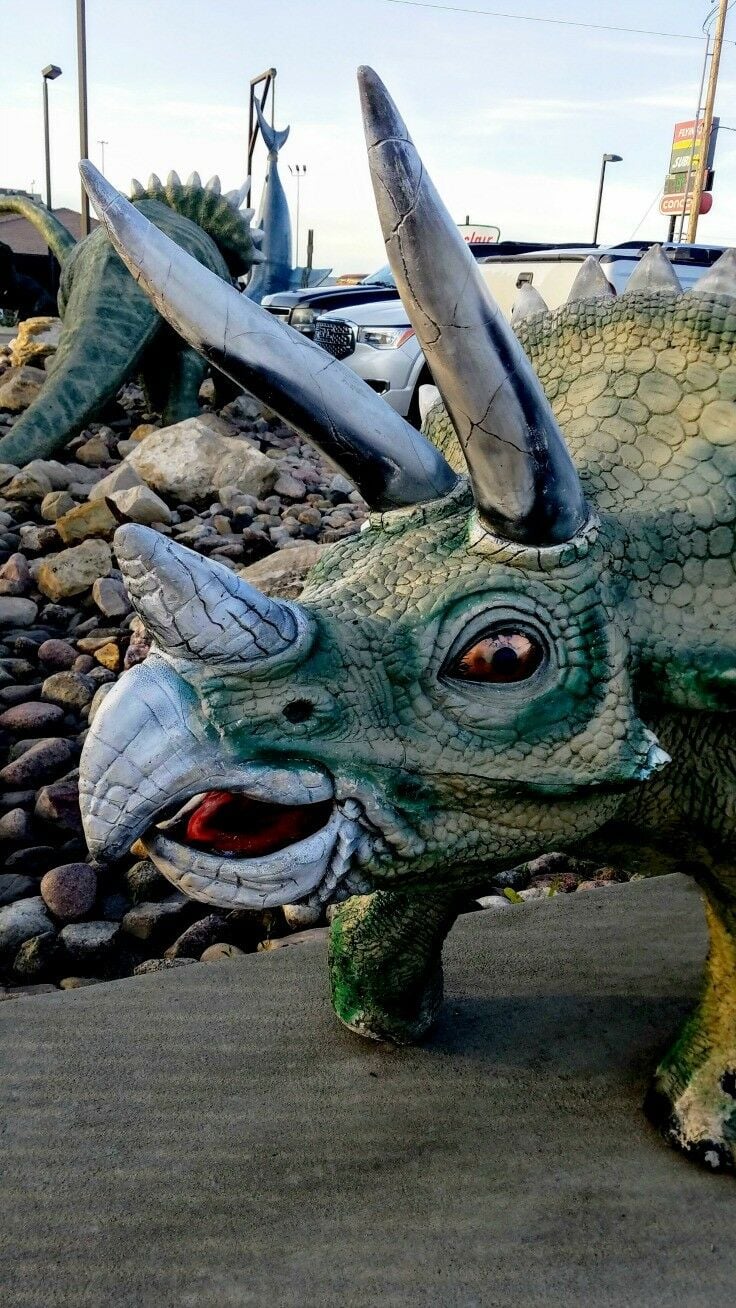 HQ Southern BBQ
HQ Southern BBQ opened in 2011 in a former gas station, and on the outside not a whole lot has changed since the days when folks were pumping gas there. The vibe is "rehabbed western truck-stop chic," and the barbecue is fabulous.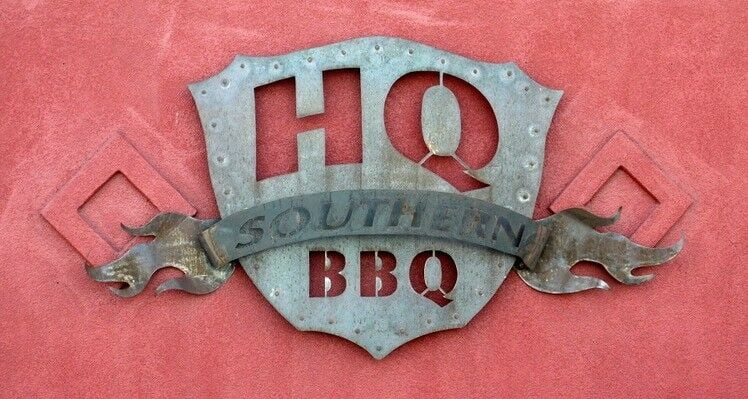 For big appetites or friendly couples who share, Mr B and I highly recommend the Rib Sampler, which comes a full slab in three different preparations - spicy bourbon habanero sauce (much less spicy than it sounds), Memphis dry-rub, and HQ's signature wet sauce. The platter also comes with two sides, and a platter of freshly made, warm cornbread served with fluffy honey butter.
Mr B and I first dined at HQ BBQ a couple of years ago, and loved it so much that we wrote up a whole post devoted to this local favorite!
Gillette
Pop. 30,560*
Pizza Carello - "The Best Pizza in Wyoming"
Pokey's BBQ & Smokehouse - Texas-style BBQ in Texas-size portions.
The Coop - Tasty Tex-Mex influenced rotisserie chicken dishes.
Big Lost Meadery - Cool off with a horn full of craft mead and get Big Lost.
Pizza Carello
When we went through Gillette this summer, we asked everyone we met what they thought the best place in town was to eat, and nine times out of ten, the answer was, "Well, if you like pizza, Pizza Carello's has the best pizza in Wyoming."
"Best Pizza in Wyoming." That's a pretty big statement. We chalked it up to home-town hyperbole, but we also put it at the top of our "must-try" list, and as it turns out, it may not be all hockum.
While Mr B and I have certainly not eaten at every pizza place in Wyoming, so far it appears that all those Gillettites may just be right!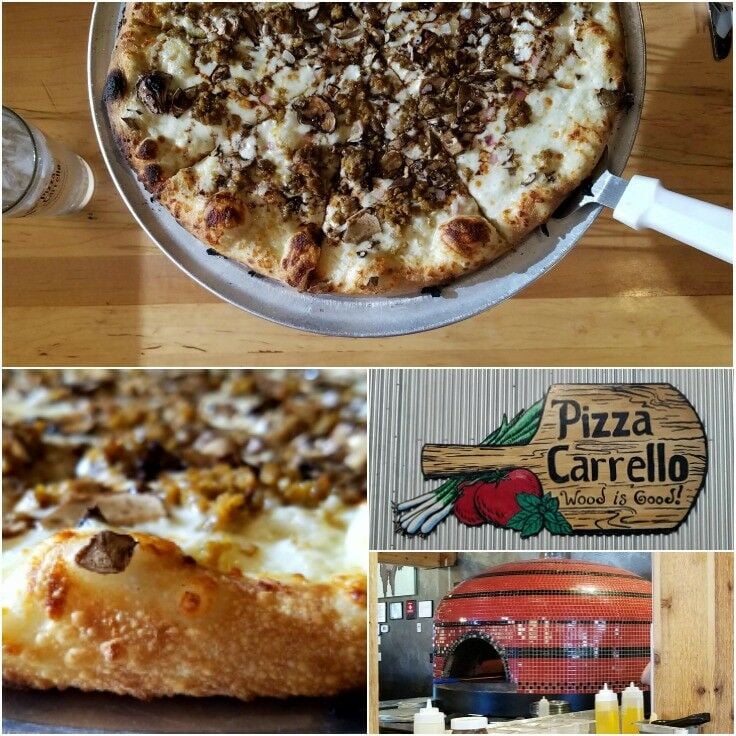 We ordered one of Pizza Carello's Signature wood-fired pizzas - a "Sausage Bianco Balsamico," which features garlic-infused olive oil, mozzarella, sausage, mushrooms, onions with a drizzle of balsamic reduction. It was, in a word, Amazing. The crust was tender and perfectly fired, and the toppings were fresh and generous.
The only thing better than the pizza at Pizza Carello was the service. Our server, Tiffany, was one of the most attentive, friendly, and intuitive servers I've ever had the pleasure of meeting. She made excellent recommendations, and she wasn't afraid of giving us her direct opinion when I asked what her personal menu favorites were. (I cannot stand it when the server hems and haws for fear of offering an unwelcome choice.) Tiffany was absolutely the best!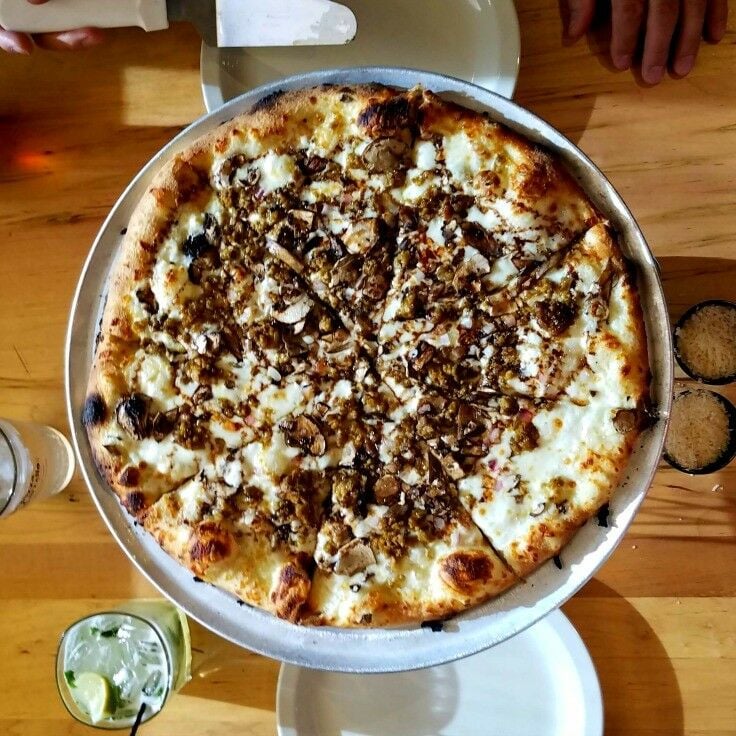 Pizza Carello is open seven days a week, and serves brunch on Saturday and Sunday from 10am - 2pm.
Pokey's BBQ & Smokehouse
Three things that stand out from our visit to Pokey's: the excellent service, the solid Texas-style BBQ, and the enormous portions.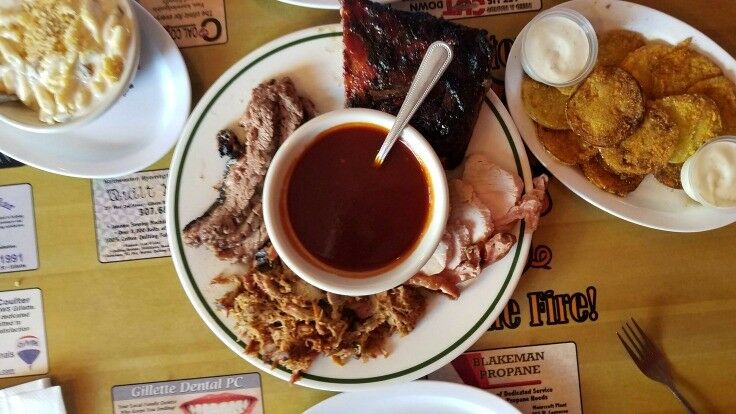 We ordered the BBQ Sampler Platter for Two, which comes a quarter pound each of beef brisket and smoked turkey, a half pound of pulled pork, and a quarter rack of ribs. Mr B and I went for it and chose the Brisket Mac-n-Cheese and the Fried Green Tomatoes for our two accompanying sides.
The BBQ overall was very good - a solid 7.5-8 out of 10 with the smoked turkey being particularly succulent, and the brisket was tender to a fault. At $33, the sampler platter may seem a bit pricey for Gillette, but we both got a huge dinner, a midnight snack, and leftovers for lunch out of it, so I'm calling it a bargain.
The Coop (Rotisserie House)
Mr B and I always try to ask local folks for their restaurant recommendations, and after hearing so many rave reviews about this place, we decided to check it out. We were not disappointed.
The Coop is a small, family-friendly eatery specializing in Tex-Mex influenced rotisserie chicken dishes. "Fresh" is the daily anthem, and everything from soup to nuts is made in-house. Notably, in addition to their delicious chicken entrees, The Coop also some tasty-looking Lettuce Wraps for vegetarian eaters. (Veggie options are always a welcome surprise in Wyoming restaurants.)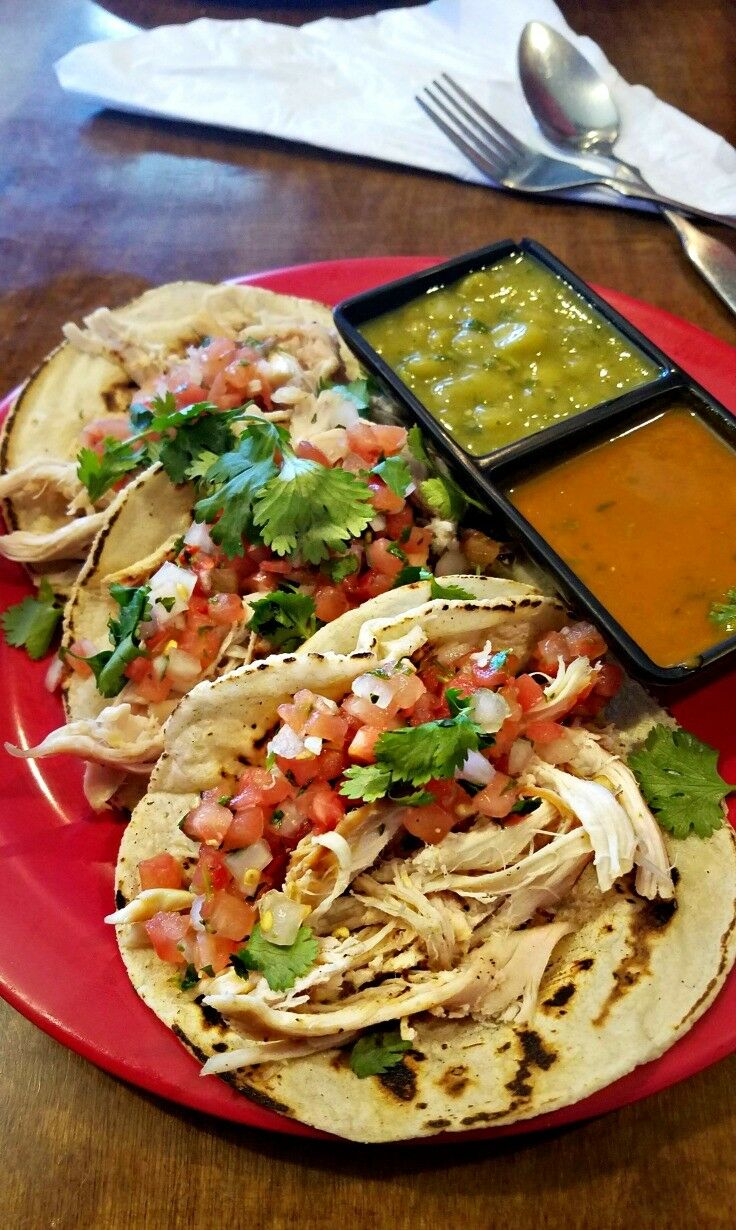 We literally eat here every time we visit each year, and each time, I order the rotisserie chicken tacos - three homemade tortillas filled with fresh rotisserie chicken and topped with pico de gallo. They come with a side of classic Costa Rican black beans and complimentary cornbread. So good!
If you are swinging through Gillette looking for a quick, dependably satisfying meal without a lot of fanfare, The Coop is the place to go.
Big Lost Meadery & Brewery
(Technically, Big Lost Meadery & Brewery isn't a restaurant. However, if hand-crafted spirits are something you enjoy, then you should definitely make time to stop in.)
I know bloggers throw around the term "hidden gem" like it was confetti at a surprise party, but Big Lost truly is. A hidden gem.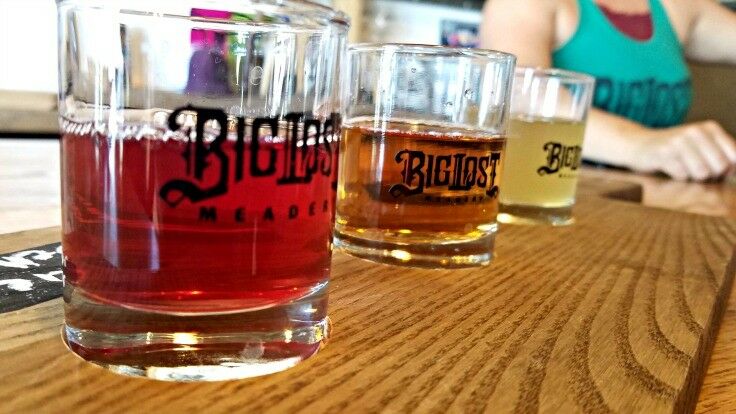 Big Lost Meadery & Brewery is currently the only meadery in Wyoming. (Mead is basically honey wine, and is made by fermenting honey with water. Like beer, mead is sometimes flavored with fruits, spices, grains or hops.) There is something for almost everyone here: the log cabin vibe is relaxed and family-friendly, and the space is easy to be in.
In addition to their seasonally changing rotation of craft meads, Big Lost Meadery produces some truly unique craft brews and mixed drinks. Big Lost doesn't serve food, but they have menus from nearby cafes that deliver and will add the total to your bar tab for convenience so that it's all on one bill.
First off, I cannot say enough good things about the service we received at Big Lost. It was outstanding! Our bartender was attentive, knowledgeable, and incredibly friendly. She made great recommendations based on our tastes, and as she carefully prepared our drinks, she enthusiastically schooled us about the history and mission of the Meadery, and its owner and driving force, Sam Clikeman.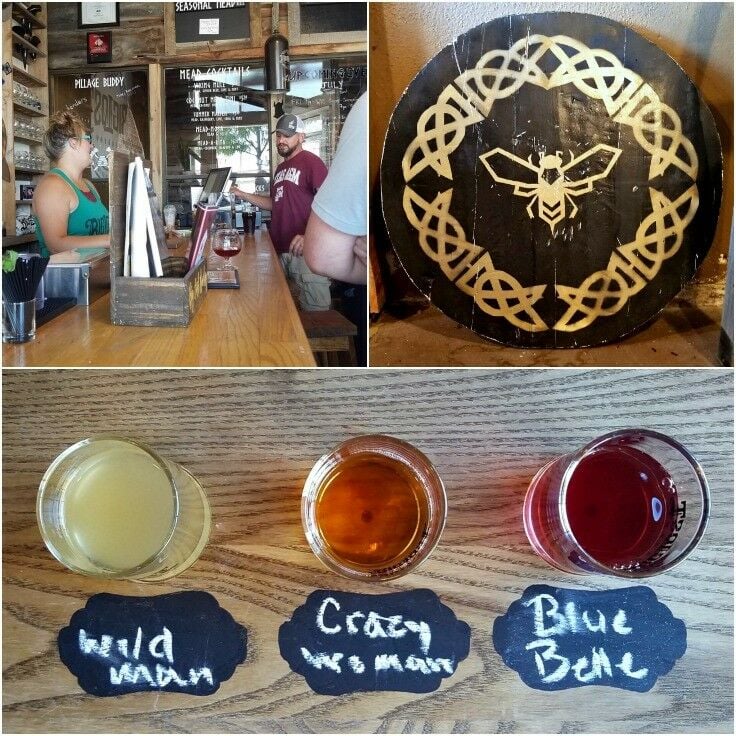 One of my favorite things about our visit to Big Lost was the total absence of televisions and loud, blaring music. There is not one single TV in the place! This makes for a totally chill, relaxed vibe. (Kids are allowed everywhere except directly in the bar area.) I love the mission that drives this place!
Big Lost is something unique… we look to get Big Lost from our trials and stressors of life. Hang out in a cabin with no phones, televisions, heartless stimuli, and enjoy an opportunity for true fellowship with old friends and new friends alike. This concept transcends the time and space to let us always remember there's a time and place to be lost to the rest of the world and focus on the humanity of mankind.

– Big Lost Meadery & Brewery
After chatting with the bartender for awhile, Mr B and I wandered downstairs to check out the game room, which we found well-stock with such vintage games as Giant Jenga, Pong, and Cornhole. Mr B and I ended up staying at Big Lost for over an hour, and spent most of our time talking with a sweet young couple and playing Giant Jenga with their kids.
We will definitely be returning next year to Big Lost!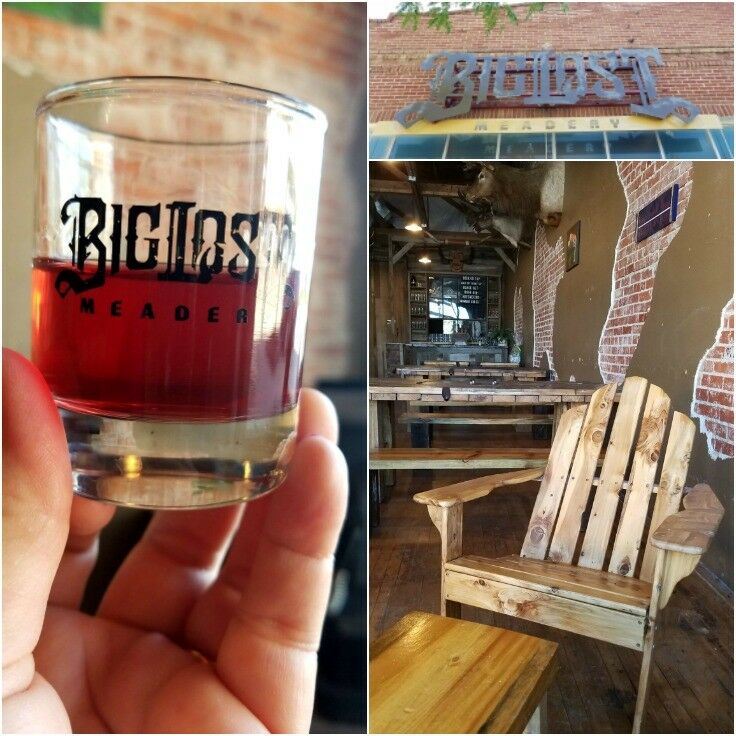 Sheridan
Pop. 30,210*
Cowboy Café - Classic American faire with a decidedly western slant.
Andi's Coffee House - Luscious pastries, free Wifi, and lots of quiet spaces if you want a little alone time.
Mint Bar - You can't ride your horse up to the bar anymore, but you should stop in anyway.
Cowboy Café
I've probably eaten more times at the Cowboy Café more than I have at any other place in Sheridan. Unfortunately, I never seem to take pictures when I eat there; so instead, I'm using this adorable raccoon (one of Sheridan's 100+ brass sculptures) to hold the place.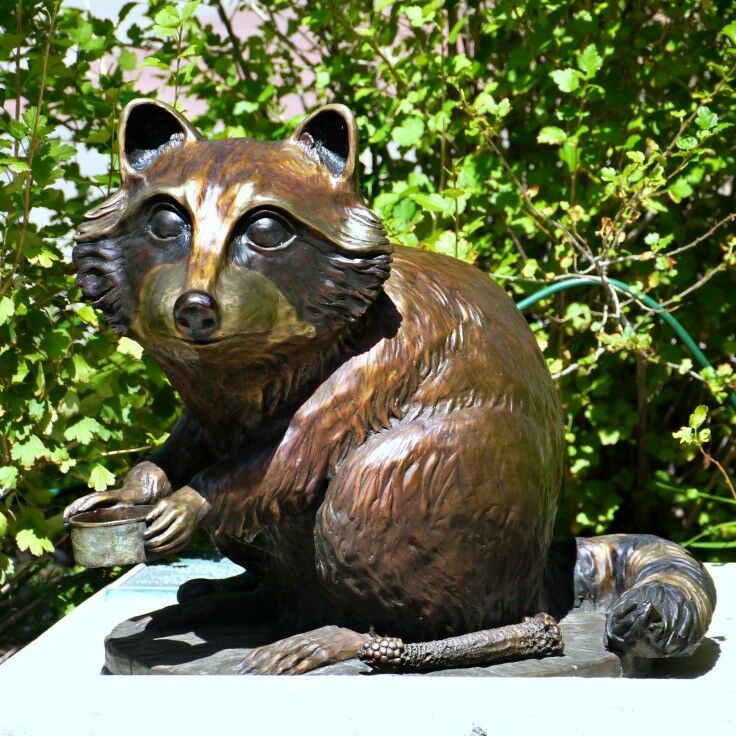 I don't know why we don't take pictures at the Cowboy Café. Perhaps it's because we usually stop in after a very long, hot day on the road, and all I want is something cold with ice and a nice, tasty meal. Which is always exactly what we get.
The Cowboy Café menu runs toward classic American faire with a decidedly western slant: the breakfast menu includes offerings like chicken fried steak and elk sausage scrambles.
Lunch is heavy with burgers and meatloaf sandwiches. Dinner includes wide selection of meat-focused meals: ribs, steaks, meatloaf, etc. There are, however, a number of decent vegetarian options as well.
The service at the Cowboy Café is always dependably friendly and attentive, the prices are reasonable, and the food arrives at the table quickly. The food itself is average in a good way (we'll give it a B+), but dessert at the Cowboy Café is almost mandatory: they always have a case full of homemade pies, many flavors for which we can personally vouch.
Andi's Coffee House
Lured by promises of free wifi, I stopped in at Andi's for few hours while Mr B was working in town. This cozy neighborhood coffee shop is housed in a converted bungalow and filled with dried flowers, fresh succulents, and plenty of comfortable seating.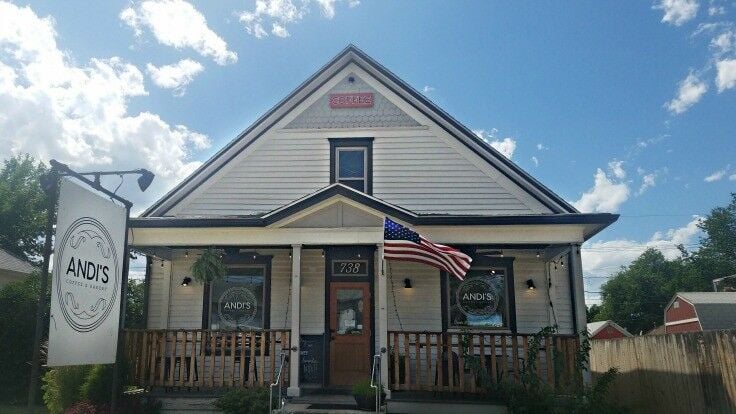 Andi's is a cool, relaxed space. They offer a selection of carefully curated delicious freshly-baked pastries, and (judging from reactions of the patrons who came and went while I was there) an excellent cup of coffee.
I'm not much of a coffee drinker myself, so I ordered a chia and an orange-cranberry scone (OMG! So good!), and spent the next two hours in a quiet cubby in the back, trying to get some work done, and another hour or so sitting out on the porch playing my uke.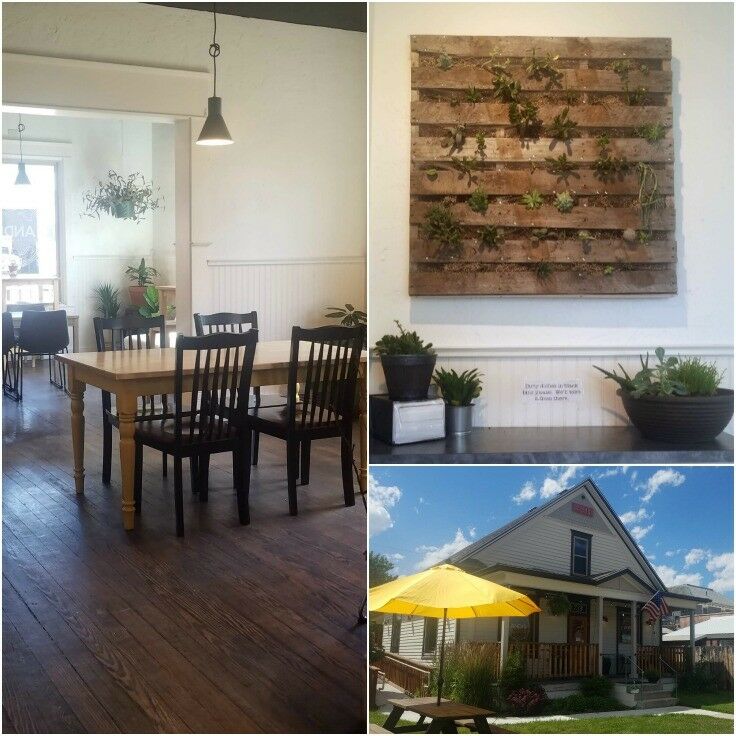 The prices at Andi's seem a tad high for Sheridan; however, the friendly, attentive staff, the comfortable workspace, and the free wifi more than made up for the extra pennies.
Mint Bar
Last, but never least, is Sheridan's historic Mint Bar. Every summer, Mr B and I stop in at the Mint Bar for a huckleberry mule and our annual crash-course in Mountain Man interior design.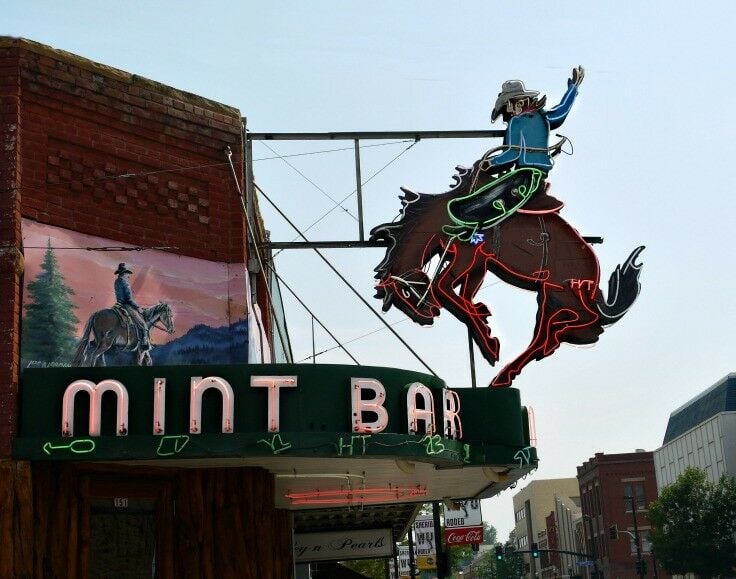 Like Big Lost Meadery in Gillette, Mint Bar is more of a watering hole than a restaurant, but if you are in the area and looking for an interesting place to relax and cool off, this is a good stop to make.
Part bar and part museum, the iconic Mint Bar stands as the oldest operating bar in Wyoming. Since 1907, the Mint has been the meeting place for cowboys, ranchers, and dudes from all around to kick back with a cold one at the end of the day.
The interior is the very definition of rustic old-West decor, hung with panoramic photographs of ranch life, portraits of rodeo stars, trick riders, and Western celebrities, and nearly two-dozen animal mounts.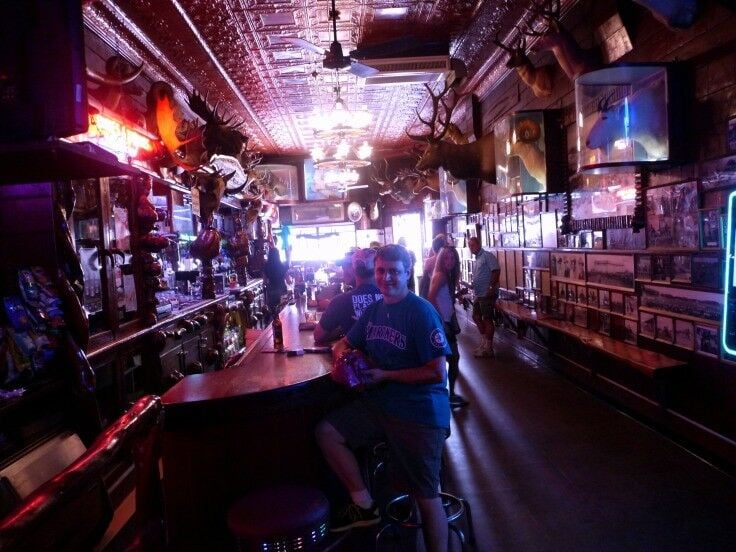 Far more interesting than dead animal heads (at least to me) are the actual walls of the Mint Bar, which are lined with cedar shingles and branded with over 9000 cattle brands from all over the state of Wyoming.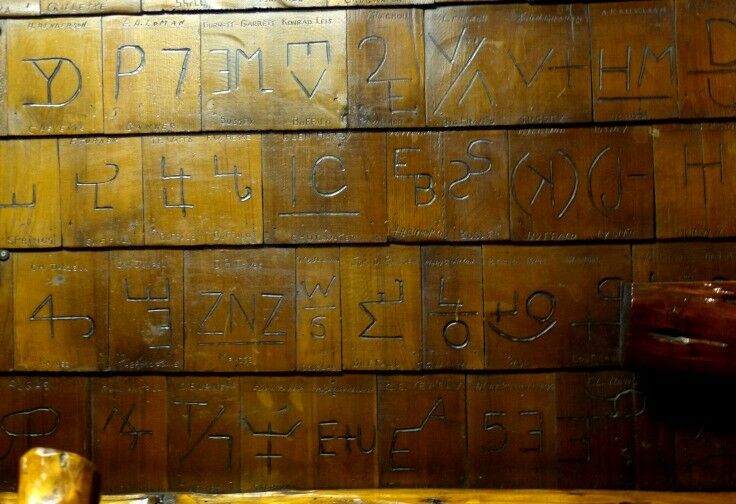 More Wyoming Travel
Making a stop in Buffalo? Be sure to check out our Buffalo Travel Tips!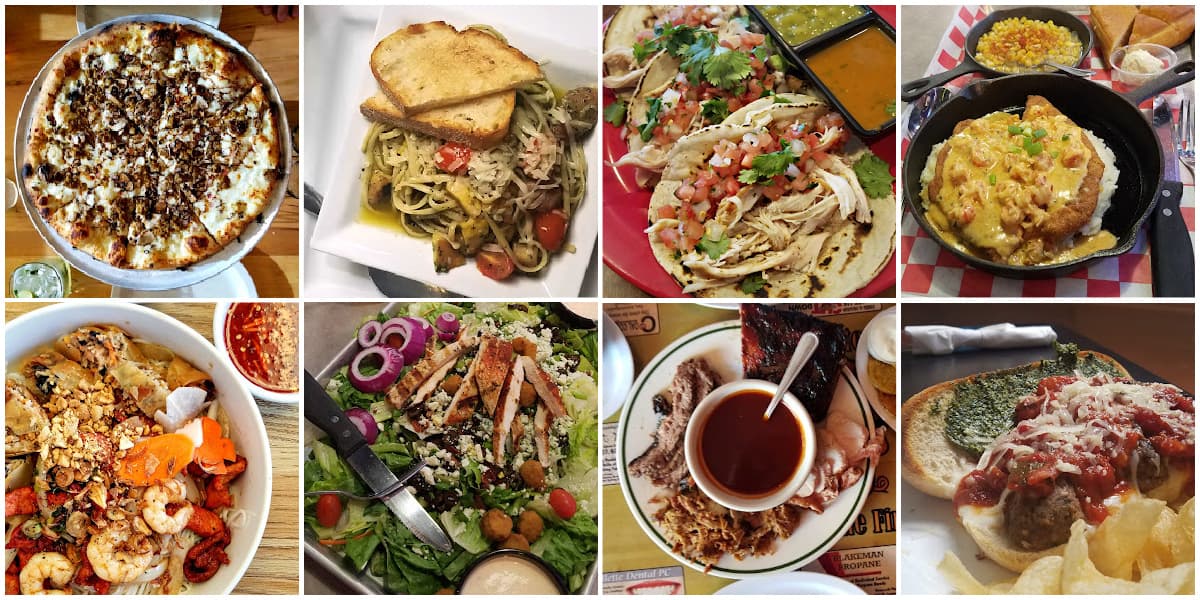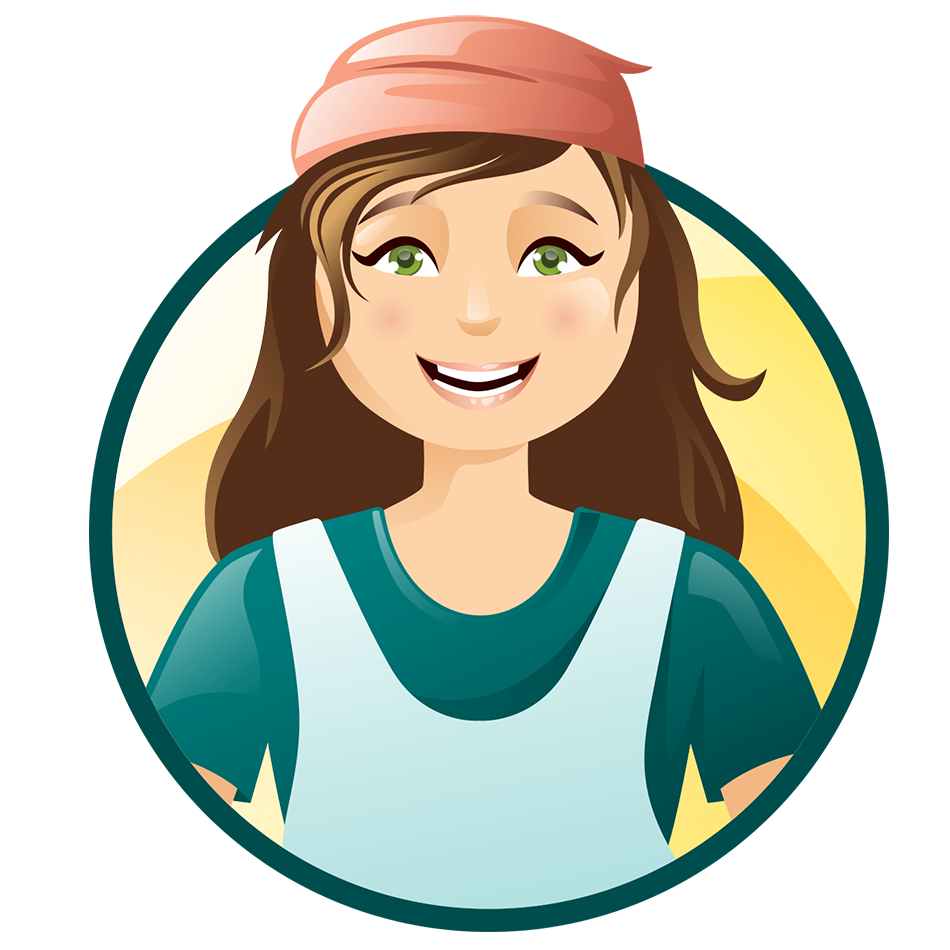 Thank you for visiting the Good Hearted Woman. Remember to bookmark this site, and come back soon!