The Tiny Digs Hotel in Northeast Portland is set to become your favorite (tiny) home away from home - perfect for a vacation, staycation, girls' weekend, or getaway.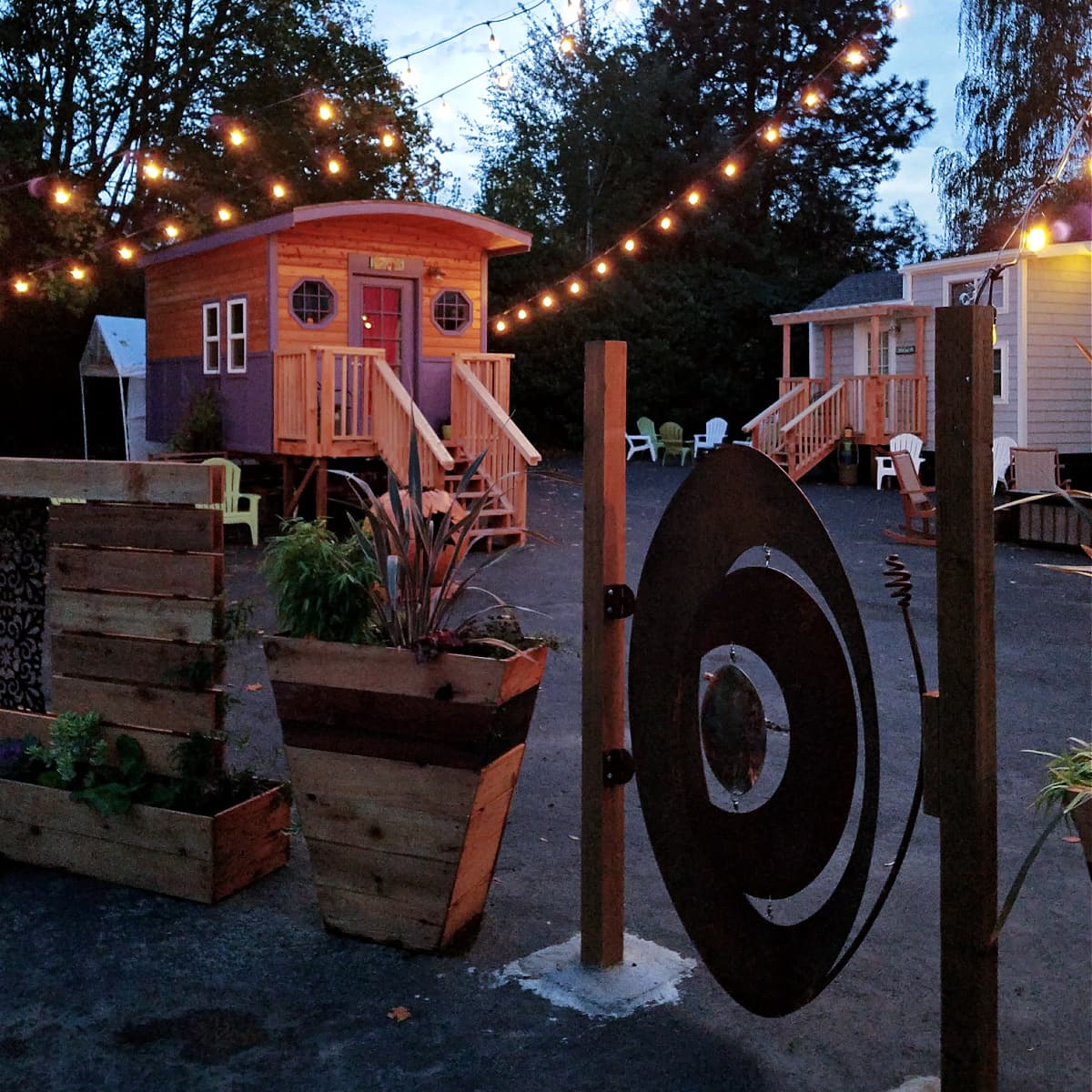 I am a huge fan of the tiny house movement. The challenge of making a 150-square foot structure into an attractive, genuinely livable space throws my imagination into high gear and I get all excited about the possibilities. And while I have no desire to live in a tiny house full-time (there simply wouldn't be enough room for all my art supplies) I have been intrigued with the idea of staying in one since I first heard about the trend. This October I got my wish.
Jump to:
It all started a couple of months ago when I opened my inbox to find an invitation to the grand opening of the new Tiny Digs Hotel in east Portland. You have to know that I was all over that like... well, I can't think of a good analogy right now, but you know what I mean - I jumped on it! Anyway, since Mr B was going to be out of town for the open house, I asked Miss Em on a date, and we took the tour together.
Portland's Tiny House Hotel
Tiny Digs is located on NE Glisan, a block or so off 28th and the "most delicious half-mile" in Portland. The hotel is collection of six custom-built, individually-styled tiny houses, ranging from a traditional red clapboard barn to an airy beach house to a Romany traveling wagon.
Each tiny house runs about $145 a night, and is fully furnished; with a queen-size bed, a fold-out couch that doubles as "living room" seating, light cooking options, a sink, a shower, a flushing toilet, and a small attached deck. There are plans to expand the number of tiny houses to thirteen in the coming years.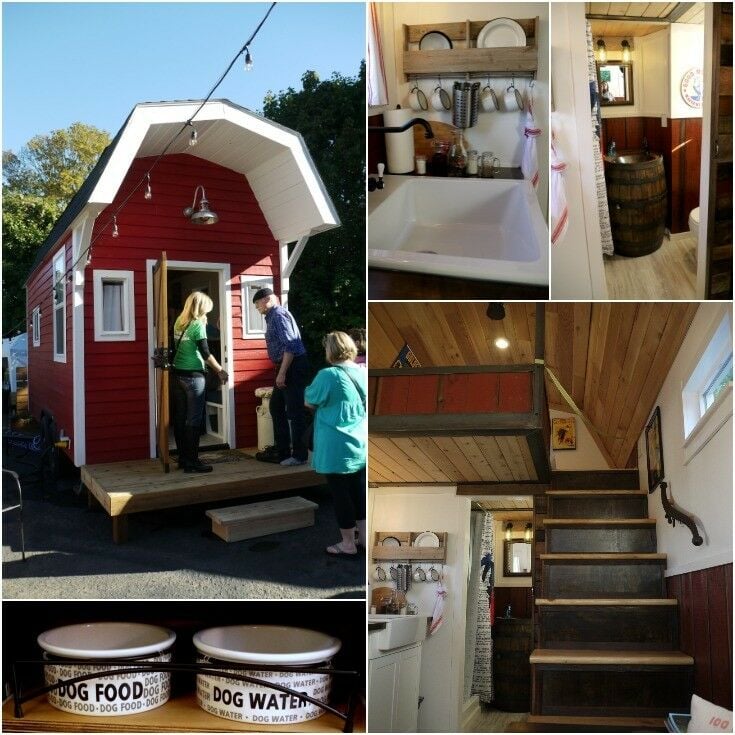 Tiny Digs Hotel partner Allison Meyer shared with us that all of the decisions for the outfitting of each of the tiny homes was personally taken on by one individual. For example, Allison was responsible for all of the design and decorating decisions for the Barn, while the Bamboo was the personal project of business partner Pam Westra.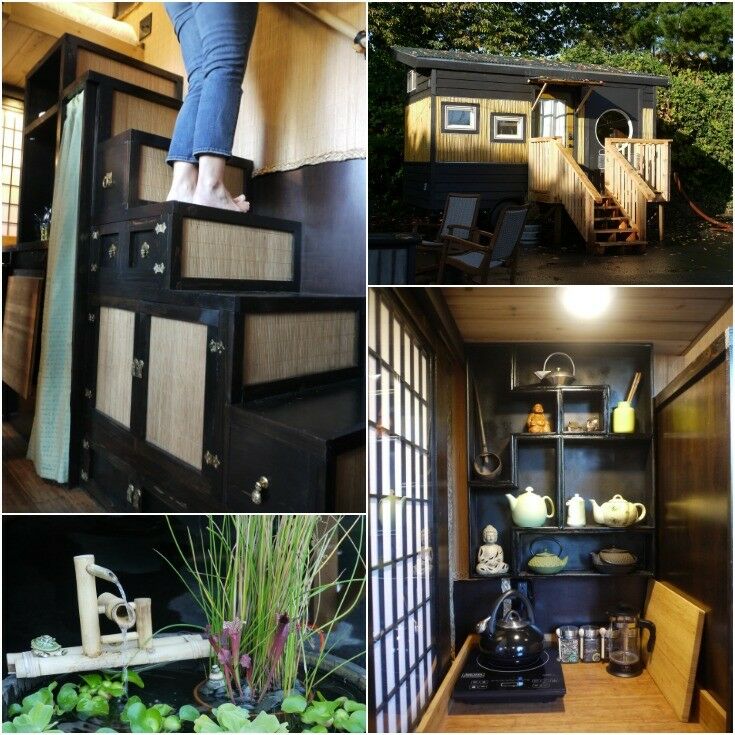 Thanks to this individual-driven design process, each tiny house has its own distinctive style.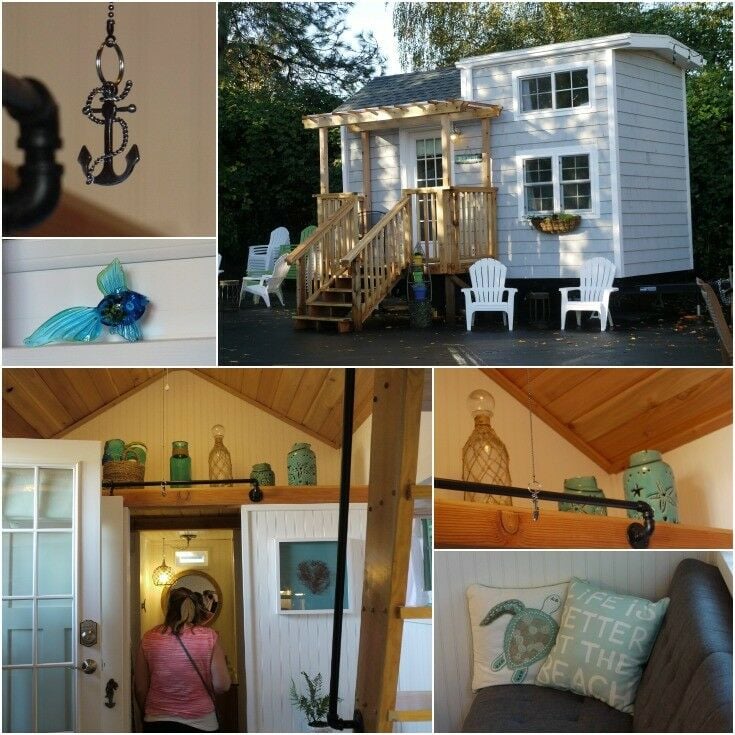 All the beds are outfitted with luxury bedding, and I can tell you from personal experience that they are very comfortable.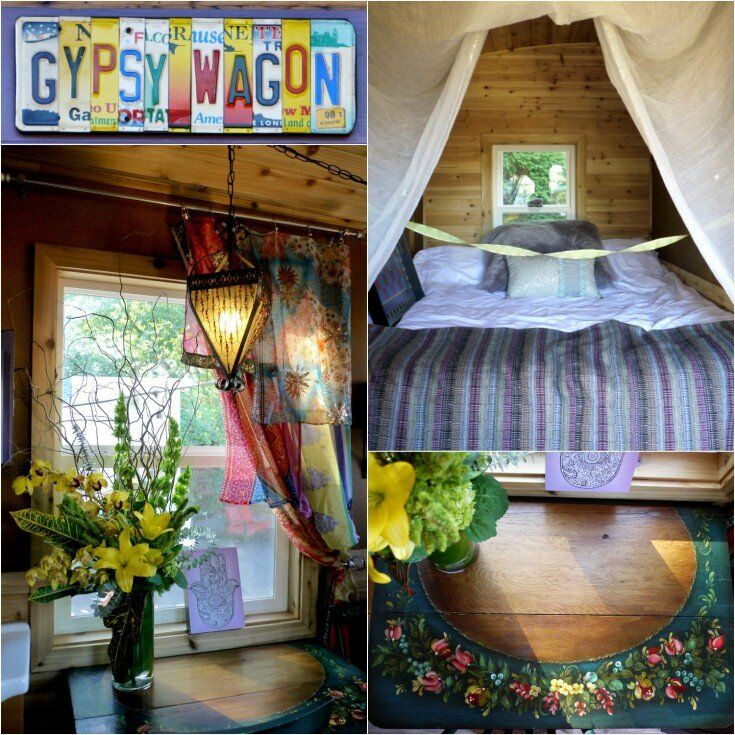 Tiny Digs Hotel features a central community space where guests can hang out and visit together around the fire pit. There are also some beautiful wooden art pieces to enjoy. (I was so intrigued with this sphere - I think I took at least 20 pictures of it!)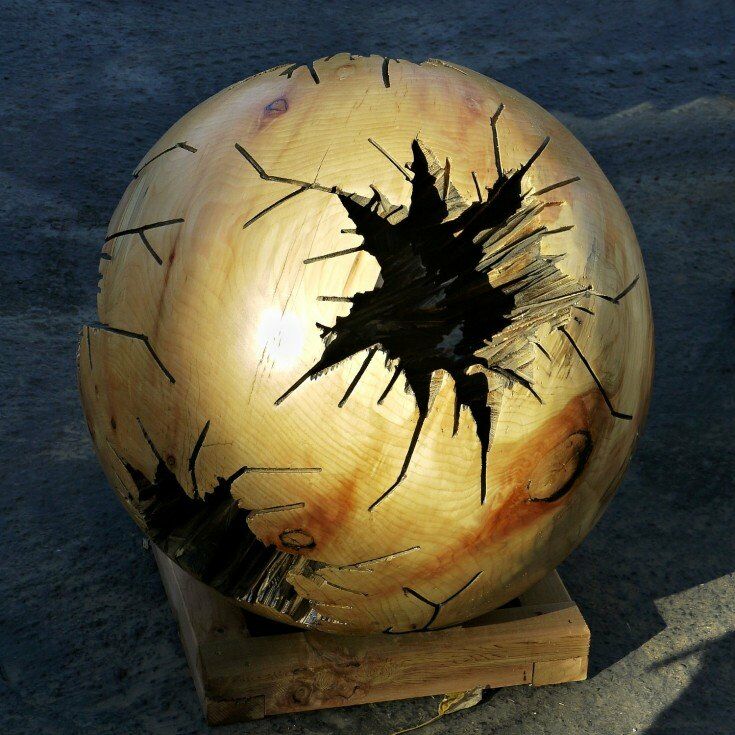 The "Modern" tiny house has a very open concept - including a clear-glass enclosed shower!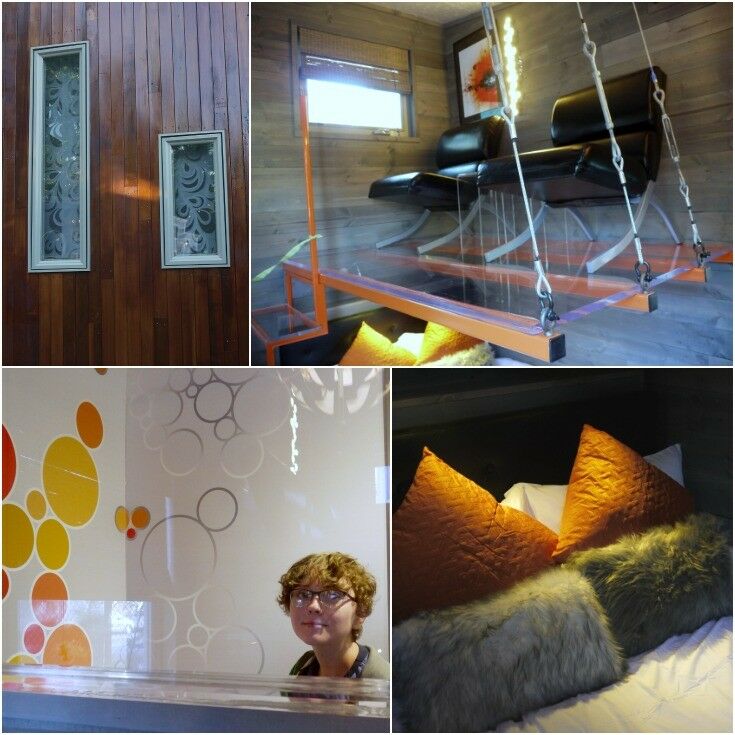 As of this date, none of the dwellings at Tiny Digs are ADA mobility complaint (due to the small number of "rooms" at this time, compliance is not required), but the owners confirm that handicapped-accessible tiny houses are part of their future plan.
The "Cabin" was the personal project of Pam Westra's husband, Bruce, who has always wanted a cabin of his own. In addition to being beautifully designed, all of that cedar made the place smell amazing!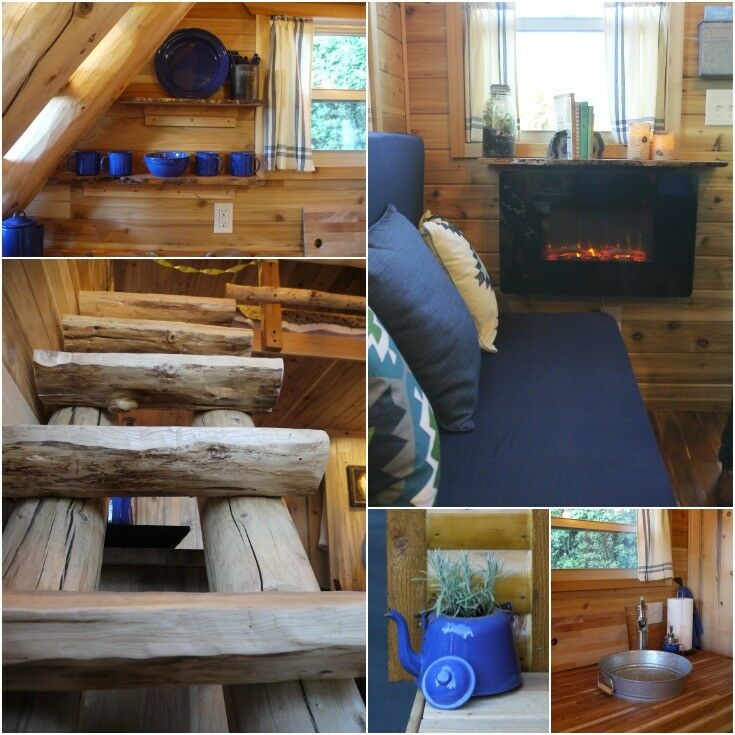 About a month after the open house, Mr B and I had the chance to stay at the Tiny Digs Hotel. No work allowed – just the two of us and our music on a weekend getaway in our hometown. It was one of the most relaxing, romantic weekends we've ever spent together, and we already making plans to go back.
Our Stay in the Gypsy Wagon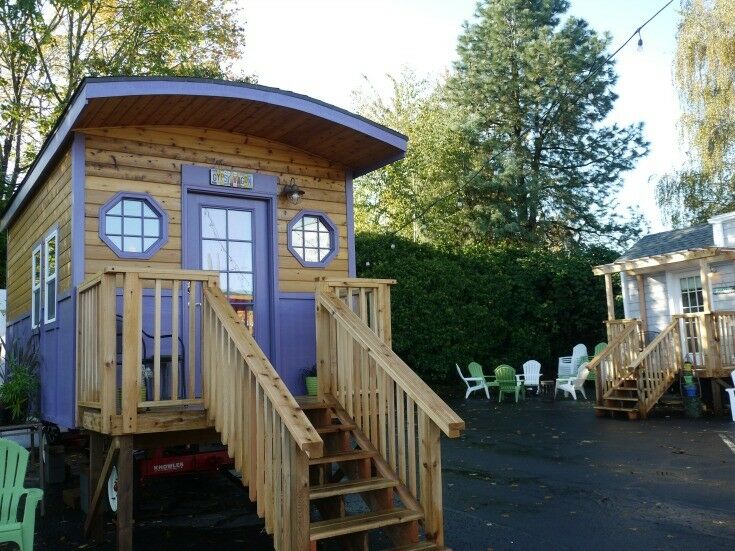 From the beginning, I was attracted to the colorful, vibrant vibe of the tiny Romany carriage, and was beyond excited to stay there. But there were other, more practical reasons for choosing the Gypsy Wagon as our staycation mini-home.
Besides my somewhat bohemian worldview, I am also not very sure-footed: I have been known to trip while walking across perfectly flat surfaces, and once fell down a ladder while climbing up into a cabin loft, nearly braking my ankle. In my own best interest, I need to stay in a room that does not require me to climb a ladder to get into bed.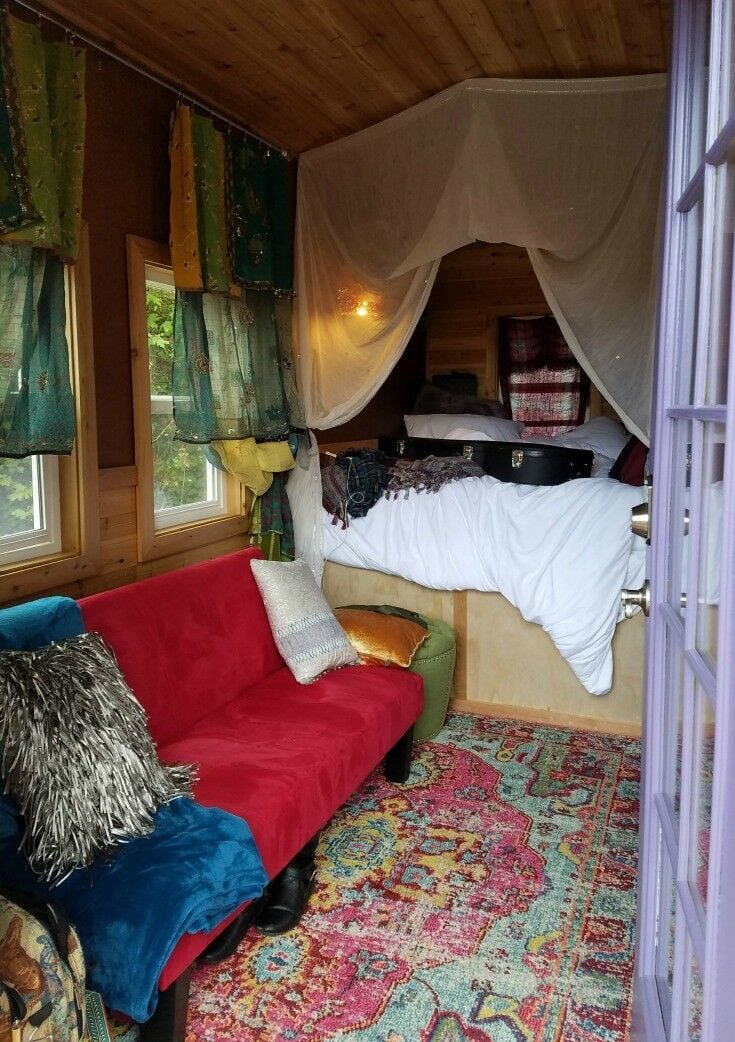 Like all the other rooms at the Tiny Digs Hotel, the "Gypsy Wagon" is all about the details. Check out that wonderful stamped-tin mirror that doubles as wall art.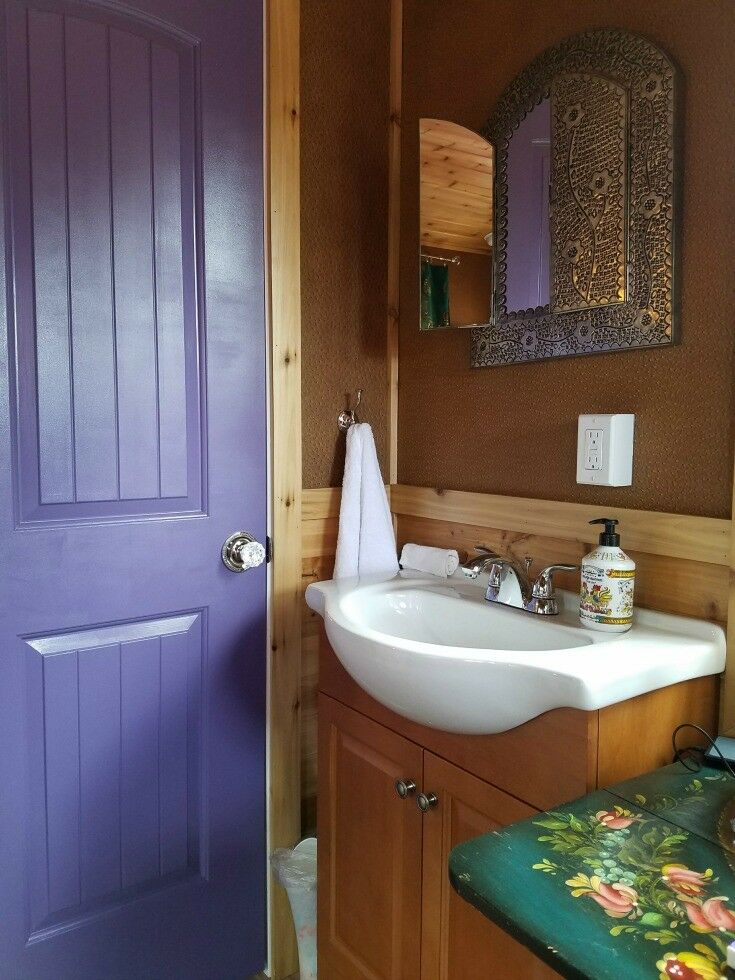 I so wanted to take this footstool home. Just sayin'. (I can make one if I want though: I have skills - and about 10 reference pictures!)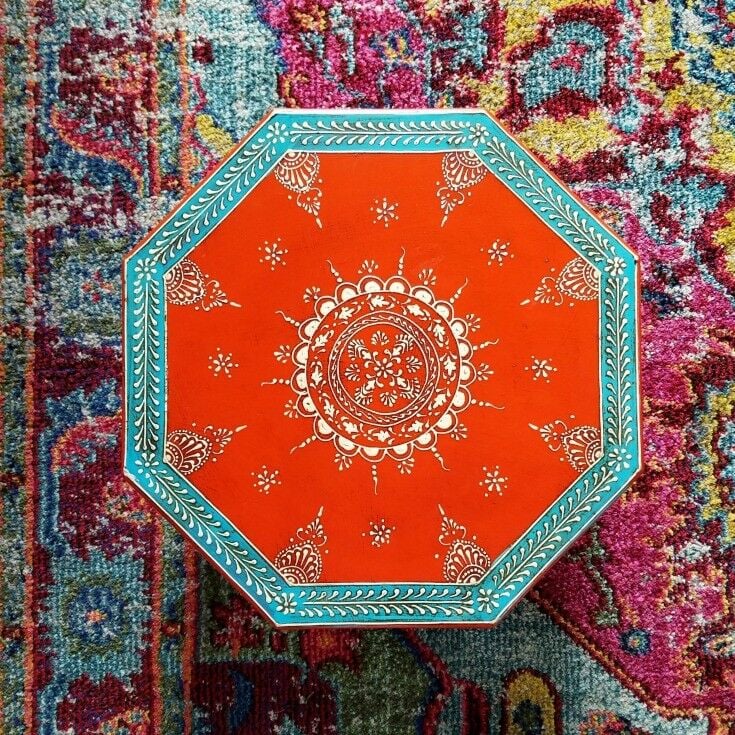 We loved all the textural elements in our tiny house. Everything was a such delight for the senses.
When we arrived at Tiny Digs for our staycation, Mr B and I made a conscious decision to park our car and not move it all weekend, just to see how much we could see and do without driving.
What to Do Nearby
We had no problem whatsoever getting around. Tiny Digs Hotel is located just a few minutes walk from hip, artsy, delicious NE 28th Avenue, and just a few more minutes to E Burnside and the Laurelhurst Theater. You will definitely have plenty of things to do!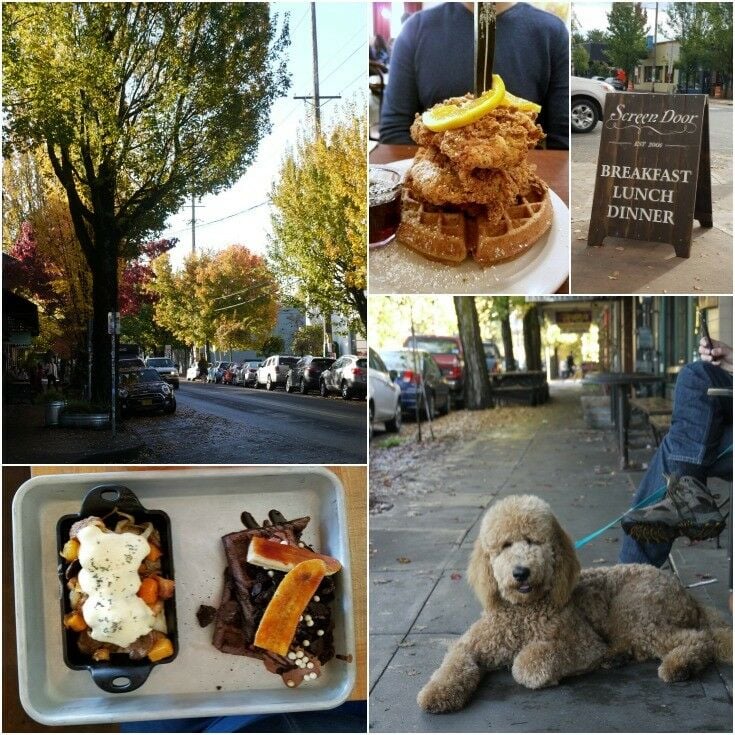 In an upcoming post (likely after the holidays) I'll fill you in more about on our amazing weekend in Kerns neighborhood, but suffice it for now to say that the best part of our weekend happened right here, in our tiny little home away from home.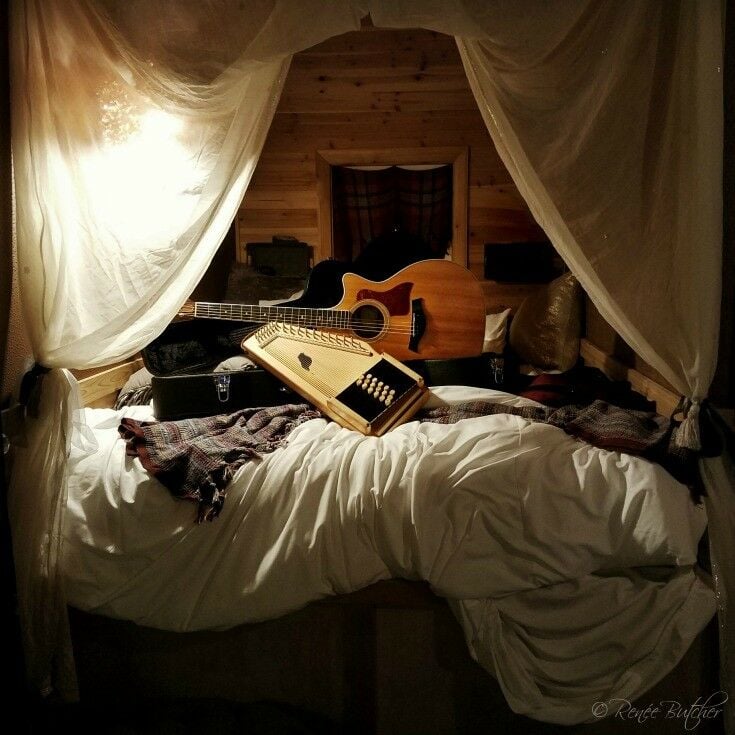 We loved our stay at Tiny Digs, and I am sure that if you stay there, you will too!
Learn more or make a reservation:
Tiny Digs Hotel
hello@tinydigshotel.com
1-844-395-TINY (8469)
Things to Do in Portland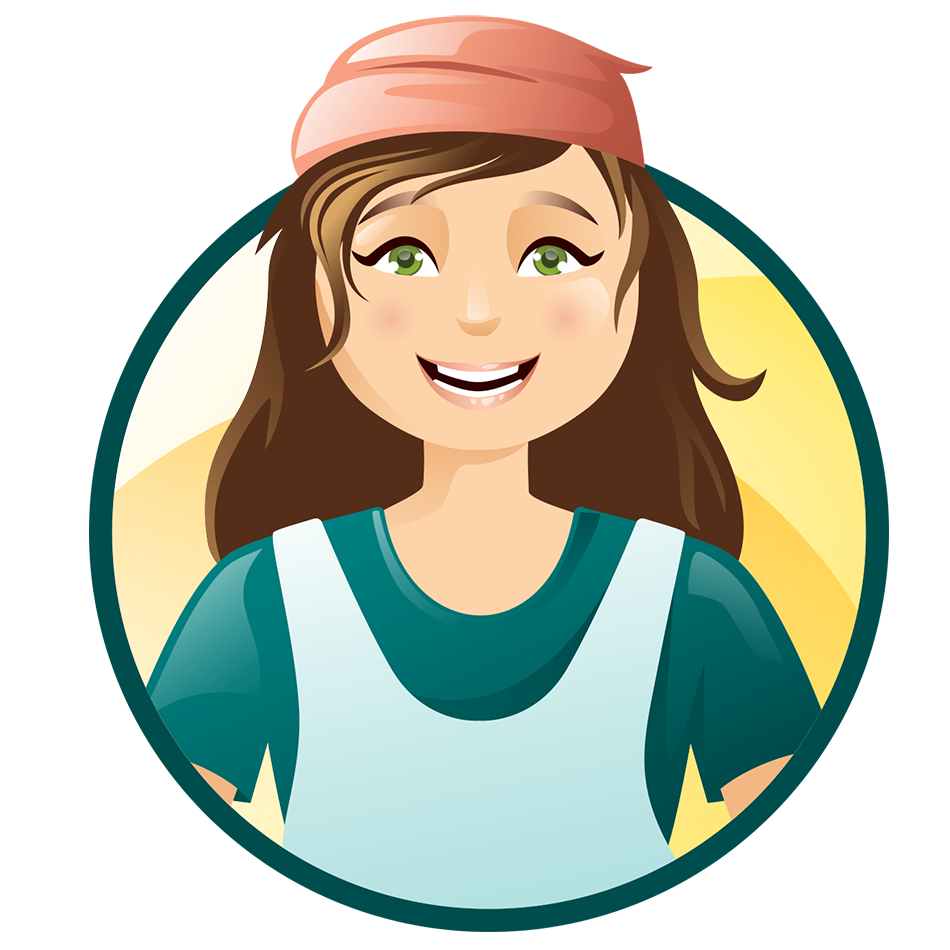 Many thanks to the Tiny Digs Hotel for hosting our stay. As always, all opinions and photos are my own.
Thank you for visiting the Good Hearted Woman. Remember to bookmark this site, and come back soon!