Not just another "gluten-free option," this Spicy Polenta Pizza Crust is full of flavor, easy-to-make, and holds up under a load of pizza toppings!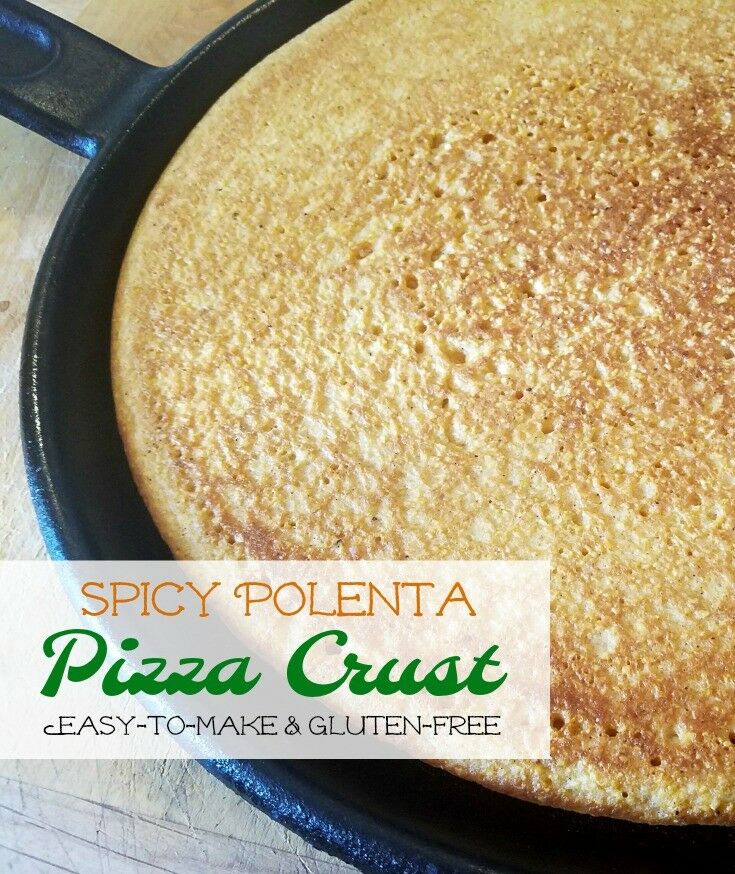 This post may contain affiliate links, but don't worry – they won't bite.
For the past few weeks, I have been kicking around the idea of making a polenta-based pizza. I have all kinds of ideas about what to put on top of the corn-base crust (I'll be sharing one of my favorites next week!) but first I had to come up with a tasty, dependable, easy-to-make crust. A pizza crust that isn't just a "gluten-free alternative" (and to be clear, I'm not GF). I wanted a crust that could stand up flavor-wise to traditional crust, and hold up to a pile of toppings without crumbling. I'm super happy with how it turned out on all counts.
(Technical Point: Before any "Polenta Purists" start calling me out, let me clarify: I know this crust isn't technically "polenta." It's actually more of a Polenta-Meets-a-Giant-Johnny-Cake, but that is simply too long to put in a recipe title, so let's just go with "polenta" and call it good, ok?)
As you can see by the pictures, I made this pizza crust in a cast iron griddle, which I believe is the best tool for the job. Cast iron is basically nonstick – as long as you keep it well-seasoned, which is a non-issue if you cook with it regularly. Plus, you can avoid all those all those mysterious lab-created non-stick chemicals that can become toxic and break down at high temperatures. Cast iron is generally relatively inexpensive, by cookware standards. Moreover, cast iron will last you a lifetime: I've even heard of people handing their down to children or grandchildren at the end of life.
If cast iron is something you're thinking about investing in, I suggest starting with a 10-inch chef's skillet and following it up with a 10-inch round griddle. These are the two cast iron items I use most often, followed closely by my beautiful cast iron pie plate!
One final word about cast iron. If you find a cheap second-hand pan that looks rusted and lost, grab it, hold it close, and run home fast! With a little elbow grease and some patience, you will have beautiful, shiny new pan in no time. (Here's a great tutorial on "Reviving Old Cast Iron.")
TIP: This recipe makes exactly enough pizza crust "batter" to make one 10-inch pizza. If your skillet is larger or smaller, adjust amounts accordingly.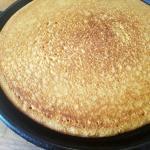 Spicy Polenta Pizza Crust
Not just another "gluten-free option," this Spicy Polenta Pizza Crust is full of flavor, easy-to-make, and holds up to a load of pizza toppings!
Print Recipe
Pin Recipe
Ingredients
1

cup

medium-grind cornmeal

I use Bob's Red Mill Medium Grind Organic Cornmeal

½

cup

flour

I use Bob's Red Mill GF Flour

2-3

teaspoons

Spicy Skillet Dry Rub

RECIPE Below (or use your own spice blend)

½

teaspoon

baking powder

1

cup

milk

2

tablespoons

butter

1

egg lightly beaten

1

tablespoon

olive oil

or a little more

1

cups

shredded cheese

Your choice!
Instructions
Preheat oven to 400°F.

In a large bowl, whisk together cornmeal, flour, salt, baking powder, and Spicy Skillet Dry Rub.

In a medium saucepan, heat milk and butter over medium heat until tiny bubbles begin to appear around the edge of the pan. Remove from stove and stir until butter is completely melted.

Add the hot milk mixture to the dry ingredients and stir to blend. Whisk in the beaten egg and thoroughly combine. Let set briefly while you prepare skillet.

Heat a 10-inch cast iron skillet or round griddle over medium heat until a drop of water sizzles on the surface. Add a tablespoon of olive oil to the skillet and swirl oil to thoroughly cover pan. Give the cornmeal mixture one more good whisking, then carefully pour prepared cornmeal batter into hot griddle and spread evenly with spatula.

Remove prepared crust from oven, and switch oven to broil.

Optional: If you wish, you can flip the crust over at this time. I do this because I like the browned part facing up, plus it gives the other side a chance to brown a bit too.

Sprinkle prepared pizza crust evenly with a generous cup of shredded cheddar cheese, then place under broiler for 1-2 minutes to melt the cheese.

Remove from oven and distribute toppings of your choice over pizza. Return to broiler just long enough to warm toppings and melt any topping cheese; about 2-3 minutes.
Notes
This recipe makes one 10-inch pizza. If your skillet is larger or smaller, adjust amounts accordingly. This is meant to be a basic crust recipe. If you want to change things up to go with your pizza toppings, go for it! Simply substitute in your favorite spice blend for the Spicy Skillet Dry Rub, and you're good to go!
Tip: You can find the ground pasilla pepper and ground New Mexico chili pepper used in the following dry rub in the Mexican/Hispanic foods aisle of most grocery stores (in my area, Winco, Freddy's, and Safeway all stock them) or in your local Hispanic Mercado (i.e., Su Casa Imports, El Mercado, etc). I found the ground chipotle pepper in the bulk section at Winco. All of the dried ground peppers are very inexpensive and the recipe makes a lot of dry rub, so it will go a long way.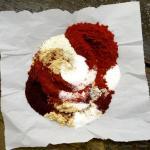 Spicy Skillet Dry Rub
Print Recipe
Pin Recipe
Ingredients
5

tablespoons

smoked paprika

1

tablespoons

garlic salt

2 1/4

teaspoons

ground ginger

1

tablespoons

ground pasilla pepper

2

teaspoons

ground chipotle pepper

1

tablespoons

ground New Mexico chili pepper

1/2

tablespoon

ground mustard powder

5

teaspoons

white granulated sugar

2

tablespoons

kosher salt
Instructions
Mix all ingredients. Store in an air-tight container.
Notes
Ingredient Substitution: If you don't have all the dried peppers on hand, just substitute 3 tablespoons of regular chili powder for the ground pasilla, chipotle, and New Mexico chili peppers.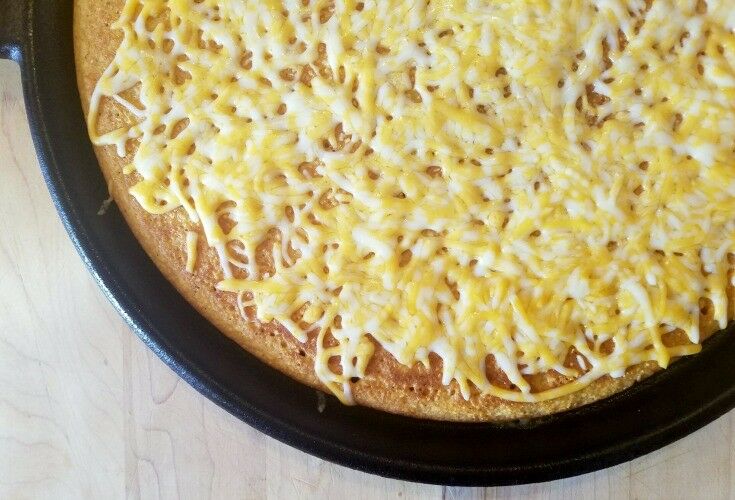 ♥︎ Did you love this Cast Iron Spicy Polenta Pizza Crust recipe? If so, I would appreciate it so much if you would give it a star review in the comment section below! Also, be sure to snap a picture of your finished pizza and share it with me on Instagram using the hashtag #thegoodheartedwoman.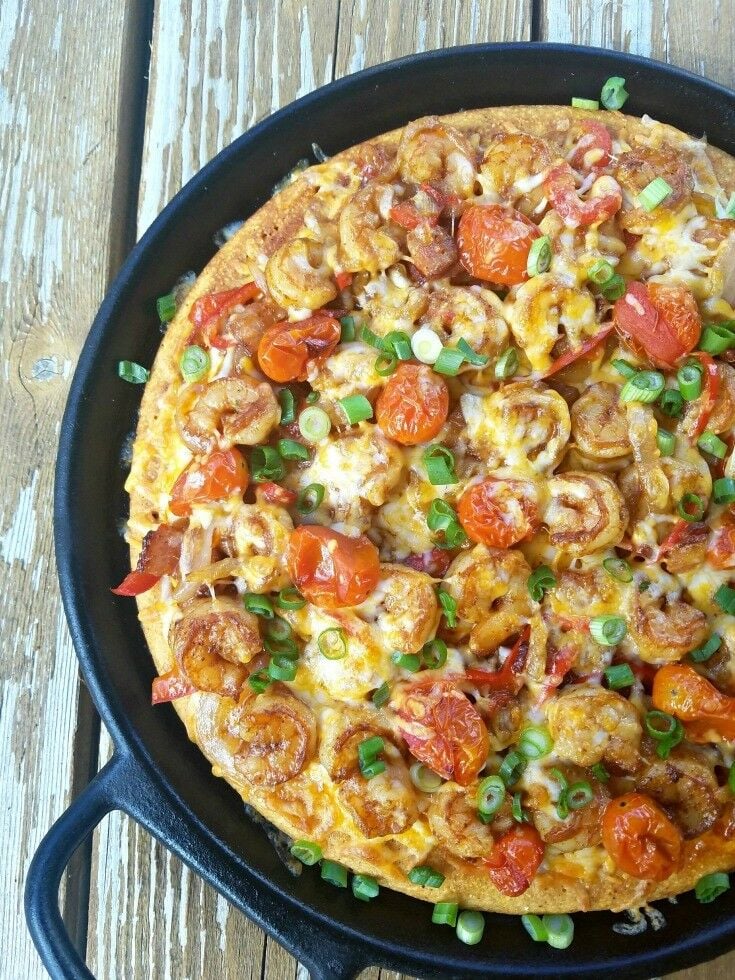 Disclosure: This post may contain affiliate links, which means we may receive a small commission if you click a link and purchase something that we have recommended. While clicking these links won't cost you any extra money, they do help keep this site up and running, and at the same time allow us to keep traditional advertising to a minimum. As always, all opinions and images are my own. Please check out our disclosure policy for more details. Thank you for your support!