Old San Juan is replete with amazing history, old world charm, and delectable food and drink - and welcoming tourists with open arms.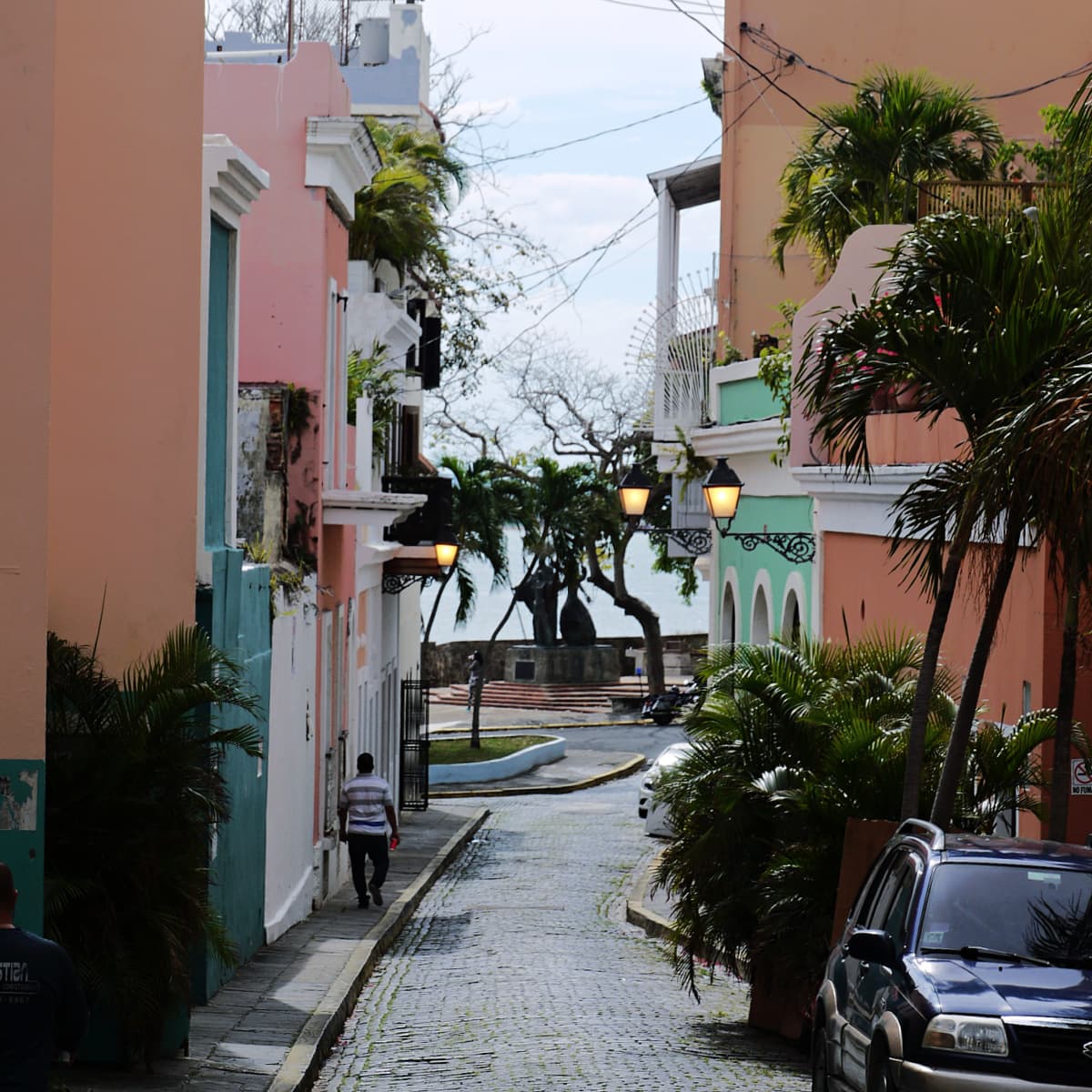 In Spring 2018, Mr B and I celebrated our anniversary with a cruise in the eastern Caribbean (she says, casually flipping her hair back, like she takes a cruise every other week). Unlike Mr B, who took a few Caribbean cruises on his own (courtesy of the US Navy), I had never even been in the Atlantic Ocean before, much less the Caribbean, so it was a whole new world for me.
Our week-long cruise took us to ports in Grand Turk, St Thomas, Bahamas, and Puerto Rico, where we had a whole day to wander Old San Juan at our leisure. Coincidentally, our anniversary fell on the day our ship ported in San Juan, and it was a perfect place to celebrate.
Jump to:
Self-Guided Walking Tour
Getting Around
When we arrived in San Juan, Mr B and I chose to forego all of the shore excursions offered by the cruise, and instead stepped out on our own to explore what Old San Juan had to offer. If you decide to go on a walking tour as we did, all you really need is a pair of comfortable walking shoes, a little cash (for street vendors), some serious sun protection, and your phone or camera.
Although Mr B and I didn't feel the need to use it when we were there, it's good to know that Old San Juan provides a free trolley service all around the city. The trolley runs every day Monday through Friday from 7am until 6pm, and Saturday and Sunday from 9am until 7pm every 15 minutes.
You can also rent a bicycle and helmet near the cruise port for the day for a very reasonable price.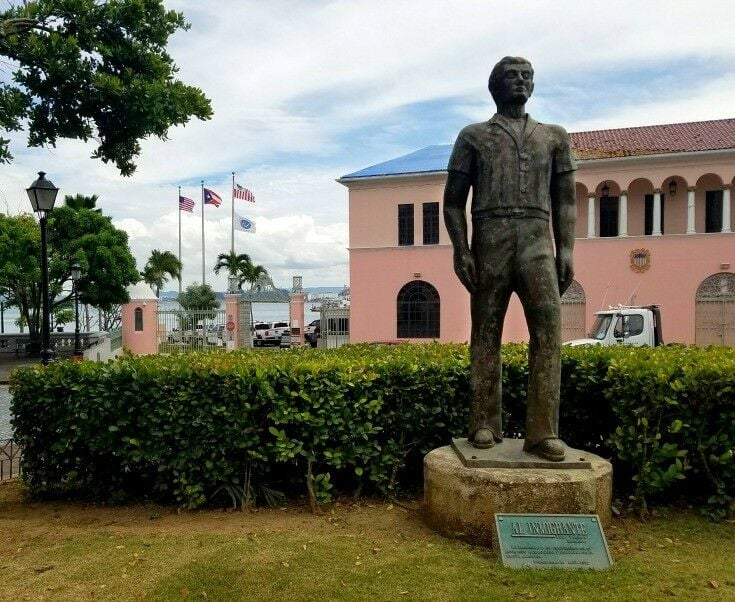 Monumento al Inmigrante (the Immigrant) stands just west of the cruise port near San Juan Bay.
European history on the island began in 1493, when Christopher Columbus landed there and named the island "San Juan Bautista," in honor of John the Baptist. Subsequently, in 1508, the Spanish government appointed Juan Ponce de León as the first governor of the island. He founded the original settlement in Caparra (now known as Pueblo Viejo), and city soon became Spain's most important military outpost in the Caribbean.
A few years later, the original settlement was relocated to a nearby coastal islet and christened Puerto Rico (translation: Rich Port). At that point, some confusion arose and somehow there was a name switch; from that time forward, the island has been known as Puerto Rico, and the town, San Juan.
Where to Find Tourist Information in Old San Juan
The first stop on our walking tour was at the Puerto Rico Tourism Company near the end of Paseo de La Princesa Promenade, where we picked up a map of Old San Juan, as well as some very helpful information about getting around the city during the hurricane restoration efforts. (There are also many maps of Old San Juan online: we found this map from Mappery to be particularly helpful.) You can also find large display maps of Old San Juan sprinkled all around the city.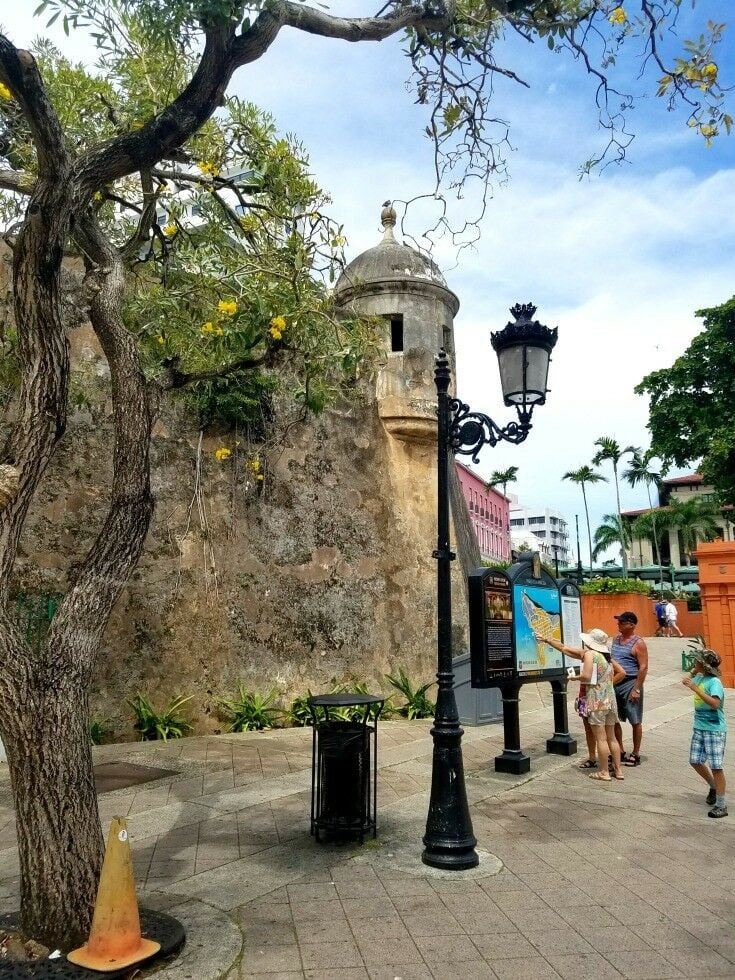 Paseo de La Princesa Promenade
We started our walking tour with a stroll down Paseo de La Princesa Promenade, which was originally built in 1853. When I first heard the name of this relaxing, tree-lined boulevard, I thought to myself, "Oh, how nice... 'Walkway of the Princess.'" Then I learned that the name has far darker origins.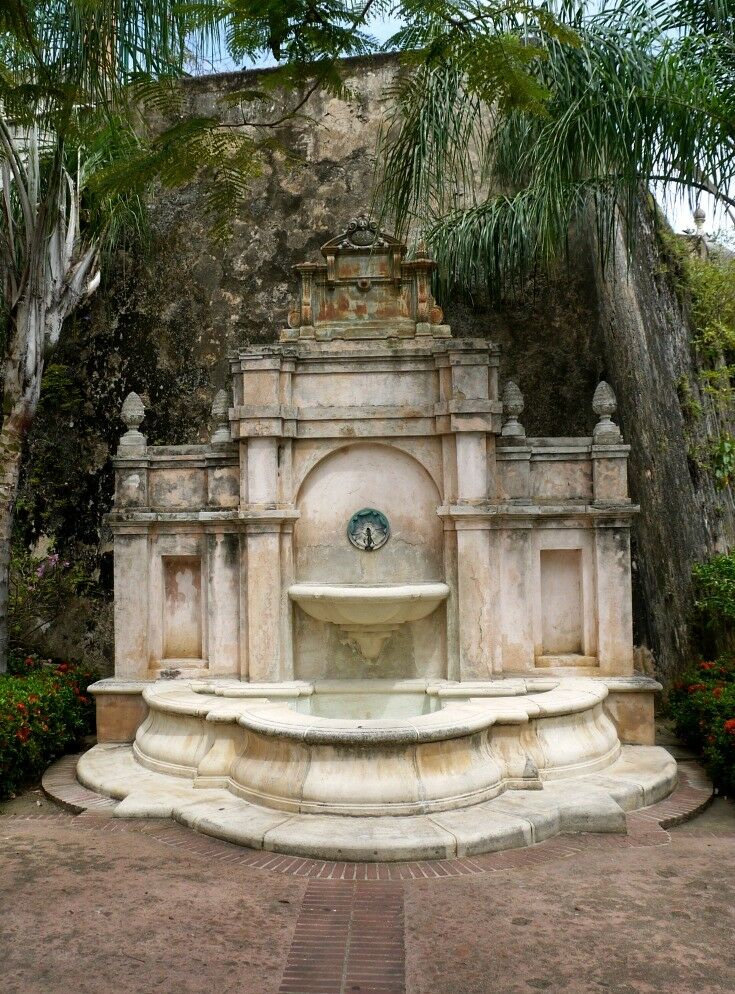 Paseo de la Princesa is, in fact, named for an infamous prison called La Princesa that was once housed in and beneath what is now the Puerto Rico Tourism Company. During business hours, you can take a free tour of the cells, and even see where prisoners were tortured and shot. However, when the docent at the Tourism Company reception desk mentioned that people often experience "weird things" when they walk through the old prison, we (mostly me) decided to skip it. (Not because I expected to see/hear/feel anything weird, of course. Because that never happens to me. Ever.)
The walk along the promenade takes you by a rather interesting sculpture garden, home to a wide variety of religious and secular sculptures.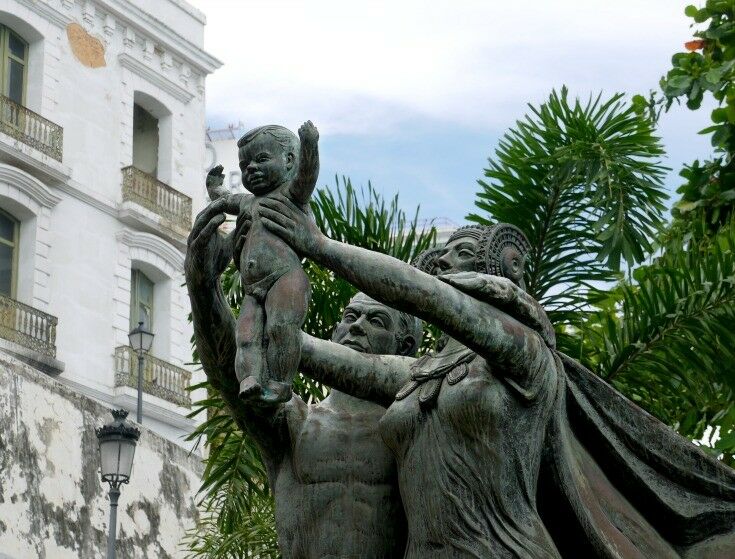 Raices Fountain (Roots Fountain)
The Raíces Fountain (aka Roots Fountain) at the end of Paseo de la Pricesa, is considered to be one of the most romantic spots in Old San Juan. I wish we could have gotten closer, because some of pictures I've seen of the fountain up close are stunning; unfortunately, at the time of our visit, the street was blocked off while hurricane restoration efforts were being completed on the waterfront. (I took this image while leaning over the barricade. ?)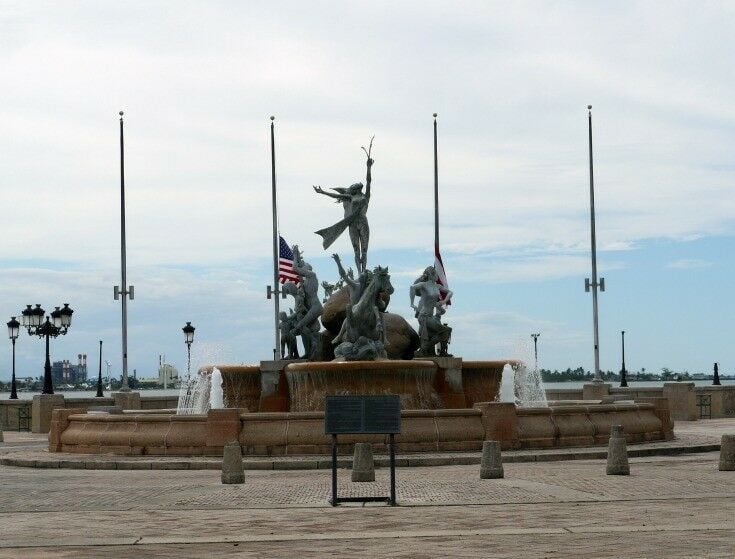 The fountain, completed in 1992, was designed by architect Miguel Carlo to commemorate and celebrate the New World's 500th anniversary. The collection of bronzes honors Puerto Rico's mixed African, Spanish and Taino/Amerindian heritage.
Cathedral of San Juan Bautista
Built on the site where the body of Ponce de Leon is entombed, the the Cathedral de San Juan Bautista was the first cathedral church in the Americas, and is an authentic example of classic medieval architecture. The original cathedral was constructed from wood in 1521, but was destroyed by a hurricane and rebuilt in 1540, with improvements and renovations taking place over the centuries, the last time being in 1917.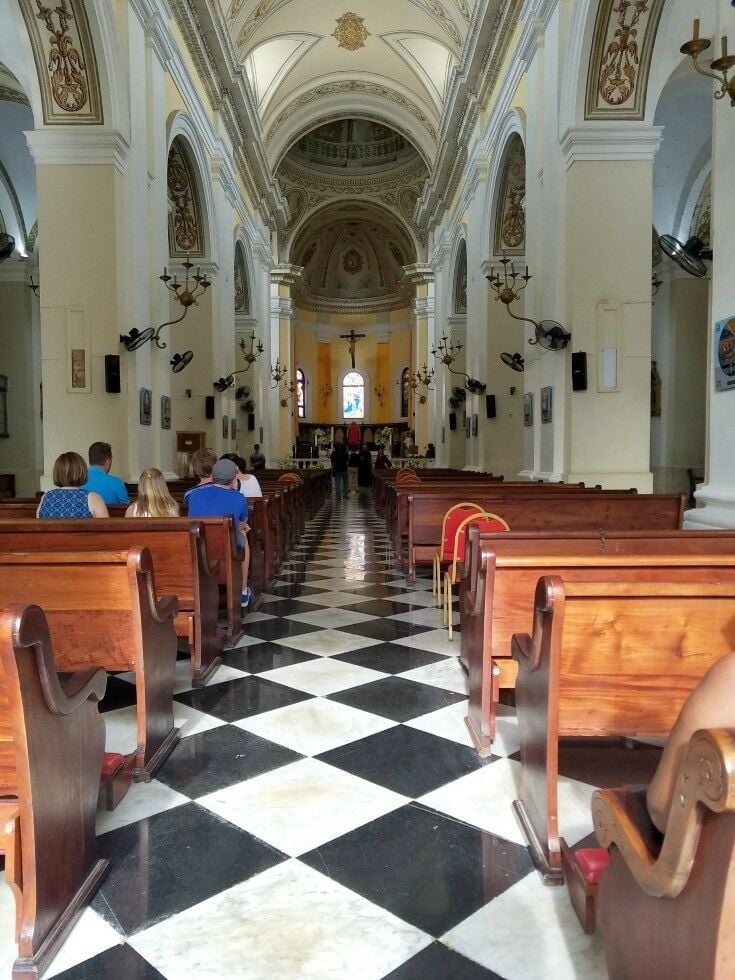 Parks, Plazas, Monuments & Fountains
It seems that everywhere you go in Old San Juan, there's another park, plaza, monument, or fountain. This little park across the street from Cathedral of San Juan Bautista is populated with some of the most peculiarly whimsical statues in the city.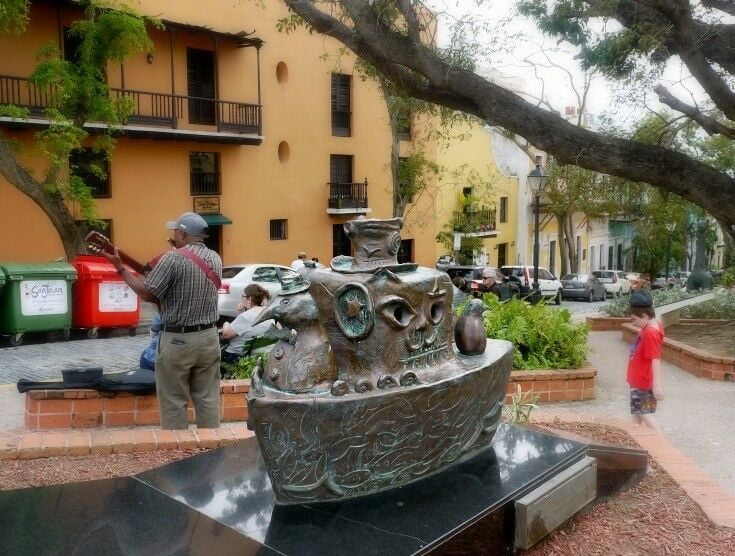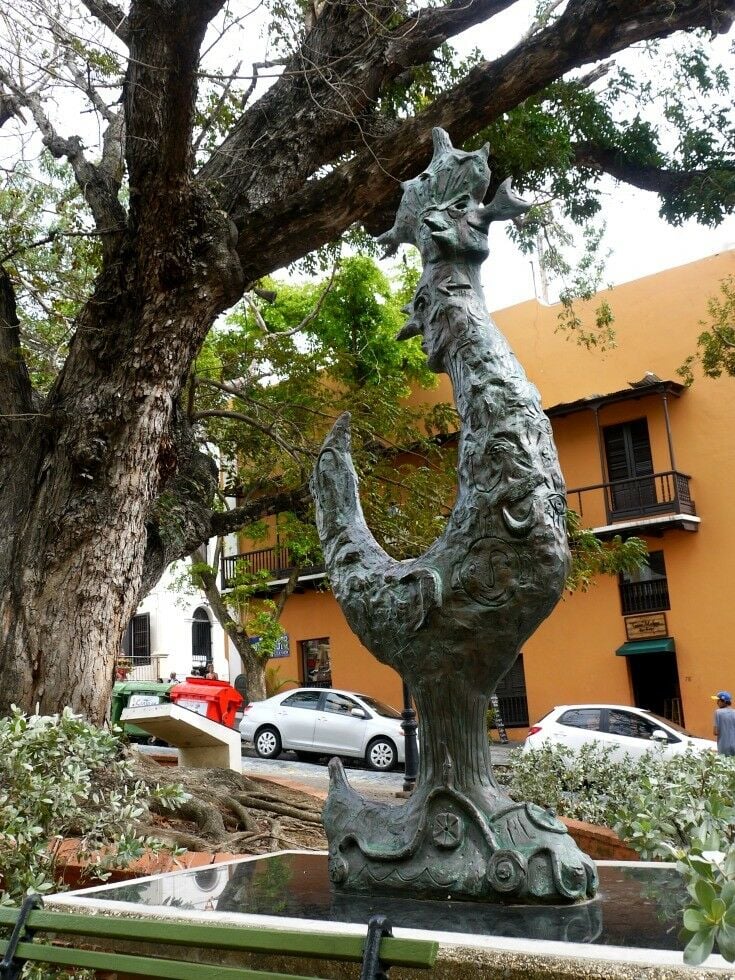 Old San Juan is only three square miles, with four-hundred Spanish 16th and 17th century colonial-style buildings lining its narrow streets.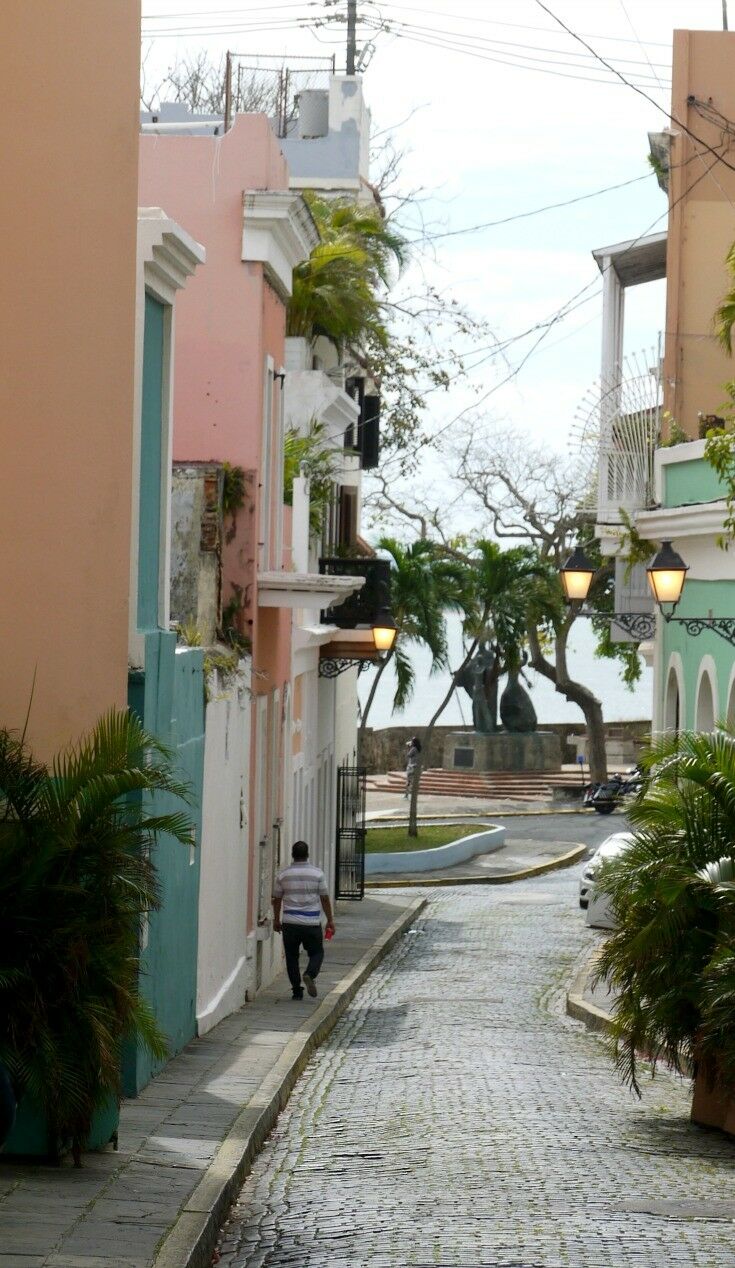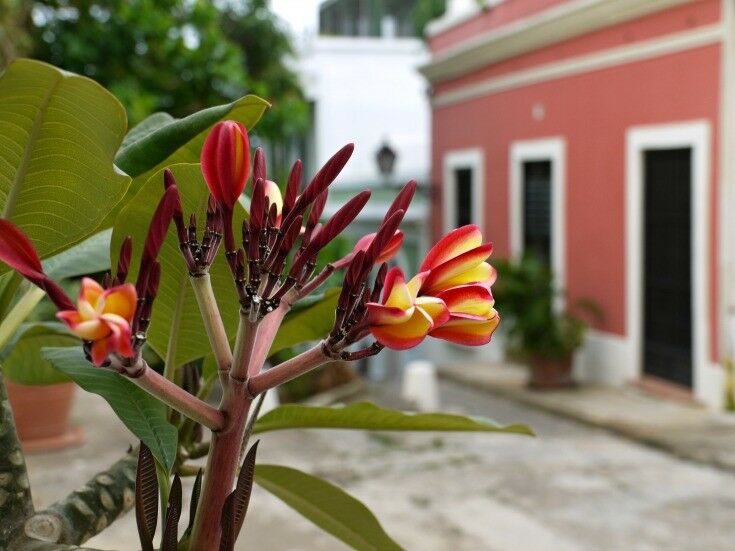 Inside the Old City Wall
San Juan is known as La Ciudad Amurallada (the walled city), and is one of the largest natural harbors in the Caribbean. Originally built to protect the city from foreign invaders and ransacking pirates, the fortress-like walls around Old San Juan are up to forty-two feet tall and up to forty-five feet thick at the base. You can see how the wall runs the entire length of the waterfront in the image below.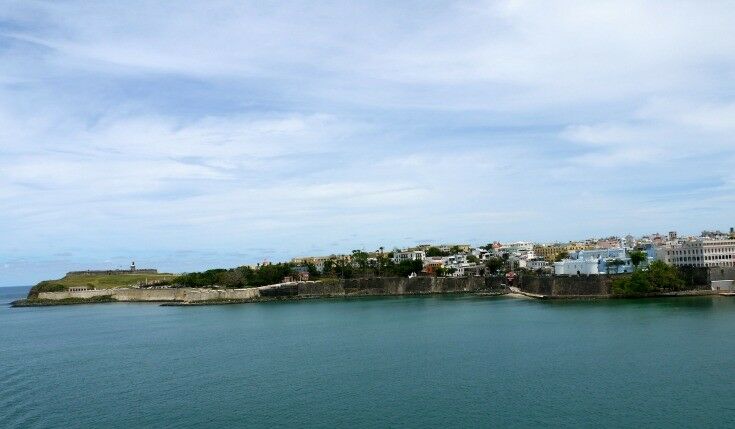 The views from atop the wall are nearly endless.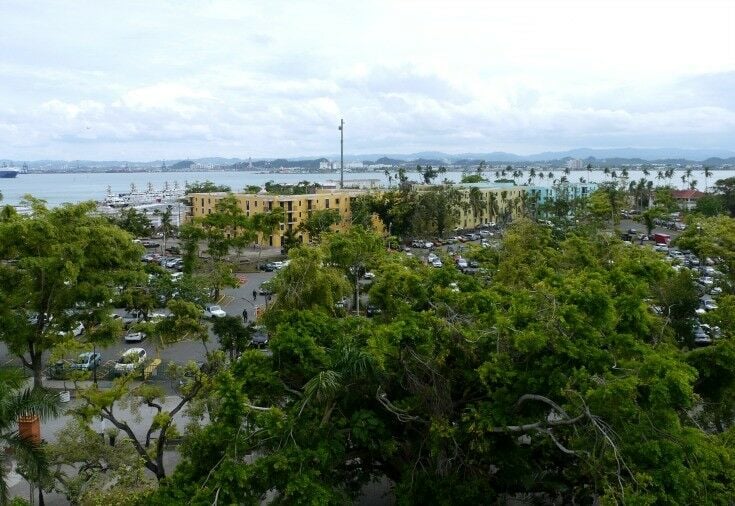 If you walk along the topmost part of the wall along Paseo Del Morro, you will find a small, shady plaza that faces the water. There you can see La Rogativa, a sculpture created by Lindsay Daen to mark San Juan's 450th anniversary.
Paying tribute to a legend borne during a siege in 1797, La Rogativa portrays a bishop and three women carrying torches in a religious procession. It seems, according to the legend, that the light from the torches caused the British invaders to think they were seeing Spanish reinforcements coming, so they turned and fled.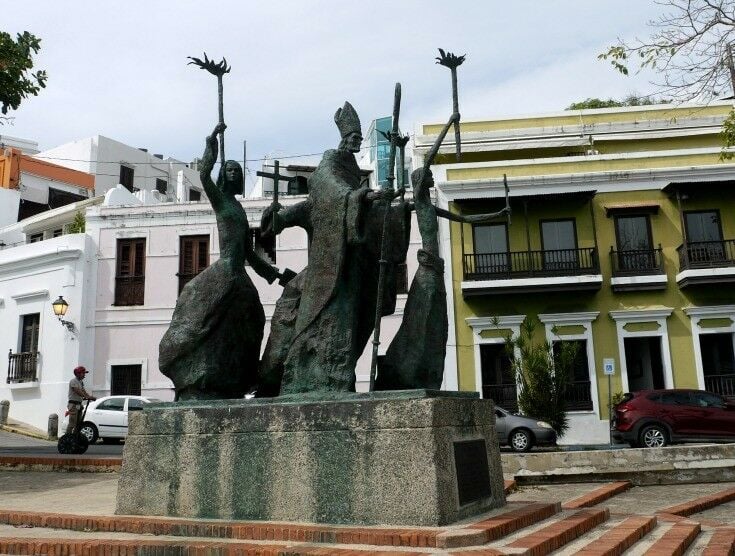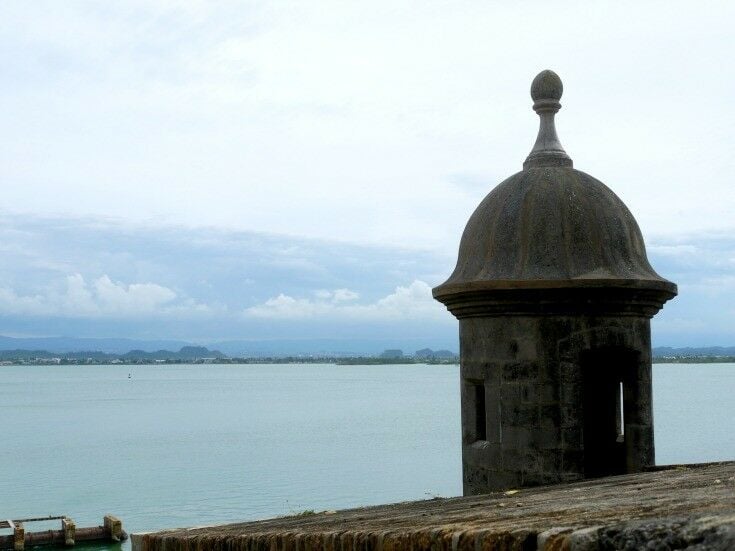 La Puerta de San Juan
La Puerta de San Juan (The San Juan Gate) is the main gate in Old San Juan's wall. (You can't miss it - it's bright red!) The last remaining of Old San Juan's six original gates, it was for centuries locked each day at sundown to ward off enemy attacks.
An inscription (in Latin) above the door reads: "Blessed is he who comes in the name of the Lord." Today, if you walk through it from inside the city, you'll be rewarded with a lovely view of the San Juan Bay on the other side.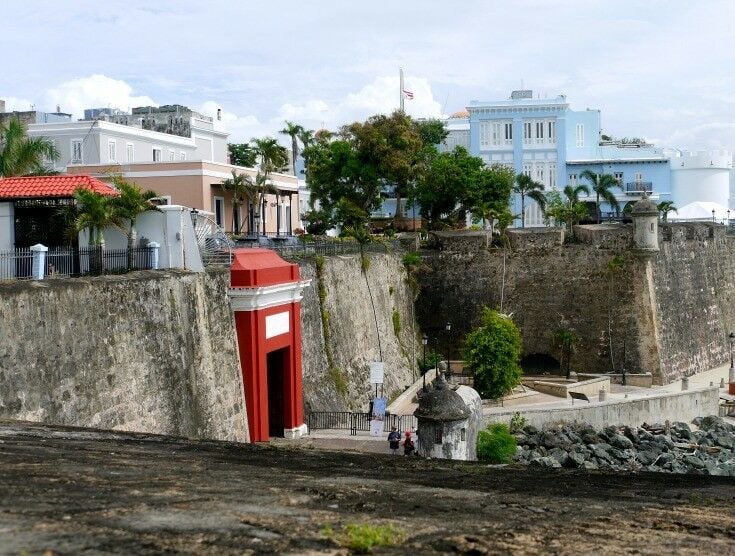 San Felipe del Morro
Castillo San Felipe del Morro was first constructed back in 1539 as protection for the city of San Juan from seaborne enemies. The uphill walk there is totally worth the effort, as it offers an amazing, panoramic views of the city and coastline.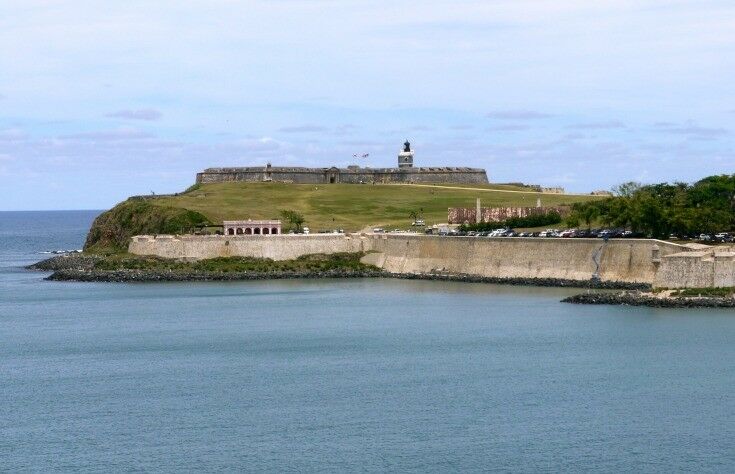 San Felipe del Morro, as seen from our cruise ship.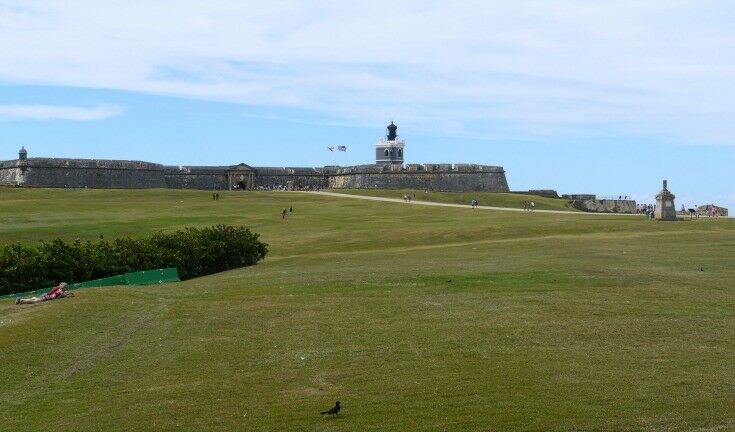 Hiking up to San Felipe del Morro from Old San Juan.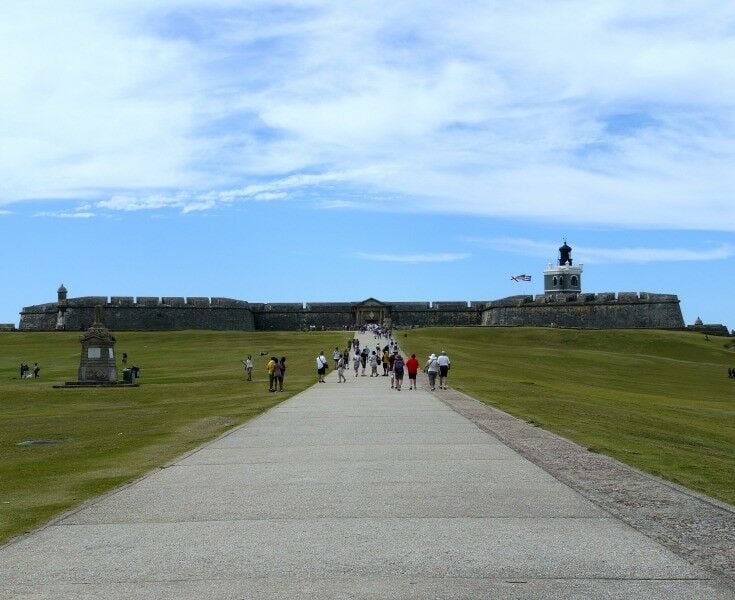 The symmetry of this shot makes me so happy!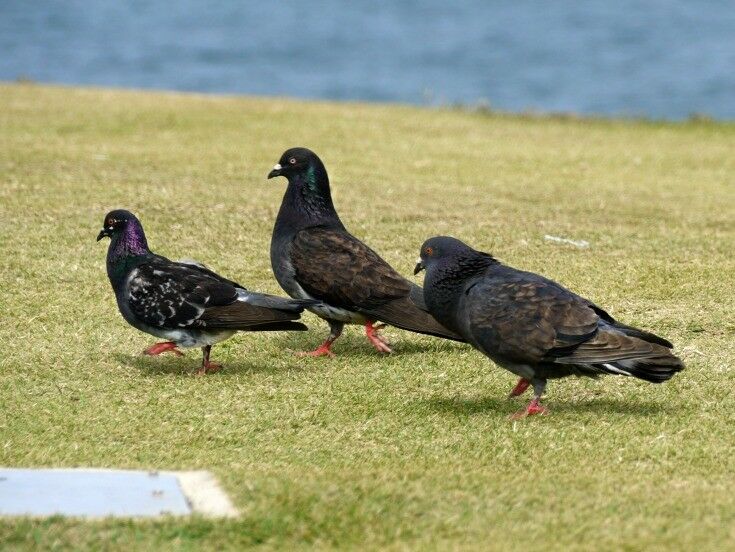 The Street Cats of San Juan
One thing you are sure to see in Old San Juan is cats. Everywhere. Hundreds of feral cats live in the city and roam the streets and the waterfront.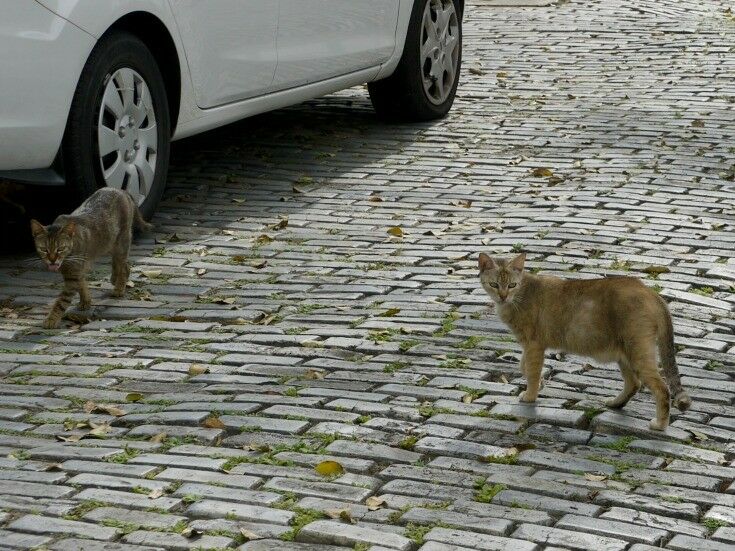 A grass-roots group, Save a Gato (cat), supports the well-being of San Juan's feral cats. They provide them with food and water, and also trap, neuter, vaccinate, and release them.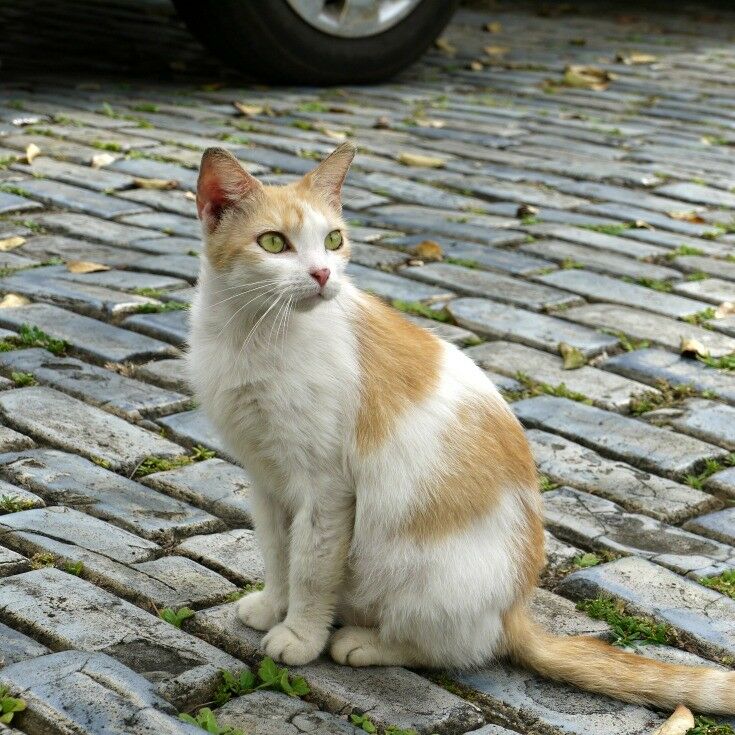 A cat needs a name, so I called her Audrey. In a sea of sullied strays, she was poised, regal, and stunning.
As we wandered the side streets of Old San Juan, we saw pans of cat food and lean, lazy cats lying everywhere.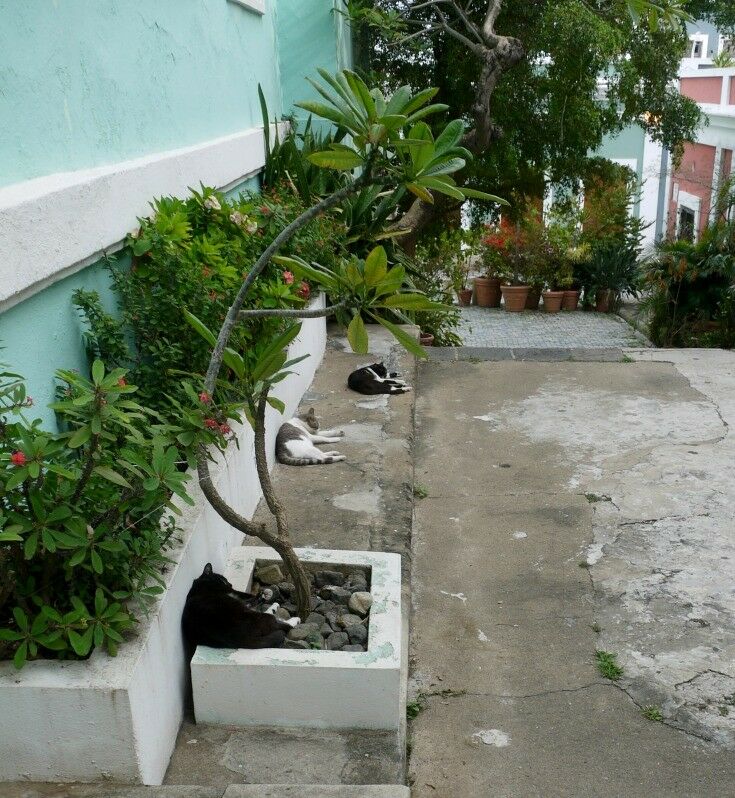 Barrachina: Birthplace of the Piña Coloda
We concluded our day in Old San Juan with a celebratory dinner at Barrachina, the birthplace of the piña colada.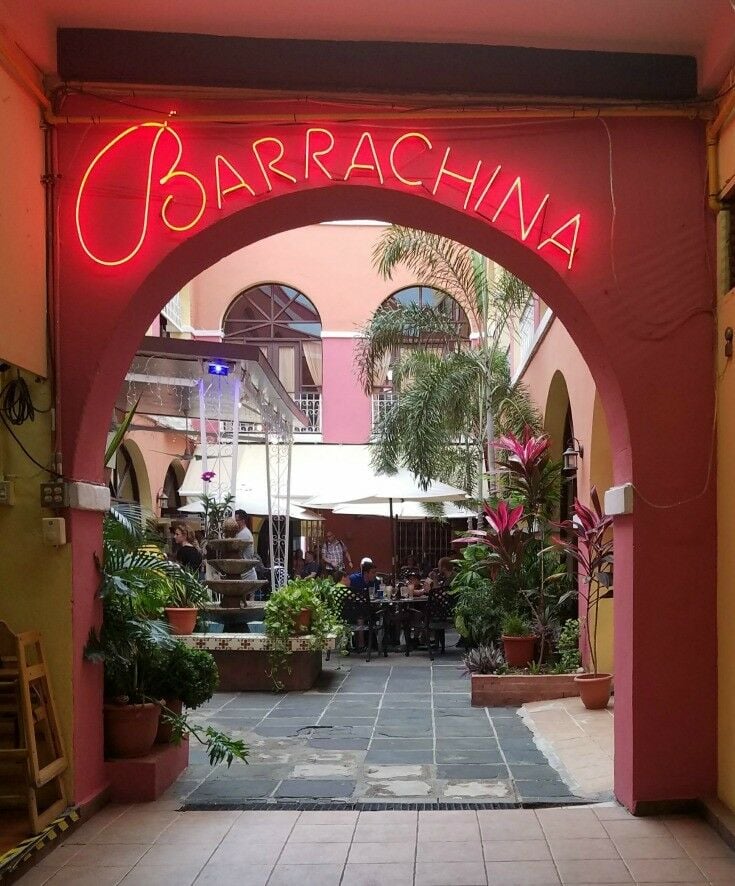 I can't conclusively verify that Barrachina is really "the first" place on earth where someone was inspired to blend ice, coconut, pineapple, and rum into a heavenly, refreshing beverage, but they have a plaque on the front of the restaurant that says it, so it must be true. Regardless, I can unequivocally testify (from intense personal research) that they serve up a pretty delicious piña colada. ?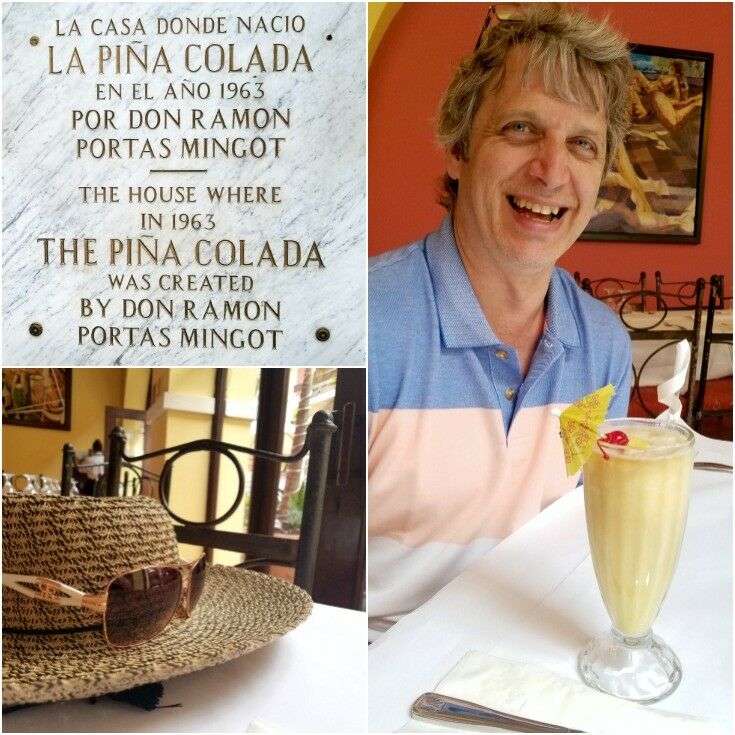 Mr B and I usually try to avoid deep-fried anything, but these Grouper fritters (lightly breaded with coconut) just called out to me from the menu, and once they arrived at our table, we were both extremely happy that we ordered them. Served with a side of tarter sauce and fresh lime, they were sweet, tender, and perfectly fried.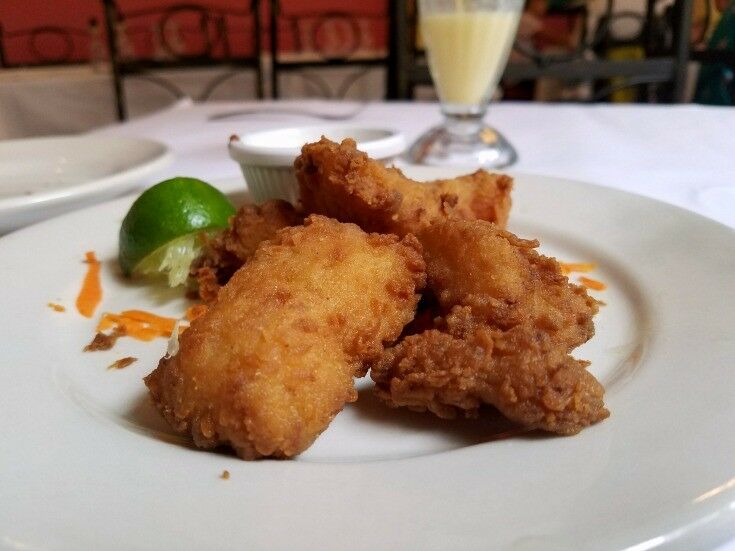 Mofongo was easily the most unique (to us) thing we ate on our trip. A Puerto Rican specialty, mofongo is made with mashed fried green plantain, seasoned with garlic and spices, and formed into a dome or bowl. At Barrachina, it is served with your choice of toppings, which include steak, chicken, vegetables, seafood, or shrimp.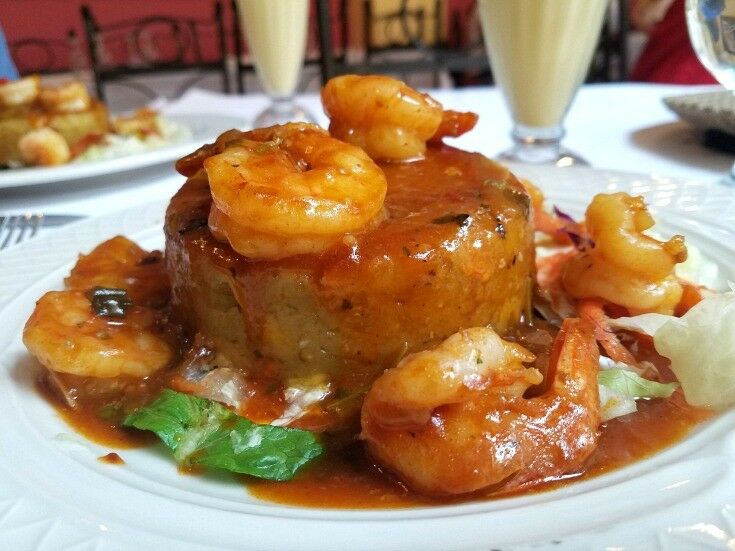 Mr B and I both had the Shrimp Mofongo, which was far more filling than we had anticipated. (I'm sure the two piña coladas we had while we waited for our meal had nothing at all to do with that!) In retrospect, although it was very tasty, a single mofongo plate would have been more than enough. Needless to say, we took a to-go bag home for late night snacking on the ship. Win-win!
Returning to Your Cruise Ship
If you are visiting Old San Juan via cruise ship, be sure to take in the views while you are waiting to for the ship to embark. I captured this stunning sunset while sitting on our balcony.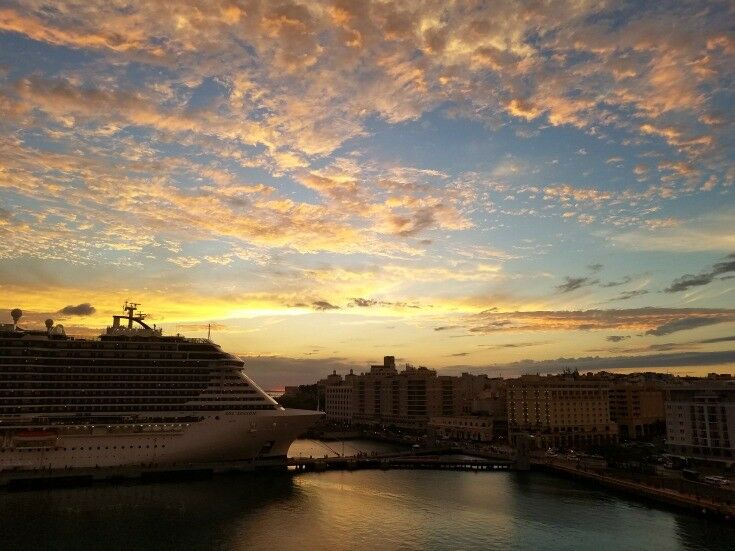 Old San Juan After Hurricane Maria
April 2018
I would be remiss if I didn't mention that I was a little concerned before we departed on our trip about what we might find in Puerto Rico, which is still trying to recover after Hurricane Maria swept through and ravaged the island last fall.
The reality is, while clean-up efforts have made great progress, there is plenty of structural damage still in evidence, and things are still not up and running as they should be. For example, just this week, they experienced an island-wide blackout as construction companies worked through technical issues to restore electrical services to residents.
However, much of the island's economy relies on tourism, and it's obvious that a great deal of effort and man-hours have gone into rehabilitating the Old San Juan area, which is within easy walking distance of the cruise ship ports. So while it isn't yet quite as bright and shiny as it once was, Old San Juan is still replete with amazing history - the kind you can literally walk up a touch! - plus charming, colorful architecture, and delectable food and drink - and welcoming tourists with open arms.
Caribbean-inspired Recipes
More Cozy Travel Destinations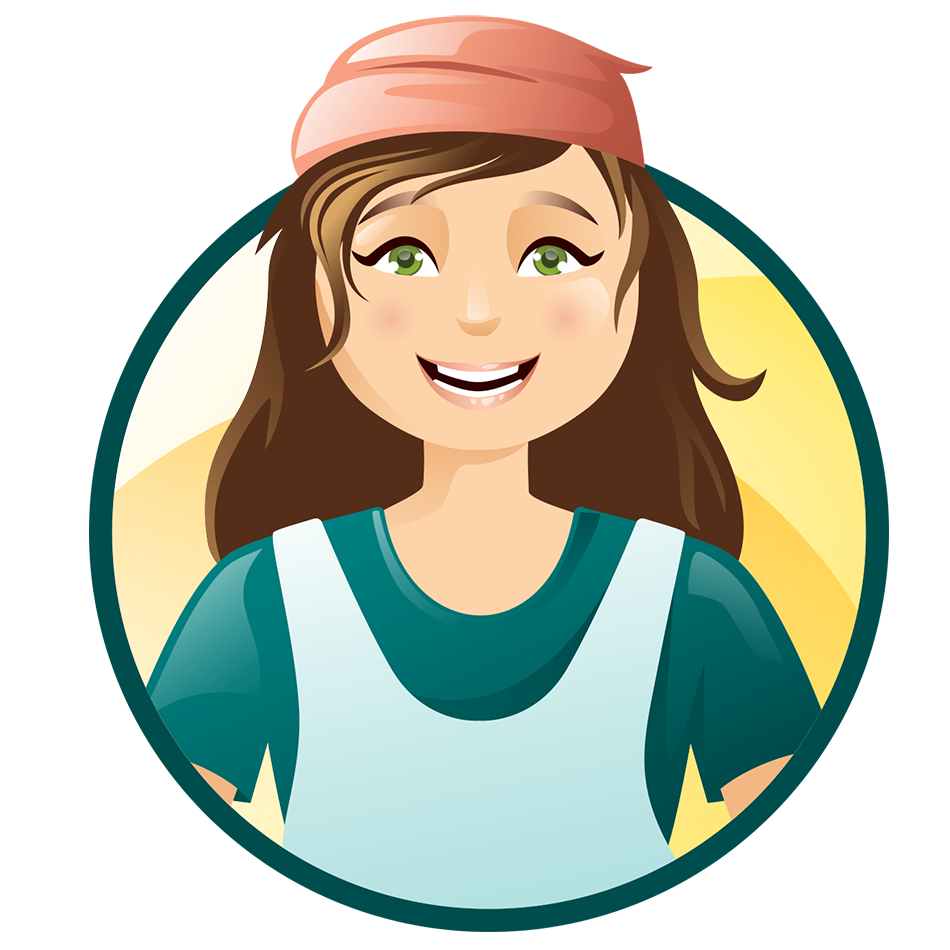 Thank you for visiting the Good Hearted Woman. Remember to bookmark this site, and come back soon!