WARNING: Consuming Russian Tea may lead to intense feelings of coziness and an uncontrollable desire to curl up with a good book.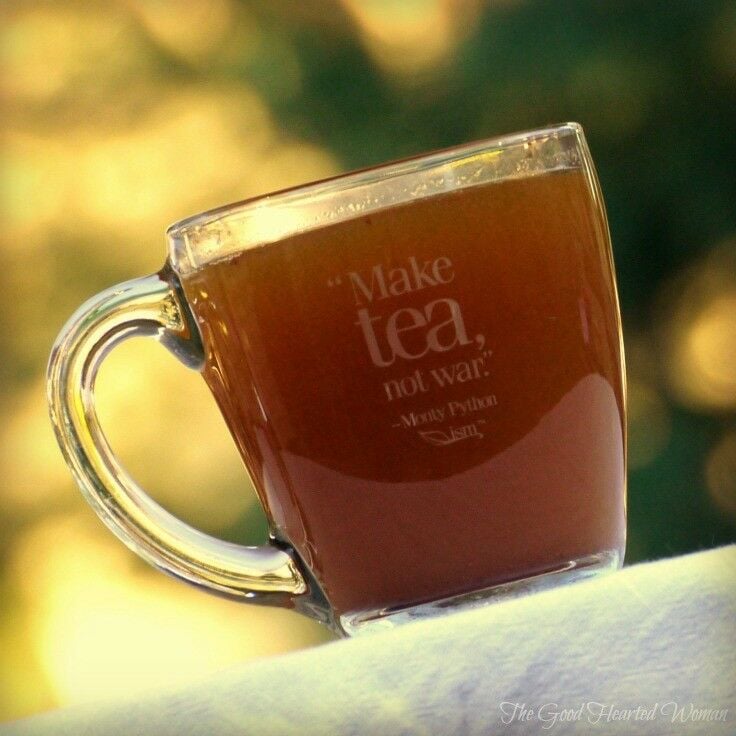 As I get older, I find myself remembering more and more about the women in my mother's circle who influenced my life. Remember Mrs. Houston? I've written about her a couple of times. She was my mother's super-talented, perpetually cranky friend who taught me to embroider and made my family Nuts-n-Bolts for Christmas every year.
Mrs Houston also introduced me to Russian Tea – a warm, incredibly cozy concoction that has ties to both the 1960's penchant for convenience foods and NASA's space program.
Tang, the primary ingredient in Russian Tea, was known in my childhood as the drink "the astronauts took to the moon." It first made its appearance in the late 1950's, but didn't sell well until it got a super-powered boost from NASA in the early 60's when it was included in the food-stores of John Glenn's Mercury spaceflight, and later on the Gemini missions.
My mom was suspicious of, and therefore rarely bought, anything unfamiliar to her Midwest Depression Era upbringing (i.e., yogurt, pizza, Swiss cheese, etc.); however, if it was good enough for John Glenn, it was good enough for her. Hence, as a child I luxuriated with a glass of ice-cold Tang on a regular basis.
Fun Fact: The creator of Tang, William Mitchell, also invented (among other things) Pop Rocks & Cool Whip.
Click To Tweet
That's enough Tang history for now though: back to Russian Tea. I have no idea why it's called Russian Tea. I can conjecture that perhaps it has something to do the US-Russian Space Race and the Tang connection, but I really have no solid evidence to support that theory. (If you know, please tell me!) But whatever its origins, Russian Tea is just about the coziest non-alcoholic beverage I know of. It tastes a lot like mulled cider, with a decidedly citrus kick.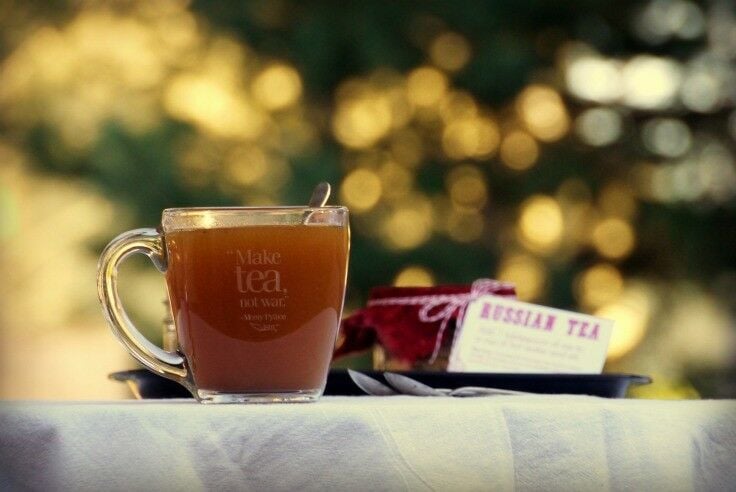 Russian Tea is extremely easy to whip together, and makes a lovely housewarming, hostess, or holiday gift. (I've included a free printable below just for this purpose.) Now all you need is a good book, a toasty fire, and maybe a warm snuggle-buddy.
Nah zdarovhyeh! (That's [phonetic] Russian for Cheers!)
Russian Tea Mix
Print Recipe
Pin Recipe
Ingredients
2

cups

dry orange drink mix

i.e. Tang

1

cup

instant tea

2

cups

sugar

1 .23

oz.

package unsweetened package lemonade mix

e.g. unsweetened Kool-Aid mix

2

heaping teaspoons cinnamon

2

teaspoons

ground cloves
Instructions
Mix all ingredients together. Store in an airtight container.
To make one cup of Russian Tea:
Add one heaping tablespoon of mix (or to taste) to a cup of hot water and stir.
MOCK Russian Tea:
If black tea is something you choose to avoid, you can make Mock Russian Tea by simply leaving out the instant tea. It still tastes warm and cozy.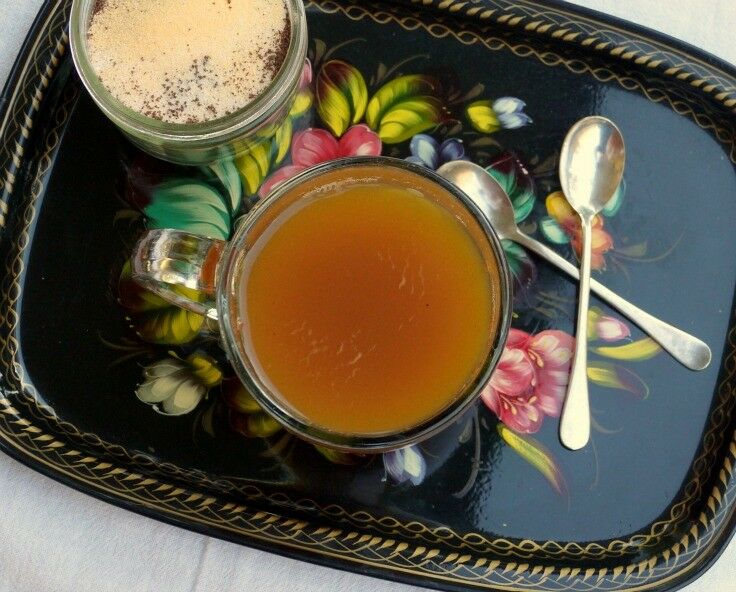 Thank you so much for being a faithful reader and supporter of The Good Hearted Woman.

❤

Be sure to Pin and Print this recipe!