Perfect for the autumn holidays, this Old-Fashioned Pumpkin Gingerbread will fill your home with the scent of the season and your tummy with delicious goodness.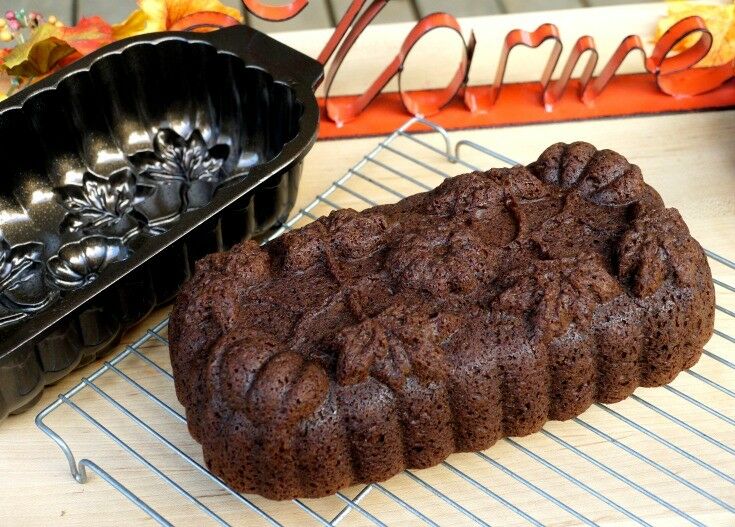 This post may contain affiliate links, but don't worry – they won't bite.
By the time Thanksgiving rolled around last year, I swore I'd never read, make, post, or eat another "Pumkin+anything" recipe as long as I lived. And yet, here we are. Why? Because a year has past, and like bad breakups and childbirth, time has a way of softening the sharp edges of our memories. Plus, I had a brand new beautiful Pumpkin Loaf Pan and a serious hankering for some pumpkin gingerbread (my favorite of the spiced-breads-made-with-vegetables).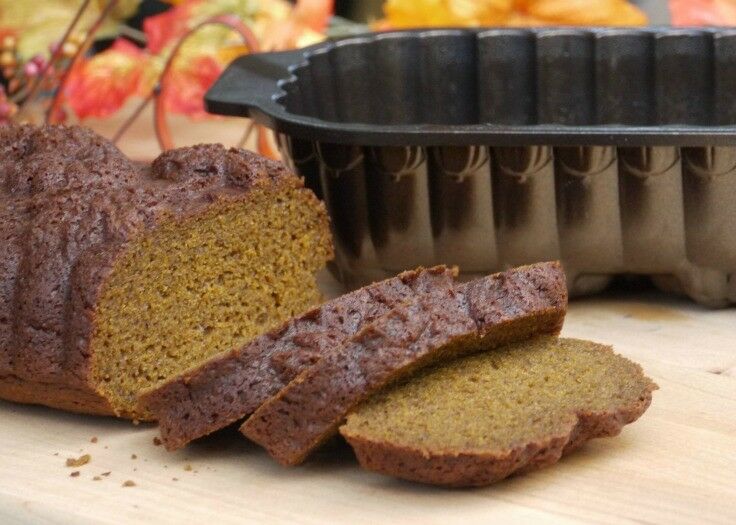 I'm one of those bakers who is always fiddling and tweaking my recipes, so of course I made a few changes to my old standard recipe this time too – most notably the substitution of coconut oil for butter. Wow, what a difference that made! All those sweet spices danced across my tongue with whole new level of rich, gingerbready goodness! Just to make sure it wasn't just my imagination, I made two more batches (all for you, my friends), with equally delicious results. In fact, when I shared it with the family, my mother-in-law Carol even told me I was (and I am quoting her word-for-word here), "A damn good cook." That's high praise indeed!

Old-fashioned Pumpkin Gingerbread
Author:
Renée B. ♥ The Good Hearted Woman
Ingredients
1½ cups flour
¼ cup powdered milk
1 teaspoon baking soda
½ teaspoon baking powder
2 teaspoon ground cinnamon
1 teaspoon ground ginger
½ teaspoon ground cloves
½ teaspoon ground allspice
½ teaspoon salt
4 ounces unrefined coconut oil (or butter) [1/2 cup melted]
2 eggs
1 cup canned pumpkin
¾ cup packed brown sugar
¼ cup molasses
¼ cup warm water
1 teaspoon vanilla
Instructions
Preheat oven to 325° F. Spray loaf pan with non-stick cooking spray and set aside.
In a medium bowl, combine flour, powdered milk, baking soda, baking powder, ground spices, and salt. Set aside.
In a small, microwave-safe bowl, heat coconut oil in microwave for 30 seconds to melt. Set aside.
In a mixing bowl, beat eggs until the are lemon colored. Add pumpkin, brown sugar, molasses, warm water and vanilla. Mix on low to combine. Add coconut oil and mix thoroughly.
Stir in dry ingredients until well combine. (You can also mix this by hand.)
Pour batter into prepared loaf pan. Tap pan on counter a few times to get out the air bubbles, and then bake in preheated oven for 1 hour and 15 minutes. Loaf is done when a toothpick inserted in the center comes out clean.
Allow loaf to cool in the pan on a wire rack until he pan is cool enough to touch; at least 10 minutes. Turn out onto a wire rack to cool completely.
Dust loaf with powdered sugar if desired.
Hint:
Spray your measuring cup with non-stick cooking spray before you measure the molasses, and it will slide right out. Or you can do what I do and just use the same measuring cup that you used for the melted coconut oil and eyeball the molasses.
I love it when things look as good as they taste! To create this lovely harvest-themed loaf, I used the beautiful Pumpkin Loaf Pan. Perfect for pumpkin bread, fall-themed cakes and more, this attractive loaf pan is made from durable cast aluminum for superior baking performance.
Disclosure: This post may also contain affiliate links, which means we may receive a commission if you click a link and purchase something that we have recommended. While clicking these links won't cost you any extra money, they will help us keep this site up and running – and (relatively) ad-free!! Please check out our disclosure policy for more details. Thank you for your support!