Seasoned with smokey paprika and three kinds of dried peppers, this Spicy Pan-fried Blackened Rockfish has just the right amount of kick!

This post may contain affiliate links, but don't worry – they won't bite.
This savory Blackened Rockfish with Kale Caesar Salad from Skillet was my favorite bite at the 2015 IFBC Culinary Expo. The spicy dry rub, seasoned with paprika and three kinds of dried peppers, has just the kind of kick Mr. B and I love. In fact, I loved it so much that I contacted the nice folks at Skillet Street Food asked for permission to share their Dry Rub recipe here, which they very kindly granted.
A fresh Caesar salad on the side (traditional or kale) makes the perfect companion dish, quelling the dry rub's heat without putting out the fire.
Once you mix up the dry rub, pan-frying the rockfish is a snap! You can literally have this made and on the table in 20 minutes; less if you have the dry rub already mixed up.
Pan-fried Blackened Rockfish
Seasoned with smokey paprika and three kinds of dried peppers, this Spicy Pan-fried Blackened Rockfish has just the right amount of kick!
Ingredients
1

lb.

fresh rockfish fillets

or Pacific cod, red snapper or striped bass 1/2'-3/4" thick

1/2

batch

Rockfish Dry Rub Mix

2-4

tablespoons

vegetable oil
Instructions
Heat cast iron or heavy skillet over medium heat until a water droplet sizzles on the surface, then add enough vegetable oil to lightly cover bottom of skillet.

Coat both sides of each fish fillet with the dry rub mix and place into the heated skillet.

Fry on first side for about 3 minutes, or until the bottom of the fish is nicely browned.

Turn over with tongs and brown the other side for 2 to 3 minutes more, until the flesh is firm and opaque.

Remove the fillets from the skillet with tongs and drain on paper towels.
Recipe Notes
This pairs well with a Caesar Salad.
Since first making this dry rub, I've tried the Spicy Skillet Dry Rub on Pacific Cod, red snapper and striped bass; as well as everything from everything from roasted vegetables to barbecued steak, and have never been disappointed.

Some of the ingredients for the dry rub were initially a little hard to locate, but once I figured out where to find them, it was a piece of cake.
Let me save you some time: you will find the ground pasilla pepper and ground New Mexico chili pepper in the Mexican/Hispanic foods aisle of most grocery stores (in my area, Winco, Freddy's, and Safeway all stock them) or in your local Hispanic Mercado (i.e., Su Casa Imports, El Mercado, etc). I found the ground chipotle pepper in the bulk section at Winco. All of the dried ground peppers are very inexpensive and the recipe makes a lot of dry rub, so it will go a long way.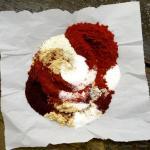 Spicy Skillet Dry Rub
Ingredients
5

tablespoons

smoked paprika

1

tablespoons

garlic salt

2 1/4

teaspoons

ground ginger

1

tablespoons

ground pasilla pepper

2

teaspoons

ground chipotle pepper

1

tablespoons

ground New Mexico chili pepper

1/2

tablespoon

ground mustard powder

5

teaspoons

white granulated sugar

2

tablespoons

kosher salt
Instructions
Mix all ingredients. Store in an air-tight container.
Recipe Notes
Ingredient Substitution: If you don't have all the dried peppers on hand, just substitute 3 tablespoons of regular chili powder for the ground pasilla, chipotle, and New Mexico chili peppers.
---
---
Thank you so much for being a faithful reader and supporter of The Good Hearted Woman.

❤

Be sure to Pin and print this recipe!

Disclosure: This post may contain affiliate links, which means we may receive a commission if you click a link and purchase something that we have recommended. While clicking these links won't cost you any extra money, they do help keep this site up and running. As always, all opinions and images are my own. Please check out our disclosure policy for more details. Thank you for your support!