Whether you've got days to explore or are just passing through Twin Falls on your way to Somewhere Else, plan to stop for these two stunning destinations on your way - Shonshone Falls and Perrine Bridge!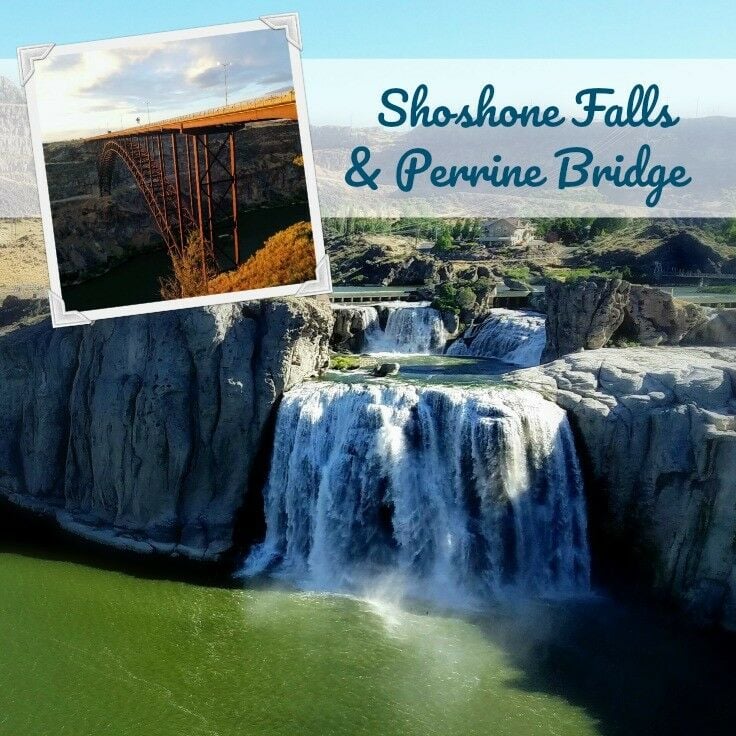 You've heard of fly-over states, right? Well, if Idaho is a flyover state, then Twin Falls is a drive-thru town. Travelers tend to stop for gas, a bite to eat, and a short stroll to stretch their legs, but they don't always stick around to enjoy the sights. However, just like those flyover states, if you take the time to explore instead of rushing on through, Twin Falls has some memorable things to offer.
Whether you've got days to explore or are just passing through Twin Falls on your way to Somewhere Else, plan to stop for these two stunning destinations on your way - Shonshone Falls and Perrine Bridge. They are totally worth your time!ael]
Shoshone Falls - The Niagara of the West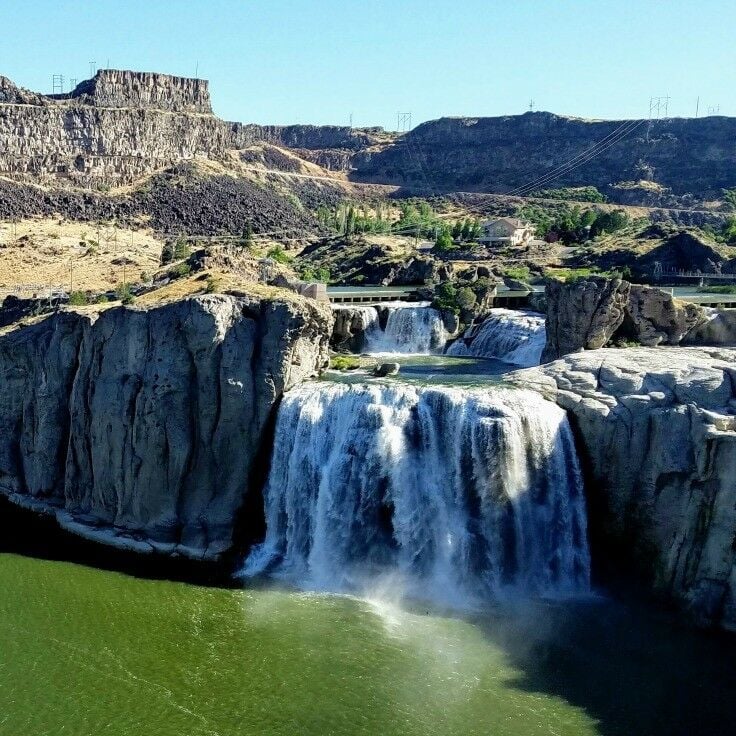 Did you know that you can visit a waterfall in Twin Falls, Idaho that's higher than Niagara Falls? It's true! At 212 feet tall and 900 feet wide, Shoshone Falls – known as the Niagara of the West – is one of the largest natural waterfalls in the United States.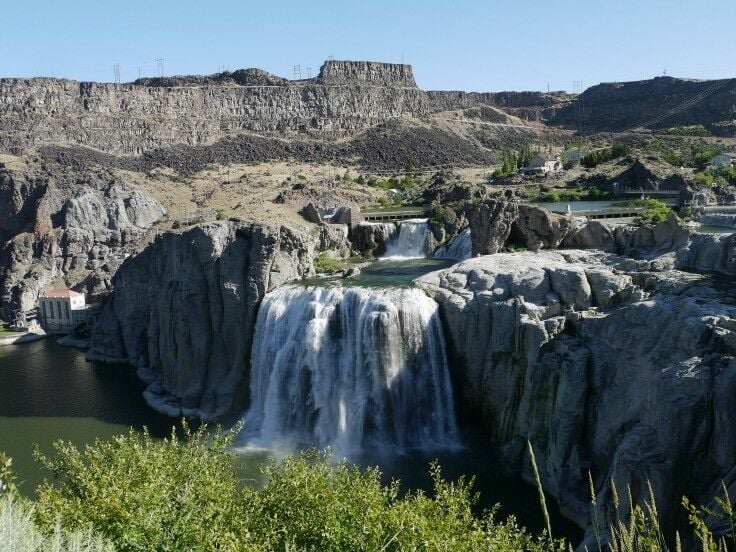 Located at the northern edge of Twin Falls along the Snake River, Shoshone Falls makes an impressive stop. The park at Shoshone Falls is a great place to relax and shake off the road dust. There is a lovely shaded picnic area and a view of the falls, perfect for lunch or a quick afternoon power nap before you get back on the road.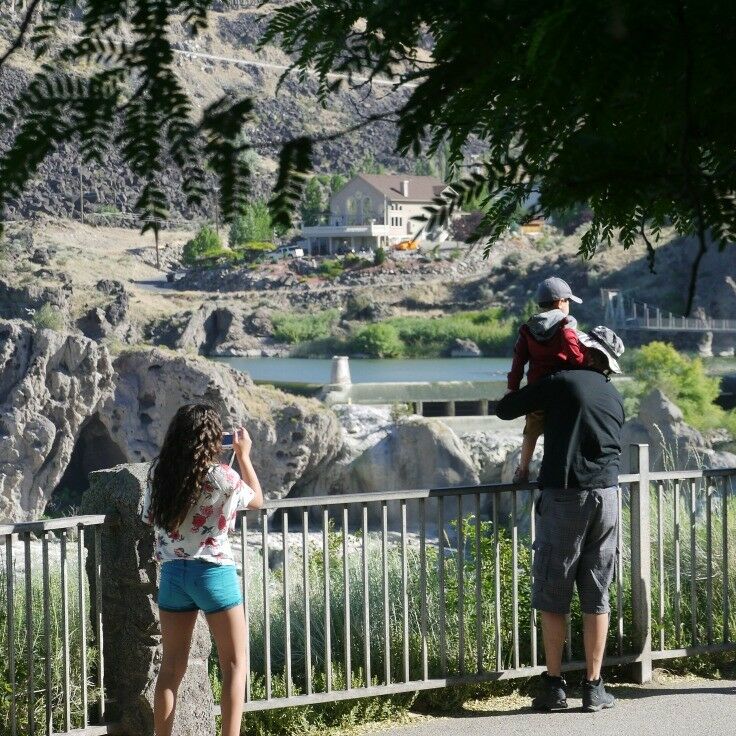 There are paved trails and several observation platforms and areas from which to view the Falls. The park is ADA accessible, and there are multiple places from which to view the Falls without having to go up or down any stairs.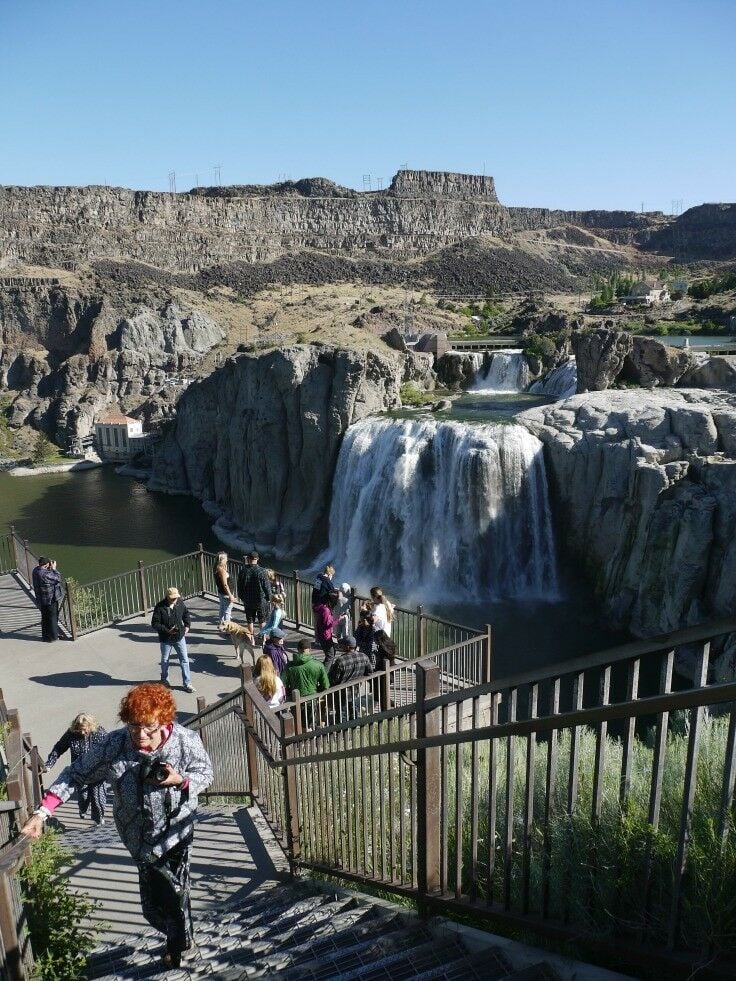 Other recreational opportunities at Shoshone Falls include a children's playground, hiking trails, a boat ramp, and a swimming area.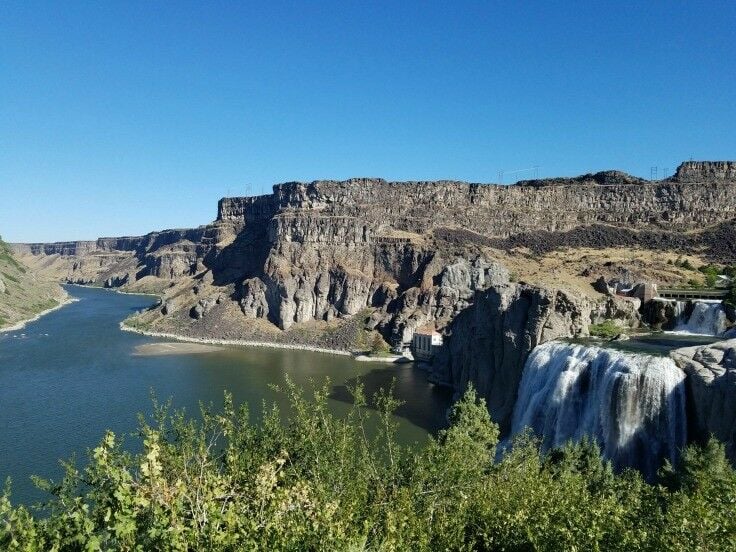 Know Before You Go - Shoshone Falls
Entry Fees: The vehicle fee at Shoshone Falls Park is $5.00 per car. [July 2019] The fee is in effect from March 1st through September 30th. Season passes are available for purchase at the Parks and Recreation office and at the ticket booth.
Hours: Shoshone Falls is open year round with the exceptions of temporary closures due to poor road conditions. The park hours are from dawn to dusk.
RVers: Park has five pull through RV spots that can accommodate most RV's and Tour buses. No overnight camping.
Pets: Leashed Dogs are welcome in Shoshone Falls Park. The only exception is that dogs are not allowed in the grassy area of nearby Dierkes Lake.
Directions: If possible, use GPS to find the entrance to the Falls park, as the signage is not always obvious. Set the address to: 4155 Shoshone Falls Grade Road, Twin Falls, ID 833301.] Click here for a map.
Additional Facilities: There are restrooms and a small souvenir and snack shop on site.
Perrine Bridge
We stopped at Perrine Bridge just in time to enjoy the sunset, which I highly recommend if you can time it right.
Perrine Bridge is an approximately 1,500 feet long truss arch bridge that spans the Snake River Canyon on the northern edge of Twin Falls, Idaho.
The bridge deck sets 486 feet above the Snake River, making it the eighth highest bridge in the United States, and the 4th highest arch bridge in North America.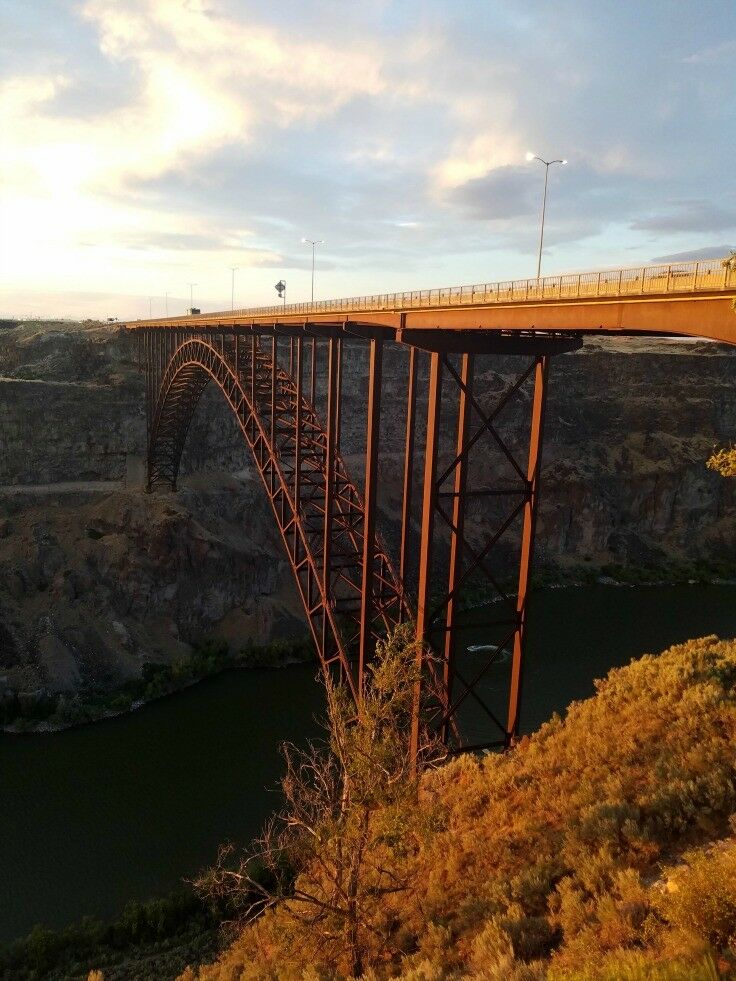 The pedestrian walkways across and around the bridge offer visitors access to majestic panoramas, with expansive views of the river, canyon cliffs, the Blue Lakes, and waterfalls, a park, and two golf courses.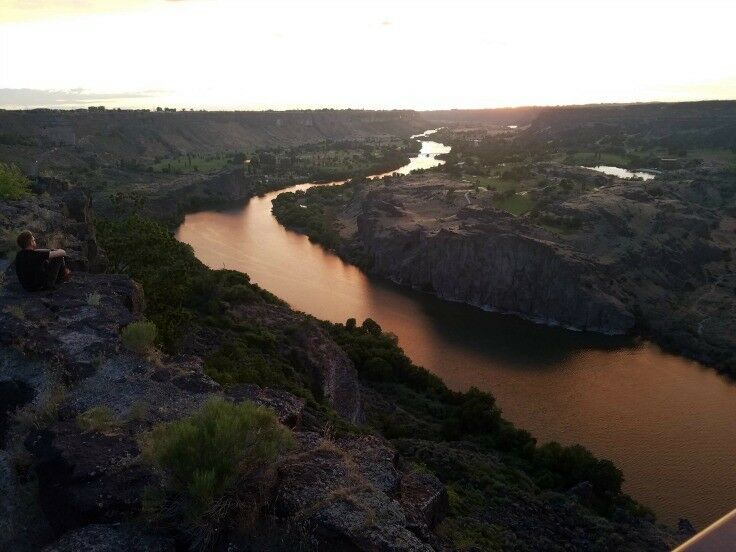 At sunset, the view from the bridge was simply breathtaking. For a few brief moments, the Snake River looked like molten copper.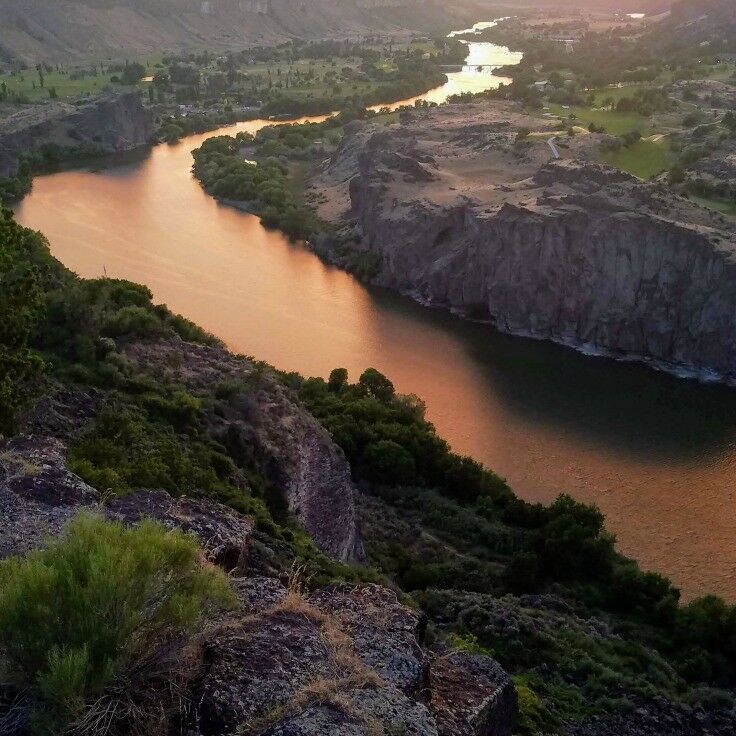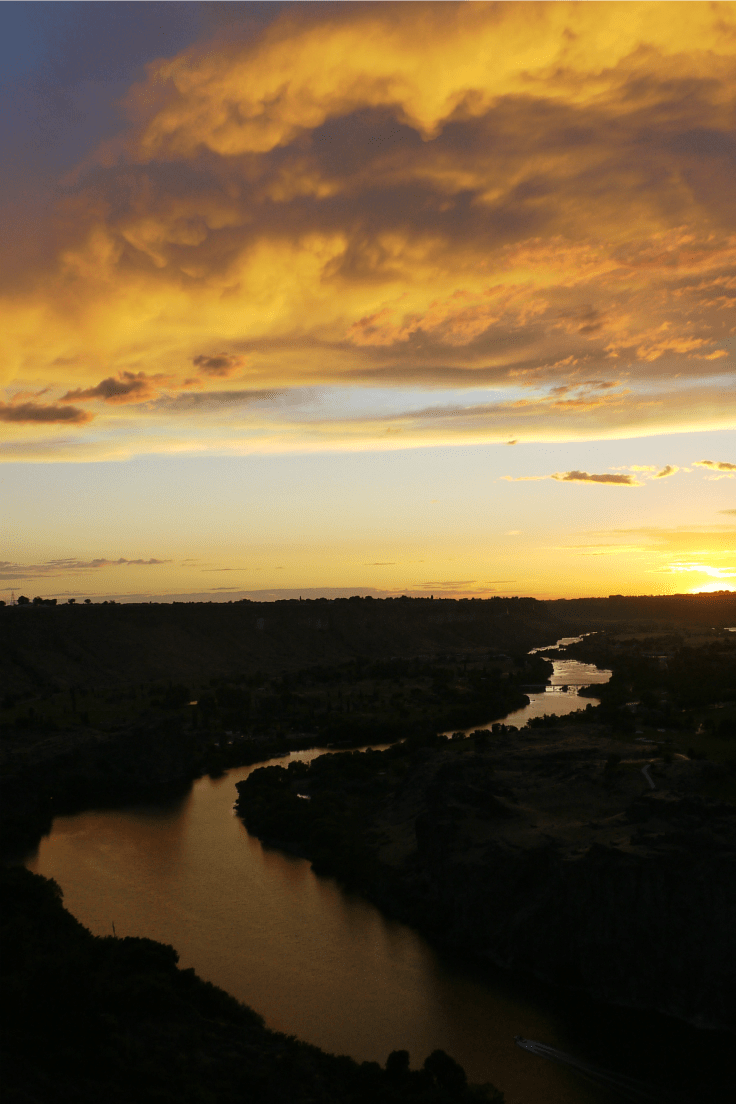 Perrine Bridge was named for I.B. Perrine [1861–1943] is credited as being the primary founder of Twin Falls. A statue of him can be found near the Visitor's Center at the south end of the bridge.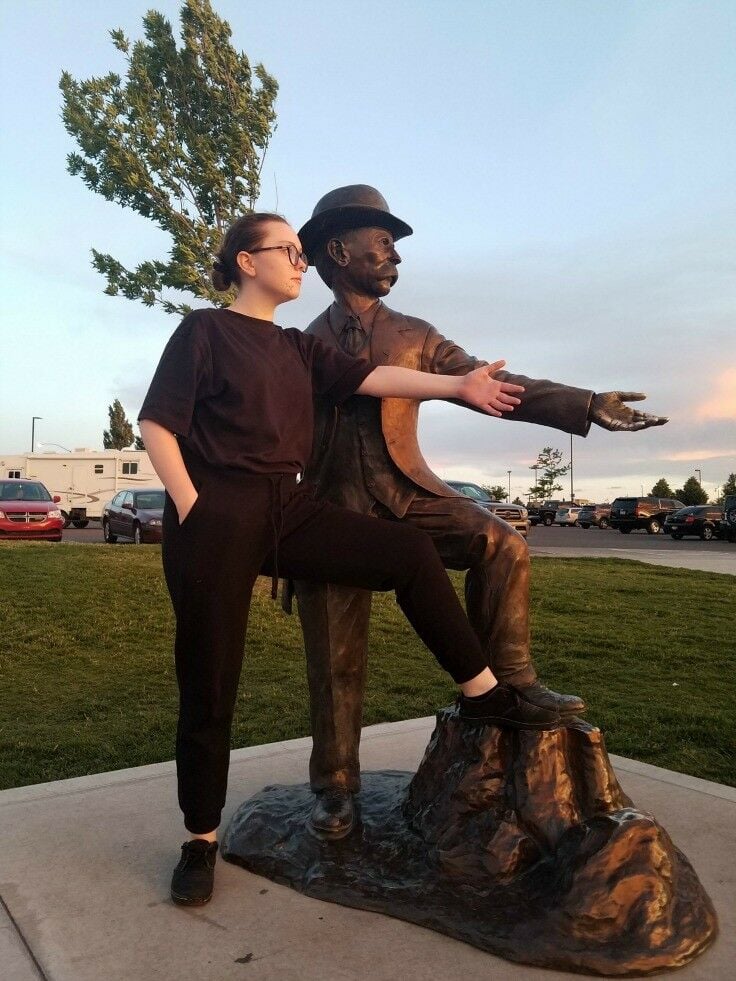 Today, Perrine Bridge is not only the most famous bridge in Idaho, but it has become a BASE jumping mecca as well: jumpers use it year-round as a launch point for parachuting to the canyon floor. At this time, Perrine Bridge is the only bridge in the U.S. where BASE jumping is legal year round without a permit.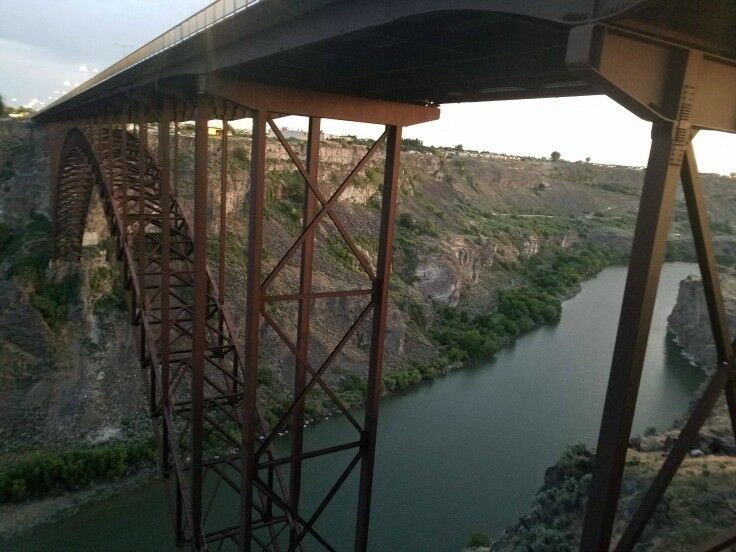 Know Before You Go - Perrine Bridge
Parking: Located on the south end of the bridge next to the Twin Falls Visitors Center. You will find a small park and access to the canyon rim trails there as well.
Walking: The current 4-lane structure has two 7-foot wide sidewalks on either side of the bridge, as well as walking paths under the approach spans.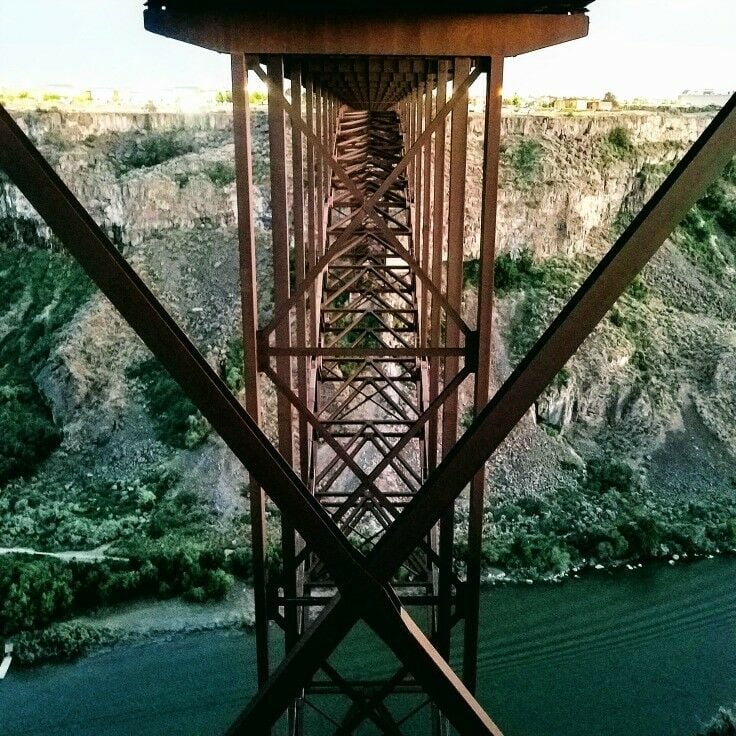 One of the things we love about traveling is the chance it give us to appreciate the beauty of our world, and both Shoshone Falls and Perrine Bridge more than delivered! If you are traveling through Twin Falls, take the time and give them a chance to dazzle you, too.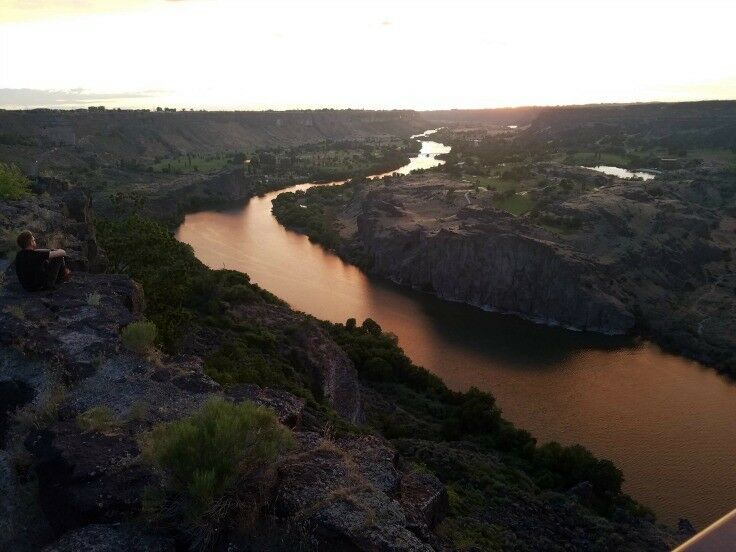 If you find find yourself in eastern Idaho looking something out of this world, be sure to check out the Craters of the Moon National Monument & Preserve!
On the Road
For more recipes and cozy living tips, subscribe to our newsletter and follow us on Instagram, Pinterest, and Facebook for all of the latest updates.
Disclosure: This post may contain affiliate links, including Amazon affiliate links, which means we may receive a commission if you click a link and purchase something that we have recommended. Please check out our disclosure policy for more details.