In the last few years, sliders have been popping up like daisies on menus everywhere, from greasy spoons to gastropubs. In no place are they more ubiquitous than in Tennessee, home of "The Great Slider Debate."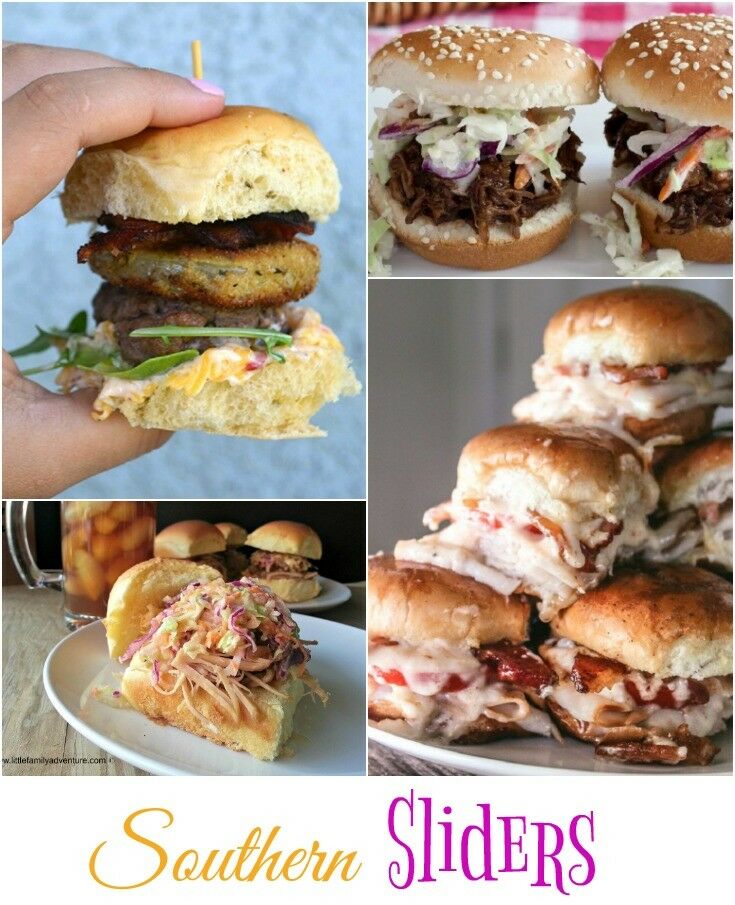 Depending on who you ask, a slider is either (a) a mini-hamburger, or (b) a mini-sandwich. Unless you ask Adam Kuban, Editor Emeritus for the website Serious Eats, who unequivocally states "A slider is something very specific. It is not just a mini hamburger. It's a thin, thin slip of beef, cooked on a griddle with onions and pickles piled atop patty. The steam from the onions does as much cooking as the griddle. The buns are placed atop the onions, absorbing the pungent aroma and flavor."
No disrespect, but I prefer to use the broadest interpretation possible – a slider is a little bun with some yummy, mostly protein-based stuff inside. Nevertheless, while I may not agree with Mr Kuban on the defining points, I do have to give him some serious props: he has constructed what I think is probably the best traditional (i.e., beef-n-onion) slider copycat around. (I'll drop the recipe link for you at the end of The Great Slider Debate below.) Now, moving on…
In the last few years, sliders of every make and model have been popping up like daisies on menus everywhere, from greasy spoon dive-ins to upscale gastropubs. In no place that I've experienced are they more ubiquitous than in Tennessee, home of The Great Slider Debate.
The Great Slider Debate
Before we get on to the Good Stuff (i.e., some amazing slow-food slider recipes), I need to introduce you to Mister White Castle and his southern cousin, Krystal.
White Castle, which first opened it's doors in Wichita, Kansas 1921, usually gets credit for introducing sliders – little two-inch square burgers with ridiculously thin meat patties – to the world. Krystal was founded eleven years later in Chattanooga, Tennessee. If you live west of the Mississippi, you may not be familiar with either of these two burger chains, but everyone else in the country has at least a passing familiarity with at least one of them.
Currently, White Castle has a soft monopoly on the Midwestern and Northeastern states, while Krystal dominates the Southern States. In some sort of modern-day Mason-Dixon fast food standoff, Tennessee and Kentucky are the only two states in which they cross paths. Since Mr. B and I had to grab a couple of quick meals on our Tennessee trip, we decided to seize the opportunity to weigh in on what is apparently known as The Great Slider Debate. [dundunduuuun….]
Going into this, it had been at least 15 years since either Mr B or I had eaten a White Castle slider, so I thought we could be pretty objective. (Neither on of us had ever had a Krystals slider before.) However, after I took my first bite of that first White Castle slider last month, I knew it wasn't going to be a fair contest. Nostalgia has a way of masking actual food flavors and textures by blanketing your senses in warm, fuzzy memories of days gone by. (Case in point: my Grandma Lucy's fried bologna sandwiches.) Nevertheless, here's our slider critique:
White Castle vs. Krystal
In both cases, we sampled the basic Cheese Slider (or Cheese Krystal, as the case may be).
Appearance: The sliders look basically exactly the same. The White Castle slider seemed a bit loftier; it was almost as tall as it was wide. By comparison, the Krystal slider was a bit flatter and had more the appearance of a miniature burger.
Size: I didn't get out a caliper gauge or anything, but by all appearances, they seemed to be exactly the same size.
Buns: White Castle buns seemed much lighter and airier than Krystal buns. More importantly, they had a very slight, yet distinct sweetness that I missed in the Krystal bun. The Krystal bun felt a little more dense, and would probably hold up a bit better if you had to take it home before eating it. [Point: White Castle, because Mr B and I liked it more.]
Cheese: Standard fast food yellow processed cheese. Nothing distinctive in either case.
Meat: The meat in both sliders was the same size and thickness (just under 1/4′ high). White Castle's slider meat seemed to be slightly seasoned, whereas Krystal's tasted a little flat to me. (It's possible I'm just making that up in my own head.)
Onions: In both cases, the onions used were reconstituted from dried onion bits, or at least they tasted like they were. The onions were better on the White Castle sliders; they tasted like maybe they put a little Worcestershire sauce or beef stock or something on them to season them, or perhaps it was just "flavor crystals" from the grill. In any case, the Krystal onions were just not as flavorful. [Point: White Castle]
Other Condiments: White Castle sliders come with a pickle. Period. Krystal sliders come with a pickle and mustard, which Mr B and I both liked, so…[Point: Krystal]
WINNER: White Castle, by a slim margin, with what was probably an unfair advantage.
Summary: If you want a sweeter, lighter slider, White Castle is the place to go. If you like a more tangy slider with a denser bun, go with Krystal. In any event, if you've never even once sunk your teeth into one of these little east-of-the-Mississippi coronary cloggers, it's an experience you might want to try. At least once.
Make'em yourself: Yes! You can make traditional White Castle-esque sliders at home! Try out this recipe from the aforementioned Adam Kuban: WITE KASTLE KLONES.
* * *
Now that's out of the way, here are some sliders you can make at home that you can really sink your teeth into!
Seven Savory, Slow-food Southern Sliders
(Try to say that ↑ six times fast, why don't you!)
* * *
Who could resist these Carolina Pork Sliders with Sweet Coleslaw from Little Family Adventure? (Besides the obvious vegans & vegetarians, of course.)
* * *
Slow Cooker Pulled Pork Sliders from What a Girl Eats are the perfect comfort food, without all of the work! Pork is dry rubbed with spicy, smoky flavors, then cooked and topped with homemade BBQ sauce and creamy coleslaw. Yum!
* * *
Southern Charmer Sliders from I am a Honey Bee (and I'm quoting her website here) are "the kind of food that when you eat you do a little shimmy. You know what I am talking about." Sold.
* * *
These Pork Tenderloin Sliders with Apples & Onions from Who Needs a Cape? are sure to be a new favorite! With tender pieces of pork and chunks of caramelized apples & onions. Delish!
* * *
A quick and easy dinner is only moments away. These Chicken Sliders with Peach Chutney from Food Done Light will make a delicious weeknight dinner.
* * *
Looking for an easy lunch or dinner idea? Try these great tasting Easy BBQ Chicken Sliders from Ann's Entitled Life. Fast, fun and simple to make, your entire family will love them!
* * *