This started out as a post about stuffed squash blossoms, but this Sweet Potatoes & Marscarpone with Fresh Rosemary Brown Butter is so amazing that it earned a post of its very own.
Our zucchini plant is going gangbusters, as zucks tend to do this time of year: one last push before the cold moves in to make way for winter squashes. Last week, I decided I wanted to make some stuffed squash blossoms, so I set to work to think up a little something different to filled them with.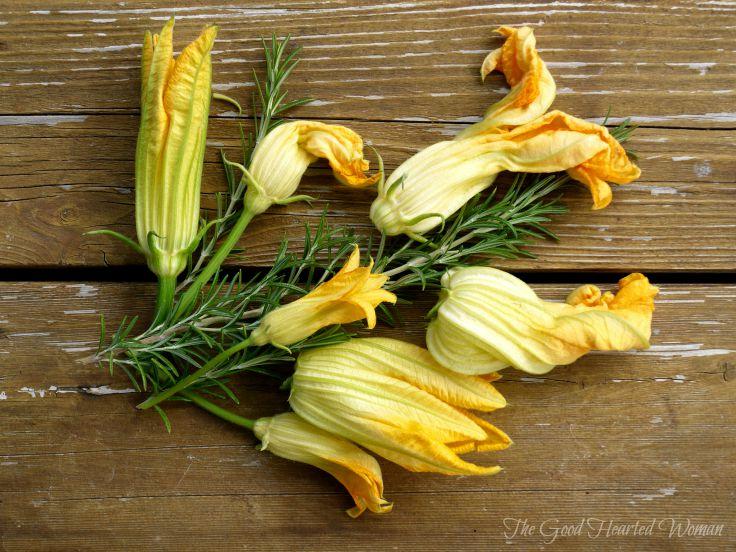 Before I got to cooking though, I wanted to get a few pictures of those beautiful blossoms. So I set up on the back deck (where I shoot all my images, as you have probably figured out by now).
Enter Tarzan.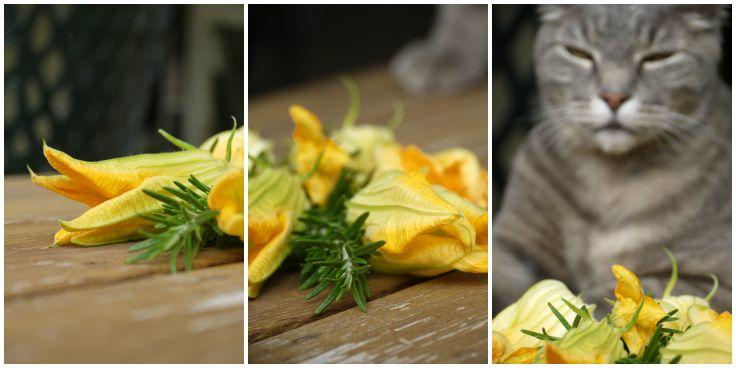 Tarzan started out life as a barn kitty, and spent the first few months of his life swinging from horse tails and blanket racks down in our barn, which is how he got his name. When he got big enough to escape the barn, the first thing he did was run up to the house and find a comfy spot in the sun to lounge.
A lot of things have changed in the last decade, but Tarzan isn't one of them.
He saw the sun warming the bench where my squash blossoms were laying, and hopped right up.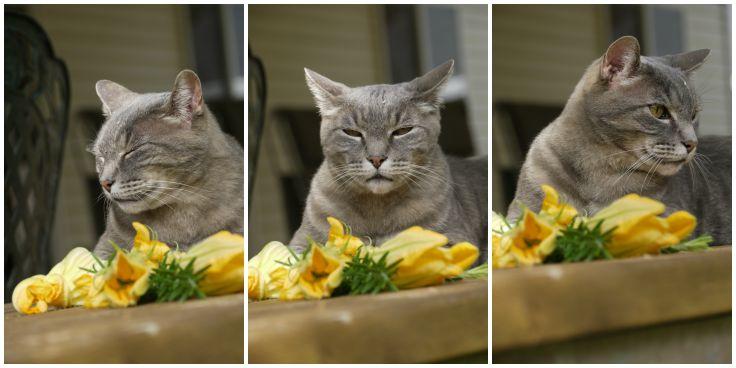 There was no way I could get him to move. I kept picking him up and putting him down on the deck, and he kept hopping right back up and getting comfy before I had a chance to turn on the camera. I finally just gave up and started taking cat pictures.
Anyway, back to those squash blossoms – or rather the filling for the squash blossoms. Sometimes, when you throw things together in the kitchen, it works out pretty well. Sometimes it doesn't. This time, it didn't turn out well…
This time, it turned out Awesome!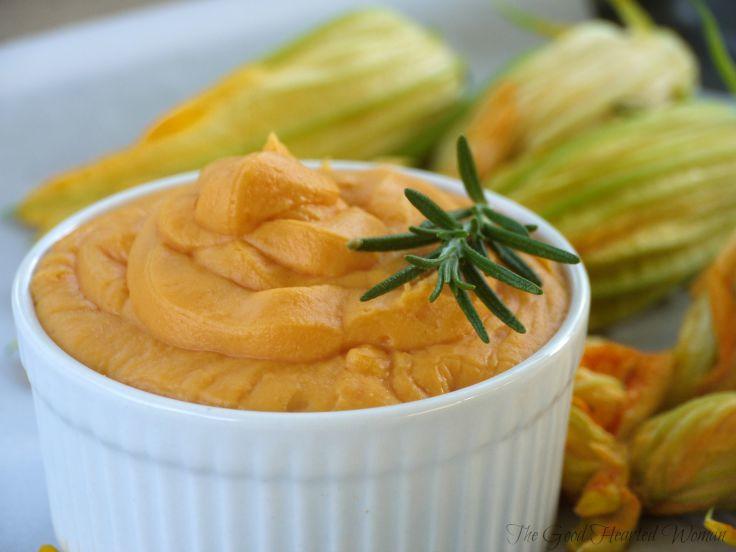 So awesome, in fact, that I decided to give it a post of its very own.
I cannot tell you how much I love these sweet potatoes. The nutty, fragrant rosemary brown butter is a perfect complement to the sweet potatoes, and the marscarpone gives it a velvety smooth, rich texture. As we licked the last bits out of the bowl with our fingers at the end of our meal, Mr. B and I already had a long list of things I could create using it as a base: sweet potato pie (of course), and cookies, ice cream, fudge – who knows what else. I know food bloggers are always raving about how delicious their own creations are, but honestly, this stuff is good. Really good.
Sweet Potatoes with Mascarpone & Rosemary Brown Butter
Print Recipe
Pin Recipe
Ingredients
1

lb.

orange-fleshed sweet potatoes

peeled and cut into ½ cubes

1/4

cup

mascarpone

1/2

t.

Kosher Salt

or more, to taste

4

oz.

Salted Butter

2

sprigs fresh rosemary

each about 4" long
Instructions
Place prepared sweet potatoes in a medium saucepan and add enough water to cover them, plus an extra inch.

Bring the water to a boil and cook the cubed sweet potatoes for about 15 minutes, or until they are very tender.

Drain the sweet potatoes, and place them back in the pot.

Add mascarpone, salt, and 2 tablespoons of the prepared Rosemary Brown Butter.

Using an immersion blender, puree ingredients until everything is smooth and creamy, with no lumps remaining. (You can do this step in a food processor if you don't have an immersion blender.)
To prepare Rosemary Brown Butter:
In a small skillet over medium-high heat, heat butter and rosemary until the butter melts and begins to foam. Continue cooking, swirling the pan occasionally, until the butter turns a golden brown and gives off a nutty aroma. Be careful not to burn the butter.

Remove from the heat immediately and allow to cool slightly.

Remove rosemary sprigs from butter.
Notes
Depending on the size of the blossoms you use, you may end up with extra filling. You will survive.
To serve this as a simple, delicious side dish, simply double the recipe.
This website provides approximate nutrition information for convenience and as a courtesy only. You are solely responsible for ensuring that any nutritional information provided is accurate, complete, and useful.
Click through for some of the best filled-and-grilled squash blossoms ever!