Now is the time to return to our Farmers' Market, enjoy the bounteous seasonal produce of the Pacific Northwest, and support our local growers and artisans!
Every farmers' market has its own personality, created by its unique vendors, location, and style. Below you will find a comprehensive directory to farmers' markets in the Greater Portland (Oregon) area. There is so much to discover!
Seasonal Recipes: We have a myriad of easy, delicious recipes on GHW that highlight seasonal produce, including a quick and tasty Cashew-Asparagus Pilaf, an amazing Roasted Ratatouille with pan-fried onions, a great roundup of quick pickle recipes, and our classic Fresh Blueberry Pie.
A note about COVID restrictions: As you might imagine, local farmers and craft vendors who rely on market sales for their livelihood have suffered profoundly – financially and otherwise – from COVID-19 restrictions. The Oregon Farmers Market Association has created an OFMA COVID-19 Pledge for markets to adopt as a way to inform and reassure the public that they are safe, essential marketplaces.
If you live in the US outside the Portland area, we encourage you to check the USDA National Farmers' Market Directory to find a local market in your area. You never know what kind of surprises you may find!
This post may contain affiliate links, but don't worry - they won't bite.

Before you go, be sure to check the market website to verify hours and days of operation, as they are subject to change.
Post Updated May 28. 2021 (Originally published May 11, 2015)
Portland Area Farmers' Market Guide
We have so many amazing farmers' markets in the Portland area, each with its own personality created by its unique vendors, location, and style!

Spring Market Tip: Garlic Spears – also known as "garlic scapes" – are the flower tops of the elephant garlic plant. They available for a few fleeting weeks in the spring and early summer at your grocery or local farmers market. Our Oven-roasted Garlic Spears make a beautiful presentation and a tasty addition to your table!
---
THANK YOU so much for being a faithful reader and supporter
of The Good Hearted Woman. • Be sure to PIN this page!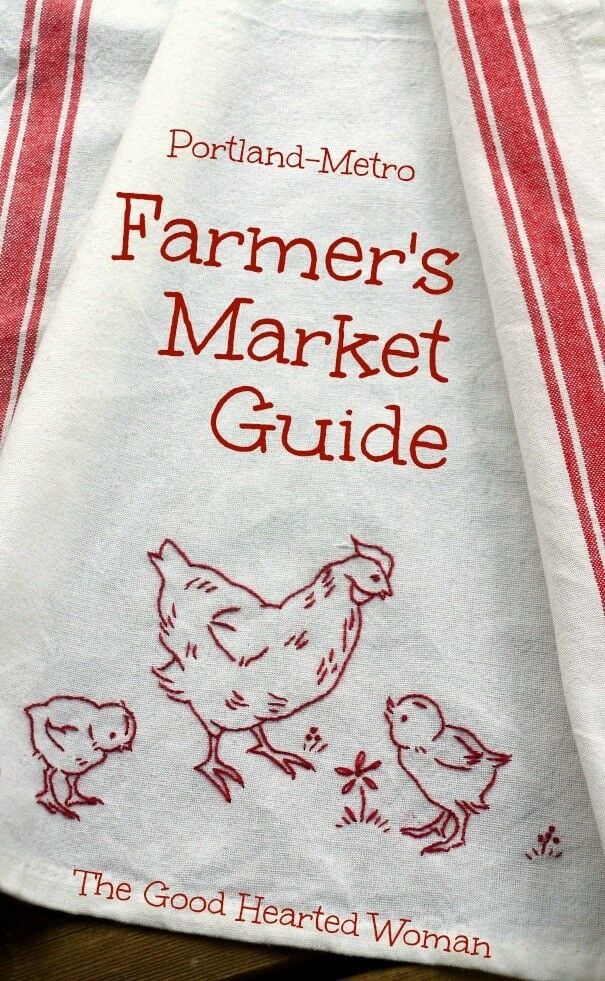 Disclosure: This page may contain affiliate links, including Amazon affiliate links, which means we may receive a commission if you click a link and purchase something that we have recommended. While clicking these links won't cost you any extra money, they do help keep this site up and running. As always, all opinions and images are my own. Please check out our disclosure policy for more details. Thank you for your support!