When I first set eyes on Arches National Park, it reminded me of what the "alien planet" sets on the original Star Trek series might have looked like if they had had a bigger budget.
As we traveled through the park, I was fascinated by all of the artistic inspiration and rich color painted across the desolate high desert landscape. Everywhere we looked, sandstone towers reached and arches bowed; their orange, rust, and red bands constantly shifting in the sun's sweeping path.
Mother Nature is a master sculptor and in no place is that more evident than at Arches National Park.
― Stefanie Payne, A Year in the National Parks: The Greatest American Road Trip
This post may contain affiliate links, but don't worry - they won't bite.
Located in central eastern Utah near the Colorado border, Arches National Park offers visitors a front row seat to some of the most stunning sandstone formations in the world.
Over 2,000 documented sandstone arches within the park's boundaries – more than any other place on the planet. (An arch, by definition, is "an opening in the rock that stretches at least three feet in one direction.")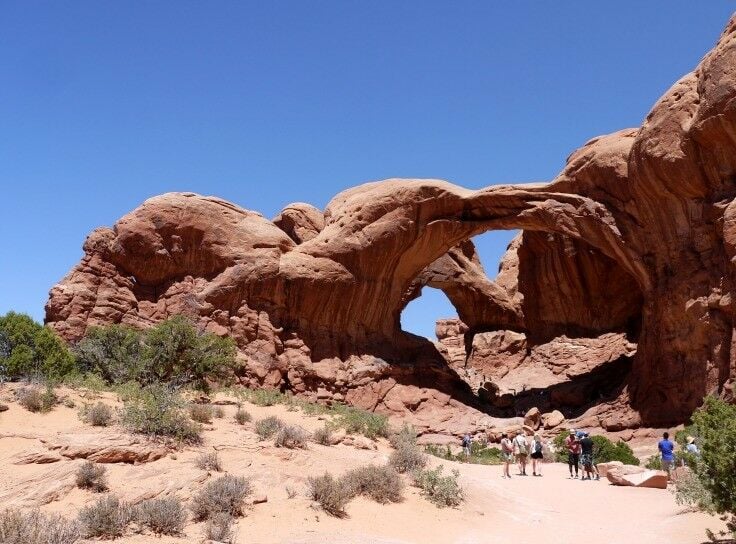 Arches National Park has been on my bucket list for some time now, and this summer I finally had the chance to experience it. The middle of summer may not be the optimal time to visit central Utah, but sometimes you just have to grab an opportunity when it's in front of you, right? (The best time to visit in is the fall or spring.)
Here are seven places in Arches National Park that Mr B and I found especially awe-inspiring:
1. Delicate Arch
[Delicate Arch Hike - 2.6 mile RT/ Moderate to Strenuous]
Delicate Arch, iconic to Utah, is the most famous – and most photographed – arch in the world.
There is a viewpoint along the park road from which drivers can a good view of Delicate Arch. However, if it is at all within your abilities, we strongly encourage you to take the hike to get an up close, personal look. (I'll be writing more about the Delicate Arch Hike and how to survive it in an upcoming post.)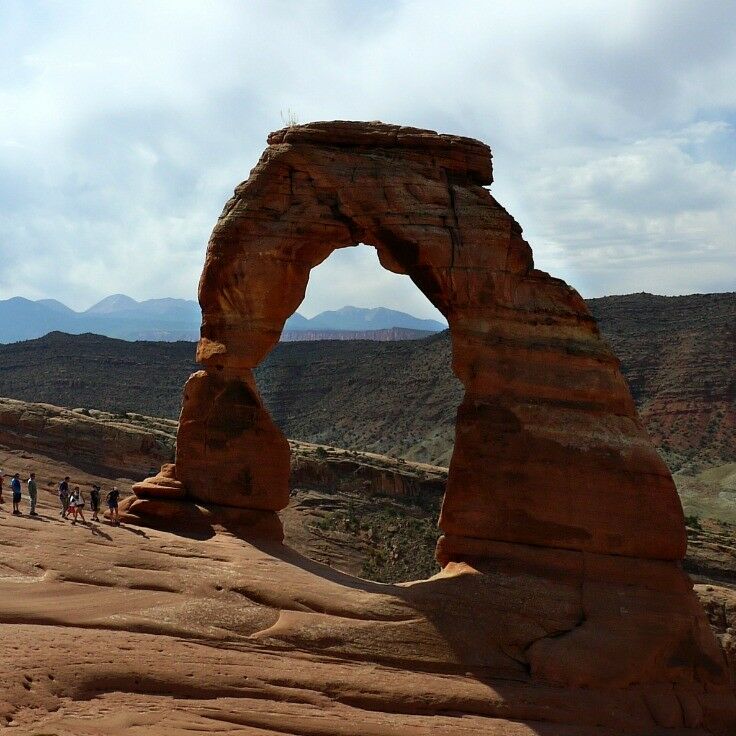 Getting to Delicate Arch requires a moderately challenging hike, but it is totally worth the effort! Plan for at least 2 ½ hours to make the hike, go early to avoid the heat and crowds, and don't even think of hitting the trail without taking twice as much water as you think you need.
Pro Tip: This image was taken at about 9:30am. If you want to photograph Delicate Arch in all its glory, with the sun hitting all those amazing bands of red and rust just right, you'll have to brave the crowds at sunset.
2. Giant's Grin
[On the Delicate Arch Trail]
Full disclosure: I totally made that name up.
This place isn't listed in any of the Arches National Park literature I could find, but it it one of the coolest places we saw at the park. (Literally. In the midmorning heat, it offered us some much needed shade.) I'm sure the ANP Rangers have a name for it, but I don't know what it is. Whatever it's called, you can find it a little more than three-quarters of the way up the Delicate Arch trail.
What I do know is that when you arrive at this landmark, you should be smiling, because your destination is just around the corner! Before you continue though, take a minute to enjoy this mammoth formation and the stunning photo op it offers.
3. Three Gossips & Sheep Rock
I don't know why, but these particular formations just made me smile. I suppose it tickles me that the inspiration for naming Three Gossips is just so universal - nearly everyone has aunties or uncles or siblings or friends who could be those three. And who doesn't love a giant stone sheep in the desert?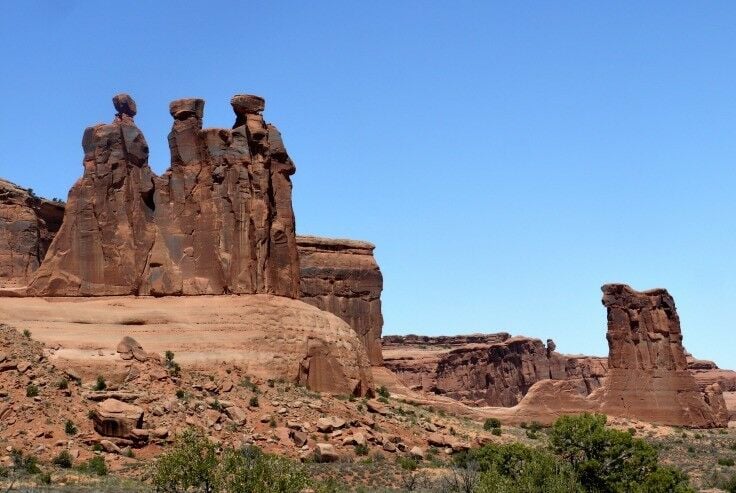 Three Gossips stands about 350 feet at its tallest wall and sits within a grouping of sandstone towers known as the "Courthouse Towers cluster" that also includes The Argon Tower, The Organ, Tower of Babel, Sheep Rock, and The Lamb.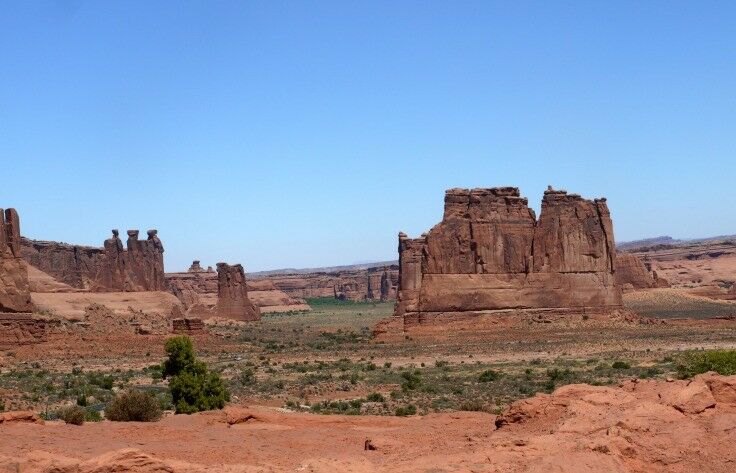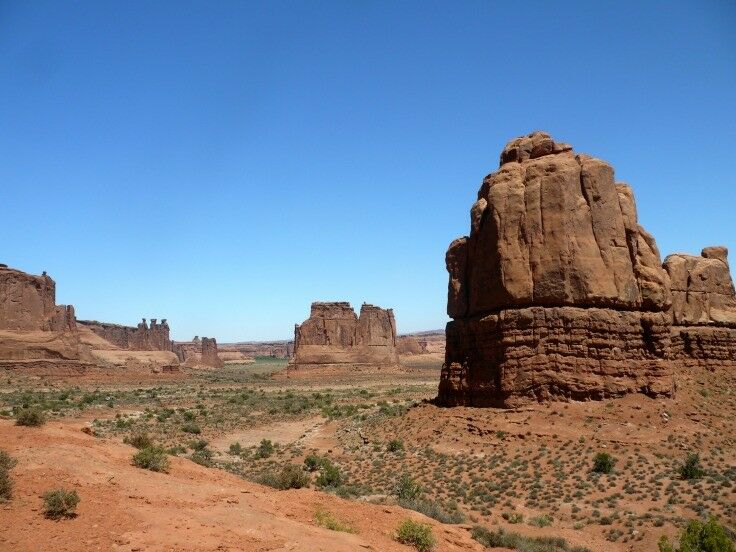 4. Courthouse Tower
The arches may get the most press, but this majestic monolith took my breath away. This image was taken from a roadside pull-out: no hike required.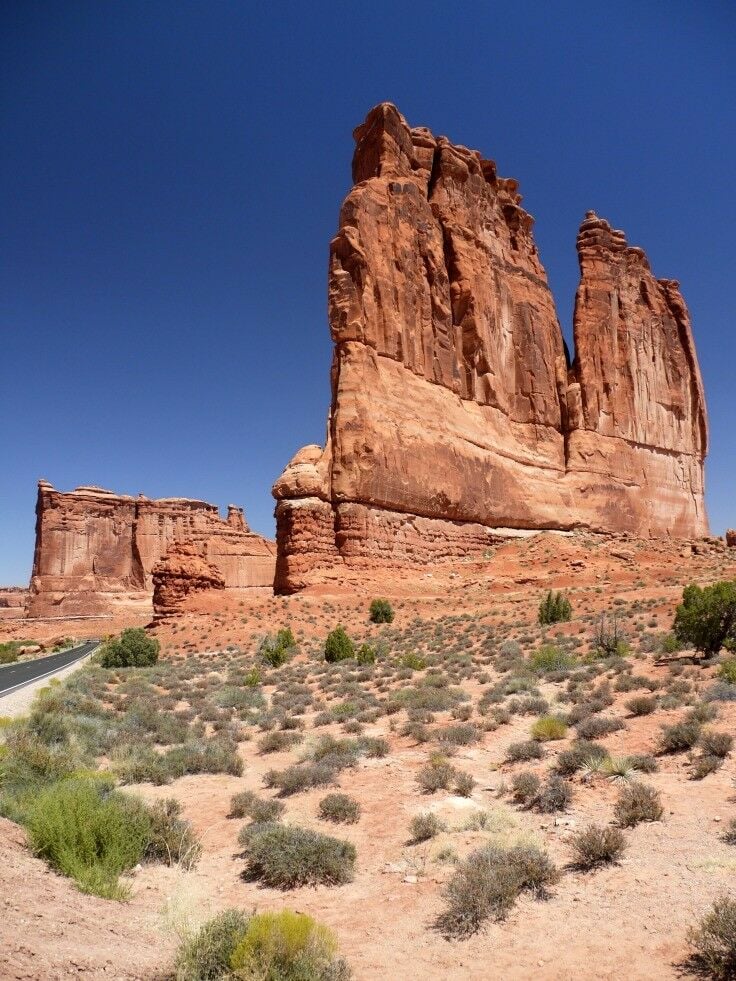 5. Balanced Rock
Balanced Rock stands an impressive 128 feet tall, and appears as though it is defying gravity. However, it is more a case of erosion wearing away at the base where the 3,600 ton boulder meets the pedestal than any epic balancing act. Eventually, Balanced Rock will come tumbling down as the erosional process continues to shape the landscape. (Sometimes science really works hard to poke a hole in your imagination balloon, doesn't it?)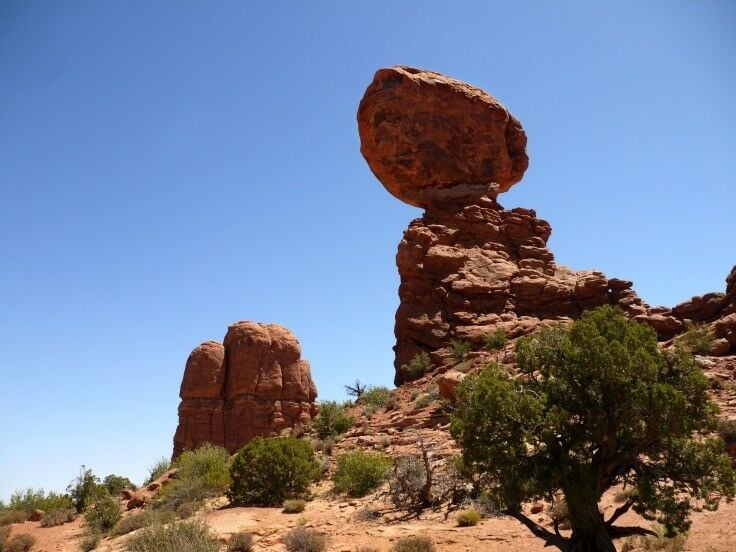 Balanced Rock can be seen from the park road, or you can make the very short hike around the formation's base to get a close-up perspective.
6. The Windows Section
The Windows Section contains a large concentration of arches and is one of the most scenic locations in the park.
Formations in this area include North Window, Turret Arch, and Double Arch, Garden of Eden, Elephant Butte, and Parade of Elephants. (Though, truth be told, I haven't got the fainted idea which on is which.)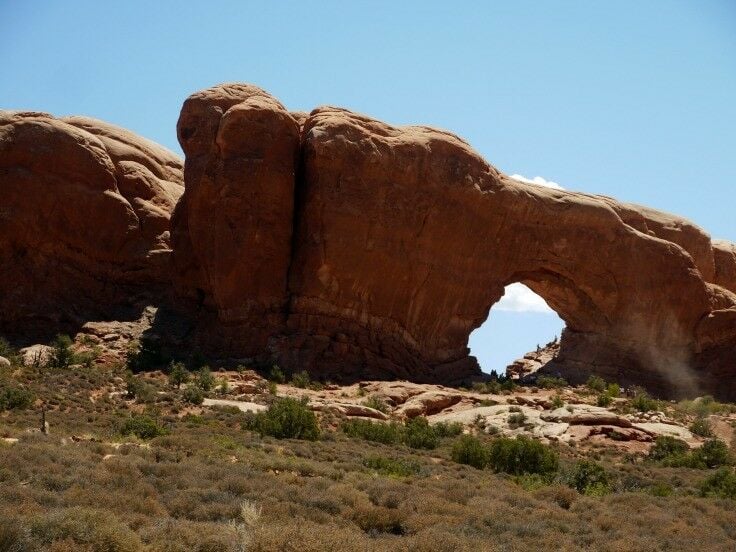 Check our tips for Photographing Mesa Arch at Sunrise at Canyonlands National Park, just a short drive from Arches National Park in Moab.
7. Double Arch
Double Arch is a Must-do when visiting Arches National Park! This spectacular flowing formation can be found in the Windows section of the park. Double Arch consists of two arches that share the same stone foundation for both of their outer legs.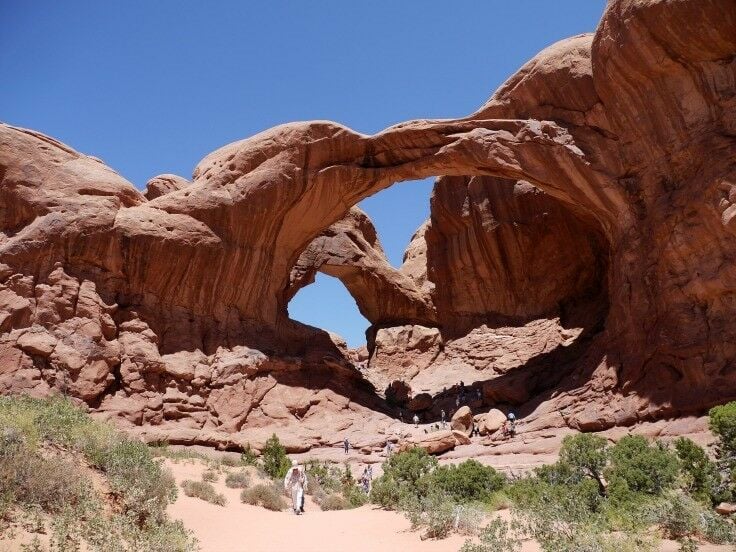 The sandy trail to Double Arch is very short and ADA compliant, which means it is considered barrier free. (Barrier-free trails may contain minor obstacles, steeper grades and temporary washouts.)
Taking the walk out to Double Arch is a lesson in perspective: the interlocking arches seem to grow to massive proportions as you get closer, and by the time you climb up into the arches themselves, you'll finally know what those ants in your ant farm felt like.
Travel Information
Arches National Park is open year-round, 24 hours a day. The park's Visitor Center is located just inside the park, near the main entrance, with hours varying seasonally.
Park Entry Fees and Passes
Vehicle Entrance to Park - $25 (good for 7 days). This fee includes all occupants of a vehicle.
Individual Entrance to Arches - $10 (good for 7 days). This fee applies to bicycles and walk-ins (per person).
Motorcycle Entrance - $15 per motorcycle (good for 7 days).
America the Beautiful - National Parks and Federal Recreational Lands Passis honored. Cost is $80. This is the best deal for people intending to visit multiple parks within a year's time. You can get NP Parks Pass online or at the park entrance.
Southeast Utah Parks Pass
$50 valid through the month of purchase. Admits 1 private, non-commercial vehicle or its pass holder to Arches and Canyonlands national parks, and Hovenweep and Natural Bridges national monuments.
---
THANK YOU for being a faithful reader and supporter of The Good Hearted Woman. • Be sure to PIN this post!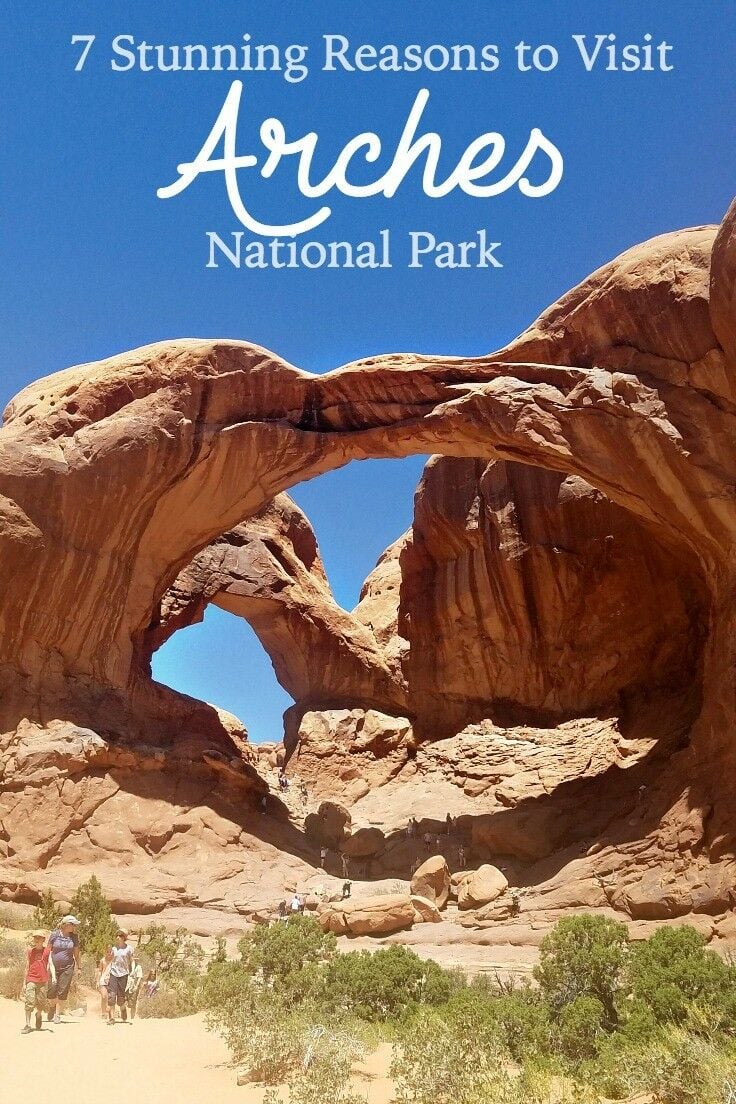 Disclosure: This post may contain affiliate links, including Amazon affiliate links, which means we may receive a commission if you click a link and purchase something that we have recommended. While clicking these links won't cost you any extra money, they do help keep this site up and running. As always, all opinions and images are my own. Please check out our disclosure policy for more details. Thank you for your support!