The Delicate Arch Trail is challenging, and totally worth the effort! Go early, take your time, and bring twice as much water as you think you need.

This post may contain affiliate links, but don't worry - they won't bite.
Iconic to Utah, Delicate Arch is the most famous – and most photographed – natural arch in the world. Mr B and I recently braved the three-mile desert hike to get up close and personal with Delicate Arch, and Wow! The payoff was totally worth the effort!
FUN FACTS: Delicate Arch stands about 60 feet tall at its apex. The light opening beneath the arch is 46 feet high and 32 feet wide, making it the largest free-standing arch in Arches National Park. Historically, it has been given many names, including a couple of my personal favorites: "Cowboy's Chaps" and "Old Maid's Bloomers."
The term "Delicate" first appeared in a January 1934 article about the Arches National Monument Scientific Expedition, which described it as "the most delicately chiseled arch in the entire area." [National Park Service]
Hiking the Delicate Arch Trail
Distance: 3.2 miles (4.8 km) roundtrip
Elevation Gain: 480 feet (146m)
Difficulty: Moderate, but could be strenuous on a hot summer day
Trail: Well-maintained, mostly slickrock
Maps: USGS Arches National Park; Trails Illustrated Arches National Park
NPS WARNING: It is critical to consider weather conditions no matter what time of year you plan to hike the Delicate Arch Trail. Take into consideration summer heat, winter ice, and your own health and fitness before embarking on this hike. Rangers frequently rescue people who underestimated the trail's difficulty.
Can I survive the Delicate Arch hike?
The Delicate Arch Trail can be challenging. If you are hesitant about whether or not to go, let me offer this by way of encouragement: As Peter Pan's Wendy so delicately puts it, I am "ever so much more than twenty," and I carry significantly more weight than I should. And...
I MADE IT!!!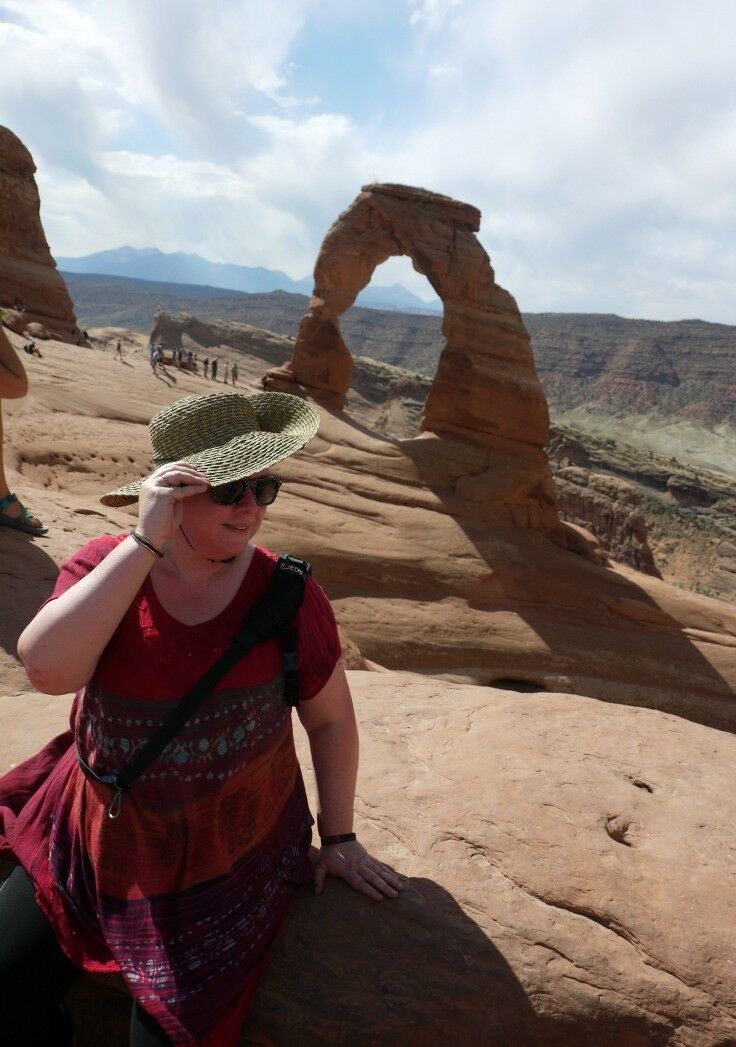 It helped immensely that I had an awesome cheering section to keep me motivated and hydrated. (Thanks, Livy, Ben & Em!) However, if you are in good health and can walk three miles without issue, this is a hike you should definitely put in your back pocket.

Success on the Delicate Arch Hike DEPENDS ON Being Prepared!
WATER
Take water. Lots of water. More water than you think you will need.
It should come as no surprise that hiking in the desert is entirely different from hiking through a forest. After just minutes on the sandstone trail, I found myself already feeling parched as the dry Utah air sucked all the moisture from my body.
Water is not available anywhere on the trail, so be sure to bring plenty or fill up at the Visitors' Center before you set out. Even when temperatures are moderate, the park recommends taking 2-3 quarts of water per person.
I feel as though I need to emphasize this point more zealously, because I know we see warnings like this all the time, but sometimes we take them for granted. As in, oh sure, of course I'll bring plenty of water. What kind of a trail-donkey do you take me for?!
Well folks, I've been camping and hiking since before I could walk, so taking an ample supply of water on the trail is second nature. However, this was my first real desert hike in the summer, and less than halfway into the hike it was apparent that I did not bring enough water.
The truth is, if it hadn't been for my traveling companions, I might have had some serious trouble. Under the circumstances, the experience was merely humbling and instructive: had I been alone on the trail, it could have been disastrous.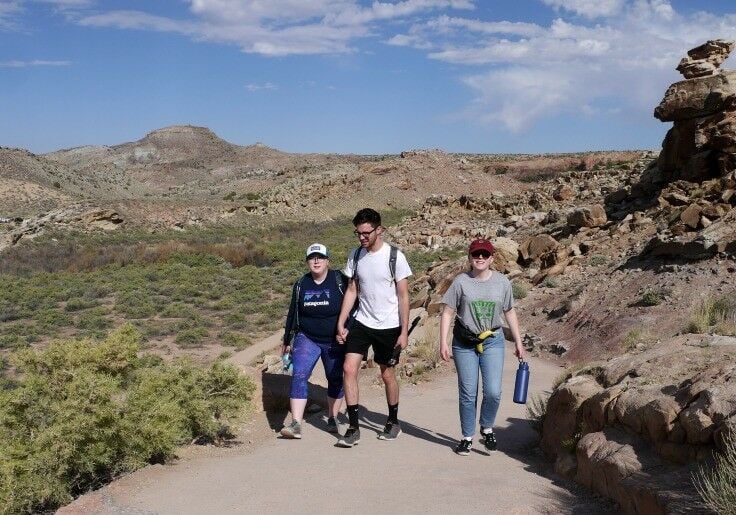 NOTE: The NPS suggests taking 2-3 quarts of water per person on this hike, and one gallon of water per day in the park, even when temperatures are cooler.
SHOES
This is not a "flip-flop" hike. The trail is wide and flat, and we found the sandstone surprisingly "grippy": walking on it was a bit like walking on a path made of medium-grain sandpaper. Nevertheless, it is crucial to wear solid, supportive shoes with good traction.
That being said, I am well-known in our family for my ability to trip over invisible cracks in the sidewalk, and I did just fine in my tennis shoes. I did, however, use my daughter's camera monopod as a walking stick much of the time, which was especially useful as we were crossing the vast, flat sandstone slab. If I were to do this hike again, I would definitely bring a walking stick or trekking poles with me.
Note that the NPS recommends traction devices (i.e., ice cleats) during the winter months, as the final 70 yards of trail are often ice-covered.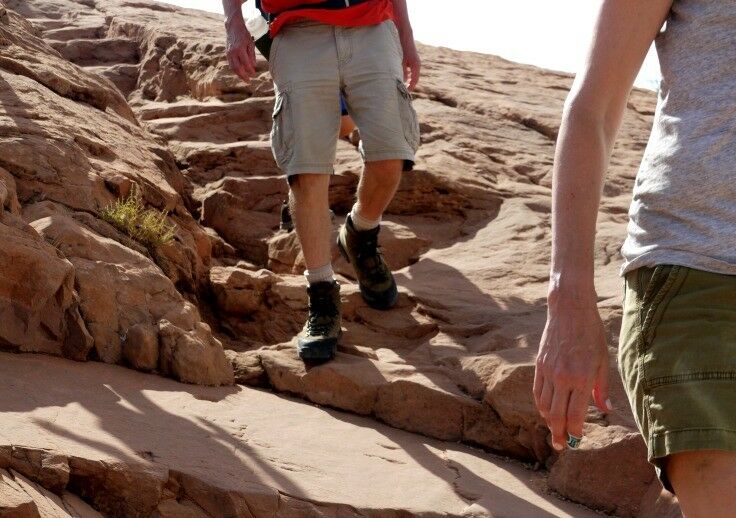 SUN PROTECTION
Desert. Sun. No Shade.
The sun on the Delicate Arch Trail trail can be blistering and unrelenting. Shady spots are few and far between.
No matter what time of year you hike the Delicate Arch Trail, it is critical to protect any exposed skin with sunblock and wear a brimmed hat to keep the sun off your face and prevent your head from burning.
TRAIL SIGNS
Along the Delicate Arch Trail, you will notice a number of strategically placed piles of rocks. These "cairns" have been placed there by National Park rangers to mark the way to go.
If you are unsure of where to go on the trail, just look for the next cairn and go in that direction.
Under no circumstances should you build your own cairn or knock an existing one down.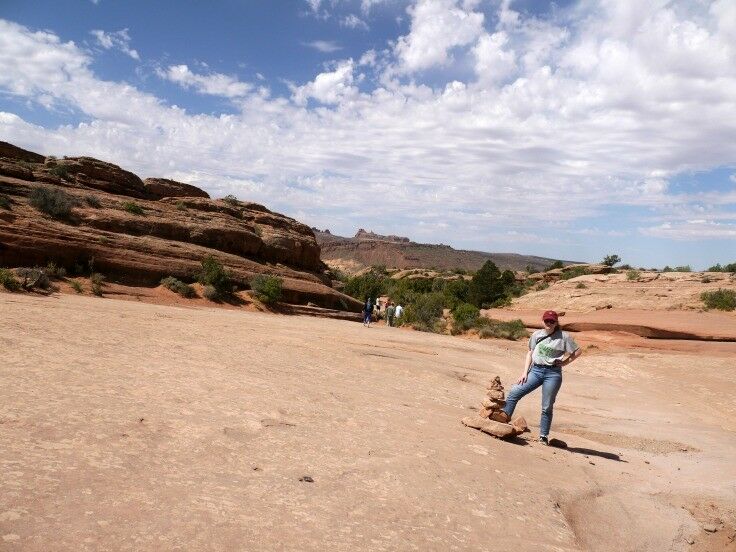 TIMING
Sunrise is just as beautiful as sunset, much cooler, and always less busy. You might find several hundred people at Delicate Arch for sunset, but just a handful for sunrise. Try to enter the park before 7 am. Get an early start and beat the crowds. [National Park Service]
Setting out from the Arches National Park Visitors Center, we hit the Delicate Arch Trail just before 8:00am (which was about an hour later than we had hoped). By the time we reached Delicate Arch an hour or so later, the heat was already quite uncomfortable, and the crowds were starting to get heavy.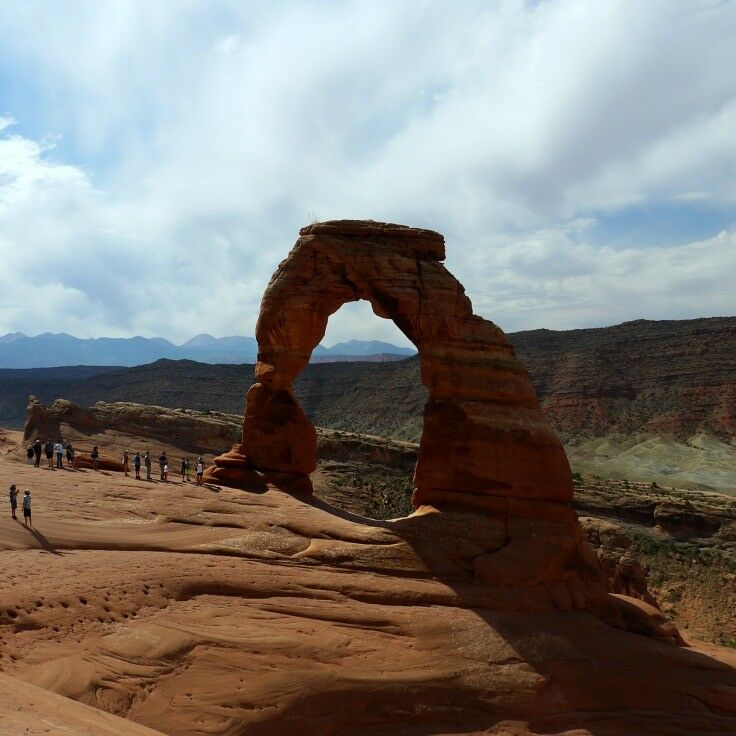 The image above was taken at about 9:30am, when the crowds were relatively light.
If you want to photograph Delicate Arch in all its glory, with the sun hitting all those amazing bands of red and rust just right, you'll have to brave the crowds at sunset, which I'm told can be ridiculously huge.

Along the Delicate Arch Trail
To get to the Delicate Arch trailhead:
From the Arches National Park Visitor Center, drive 12.3 miles up Park Avenue and turn right. Continue an additional 1.2 miles and turn left into the parking area for Delicate Arch Trail.
Trailhead address: Arches National Park, Moab, UT 84532
Trailhead coordinates: 38.73565, -109.5206 (38° 44′ 08.35″N 109° 31′ 14.13″W)
Hitting the Trail
The Wolfe Ranch marks the beginning of the Delicate Arch Trail. This homestead was built and used by Civil War veteran John Wesley Wolfe and his family of five from 1898 to 1910, when they packed up and returned to their home in Ohio.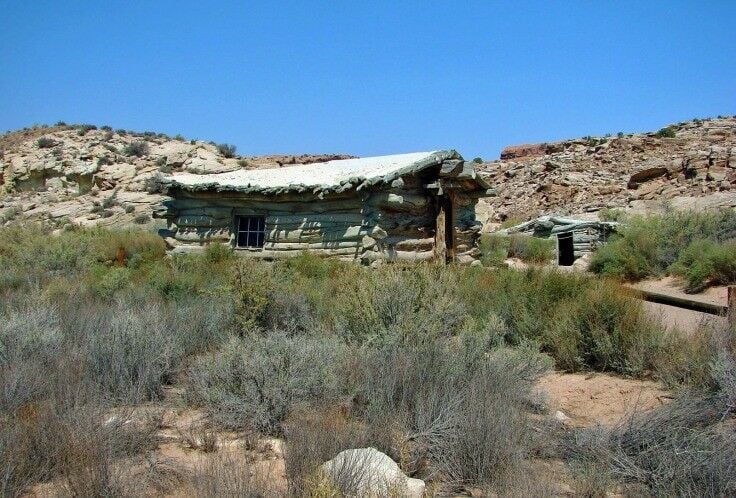 Just beyond the Wolfe homestead, a bridge takes you across the Salt Wash and onto the main trail.
Following the Cairns
At one point, the trail becomes a huge flat slab of sandstone, and you will have to follow the cairns (or the crowds) to find your way.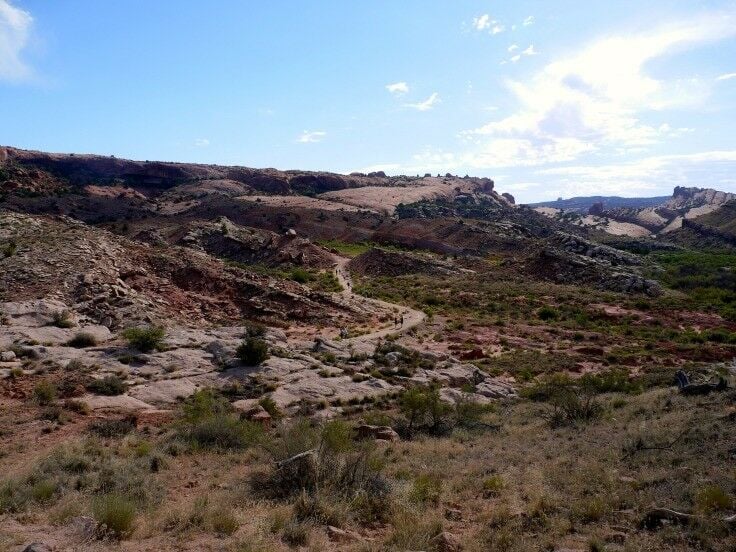 As you make your way across this wide, shadeless span, the heat can become almost unbearable by midday.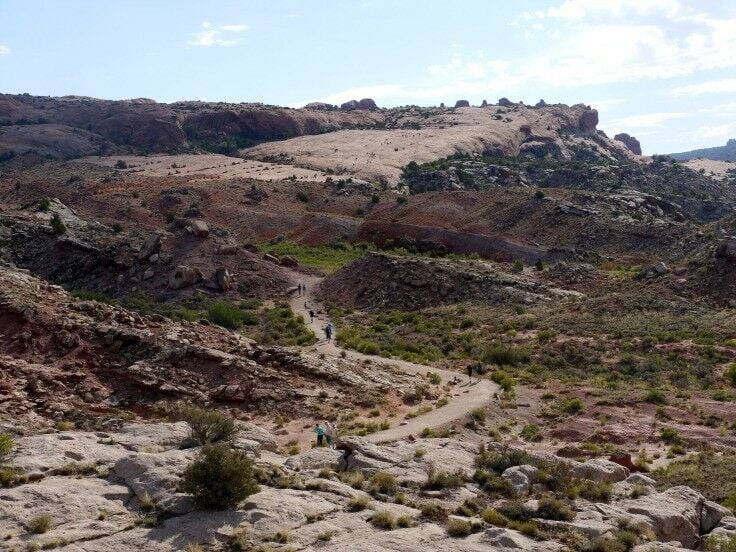 See that big flat rock face in top third of the image above? See those teeny-tiny dots on it going from the bottom to the top? Those are People! TONS of People!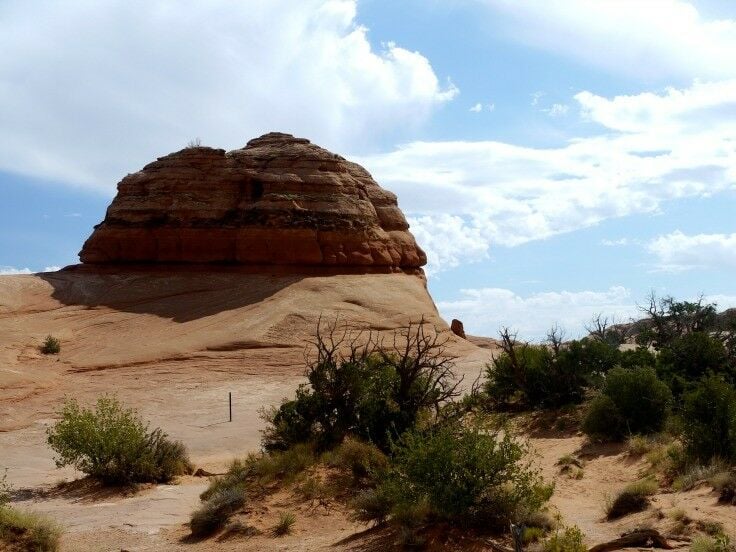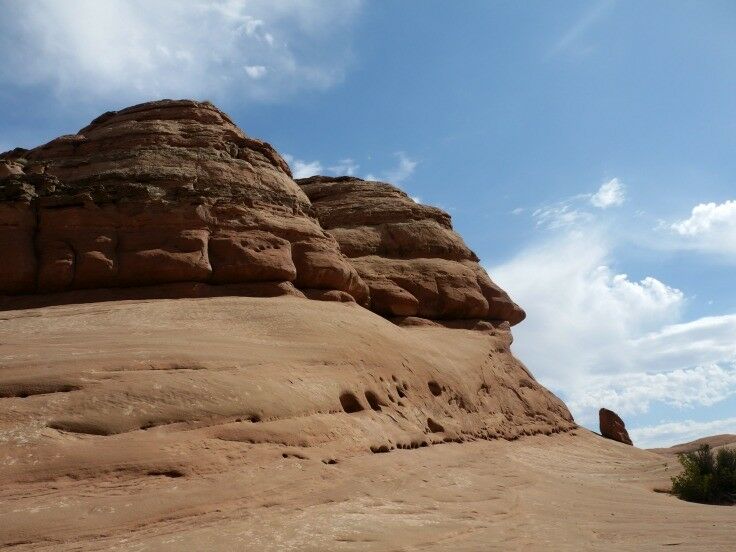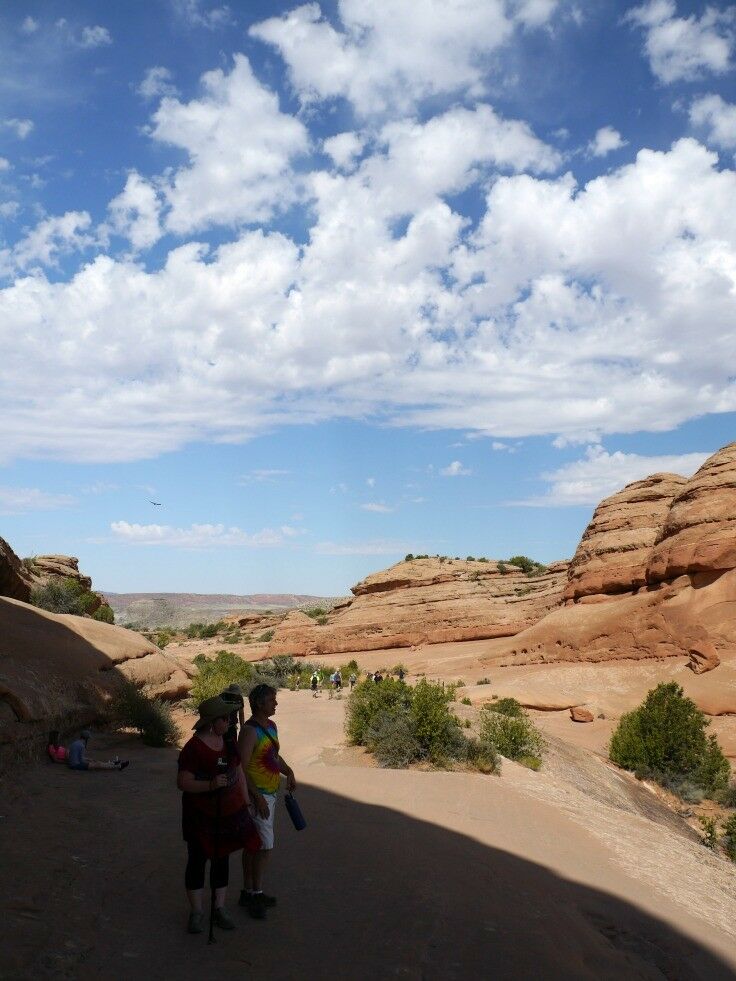 The Giant's Grin
A little more than three-quarters of the way up the Delicate Arch Trail, you will find what I am calling Giant's Grin. (Totally made that up: I have no idea what it is really called.) I couldn't find this listed in any of the Arches National Park literature I could find, but it it one of the coolest places we saw at the park.
Once you arrive here, you can breath a sigh of relief, because your destination is just around the corner! Before you continue though, take a minute to enjoy this mammoth formation and the stunning photo op it offers.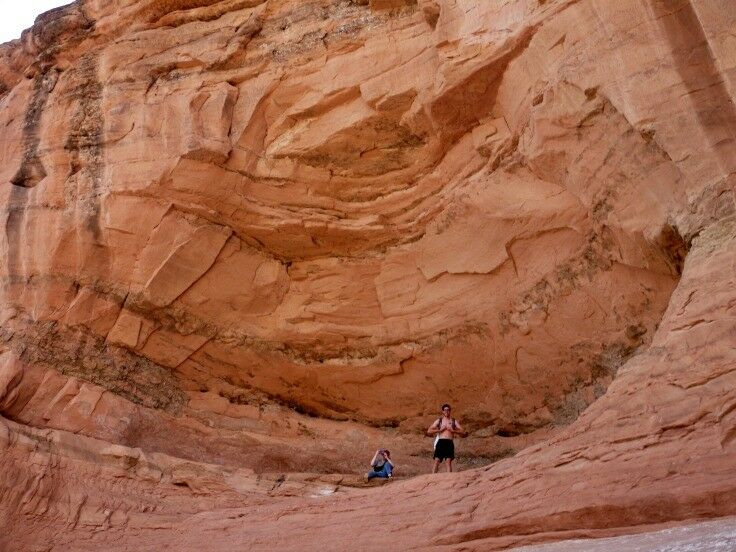 Just beyond the Giant's Grin, the trails begins to narrow and hug a towering vertical ridge. The views as you make your way around the ridge are stunning.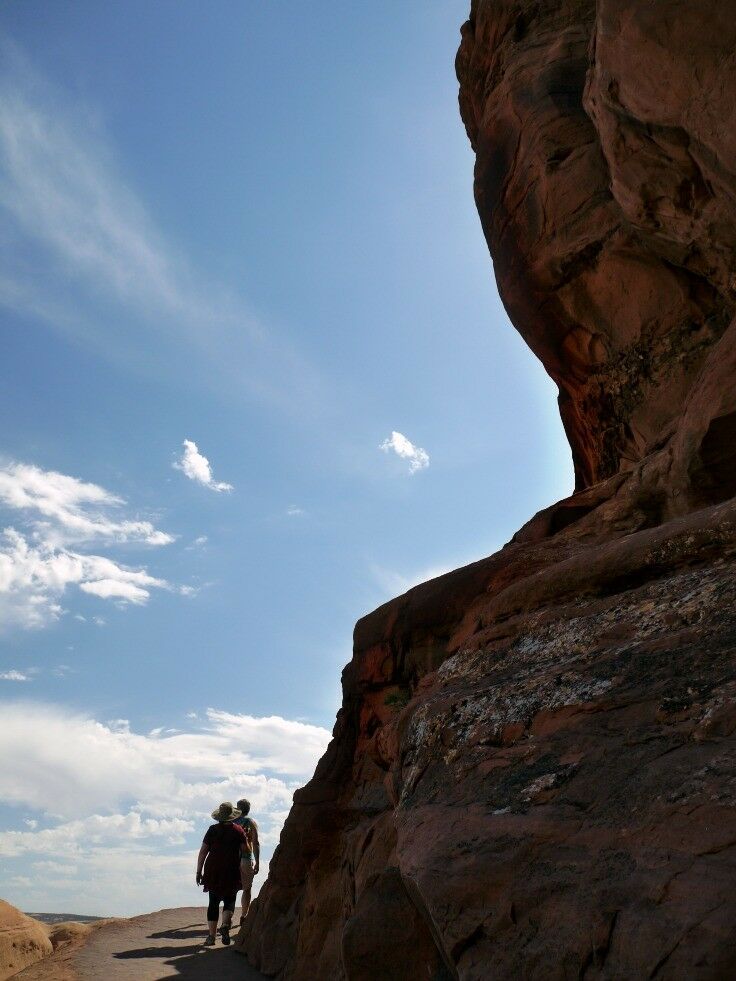 Then you round the last curve, and just like that, Delicate Arch is in front of you.
A Drink of Cool Water
You know that sensation you get when you take a cold drink on a hot day and the liquid flows down your throat and splashes into your empty stomach, and for just a second, the cool washing through you is pure bliss?
Rounding that ridge and seeing Delicate Arch right there in front of us was a lot like that.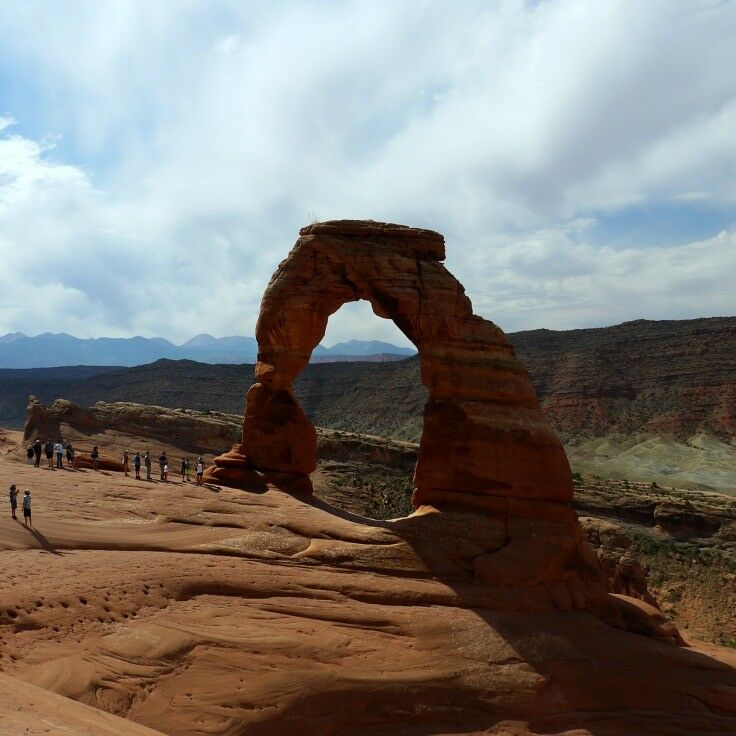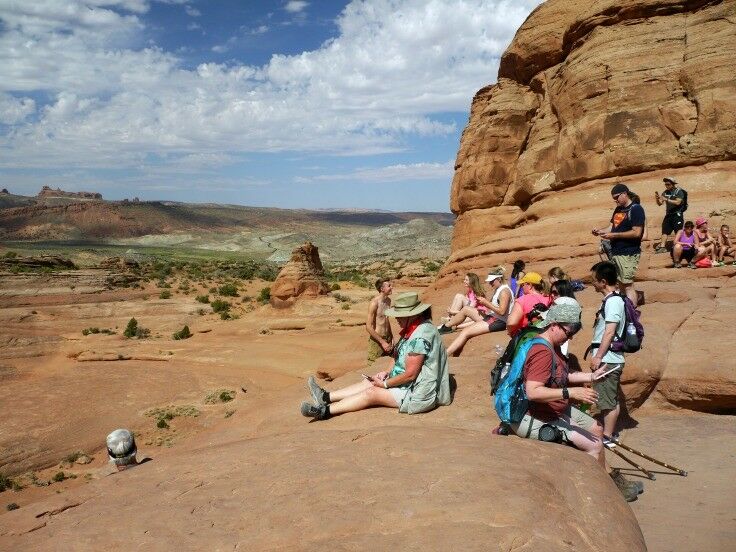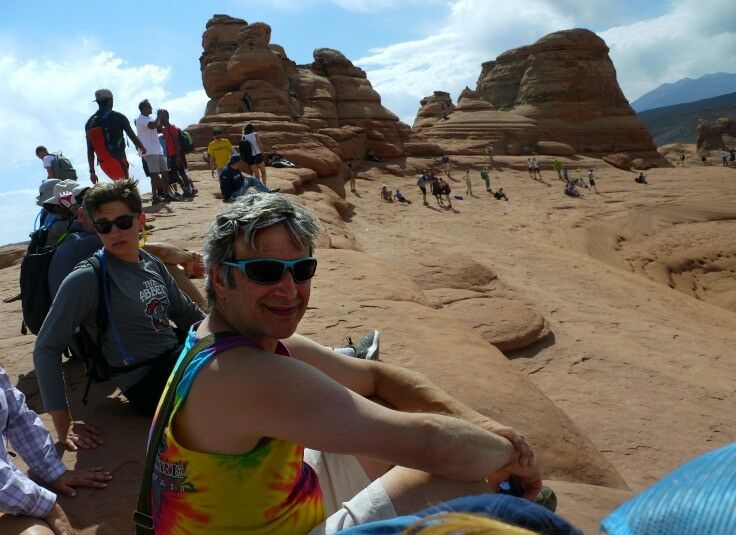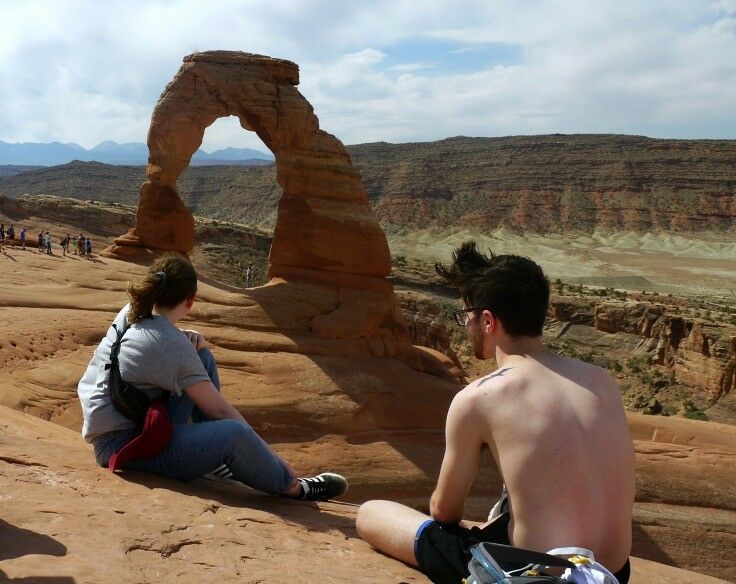 Check 7 Stunning Reasons to Visit Arches National Park to learn more about this amazing destination.
While You're in Moab, be sure to plan a visit to nearby Canyonlands National Park, too!

THANK YOU so much for being a faithful reader and supporter
of The Good Hearted Woman. • Be sure to PIN this post!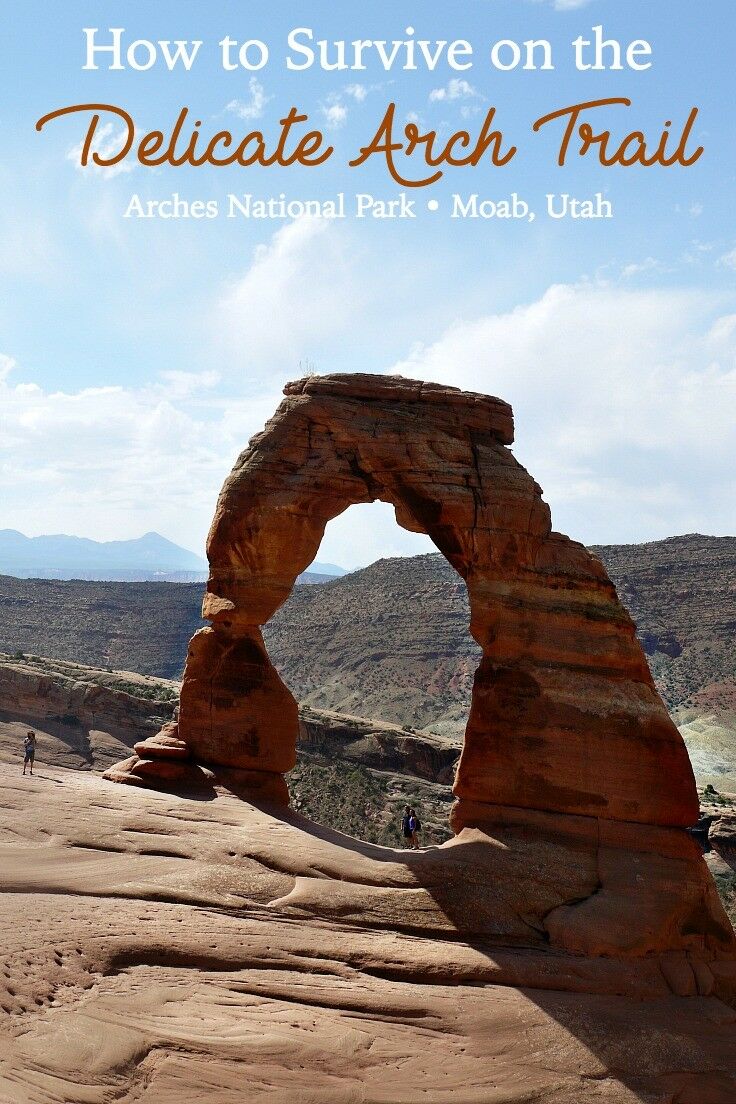 Disclosure: This post may contain affiliate links, including Amazon affiliate links, which means we may receive a commission if you click a link and purchase something that we have recommended. While clicking these links won't cost you any extra money, they do help keep this site up and running. As always, all opinions and images are my own. Please check out our disclosure policy for more details. Thank you for your support!