This smoky Slow Cooker Enchilada Sauce is so full of flavor (and such a snap to make!!) that you may never buy canned sauce again.
My recipe for Slow Cooker Enchilada Sauce – a subtly complex blend of savory, spicy, sweet, and smoky – all comes together in just 15 minutes of hands-on prep time.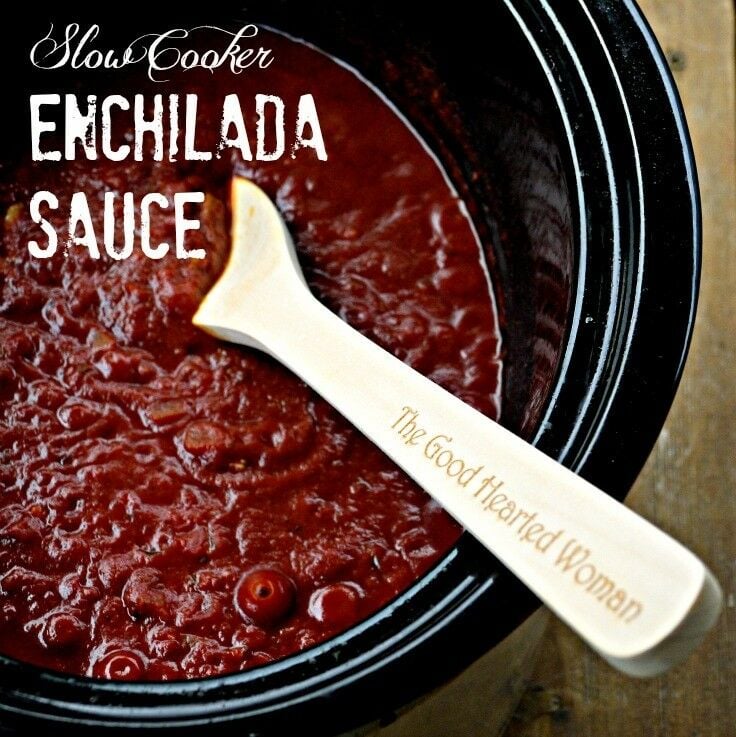 I don't know about you, but I am not a fan of canned enchilada sauce. Sure, it's convenient, and… yeah, I can't think of anything else I like about it. Anyway, a few weeks ago, I made some amazing Pan-Fried Blackened Rockfish with this killer dry rub recipe. When it was all said and done, I had a fist full of various ground chili peppers leftover, which got me thinking about how I could use all those savory sweet spices in other dishes. Needless to say, homemade enchilada sauce was the first thing that came to mind.
It took a little experimenting, but I finally came up with a combination that wallops the pants off every enchilada sauce I've ever tasted. Now I'm not claiming it's better than your abuela's sauce (a girl could get herself in a lot of trouble doing that!), but it'll beat anything you can buy off the shelf by a mile.
Really, I cannot believe how good this stuff turned out, and it will only take you about 15 minutes to throw together. After that, the slow cooker does all the work.
Where to find ground chili pepper: You can find ground pasilla pepper and ground New Mexico chili pepper in the Mexican/Hispanic foods aisle of most grocery stores (in my area, Winco, Freddy's, and Safeway all stock them) or in your local Hispanic Mercado (i.e., Su Casa Imports, El Mercado, etc). I found the ground chipotle pepper in the bulk section at Winco. All of the dried ground peppers are very inexpensive, and a little goes a long way. You can also find all everything you need at your local spice shop.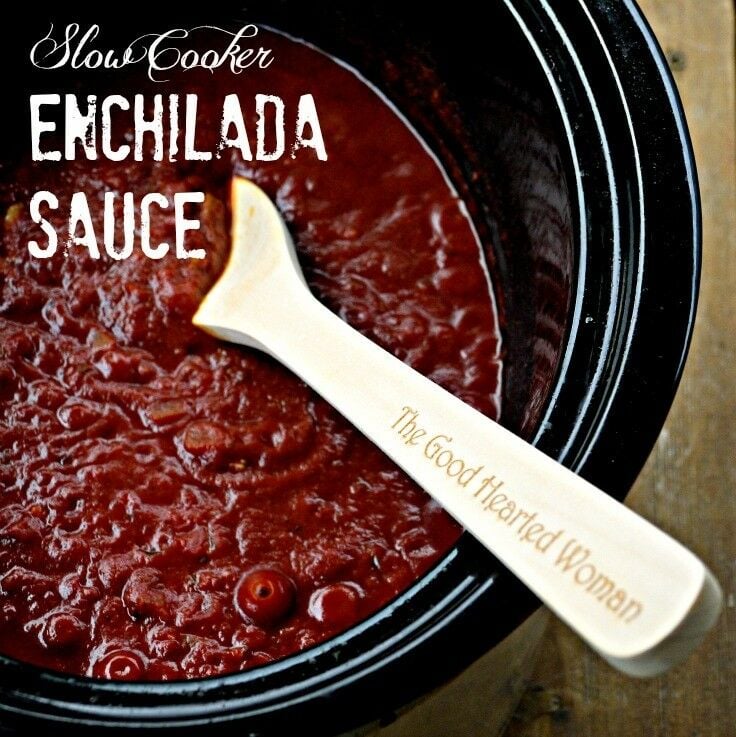 Slow Cooker Enchilada Sauce
A mild enchilada sauce with a smoky, slightly sweet finish. You will never use canned sauce again.
Print Recipe
Pin Recipe
Ingredients
1

tablespoon

butter or coconut oil

1

medium onion

chopped

2

cloves

garlic

minced

2

cups

vegetable stock

or 1 14-ounce can

1 14-

ounce

can crushed tomatoes

1 12-

ounce

can tomato paste

1 8-

ounce

can tomato sauce

1

tablespoons

ground pasilla pepper**

2

teaspoons

ground New Mexico chili pepper**

1

teaspoon

ground chipotle pepper**

1

teaspoon

dried oregano

1

teaspoon

ground cumin

1

tablespoon

packed brown sugar

1

teaspoon

Kosher salt

2

tablespoons

lemon juice
Instructions
Heat butter or coconut oil in a medium skillet over medium heat. Add chopped onion and saute until it turns golden brown. Add minced garlic and saute 30 seconds more.

Put sauteed onion and garlic mixture along with all the remaining ingredients into a slow cooker and cook on high for 2 hours or low for 4-6 hours. Sauce is ready to use immediately.

OPTIONAL STEP: If you prefer your enchilada sauce smooth, simply use an immersion blender to puree it right in the slow cooker. (You can also just pour everything into a stand blender.)
Notes
**Substitution: Omit all 3 dried ground peppers, and add 2 tablespoons of regular chili powder. The flavor will be slightly less complex, but delicious just the same.
*This recipe freezes well, but it can also be canned in a pressure canner. Use 10 lbs. for 50 minutes for pints and 60 minutes for quarts.
This website provides approximate nutrition information for convenience and as a courtesy only. You are solely responsible for ensuring that any nutritional information provided is accurate, complete, and useful.
Tip: For easier clean-up, spray your slow cooker with non-stick cooking spray before adding any of the ingredients.
If you're wondering about my personalized wooden spoon – my BFF Cheryl gave a set of them to me for Christmas last year. Cheryl is THE BEST gift giver!!
Now that you have the sauce, why not throw together a batch of Homemade Flour Tortillas and make a meal!

THANK YOU so much for being a faithful reader and supporter of The Good Hearted Woman.

❤

Be sure to PIN and Print this recipe!