Commonly known as Sunshine Jello, Carrot Pineapple Jello Salad is one vintage recipe worth making! Bright, refreshing, and surprisingly tasty, it's a perfect side for any holiday dinner or family gathering.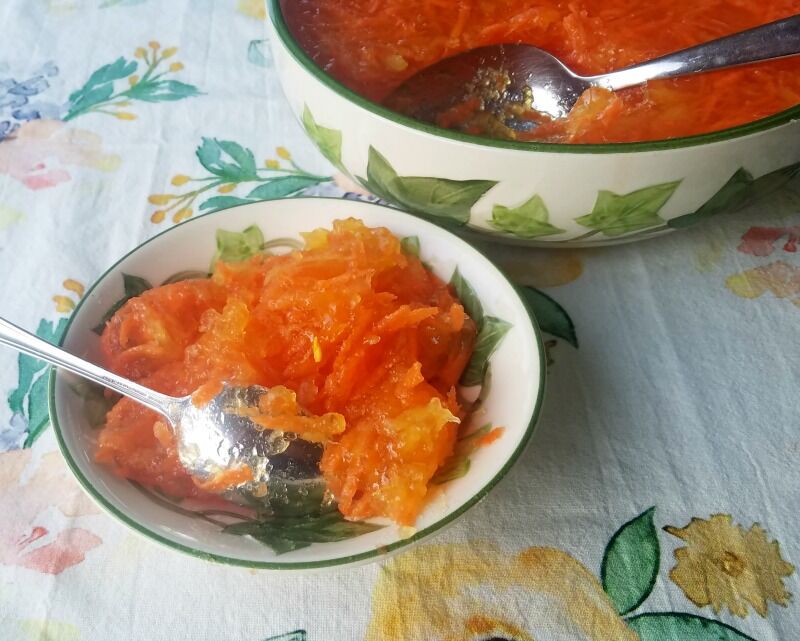 This post may contain affiliate links, but don't worry - they won't bite.
I can't remember a holiday growing up when we didn't have a bowl of Carrot Pineapple Jello Salad on the table. We ate it with ham for Easter, with turkey at Thanksgiving, and with pumpkin pie on my mother's birthday every October.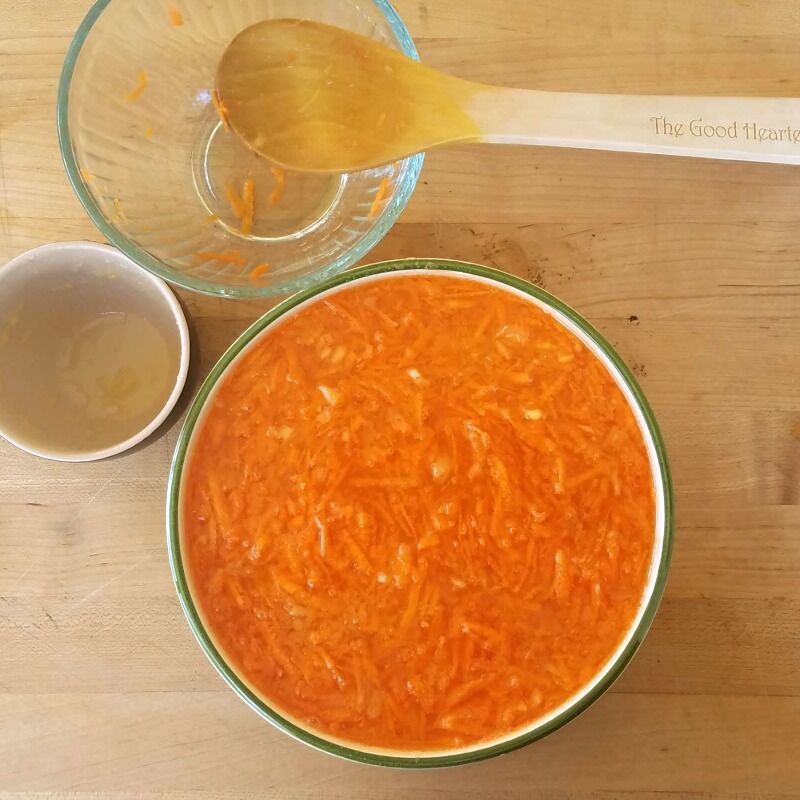 Carrot Jello Salad was one of the first recipes I ever helped my mom make. I was her official carrot grater and Jello stirrer. Once the jello was mixed and safely chilling in the fridge, she and I would share the last few sips of juice from the bottom of the pineapple can. Mom loved pineapple juice. Whenever we serve this salad, I recall those times long ago with great fondness, sitting there at our yellow kitchen table, grating piles and piles of carrots for my mom.
When I had kids of my own, Carrot Pineapple Jello became Mom's traditional offering when we gathered at my house for family holidays. She took great pride in still being able to make the Grammi Salad (as it came to be known at our house) all by herself until she was nearly ninety. After that, I took over the Jello salad making, keeping the tradition alive for my girls.

Mom gave me her "I Love Lucy Ivy" china years ago, when she and Dad moved out of my childhood home, so my girls grew up with it. One batch of Carrot Pineapple Jello Salad fits perfectly inside one of the large serving dishes. I never make it in anything else.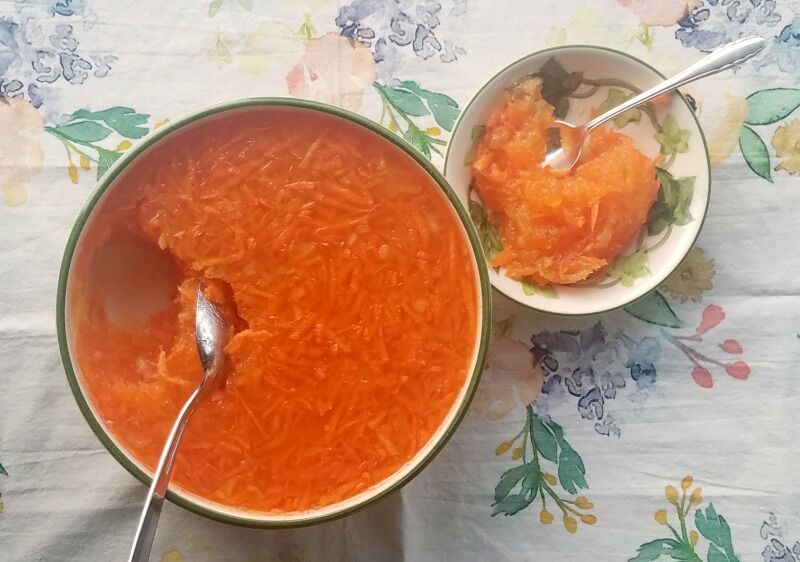 If you've never had Sunshine Jello, you may be in for a surprise. Jello salads, as a group, have a reputation for being outdated and even downright weird, and their close culinary proximity to aspics (aka meat jello) does their status no favors either.
This Carrot Pineapple Jello, however, is unique in its field: unlike some more kooky gelatin concoctions, this combination is light, fresh, and very tasty. The carrot and pineapple pairing may sound a little strange at first, but if you give it a try, you will find that they play very nicely together!
Carrot Pineapple Jello Salad (Sunshine Salad)
Commonly known as Sunshine Jello, Carrot Pineapple Jello Salad is one vintage recipe worth making! Bright, refreshing, and surprisingly tasty, it's a perfect side for any holiday dinner or family gathering.
Print Recipe
Pin Recipe
Instructions
In a large mixing bowl, mix 2 cups of boiling water into lemon gelatin.

Stir constantly until gelatin has completely dissolved.

Add one cup of ice water, and stir until ice has melted.

Stir in one small can of crushed pineapple (with juice), and lemon juice.

I usually move everything to the bowl I plan to serve it in at this point, but you can also make the whole recipe in a large bowl and then transfer it to your chosen vessel (i.e., bowl, dish, gelatin mold, etc.). Your choice.

Stir in grated carrots.

Some people like to add a pinch of salt at this time. Sometimes I do, sometimes I don't. Some people also like hold off and stir in the carrots after the rest has had a chance to set up for about an hour. You can do this if you want, but I don't find that it changes the results. Instead, I stir them all in at the same time and refrigerate: that gives me one less thing to have to remember when I'm preparing a holiday meal.

Refrigerate 3 hours, or until set.
Notes
Use canned pineapple for this recipe.
Fresh pineapple contains enzymes that will prevent gelatin from jelling. 
---
How to Make a Molded Jello Salad
This recipe works well as a molded Jello Salad. To do this, refrigerator in mold several hours until firm.
To unmold, dip the bottom of mold form in hot water for 3-5 seconds. Invert onto a large plate, tap the inverted bottom of the mold firmly and shake slightly to release. 
Nutrition
Serving:
1
serving
|
Calories:
74
kcal
|
Carbohydrates:
18
g
|
Protein:
1
g
|
Fat:
1
g
|
Saturated Fat:
1
g
|
Sodium:
84
mg
|
Potassium:
92
mg
|
Fiber:
1
g
|
Sugar:
16
g
|
Vitamin A:
3573
IU
|
Vitamin C:
3
mg
|
Calcium:
11
mg
|
Iron:
1
mg
This website provides approximate nutrition information for convenience and as a courtesy only. You are solely responsible for ensuring that any nutritional information provided is accurate, complete, and useful.
Do I have to use Jello® for this recipe, or can I use any powdered gelatin?
Jello®, as I'm sure you are aware, is a specific brand of powdered gelatin; however, like Kleenex and Xerox, it has become a brand-turned-household name. I've never in my life called this a "gelatin" salad, and I'm not starting now. However, just to clarify, of course you can use any brand of gelatin.
This post is dedicated to my daughters -
mostly so I can send them here when they need the recipe.

THANK YOU so much for being a faithful reader and supporter
of The Good Hearted Woman. • Be sure to PIN this post!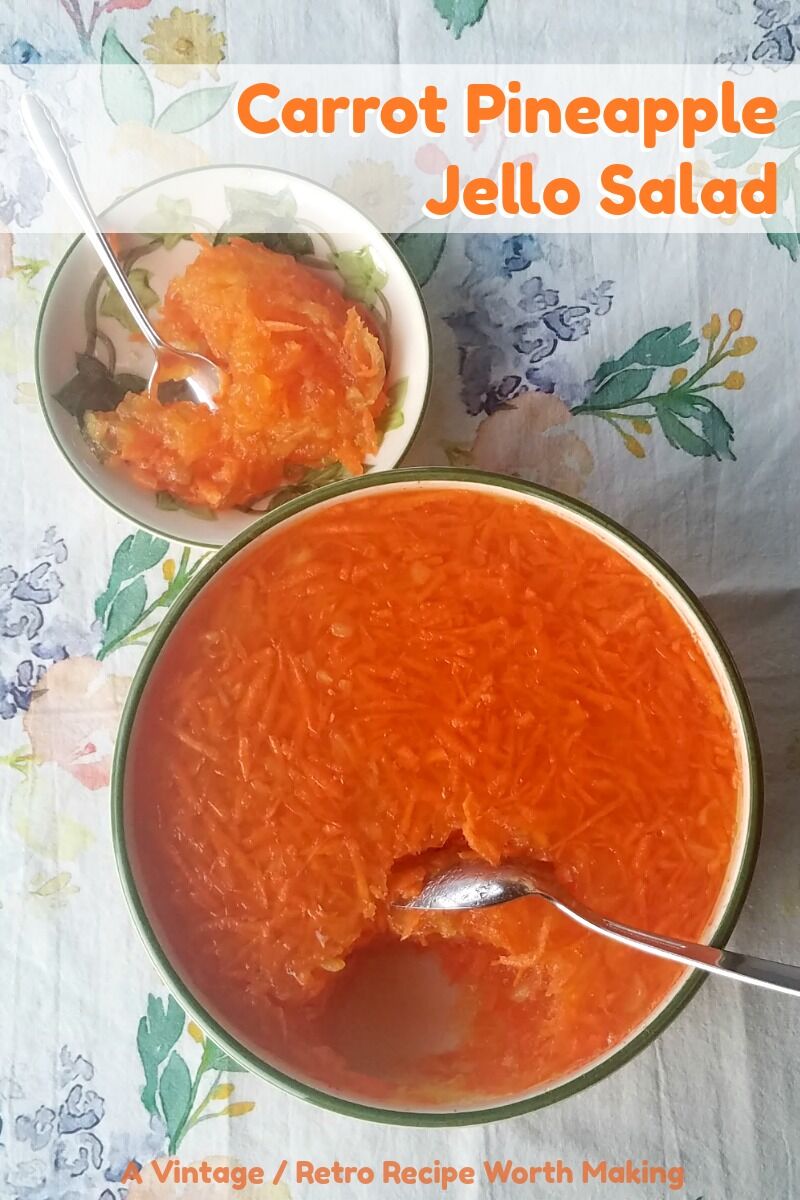 Disclosure: This post may contain affiliate links, including Amazon affiliate links, which means we may receive a commission if you click a link and purchase something that we have recommended. While clicking these links won't cost you any extra money, they do help keep this site up and running. As always, all opinions and images are my own. Please check out our disclosure policy for more details. Thank you for your support!
Fresh & Bright Carrot Salads