Kale, carrots, sunflower seeds, and fresh ginger combine to create this bright, delicious, satisfying copycat of New Seasons' popular Kale & Carrot Salad.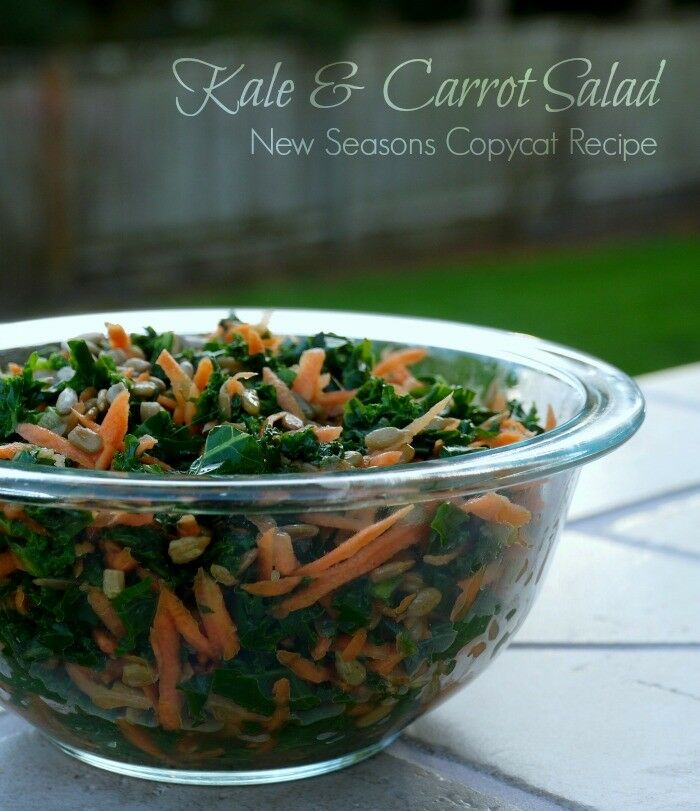 This post may contain affiliate links, but don't worry – they won't bite.
I think I have mentioned that back in my college days, I used to wait tables at Farrell's, an old-timey restaurant and ice cream parlor. Every Saturday morning, it fell to me to prep and set up the salad bar before we opened. The last task on the list, after all the veggies were cut and the dressings were poured, was to put everything out in the ice-filled salad bar and cover all the crushed ice between the bins with dark green curly kale. Kale, back then, was strictly ornamental: no one (in our world) even considered eating it.
All that changed when kale became the It Vegetable of the mid-Twenty-teens, if there is such a thing. All of a sudden, you could find kale everywhere, in everything. In the heat of this kale-fueled moment in culinary history, one of our daughters brought home a bag of kale and made kale chips, because they were so popular and so good for you.
She really wanted to like them. We all did. But no. NO. I know that this may bring the wrath of the Vegan/Paleo/>insert personal eating style here< community, but I just cannot endorse kale as a Chip. Not then, not today, not ever. It's a personal choice, I know, and my personal choice is – No.
That said, we now had a big bag of kale and needed to figure out something to do with it – and I knew exactly what that something was: make one of my favorite New Seasons salads: Kale & Carrot Salad.
Our local New Seasons stocks this tasty, sunflower-studded salad in the Grab-n-Go case, and on more than one occasion, I had overpaid for a handful of kale just to enjoy its sweet umami flavors and satisfying crunch. With a stockpile of kale staring me down, I decided that it was high time I figured out how to make it at home.
New Seasons shares a recipe for Kale & Carrot Salad on their website; but we tried it, and we don't think it tastes like the salad at our local store. Maybe the cooks at our store doctor the company recipe a little, or use an earlier version: who knows? Anyway, I ended up making a few small but important adjustments to the ingredient list.
The biggest change I made to the original recipe, however, wasn't so much related to the What (what goes in it) as the How. I add one small but vital step to the process: I blanch the kale first. As far as I'm concerned, when it comes to kale salads, blanching makes all the difference! (Broccoli salads, too.)
Blanching is the quick, simple process of flash cooking a food in boiling water, and then immediately plunging it to an ice bath to stop the cooking. Blanching kale helps soften the tough fibers and makes it easier to chew, and also makes the natural kale flavor more accessible, making the it more far more palatable.
Our copycat recipe comes darn close to the original, and it got rave reviews from both Mr. B and Gramma Edith, so it's a keeper! Enjoy!
Kale & Carrot Salad
Kale, carrots, sunflower seeds, and fresh ginger combine to create this bright, delicious, satisfying copycat of New Seasons' popular Kale & Carrot Salad.
Print Recipe
Pin Recipe
Servings:
4
large servings
Ingredients
3/4

lb

fresh kale

2

large carrots

peeled and grated

1/2

cup

raw sunflower seeds

2

tablespoons

tamari

or light soy sauce

2

tablespoons

seasoned rice wine vinegar

2

tablespoons

sesame oil

1

teaspoon

fresh ginger

minced (I usually add a little more.)

½

teaspoon

cumin

scant

¼

teaspoon

cayenne

scant, or ½ t. Sriracha

2-3

cloves

garlic

minced
Instructions
Using a sharp knife, remove tough center veins and stems from kale. (This is easier to do if you fold the leaves in half first.) Discard stems & veins.

Bring a large pot of water to a boil over high medium-heat.

While the pot is coming to a boil, fill a large mixing bowl halfway with ice. Add water up to the ice line.

Put the cleaned kale into the boiling water.

Cook 2-3 minutes.

You want the kale to relax, but you don't want it to become limp.

(I do this entire step in my sink: no mess.)

Drain kale in colander and immediately plunge kale into prepared ice-water bath.

Drain kale in colander again. Squeeze kale to remove excess water.

While the kale is still in a kind of wet wad, take a large kitchen knife and slice it into small, thin pieces.

Put cut kale into a bowl and separate the pieces using your fingers. Add grated carrots and sunflower seeds.

In a small bowl, combine remaining ingredients and stir vigorously to combine. Immediately pour dressing mixture over kale mixture and toss thoroughly to combine.
Notes
Salad will keep for a number of days in the fridge.
Nutrition
Serving:
1
serving
|
Calories:
224
kcal
|
Carbohydrates:
15
g
|
Protein:
8
g
|
Fat:
17
g
|
Saturated Fat:
2
g
|
Sodium:
559
mg
|
Potassium:
642
mg
|
Fiber:
2
g
|
Sugar:
2
g
|
Vitamin A:
13592
IU
|
Vitamin C:
105
mg
|
Calcium:
153
mg
|
Iron:
3
mg
This website provides approximate nutrition information for convenience and as a courtesy only. You are solely responsible for ensuring that any nutritional information provided is accurate, complete, and useful.

THANK YOU so much for being a faithful reader and supporter
of The Good Hearted Woman. 🌻 Be sure to PIN this post!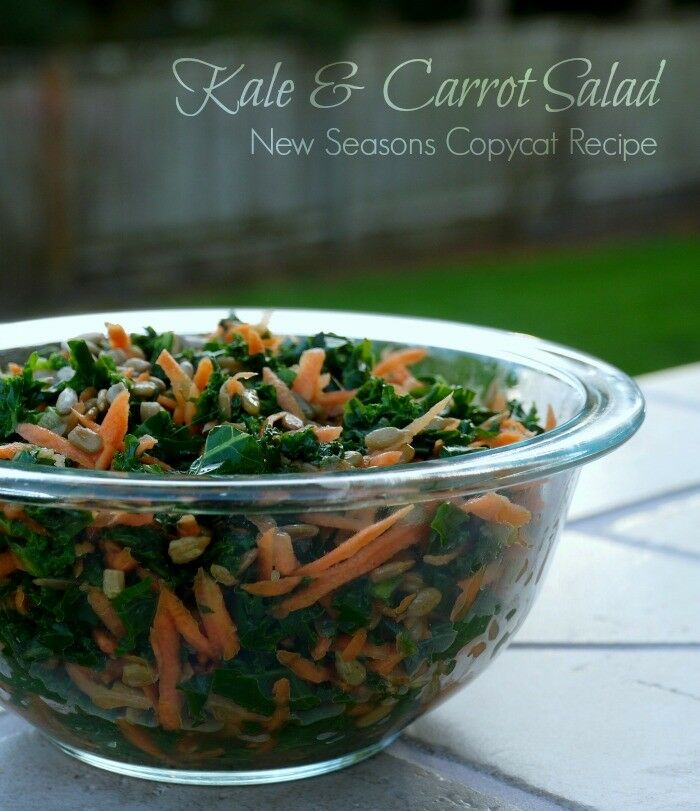 Disclosure: This post may contain affiliate links, including Amazon affiliate links, which means we may receive a commission if you click a link and purchase something that we have recommended. While clicking these links won't cost you any extra money, they do help keep this site up and running. As always, all opinions and images are my own. Please check out our disclosure policy for more details. Thank you for your support!
Fresh & Bright Carrot Salads