Tips and advice for the care and feeding of a sourdough starter, including how to maintain it, and how to revive a neglected starter. (Don't worry - it happen's to the best of us!)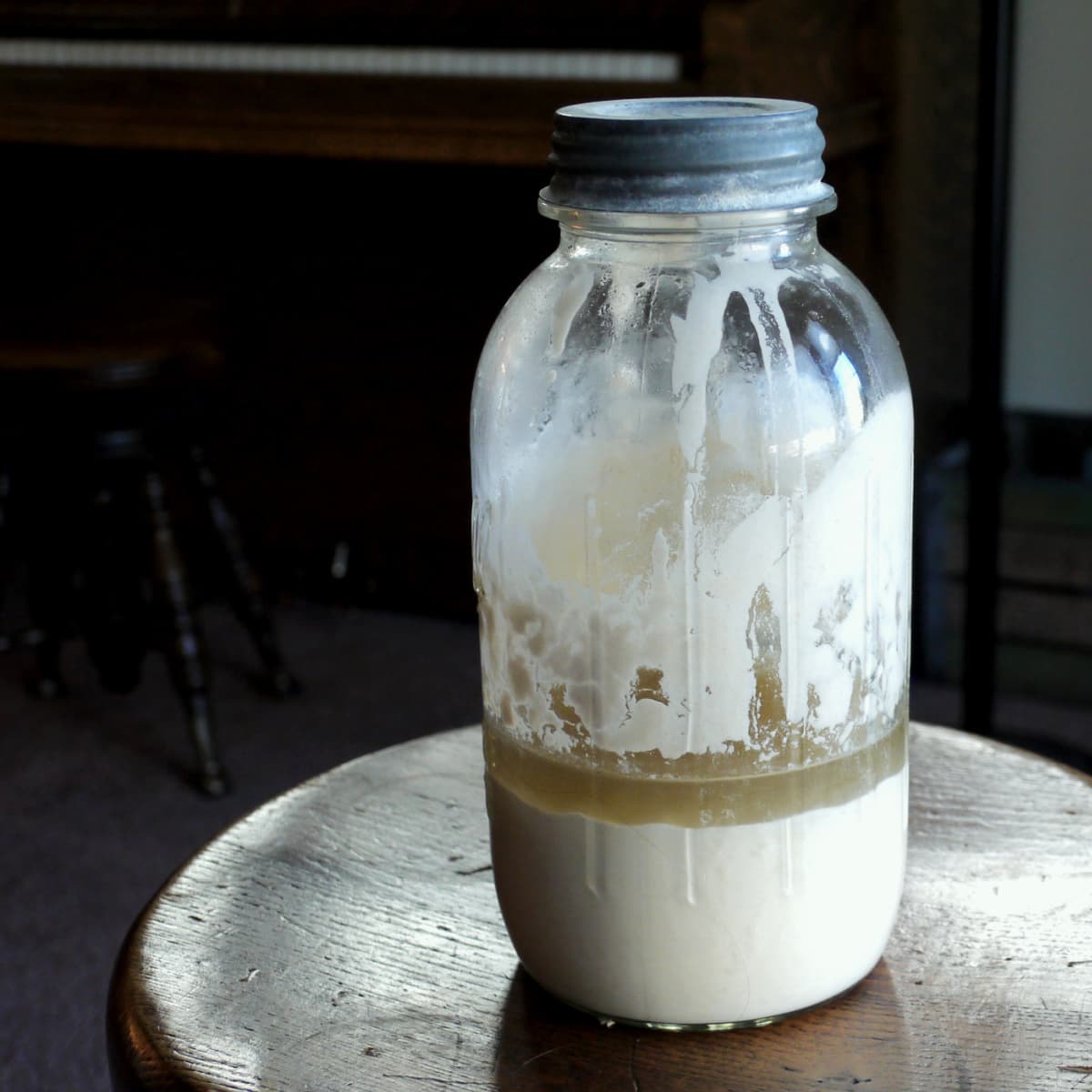 Jump to:
How to Maintain Sourdough Starter
Over the years, I've had an on again, off again relationship with my Sourdough Starter. Sometimes I treat it like the Queen at High Tea, sticking to a precise schedule and attending to its every bubbling need. Other times, I completely ignore it: I once forgot it in the back of the fridge for almost six months. Still, it persists.
My sourdough use waxes and wanes in bouts that can last weeks, or even months. In waxing cycles, when I am baking bread nearly every day, a loaf rarely hits the cooling rack before someone slices off an end. We have homemade bread for our sandwiches and for our soup. We take it in our lunches and feast on it warm with slathers of peanut butter and sprinkles of sugar.
But then I lose interest, and months can go by before I even give it a second thought again. Then Oh, what great consternation arises among certain citizens of our household! I get this a lot: "Mom, that jar of sourdough looks disgusting! If you aren't going to use it, then just throw it away!"
Never! I know good sourdough parents don't have this problem. They feed their starter regularly, and they bake a loaf every three days like clockwork.
This post isn't for them.
Sourdough Parenting 101
This post is for the rest of us. The negligent. The distracted. The throngs of home bakers who avoid sourdough altogether because they instinctively know that the waning times will come to them as well, and they just don't want to deal with the guilt.
Guess what? No one needs to feel guilty. Because a good Sourdough Starter will stay alive in the fridge with very little maintenance for extremely long periods of time, and can easily be activated when you want to use it. (OK, not really "right when" you want to use it: you need to plan about a day or two in advance.)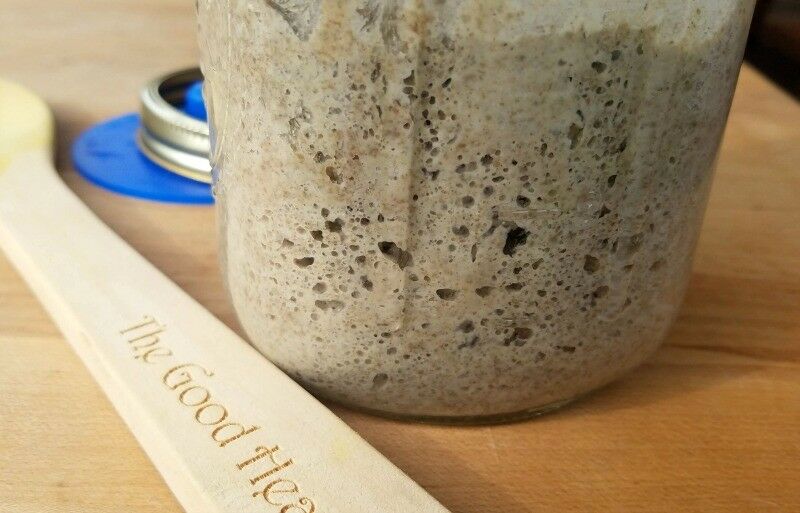 How to Feed Sourdough Starter
Sourdough starter can live forever – as long as you regularly give it a little attention. In other words, you need to clean their home occasionally and feed your sourdough starter regularly.
Sourdough starter is actually full of living colonies of yeast and lactic acid bacteria. These beneficial microbes consume the carbohydrates and proteins in the Starter. During this process, they ferment and convert those starches into CO2. It is this CO2 gas that provides leavening in your sourdough bread.
When these microbes run out of food, they get hungry and start to slow down. If you leave them alone too long, the whole colony will die (and take your neglected Sourdough Starter out with it).
(NOTE: I have yet to completely kill a Sourdough Starter; and believe me, I've tried.)
How often should I feed a starter?
Healthy sourdough starter can be refrigerated for up to a week between feedings if you are not using it for other things. (Honestly, I often leave it FAR longer with no problems.) However, most sourdough experts recommend feeding Sourdough Starter at least twice a week for best results. 

When you feed your starter, always use a wooden or non-reactive spoon to stir it. Never allow any kind of reactive metal to come in contact with your sourdough starter. (Stainless steel is fine.) 
How much should I feed a starter?
The amount you feed your sourdough starter depends on how much of it you have to start with. You want to approximately double your starter each time you feed it.
For example, if you have 8 ounces of Starter, you will feed it 4 ounces of water and 4 ounces of flour. 

I keep a 100% Hydration Starter. A 100% hydration sourdough starter is a sourdough culture which is kept and fed with equal weights of water and flour. (If you don't have a kitchen scale, that equates to about ⅔ to ¾ cup of water for every cup of flour.) 

Always leave enough room in your Sourdough Jar for the Starter to triple in size! 
What if I don't want to double my Starter? Do I have to throw away the discard? 
Heavens, No! You can make all kinds of yummy things with extra sourdough starter! (Start with my mom's sourdough hotcakes or our delicious Cranberry Crumb Sourdough Coffee Cake recipe.)

If, however, you have more starter on hand than you anticipate using for baking, you will need to toss (or share!) a cup or more, and then double what remains. You always want to have at least 8 ounces of Starter after baking to keep the process going. 

After you feed it, allow the starter rest in a dark, warm place (70°F) for 12 hours, and then place in the refrigerator if you will not be using it in the next 24 hours.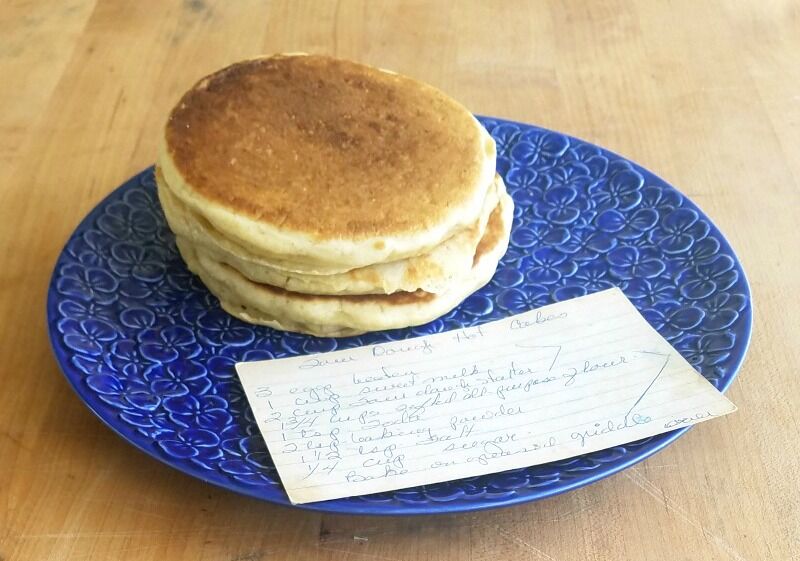 Stages of Healthy Sourdough Starter
When you want to bake with sourdough starter, you first need to determine if your recipe calls for Fed, Active, Ripe, or Unfed Starter. (For example, my Easy Sourdough Bread recipe calls for Unfed Starter)
Fed Starter – Fed Starter is active, healthy starter that has been fed within about 2 hours. By hour 2, it will be producing little bubbles on the surface.
Active Starter – Starter is Active about 5 hours after feeding. By hour 5, you should be able to watch large bubbles actively rising through the Starter and making their way to surface.
Ripe Starter – Starter is considered Ripe about 8 hours after feeding. The volume has doubled, and the top is just beginning to show signs of sagging under its own weight.
Unfed Starter – Unfed Starter is healthy, vigorous Starter that has not been fed for 12 hours or more. By hour 12, it collapsed after Ripening, and is ready to be fed again or put in the fridge until next time. (Note that this is NOT neglected Starter that hasn't been fed in days.)
Discard – Sourdough discard is the portion of your sourdough starter that you get rid of when you do a feeding. It should be healthy and vigorous, with some small bubbling activity.
If you aren't up to making bread, you can always use up extra Starter (i.e., Discard) by making pancakes, waffles, etc.
Always reserve at least 8 ounces of Starter to feed and keep the process going. 
How to Revive Neglected Sourdough Starter
So, you just found your forgotten jar of Sourdough Starter in the back of the fridge, sad and neglected under a little puddle of hooch. (Or a big black cloud of ick.) Don't worry - it happens to the best of us. 
Before you can try to revive your Starter, you need to do some triage. Open your jar and look inside.
A - If mold is aggressively growing, if it has a distinctly pink tinge, or if it smells rotten or putrid, toss it. There is no saving it. Then get a fresh, clean jar, and start making a brand new Sourdough Starter.
B - If it looks gross but doesn't smell horrible, continue to Step 1.
Drain off any hooch from your old Starter. (Hooch is the grey-black liquid that is probably sitting on top of your Starter. It's basically sourdough poop.)
Using a stainless steel spoon, carefully spoon off the top layers of Starter. You want to try to completely remove the top layer and get down to the cleaner, dormant layer without contaminating it too much with the gross stuff on top.
Determine if your Starter has totally gone bad, or if it is salvageable. (90% of the time, if it gets past the initial triage, you can save it.) Smell the stuff at the bottom of the jar. It should smell decidedly sour, but not rancid or spoiled. You know the difference. If it smells putrid, chuck it.
If at least a tablespoon of your Starter is salvageable, put as much "good starter" from the old jar as you can into a fresh, clean jar.
Stir in one half as much flour and water as you would normally feed a healthy Starter. For example, if you have a cup of salvageable starter, stir in 4 ounces of water and 4 ounces of flour. (I always use a kitchen scale when I feed my Starter.) If you have only a tablespoon of starter, it's going to take you a little longer to build it back up, but you can do it. (Wilbur, my 100-some year old starter, was revived from less than a half teaspoon of dried flakes!)
Allow fed Starter to sit at room temperature again for 8 hours.
Repeat Steps 5 and 6 one or more times, until your Starter is bubbly, percolating and ready to use.
The total "revival" process usually takes 24-48 hours hours. After that, you will should have an active, bubbly Starter that you can either put it back in the fridge and ignore it again until next time. Or, you can continue to wake it up by feeding it every 8 to 12 hours for a day and get ready to bake!
[Read more about how to revive dried sourdough starter here.]
Once your Starter is vigorous and active, you can go back to feeding it once or twice a week. After every feeding, allow it to sit out for 12 hours before putting it back in the fridge.
Sourdough Recipes
A final note for all you Artisan Sourdough Bakers out there who feed your starter regularly: I know you've been cringing your way through this entire post! Please be kind in your comments. We all know that this is not the optimal way to take care of sourdough starter. But for those of us who are on-again, off-again in our baking and find ourselves with neglected sourdough starter, this protocol is better than a kick in the head, as my Dad used to say.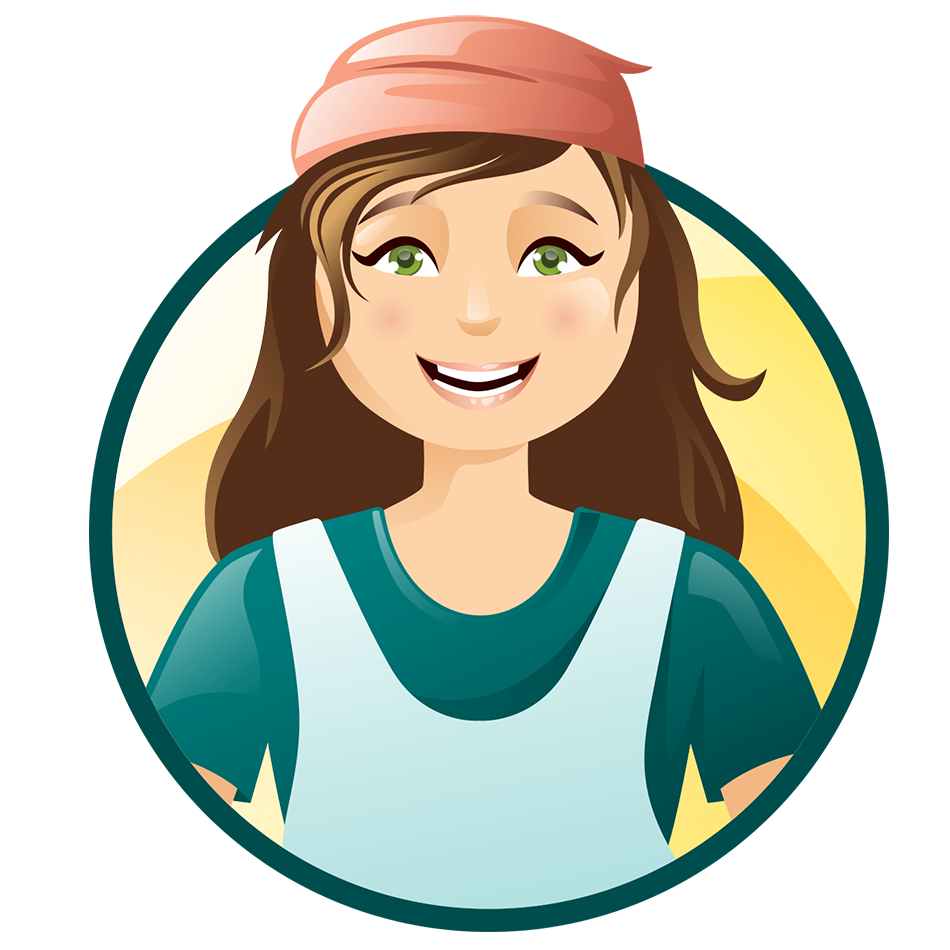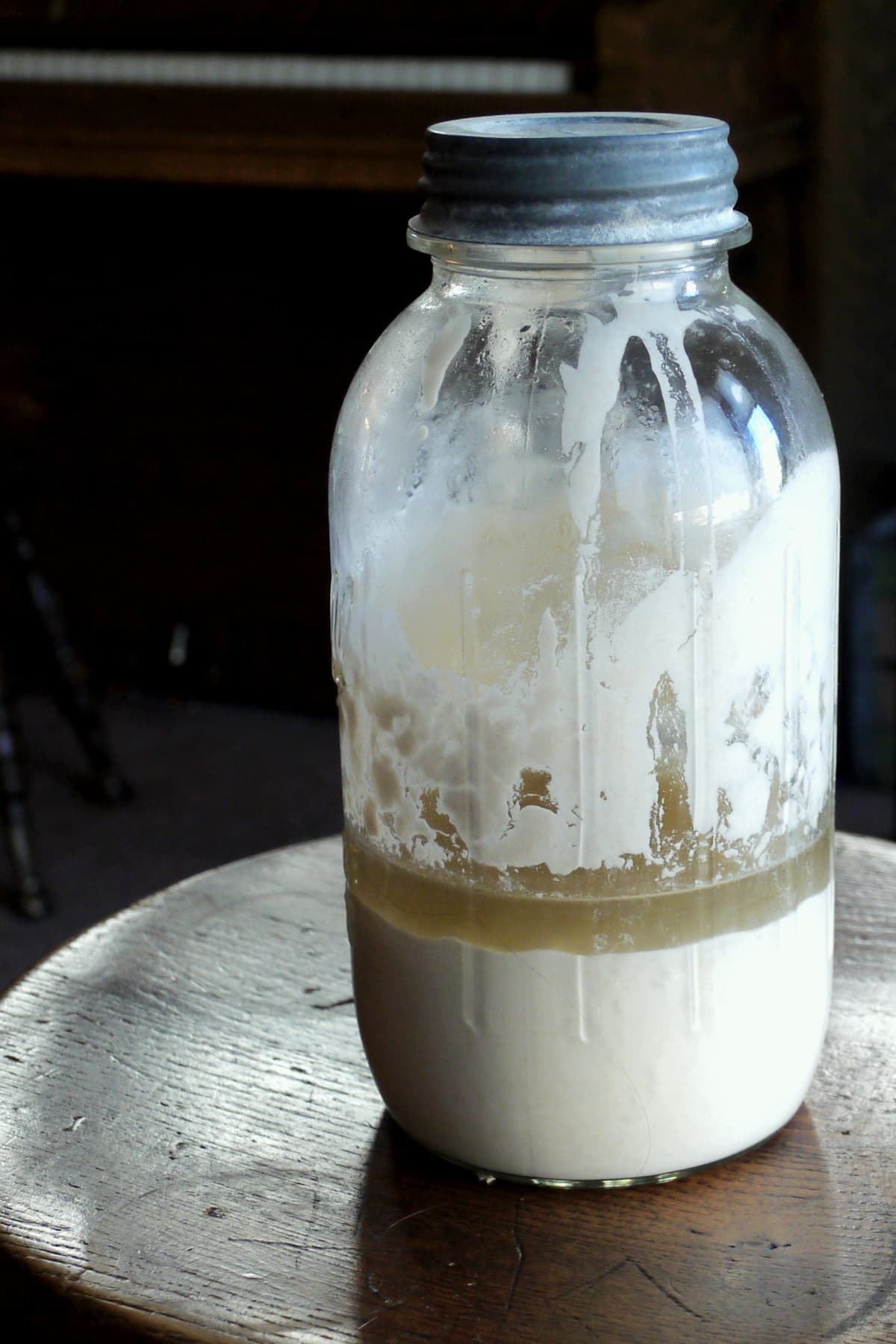 Thank you for visiting the Good Hearted Woman. Remember to bookmark this site, and come back soon!