Rye Sourdough Starter is - by far - the easiest sourdough to start. All you need is rye flour and water.
---
My mother kept a sourdough starter when I was young, and the pancakes and bread she made are now a treasured food memory. I'm continuing the tradition.
It only takes about 5 days to establish a new Rye Sourdough Starter. Once established, Starter can easily be converted to a white or whole wheat flour starter: it all depends on what kind of flour you choose to use going forward.
This post may contain affiliate links, but don't worry - they won't bite.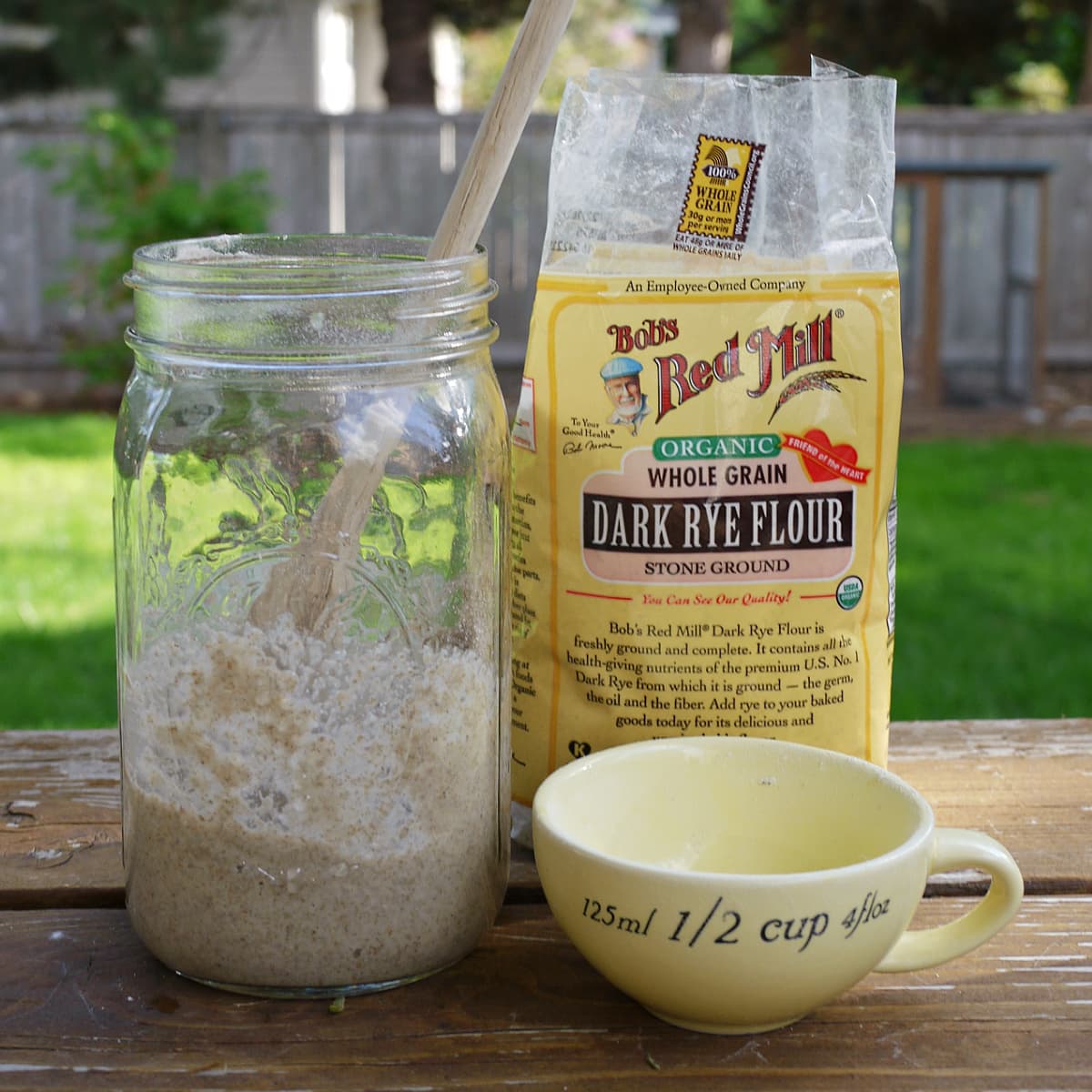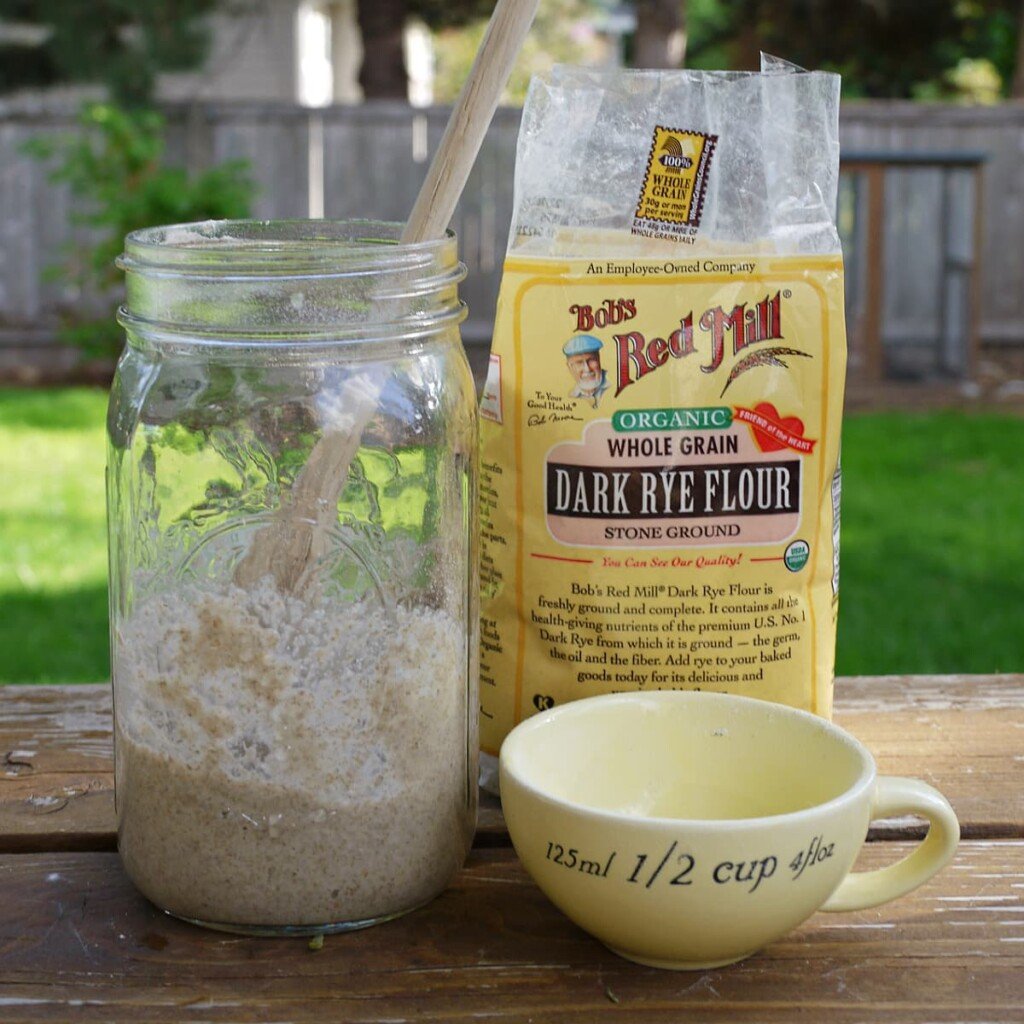 What does "100% hydration" mean?
This Rye Sourdough Starter is a what is referred to in the sourdough world as a "100% hydration starter." A 100% hydration sourdough starter is a sourdough culture which is kept and fed with equal weights of water and flour. (For example, 2.25 ounces water to 2.25 ounces of flour.)
By contrast, a 166% hydration starter is fed with equal volumes of flour and water. For example, ½ cup of water (4 ounces) to ½ cup flour (2.25 ounces).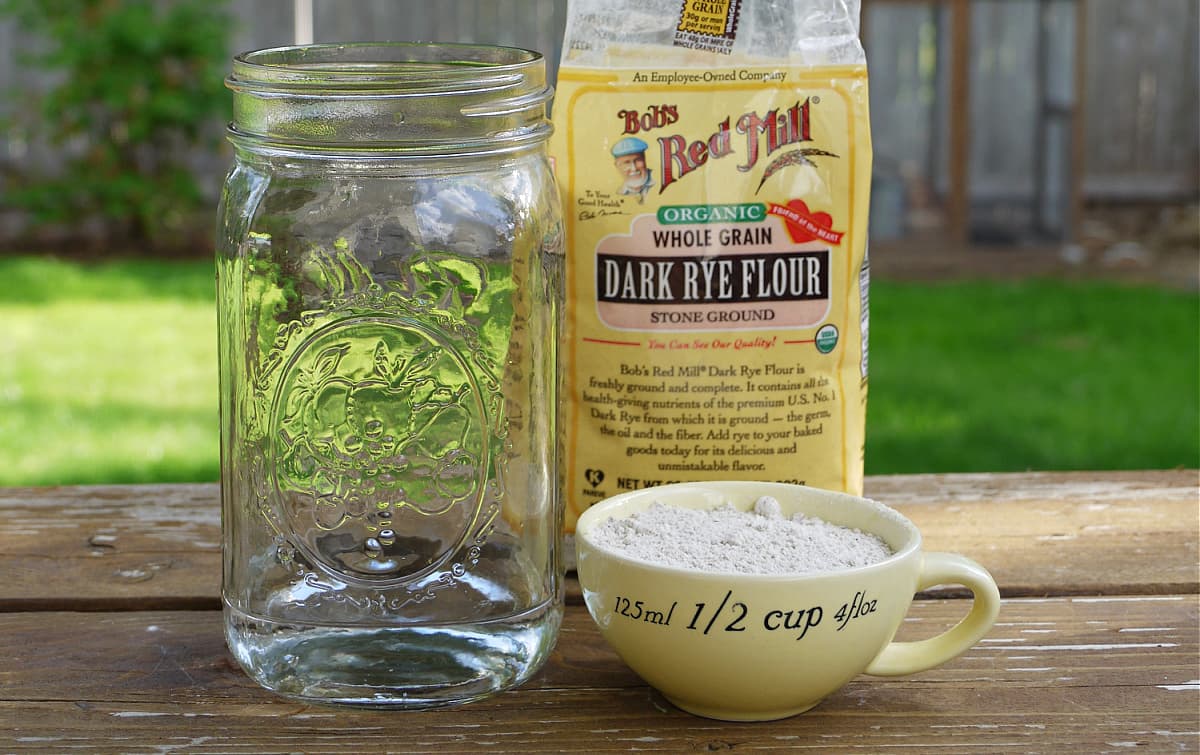 Tip: Get a kitchen scale!
If you don't already own a kitchen scale, now might be the time to get one - and this is coming from someone who usually measures everything by pinch and palm!
I honestly don't know how I ever lived without a good kitchen scale. Weighing the water and flour for your sourdough starter keeps the hydration consistent, which in turn gives you more consistent results in your cooking and baking. (I don't use any measuring cups when I make bread - I weigh everything!)
If you don't have a kitchen scale, measure out ⅔ to ¾ cup of water for every cup of flour.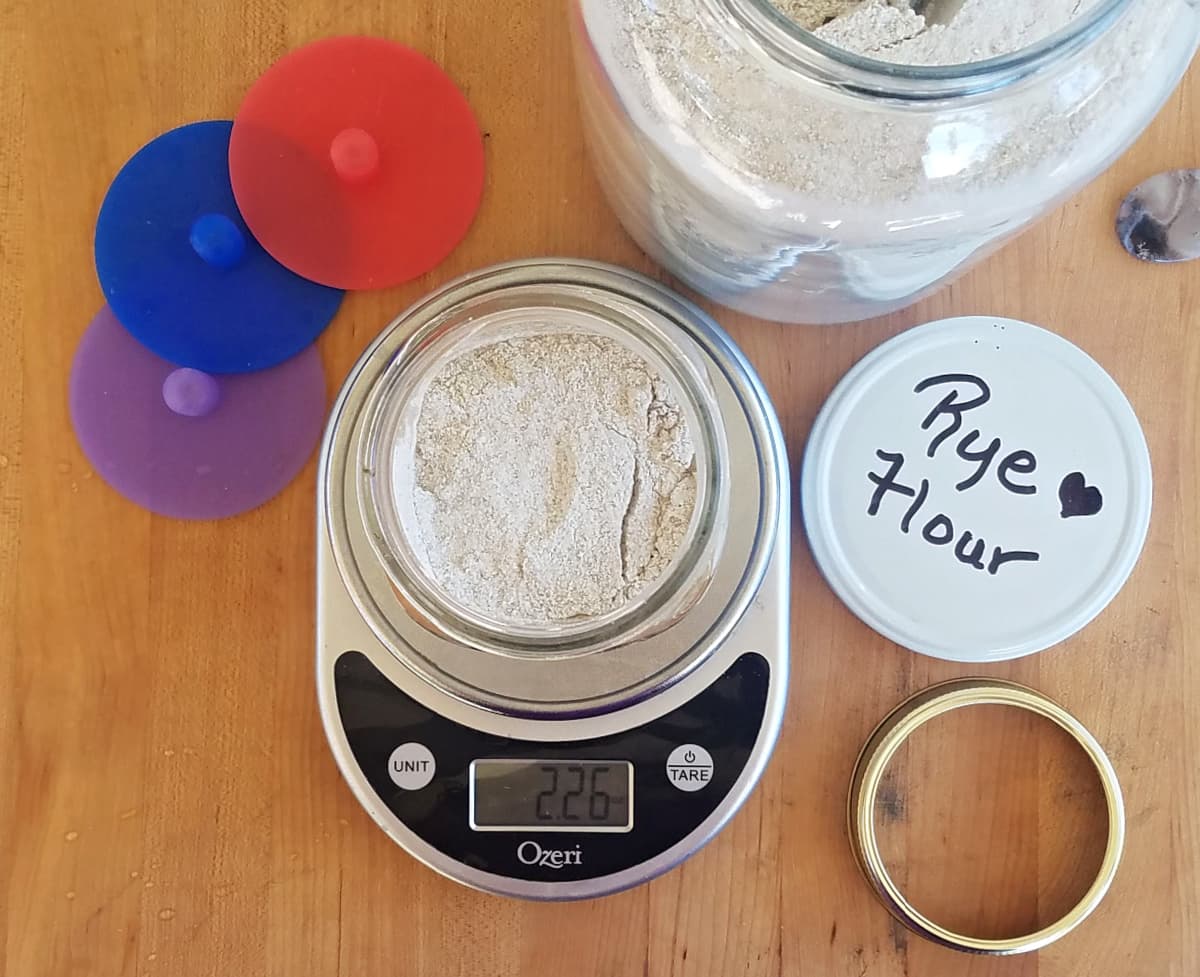 How to Make
100% Hydration
Rye Sourdough Starter
Prep Time: 25 minutes, plus 5 days
Materials & Tools
Quart-size Mason Jar (Wide mouth is best)
Wooden Spoon
Water
What kind of flour is best for starting rye sourdough?
Use any high quality, finely ground, fresh rye flour. We use Bob's Red Mill Organic Dark Rye Flour
It is important to note that whole-grain rye flour has a short shelf life (three to four months) and should be stored in an airtight container in the refrigerator. It will keep in the freezer for up to six months. Rye flour with the germ removed will keep for slightly longer than whole-grain rye flour.
Does it matter what kind of water is used?
When I made this starter the first time, I used plain old tap water, and everything bubbled up just fine. Nevertheless, many sourdough professionals discourage the use of tap water in favor of distilled water, as the chlorine and other chemicals found in treated water can kill the microorganisms that need to flourish to create sourdough.
I now use distilled water for all my sourdough, but I wanted to share my experience with tap water because unless your city uses an excessive amount of chlorine in your water supply, it's not a deal-breaker. (If you would rather use tap water, but want to remove at least some of the chlorine, there are a couple of ways you can dechlorinate water at home.)
Starting the Sourdough Process
Day 1
You will need:
2¼ ounces rye flour + 2¼ ounces water
Using a wooden spoon, mix the rye flour and water in a mason jar or non-reactive bowl. Cover loosely and place in a dark place at 70°F for 24 hours. (I put mine up against the counter right next to my stove.)
Your unfermented Starter will be the consistency of thick cook dough. It will loosen up over time.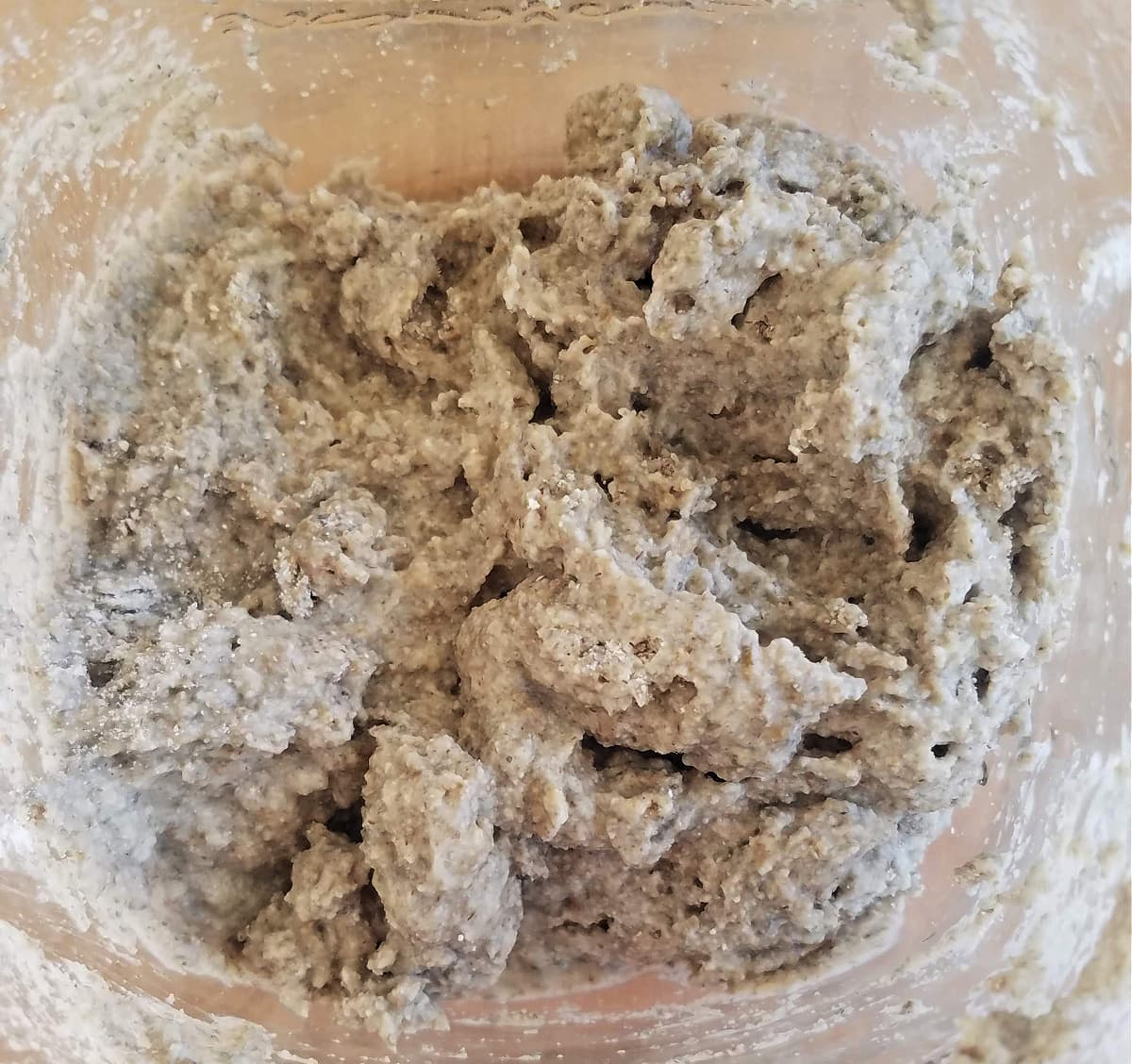 Day 2
You will need:
2¼ ounces rye flour + 2¼ ounces water
Add the rye flour and water to the starter. Mix with a clean wooden spoon for 30 seconds until the flour has been incorporated. Cover loosely and place in a dark place at 70°F for 24 hours.
Day 3
You will need:
1⅛ ounces rye flour + 1⅛ ounces water
Add the rye flour and water to the starter. Mix with a clean wooden spoon for 30 seconds until the flour has been incorporated. Cover loosely and place in a dark place at 70°F for 24 hours.
Day 4
You will need:
1⅛ ounces rye flour + 1⅛ ounces water
If bubbles have started to form and the flour has begun to ferment, discard ⅔ of the mixture in the jar. Add the flour and water to the remaining ⅓ and mix for 30 seconds until the flour is well incorporated. (If the mixture has not started to ferment repeat step 3.)
Day 5
The starter should be mature by this point and is ready to use. Use the starter as needed. After use, see feeding instructions.
If you want to convert your starter to a white flour or whole wheat Starter, you may begin feeding it with all-purpose flour from this point on.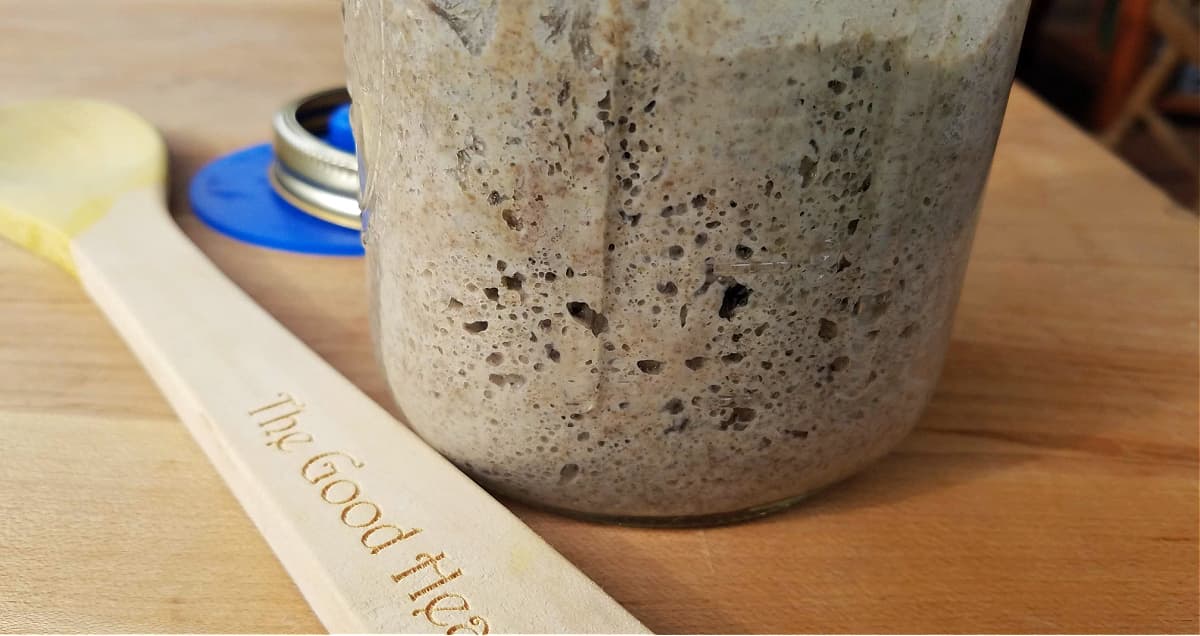 Stages of a Healthy Sourdough Starter
Fed Starter – Fed Starter is active, healthy starter that has been fed within about 2 hours. By hour 2, it will be producing little bubbles on the surface.
Active Starter – Starter is Active about 5 hours after feeding. By hour 5, you should be able to watch large bubbles actively rising through the Starter and making their way to surface.
Ripe Starter – Starter is considered Ripe about 8 hours after feeding. The volume has doubled, and the top is just beginning to show signs of sagging under its own weight.
Unfed Starter – Unfed Starter is healthy, vigorous Starter that has not been fed for 12 hours or more. By hour 12, it collapsed after Ripening, and is ready to be fed again or put in the fridge until next time. (Note that this is NOT neglected Starter that hasn't been fed in days.)
Discard – Sourdough discard is the portion of your sourdough starter that you get rid of when you do a feeding. It should be healthy and vigorous, with some small bubbling activity.
Rye Sourdough Starter FAQ
How much should I feed my sourdough starter?
The amount you feed your sourdough starter depends on how much of it you have to start with. You want to approximately double your starter each time you feed it. So, for example, if you have 8 ounces of Starter, you will feed it 4 ounces of water and 4 ounces of flour.
If you have more starter on hand than you anticipate using for baking, you can toss (or share!) a cup or more of Starter and then double what remains. You always want to have at least 8 ounces of Starter leftover after baking to keep the process going.
How often should I feed my starter?
Healthy Starter can be refrigerated for up to a week between feedings; however, most sourdough experts recommend feeding Sourdough Starter at least twice a week for best results. (Honestly, I often leave it FAR longer with no problems.)
Do I always have to feed my starter with rye flour?
Nope. Once your starter has been established, you can convert it to a white or whole wheat Starter by feeding it with your chosen flour.
Do you have any more tips about feeding sourdough starter?
(Sure do! Thanks for asking!)
Never allow metal to come in contact with your sourdough starter. Always use a wooden spoon to stir when you feed it.
Always leave enough room in your Sourdough Jar for the Starter to triple in size! It usually only doubles, but you want to leave some wiggle room!
Allow the starter rest in a dark 70°F place for 12 hours and then place in the refrigerator if you will not be using it in the next 24 hours.
Many recipes, including most bread recipes, call for feeding your starter the night before and using it in the morning. When you do this, you are technically using Ripe or Unfed Starter, depending upon the vigor of your starter and how much time elapses between last feeding and usage.
Here are a few of our favorite sourdough recipes:
How to Safely Store Sourdough Starter
NEVER leave sourdough starter in direct sunlight. (Seriously. Remember Gremlins?)
According to the sourdough pros, 70°-80° F [21° - 27° C] is the ideal temperature range at which to keep your sourdough starter.
If I am actively using my starter on a regular basis, I keep it on my kitchen counter near my stove. (I've also had good luck in the past keeping it on top of the fridge.) If I am taking a break from sourdough baking, I let my starter chill in the fridge.
If kept below 70°F [21°C], the natural yeast in the starter incubates very slowly; above 80°F [27°C], the starter will tend to ferment alcoholically, which is not desirable.
Troubleshooting: If you ever forget your starter in the back of the fridge and it looks scary when you take it out, be sure to check out our Lazy Caretaker's Guide to Sourdough.
NEVER cover your starter with an airtight lid!
The natural fermentation process creates gas, and that gas needs to have a place to go, so you need to cover your container with something that will allow some of that gas to escape.
We have successfully used all of the following methods:
Rubber Band and a clean cloth. Not pretty, but it works.
Mason jar ring and a piece of clean cloth. I usually use muslin in this case.
Pickle Pipes (or other lid designed for fermentation)
I discovered Pickle Pipes some time ago, and I LOVE LOVE LOVE them! For the money, they are (IMHO) the best solution for the job. (Just to clarify, this is NOT a sponsored post; but that is an Amazon affiliate link.)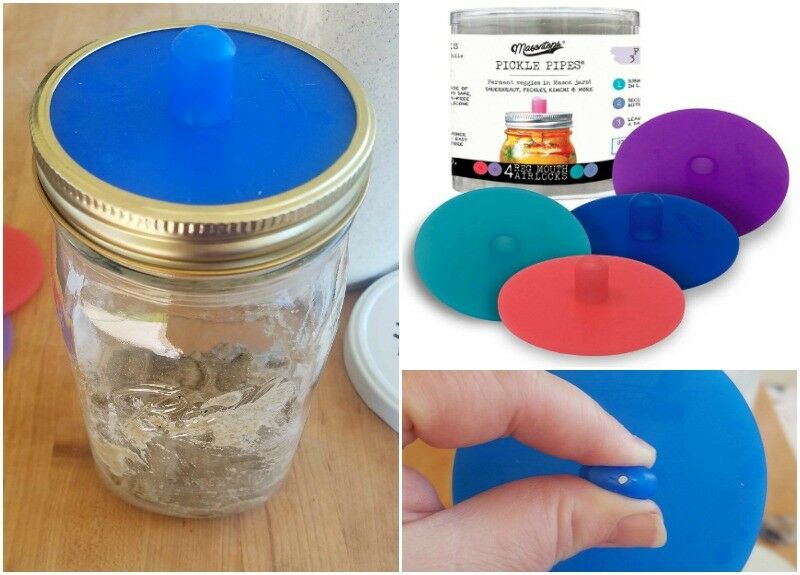 Pickle Pipes feature one-way airlocks that vent gas automatically so they require no burping or babysitting.
Prevent spoilage by releasing the gas that builds up during the fermentation process.
Some people like to call them Pickle Nipples, which is fun to say. (Try it 3 times fast... and GO!)
They prevent oxygen and airborne contaminants from getting inside.
They are food-safe. (e.g., BPA-free, no phthalates)
They are Dishwasher-safe.
---
You don't need a special recipe to sourdough starter! Nearly all of your favorite yeast bread recipes can be adapted to use sourdough starter, as can many quick breads.
---
Thank you for supporting The Good Hearted Woman. • Please PIN this post!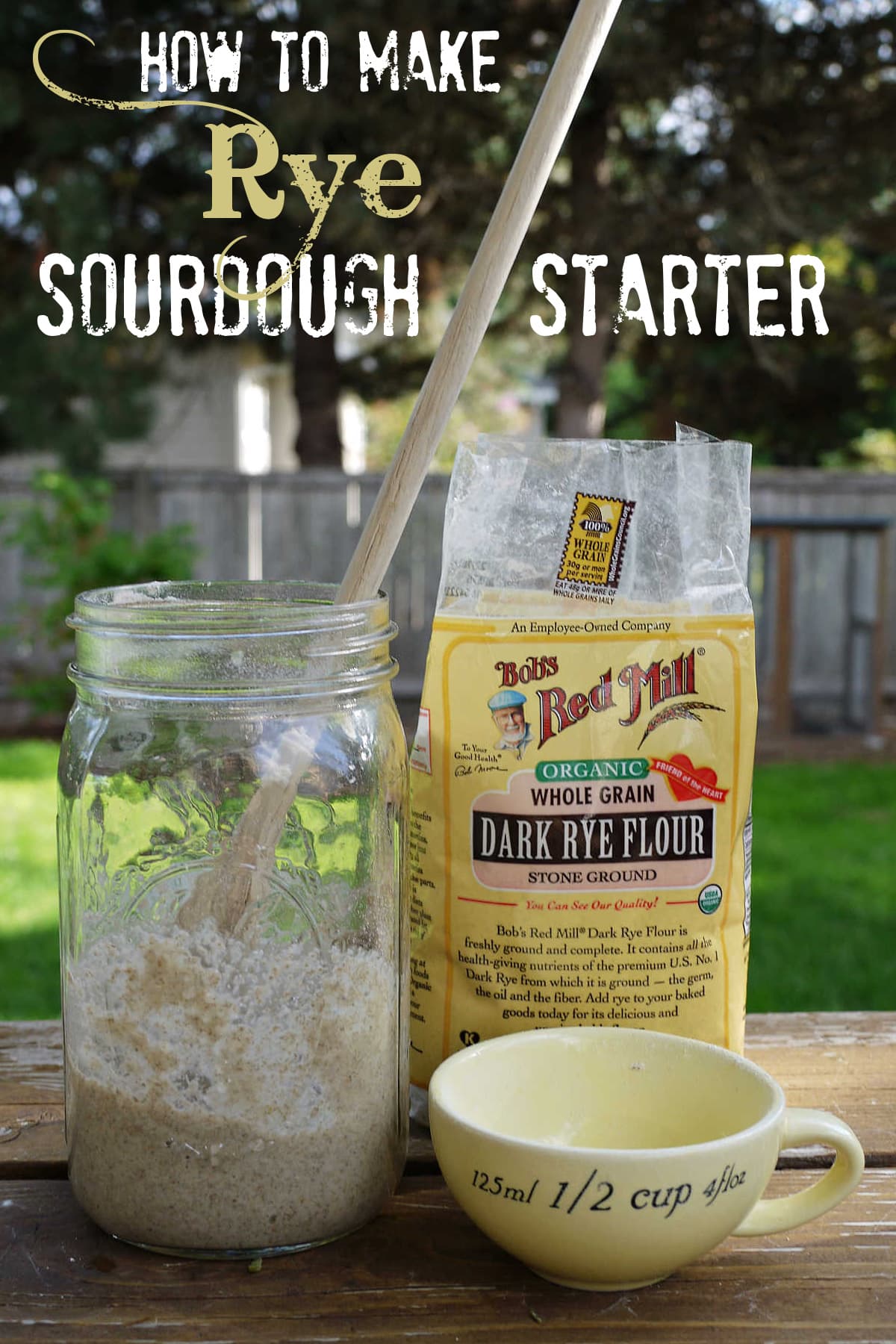 Disclosure: This post may contain affiliate links, including Amazon affiliate links, which means we may receive a commission if you click a link and purchase something that we have recommended. While clicking these links won't cost you any extra money, they do help keep this site up and running. As always, all opinions and images are my own. Please check out our disclosure policy for more details. Thank you for your support!
UPDATED: Originally published September 14, 2015