It's no wonder this ooey-gooey Samoa Cheesecake Bars recipe took the Judges' Choice Award in our Girl Scout Cookie Bake-off! Here's the winning recipe, plus tips for hosting your own Kid's Bake-off.
Jump to:
What's the Story on this Bake-off Recipe?
I didn't start out to be a Girl Scout leader. I was, am, and will always be a Camp Fire kid at heart, but when my oldest entered kindergarten a few decades ago, Girl Scouting was it where we lived, so that's what we did. Five Girl Scout daughters, four troops, and twenty years later, I finally hung up my Leader hat... but I kept my Volunteer hat. (Always will.)
That's how we all ended up at a Girl Scout Cookie Baking Competition a few cookie seasons ago. Competition in event was open to any Girl Scout from our community.
Girl Scouts is such an iconic organization that it's easy to overlook how daring an idea it was for founder Juliette Gordon Low to gather those first 18 girls in that troop in Savannah, Georgia. It was 1912, after all, and women wouldn't earn the right to vote for another eight years.

— Anna Maria Chavez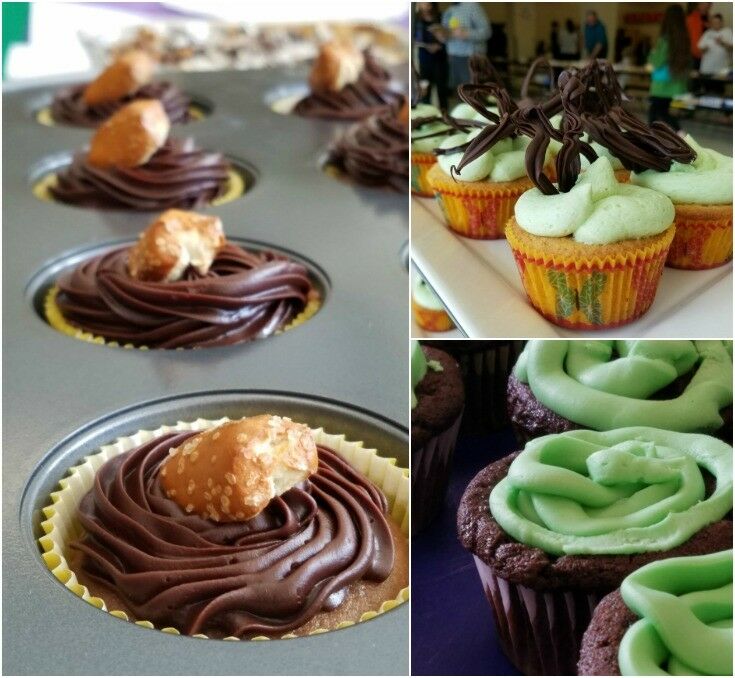 Girl Scout Cookie Recipe Bake-off: Make the Winning Recipes
If you're here for the winning recipes, you can find the ultimate winner at the end of this post, or click through for the People's Choice and Personal Choice winners.
Samoa Cheesecake Bars (Bake-off Winner)
Strawberry Thin Mint Cookie Delight (People's Choice)
Toffeetastic Butterscotch Mud Pie (My Personal Choice)
How to Host a Kids' Bake-off
There are four important questions to consider when hosting a kid's bake-off. Dive into the details below:
What kind of Bake-off will it be?
Specifically, what is the bake-off challenge? In the case of our bake-off, the specific challenge was to create a dessert using at least one variety of Girl Scout cookie as a primary ingredient.
Answer the following questions to clearly your challenge:
Who can enter? Our bake-off was open to any registered Girl Scout.
Can contestants have more than one entry? Can a contestant enter more than one recipe? If there are multiple categories that a contestant is eligible for, can they win with more than one entry?
Is this an individual competition, or can contestants work in teams?
Must recipes be fully cooked at home, or must they be completed at the competition?
Is there a theme or primary ingredient? We had both a theme (desserts) and a primary ingredient (Girl Scout Cookies).
How much of each recipe must a contestant provide on the day of the contest?
Each girl who entered our bake-off was asked to provide two batches of their recipe: one for Judges to observe for appearance, presentation, etc., and a second for tasting by judges and event goers.
After the judges made their determination, the first batch was offered up for tasting by the crowd as well.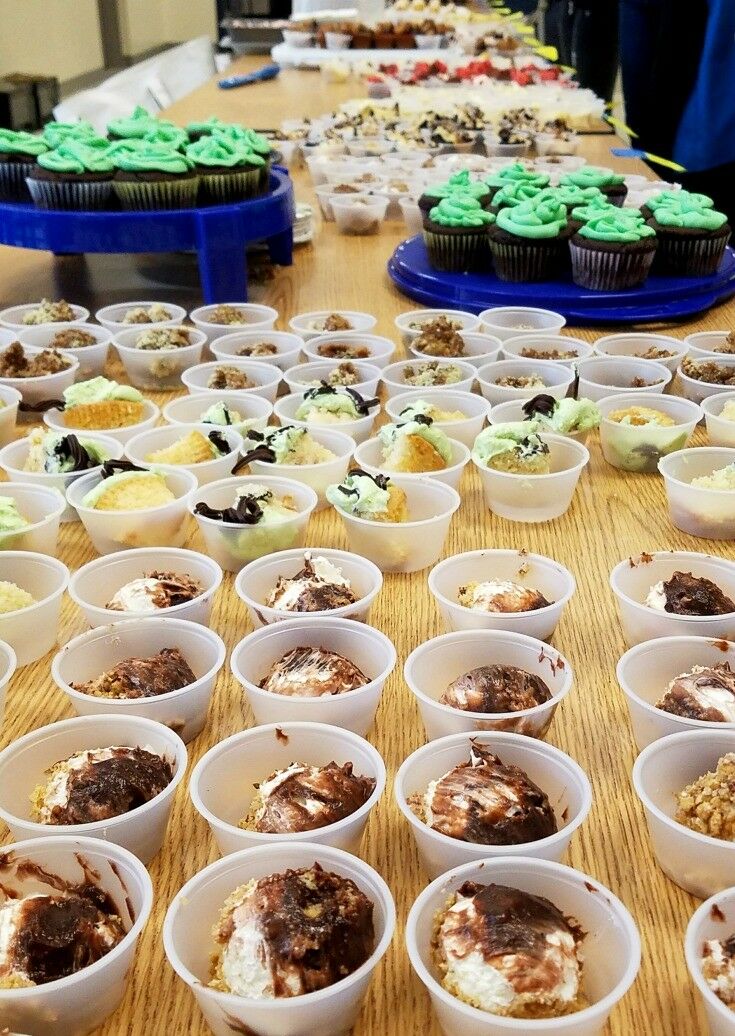 Who decides who wins?
Will you have a panel of Judges? Do the attendees get a vote?
For our Girl Scout Cookie Bake-off, the hosting troop assembled a panel of five judges. Because of my long history with the hosting troop, I was asked to be a Judge. However, I'd been cutting back on sugar, so at the last minute I handed that esteemed privileged over to Mr B.
(Passing the Judge's torch to Mr B ended up being a good move for a number of reasons. Most importantly, it allowed me time to walk around and take pictures of all the sweet entries. It also saved me from the imminent tummy ache that would plague him for the rest of the day.)
Tip for Would-be Bake-off Judges
Mr. B's had one vital tip for would-be Girl Scout Cookie Bake-off judges: Drink water. Lots and lots of water.
This is, unfortunately, a lesson he learned the hard way. Even though he and the rest of the judges were very careful to eat only a very small tasting from each entry, because he neglected to drink enough water, he spent most of the day following the competition with a very uncomfortable tummy ache.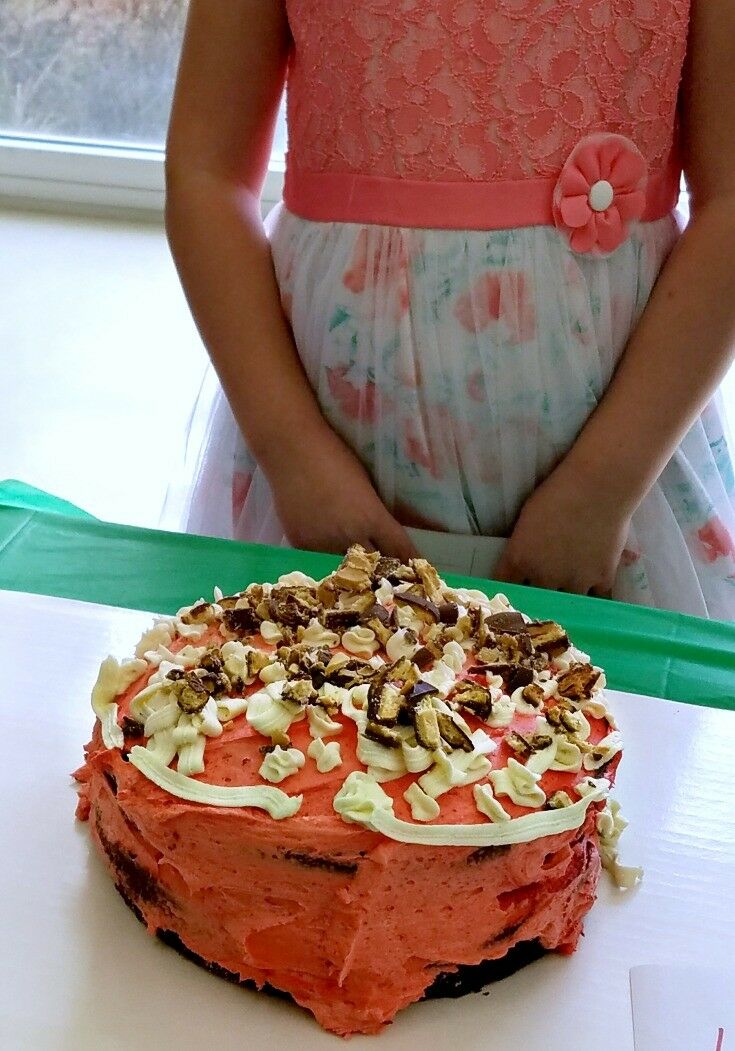 How will winners be decided?
It is important to clearly define the points and systems upon which the entires will be judged ahead of time.
If you are hosting a bake-off, you will need to figure out how the winners will be picked. I won't try to tell you how to run your circus, but this is the system that was used for our Cookie Bake-off, and it seemed to work pretty smoothly.
Judges
Each Judge was given a clipboard, pencil, and instruction sheet outlining a scoring system for assigning points to each point system for scoring each entry. Each contestant was assigned a number for judging.
Entries were judged on three elements:
Taste
Presentation
Use of Girl Scout Cookies
Submissions were judged in each of these categories on a scale of 1-5, with 5 being the highest.
Competition was divided into three Divisions, based on age. Three overall winners were then chosen from the winners of each age bracket. An Ultimate Winner was then chosen from the Division winners, for a total of ten winners.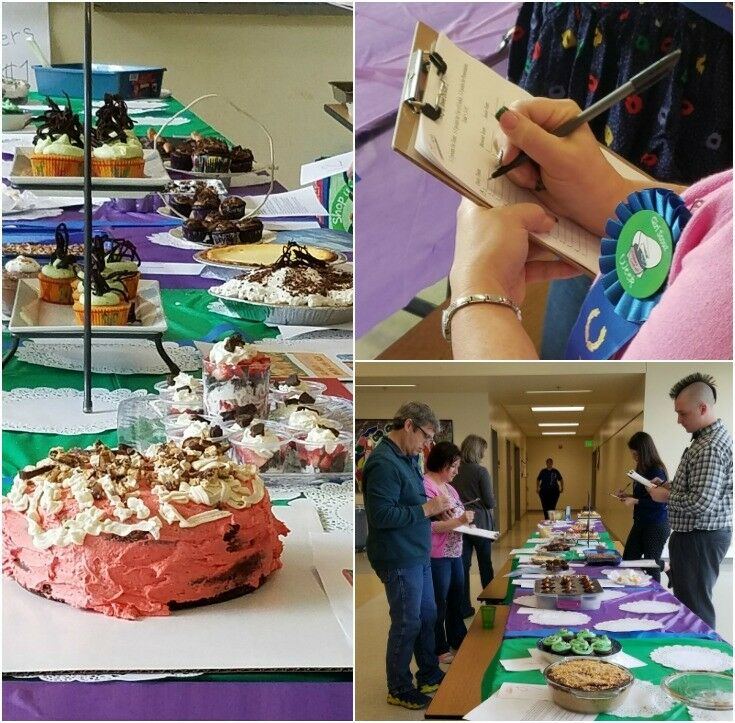 While I wandered from table to table taking pictures, Mr B spent his time hunching over his clipboard, carefully evaluating each tasty bite that was brought to him by his assigned assistant. Together with his fellow judges, he crunched, munched, nibbled, and savored samples from each of the nearly twenty entries.
We found ourselves judging not only what the Scouts made, but their use of the cookie as well. Did they get the ingredients in? Could you taste those ingredients? That made it interesting. It also made it challenging for us, because we challenged ourselves to see if the cookies came through in each dish, or if they were just sprinkled on top.

- Mr B
Mr B and I are both big Chopped fans, and I wasn't surprised that this influenced his role as a judge in the competition. When Taste and Presentation scores were too close to make a call, Use of Cookie(s) tipped the scales.
People's Choice
Each attendee was given a number of tickets (5). Individual voting boxes, each with the name of one recipe, were placed on a central table.
Attendees circulated, trying samples of each recipe and then placing their tickets in the boxes representing the recipes they liked most. The recipe that received the most tickets won the People's Choice Award.
What kind of recognition will be awarded?
You can award anything from a handshake to a certificate to gift cards donated by the community. What I noticed as the prizes were award was, especially with regard to the younger kiddos, bragging rights were worth more than just about anything.
Additional Considerations for Hosting a Bake-off
This certainly isn't an exhaustive list; there are plenty of additional considerations to make, including location and facility set-up, announcement of the contest, timing, and so forth. However, if you can get all these questions answered, you'll be off to a great start!
Now, on to our Girl Scout Cookie Bake-off winner!
Samoa Cheesecake Bars (Judges' Choice)
At the end of the day, it was the ooey gooey decadence of these Samoa Cheesecake Bars that won out. (Personally, I think using the term "bar" to describe this particular dessert is probably a bit of a stretch, but then again, who says you can't eat cookies with a spoon?)
These Samoa bars set up much better when they are thoroughly chilled. The day we held our bake-off was warm, and entries set out for way too long.
Related Recipes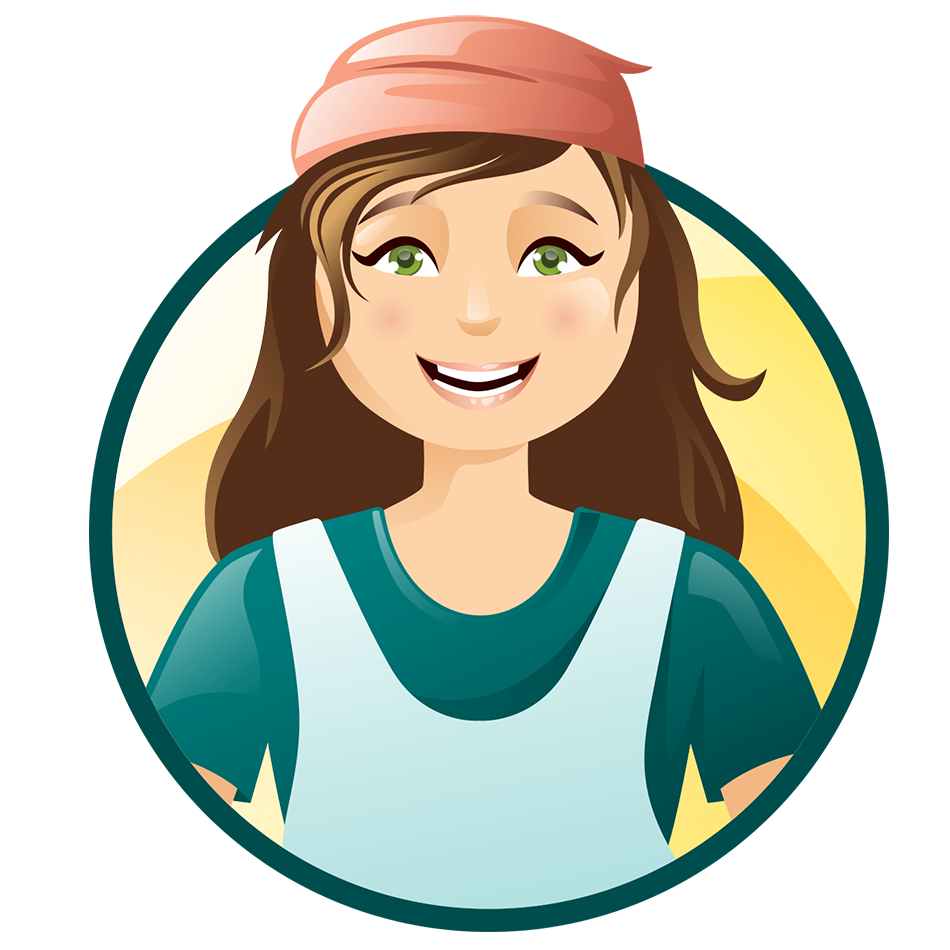 Samoa Cheesecake Bars (Bake-off Winner)
It's no wonder this ooey-gooey Samoa Cheesecake Bars recipe took the Judges' Choice Award in our Girl Scout Cookie Bake-off!
Recipe winner is a minor; name withheld.
Print
Pin
Add to Shopping List
Go to Shopping List
Equipment
1 food processor

or blender

1 microwave
Ingredients
Oreo Crust
20

regular

Oreos

5

tablespoons

butter

melted
Coconut Caramel Chocolate Layer
11

ounces

package caramels

3

tablespoons

heavy cream

1½

cups

coconut

toasted

6

whole

Samoa Girl Scout Cookies

crushed

1

cup

semi-sweet chocolate chips
Instructions
Oreo Crust
Preheat oven to 350°F (175°C). Prepare a 8x8 baking pan by lining it with aluminum foil.

With a rolling pin or in a food processor, crush the Oreos into a fine crumbs.

Combine the crushed cookies and butter together in a medium bowl.

Press cookie mixture into the bottom of the pan and bake for 9-10 minutes. Remove from oven and cool completely.
Cream Cheese Filling
With an electric mixer, beat the cream cheese, egg, sugar and vanilla together until smooth and creamy.

Spread cream cheese mixture over the prepared crust. Bake for 30-35 minutes or until cheesecake is set.

Cool completely, and then refrigerate for an hour.
Caramel Layer
In a microwave-safe bowl, heat the caramel and heavy cream in the microwave on high for 30 seconds at a time.

Stir and return to microwave until melted and smooth.

Spread melted caramel mixture over cheesecake layer.

Return to refrigerator and chill for 3 hours.
Samoa Topping
Add the toasted coconut and crushed Samoas to the melted caramel mixture.

Cool 10 minutes.
Chocolate Drizzle
Melt the chocolate chips in the microwave, 30 seconds at a time until smooth. Drizzle chocolate over the top of caramel.

Allow to set up for at least 30 minutes before cutting.
Nutrition
Serving:
1
serving
|
Calories:
425
kcal
|
Carbohydrates:
52
g
|
Protein:
5
g
|
Fat:
23
g
|
Saturated Fat:
14
g
|
Polyunsaturated Fat:
1
g
|
Monounsaturated Fat:
4
g
|
Trans Fat:
0.1
g
|
Cholesterol:
54
mg
|
Sodium:
297
mg
|
Potassium:
73
mg
|
Fiber:
3
g
|
Sugar:
43
g
|
Vitamin A:
548
IU
|
Vitamin C:
0.3
mg
|
Calcium:
33
mg
|
Iron:
0.3
mg
This website provides approximate nutrition information for convenience and as a courtesy only. You are solely responsible for ensuring that any nutritional information provided is accurate, complete, and useful.
Disclosure: This post may contain affiliate links, including Amazon affiliate links, which means we may receive a commission if you click a link and purchase something that we have recommended. Please check out our disclosure policy for more details.
Originally published April 11, 2017.