Sweet peaches balance savory flavors in this tempting collection of savory peach recipes, including appetizers, main dishes, and sides.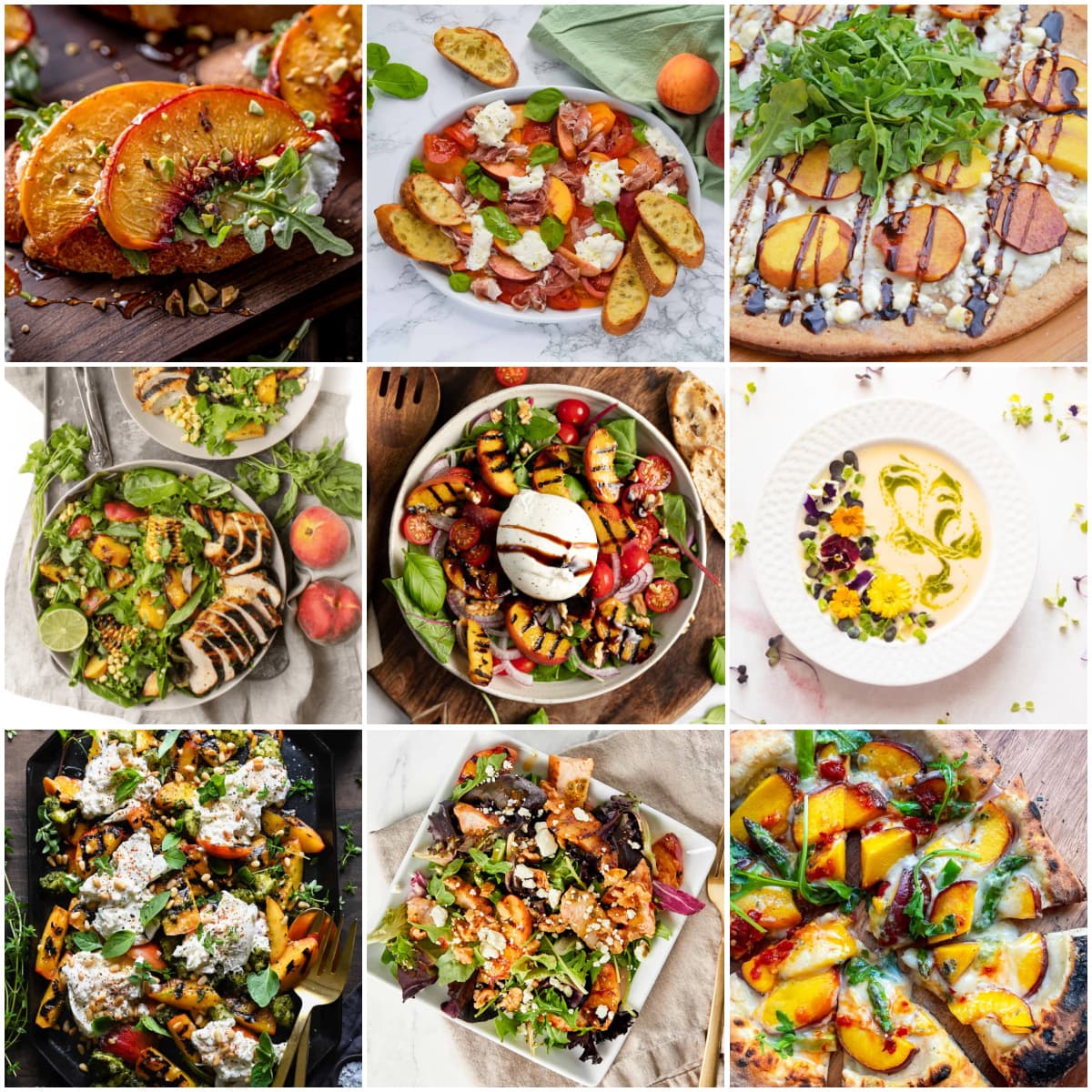 Peaches are a sweet, juicy stone fruit grown in about two-thirds of the US. They can be found in three colors: white, yellow and red. (We are probably most familiar with yellow peaches in the US.) Peak peach season runs from late June to the end of August, depending on where you live.
When you think of cooking with fresh peaches, sweets like pies, cobblers, galattes, and tarts are probably among the first things that come to mind. But peaches can be an excellent addition to savory dishes as well.
Jump to:
Savory Peach Pairings
Many people take issue with combining fruit with meat in traditionally savory dishes, but I'm not one of them. A touch of sweetness can enhance a savory dish in the same way the salt on your salted caramel latte or cookie enhances the caramel flavor. (Recipes like Calypso Chili and Irish Apple Pie Grilled Cheese – both award winners! – are great examples of this savory-sweet combo.)
Peaches pair well with almost all fruits and nuts. (Raspberries and coconut are a couple of our favorites!) Other excellent peach pairings include:
Herbs: basil, fennel, lemongrass, mint, rosemary, tarragon, thyme
Spices: cardamom (check our Fresh Peach Tart recipe!), cinnamon, cloves, ginger, nutmeg, saffron, star anise
Vegetables: arugula (rocket), bell peppers, garlic, jalapeño, red onion, tomatoes, zucchini
Proteins: bacon, chicken, pork, prosciutto, salmon, tofu, turkey
Dairy: blue cheese, brie, burrata, crème fraîche, feta, mascarpone, ricotta,
Spirits: bourbon, brandy, cognac, framboise, Grand Marnier, rum, whiskey
While this list is certainly not exhaustive, it is a good start. In many instances, peaches can be used in place of mangos or apricots in savory dishes (and vice versa). Use the savory peach recipes below to inspire your culinary creativity.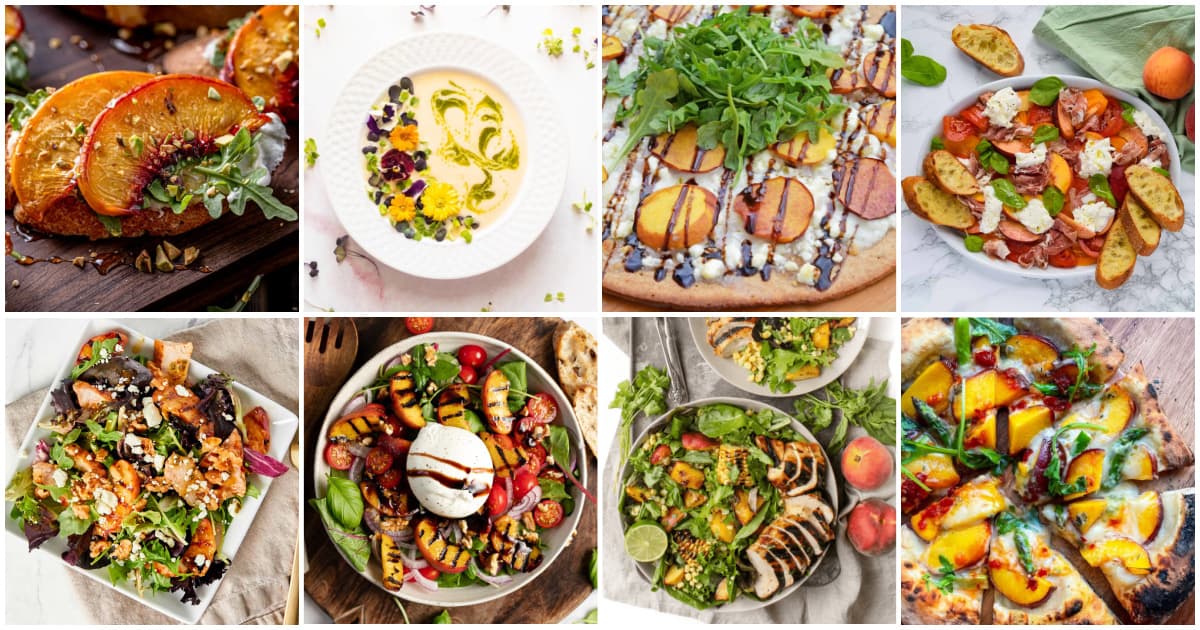 Savory Fresh Peach Recipes for Summer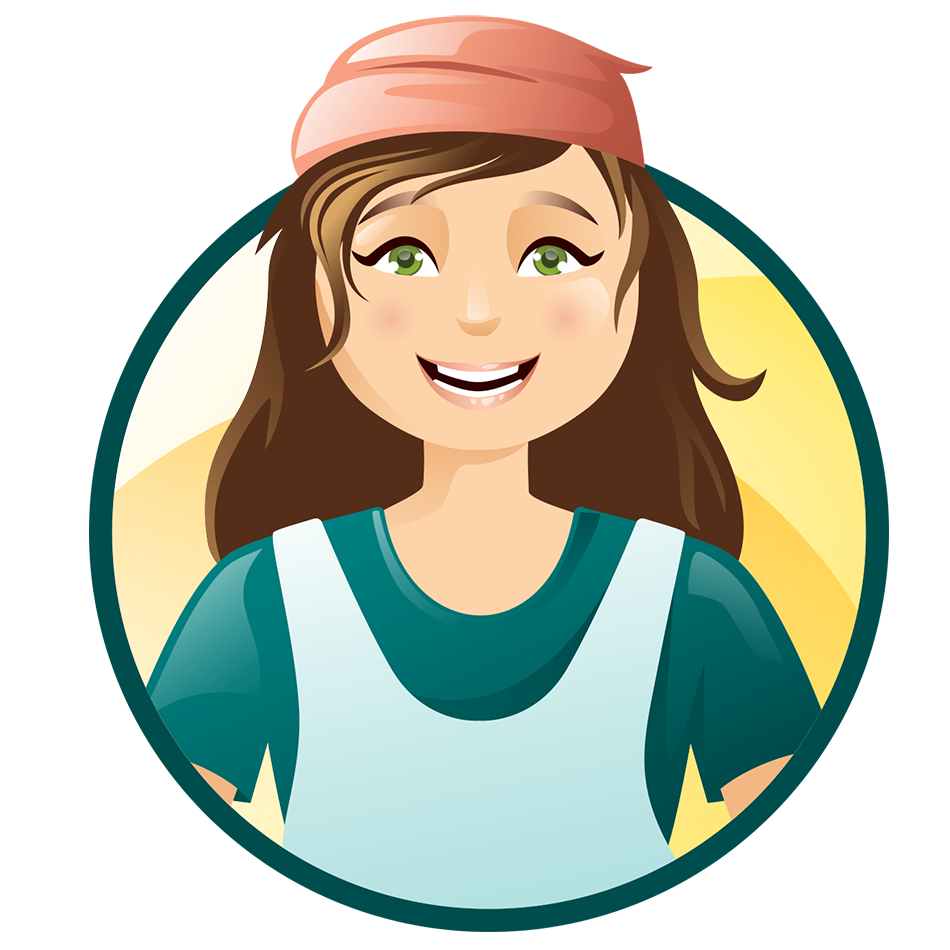 More Savory-Sweet Recipes
Love that savory-sweet combo? Check out these recipes:
Thank you for visiting the Good Hearted Woman. Remember to bookmark this site, and come back soon!