A campfire can be, like many things, as much a state of mind as it is a reality. When wildfire season and fire bans upend camping plans, you can still get that cozy glow - by making a simple flameless campfire.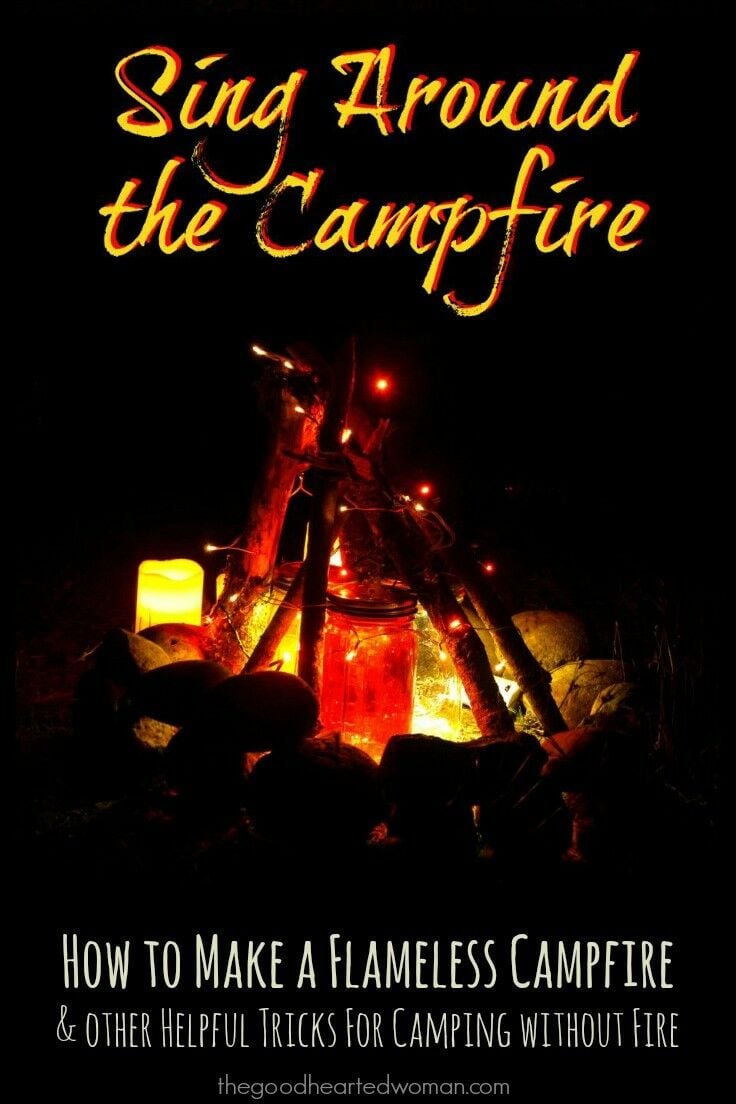 Why Make a Flameless Campfire?
If you've followed me for a while, you may know that I draw a lot of inspiration from a summer camp reunion that I attend every year at Camp Namanu, located along the shores of Oregon's Sandy River. (See our Mason Jar Fairy Lanterns and Fairy Lights DIYs.)
Reunion Weekend is a time that I treasure: four days with old friends, walking the trails of our beloved camp and singing songs so deep-rooted that they flow from our lips like the waters of the Sandy itself.
Reunion 2015, however, came at a particularly difficult time for me personally. It provided a brief but welcome escape from a challenging season – one filled with both great joy and deep sorrow. It was a time that made me all the more grateful for my Camp Fire family.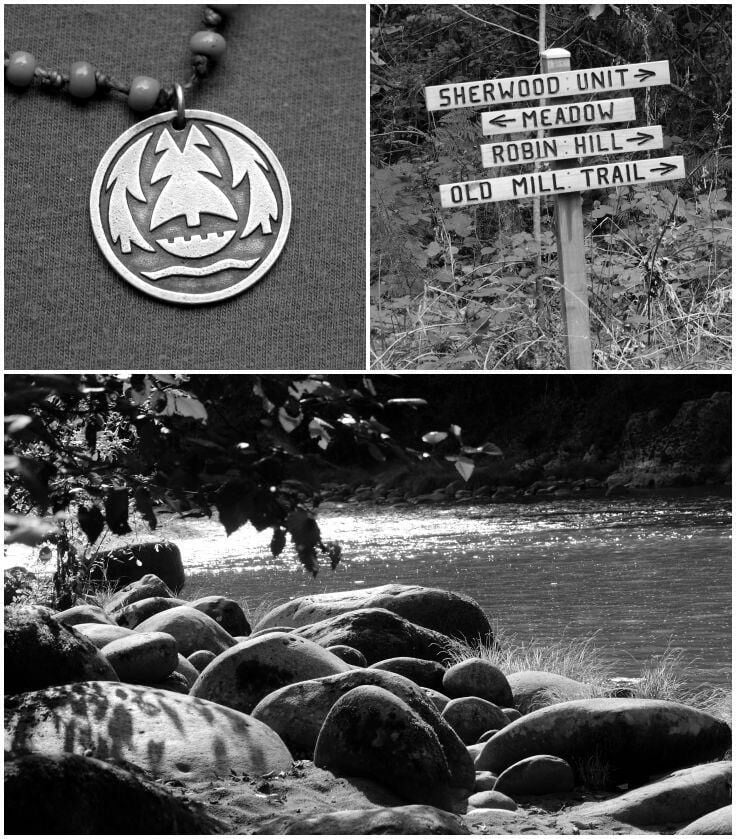 But even a weekend of frolicking in the forest did not come without its challenges.
Faced with months of severely dry conditions in the summer of 2015, many (if not most) camping destinations anywhere near the Left Coast – from Bellingham to Baja – were placed under strict a fire ban, including a prohibition on everything from open fires to charcoal briquettes. (That briquette-ban is a real thing – Mr. B and I had to redo our entire menu, which relied heavily on our Dutch oven, when we went camping that year.)
However, Camp Fire kids (including grown-up Camp Fire kids) are resourceful, and our friend Sandie came prepared. She set up this lovely little flameless campfire in one of our favorite spots - and almost as soon as we gathered 'round, we started noticing something very interesting.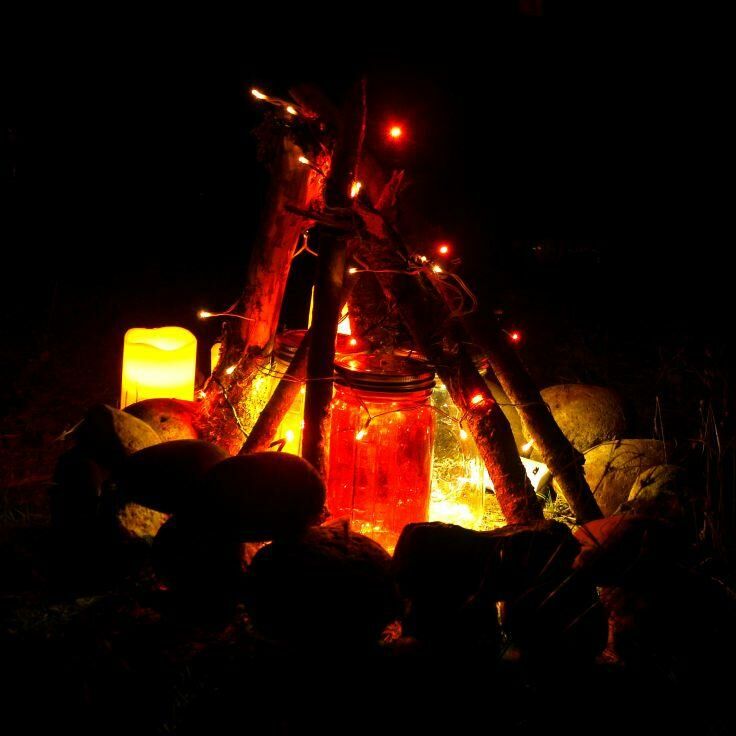 (Honestly, these pictures do not do Sandie's campfire justice. In real life, the lights all blend together, giving the illusion of slow burning embers on a low fire.)
You see, there we were, sitting around our campfire in our folding chairs, sharing camp memories and catching up on the year past - and despite the lack of flames and heat, as the sun set and the temperatures fell, each of us began moving our chairs closer to the fire. Some even stood and raised their hands as if to warm them over the flames, and others rested the soles of their feet to face them. And surprisingly, we (or at least I) felt somewhat warmer in doing so.
So it seems as though a campfire can be, like many things, as much a state of mind as it is a reality.
That gave me something to think about.
How to Make a Simple Flameless Campfire
Materials & Supplies
Small Logs/Large Sticks – enough to make the façade of a teepee fire
Large stones – enough for a small fire ring
2-3 Wide Mouth Mason Jars – Sandie suggests using Yellow, Orange or Red ones. (There are Purple jars, too!)
1 string of white, battery operated lights + 1 string orange, battery operated lights [Dollar Store, seasonal]
Lighting options: I found this awesome 5 pack of solar powered Red Fairy Light Jar Lid Inserts with Rechargeable Battery (this includes the light inserts only. Jar and lid ring not included.)
Another option are to use battery operated string lights. Seasonly, you can find 25 on a string, with a brown wire. They are a little more expensive, but I love the warm glow they put off, and the brown wire blends right in with the fire.
Colored Jars: If you can't find colored Mason jars, or don't want to buy them, you can use colored cellophane inside the jars instead.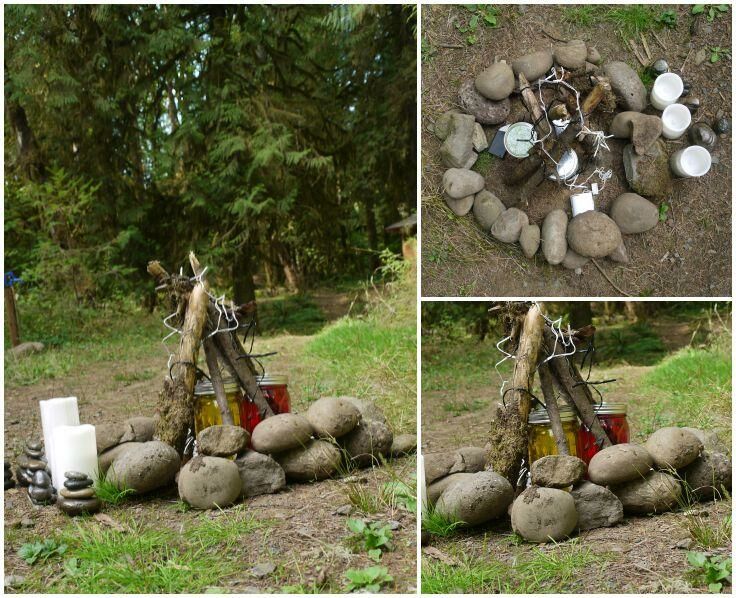 Laying the "Fire"
Use large stones to create a fire ring.
Put the LED Inserts into the Mason Jars, and set them in the middle of your fire ring.
Arrange the sticks over the Mason jars, leaving easy access to the jar-mouths so that you can turn them on and off.
Weave the lights over and around the sticks.
Wait for it to get dark, and then turn on the lights. Or vise versa.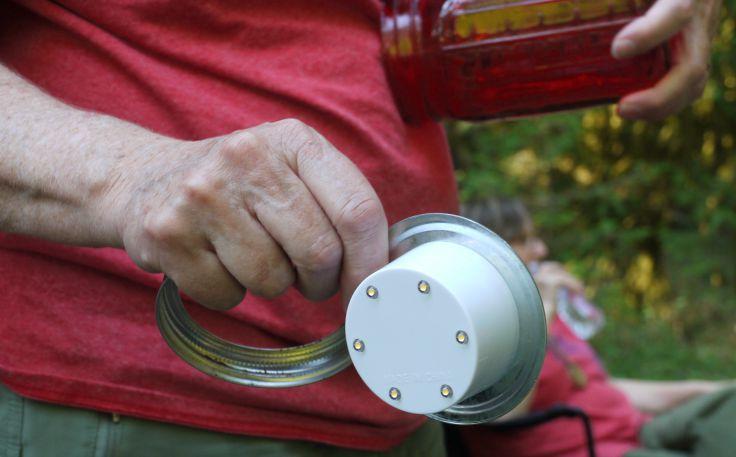 That's pretty much it. If you feel really motivated you can get fancy and personalize it with stacked stones, candles, or whatever makes you happy.
In the years since, Sandy has refined her flameless campfire to the point where it is difficult to tell from any distance if it is real or not. However, this will get you started.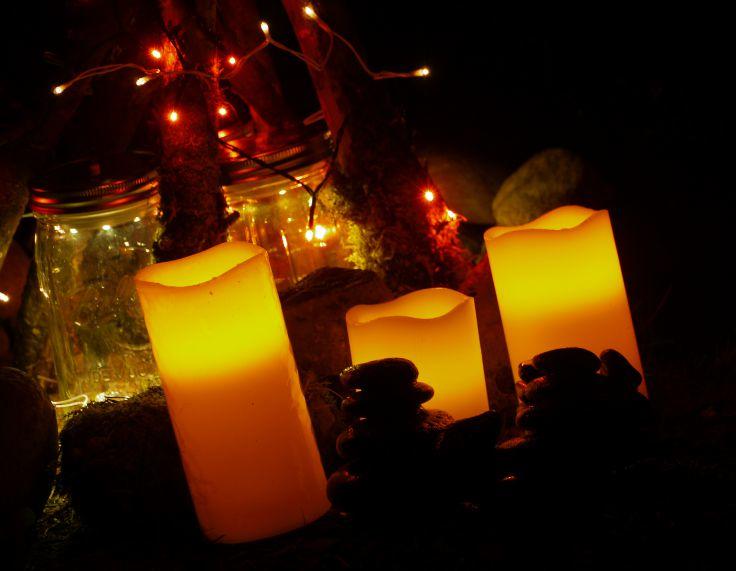 Sandie's fire included Camp Fire's three distinctive Wohelo candles, symbolizing the central values of the Camp Fire program; Work, Health, and Love.
Providing us with a fire during the fire-ban was awesome in and of itself, but Sandie didn't stop there: she also brought us the most amazing Oven S'mores I've ever eaten.
These things are the cat's meow (as my Dad would say)! I wish I could take credit for creating these ooey, gooey, layers of deliciousness, but that all goes to Tessa from Handle the Heat, who generously shares, like any good camper. Just click on the image below for the recipe.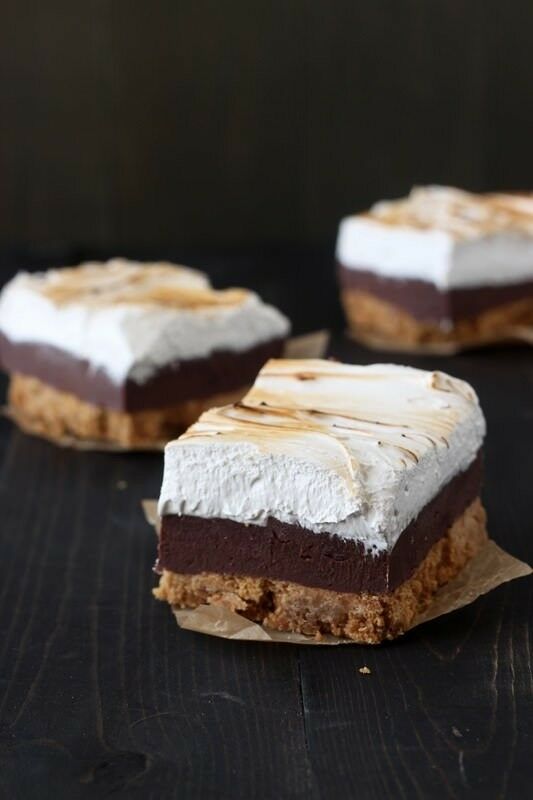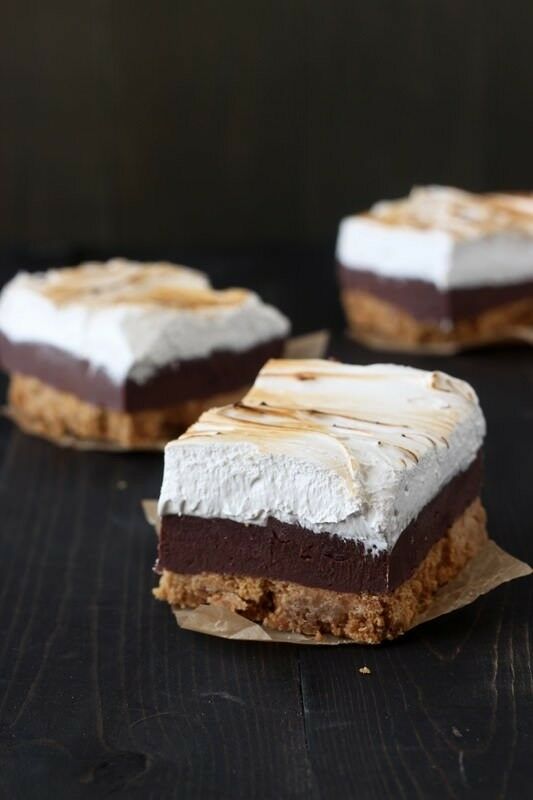 Thanks to Tessa of Handle the Heat for sharing this amazing recipe and the use of this delectable image!
Additional Tips for Camping Without Fire
Know before you go. Check weather conditions and fire regulations before you go camping.
Plan your food.

Use a campstove – Even under strict bans, you will likely be able to use a camping stove, or a small portable propane grill. You can do stovetop cooking, grill food, heat water, and reheat precooked foods.
Precook your food at home – Pasta, Rice, and many other staples can be precooked and bagged for reheating later.
Bring food that doesn't need to be cooked.

Pack Warm. In the absence of a real fire, even warm days can turn could in the late evening.
Look Up. Without the ambient light of a campfire, the stars will seem even brighter. Enjoy them.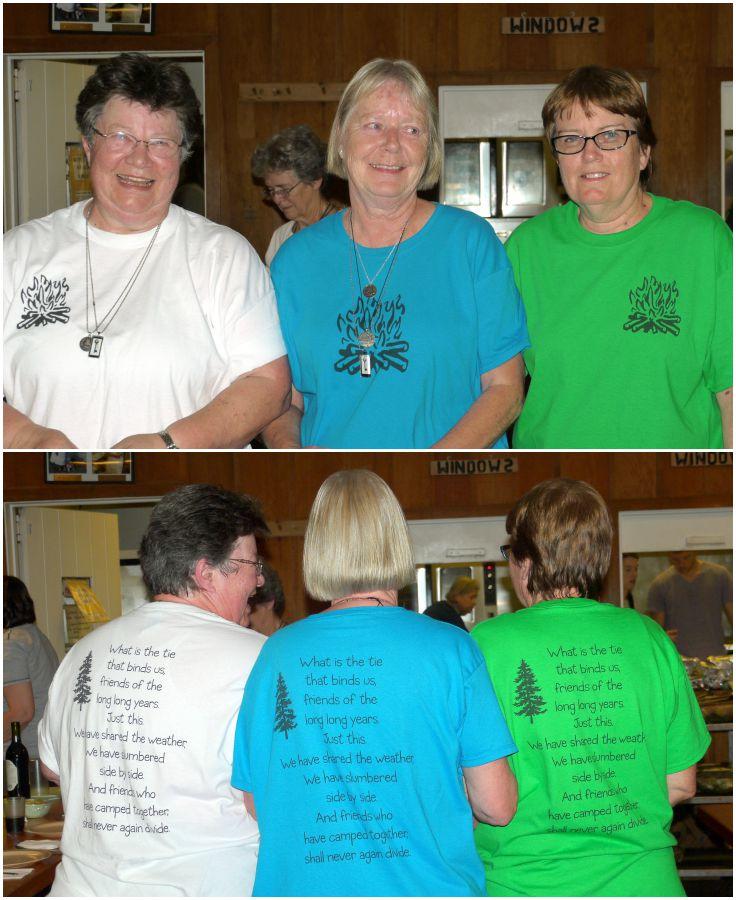 What is the tie that binds us friend of the long, long years?
Just this: we have shared the weather; we have slumbered side by side;
and friends that have camped together will never again divide.
~ Camp Fire Prayer
Related Posts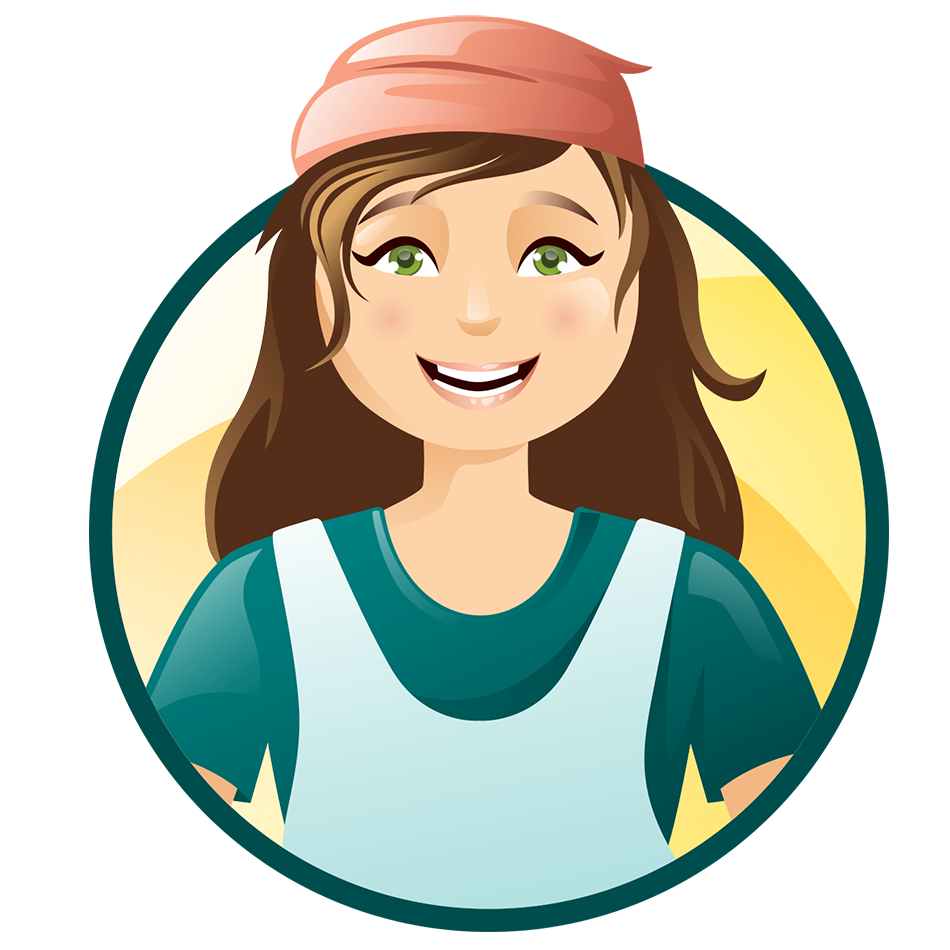 Thank you for visiting the Good Hearted Woman. Remember to bookmark this site, and come back soon!