Plant a little cup of joy! Celebrate your special day with this easy Spring Coffee Mug Planter DIY, and deliver some sunshine to the people who mean the most to you
Jump to:
What's the Story on this Project?
It is our habit – mine and Mr. B's – to watch an episode of "I Love Lucy" in the early morning before we set off to work. One of my favorite episodes is "Lucy's Last Birthday," in which Lucy gets depressed when she thinks everyone has forgotten her birthday.
Lucy got me thinking.
In years past, when my children were young and I had a bevy of young friends paddling the mommy-boat with me, we would always celebrate birthdays together with a lunch, or sometimes even an evening family barbecue. (Occasionally, we still do.) However, now that our children are mostly grown and the majority of us work during the day, time is more precious, and birthday celebrations are less frequent.
Things change and that's OK. But Lucy wasn't wrong about one thing: celebrating your birthday alone can be feel lonely and isolating.
One year for my birthday, there was no girlfriends' lunch out planned, no party on the horizon, and Mr. B a couple hundred miles away working on the road. It would have been pretty easy for me to pull a Lucy and sit around all day feeling sorry for myself.
That isn't really in my nature, though. In fact, it didn't even occur to me until I watched that episode of Lucy once again.
That year, I decided to do something I had never done before – I celebrated my birthday alone. (Well, sort of.) I took the day off of work and spent it making and delivering "birthday gifts." I suppose that, in contemporary vernacular, you could call it my personal self-care birthday celebration.
Solo Birthday Celebration
First, I made a list of ten people who I care very much about (and who lived within easy driving distance).
Most of those on my list were close friends, but not all: there were a few who have simply made such a profound impression on my life that I felt compelled to take this opportunity to tell them what they mean to me.
For each person on my list, I purchased a Dollar Tree mug. I potted some simple spring annuals in each mug, and topped off each planted mug with a special message for each recipient. 
My solo celebration continues below...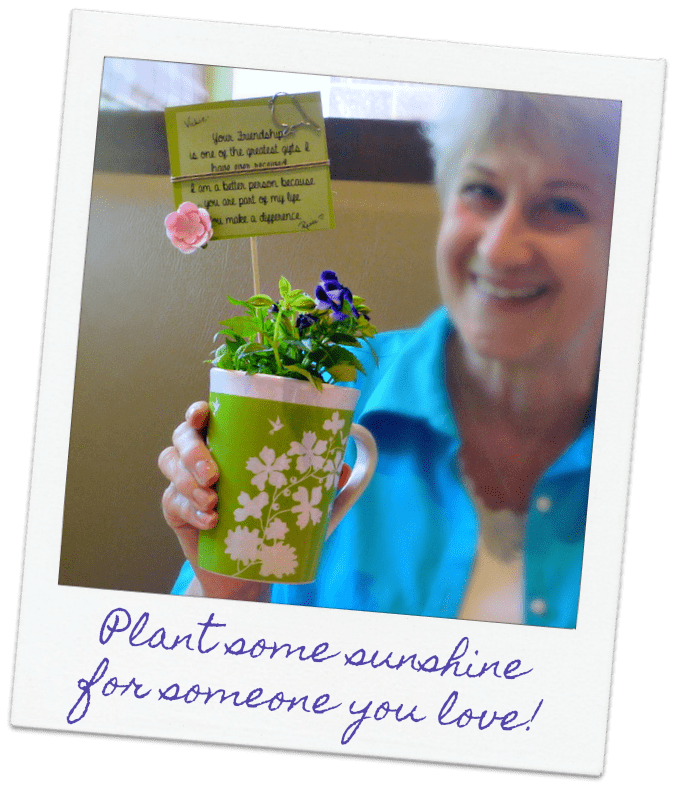 What You Need for this DIY
Making a Coffee Mug Planter is about as easy as it gets.
For each mug planter, you need:
Ceramic mug
Something to plant (annuals, succulents, etc.)
For optional drainage hole, you need:
How to Make a Mug Planter
Drill a Drainage Hole (Optional)
If you want the mugs to be used as planters long-term, you will need to drill a drainage hole in the bottom of the mug. (This is not necessary if you are planting succulents.)
Safety first: put on your safety goggles.
Set the mug upside down on a towel.
Use the spray bottle to thoroughly wet the bottom of the mug.
Using a glass or diamond tip bit, start at an angle and make a little notch in the center of the bottom of the mug.
Keeping the area thoroughly wetted at all times, continue drilling until the hole drills all the way through.
Plant your Coffee Mug Planter
Fill the mug halfway with potting soil.
Carefully remove the plant from its container.
Set the plant inside the mug on top of the potting soil and fill the mug with more soil until all the roots are covered. Gently tamp down soil so that the plant is firmly anchored in the mug.
Carefully water until soil is moist. (For succulents, simply spray the plant and surround soil with the spray bottle.
Add a Message (Also Optional)
Top off each planted mug with a special message for each recipient.
(Being a complete Portland nerd, I did, in fact, Put a Bird on It.)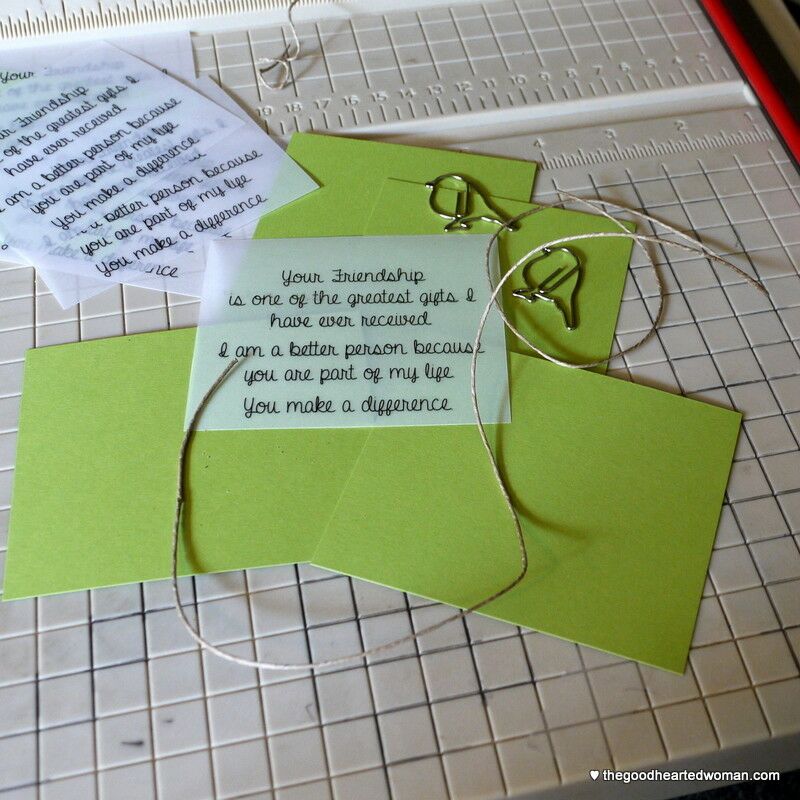 Planting a Cup of Joy
After I had all my coffee mug planters prepared, I spent the rest of the day delivering them to the people on my list.
Almost everyone was home when I delivered my presents; I only had one miss, so I left it on Cheryl's front porch so it would be there to welcome her when she got home. (I found out later that while I was delivering this one, my sweet friend Cheryl was at my house dropping off a gift for me!)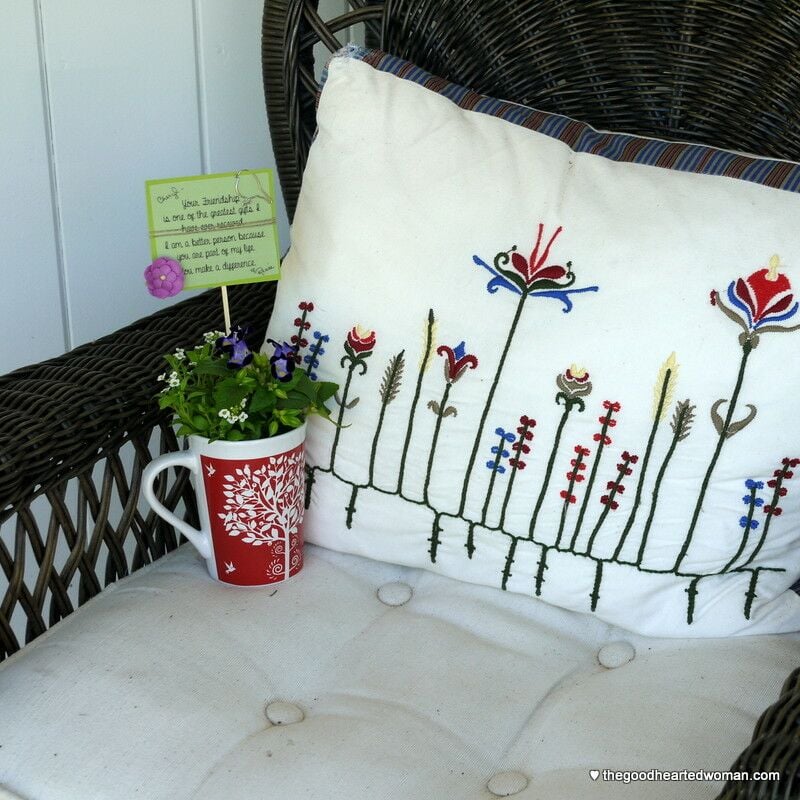 I don't have any other pictures of the day, because I didn't want anyone to think I was doing this just to write a blog post. In fact, until I watched that episode of "I Love Lucy" I mentioned earlier, I wasn't sure I would write about it at all. But then I realized how important that day had been to me, and I wanted to share it and maybe inspire someone else to try it.
My personal birthday celebration taught me - once again - that you make your own happiness. I spent the day with people I care about telling them how much they mean to me. Instead of celebrating my birthday alone, my afternoon was filled with people who have made a difference in my life, including one remarkable hour spent talking with a woman who continues to remind me that with an open heart, you inspire, you lift, and you grow – no matter your age or situation.
Mr. B's plane landed late on the night of my birthday, and I talked his ear off about my day on the drive home from the airport. It was then that it occurred to me just how happy it made me feel to be able to spend that time with so many people who I care about; and in doing so, I had given myself a most wonderful birthday gift.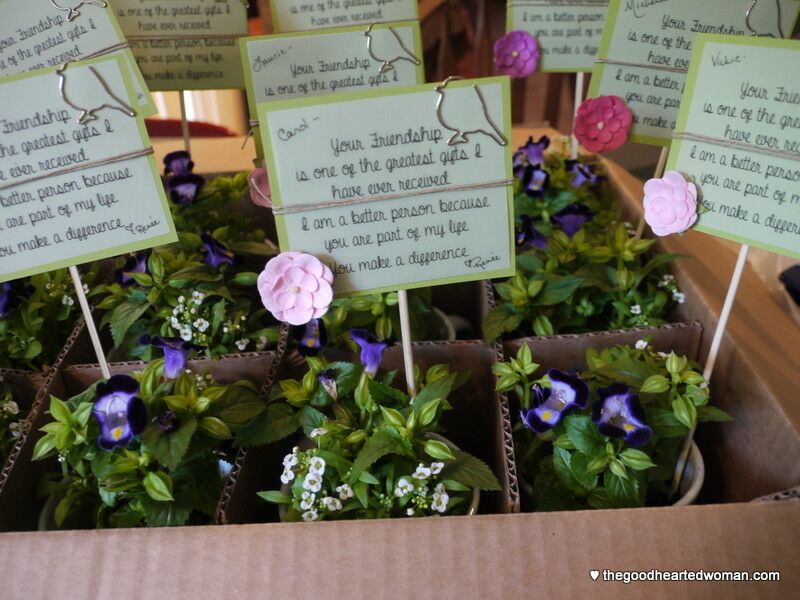 FAQs & Expert Tips
What kind of plants work well in a mug planter?
Succulents also work well for this project. Be sure to purchase a potting soil that is appropriate for the type of plants you are using.
More Coffee Mug Planter Inspiration:
More Practical Whimsy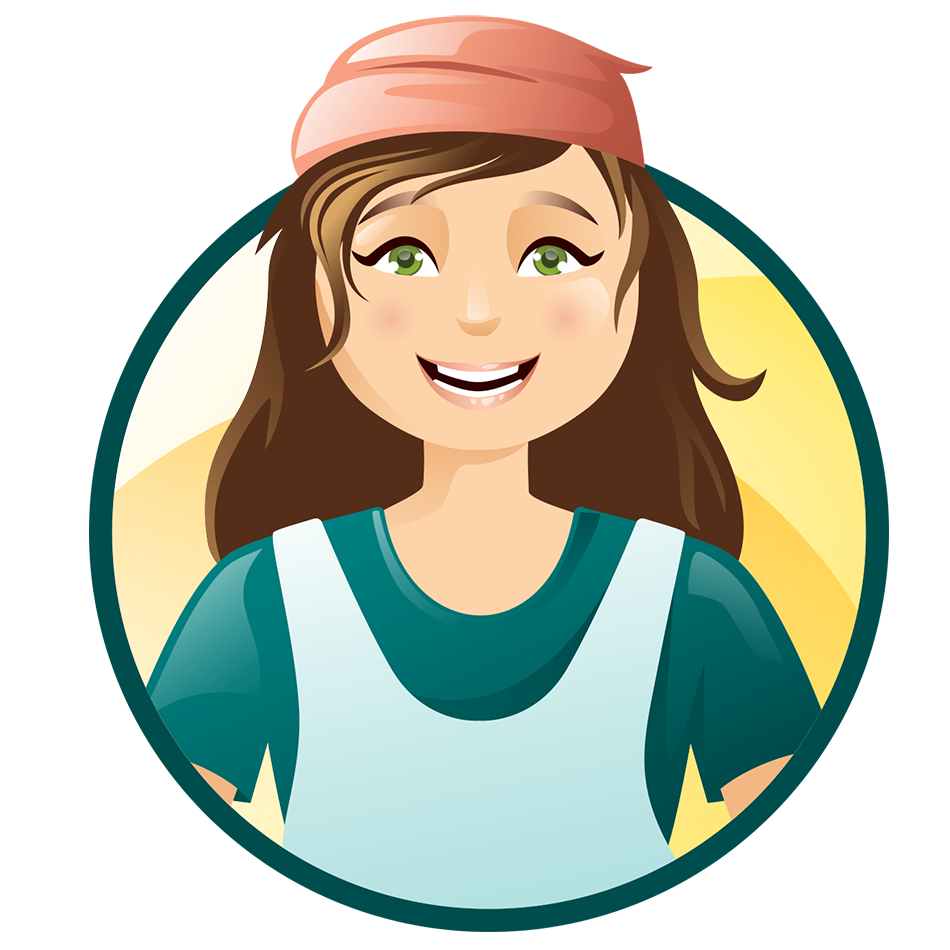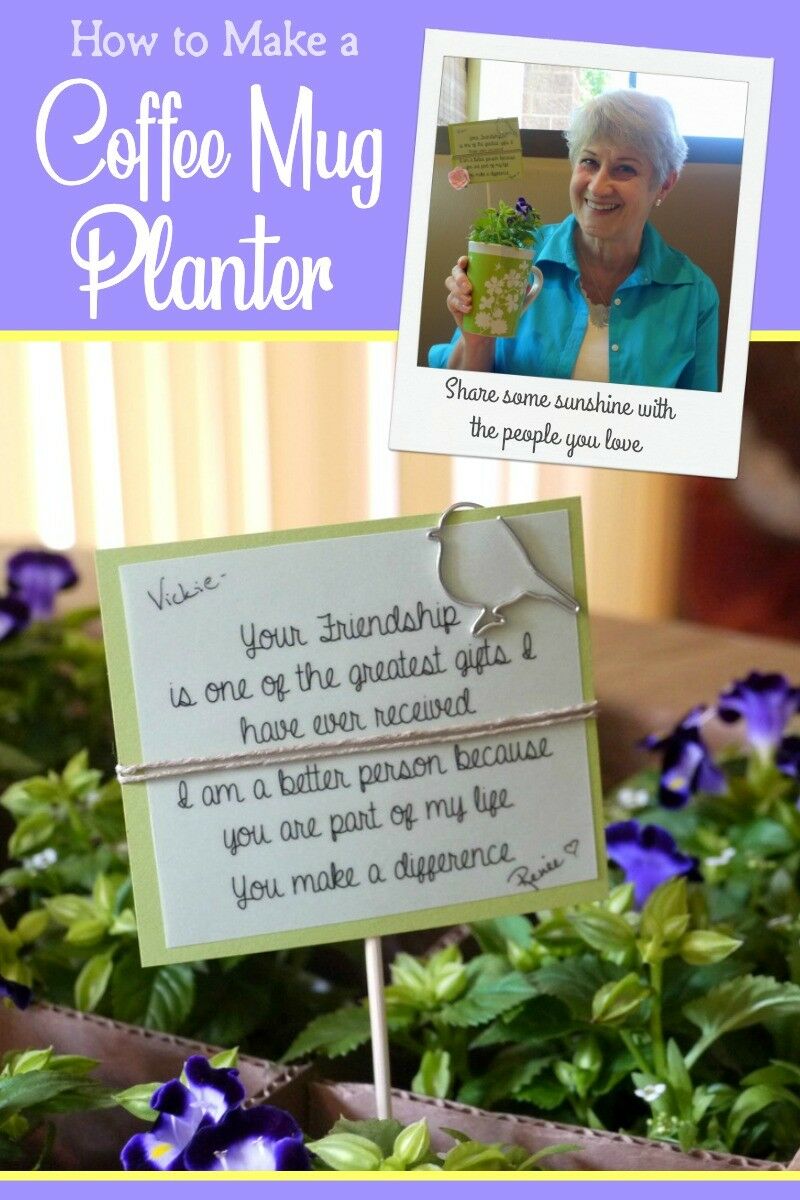 Thank you for visiting the Good Hearted Woman. Remember to bookmark this site, and come back soon!
Post Updated: February 18, 2020. Originally posted May 22, 2014.