It's astonishingly easy it is to cook a velvety soft, perfectly poached egg - all you need are a few simple tricks!
I never really liked poached eggs as a kid. But then again, I wasn't really eating real poached eggs. I was eating little rubber egg-shaped patties posing as poached eggs. My poor mom poached our eggs in a little aluminum poaching pan, and (like many cooks of her era) she cooked them until they were "good and done"; more suitable for bouncing than eating.
I knew that poached eggs had to be better than that. However, when I first tried to poach an egg myself, I got some very bad advice: "Create a swirling pool of boiling water and drop the egg in the middle." Unfortunately, in the absence of better counsel, I clung to that "expert" advice for over a decade, so it has only been in the last few years that I have discovered just how astonishingly easy it is to cook a velvety soft, perfectly poached egg.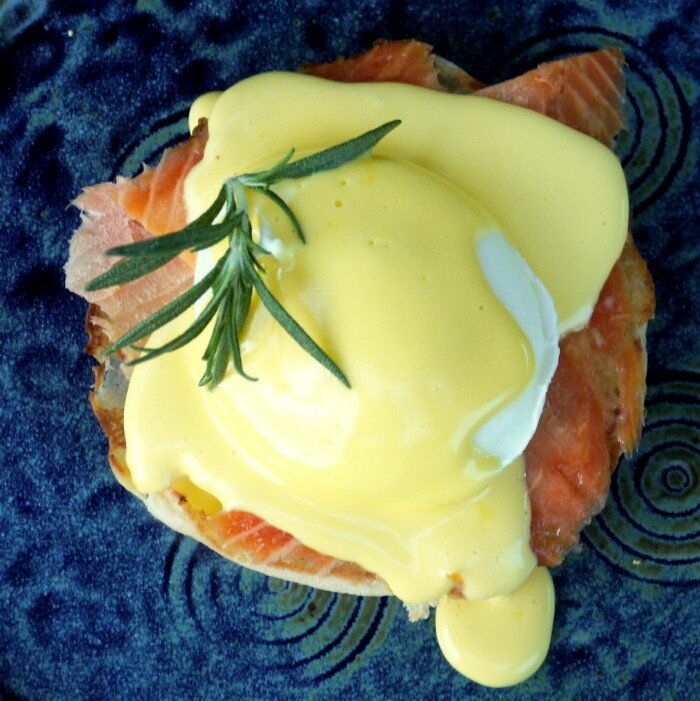 This post may contain affiliate links, but don't worry - they won't bite.
Let me save you some time.
When you poach an egg, you are essentially adding a liquid to a liquid and hoping that one of the liquids sets up before it mixes with the other. When done incorrectly, you can end up with a pot full of "egg-feathers" and foam instead of an egg yolk surrounded by white. There are a number of things you can do to reduce this feathering.
Eggs: Use the freshest eggs you can find. As eggs age, the white breaks down and becomes more watery, so the fresher the egg, the more viscous the white.
Simmer, don't boil: You want the water to be hot enough to immediately begin to cook the egg when it submerges, but you don't want the water to move the egg around in the pan. In fact, you don't want anything to move the egg in the pan, especially for the first minute. That's means no shaking, no stirring, and for Pete's sake, no swirling!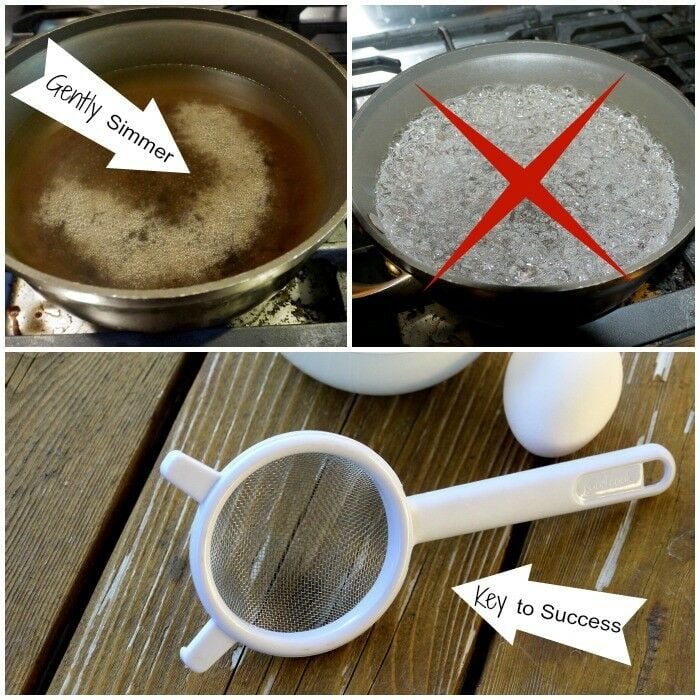 Use a sieve: For about a dollar-fifty, you can buy what I consider the Key to Perfectly Poached eggs. A small kitchen sieve allows you to strain off any watery white from the egg, and also gives you the perfect vessel from which to gently roll the egg into the water.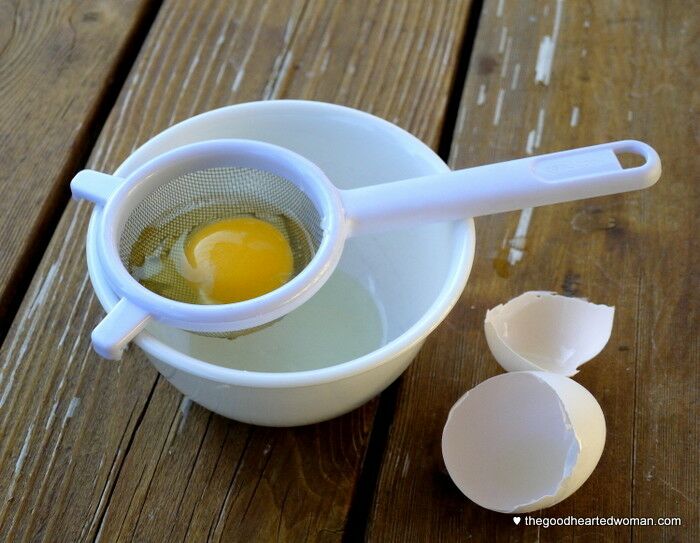 Add vinegar: This is science in action! Vinegar helps the proteins (albumin) to denature (unwind) more quickly and link up to form a network of proteins, thus setting the egg. The quicker the proteins denature the less feathering there will be. (Want to learn more? Check here.) Just do it - it works.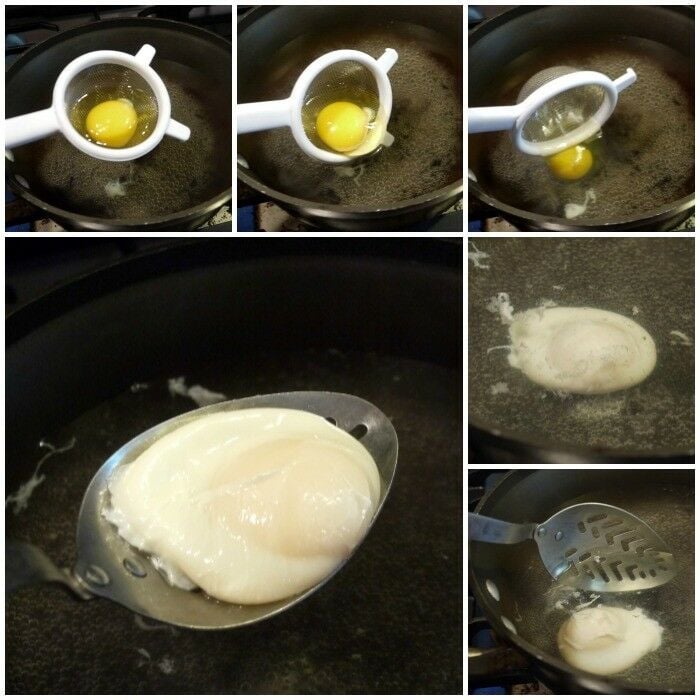 How to Perfectly Poach an Egg
Fill a pot or deep skillet with 2 inches deep with water. Add 1 tablespoon of vinegar to the water. Bring to a rolling boil and then reduce heat so that the water is just barely simmering. There should still be bubbles on the bottom of the pan, but the surface of the water should look calm.
Crack egg into small sieve and allow watery albumin to drain off. Don't worry; the white and yolk will stay intact inside the sieve.
Holding the egg in the sieve just above the water, gently roll the egg out of the sieve and into the water.
Leave the egg alone. You can put about four or five eggs into the pan at the same time, but be sure they all have enough room. After about a minute, use a slotted spoon to unstick the egg from the bottom of the pan. Allow it to cook a minute or two, and then use the slotted spoon to lift it up out of the water and gently poke it with your finger to see if it is done to your liking. If it is, remove it to a plate. If it needs to cook longer, simply lower it back into the water for another minute and check it again.
That's it. It seems like it should be more complicated, but it isn't. Try it a couple of times and you too will be poaching like a pro.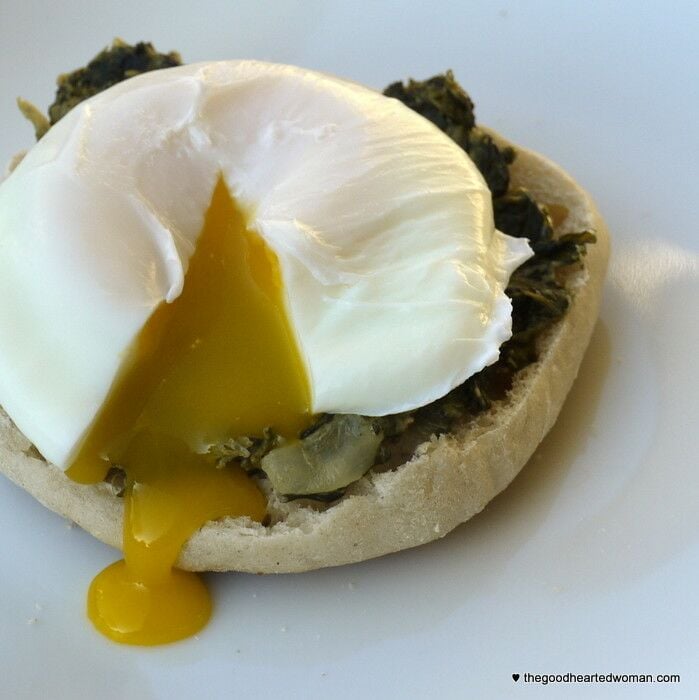 Have you tried our easy Soft-Boiled Scotch Eggs (Air-fryer) recipe? Seriously - it's da bomb!

THANK YOU so much for being a faithful reader and supporter
of The Good Hearted Woman. • Be sure to PIN this post!
Disclosure: This post may contain affiliate links, including Amazon affiliate links, which means we may receive a commission if you click a link and purchase something that we have recommended. While clicking these links won't cost you any extra money, they do help keep this site up and running. As always, all opinions and images are my own. Please check out our disclosure policy for more details. Thank you for your support!