The New Leaf Café on Orcas Island offers guests an exceptional menu and unpretentious elegance.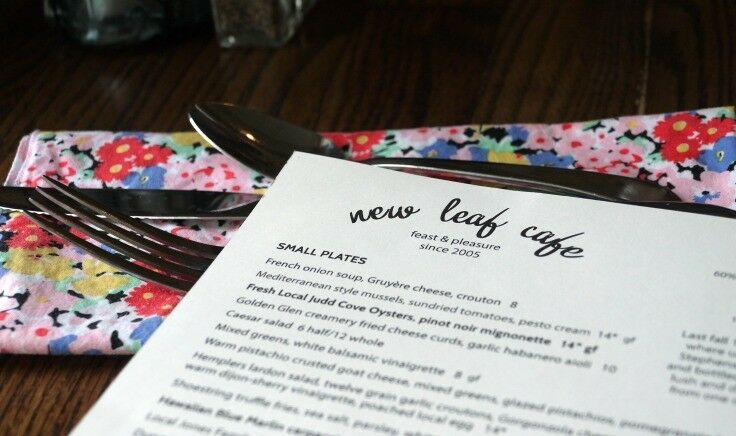 Everyone told us the New Leaf Café was the place for fine dining on Orcas Island, but I have to tell the truth here: we almost didn't go.
Located in the historic Outlook Inn on the Eastsound waterfront, it all just sounded a little too-too, as my mom used to say – too fancy, too spendy, too indulgent – for our laid-back, vacation-minded inclinations. However, after talking it through, Mr B and I decided that, as usual, we'd like to make our own assessment. Plus, we heard the crab cakes were to die for.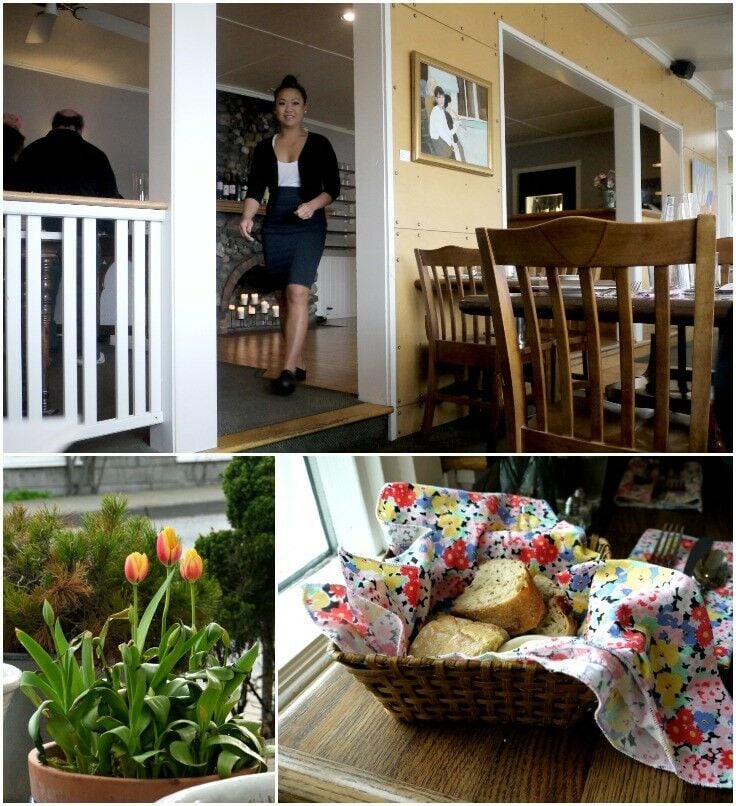 We could not have been happier that we followed our instincts. The atmosphere at the New Leaf Café is one of relaxed refinement, very much in keeping with Pacific Northwest sensibilities.
Service was prompt and welcoming, and our waitress very capably toed the line between staying available to attend to any need that arose, while keeping enough distance so that we could enjoy our meal with a certain level of peace and privacy. (Anyone who has ever waited tables, myself included, will tell you that this is a true art.) As for those reportedly too-spendy prices; we found the menu prices very reasonable.
The New Leaf Café menu - built on a strong foundation of locally sourced ingredients - is a testament to Chef Steve Debaste's culinary ingenuity and his dedication to unpretentious elegance.
Our dinner started out with a basket of warm, freshly-made breads. From the small plates menu, we shared a bowl of Chef Debaste's rich, robust French onion soup. Thick with soft, caramelly onions, our soup arrived blanketed with a large, toasty French bread crouton and a generous covering of Gruyère cheese. It was as delicious as it looks.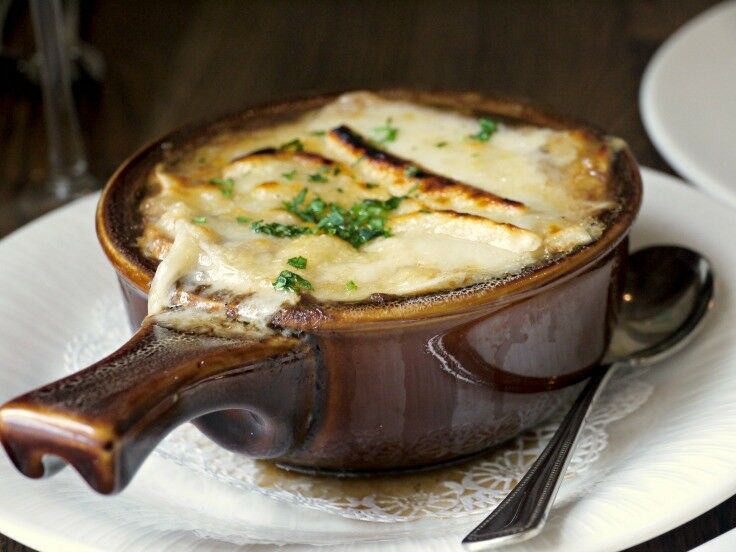 For our main course, there was no mystery about what I was going to order – crab cakes are one of my favorite things in life, and the New Leaf's Dungeness crab cakes did not disappoint. (Technically a small plate, two crab cakes proved more than enough for a meal for me.)
Plated over a creamy Local Goods pear-ginger buerre blanc with habaneros cream, these crab cakes were made with just enough breading to hold them together and no more, and were perfectly seasoned. The habaneros cream not only elevated the aesthetic of the plate, but gave the crab cakes a lovely little kick as well.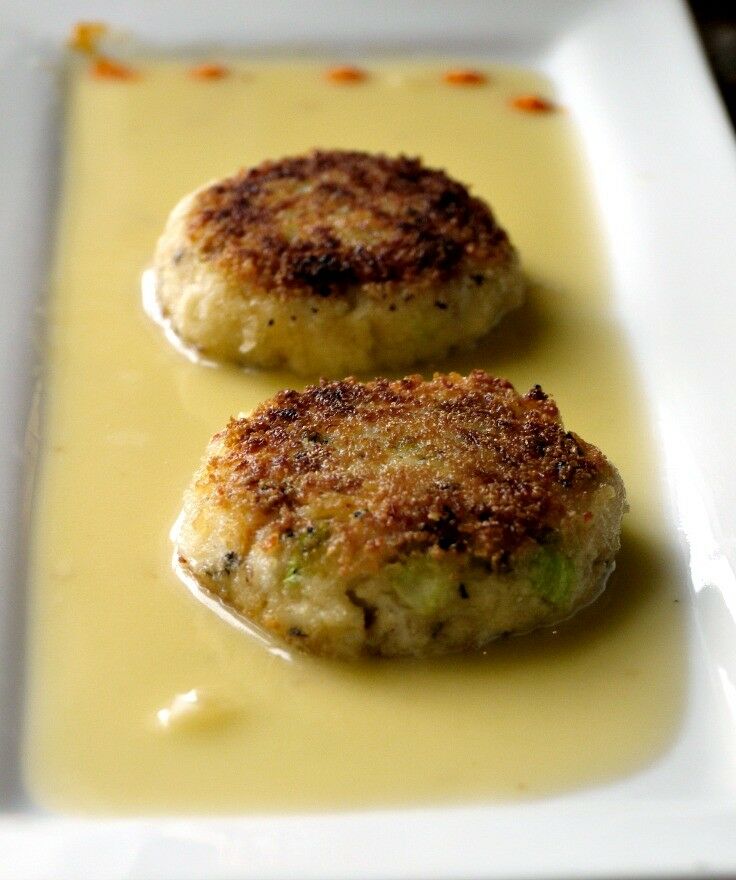 Mr B ordered the pan-seared Alaskan weathervane scallops, which arrived beautifully plated over a warm mash of Yukon Gold potatoes and accented with locally sourced Hemplars bacon.
Before I go any farther, it is important you know that I have never been a fan of scallops – they are too "bouncy" for me. However, Mr B encouraged me to have "just a taste." He said, "Renée, if you are ever going to like scallops, this is the time. These are perfect."
I took a bite, and yes - they were delicious. (To fully appreciate that statement, you can liken it to a three-year old mushroom-hater suddenly declaring that Hungarian Mushroom Soup is his favorite food.) Mr B ate every scallop carefully, closing his eyes often and savoring every bite. He was, by all appearances, in seafood heaven.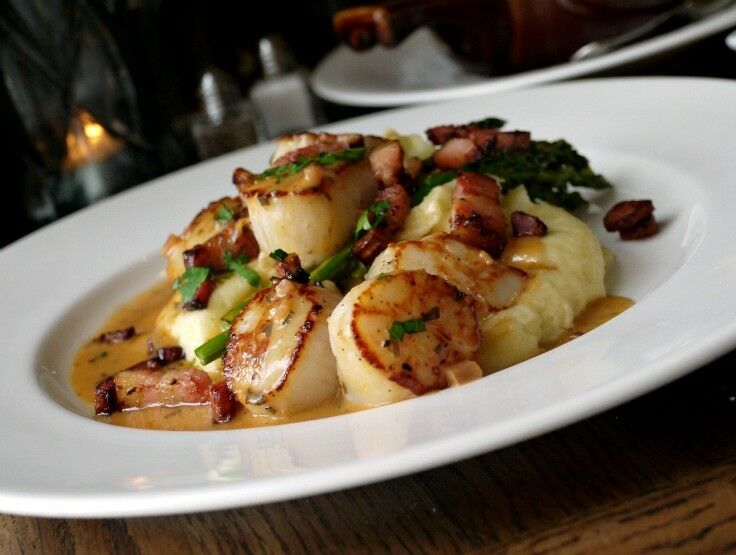 Likewise, the Yukon Gold mashed potatoes, served with a fresh tarragon buerre blanc and asparagus, were amazing.
Overall, I just cannot say enough about the exceptional quality of the food at the New Leaf Café. It more than lived up to its reputation, and we will definitely be visiting again.
Oh, I almost forgot - the view: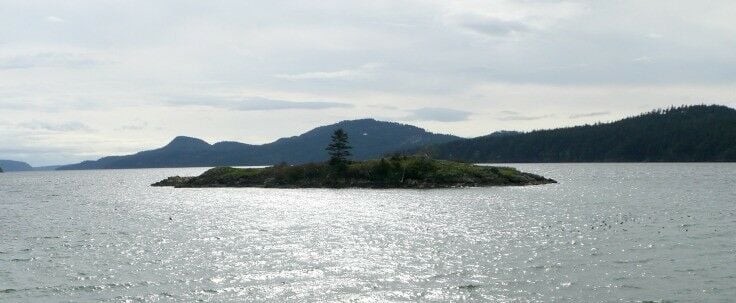 SURPRISE! If you've taken the time to read this far, I have a surprise for you!
Mr B and I were so taken with the New Leaf Café that I asked Chef Debaste if he would be willing to share one of his recipes with us, and he generously agreed to do so. Please check out Chef Debaste's recipe for Grilled Halibut over Greens (with Verjus White Truffle Vinaigrette).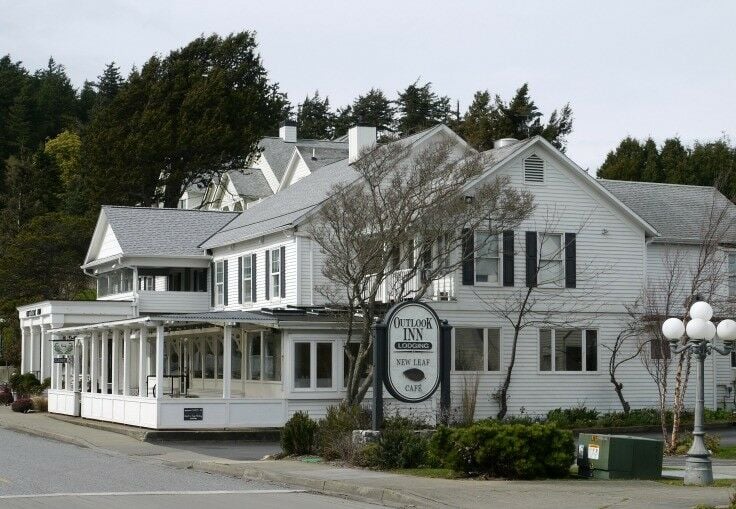 New Leaf Café
171 Main St.
Eastsound, Orcas Island, Washington
360-376-2200
Make a reservation, especially if you are visitor to the island. (According to various anecdotal accounts, locals may have the inside track here.)
The New Leaf Café serves a very popular happy hour menu that includes – in addition to drink specials – small plates like duck mac & cheese, warm goat cheese salad, and that amazing French onion soup. The schedule and service [breakfast, brunch, dinner] varies seasonally. Check their website for current hours of operation.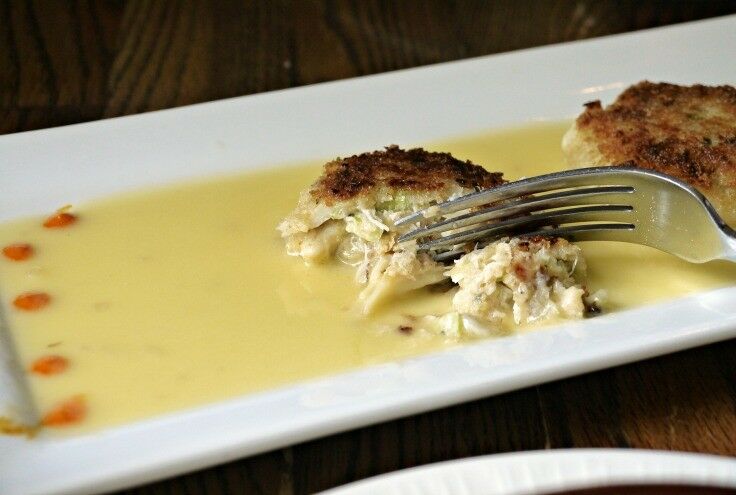 More Orcas Island Travel
PLEASE NOTE: This post was originally written Spring 2016. Many Orcas Island businesses are temporarily or permanently closed due to the COVID pandemic, so be sure to call ahead first!
Disclosure: This post may contain affiliate links, including Amazon affiliate links, which means we may receive a commission if you click a link and purchase something that we have recommended. While clicking these links won't cost you any extra money, they do help keep this site up and running. As always, all opinions and images are my own. Please check out our disclosure policy for more details. Thank you for your support!