Cream of Peanut Soup, a mainstay at Colonial Williamsburg's King's Arms Tavern, is oddly scrumptious. We've updated the historical recipe with 21st Century tastes in mind, while retaining the rich, satisfying essence of original.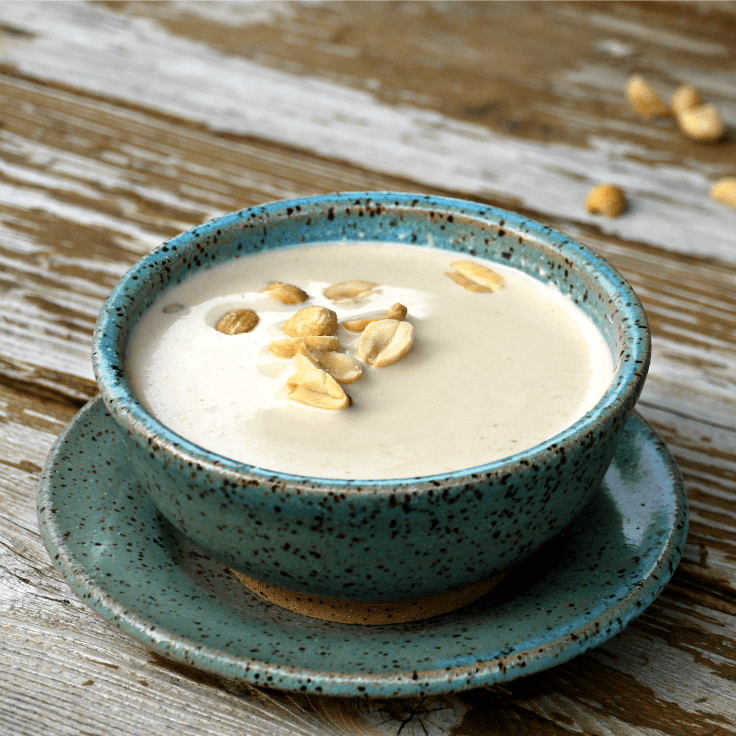 This post may contain affiliate links, but don't worry - they won't bite.
The first time I ever tasted peanut soup was at the Kings Arms Tavern in Colonial Williamsburg, Virginia. I was seventeen, traveling with my high school history class on our much-anticipated "East Coast American History Tour." We had been studying, planning, and saving our pennies for three long years to travel from Oregon to the East Coast, and Williamsburg was one of our most anticipated stops.
Colonial Williamsburg, as you may know, is a full-scale working village that recreates the town of Williamsburg during the time period leading up to the American Revolution. The King's Arms Tavern first opened there in 1772.
As my classmates and I settled in for dinner, I vaguely remember an older lady in Colonial costuming reviewing our prix fixe menu with us, adding colorful little stories and historical context about each dish as she went. Reading ahead, I noted that one of our courses was to be "peanut soup." I'd never heard of such a thing and was intrigued. Peanut soup? It sounded oddly scrumptious.
Peanuts, the Colonial lady continued, were thought to have been brought to America by Portuguese slave traders. Along with black-eyed peas and yams, peanuts were carried on slave ships to feed enslaved Africans during their passage to the New World. Peanut soup itself is most certainly an adaptation of the peanut soups brought from Africa.
Soon after our hostess completed her introduction of the menu, our peanut soup arrived, accompanied by a sweet potato roll. The soup was creamy and smooth as silk, and the sweet potato rolls were warm and crusty. The two created a perfect pairing, and were very satisfying all by themselves. I was full before the end of the soup course, and though I don't remember the rest of the meal, I do remember buying a cookbook for my mom before we left the King's Arms Tavern.
That trip was eons ago, and the cookbook is now mine. So it was to the Williamsburg Cookbook that I first referred when I set out to recreate the memory of that long-ago peanut soup. However, after making a test batch per the cookbook's directions, I was a little disappointed in the outcome: it was simply too bland for my 21st century tastes, so I decided to make some adjustments.
The first thing I did was cut the recipe in half, for two reasons: first, the original recipe makes almost four quarts of peanut soup! Unless you have a very large family or are running a Colonial tavern, you do not need four quarts of peanut soup.
Which leads me to the second reason I decreased the recipe: this is a Very Rich Cream Soup. You simply won't need as much peanut soup as you might need, say a lighter, brothier soup like chicken noodle or beef barley.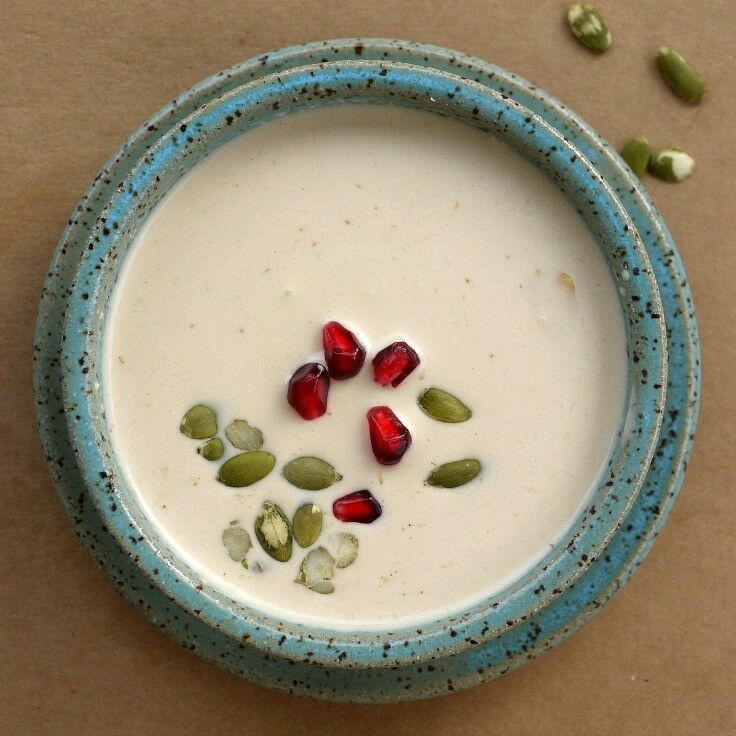 Peanut soup is very much like a thin satay sauce, but less sweet. To the original list of ingredients, I added lemon juice for brightness, hot pepper for kick, brown sugar (because it is the secret to almost everything), and kosher salt because - Holy-Low-Sodium-Diet, Batman! - did this recipe ever need it!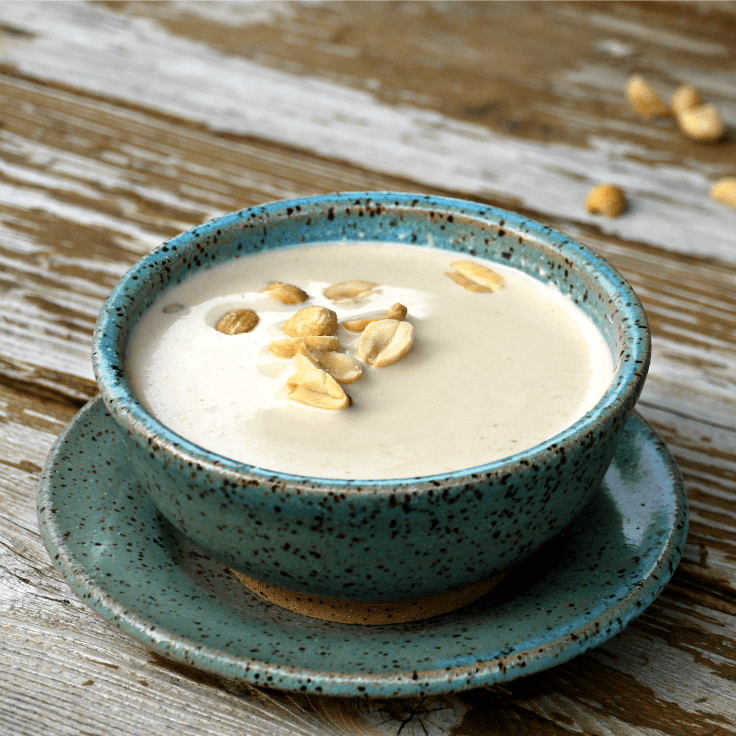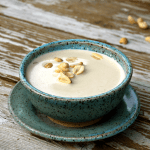 Colonial Cream of Peanut Soup
Cream of Peanut Soup, a mainstay at Colonial Williamsburg's King's Arms Tavern; here updated with 21st Century tastes in mind, while retaining the rich, satisfying essence of original.  
Inspired by the Peanut Soup at the King's Arms Tavern in Colonial Williamsburg. 
Print Recipe
Pin Recipe
Ingredients
2

tablespoons

unsalted butter

¾

cup

finely chopped onion

½

cup

finely diced celery

2

tablespoons

flour

4

cups

chicken or vegetable stock

1

cup

smooth peanut butter

(I use Skippy)

1

cup

light cream or half-and-half

1 ½

teaspoons

lemon juice

1 ½

teaspoons

kosher salt

1 - 2

teaspoons

hot pepper sauce

1

teaspoon

brown sugar

Finely chopped salted peanuts

for garnish
Instructions
In a heavy saucepan or stockpot over medium heat, sauté onion and celery in butter until soft.

Do allow to brown.

Sprinkle flour over sautéed vegetables and stir to combine.

Stir to saute for one minute.

Add chicken or vegetable stock to vegetables.

Bring mixture to boil, stirring constantly. Remove from heat. 

Allow the vegetable mixture to cool to a temperature that is safe to work with before proceeding to the next step.

Option 1: Puree the cooled soup in the saucepan with a hand blender until smooth. Option 2: Puree the cooled soup in a blender and return to saucepan. 

Into the pureed soup in pan, add the peanut butter and half & half.

Stir until peanut butter has completely dissolved into the soup. 

Stir in lemon juice, kosher salt, hot pepper sauce, and brown sugar.

Return pan to heat only to warm to soup to serving temperature. DO NOT BOIL!

Garnish as desired. 
Nutrition
Serving:
1
serving
|
Calories:
184
kcal
|
Carbohydrates:
8
g
|
Protein:
6
g
|
Fat:
15
g
|
Saturated Fat:
5
g
|
Cholesterol:
12
mg
|
Sodium:
742
mg
|
Potassium:
191
mg
|
Fiber:
2
g
|
Sugar:
4
g
|
Vitamin A:
315
IU
|
Vitamin C:
2
mg
|
Calcium:
34
mg
|
Iron:
1
mg
This website provides approximate nutrition information for convenience and as a courtesy only. You are solely responsible for ensuring that any nutritional information provided is accurate, complete, and useful.
Soup is one of our Specialties! If you love thick, creamy winter-warm soups, be sure to try our Smoked Salmon Chowder or our Loaded Baked Potato Soup, too.

What's Your Favorite Way to Serve Peanut Soup?
Peanut soup can be served hot or cold. (Mr B and I both prefer it warm.) Pair it with a green salad and you've got yourself a seriously satisfying meal.
Many people reserve peanut soup for the holidays, like stuffing or cranberry sauce. If it is your plan serve peanut soup as the first course of a larger meal, we suggest offering it in small bowls or demitasse cups, no more than 4-5 inches across. Serving small portions will make a satisfying transition to the main course without ruining your guests' appetites.
Peanut soup can be served as is, but if you want to make things interesting, offer toppings in small cups or bowls and give your guests the opportunity to create their own flavor combinations.
My favorite combo so far is bacon, pine nuts, pomegranate pips, and a dash of harissa.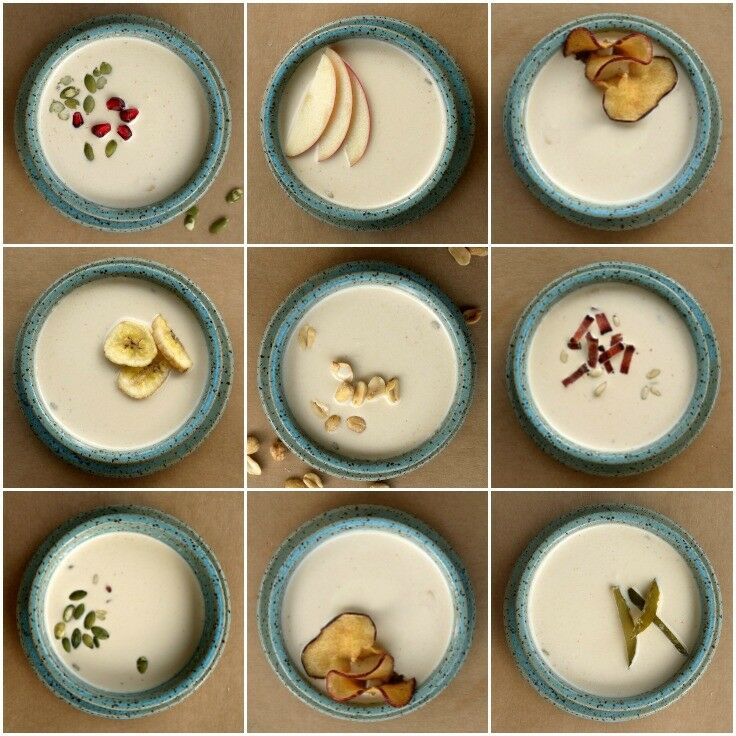 Peanut Soup Toppings
NOTE: The word "topping" is actually a bit of a misnomer. While this is a very rich soup, it isn't as thick as you might imagine, so heavier toppings tend to sink to the bottom of your bowl. (Don't tell anyone, but I had to use a little blogger magic to keep those banana chips floating on the surface.) Anyway, that's what spoons are for.
This list of topping ideas is intended to get you started, but there are dozens of other choices that would work just as well. Just look through your pantry and/or fridge and pick out something fun!
Choose topping/add-ins that give the soup crunch, and bite, and really enhance the flavor of the soup itself. Fresh, citrusy flavors and little crunchy bites work especially well.
apple slices
popcorn
Gold Fish Crackers
peanuts
bacon bits
tortilla cut-outs
parmesan crisps
green onions
banana slices
pomegranate pips
Orange slices
dill pickle
cilantro
granola
poached egg
honey
toast points
pepitos
red pepper flakes
harissa
whole grain croutons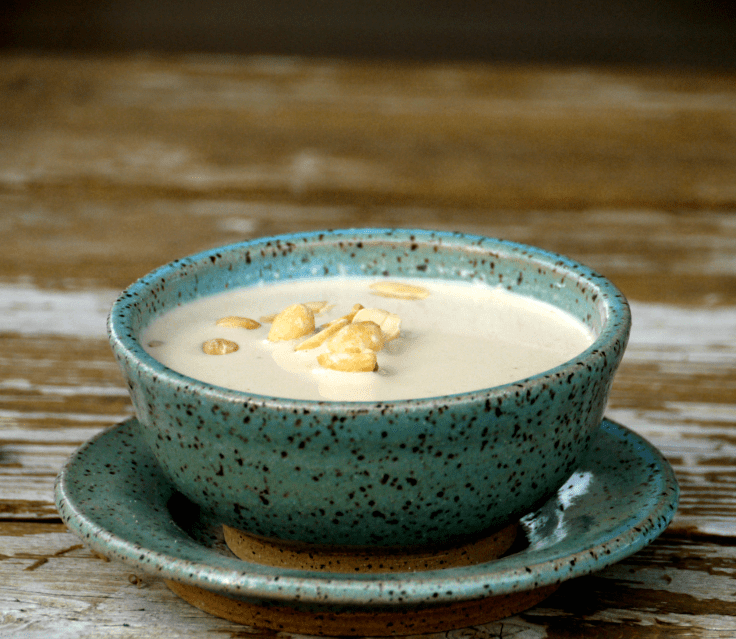 THANK YOU so much for being a faithful reader and supporter
of The Good Hearted Woman. ? Be sure to PIN this post!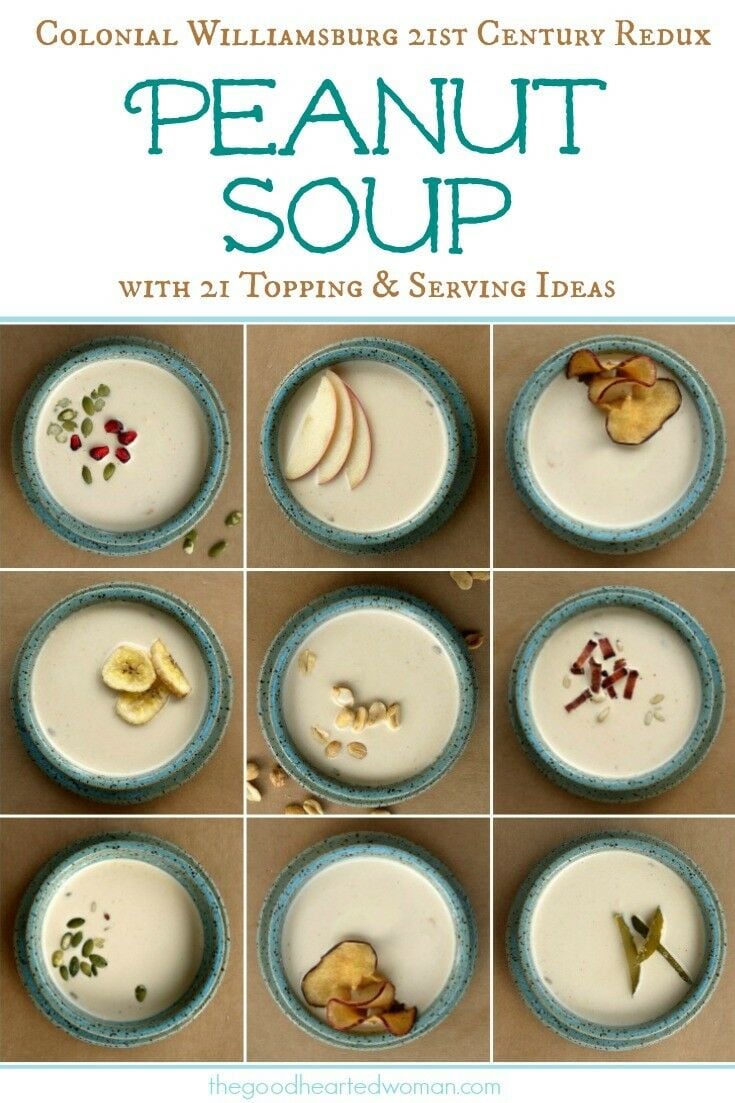 Disclosure: This post may contain affiliate links, including Amazon affiliate links, which means we may receive a commission if you click a link and purchase something that we have recommended. While clicking these links won't cost you any extra money, they do help keep this site up and running. As always, all opinions and images are my own. Please check out our disclosure policy for more details. Thank you for your support!