This Loaded Baked Potato Soup has a sweet surprise ingredient that elevates the flavors and results in a perfectly balance bowl of comforting deliciousness. Easy and economical, this is one of our top five 30-Minute Meals!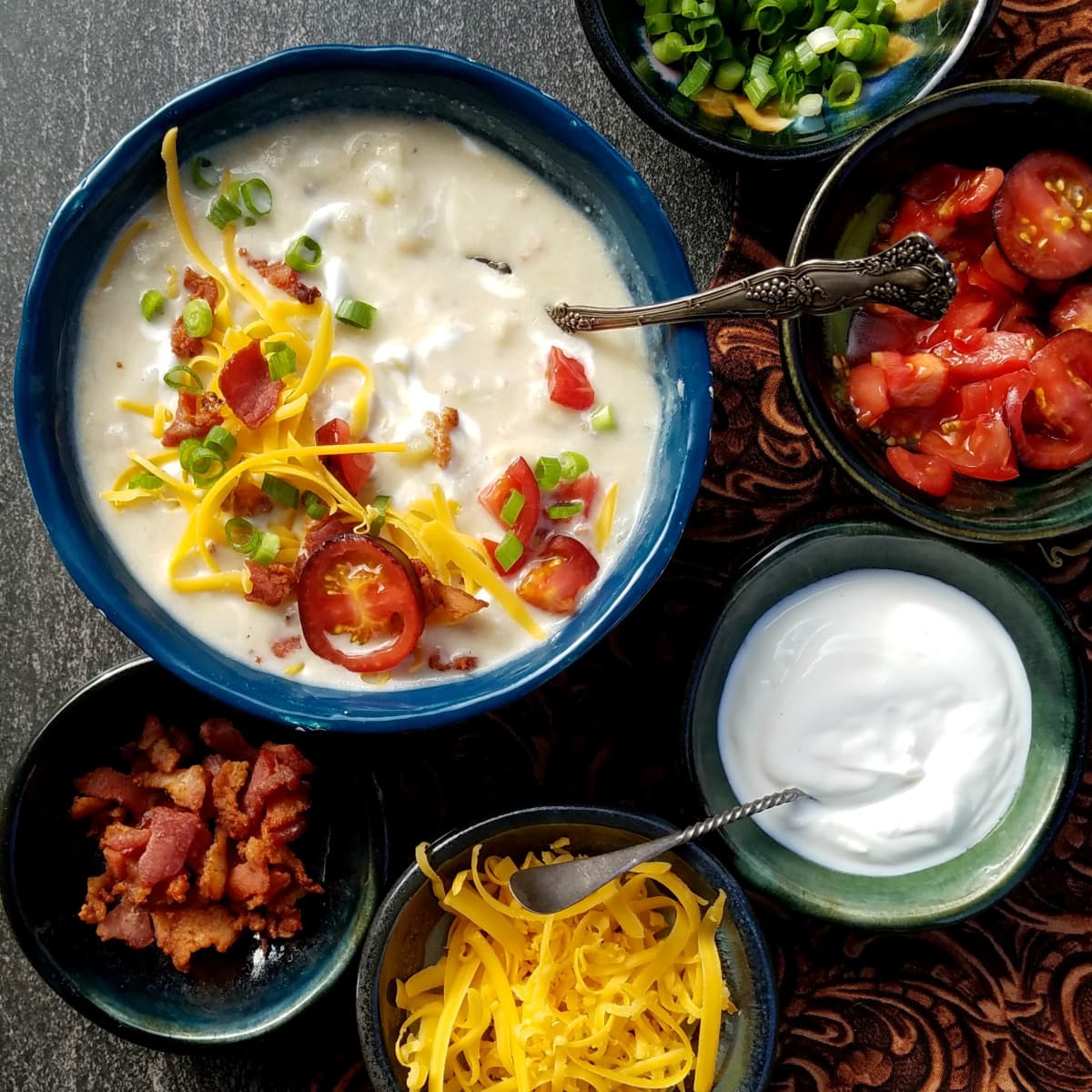 Jump to:
What Makes this Potato Soup so Special?
Loaded Baked Potato Soup is one of our top five favorite 30-minute Meals - and this one I'll even serve to company! 
Oh, you'll be here in half an hour? And you're starving? No problem!
The first time I made this soup was when my girls were young and they unexpectedly brought home a few extra friends for dinner. We never turn away a hungry kid, but I had barely enough potatoes to begin with, and so I wasn't sure we would have enough soup to go all around. I did, however, have a sweet potato, so I threw that into my baked potato soup instead.
Oh, my! What a difference that little sweet potato made! I'll never make baked potato soup without one again! 
Fast, economical, and straightforward, this delicious, easy-to-make Baked Potato Soup has a chowder-like consistency and a sweet surprise on the ingredient list. Check it out!
What Goes into this Recipe
Ingredient Notes & Substitutions
★ Russet Potatoes: It is important to use Idaho Russets or other high-starch potatoes for this soup. Russet have a neutral flavor and high starch content, which gives them a creamy, soft texture that breaks down easily. This all makes them the perfect choice for making a creamy soup like this one.
I have also successfully made this Baked Potato Soup with Yukon Gold potatoes, but the soup required a little more mashing than usual to achieve the desired consistency.
DO NOT USE waxy potato varieties (e.g., red potatoes, new potatoes, fingerling, etc.) for this recipe. Waxy potatoes have a low starch content and have a creamy, firm flesh that holds its shape well after cooking. They do not break down easily when cooked, resulting in a thin, bodiless soup.
★ Sweet Potatoes: Use white sweet potatoes for this recipe. 
What's the difference between orange and white sweet potatoes anyway? (And my Gramma told me the orange ones were yams. Are you contradicting my Gramma?)
I don't know about you, but I grew up calling orange fleshed sweet potatoes "yams." However, as I have since learned, it is nearly impossible to find true yams is the United States. Most of the tubers we were fed as children and told were yams were really sweet potatoes. It's true.
OK, now that we've cleared that up, here's the scoop on the differences between orange and white sweet potatoes.
While sweet potatoes around the world come in many different colors - brown, red, yellow, white, even purple - in the United States, nearly all of our sweet potatoes fall into two categories: [1] golden skin with creamy white flesh, and [2] brown or copper skin with an orange flesh.
Orange sweet potatoes are the heroes of holiday side dishes everywhere. They have a sweet, smooth, soft texture. White sweet potatoes, on the other hand, have a milder flavor and crumblier texture when cooked.
★ Garlic: This is for all you cooks who habitually double the garlic in a recipe (I see you). You (i.e., We) are the reason this recipe recipe only calls for one clove of garlic instead of two. One large or two average-sized cloves are perfect, but if I put "2 cloves of garlic" in the ingredient list, someone is going to make this soup with four cloves instead, which is way too much - it simply overpowers everything.
All that being said, if you like a garlicky soup, you can safely add one more clove. Or two.
For real garlic lovers only: Try this making potato soup recipe with a handful mashed, roasted garlic cloves. So good!
Serving Suggestions
Baked potato soup is is delicious served as is, but if you're feeding a crowd, you can set up an easy soup bar.
Topping ideas include:
bacon bits
sliced green onions
chopped tomatoes
slice jalapeños
grated cheese
sour cream
pepitas
oyster crackers
hot sauce
Expert Tips
FYI Classroom Teachers: While I was preparing this post, I ran across these nifty (and free) Sweet Potato related STEM resources offered by the The North Carolina Sweet Potato Commission.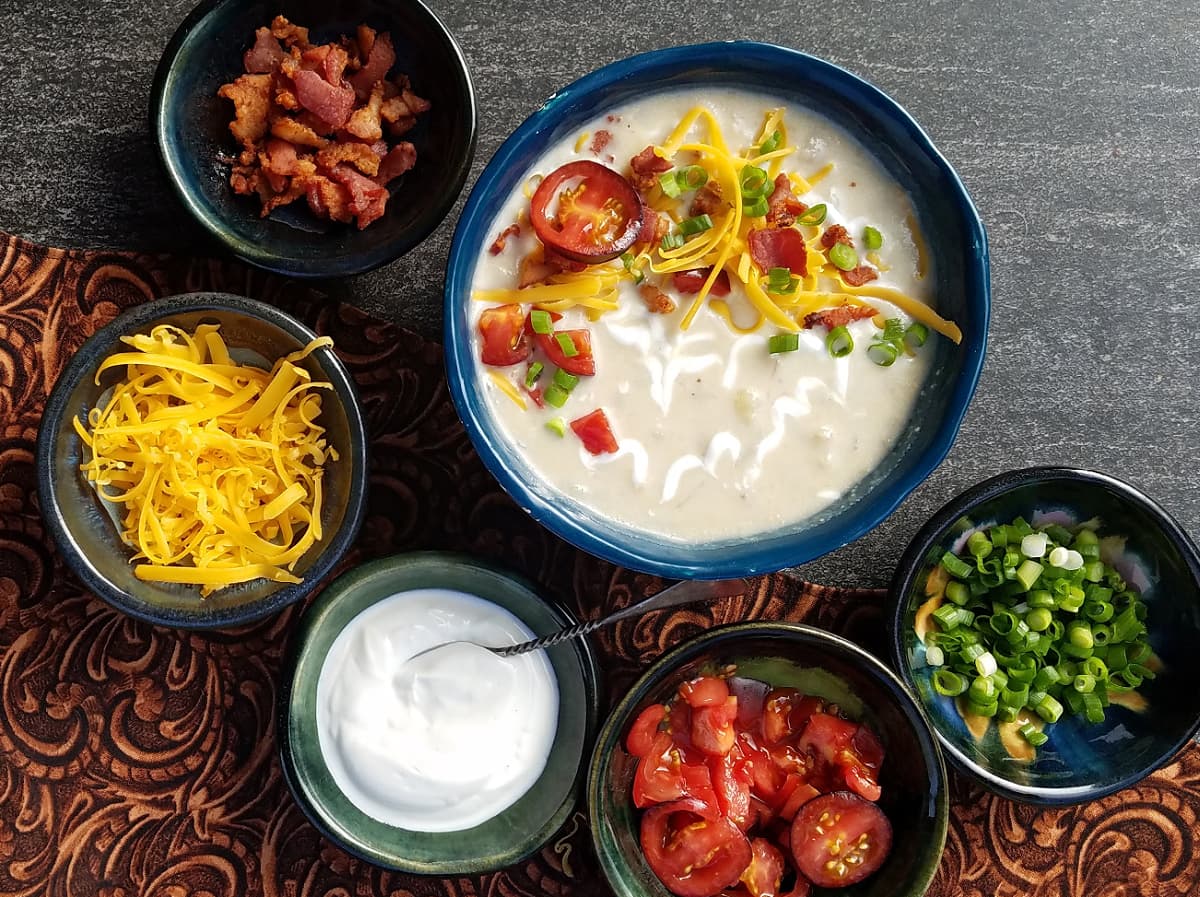 More Creamy, Cozy Soup Recipes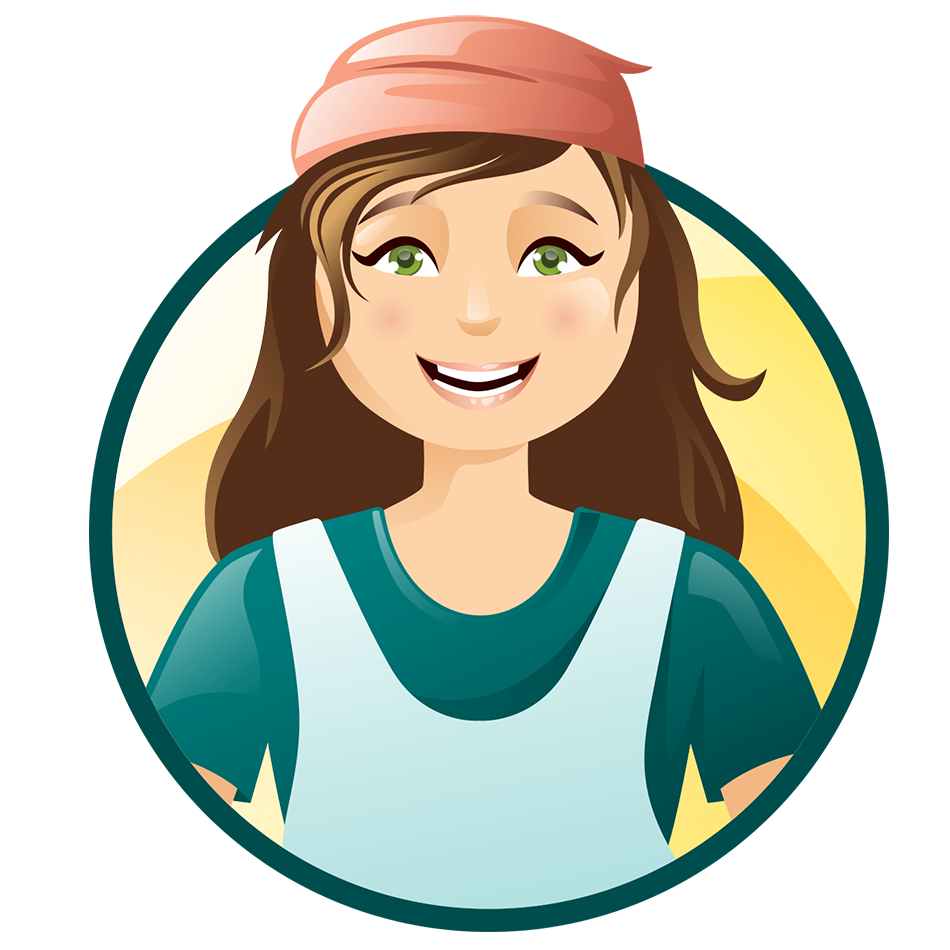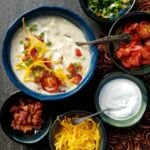 Loaded Baked Potato Soup
This Loaded Baked Potato Soup is fast, easy, and de-licious!
Print
Pin
Add to Shopping List
Go to Shopping List
Ingredients
1

large

sweet onion

chopped ¼"

4

ounces

raw bacon

chopped into ¼" pieces

1 ½ - 2

pounds

russet potatoes

about 3 large, peeled and cubed ½"

8

ounce

white sweet potato

peeled and cubed ½"

3

cups

chicken broth

1

cloves

garlic

minced

1

teaspoon

kosher salt

or to taste

1

cup

half & half

dash

hot sauce

freshly ground pepper
Garnish | Serve on Side
additional bacon bits

sliced green onions

freshly chopped tomatoes

grated cheddar cheese

sour cream
Instructions
Heat a cast iron Dutch oven or other heavy stockpot over medium heat until a drop of water sizzles on the surface.

Add the chopped bacon pieces and stir with a wooden spoon to distribute in the pot.

Cook bacon pieces over medium heat until bacon pieces are crispy. Turn off heat.

Remove bacon from pot using a slotted spoon and set aside.

Turn heat up to medium-high.

Add the chopped onions to the hot bacon fat and sauté until translucent.

Add minced garlic and sauté for an additional minute.

Add chicken broth, chopped potatoes, salt, ground pepper, and hot sauce (optional).

You should have just enough liquid to barely come to the top of the potatoes. (Add a little more broth or water if you need to.)

Bring to a boil.

Reduce heat, and simmer, stirring occasionally, for 15-20 minutes, or until potatoes are tender but not mushy.

Add half & half and reserved bacon bits.

Stir over low heat until soup is heated through. Remove from heat.

To thicken the soup slightly, use a potato masher to break up potatoes just a bit.

Remember though, this is Baked Potato Soup, not Mashed Potato Soup, so don't get carried away!

Serve with green onions, grated cheese, bacon bits, grated cheese and sour cream on the side.
Notes
Baked Potato Soup is delicious directly off the stove, and can be eaten immediately. However, as with most soups, it's even better the next day! 
Vegetarian Option
Substitute:
+ 2 Butter (for bacon)
+ 3 cup vegetable broth (for chicken broth) 
Start at Step 2.
TIP: Bacon is way easier to chop small if it is slightly frozen.
Nutrition
Serving:
1
bowl
|
Calories:
217
kcal
|
Carbohydrates:
21.6
g
|
Protein:
10.1
g
|
Fat:
10
g
|
Saturated Fat:
4.3
g
|
Cholesterol:
27
mg
|
Sodium:
640
mg
|
Potassium:
677
mg
|
Fiber:
3.2
g
|
Sugar:
3.6
g
|
Calcium:
50
mg
|
Iron:
1
mg
This website provides approximate nutrition information for convenience and as a courtesy only. You are solely responsible for ensuring that any nutritional information provided is accurate, complete, and useful.
Disclosure: This post may contain affiliate links, including Amazon affiliate links, which means we may receive a commission if you click a link and purchase something that we have recommended. Please check out our disclosure policy for more details.
Originally published November 9, 2012. The post has been updated with new content, images, and recipe instructions to improve reader experience.